2018's rendition of WinterWonderGrass lived up to its designation in every sense of the word this past weekend, as bluegrass fans from around the country gathered in majestic Steamboat Springs, Colorado to dance, drink and smiled the night away beneath the magnificent Park Range. The weekend more than lived up to expectation and hype, with incredible bluebird days and epic snow-covered nights, providing world-class skiing throughout the weekend and top-notch bluegrass to cap the night activities. Additionally, unlike previous years past, winter was in full-effect all weekend long, bringing frigid temperatures and tons of snow to Mount Werner, adding element to an already action-packed weekend.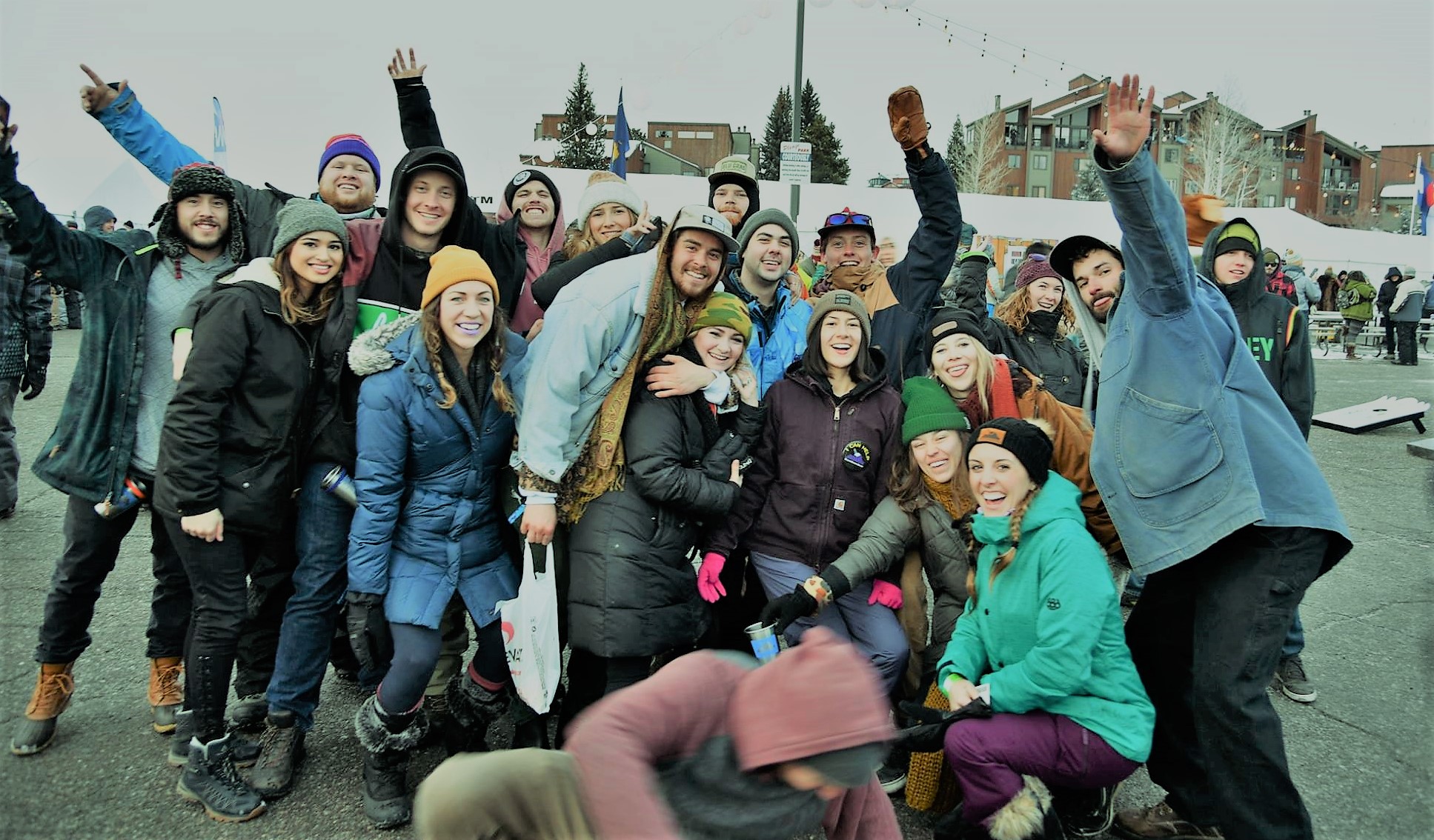 While the official festival kickoff began Friday afternoon, there were plenty of pre-festival activities going on around the city to keep the enthusiastic fans occupied. Thursday night featured the "Gratitude Jam" at the Bear River, located right next to the gondola base, featuring a ton of guests including Brad Parsons Band, The Wooks, and Liver Down the River. For every ticket purchased, $1 went to the Can'd Aid Foundation, a non-profit out of Lyons & Longmont, who are doing huge things through tunes, trails, and the Colorado community. Additionally, the second annual Western Welcome Pick featuring Trout Steak Revival and Liver Down by the River took place at the base of the mountain Thursday afternoon. The free all-ages event has become the official "pre-party" for festival-goers arriving early Steamboat, just bring your WWG ticket and enjoy free music galore.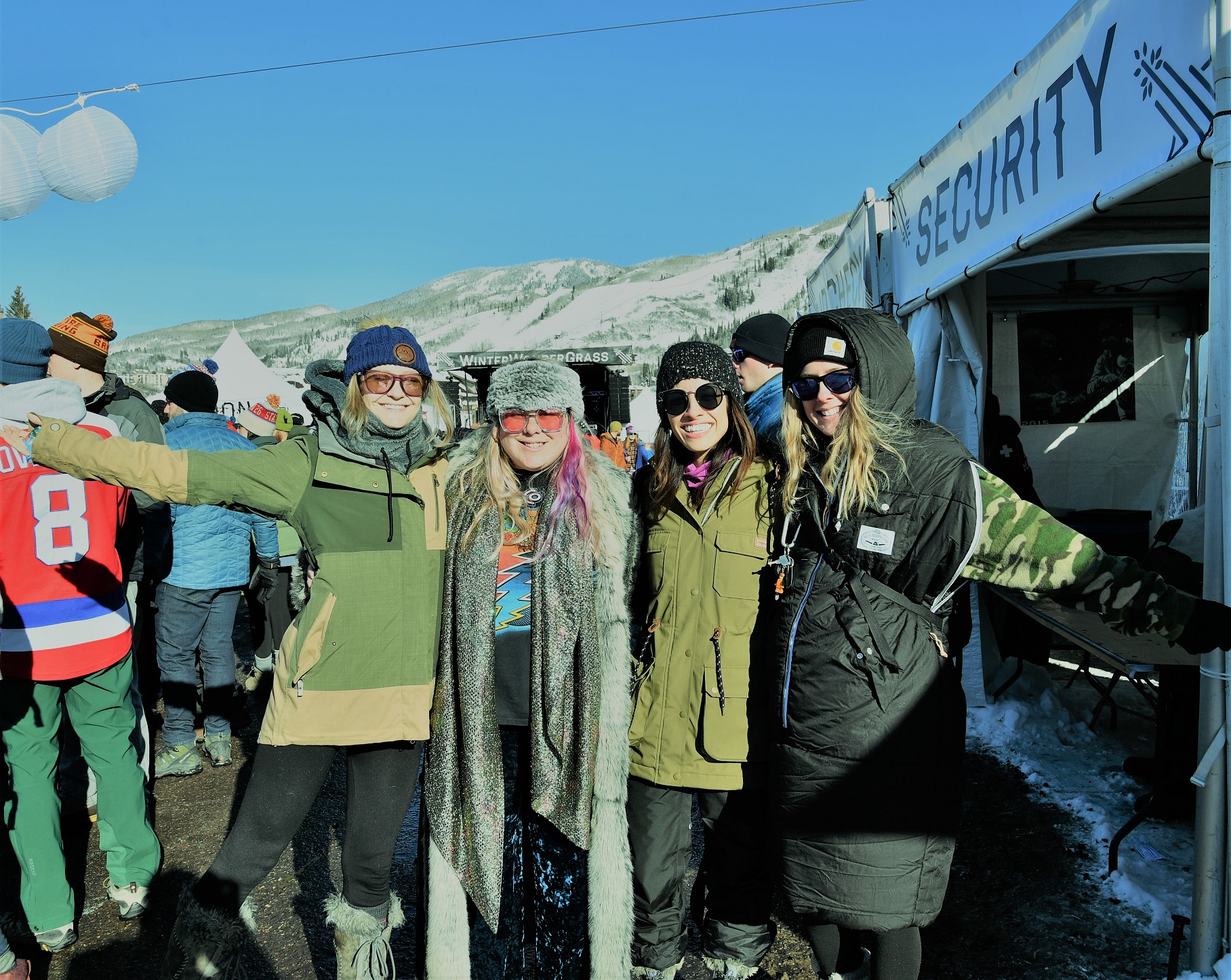 One of, if not the most unique factor of WinterWonderGrass is an obvious one at that, it's a full-blown music festival outside in the middle of February at Steamboat Springs. This can mean a lot of different things - For one, say goodbye to throwing on the tie-dye t-shirt, shorts, and flip-flops when heading to the venue. More or less, you approach this event like you would heading to a day at the mountain: long-johns, hoodies, jackets, gloves and wool socks taboot. Say it with me now, layers. Very good. However, that's not to say people didn't get creative when dressing up to be outdoors all night in near artic temperatures. Have an extra dancing bear costume lying around? Perfect. An additional spacesuit in your closet, perhaps? Bring it along! All in all, people wasted no time coming up with fun and inventive ways to stay warming during the weekend, which added to the buzz and overall excitement surrounding the event.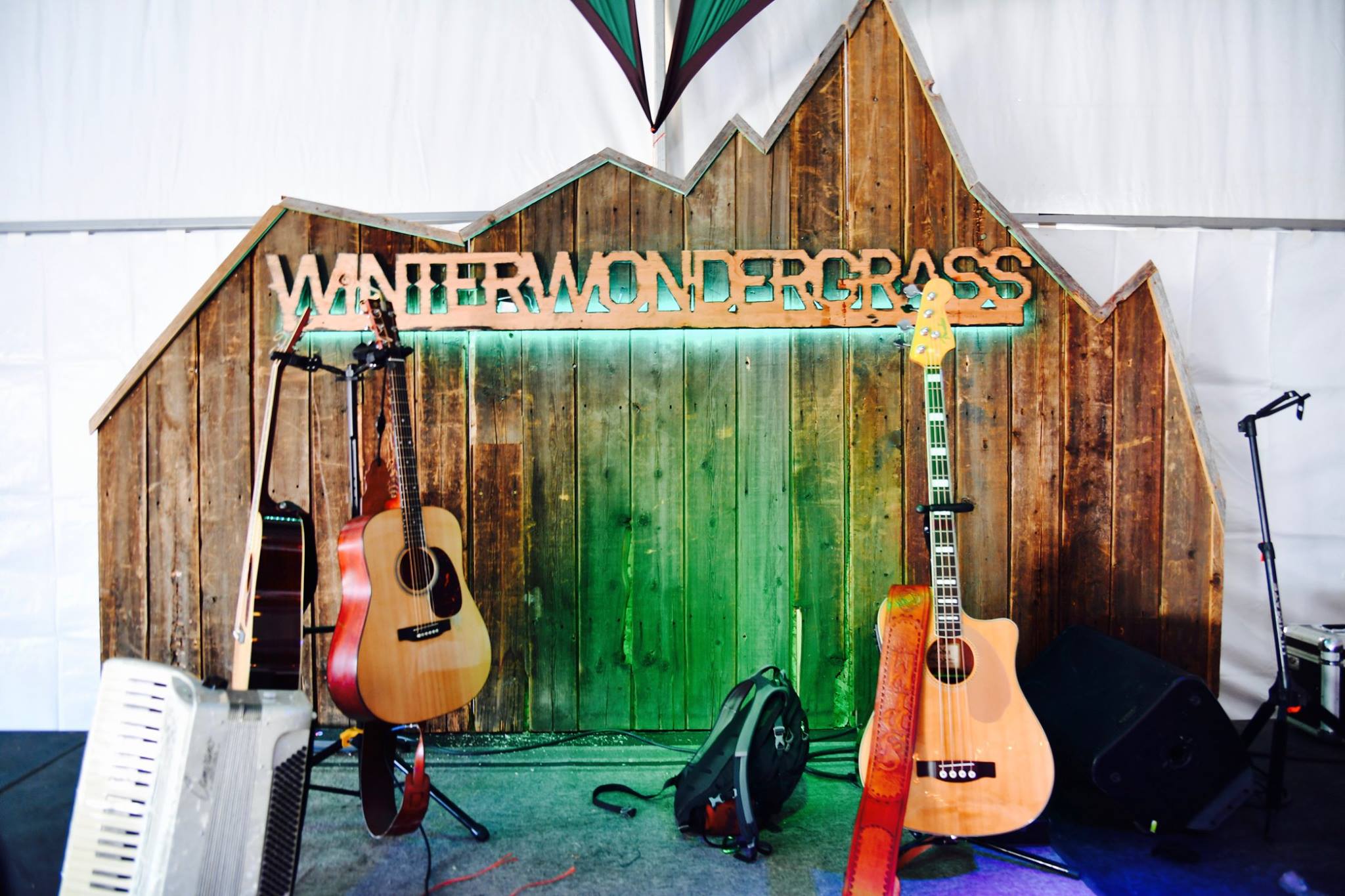 While extra clothing is a must, there were other ways to stay warm doing WinterWonderGrass. From 2-5 PM each afternoon, beer samplings were available in the Jamboree, Pickin' Perch Tent, and Soap Box to get your dancing shoes ready for what was sure to be an unforgettable night. Sponsored by Oskar Blues Brewery, the beer sampling was a wild success and featured an eclectic lineup of brews and ciders from companies such as Avery, Crazy Mountain, Crooked Stave, Great Divide and many more. It was a grand and enjoyable way to kick off the festival each day, and something that certainly added value to the already unforgettable experience.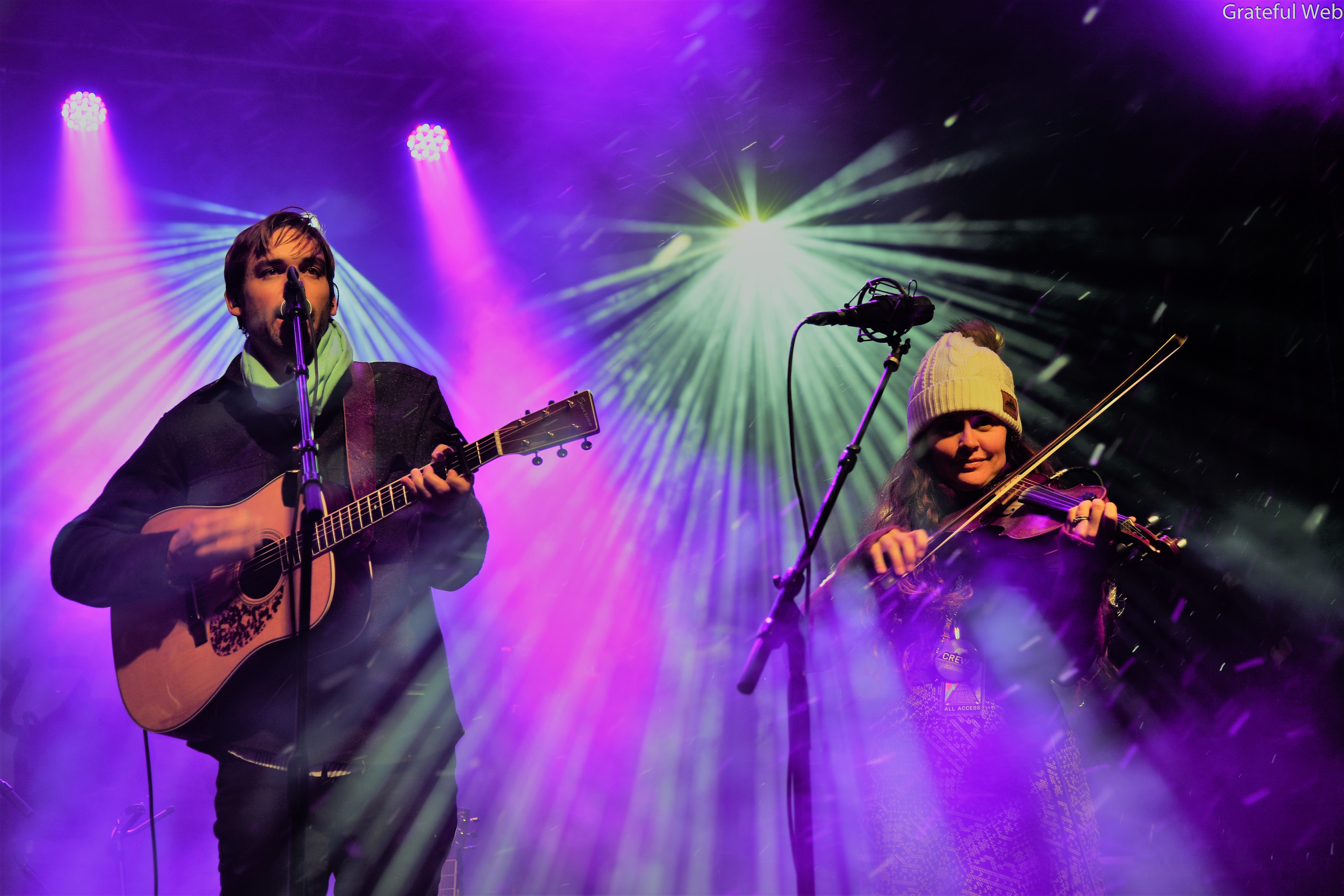 While the festival offered tons of unique and interesting experiences outside the musical realm, we were all ultimately there for one solidary reason: the tunes. Friday started off with an eclectic lineup with artists like the Jon Stickley Trio and Trout Steak Revival kicking things off on the main stage. Highlights from Friday night included an incredible set from Elephant Revival, who had some trouble getting their sound accurate toward the beginning of their set, but sky-rocketed from their playing an incredible set featuring Pink Floyd's "Have a Cigar" amongst many other tunes.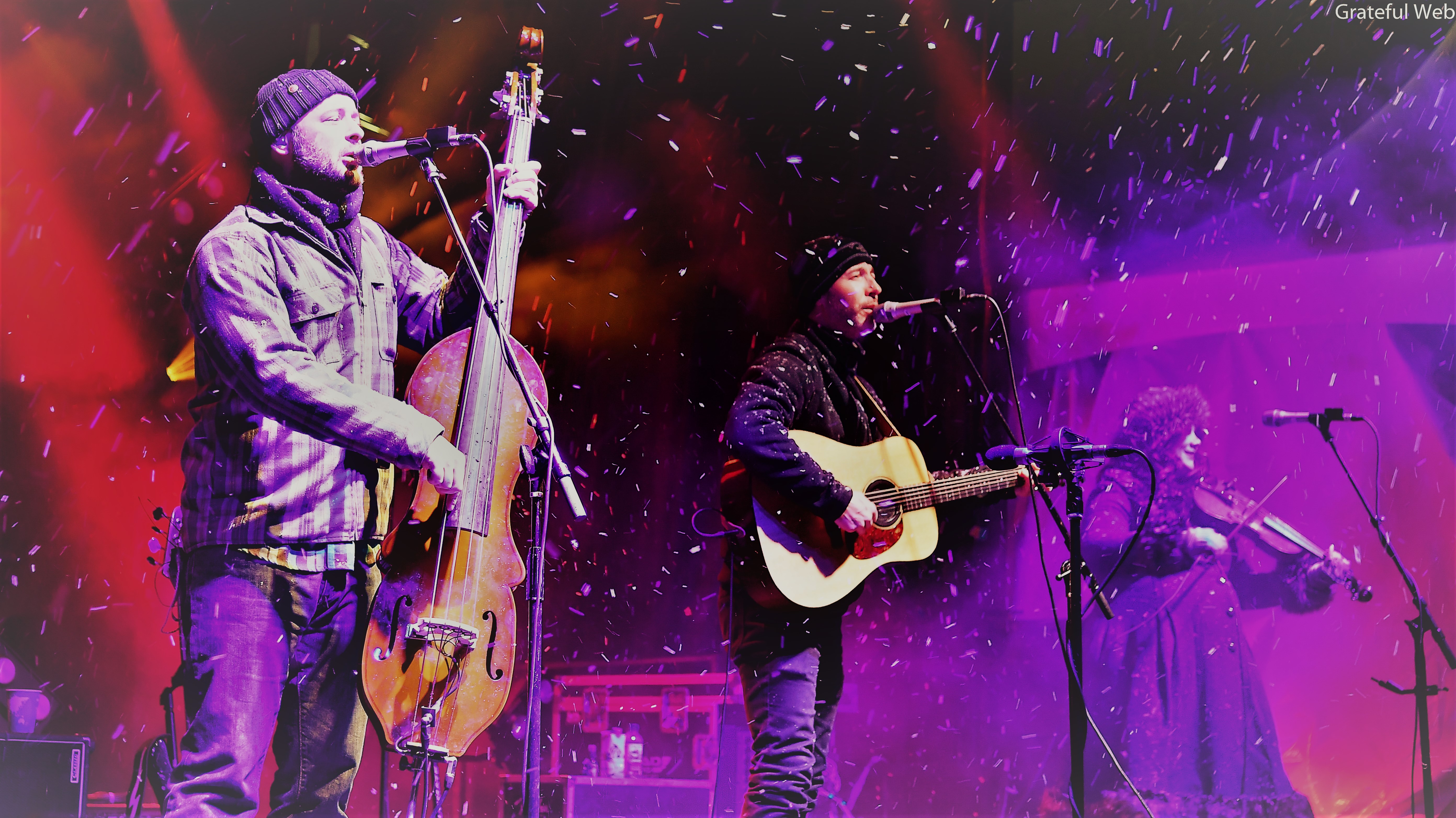 Capping off Friday night was none other than the bluegrass pioneers Yonder Mountain String Band. The band opened to a sold-out crowd with a sweet rendition of "Around You," a track of 2015's Black Sheep, which quickly dove into "Take a Chance on Me." The highlight of the night came the sing-along track "Dancing in the Moonlight," the fourth single off 2017's "Love. Ain't Love" and glorified King Harvest cover. The festival came alive as Yonder took control over the gleeful crowd and serenaded us as the moon shined bright. Snow started to fall heavily as the set went on, as band members could be seen dressed up head-to-toe much like the crowd. The real trooper of the night, however, was Mrs. Allie Kral, the band's fiery fiddle player, who joked around and laughed with the crowd while playing in the bitter cold, as she is close to having her first child. We were all incredibly happy to have her there, and wish her the absolute best of luck in parenthood.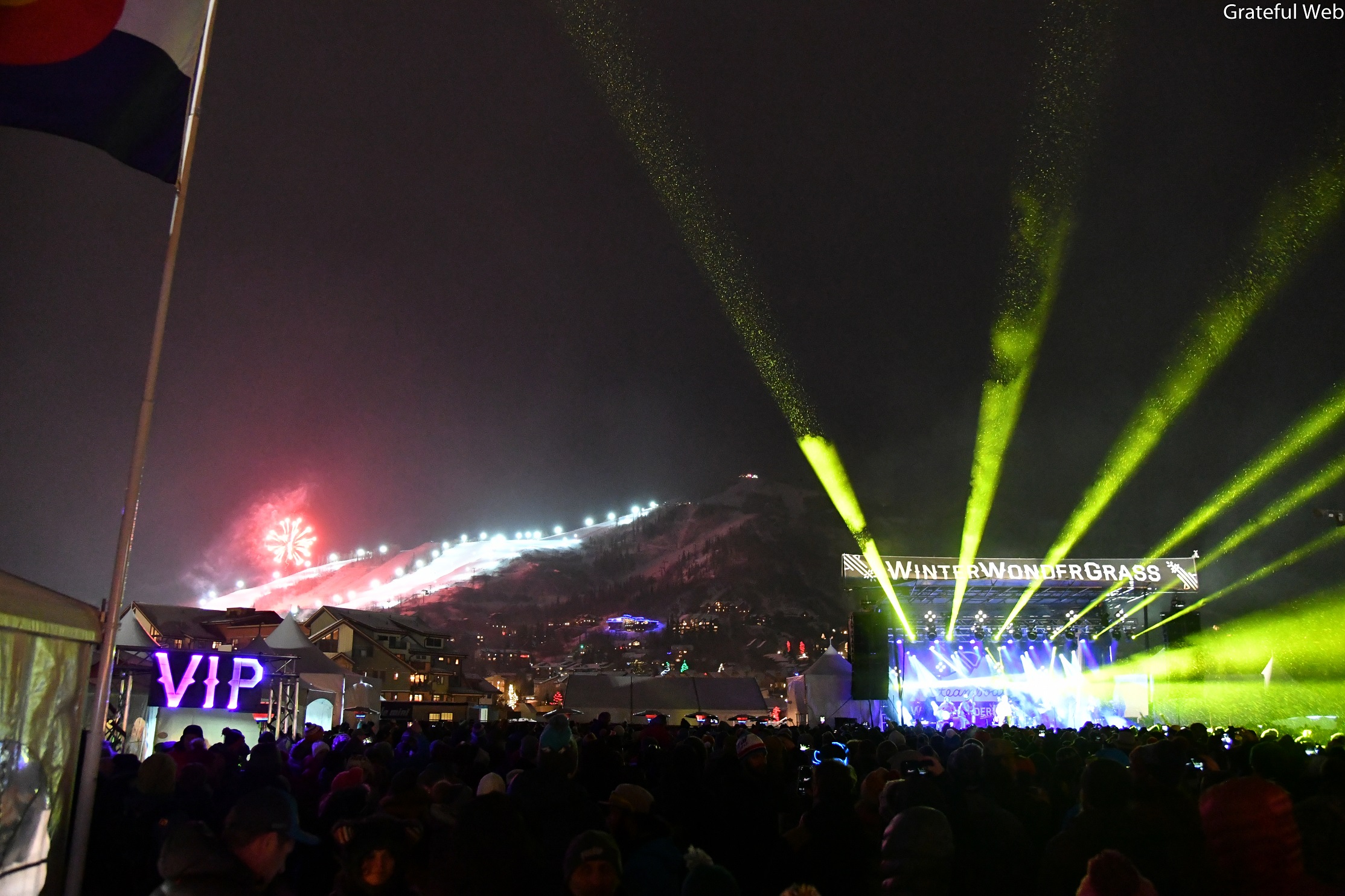 Fans and artists alike woke up to an abundance of snow Saturday morning, which made for an incredible day on the slopes and an even more incredible day at the festival. People seemed to get more creative day 2, concocting outfits to reflect the atmosphere. Different types of animal costumes, sports figures and super-heroes could be seen roaming the festival grounds early in the day, keeping a light and cheerful attitude despite the cold weather. The snow continued to pick up throughout the day and flourished at the highlight if the night: Greensky Bluegrass.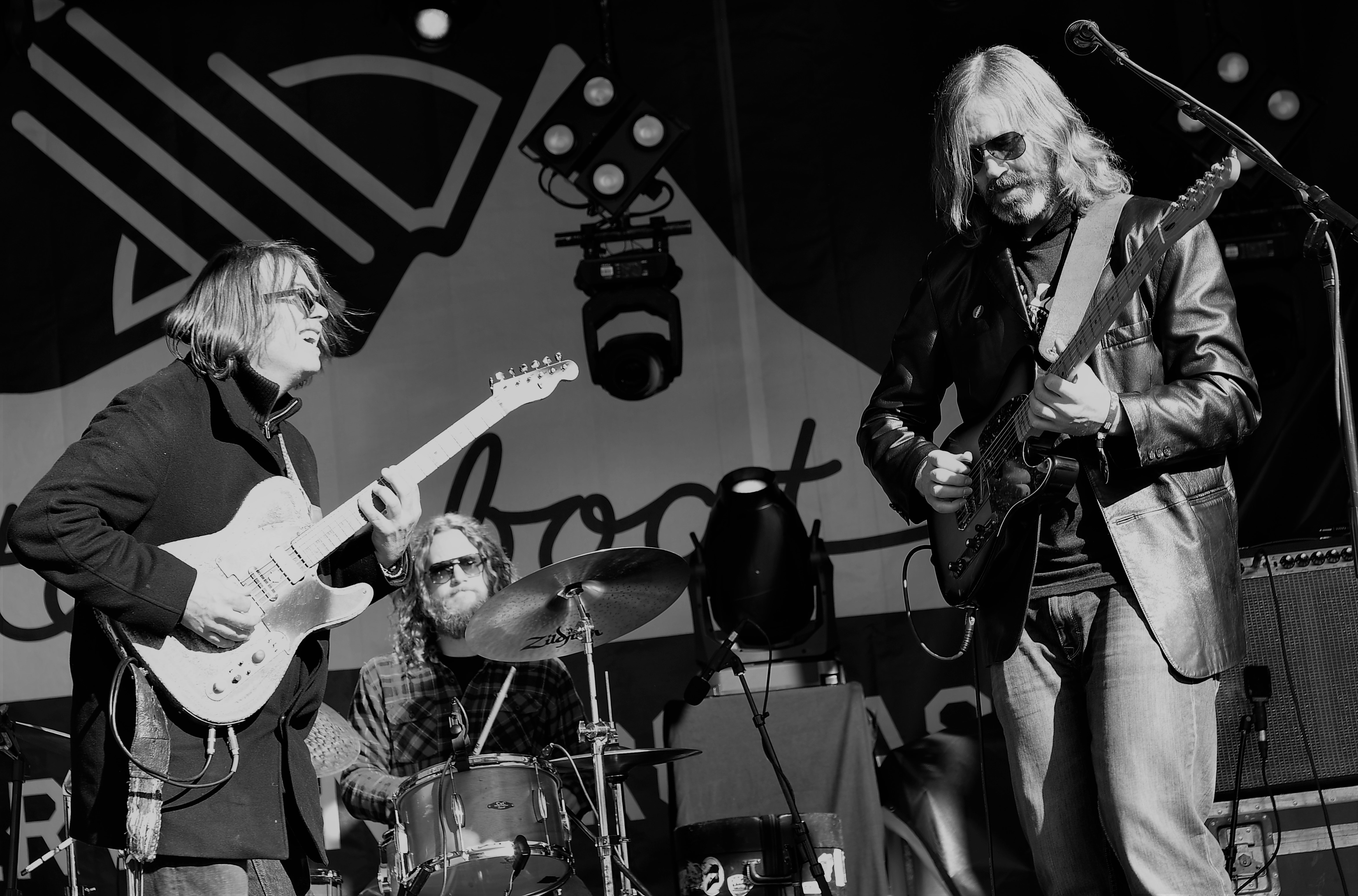 While most of us understand that day three of a music festival can be the toughest of all, add skiing all weekend into the mix, and it can make for some interesting dynamics, however that didn't stop people from leaving it all on the dancefloor Sunday. The day kicked off with Grantful Dead Revue (Yes, that's spelled correctly,) which featured members of Shakedown Street and Dark Star Orchestra. The crew opened with a ripping rendition of "Scarlet>Fire" which weaved and turned into a miraculous "Samson And Delilah." The hits came on coming with GDR crushing "Help>Slip>Franklin's" which featured incredible guitar work from Dark Star Orchestra's Rob Eaton, and finally the band finished their set with a blistering "St. Stephen > Not Fade Away."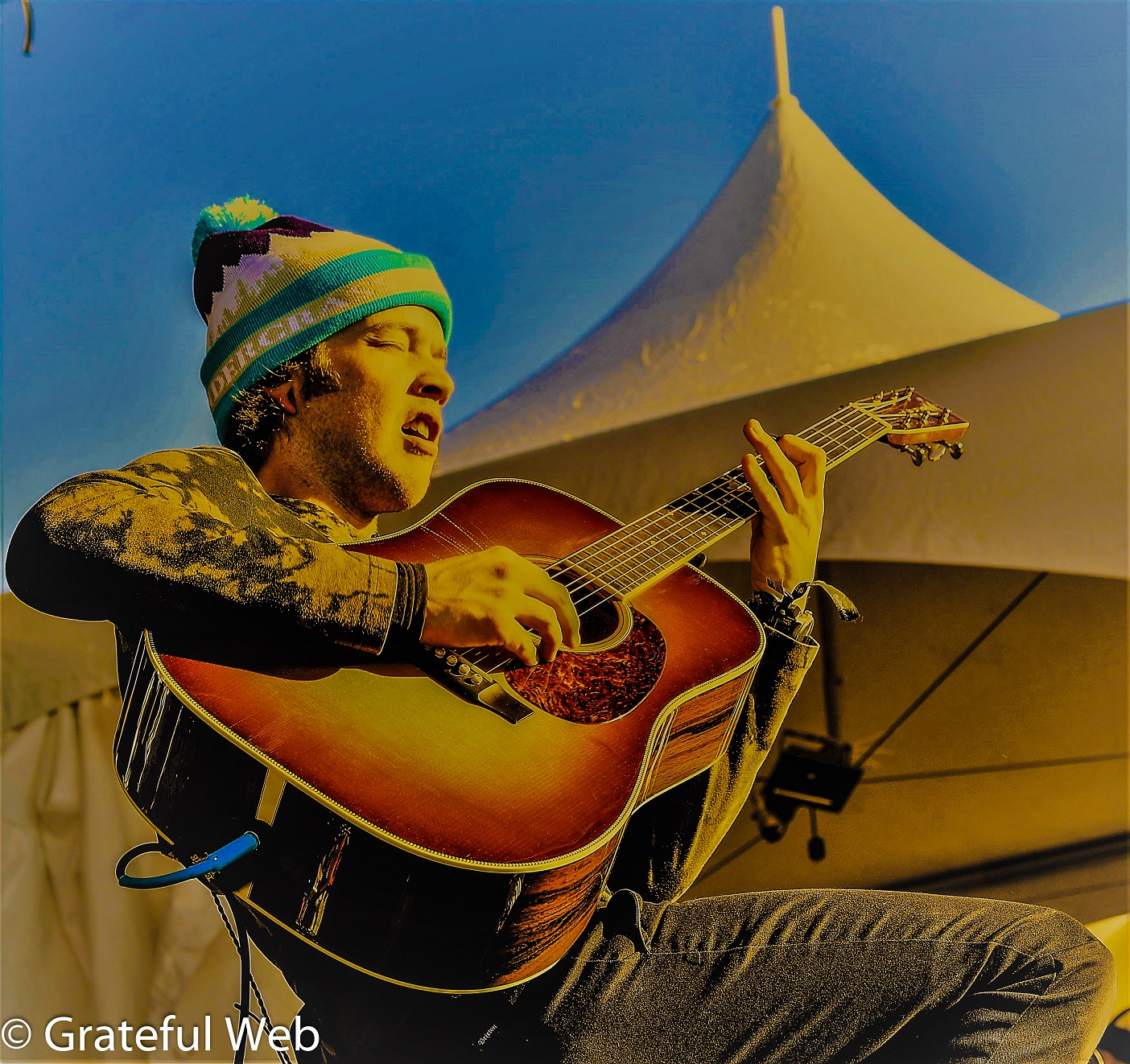 The new kid on the block, Billy Strings, took over the main stage next and did not disappoint. While many are just getting used to seeing his name highlighted across music festivals, he is already being acclaimed by Rolling Stone as one of the artists to watch out for in 2018. Mix the thrash metal sound of early Slayer or Pantera and blend it with the traditional styles of Del McCoury or Sam Bush and you STILL won't be close to capturing the sounds that Billy Strings produces. Energy. Full on energy, in only a way he can produce. Heart-racing, fist-pumping banjo music at its finest, people. Billy took the stage wearing the signature WinterWonderGrass beanie and played an awe-inspiring concert to a sold-out Steamboat crowd that was left begging for more. Of all the artists to play WWG, Billy may have stolen the entire weekend, something he is sure to do for years to come.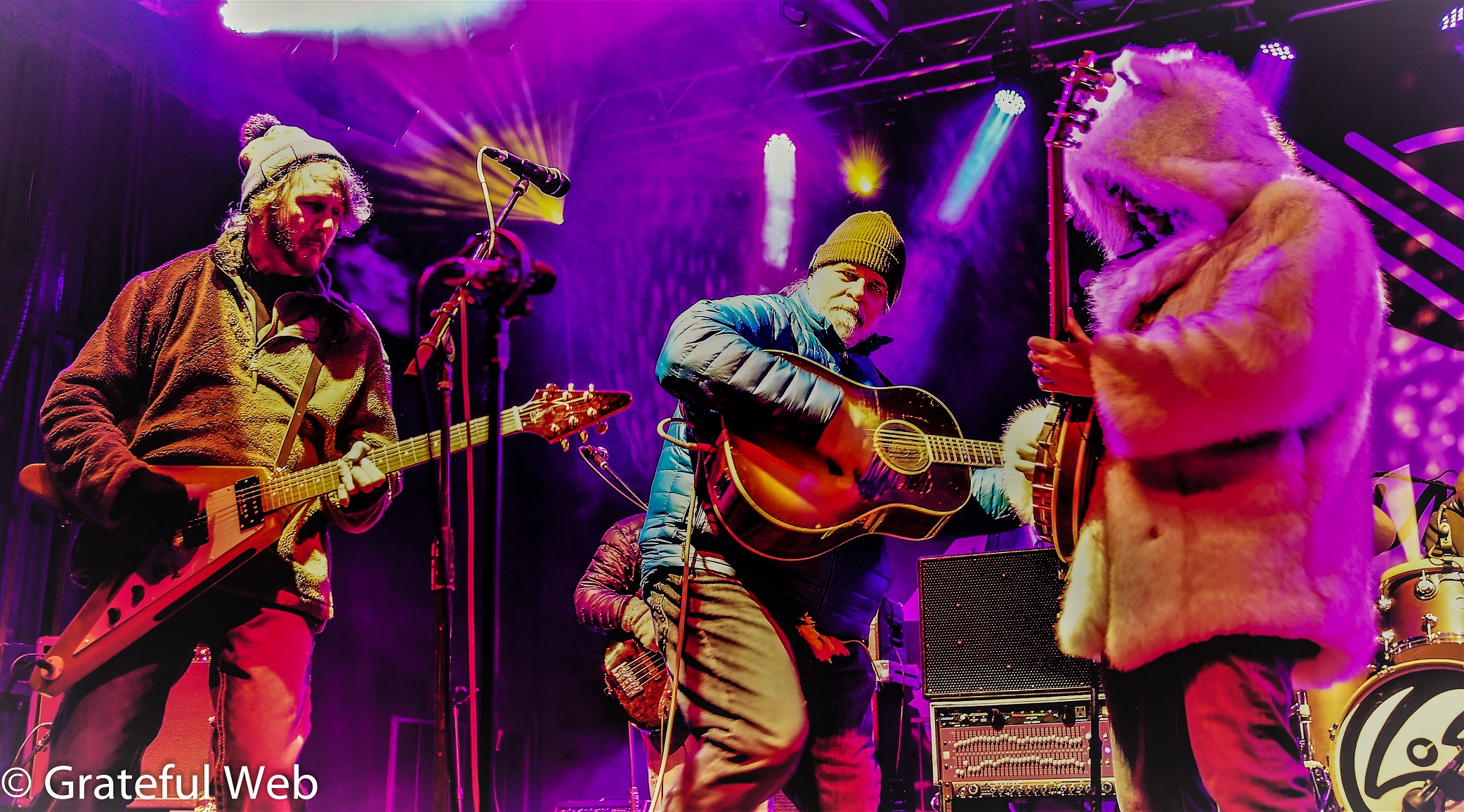 Last but not least, the legendary Leftover Salmon, what more is left to say? While bluegrass music runs deep inside the core of many music fans, it was refreshing to cap off the incredible weekend with more elements of jazz, rock, and jam. Pre-show, fans could be seen huddling around heaters and campfires, warming their fingers and toes in preparation for the final show of the weekend. I myself, (and if you've noticed from my past reviews, never talk in the first person) could be found in the Pickin' Tent with many other heads, chatting about the weekend and sipping warm cider in the cozy tent. As the night drew to a close, the music began to play, and we fled from our warm reserve for one last hurrah at the Main Stage. Upon arrival, Banjo player Andy Thorn came out dressed resembling something like a polar bear, heading in a giant fur coat. Frontman Vince Herman addressed the crowd to something along the lines of, "You guys are crazy for doing this, and we love you for it." Salmon ripped through an array of covers, collectives and new tunes that really put an exclamation point on the weekend. Plot twist, it snowed once again, send the crowd (once again) into a crazed frenzy. It was the perfect cap to a weekend that once again, lived up to its name. WinterWonderGrass is not for the faint of heart, but it a one-of-a-kind experience that goes so much deeper than music. It's about community, friendship and the love of something bigger than ourselves.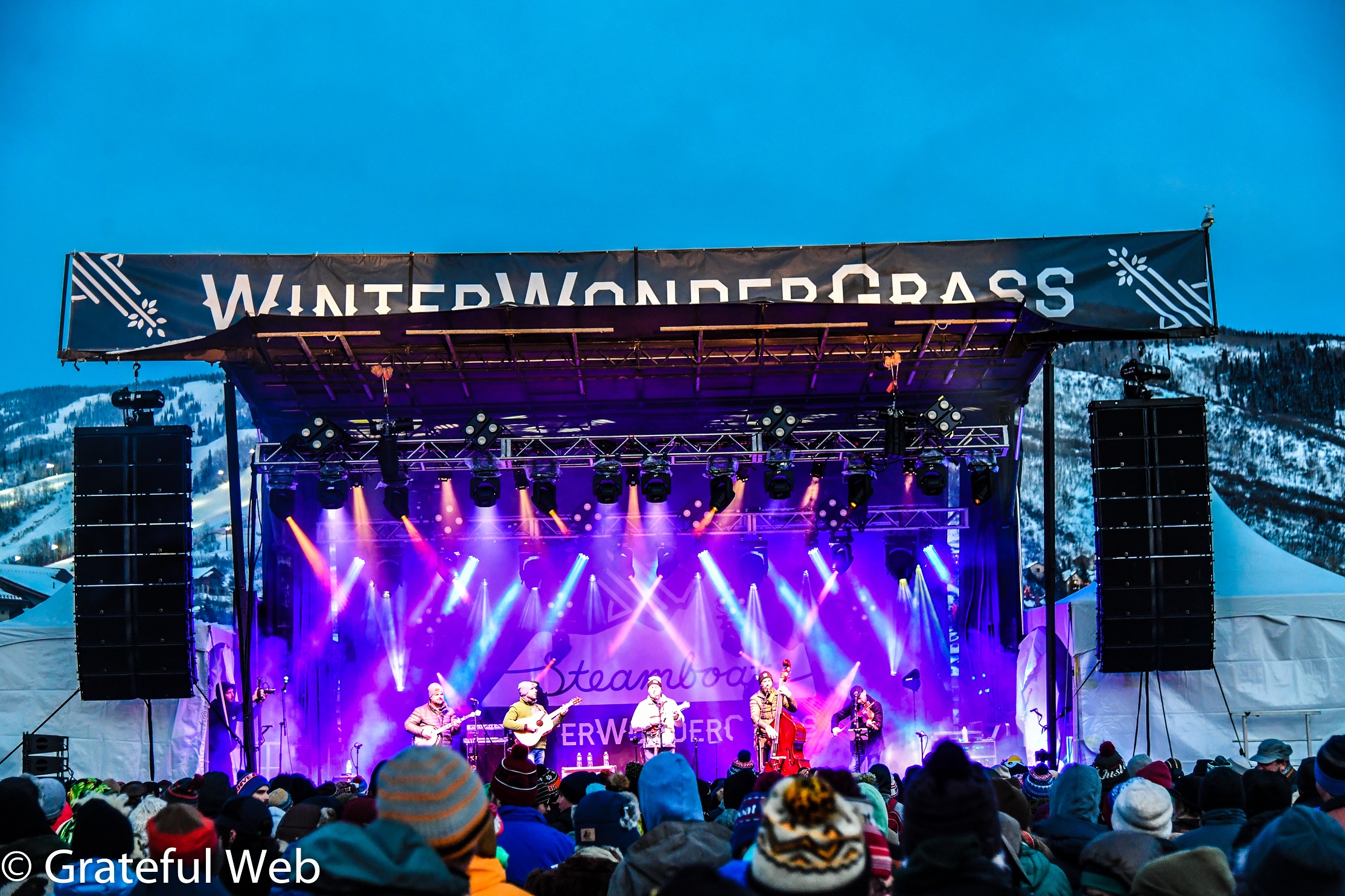 Miss out on WinterWonderGrass – Steamboat? The 2018 installment of WinterWonderGrass Tahoe will take place at Squaw Valley April 6 -8th, featuring incredible artists such as The Devil Makes Three, Railroad Earth, the Infamous Stringdusters and many more. Tickets are on sale now, but don't wait as they will go quick! With that, we bid you farewell from another successful year at WinterWonderGrass in Steamboat Springs. Stay warm folks, and we hope to see you back soon!