Futurebirds 2011 Winter Tour Dates + New Album Coming Soon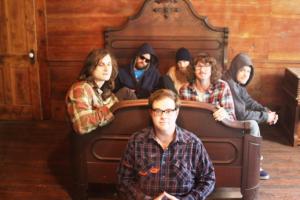 Athens, GA's Futurebirds are nearing the end of a very busy year. After releasing two well-received EPs and touring nonstop with the likes of Drive-By Truckers, Widespread Panic, Grace Potter and the Nocturnals, Gary Clark, Jr., and J. Roddy Walston & The Business, the band is ready to head back to the studio to begin work on the follow up to their debut LP, Hampton's Lullaby (2010). Lucky for us, the guys are bidding farewell to a successful 2011 and celebrating with one last US tour. Futurebirds will support Lucero on three early December dates before kicking off their Holiday Road Tour with Grass Giraffes on December 7th in Asheville, NC. The tour will be making a stop in Brooklyn on December 12th where they'll be playing at Brooklyn Bowl.
In conjunction with the Holiday Road Tour, Futurebirds have announced the release of the Holiday Road Super Single—a four-track split single with tour mates Grass Giraffes - which will be available exclusively at all tour stops. Futurebirds contribute tracks "Serial Bowls" and a cover of "nearsayerfive" by eddie the wheel (who plays in Grass Giraffes). The upbeat "Serial Bowls" is a textured recipe of jangly, hooky guitar licks and fuzzy reverb. "nearsayerfive", on the other hand, is atmospheric and moody, complete with echoed vocals and a hypnotizing slide guitar.