WATERS Announces Spring North American Tour Dates with Delta Spirit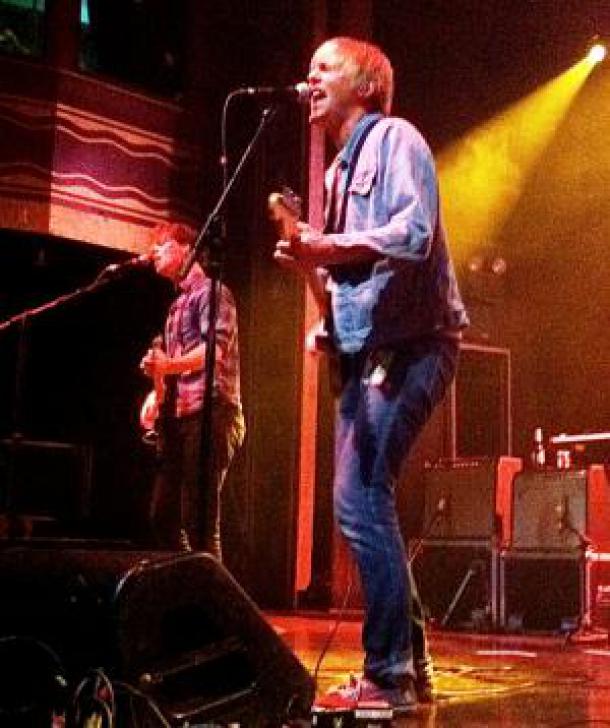 Following winter dates supporting Clap Your Hands Say Yeah, WATERS has announced a lengthy new run of spring tour dates supporting Delta Spirit. The tour will travel throughout the US and into Canada, and launches on March 19th at the Revolution Music Room in Little Rock, AR, before wrapping up on May 11th at The Music Box in Los Angeles, CA. The dates include a March 29th New York show at Webster Hall.
WATERS - whose debut LP Out In The Light was released in September via TBD Records - filmed a live session for Quit Mumbling while in Los Angeles this past fall, and stripped-down versions of album tracks "Mickey Mantle", "For The One", "Back To You", and "O Holy Break Of Day" can now be seen here: http://quitmumbling.com/2012/01/qmtv-waters/. The official video for "Back To You", directed by Kiki Allgeier and Christian Stavros, premiered on SPIN.com in November, while the trippy, Allen Cordell-directed video for "For The One" premiered on Stereogum in September.
Out In The Light was recorded in Dallas, TX with producer John Congleton (St. Vincent, Explosions In The Sky, The Walkmen) over ten days in April. Since its release, the album has caught the attention of Consequence Of Sound, Filter, HearYa ('Top 50 Albums of 2011'), My Old Kentucky Blog, NPR, Nylon, Popmatters, RCRD LBL, and Salon ('The Most Underrated Albums of 2011'), among others.
WATERS tour dates:
MAR. 14-17    AUSTIN, TX                          SXSW
MAR. 19         LITTLE ROCK, AR                  REVOLUTION MUSIC ROOM*
MAR. 20         ST. LOUIS, MO                      THE OLD ROCK HOUSE*
MAR. 21         MINNEAPOLIS, MN                FINE LINE MUSIC CAFÉ*
MAR. 22         MILWAUKEE, WI                   TURNER HALL*
MAR. 23         CHICAGO, IL                        METRO*
MAR. 24         INDIANAPOLIS, IN                RADIO RADIO*
MAR. 26         CLEVELAND, OH                   BEACHLAND BALLROOM*
MAR. 27         BOSTON, MA                        PARADISE ROCK CLUB*
MAR. 29         NEW YORK, NY                     WEBSTER HALL*
MAR. 30         PHILADELPHIA, PA                UNION TRANSFER*
MAR. 31         WASHINGTON, DC                 9:30 CLUB*
APR. 2            CHARLOTTESVILLE, VA          JEFFERSON THEATER*
APR. 3            CARRBORO, NC                    CAT'S CRADLE*
APR. 4            ASHEVILLE, NC                    GREY EAGLE TAVERN*
APR. 6            NASHVILLE, TN                    CANNERY BALLROOM*
APR. 7            ATLANTA, GA                       THE MASQUERADE (Hell Stage)*
APR. 9            BIRMINGHAM, AL                 WORKPLAY THEATER*
APR. 10          NEW ORLEANS, LA                ONE EYED JACKS*
APR. 12          HOUSTON, TX                       FITZGERALD'S*
APR. 13          AUSTIN, TX                          EMO'S EAST*
APR. 14          DALLAS, TX                          GRANADA THEATRE*
APR. 30          SALT LAKE CITY, UT               URBAN LOUNGE*
MAY 1             BOULDER, CO                       FOX THEATRE*
MAY 2             BOISE, ID                            THE NEUROLUX*
MAY 4             SEATTLE, WA                        NEUMO'S*
MAY 5             PORTLAND, OR                     WONDER BALLROOM*
MAY 6             VANCOUVER, BC                   ELECTRIC OWL*
MAY 8             SACRAMENTO, CA                 ACE OF SPADES*
MAY 10           SAN FRANCISCO, CA             FILLMORE*
MAY 11           LOS ANGELES, CA                 THE MUSIC BOX (Henry Fonda Theater)*
* supporting Delta Spirit