Sasha Dobson Evolves Jazz Roots into Garage Rock with New Album
Submitted by Kid Logic on Wed, 04/24/2013 - 09:54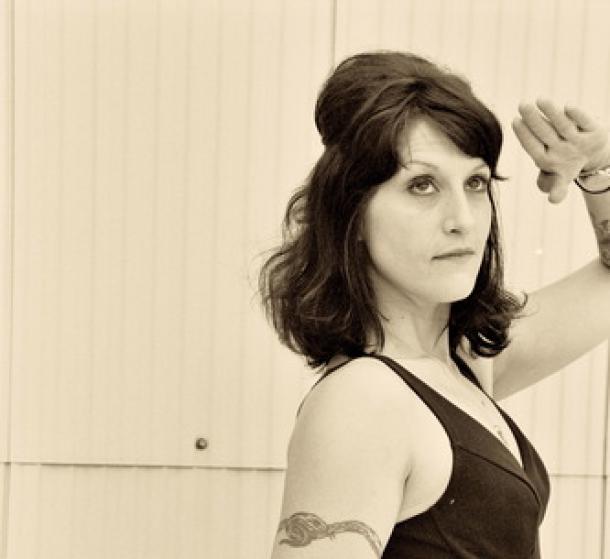 For her third album Aquarius (June 18 / Creek Valley Records), Sasha Dobson, a standout vocalist on the American jazz scene, has created her first album as a songwriter; a raw, honest collection of elegant garage rock, produced by friend and collaborator Joel Hamilton (Sparklehorse, Black Keys, Tom Waits).
The daughter of well-known jazz singer Gail Dobson and Smith Dobson, one of the Bay Area's most influential pianists, Sasha's reinvention was sparked by the death of her father in a tragic car accident.   "I realized I didn't want to go down the traditional jazz road without him, and the guitar was something I could channel my grief through, rather than playing music that would trigger it," reflects Sasha, who started learning guitar at the same time with her friend, Norah Jones.  
The two booked shows in dive bars and pool halls, dressed in classic country regalia (the beginnings of their current country trio, Puss n Boots).  "Yeah, I could barely hold a chord at the time," says Dobson, who went on to become a part of Norah's band. "[She's] truly one of my favorite NYC singers and songwriters," adds Jones.  "Sasha has completely and beautifully come into her own."
Dobson began channeling her jazz roots into stranger, grittier sounds and song structures. Feeling protective of the music she'd written for Aquarius, Sasha went through many rounds of producers and musicians before finding Joel Hamilton.  "He was the first person who understood what I wanted to say," says Sasha, who fought against turning Aquarius into a jazz or country-leaning record.   "I knew this collaboration was right, in the same way you know you're in love, or in trouble…"
"Sasha has the depth of character and experience to charge her music with something that makes your soul ache," says Joel, who became part of the album's misfit family, along with Sasha's longtime friends, bassist Tony Scherr and drummer Kenny Wollesen, the latter borne of her father's far-reaching influence.   "This record finally allows her to put her own experiences as a lifelong musician to work."
Sasha Dobson will be touring with her band this summer and fall, including June 27 @ the Bell House (Puss n Boots will be opening).
Sasha and the band playing "Answer Me".