Singer/songwriter/guitarist David Crosby, who passed away on Wednesday, January 18, at age 81, was a Renaissance Man among musicians. When a good many artists of his generation stopped producing meaningful new music as they entered their 'Golden Years' – and were apparently content to ride on the coattails of their own career, it seemed that he was only getting started.
Since 2014, the twice-inducted Rock and Roll Hall of Fame and multi-award-winning legend had produced five studio albums and most recently had just released a stunningly beautiful live album with his "Lighthouse Band" from the Capitol Theatre in 2022. He even recently stated that, despite increasing health and physical limitations, he had been looking ahead to producing more new albums and live performance in the coming year, at least in some limited capacity or as a residency-type gig. Even if that meant teaching someone else his guitar parts. Reportedly, he noted in a late-2022 interview that there could have been as many as two more studio albums still in the pipeline. One was complete, he said.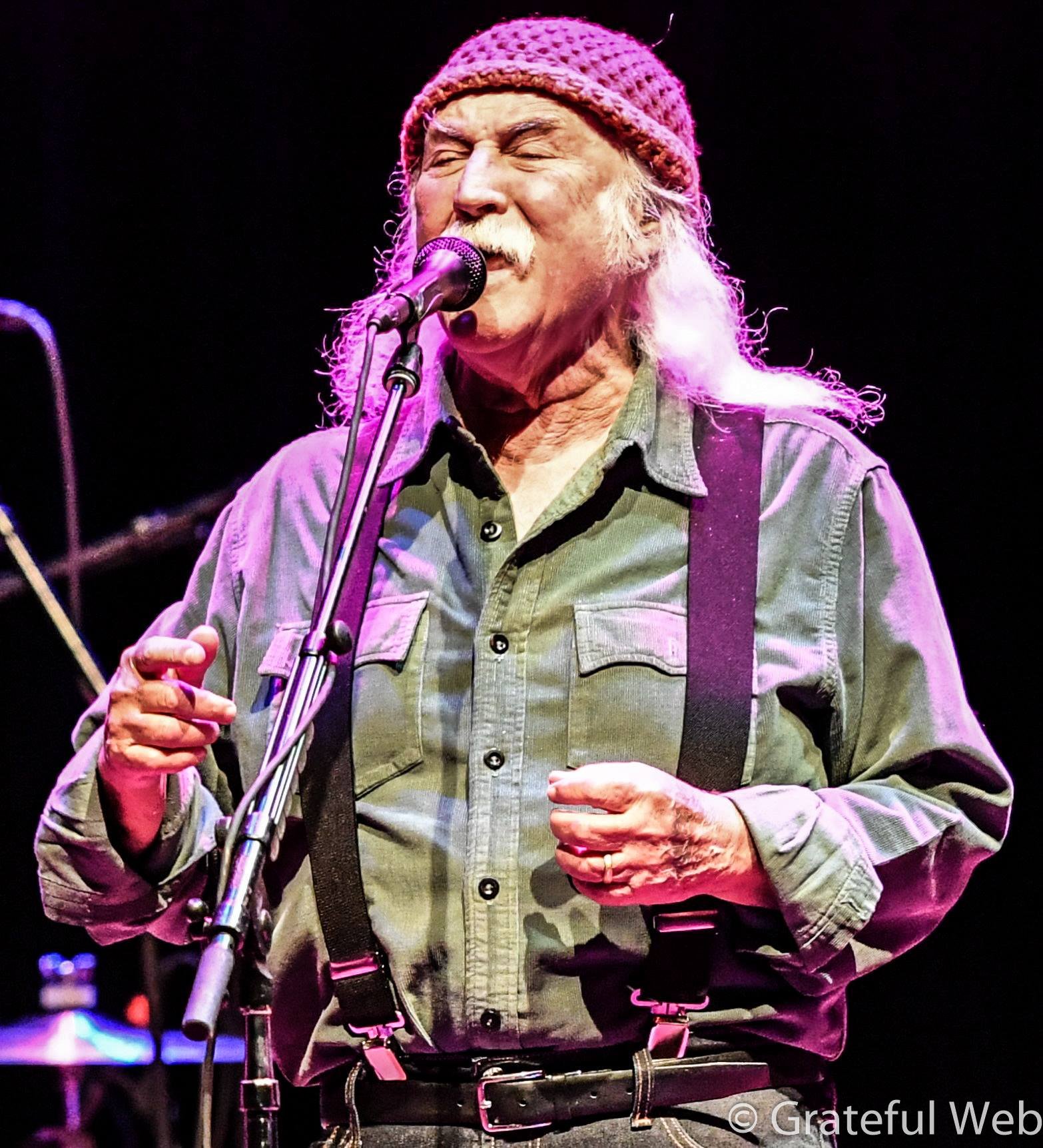 Obviously most famous for his groundbreaking vocal and songwriting work with The Byrds and then the trio of Crosby, Stills & Nash – not to mention the expanded line-up of CSN&Y that saw Neil Young joining forces – he also carved out an objectively crazy-quilt solo career over time.  There were periods that unexpectedly turned into unproductive hiatuses – with only occasional CSN(Y) reunions and reboot solo projects, and then the aforementioned "renaissance" that began in more recent years.
His first solo collection came in 1971 – quite soon after CSN's 1969 Woodstock performance and the historic CSN and CSN&Y albums of 1969 and 1970. That was the release of his debut solo album, If I Could Only Remember My Name. Fellow travelers such as Joni Mitchell, Neil Young, Jerry Garcia and assorted members of the Grateful Dead and Jefferson Airplane – not necessarily in that order! – all contributed to this mystical-sounding, communal musical project. It was a unique snapshot of the early '70s West Coast sound. (Another project involving Crosby that drew upon of this same collective – dubbed PERRO, or the Planet Earth Rock and Roll Orchestra – was the slightly earlier Paul Kantner/Jefferson Starship debut, Blows Against the Empire, in 1970.)
After a mid-'70s tour with CSN&Y found the famously quarrelsome foursome soon going their separate ways for the then-foreseeable future, Crosby worked most frequently with his vocal soulmate Graham Nash on several live and studio albums. Most notable of these was their 1975 release Wind on the Water.
By the 1980s, Crosby began to falter in both his career and his personal life. Throughout the period, dark times plagued him and disrupted his musical work. The most unfortunate events were his being convicted and sentenced to prison on charges of impaired driving, a hit-and-run offense, and illegal possession of controlled substances and concealed weapons. And then, a period of slow rebuilding of his career followed, with new albums in 1989 and 1993, and periodic returns to CSN – and sometimes Y – projects. But there were still periodic incidents.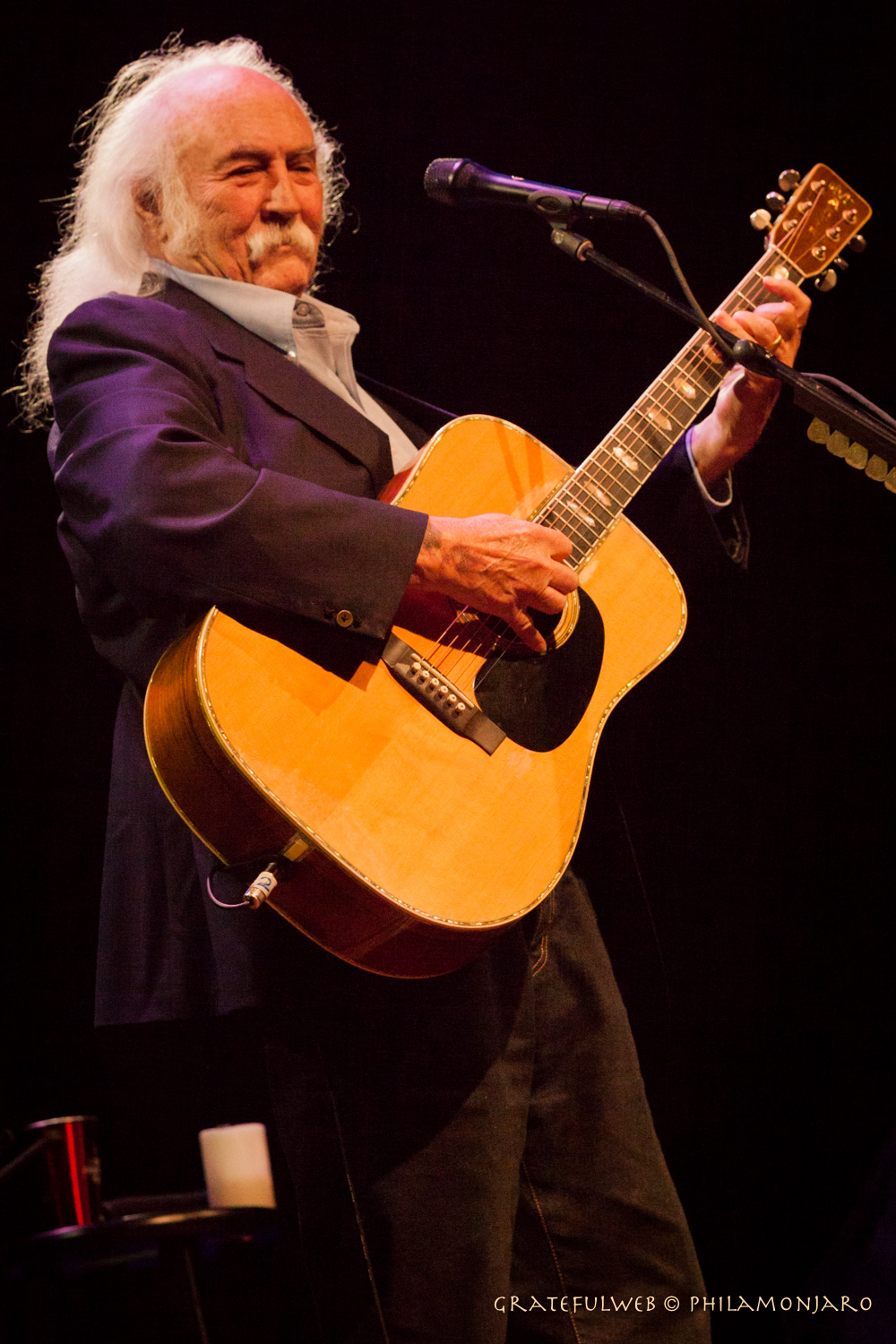 His solo work in the rebound period saw him making some moderate changes in his sound. For example, for his 1993 album, Thousand Roads, he brought in star drummer/singer/songwriter Phil Collins as producer, and there was a bit of a nod to some of the then-current drum and keyboard sounds, and slightly less of his trademark acoustic-based folk and jazz-rock. (He had sung on some Collins solo albums, and Collins sang back-up on a song for him.) And he began featuring the occasional cover of songs by writers such as John Hiatt, and, in time, Joni Mitchell. But his full reclaiming his legacy as a master singer/songwriter came with his late-career breakout album, Croz, in 2014. Four more studio albums – all excellent – followed in 2016, 2017, 2018 and 2021.
Crosby often featured songs he admired by fellow singer/songwriter Mitchell in his live performances and on his later solo albums. As early as 1967, when Crosby first discovered Mitchell, he served as producer on her debut album, Song to a Seagull. In 1973, also as a producer, he helped to bring The Byrds – a band he had left under the least friendly circumstances in 1967 – back into the studio for a one-time reunion album, The Byrds.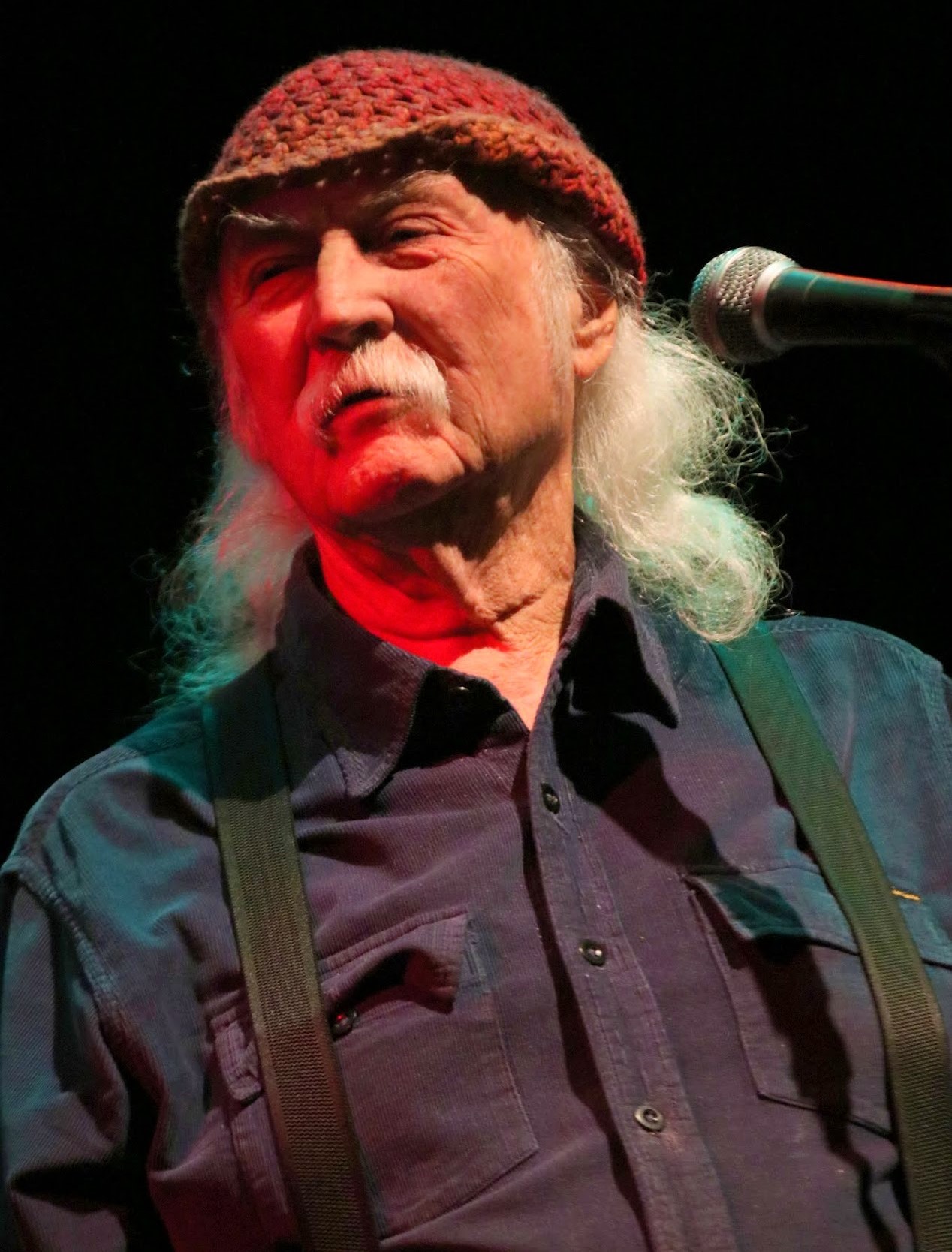 One track that Crosby contributed to that album was a cover of Mitchell's "For Free." This song had obviously long carried a great deal of personal meaning for Crosby, as he would include it regularly in his live performances. He also made a new rendition of it into the title track of his most recent studio album, in 2021. Other Mitchell songs he has reinterpreted include "Yvette in English," "Amelia" and "Woodstock."
Another important personal-life hurdle for Crosby was the period in which he had suffered from Hepatitis C and required a liver transplant, which he was fortunate to receive and adjust to successfully. (Unfortunately, this was controversial, too, as questions arose about whether his celebrity had given him a boost on the transplant wait lists.) During the time of his treatment in 1994, he did have the great fortune to be reunited with his long-unknown son James Raymond, whose mother had had a relationship with Crosby in the early 1960s. At that time, Crosby had moved on before getting to know his son.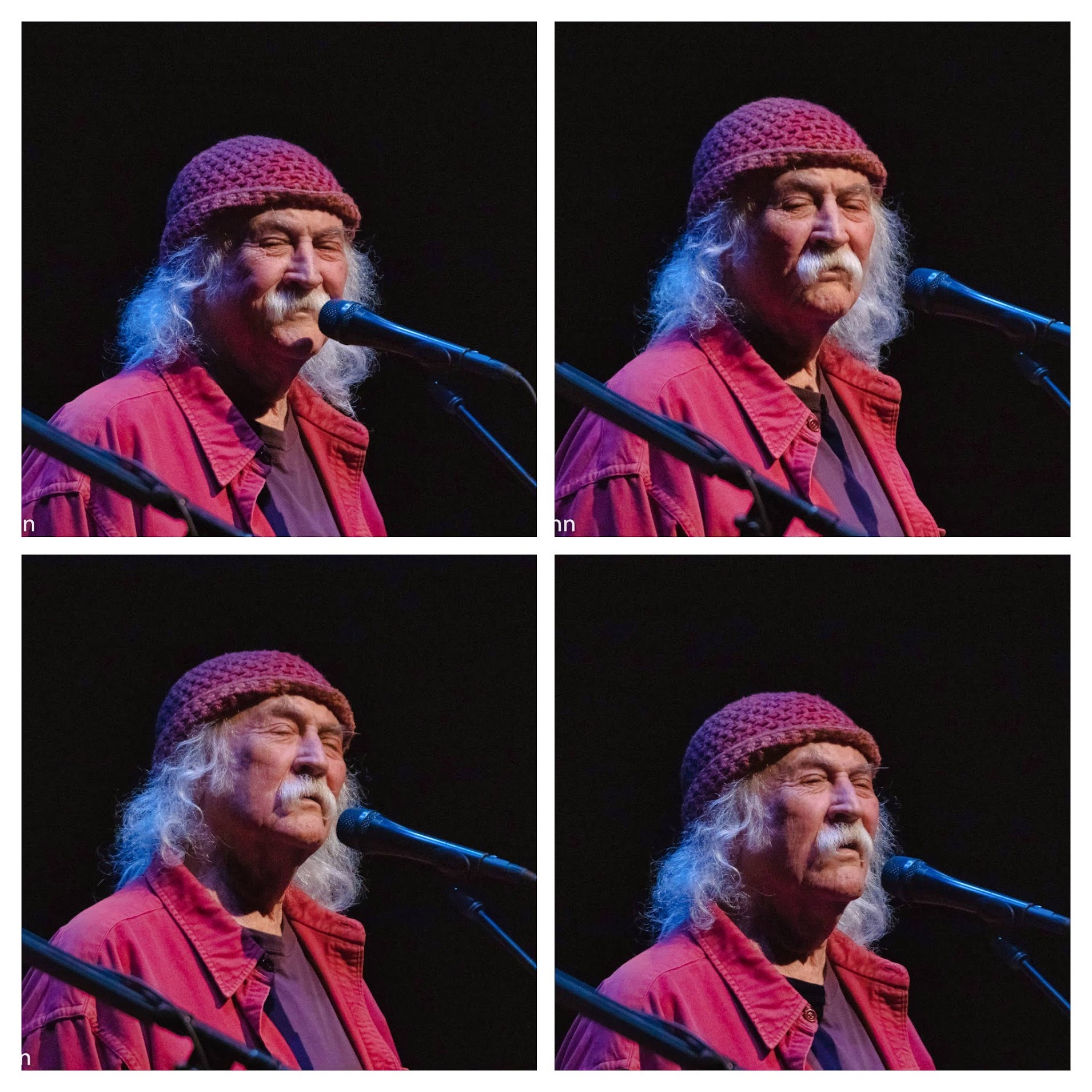 Raymond had always heard he was related to Crosby but there had been no contact. When he learned that the famed singer/songwriter was in the hospital awaiting the liver transplant, Raymond – a keyboardist himself – took the risk of reaching out to him. They quickly bonded, especially over music, and eventually began a productive musical relationship with veteran guitarist Jeff Pevar in the more jazz-rock-oriented group CPR (Crosby, Pevar and Raymond).
This led to four CPR albums and a number of tours between 1998 and 2001, and in many ways this formed a bridge between his 'rebuilding' years of the early 1990s and his later-career burst of creative energy. Raymond co-wrote and produced other projects with Crosby, including the 2021 album For Free. Also, both Raymond and Pevar joined in as tour personnel on frequent CSN tours in the 2000s, both together and separately. And, in 2018, the duo joined Crosby again for a series of live shows in support of his newest release at that time, Sky Trails.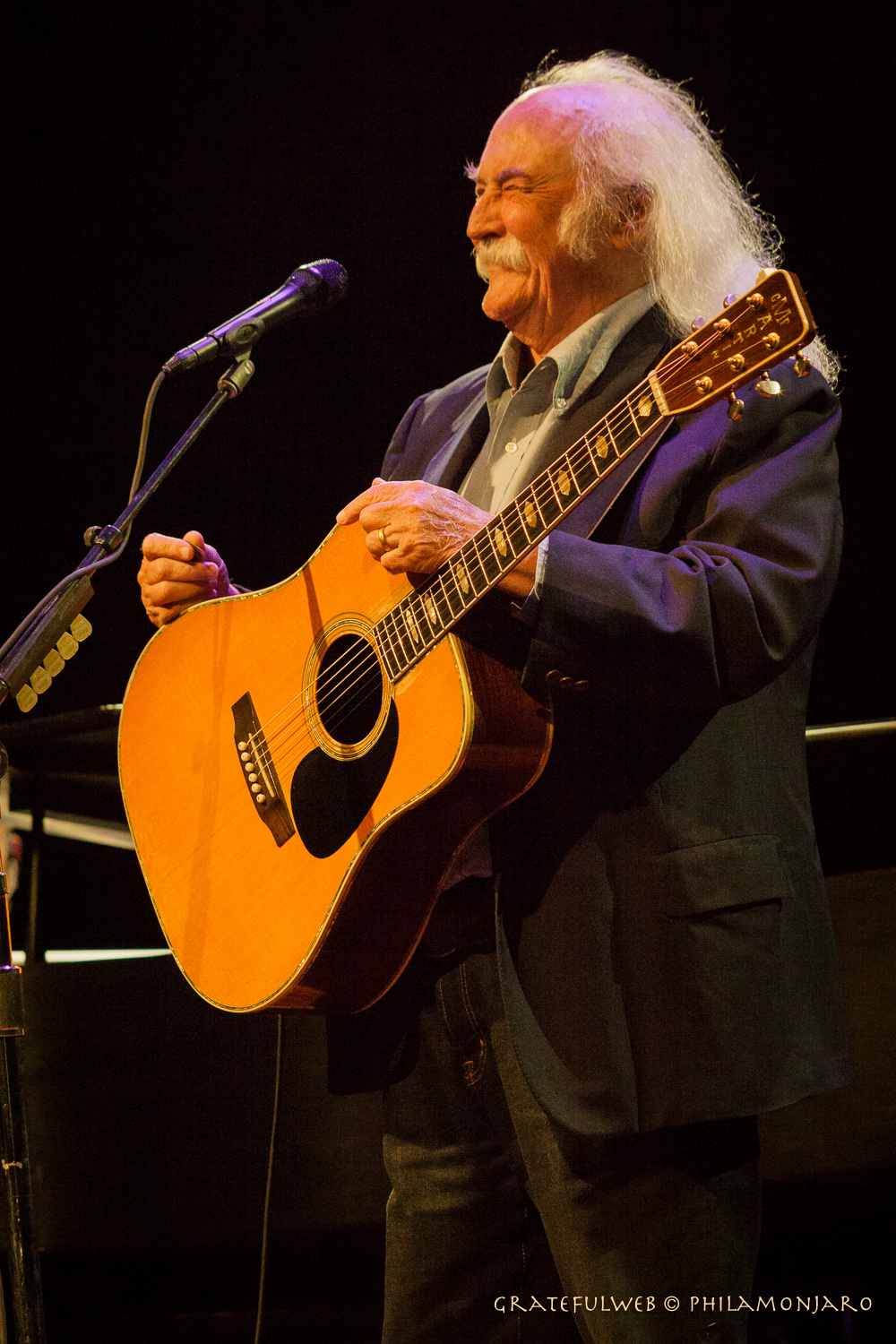 The year 2006 found Crosby – along with vocal partner Nash – lending heavenly harmonies to prog guitarist David Gilmour's solo album On An Island, and the duo appeared in some live performances with Gilmour's band that same year. (In 2015, they were invited to work with Gilmour again, adding vocals to a single track for his most recent album, Rattle That Lock.)
Also in 2006, a group reunion for Neil Young's "Freedom of Speech" tour with bandmates Stephen Stills, Nash and Young was another huge healing step, which kept feeding the energy into more CSN-only tours through 2015. This carried Crosby right up to the Croz album that same year. For accomplished sailboat captain Crosby, it had been – with the exception of the Covid lockdown period between 2020 and 2021 – pretty much clear and steady sailing ever since. At least musically speaking. Some off-stage drama with Crosby would still nag at his heels.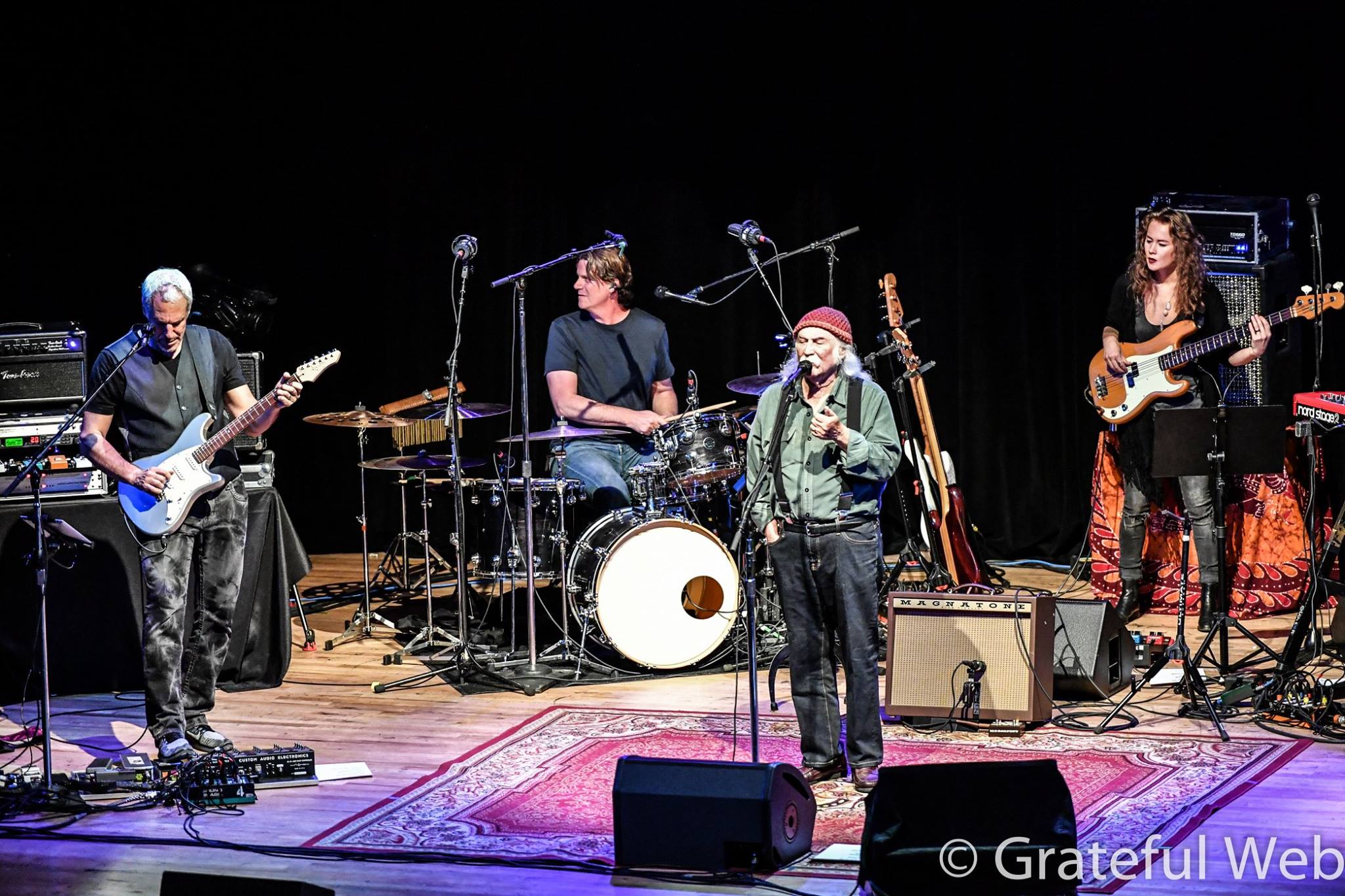 There's so much more to say about Crosby's unique, expressive voice as well as his interest in and explorations with altered guitar tunings, harmonized vocals, jazz modes and idiosyncratic songwriting, of which the title track of the acclaimed CSN&Y album Déjà Vu is the leading example. But that, of course, would take a coffee-table-sized book. Or maybe two. Surely, someone else will be writing those – and soon.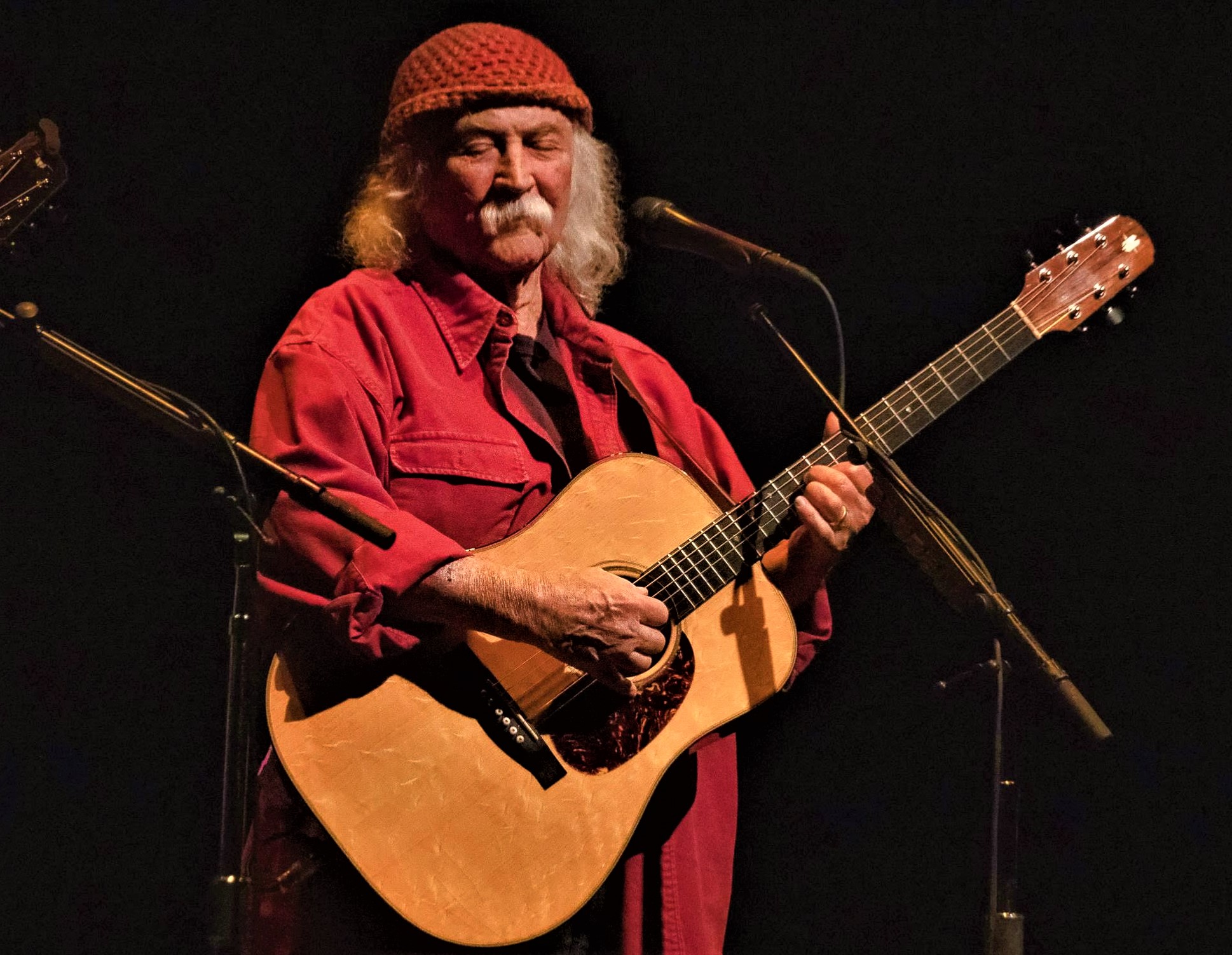 Still, it must be said, some of his most defining traits were his often provocative sociopolitical opinions and strident interactions with fellow musicians. (Yes, there's a reason some folks would never speak to him again.) For example, Frank Zappa once satirized the fractious intraband conflicts within CSN&Y in one of his live performance skits, captured on the Mothers of Invention album Fillmore East June 1971. But Crosby also achieved relative immortality in pop culture in more benign ways, too, appearing as an actor in several TV shows and movies, and twice voicing a caricature of himself on The Simpsons. He also starred – naturally – in a 2019 documentary film of his life titled, David Crosby: Remember My Name. All in all, as fellow American songwriter John Prine once wrote, "pretty good, not bad, can't complain."
So, yes, with David Crosby, there's much, much more than just his name to remember.