Saturday was the day that the looming threat of rain finally hit the festival.  A strong downpour from noon to four postponed the entire day back an hour, however, it didn't shut down the event or cancel any performances. In fact, it provided a nice cloud canopy of protection from the sun for most of the day. Dedicated fans that stood in the rain for an hour waiting for the gates to open were rewarded with an impromptu acoustic performance by My Morning Jacket when they were finally allowed in. They played the songs "Wonderful (The Way I feel)" and "Tonight I Want to Celebrate with You," which are currently making the rounds on Youtube.
Once day two was finally underway, Justin Townes Earle took to the Boom stage and performed a selection of songs from his new album Nothing's Going to Change the Way you Feel About Me Now. Looking more like he was taking to the Forecastle pirate theme then his usual Dapper Dan Man style, Justin Townes Earle was enjoying himself.  He told the crowd, "Country stopped being country around the 70s."
Dr. Dog, who always puts on a lively show, came out in full force Saturday afternoon. They opened with "Shadow People" from their well received 2010 album Shame, Shame. They finished with "The Rabbit, The Bat, and the Reindeer" from their 2008 eyebrow raising album Fate. They then played a large selection of songs including "That Old Black Hole" from their current release Be the Void. The set gave Dr. Dog fans new and old something to high-five about. 
The mash-up guru Girl Talk came on just as the sun went down, allowing for his light show and duffel bags of confetti to be blasted across the Festival grounds.  Say what you will about the modern day D.J., when Black Sabbath meets Three 6 Mafia everyone's dancing.
Headlining Saturday, playing a 2+ hour set with over 20 songs, four of them masterfully rearranged covers, lovers of puppets and potassium: My Morning Jacket. In the land of Muhammad Ali, there is another heavyweight in town.  They also prove to be the people's champ as Saturday night's event was the largest capacity of festival-goers for the weekend.  Opening with "The Dark" from their 1999 release The Tennessee Fire , My Morning Jacket celebrated the culmination of the tenth anniversary of the Forecastle Festival with a wide range of their catalogue including "Cobra" from their Chocolate and Ice EP and others including "The Bear", "Run Thru", and "Holdin' On To Black Metal" (The latter performed with Preservation Hall Jazz Band).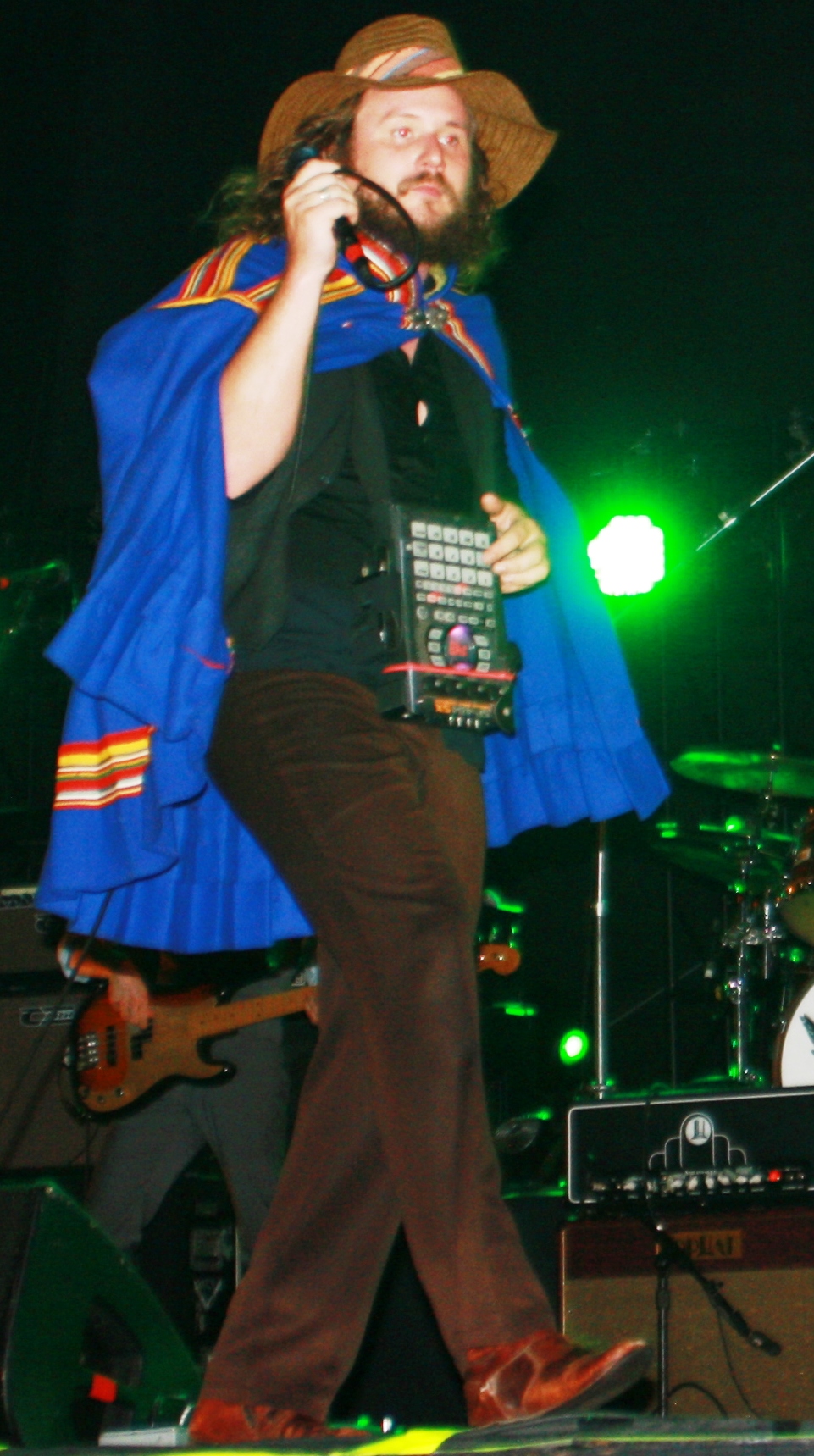 What made the set truly special were the four interspersed cover songs throughout. Dean Wareham came out to help give George Harrison's "Isn't it a Pity" a reverb makeover. Jim James proved his voice was made to sing Elton John's "Rocket Man" with acoustic accompaniment.  They gave a nod to the late Levon Helm of The Band who passed away this year with "It Makes No Difference". Then possibly the best George Michael impersonation known to man, as they covered "Careless Whisper" Jim James made it known to all: "George Michael gets a lot of shit, but he's a fucking genius." As they bombarded the audience with bananas which led into the final song of the night: One Big Holliday.  Former guitarist Johnny Quaid who was with MMJ up until their 2005 release "Z" and playing the festival under his new outfit The Ravenna Colt came out to play with the band.  In all, it was obvious the duties of bringing in the tenth anniversary of the Forecastle Festival were not taken lightly by My Morning Jacket. 
Earlier on Saturday, Preservation Hall Jazz Band felt right at home with the humidity and threat of rain that frequents the Louisiana coast.  Playing through a long set of their traditional New Orleans Jazz, Preservation Hall brings to the stage something that has been entertaining folks for over one hundred years.  The Grateful Web spoke with Ben Jaffe of Preservation Hall Jazz Band to talk about the Festival, New Orleans and, of course, Jazz.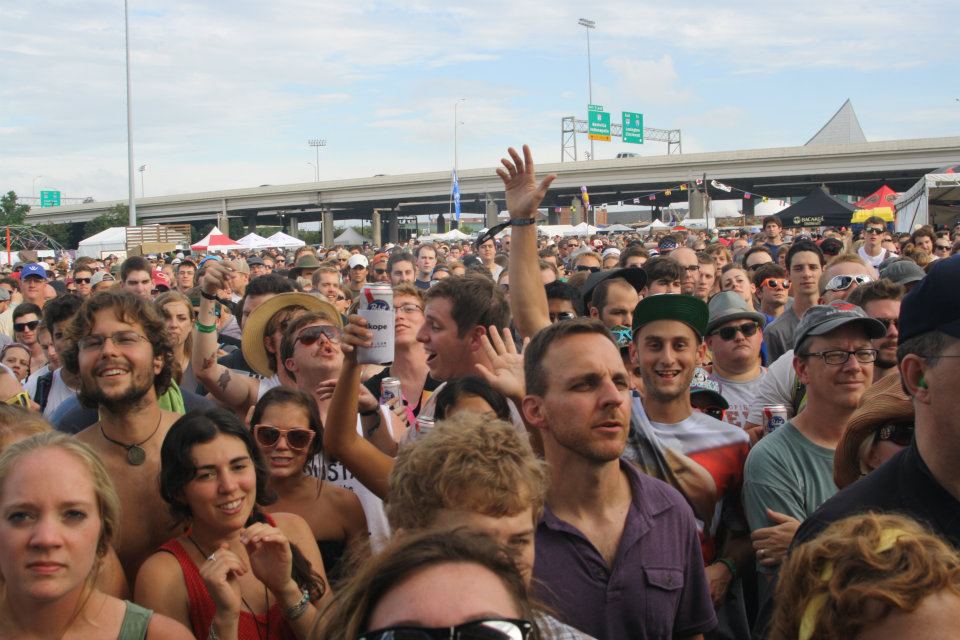 Check out more photos from Forecastle fest. | Forecastle Festival part 1 | part III
Grateful Web's Interview with Ben Jaffe of the Preservation Hall Jazz Band
GW: Forecastle is celebrating in tenth year.  What were you or Preservation Hall Jazz Band doing ten years ago?
Ben Jaffe: We've evolved a lot as an organization in ten years.  In ten years we've lived through Hurricane Katrina, the BP oil spill and we've lost and replaced several members of PHJB family.  These past ten years have really been an evolution. Also, it's amazing to think that this year is our 50th anniversary as an organization; so we were also turning 40 ten years ago.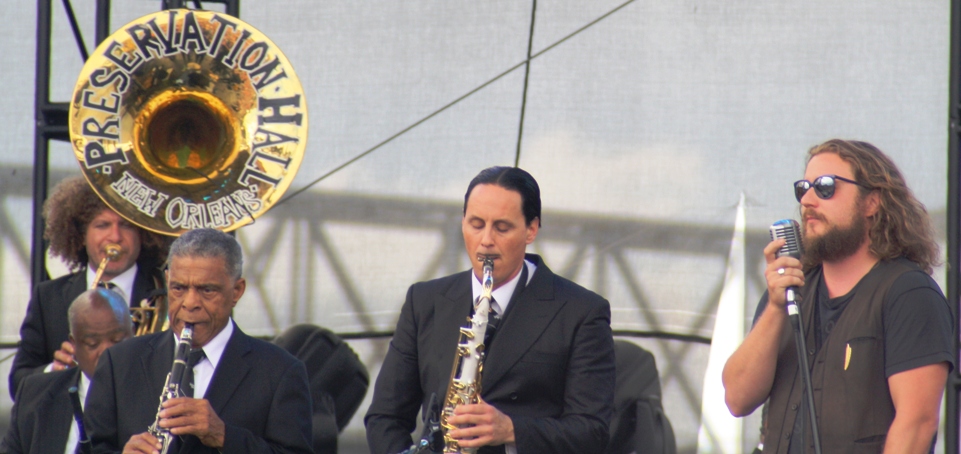 GW: That is amazing! In that time so many people have come and gone which makes PHJB like a living organism in that respect.  In what ways does PHJB stay the same and how does it change when that happens?
Ben Jaffe: That idea that people don't really die and they live on through tradition is what's really beautiful about New Orleans. I think the people from the Preservation Hall family that we've lost in the past ten years: John Brunious (Trumpet), Ralph H. Johnson Sr. (Clarinet), David Goulie (Clarinet) and then I think of our current members: Mark Braud (trumpet, Vocals), Charlie Gabriel (Clarinet, Vocals), and myself and were are all dependents of those families. That is an amazing tradition to know that music in New Orleans is embraced and passed down from generation to generation.          
GW: PHJB is working to "Nurture and perpetuate the art form of New Orleans Jazz". How do you go about reinventing or presenting a traditional music art form in a contemporary market, such as the Forecastle Festival that hosts so many new acts?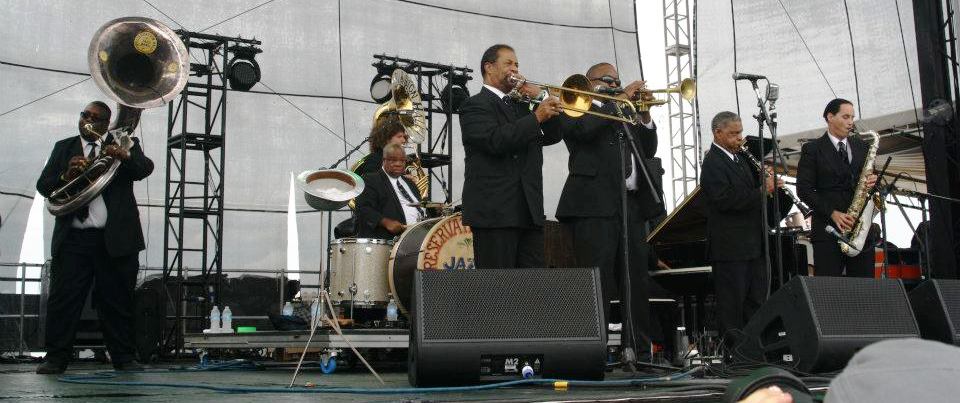 Ben Jaffe: To me one of the most important things to acknowledge and recognize is that traditions evolve, and any tradition we observe today had its start at some point. When it had its start maybe people welcomed it or looked at it like it was the craziest thing in the world.  It's hard for us to really have that perspective.  I've been fortunate to be raised by some first tradition jazz musicians.  Jazz as an art form is really on about one hundred years old. So when I was growing up in the 70s I just missed the first and second generations of Jazz musicians; those who were there at the birth of Jazz. What they did was take it from the church or marching band environments and created a new audience for it by bringing it into dance halls. When Jazz started, man, Jazz was the original rock n' roll. People wrote about it as something eroding the moral fiber of society. Jazz got its name from a slang term people used to call brothels or "Jazz Houses". The original spelling of Jazz is actually "Jasf" which was a slang term for sex or a woman's private parts.  It wasn't something you would hear at Carnegie Hall. At one point in time you had to be up to no good to be listening to this music. Now to see where it has evolved it truly amazing to me. For me as the creative director of Preservation Hall I feel the responsibility to constantly contribute to new traditions and contribute to leave our imprint on Jazz as musicians have done for over a hundred years now. Every member of our band can trace our roots back to beginning of New Orleans Jazz.
GW: Didn't your father play in PHJB?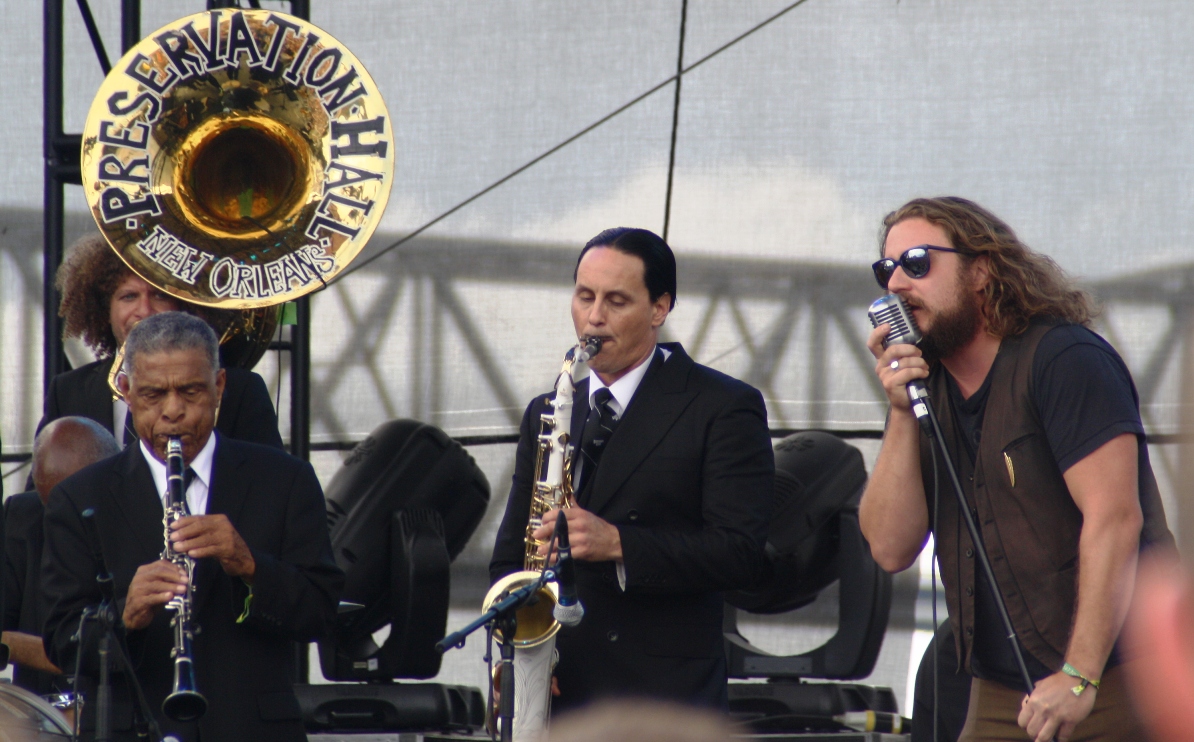 Ben Jaffe: My father and mother created the Preservation Hall Jazz Band.  My dad ended up playing tuba in the band and I inherited his feet. 
GW: You worked with My Morning Jacket who's hosting this year's Forecastle for the film "Louisiana Fairytale". What was it that brought you two together?
Ben Jaffe: Jim (James) was one of the artists who accepted the request to come and work on a collaboration project called "Preservation" we recorded several years ago. From that there was an immediate life-long friendship. My Morning Jacket then invited us to go on tour with them and we ended up playing in New Orleans, playing at Preservation Hall together and playing the Jazz fest a few years now. We've just done a lot of really great projects together.  It's really great to have a relatively young rock n' roll band embrace what we do.  Jim (James) is a very curious and brave artist who isn't afraid to explore.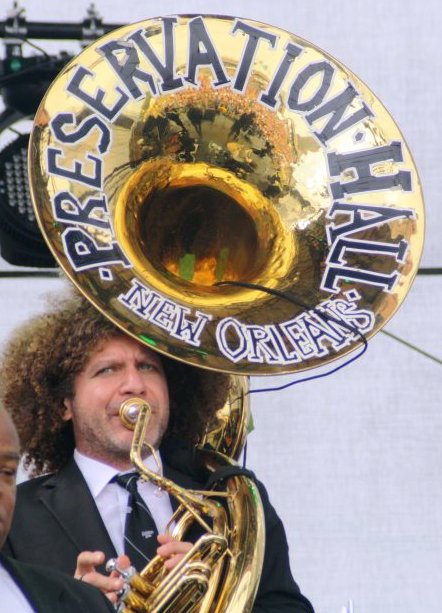 GW: Hurricane Katrina forced Preservation Hall to close for over a year, not to mention the other devastating effects it had on the city.  Did anything good come from the bad?
Ben Jaffe: That's something we've all had to come to peace with.  It had been a bittersweet pill.  Speaking for myself, it was the most challenging event I've ever had to deal with in my life. (Hurricane Katrina) was as emotionally difficult as losing my father.  What came out of it was a renewed sense of who we are as a community and what it is that's important to us.  The people of this city put it back together brick by brick.  We rebuilt our community, neighborhoods, and we brought back the traditions we were raised with.  I've lived here my entire life and I have never seen the city so charged before.  There are literally hundreds of kids who are today playing New Orleans style music and it can be heard on top 40 radio here.  I don't know where that's happening! You can be listening to Rihanna and then the Hot Eight Brass Band comes on playing "Let's Fly Away". That's really cool!