Blackwater Music Festival at the Spirit of the Suwannee Music Park, Live Oak, Florida, September 22- 24 was the lovechild of hippy fest and rave.  The perfectly loud flower child remix. The marriage of hippie chick to psychedelic strobes, dance beats and glow sticks.  The same hoola hoopers, laser lights, print skirts, batik sarongs, bikinis and smiles found at a Spirit of the Suwannee Allman Brothers concert were swirling and twirling at Blackwater.  The main difference was the higher energy and louder bass than the typical earthy hippie show found at the Spirit of the Suwannee Music Park. Blackwater rocked the sleepy little forest camp. It was like a three day summer camp dance party.  Though it rained like hell on Thursday, creating muddy river rapids down the edges of amphitheater and morphing the meadow into a lake, spirits remained high…no pun intended.
Smiles and balloons bounced all around and love was in the air.  Not a lovey dovey love, just a kind, peaceful vibe. This vibe was so apparent that during the Expendables set, frontman, Geoff Weers remarked the mosh pit was better than what they saw on the Warp Tour, mostly because though it was a colorful thrashing body tornado, it was fun, no one got hurt or got in a fight.  Geoff then led into "Bowl for two", their reggae ska version of a love-song.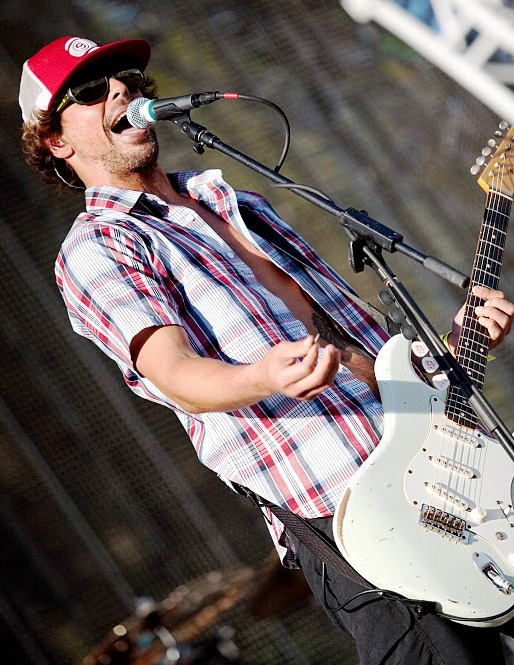 Mid day performers played on while the sun beat down on Friday and Saturday.  Sidereal from Jacksonville played an energetic set to a smallish crowd seemingly saving their energy for Pepper.  It was HOT. Not just hot like Pepper or like Pepper's self professed fondness for hot summer concerts where they get to watch bouncing bikini boobs in the front row the whole time they play. It was sticky out. The kind of humid hot where you just plan on being soaking wet the whole weekend.  The music upstaged the heat so it wasn't a big deal. The lineup included a mashup mix of reggae, reggae dubs, ska, punk, electronica and it even got a little folksy down on the beach stage with Kristy Lee. If the cool Suwannee waters weren't cool enough, the Music Hall stage was enclosed and air conditioned! Mighty Dub Killerz had an ideal reggae dancehall set up in the Music Hall Friday night.  Remixing Marley's "I'm a rainbow too" fit in with the theme of lightshows for the weekend.  Rainbows were everywhere.
The most notable thing about Blackwater, aside from the lineup and artists that delivered, was the perfect sized crowd. Everyone I talked to was really stoked about the number of people. It was big enough to be stimulating but small enough to move around, meet people, see those same people again and most importantly have not so gross port-o-johns.  The thoughtful inclusion of a filtered water station and a hand-washing station added a sense of kindness and civilization in the forest. This kindness meant that if you had a water bottle you could fill it for free and not spend twenty dollars on water or die and you could wash the funk off before chowing down on delicious carney food- carney food such as 'chicken on a stick' that Brendan and Pat from Ft. Lauderdale made a song about to the beat of a Zach Deputy tune.  I met people from all over Florida, the southeast, and from afar Colorado, Chicago and California. Some had been doing the festival circuit all summer and others were festival virgins, happy to lose it at Blackwater.  They were impressed by the amount of freedom of expression, crazy costumes & crazy dancing.  No one feels weird or out of place because there is always someone doing something even weirder!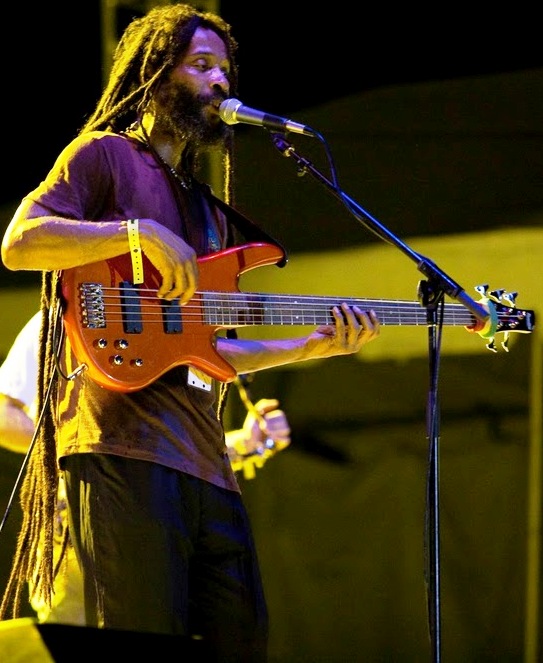 Friday night's Easy Star All-Stars show had an enthused crowd.  Despite the intense heat they still put on an energized show for an equally energized crowd.  The beautiful Kirsty Rock serenaded the crowd with an easy smooth melodic voice. She sang that they'd "like to take you home with us" with their popular rendition of Sgt. Pepper's Lonely Heart's Club Band.  Catching up with lead-woman, Kirsty after their show, she proved to be someone you could easily hang with.  She was very friendly and approachable as she told us this was their last show before a break. In two weeks they are heading to Europe for a tour.  It great to meet her after seeing the Easy Star All-Stars several times in both Colorado and Florida in the past few years.
Swaying to Easy Star All-Stars was no way to prepare for Ghostland Observatory.  Ghostland's Aaron Behrens came out running and sideways moonwalking.  He was killing it from the beginning.  His ridiculous amount of energy was the most I've seen from any artist in a long time and the crowd loved it.  Ghostland's choppy pulsing hard rock, melody bass electronica and lights galore moved the colored costumed crowd in a massive dancing bioluminescent organism.
Aside from the great performances put on by the numerous artists such as Zach Deputy, Iration, Passafire, Easy Star All-Stars, Tribal Seeds, Pepper, and The Flaming Lips, one of the main attractions for Blackwater was the "beach stage".  Artists such as Kristy Lee and Matt Henderson provided a sound backdrop for hundreds of shorts and bikini-clad concert-goers simmering in the sand, chilling in the Suwannee's crisp spring fed blackwaters or screaming through the air after launching off a rope swing.  Canoers, kayakers, floats, swimmers and beer drinkers all enjoyed the crisp spring fed blackwater river.  Here is where I met one of the most unique and adorable festival-goers, October, a blonde labrador retriever who is an avalanche search and rescue dog for the Aspen ski patrol. 
Tunes, white sand beaches, cool water and limestone cliffs were hard to beat on a hot afternoon. After our fill of the beach and the river on Saturday, we headed back to the meadow in droves for the Expendables.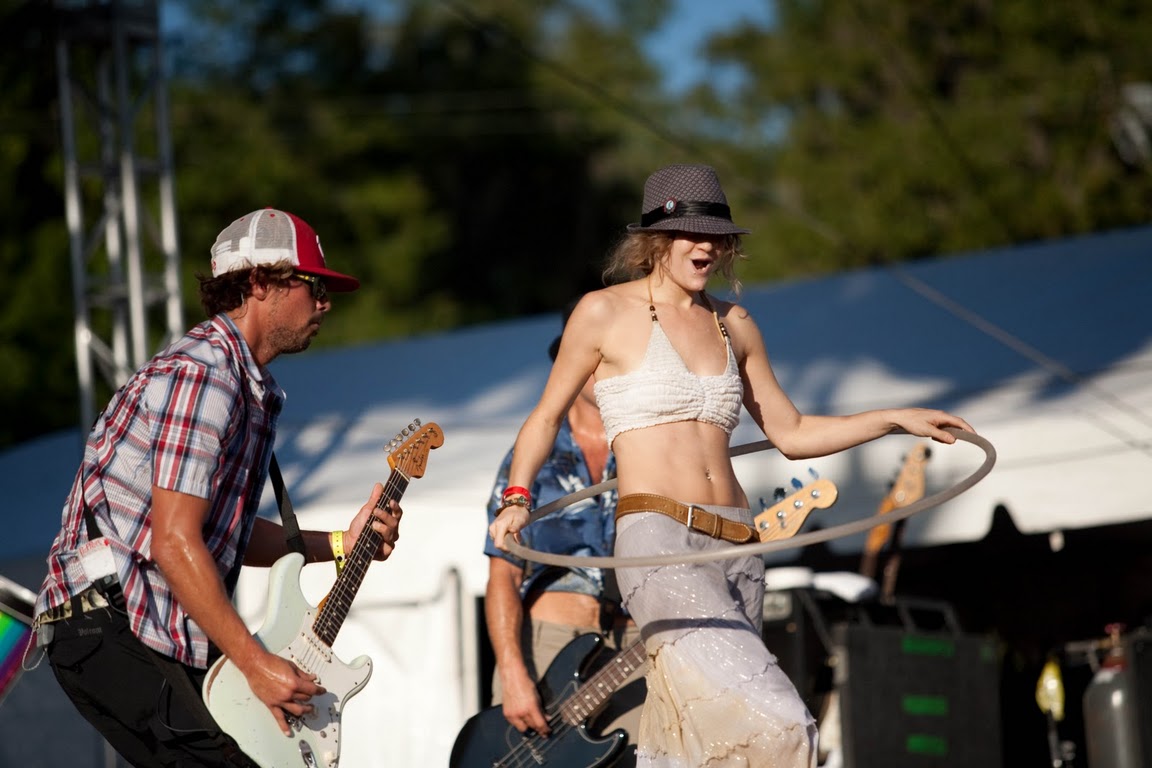 Once Pepper took the stage the crowd was amped again. Pepper's lead guitarist yelled out, "where are those hoola hooping girls? They are awesome I love those girls", Kristen Benson from Ft. Lauderdale took it as her cue to hop the fence, jump on stage and start artfully gyrating with her plastic hoop on stage to Pepper's funky flirty ska.  She was a crowd pleaser and Pepper seemed stoked to have her up there. She gracefully left after a song. When they were joshing around later they joked hoola hoopers would now be taking over their guitar solos so they wouldn't have to do them.  Tribal Seeds provided the interlude between Pepper and Flaming Lips with their more traditional chill reggae. They also exuded a happy go lucky vibe that was felt through the crowd.
Wayne Coyne talked with the audience before the Flaming Lips show to provide a disclaimer about the high-intensity strobe lights in the flaming lips show and how he wanted everyone to stay and enjoy the show "so please stop looking at the lights if you feel like you are having a bad reaction."  The stage began to emanate a psychedelic sunshine when the The Flaming Lips finally came out. Wayne Coyne floated into the crowd in his space bubble with a short but successful tour of outstretched hands and screaming fans. Black Sabbath's War Pigs basic riff helped pump up the already pumped crowd. Confetti, smoke and balloons of all rainbow colors were lovingly dumped on the crowd. Seriously, Wayne even stooped down to apologize to us photographers who had excessive confetti and smoke blasted in our faces/ lenses. It actually felt cool and gentle and produced interesting photos so no worries, but thanks!
The Flaming Lips closed their show with the popular Do You Realize. The camera on the microphone projected a close up of Wayne's goofy mug on the digital screen (what did bands do before the age of digital screens?) "Do you realize life goes fast it's hard to make the good times last?....." The heartbeat and the eye flashing on helped enhance the gravity of his words. He said he love Blackwater and hopes it goes on forever, for 1,000 years, laughingly acknowledging we won't be around in 1,000 years. His final words to his screaming dancing smiling audience were "Do you realize?"  And then quietly, "I know you do."
Only in its second year, Blackwater Music Festival impressed. It may not go on for 1,000 years, but fans do realize it will be another killer dance party in the forest in 2012.
Check out lots more great photos from Blackwater Music Festival.