The Bear Creek music festival at the Spirit of the Suwannee Music Park was a fun filled sensual delight from the tingling chill of a Friday night freeze, the warmth of the campfire, fuzzy bear costumes all around, campfire smoke whimsically dancing through the air, laser light spectacles such as green naked lady outlines surfing through the trees, and did I mention the music? Destination Funkytown. Houston, we have landed. Bear Creek kept us movn and  groonvn all night long. It was an outer space experience - astronauts, aliens, Chewbaccas and Oompa- Lumpas included.  Bear Creek's positive vibe, extravagant costumes, stunning full moon and pristine natural environment swirled together with funky tunes and electro lounge space out spun a tapestry fit for a magical carpet ride to funky town.
Funkytown was a city that never slept as 113 different musical sets by about 80 different bands spanning nights/ 4 ½ days was more than enough funk to kick the blues and keep fans dancing. Other activities such as a disc golf tournament, canoeing, hiking, biking and though I never made it- morning yoga classes were offered. It was oddly satisfying to me that yoga was offered. It's kind of like putting a workout on your calendar but deciding to have a couple beers with friends instead. The half effort of considering yoga was just as satisfying. It would be interesting to see if any of the same people who danced until 5 am to Hairy Apes BMX or in the silent disco made it to 10 am yoga. Souls that can live like that are living more life than the rest of us!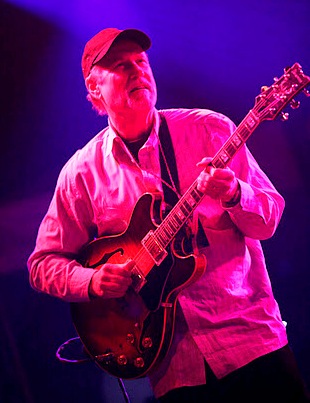 Laughing crowds of hippies running in place, saxaphones, trumpets, keyboards and wild eyed singers howled at the full moon Friday night. Eerie silhouettes of spindly moss covered trees overlaying the orange full moon glow provided a surreal backdrop for the costume-clad crowd and groovy funk.
Musical highlights were too many to mention, but I will try to paint a picture by teasing with you a few here. Karl Denson's Tiny Universe covered the Rolling Stones' Sticky Fingers album with a killer jazz funk twist. Most notable was their artful and lovely Wild Horses cover. Their usual raunchiness was a bit more subdued than usual as one band member was absent due to illness. Always one to pitch in on stage, Roosevelt Lee stepped in gladly with his steel pedal guitar.
Medeski Martin and Wood announced they were celebrating their 20 year anniversary on Friday night. The acid jazz band members were twice as old as half their audience. This was quite an accomplishment, as a wide range of ages were represented in the crowd.  I mingled during MM&W and met people with cool trail names like you would hear on the A.T. One that stands out was 'angry elephant' who was also recording the show.
Galactic took the stage a bit late and severely overlapped Zach Deputy's Friday night set. Once they took the stage, they joked about it being their drummer's "25th birthday". He doesn't look a day over 21. Really. The audience, along with the other band members sang happy birthday to him before they unleashed their funk. The freakosaurus was released and the crowd responded to the funk by shaking their groove thangs until two o'clock in the morning.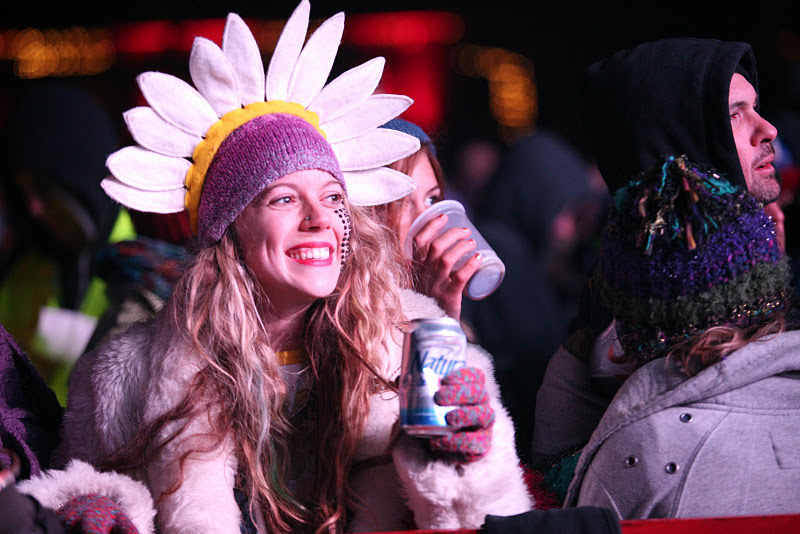 Saturday night was of course highlighted by the Trey Anastasio Band.  Trey told us a story, not of Gamehenge and Rutherford the Brave, but of how he met bassist Tony Markellis.  He said the first time he went to Burlington, Vermont, he was 18 and looking at colleges. He saw Tony in a bar playing bass, decided to move to Burlington and they started playing together right away. They've been friends for close to 30 years. He said he was "waxing nostalgic" that night. Their obvious musical chemistry and friendship only added more depth to their performance.  TAB played an eclectic blend of covers and originals, marrying together something old and something new, something borrowed and something blue. From Phish's own gotta jibboo to the 70's soul of Oooh Child (things are gonna get easier…) to their trippy version of the more recent Gorillaz I got sunshine, they covered a lot of musical ground. From I think I'll Try Alaska to The Devil Went Down to Georgia, they covered a lot of geography as well. Trey's devil guitar solo was more intense than any devil fiddler and to hear the trumpets play a solo meant for fiddle was wickedly impressive as well. This was the best rendition of the classic Charlie Daniels' song I have ever heard.  The Trey Anastasio Band kept their crowd engaged for two full hours with unflagging enthusiasm. However, a high that I didn't think could get much higher, climaxed further when they ended on Led Zeppelin's Black Dog. This blatantly sexualized version complete with moaning vocals and guitar vibrations had the crowd singing along in awe of how completely awesome Jennifer Hartswick's voice and Trey's guitar magic beautifully complimented each other and did this song more justice than could be imagined.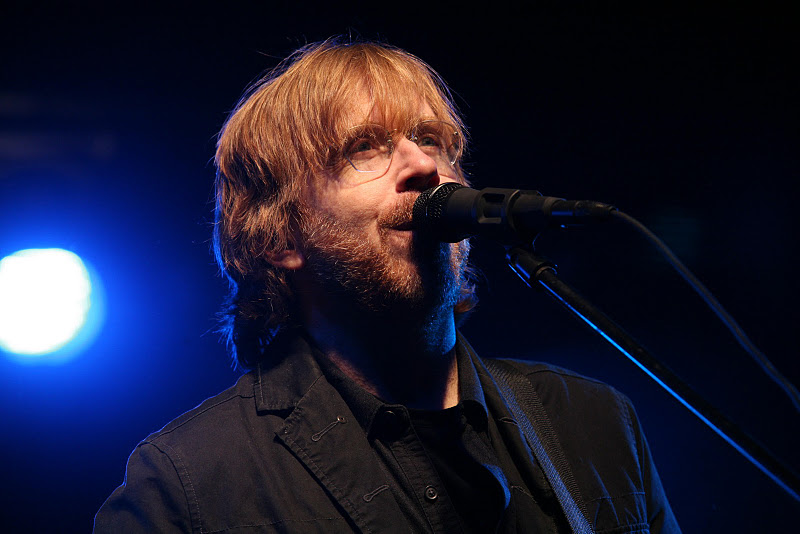 It would be hard to top TAB, but Big Gigantic wasn't shy. They rose to the occasion and at least tried. They completely amazed with their energy and talent. Dominic Lalli wailed on the sax while mixing on the computer while he refilled on oxygen. He and drummer Jeremy Salken displayed true musical finesse mixed in an electronic heaven. The crowd was seething with dance energy. It was so infectious even the photographers were unable to restrain themselves from dancing in the photo-pit. The pulsating flashes of naked women laser lights dancing and playing guitar on the trees were a nice visual addition to say the least.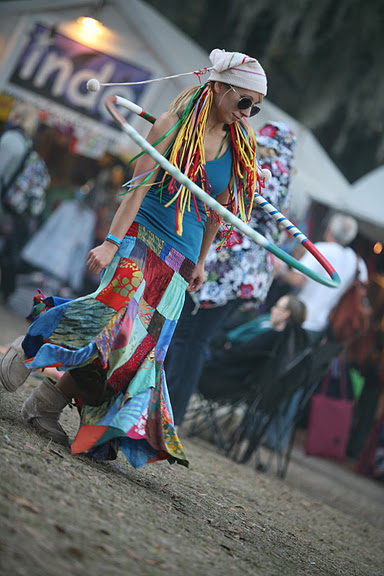 More New Orleans funk played simultaneously on the Purple Hat stage while Big Gigantic thumped away. Plenty of fans were gyrating to Dumpstaphunk's tunes. It was an unfortunate overlap for me as I'd say both bands are equally loved. However, having the very different bands play at the same time was a great way to balance the different tastes within the crowd. The contrast and blend of funk and jazz over electronic music provided enough change of scenery to keep fans from feeling overdosed on one genre.
Speaking of electronic music, Bear Creek's Silent Disco was a hit. The addition of a Silent Disco stage was not half-assed. It was twice as big as Bonnaroo's with the capacity for 1,000 with very nice headphones available for use. I have to say I heart silent disco. Greenhouse Lounge provided a melodic trippy wave of "electro-lounge" inspiration. Many asked, "What the f*** is Zoogma?" Well, Zoogma was another warmly welcomed electronic act that thumped and soared in the smoke and neon lights.
Zach Deputy successfully wooed an already adoring crowd. His reggaeque, One Love vibe was only superseded by his proven virtuosity and classical music knowledge with his Spanish guitar riffs. Many in the crowd probably recognized one of his riffs as part of The Doors' Spanish Caravan, but being a guitar player, I know the riff dates back even further, to a piece called Asturias Leyenda written in 1898 by Isaac Albeniz. It is a somewhat simple flamenco guitar piece that sounds extremely technical. Zach played it well and perfectly mixed with his rhythm and bass. He played two sets -one on the small "back porch" stage and Saturday night on the much larger "purple hat" stage. Both nights he spoke to the crowd briefly with love and appreciation. Everyone hugged each other and were obviously in agreement with Zach that we are all lucky to have this festival and lucky to have each other.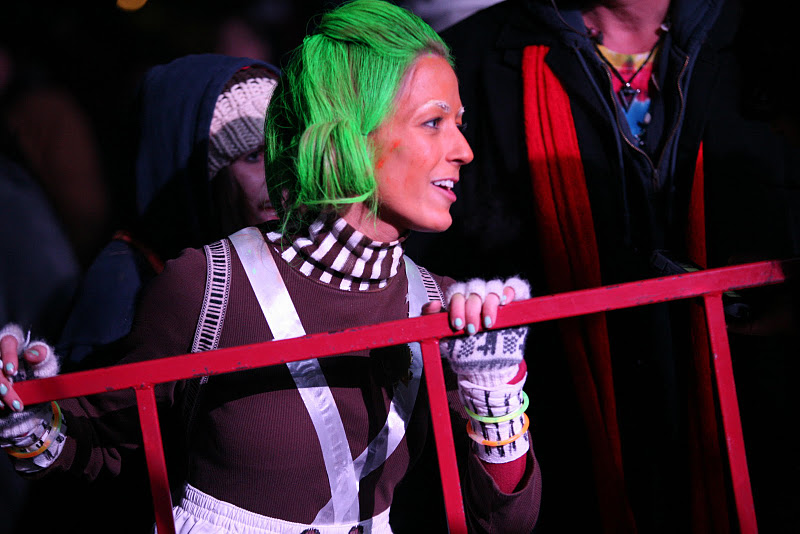 A little bit random, but must be mentioned was the evidence of the cult following of the comedy, Arrested Development. Bluthe company t-shirts were on a couple of musicians and my favorite costume of the entire festival- a group of guys in green coveralls with the large labeling "nevernudes" on the back. I wondered if they were staying true to character and sporting some acid wash cut off shorts underneath.
If I could award prizes for Bear Creek, I would award the Trey Anastasio band for their cover of Black Dog. I would award Big Gigantic for their energy and innovation. There were plenty of kings and pimps and hos, bear hats and bellbottoms, but the costumes I would have awarded those few sporting floor-length full feather headdresses, the clearly homemade giant red Kool-aid pitcher and the Oompa- Loompa girl- who can handle painting themselves jersey shore orange while camping? The nevernudes deserve a prize as well. I would award the crowd for their positive attitude and Zach Deputy for really bringing it.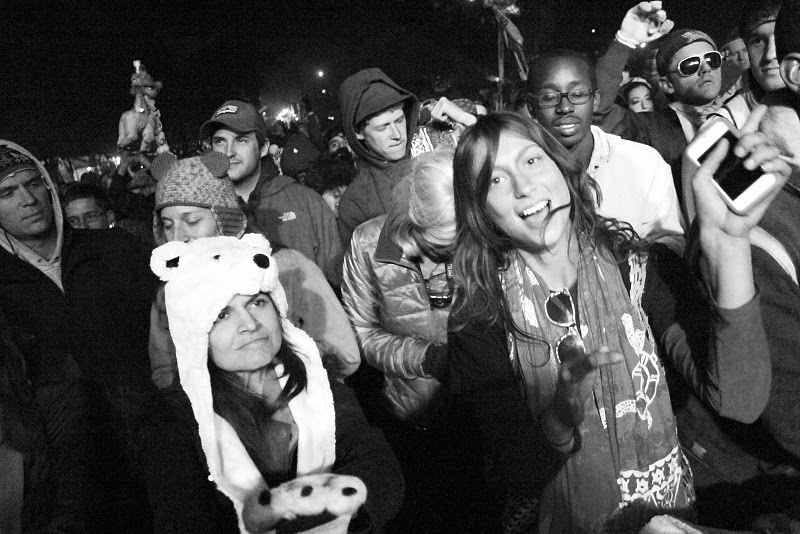 I would award Bear Creek's organizers for their environmental considerations. Their coordination with the local high school's environmental club, plentiful recycling and educational spots complete with separate bins for composting and the "green talk" with Zach Deputy to discuss environmental issues were all evidence of a strident effort on the environmental front. A petition going around from Suwannee county locals, asking festival goers to sign against a controversial new landfill being proposed in Suwannee county was further evidence of this involvement.  The integration of the festival with a conscious awareness of the community and environment within which it is being enjoyed is important and impressive. The environmental and social responsibility we are all hoping to see within our government and large corporations will hopefully continue to be displayed at festivals such as Bear Creek. Gandhi would probably approve of Bear Creek's approach. His request for people to, "Be the change you want to see in the world" is answered by Bear Creek. If the festival is "seeing" the change, it would be a world filled with freestyle fashion, funky tunes, love and a healthy environment. For whatever reason, many of us have a burning need to get away from our desk jobs, wear a cow hat on our head and dance the night away. Bear Creek cannot change the oppressive nature of desk jobs and society in general but it can provide the best release and a positive outlook for the future.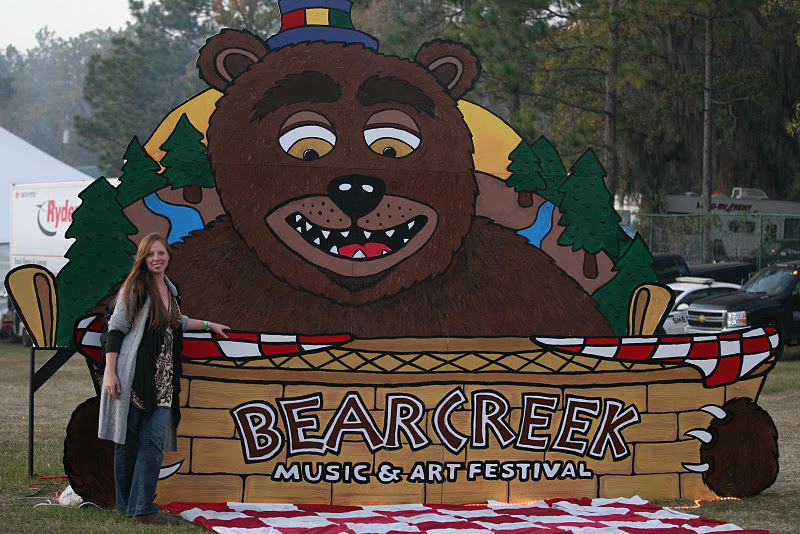 Check out more photos from the 2011 Bear Creek Festival.