After much coordination and navigation, our group celebrated the successful creation of a small tent/popup, tapestry and solar light embellished village by partaking in a few ice cold libations before heading toward the music. As we walked in the dark down the windy dirt road in the direction of deep rooted bass and canopy swinging melodies, a myriad of bioluminescent extensions of the forest helped to light our way. Glowing, winged fairies, bearded men in long skirts, throngs of flower haired hula- hoopers and painted gnomes perched atop giant polka dotted mushrooms seemed to smile and wink as they pointed us in the right direction.
We willingly let the colorful, dreamy, circus of light and sound wash over us. It seemed as if this enchanting party was our personal invitation to let down our hair and get in the mood for three full days of soul lifting tunes.
Upon reaching the concert gates and the "Mushroom Stage", we were greeted by a tapestry of swaying bodies, tattooed skin, long flowing hair, dreadlocks, and at least a thousand smiles all gracefully undulating to the intoxicating beats of Ivan Neville's Dumpstaphank (doing James Brown). Everyone shout-singing in unison, "Get on up!" and "I feel good!" was a pep rally tailor made to kick off the Wanee experience.
The Mushroom stage is an unusual, brightly painted stage set low in a natural woodland amphitheatre. The small hill encompassing the amphitheatre is speckled with spindly green live oak trees, draped in long gray strands of Spanish moss. Colorful woven hammocks lay like wish knots tied between the trees surrounding the low lying center stage.
We continued to enjoy the sights while drifting back to camp around 2 am. Iridescent glow balls hung from treetops, forest nymphs flitted about and thousands of twinkle lights sparkled from every kind of substrate they could attach to from VW buses, funnel cake stands, and fence posts to tent poles and trees.  Golf cart chariots hauling so many giggling and laughing souls zoomed by us (as much as a golf cart can "zoom"); some adorned with hundreds of glow sticks of electric Kool-Aid neon blues and pinks and greens, blurring together like color tone hit with a whammy bar. Close to dawn on Thursday, we were just now getting our festival feet wet.
Thursday, I realized that everyone has a story. Really, everyone at the festival has an interesting story of how they came to be there or something remarkable that happened to them while there. After learning the lay of the land in the daylight, I walked around and mingled with other festival goers to learn more about their stories.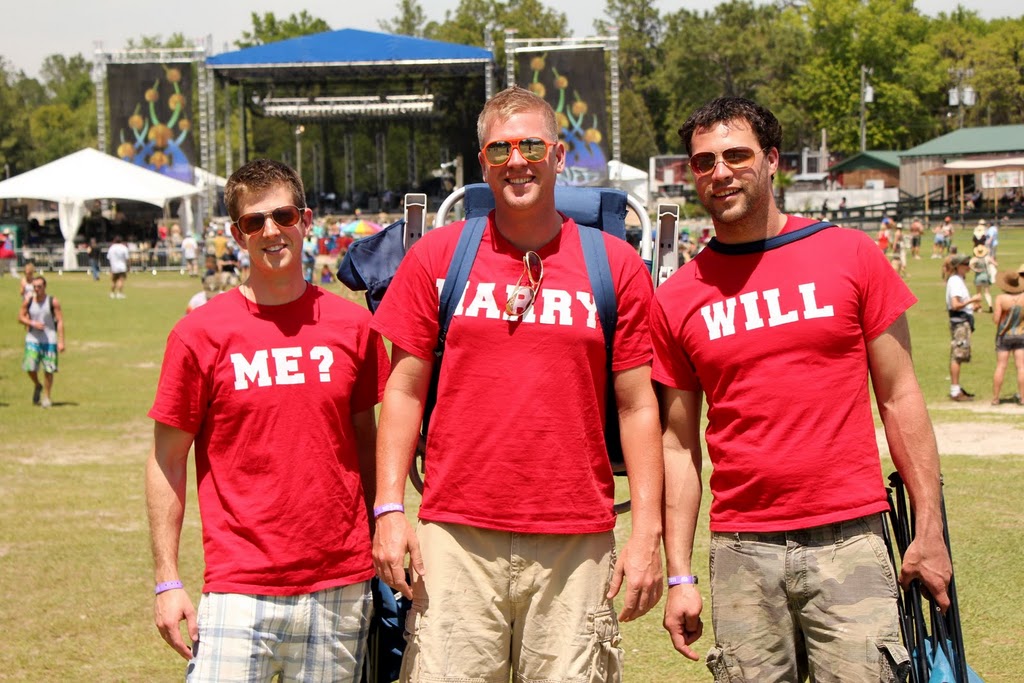 I ran into Will Marry Me – Three guys in red shirts with one word each in white across their chest. The previous night, their buddy gave them each a t-shirt and had four of them line up next to the camp fire, put on shirts and wait until his girlfriend, now fiancé arrived at the fire. Awwwww….  The happy couple and 'You' were already enjoying the show at the mushroom stage, thus were unable to be reached for an interview.
Widespread Panic fan, Ted drove his Ford truck all the way from Denver on his month long solo road trip exploring the east coast from Asheville down to Key West.  Wanee was an exciting stop along the way on his personal adventure.
Katie McCallion and Rebecca Burns, two friends from Jacksonville told me they had been to the Spirit of the Suwannee Music Park before, but this was their first Wanee. Together, we learned that the county hosting the wild, wonderful Wanee fest is actually a dry county.  We all three eagerly signed a petition imploring the Board of Suwannee County Commissioners to allow the sale of alcohol in their fine county.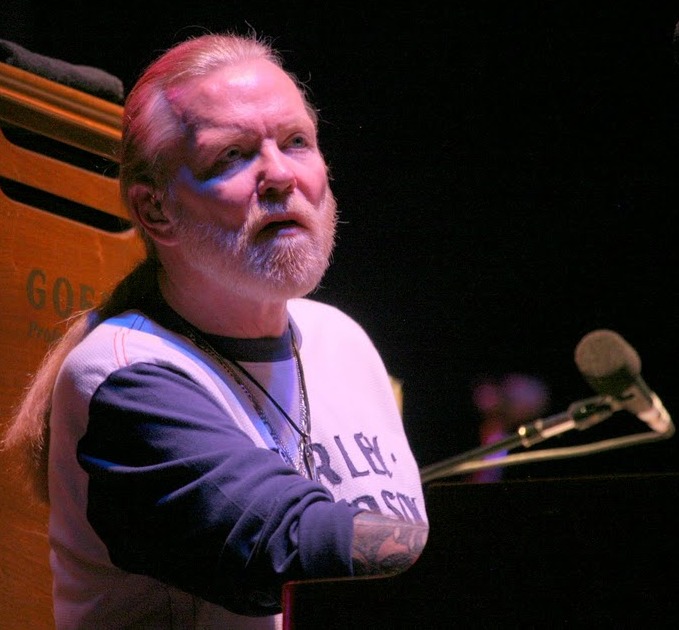 While waiting to meet Devon Allman, I met Martin from a 'small town near Stonehenge', in the UK. He was excited to meet Devon Allman and show him his Allman Brothers tattoo on his forearm. Martin said he frequently saw the Allman Brothers at the Beacon Theatre in New York, but once he heard of Wanee, three years ago, he has been coming ever since. He loves the venue, the music and the Florida sun.
Rich from Nebraska wasn't slowed down much by his broken leg. He and his best pal for twenty years, Marty, from Florida, came to Wanee last year and were determined to do Wanee again and have a blast this year.
Jed Redwine, from Jacksonville, FL was sharing Wanee with his brother in law, A.J. Mejia, from Los Angeles.  The two were happily bonding and equally happy about their VIP tickets. In addition to showing off their durable VIP Wanee tumblers, they were particularly stoked to have catered food, two dollar beers and clean bathrooms. Catered food gave them an opportunity to spend more time enjoying music rather than wait in line for expensive falafel, burgers, and pizza or take the time to prepare food back at their primitive campsite.
Wanee was crowded, but not too crowded. A rich balance of freedom to be and respect for boundaries and fun seemed to prevail. With so much freedom and so many wild and crazy people, one wonders what holds it all together. As structure and memory are essential to the creation of music and musical performance, the release from structure and memory are essential to the festival goer's mindset.  The music, in its jam band, rambling glory is the purveyor of the sense of release from structure and memory that festival goers seek. I believe the structure of music ties everyone at the festival together with a common thread. The music keeps everyone dancing on the same tapestry of hope and peace while simultaneously creating and deconstructing structure. In essence, the festival music becomes a new kind of law and religion.  It is the one thing all can agree on, all can respect and all can abide by. This being said, a concert goer was tazed while trying to storm the stage while The Allman Brothers were singing….. . hmmm. Not even utopia is without its occasional tazings.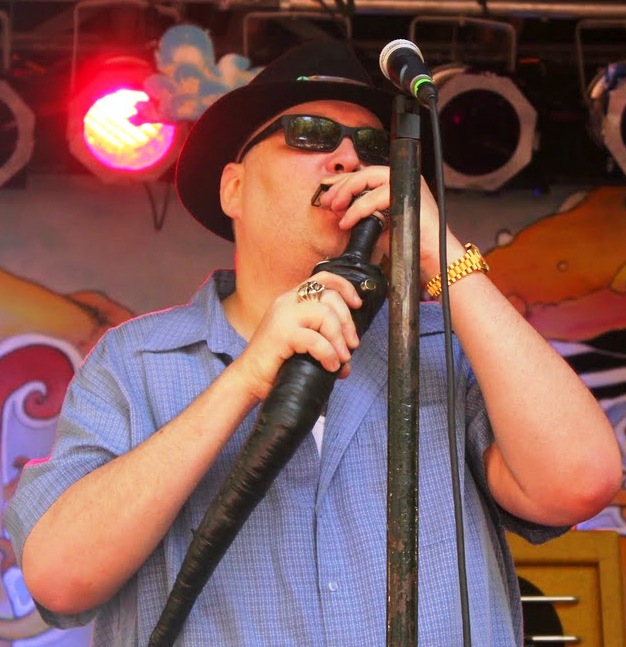 Dead Confederate rocked the Peach Stage under the warm afternoon sun. Their indie rock vibe lent more high energy to beginning of the festival. Across the field and into the woods, on the Mushroom Stage, John Popper serenaded an enormous crowd with his immaculate, masterful harmonica huffing. Between tunes, he intermittently shared jokes and stories with the audience. He told us the history of the song champipple while marketing his frisbees for sale. (Champipple was a concept hailing from Sanford and Son) Popper's advertising for the frisbees consisted of, "You can roll one on the Frisbee, your dog can drink from the Frisbee and Fred Sanford rules, but he didn't have a Frisbee", as he arched a frisbee into the crowd. Popper also tossed out a few of his personal harmonicas. Heather and Jim from Jacksonville were proud recipients of one of Popper's harmonicas. Popper was extremely gracious and positive throughout his performance. He said, "You are all awesome, Devon Allman is awesome and Dangermuffin is awesome."  (the two acts leading up to Popper) Popper's positive attitude was only beat by his amazing wailing energy on the harmonica.  The Popper Band finished the set with everyone singing the hit, Run Around- a song I learned all the words to at summer camp nearly seventeen years ago. Damn!
Warren Haynes provided spine tingling duets and impossible riffs before Stephen Marley wooed us with his infectious smile which is unabashedly Bob Marley-esque. His dramatic Mind Control got everyone moving. Additionally, he did several beautiful Bob covers- such as Three Little Birds, Could You Be Loved, and the nearly tearjerking, Redemption Song.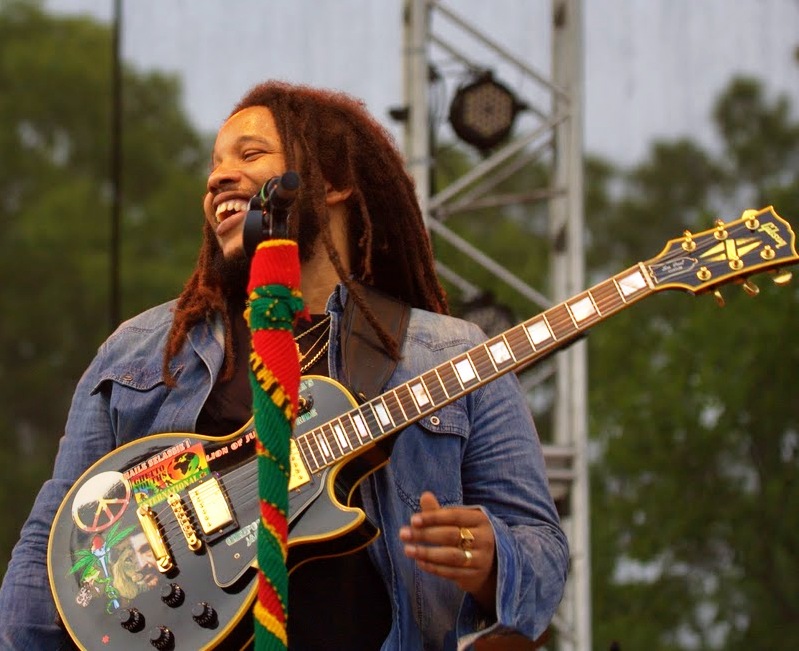 Widespread Panic took the Peach Stage shortly after Mr. Marley. They started loud and strong, accompanied by a killer light show and hum along bass. Thousands of people were clearly moved by Widespread's talent and energy. They finished the night on a high with climb to safety.
Friday morning, eyes were heavy and slow to open. The mooing of cows in neighboring fields punctuated with the whoosh of a few cars hurriedly making their way to work reminded us that we were among friends, amidst the freedom of Wanee and had no alarm clock or traffic to beat. I couldn't help but think the worker bees didn't know what kind of buzz they were missing.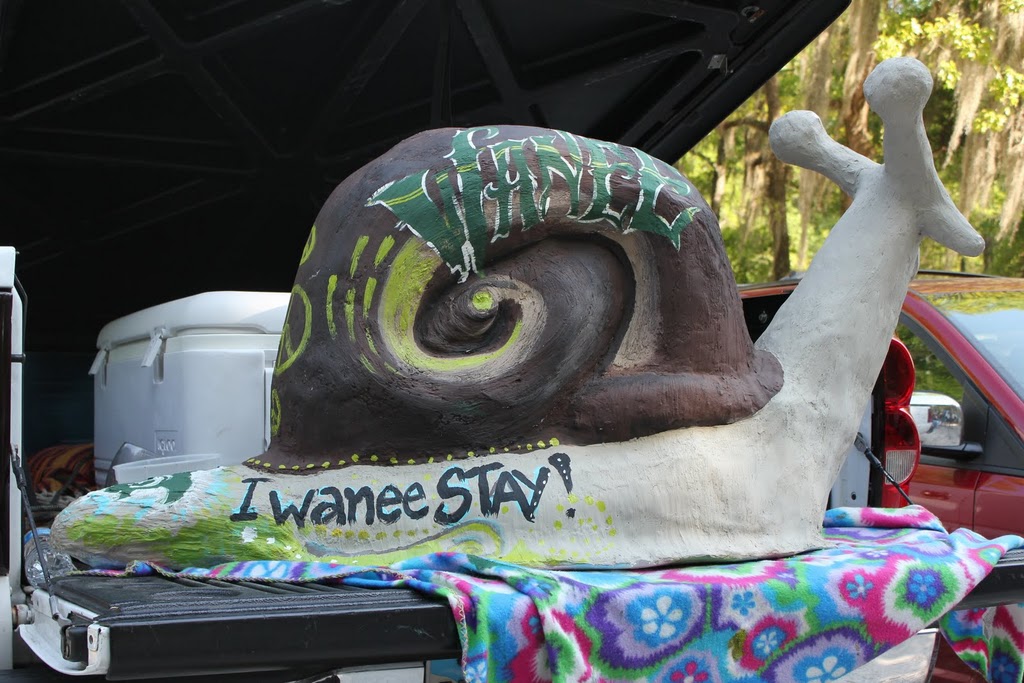 I enjoyed a cold outdoor shower, a truly invigorating experience.  Understand that "enjoy" here is a description of the all encompassing feeling of an icy cold bitch slap of pumped up chilly groundwater dumping on your face, then the upward transcendence of being deeply grateful for untangled hair (for those of us who don't sport the dreads) and the new feeling of being so fresh and so clean. A swimsuit helps make this outdoor shower experience more comfortable for those not wishing to be exhibitionists. When the lovely breeze blows the plastic shower curtain up vertically, a humorous dance ensues of one dodging the plastic's magnetic tendency to stick to ones wet legs while busting some funky chicken dance moves to avoid full immersion in the cold shower.  Another cold water option is to take a plunge in the peaceful Suwannee River itself.
On my way back from the shower, I caught up with Jenn Stiner from Titusville, Florida, as she walked away from the ATM behind the horse stables. She was a little worried about her planned shopping as she said the ATM was empty and she had heard the rest of them were empty too. The vendors were apparently doing great! If the ATMs were running out of money that fast, I imagined how difficult it would be to keep the "portalettes" usable and stocked with toilet paper. Considering the crowd size, all logistics of the festival seemed to be handled extremely well. Both ATMs and portalettes were refilled with their respective papers as needed.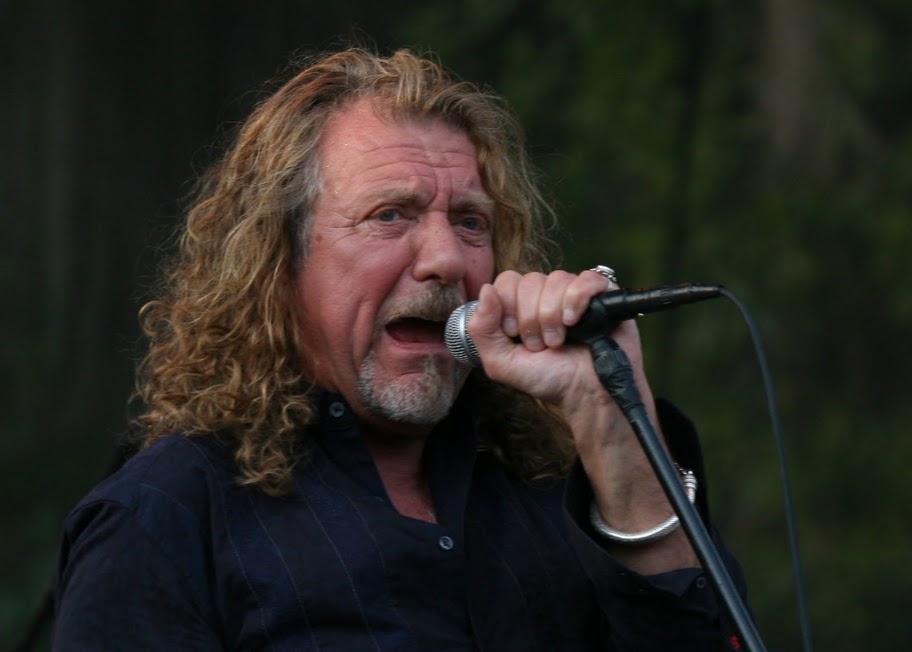 Robert Plant and The Band of Joy was an immediate crowd pleaser. Plant could have sat down on the stage and stared at everybody and it would have remained an inspiring, moving experience for many. Lucky for us, he was willing to give us a real show. He carried himself tall, with unmistakable confidence and mystique. Always with a far away look in his eyes, (their color matched the large square turquoise ring on his right hand) he danced and swooped, arms out like an eagle dancer moving to a tribal beat.  Despite his mysterious nature, Plant transitioned easily from the mystical hangman melody to a charming, charismatic smile while addressing the audience. He remarked several times about how cool it was to see so many smiling faces. Considering it was still daylight for the outdoor show, this must be an unusual sight for many rockers. It must be more intimate for them too- leaving the lights on. Plant surprised us when after moving melody he turned to a girl standing next to me and said into the mic and with a mischievous smile, "What a lovely tattoo, young lady." He clearly had seen and appreciated her Zoso tattoo. As high fives and cheers flew all around, it was clearly worth the effort of her boyfriend to launch her into the air over his shoulders so she could show Plant the Zoso symbol tattoo on her upper thigh.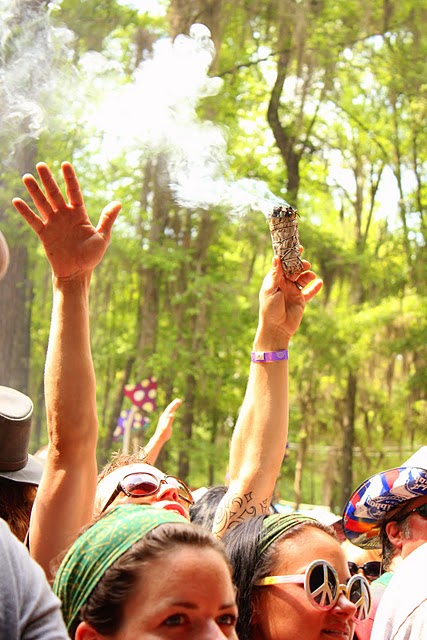 Cari, behind me began to cry as Plant so smoothly sang, "I'm in the mood for a melody…"  Later, she explained to me that the song meant so much to her because it was her favorite on her first cassette in her first car in college. She remembered driving around town and feeling so free jamming out to that song. Hearing it live, by Robert Plant was an incredible, unforgettable, moving experience for her.  She and her son, Austin were volunteering at the festival in exchange for tickets.  Though I have a personal weakness for Ramble On, Plant's new work with his Band of Joy was just as well received as his Led Zeppelin obligations to the crowd.
I met a late arrival, Mike from Tallahassee who told me he had seen the Grateful Dead play at Suwannee music park way back when and even had a recording of it. So the spirit of the Grateful Dead does haunt these woods….
The Allman Brothers first show of the festival was huge, brightly colored, loud, luminous and melodic. They took the stage with gusto and kept it up for two nights in a row. Every song was everybody's favorite song. Throughout the few days of music it became a private joke to hear so many people yell out about their favorite songs.
After the Allmans' last winding Friday night blues, Bill Kreutzman rocked the blues for the late show on the Mushroom stage.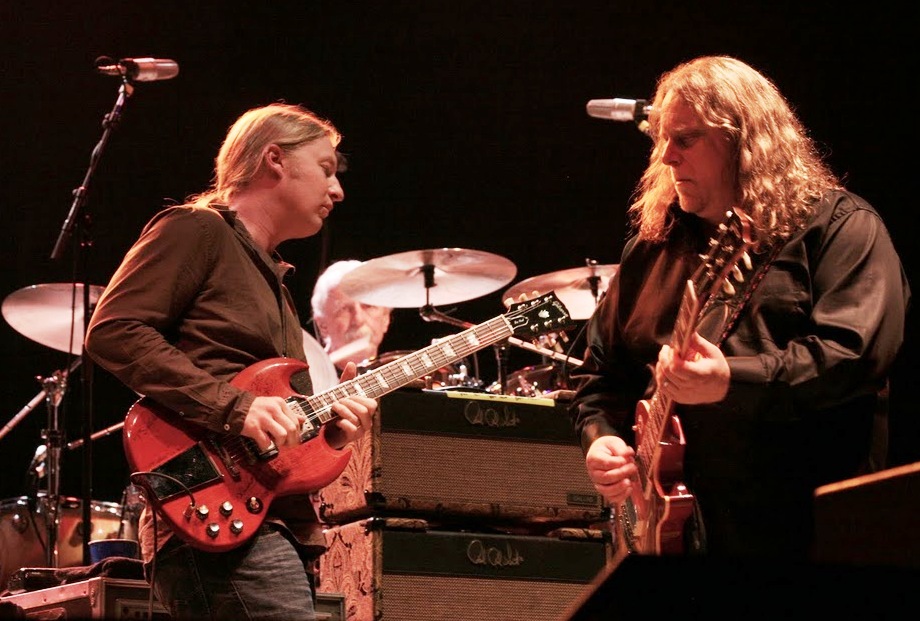 Saturday, a torrential downpour, complete with serious thunder and lightening kept this photographer from hiking the approximate mile to the stage with full gear to catch Taj Mahal. They apparently had to hold off until after the storm as well, but by the time I got there, I had missed it.  Planning on catching every single thing you want to see is not going to happen at a festival with an incredible, nonstop lineup. As in life, one has to let some things go.
Rusted Root did not disappoint. Their onstage chemistry and enthusiasm translated to a nearly overly zealous audience. Chanting, incense burning and stomping in the mud from the earlier rain set a real medicine man scene for their haunting harmonies. One of the most moving pieces they have in their repertoire, Back to the Earth, was sung with particular passion by both the band and the audience.  As I imagined how hard it would be to conjure up such spirit and energy at three o'clock on a hot afternoon, I did catch, lead singer, Michael Glabiki taking shots of Herradura silver tequila on his set breaks. He was pouring it from the bottle into a red Solo cup and sipping on stage. It may have helped loosen him up, but it didn't cause him to skip a beat. Whatever it took, they nailed it- soaring melodies, deep grounded bass, earthy rhythm and heartfelt harmonies.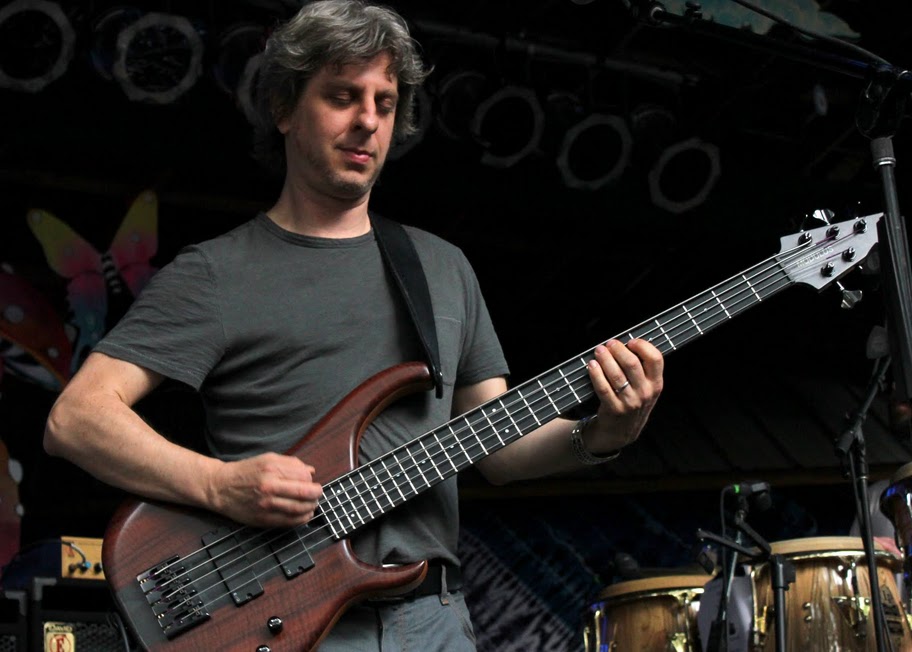 At dusk, Mike Gordon was the king of the bass on the Mushroom Stage. To go from seeing Phish in an arena atmosphere to seeing Mike Gordon artfully tap specific notes on his bass just a few feet away from me was exciting to say the least. The crowd was surprisingly small to start but literally, within minutes, the entire amphitheatre bowl was jammed with colorful phishies.
During a relatively quiet moment eating potato fajitas between sets, it was hard not to appreciate the perfect play of full moon shine dripping its glow throughout the branching tree tops with the glitter of fireflies flashing throughout the dark woods. I realized that I have never seen fireflies in the city of Jacksonville, only an hour away from the Suwannee. After talking with Aaron Sachet, another environmental scientist from Jacksonville, we concluded that this firefly phenomenon is most likely due to the pesticide and herbicide applications in the more urban areas in Florida. In the rural areas like Suwannee, one can still enjoy the flash and glitter of fireflies on spring nights.
The Allman Brothers performed beautifully, fluidly as always. A particularly memorable moment was the passion they brought to Whipping Post towards the end of the night. Just prior, they covered Van Morrison's romantic Into the Mystic which was a fitting ballad for the chilly, mystical full moon, forest evening. Green laser lights played out scenes from Alice in Wonderland on the tree tops lining the field. Neon blue, green and pink hula hoop circles spun throughout the crowd. Hula hoopers were particularly frantic on Saturday night, probably trying to keep warm. It was a cold night for Florida in April. People were starting to shiver and huddle under blankets toward the end of the Allman's show. This chill may have put a slight damper on the crowds' usual energy, but the Allman's kept their fire going for two full hours.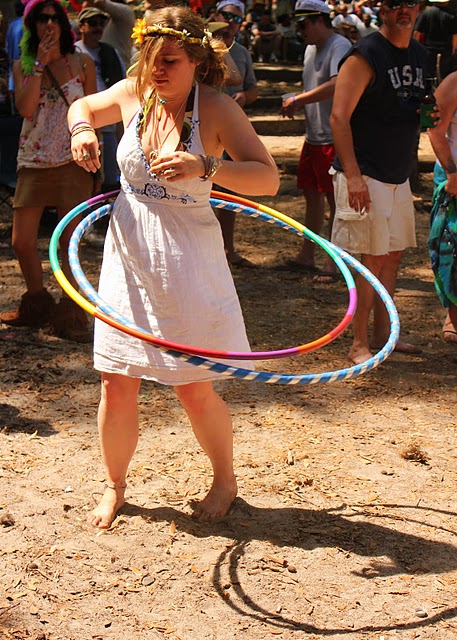 The final crescendo of the Wanee party peaked with the jamming, high energy funk of Galactic. Two songs into it, we were all surprised when Corey Glover from Living Colour joined them on stage. His presence was a special treat for all still awake to enjoy it.  Aside from their funky beats, the impressive wielding of a monster bass trombone, likely longer than I am tall was, well, impressive.
Wanee is a one of a kind festival experience. Several fans mentioned how impressed they were not just by the incredible lineup but by the physical beauty of the surrounding nature. Camping in such a beautiful, shady spot is a unique treat for musical festival goers used to camping in sun blanched, exposed cow pastures. Our friend, Katie McCallion, from Jacksonville, said she "couldn't imagine a more beautiful setting in which to share this experience with so many others. The location really adds to the overall experience, immensely."
From the colossal cypress trees encircling small duckweed, lily pad covered ponds to the live oaks with long branching arms embracing all who walk to the beat of a different drum, the park provides an enchanting backdrop for ethereal tunes.  All of the artists seemed to be genuinely stoked about the beauty of the venue and the positive energy of the crowd. Thanks to the legendary line up, all ages were in attendance from fresh faced, happy hippie babies to white haired happy hippies, Vietnam veterans, baby boomers, and college kids.
Wanee 2011 brought old friends, families and new friends together for a shared experience of peace and music in an unparalleled setting of natural beauty. Festival goers and musicians alike can agree that in addition to impeccable musical performances, Wanee is epitomized by smiling faces swathed in flowing, muted earthtones punctuated by the occasional rhythmic flash of neon from hula hoops, painted faces, fireflies and electric blues.
Check out more photos from Wanee 2011.