Both my husband and I have volunteered at the Frankfort Bluegrass Festival (FBF) for a few years. We've helped with early morning set-up and merchandise sales. Volunteer work done, we're free for music and dancing if the chance arises. But, this year hubby (Floyd) would be backpacking in Pennsylvania. Now was the perfect chance to volunteer with hospitality.
Hospitality is a tight-knit group with the FBF organizing committee members, Steve Harberichter, Brooke Kryrgsheld Grosnek, Amanda Thompson, and Jen Wonnell, in and out to grab a bite and coordinate work in all areas of event production. The committee raises funds and finds sponsors, donors, volunteers, and musicians. They're busy much of the year prepping for the event.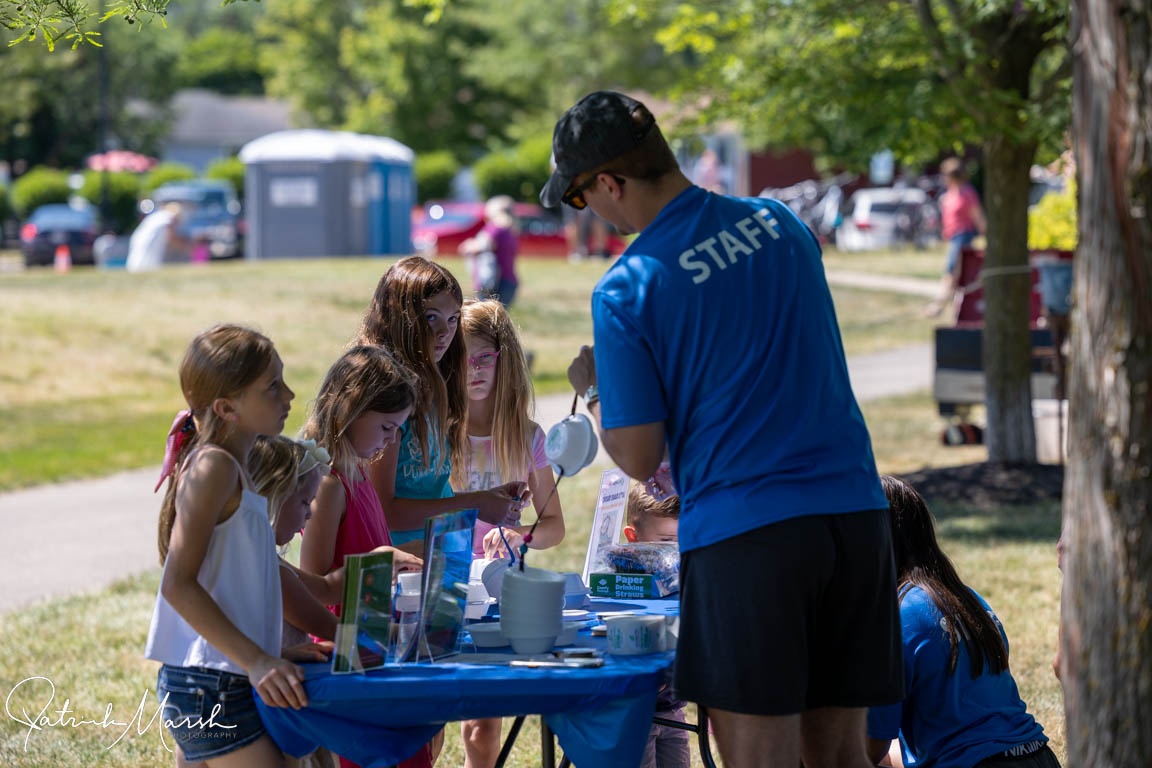 And what an event! FBF attracts 8-10 thousand people and won the International Bluegrass Music Association Best Event of the Year in 2019, being nominated twice before. The committee relies on an army of volunteers to make the event run smoothly and committee members are not above volunteering family members as need presses. In essence, they work for months to build from scratch a two-day temporary village. They coordinate security, first aid, traffic, and fire safety concerns with the Village of Frankfort. They arrange food, sanitation needs, seating, tents, stages, vendors of all kinds, children's activities as well as selecting musicians, promotion, and lots more. At a recent after-action review with the village, the committee received thumbs-up for another well-run event.
Brooke, like any committee member, does anything and everything necessary but has a passion for the children's activity area. Growing up, her parents organized and produced the Illiana Bluegrass Festival in South Cook and Kankakee Counties of Illinois. Growing up at bluegrass festivals, she wants kids to have the same happy memories from FBF. Brooke selects kids' activities to bring a lot of new experiences and learning opportunities to broaden minds, create joy and even get instruments into their hands. This year featured Mr.Bubbles, blacksmithing, circus school, and face painting to mention a few.
All the committee members have or will have (shout out to Steve Harberichter and Nikki Giblin) kids whose lives are entwined around FBF, with it being as much a traditional part of summer as the 4th of July. Now, after 10 years of festival and 12 years of time (the Covid effect), many of these kids are earning community service hours to fulfill high school requirements. This service teaches them about giving back to an event they simply enjoyed when little. A four-hour shift builds sweat equity in an event bigger than themselves and family but at the same time, still family.
Growing up in a small Montana town, one glance at me and people would know to which family I belonged. The same occurs with the FBF volunteer families. If they play it smart. these kids can partake of a built-in network of people that can lead to job references and work, learning opportunities, friendships, and open doors to the bigger bluegrass network. Personally, at 15 years of age, I would have loved to trade four hours of work to get the run of a music festival, casually looked after by that network of parents, extended family, and friends. Their spies would be everywhere encouraging good behavior. I see this generational approach in musicians, too. Old pros bring in younger players, building their skills, teaching traditions, and stage presence. Young players share tricks and new influences with old pickers. Bluegrass is familial music, literally in some bands with multiple generations performing or a chosen family of people that play, sing and dance together.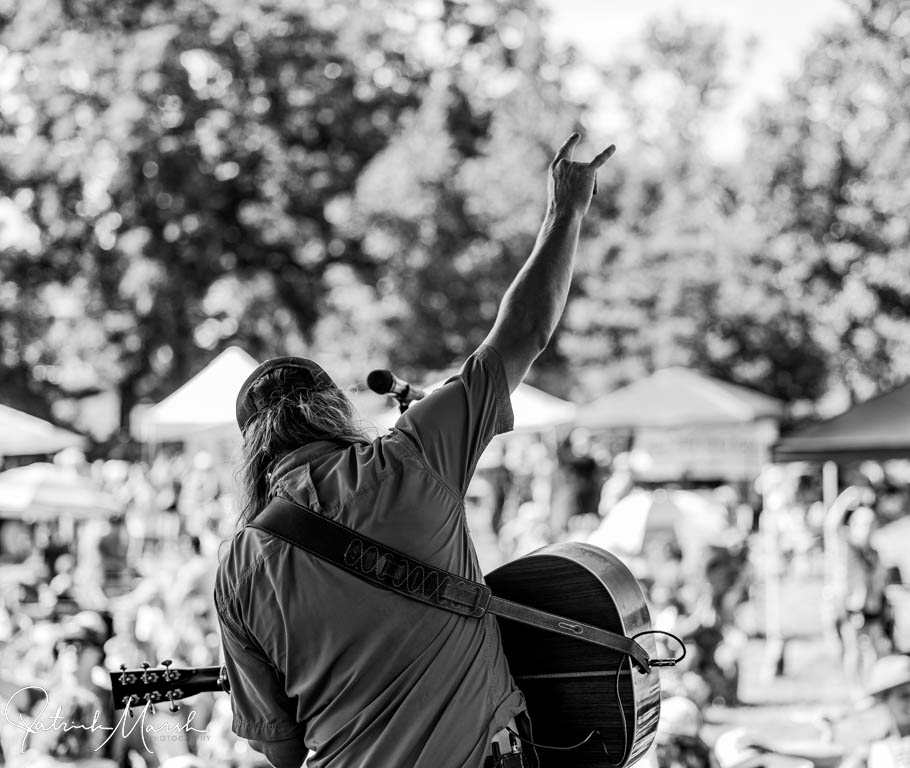 Working hospitality provided many opportunities to talk to musicians. Rick Farris and his band were getting to practice together since all the band members were finally in one place (Farris from Kansas, band members, Tennessee, this being the second time this group of musicians played together.) Final arrangements and set lists were being worked out. It was fun to listen to and watch. Faris has played every FBF with Special Consensus or his band since inception. He was raised in a bluegrass family. Faris and his three brothers plus his mom and dad made up the award-winning Faris Family Bluegrass Band. This year's band members for the FBF include Luke Munday, banjo, wearing a 1922 silver dollar lucky charm; Harry Clark, mandolin; and Beth Lawrence, upright bass.
Lawrence was touched by the home-based hospitality of FBF and quite glad to be in Frankfort, bringing her closer to home in Kenosha Wisconsin. After the festival she plans to head home to see her grandfather, soon to be 100 years old, and grandmother, 94. She started playing upright bass at age fifteen as part of the Lawrence Family. Lawrence studied music at the University of Wisconsin-Parkside in Kenosha for a couple of years before transferring to East Tennessee State University. While Lawrence was studying classical music, she also played bass in the university's top-rated bluegrass band. The classical music department looked down their noses at bluegrass, so she left the music program at East Tennessee before completing her degree. But the bluegrass department considers her an alumna because of her time playing with the band. Lawrence said she is close to completing a degree in Psychology with a Biology Minor. Smart and talented, I like Beth and we plan on staying in touch.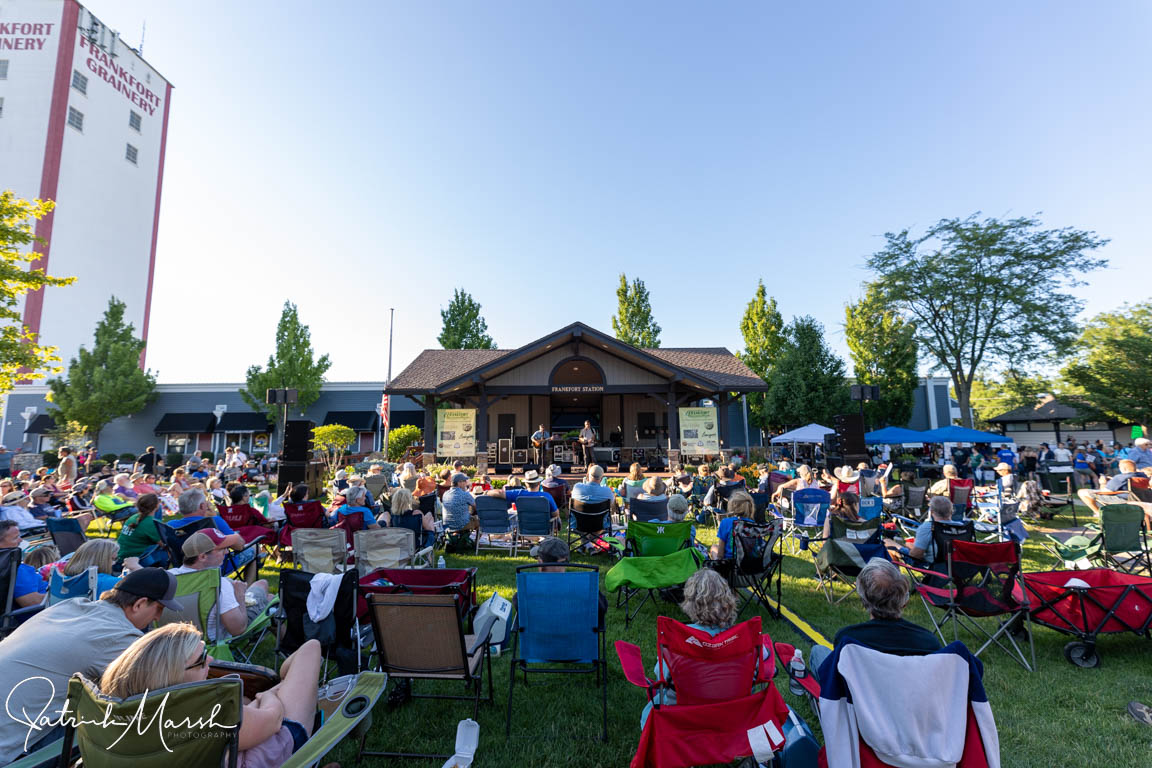 Matthew Williams, banjo, Butterfield Creek Band, was blown away by Lawrence's bass tone as we listened to Faris on the Prairie Park FBF stage. He called it impeccable. While Faris is a FBF veteran, Butterfield Creek represents a local band getting a first-time opportunity to fill in when another group had to drop out; they had a one-day notice to be the opening act on the Prairie Park Stage. Steve Ploem, a musician herder, said the band is out of the Homewood, Illinois, and South Chicago Suburbs and is in a new iteration with two new players, Kelly Compos and Anastasia Robieson leading vocals. Ploem plays guitar and mandolin and writes; Larry Kaufman plays fiddle with Robieson adding her fiddle chops, too. The band focuses on Americana, bluegrass and traditional songs. But Ploem said they aren't shy of giving a song a bluegrass treatment if it needs it. Butterfield Creek just opened for Dom Flemmons, a founder of the Carolina Chocolate Drops at the Wexler Group Trail Mix Acoustic Concert Series at the Izaak Walton Preserve in Homewood, Illinois. He was busy handing out fliers to promote a series that builds support for the local music scene.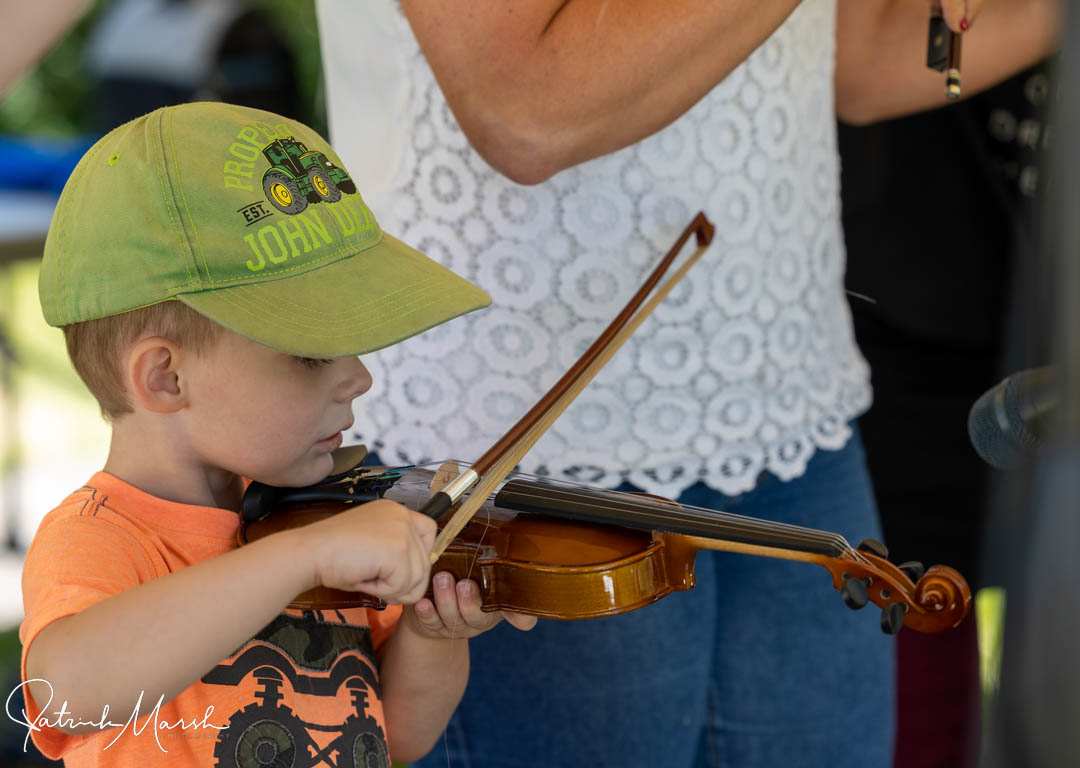 I asked the aforementioned Williams what it is like to listen to others players. He said it's hard not to analyze everything another banjo player does from hand position on the neck to picking style technique. Turns out Williams recently moved to Joliet, my stomping grounds. So now I am promoting our local music scene and musicians and where to find them (Chicago Street Pub and Elder Brewing Company). We are talking about all kinds of things but it ends up revolving around family backgrounds and legacies, good and bad. I ask Williams if I can tell him a story of my 9th-greatgrandfather, a rollicking true tale of wooden ships, shipwreck, mutiny, safe returns and rescues, a famous author, and American colonial history.
As I come to the part connecting Stefano, a minor character in The Tempest by William Shakespeare to my 9th great, Stephen Hopkins, another voice from neighboring table chimes in. Hopkins is his ancestor, too. So that's how I met Michael Prewitt, mandolin player for Special Consensus, a new, very distant cousin. Then comes the following weird link in this family/generation-themed discussion. William also had an ancestor on the same ship, the Sea Venture. This ship was the flagship of the third resupply convoy to the Jamestown Colony and was wrecked on one of the Bermuda Islands. After building two small ships, survivors make it to Jamestown in 1610 saving Williams' other ancestors suffering through the starving times of 1609-1610.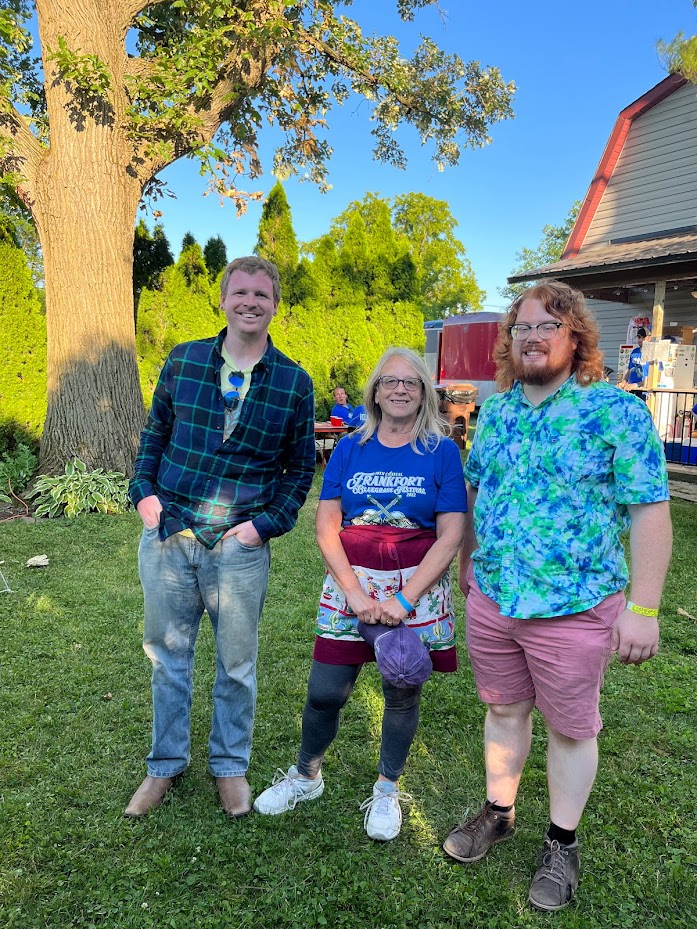 So, three strangers meet in the hospitality tent at FBF to discover that two share an ancestor and the third has ancestors at the same places, Bermuda and Jamestown and time 1609-1610. A strange Karmic node and a new personal best in festival strangeness and magical connections. I guess ancestors like bluegrass.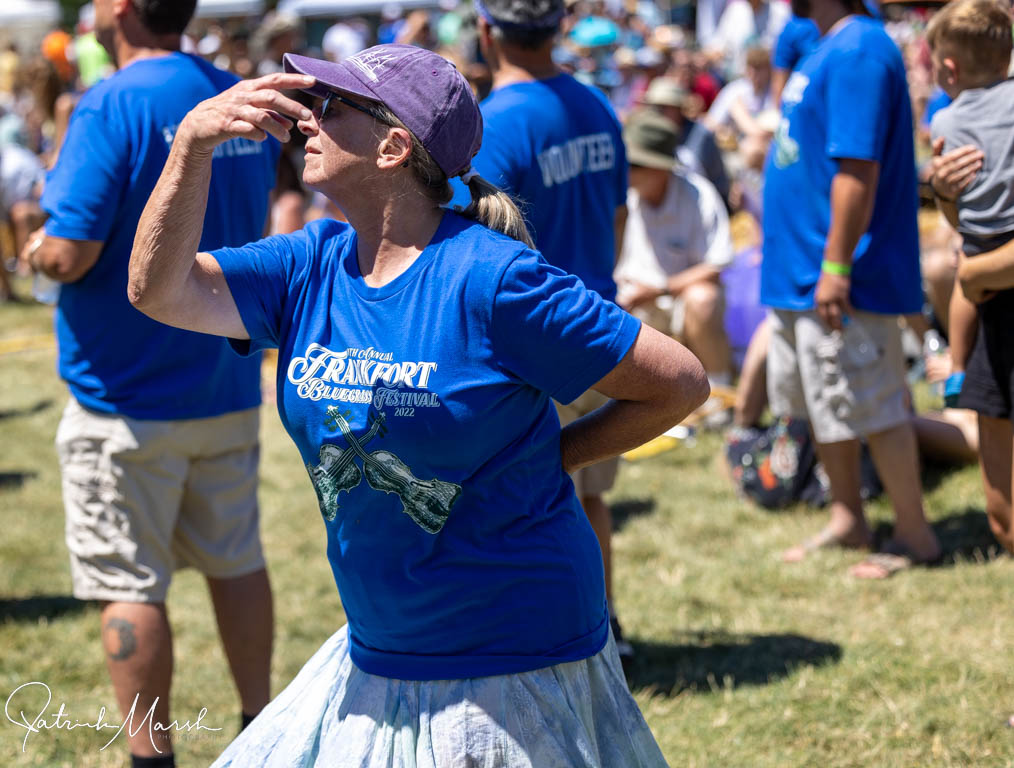 I'm thankful April Jackson has opened her yard and house for hospitality at FBF to make such amazing moments happen. She is the "hostess with the mostest" for FBF. The committee hires Jim Jackson, Smoking' Jim's Catering, (no relation to April) to do the bulk of cooking with the hospitality volunteers aiding in prepping other foods. Jim Jackson said he prepared 80 pounds of pulled pork and 250 personal pizzas. Bushels of peppers, onions, zucchini, and corn, and lots of salad fixings were chopped by the hospitality volunteers. Trail's Edge Brewing Company of Frankfort donated 10 trays of chicken wings. It takes a lot of provender to feed volunteers and musicians.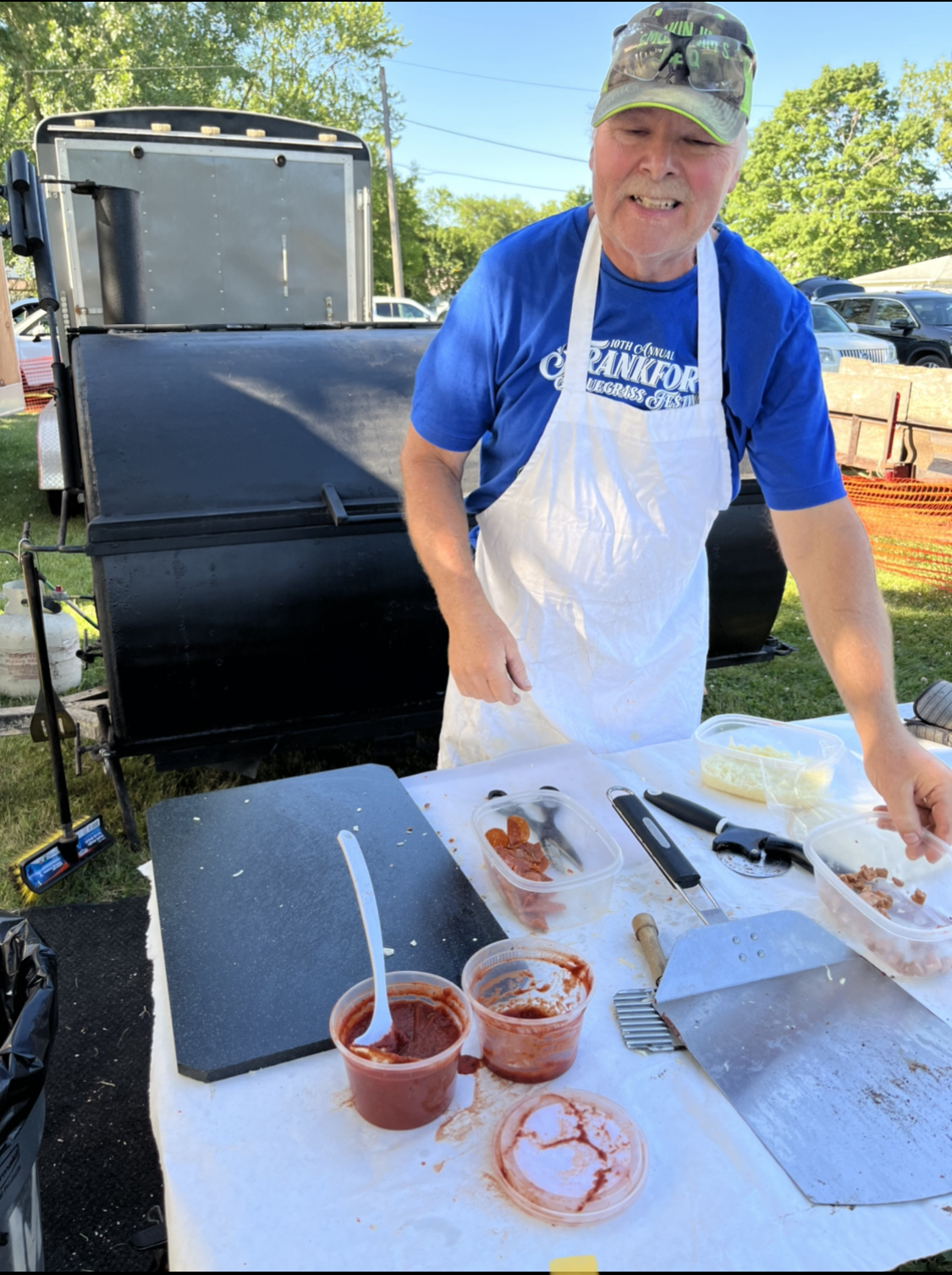 The FBF committee members agree all the work, starting almost immediately post-festival, is worth it. Jen Wonnell said she loves to see the smiles and everyone having a great time. But she always panics about getting enough volunteers to cover everything at the FBF.
Committee member Amanda Thompson said she's thankful for volunteer support, especially glad her mom, April, opens her home. Amanda also appreciates that her children and other littles connected to the committee are safely looked after there. But as Amelia, Amanda's daughter put it as clean-up finished on Monday, "No more social interaction!" It was a long busy fun weekend that wore us all out.
So, the Frankfort Bluegrass Festival is done and gone for a month now but the media is still discussing its success as happy memories linger. Don't forget, good people, to support your local community events early and often by looking for volunteer opportunities. Do as the Frankfort Bluegrass Festival has and build your community to be better and create friendships that go beyond your normal circle. Who knows who you'll meet?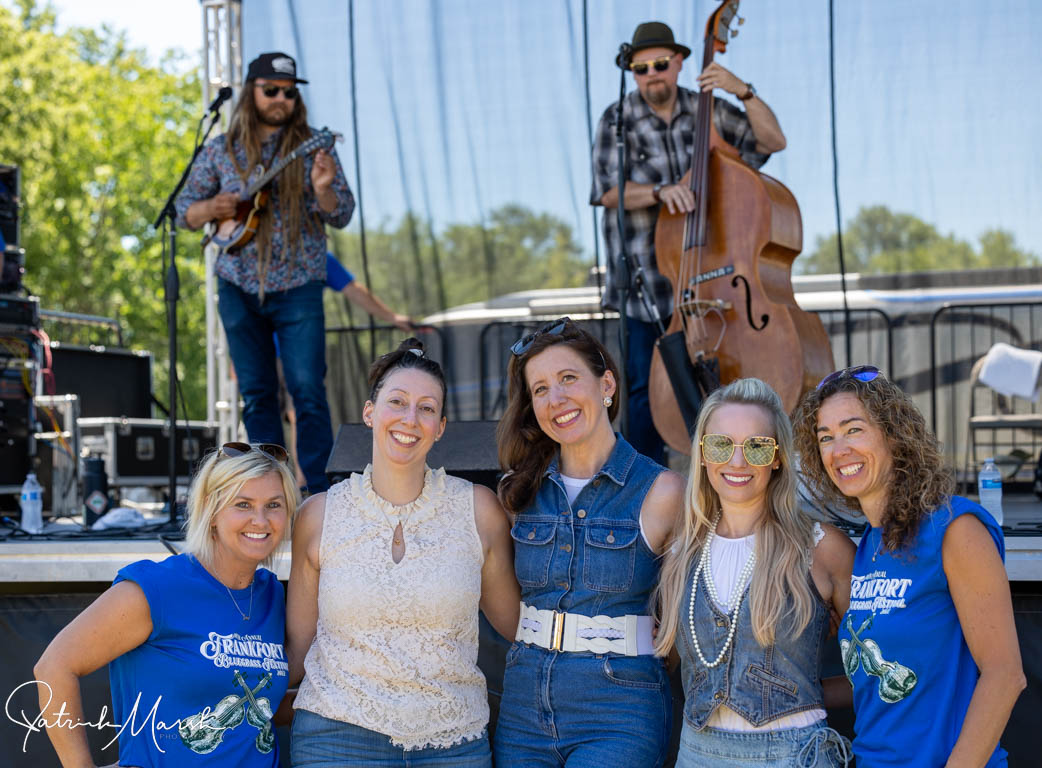 Check out more Frankfort Bluegrass Festival photos from Patrick Marsh Swamp!