First, let's get through the obvious: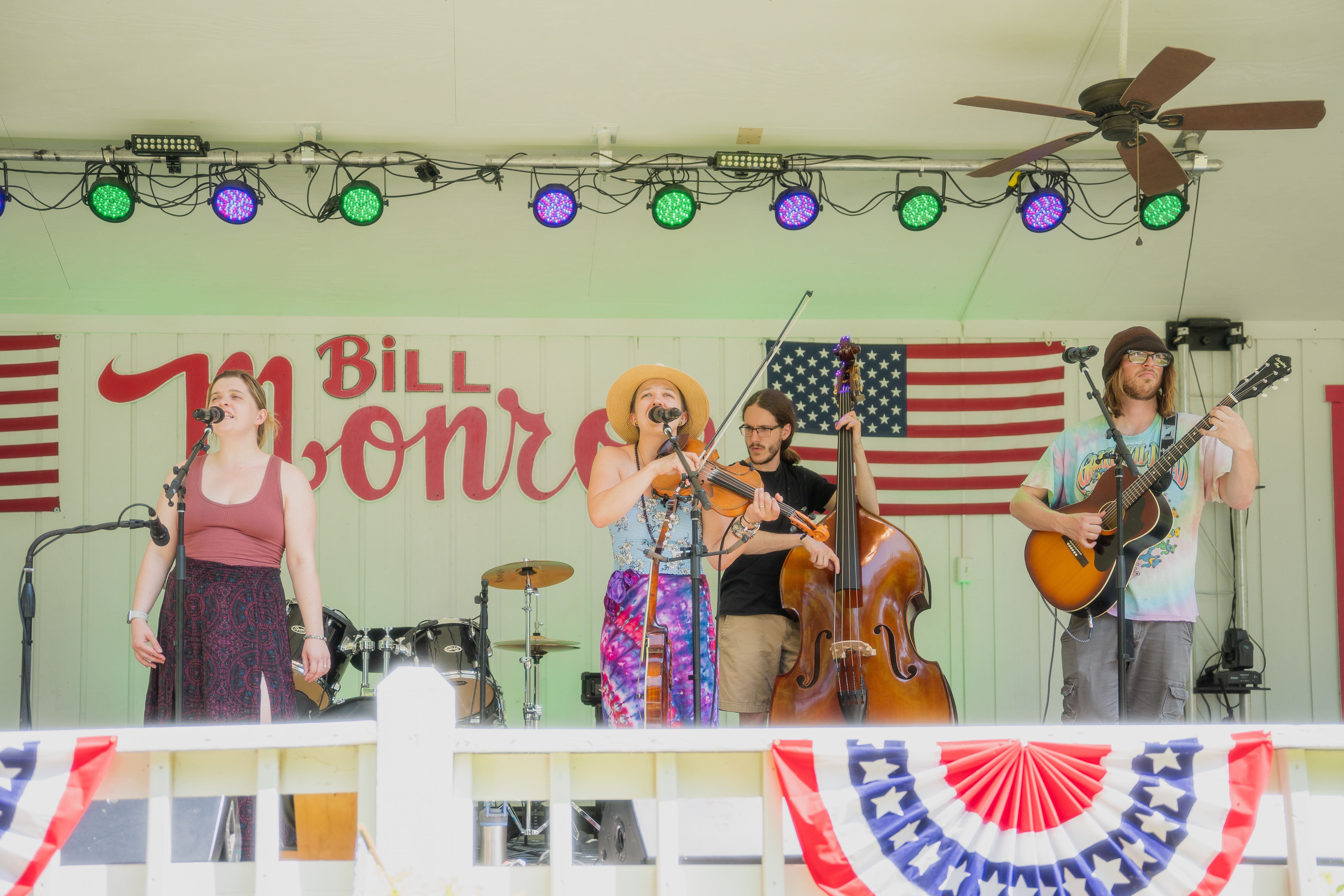 All these bands are hot, hot, hot, and put on a great show. They are no-brainers for any fan of bluegrass/jamgrass. But for me, the real story, the heart of Americana Bean Jamboree, was the lesser-known bands out of the Western portion of this country and those local artists rooted in the musical gravity well that is Brown County, Indiana, and Southern Indiana in general. Will Scott, stage manager for the Hippie Hill Stage brought together a fine collection of local talent that sang their hearts out. Scott is an artist in his own right and spent time organizing big New York City musical events. Now living in Nashville, Indiana he appreciates the local talent there and also brings touring artists to Brown County Inn as Entertainment Coordinator.
On June 1st, after getting things set up at Cabin 4, my husband Floyd and I wandered over to the Bill Monroe stage. While no music had been scheduled, many of the local players and traveling artists agreed to warm up the stage and festival by playing a few songs. The Elkins Jamily played a lovely cover of John Prine's Angel from Montgomery and a few of their original songs. More on the Elkins Jamily later.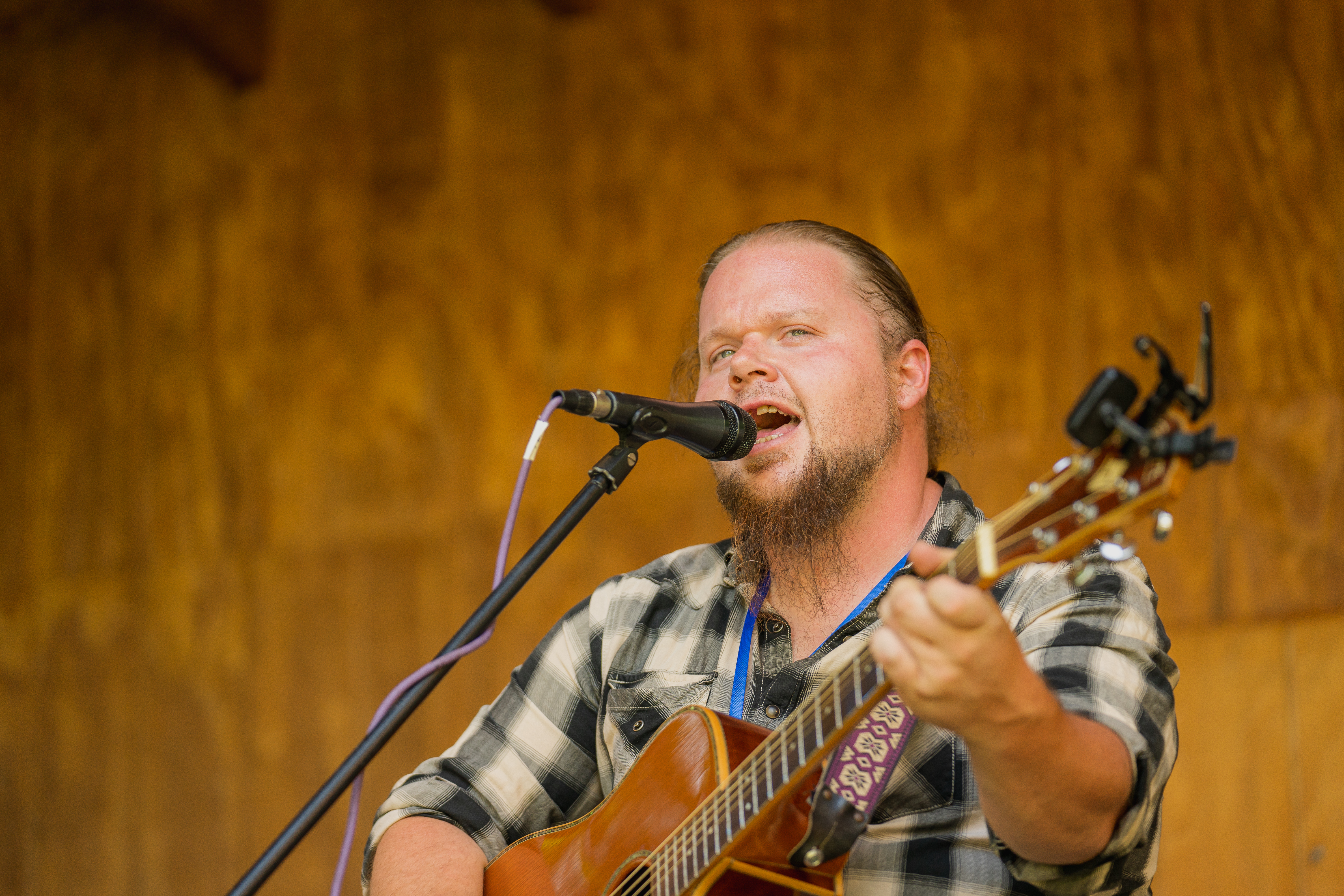 I visited with Dave Sisson after his set on stage Thursday evening. Sisson is a Brown County local and has played and attended festivals at BMMP for 15-20 years. He said playing here is a thrill and it's a privilege to be on that stage with its history and traditions. He has played on the stage a handful of times. He plays a fine lead guitar, solo or as a duo, and has many side projects in the area.
Sisson fits well into the Americana Bean Jamboree vibe; roots music is influenced a bit by the bluegrass always in the air in Brown County. He said people need to know that BMMP is the best in the Midwest for music and camping. Listing the park as a historical landmark in Brown County seems the right way to protect the site and maybe it would receive more support from the county powers-that-be, he thought.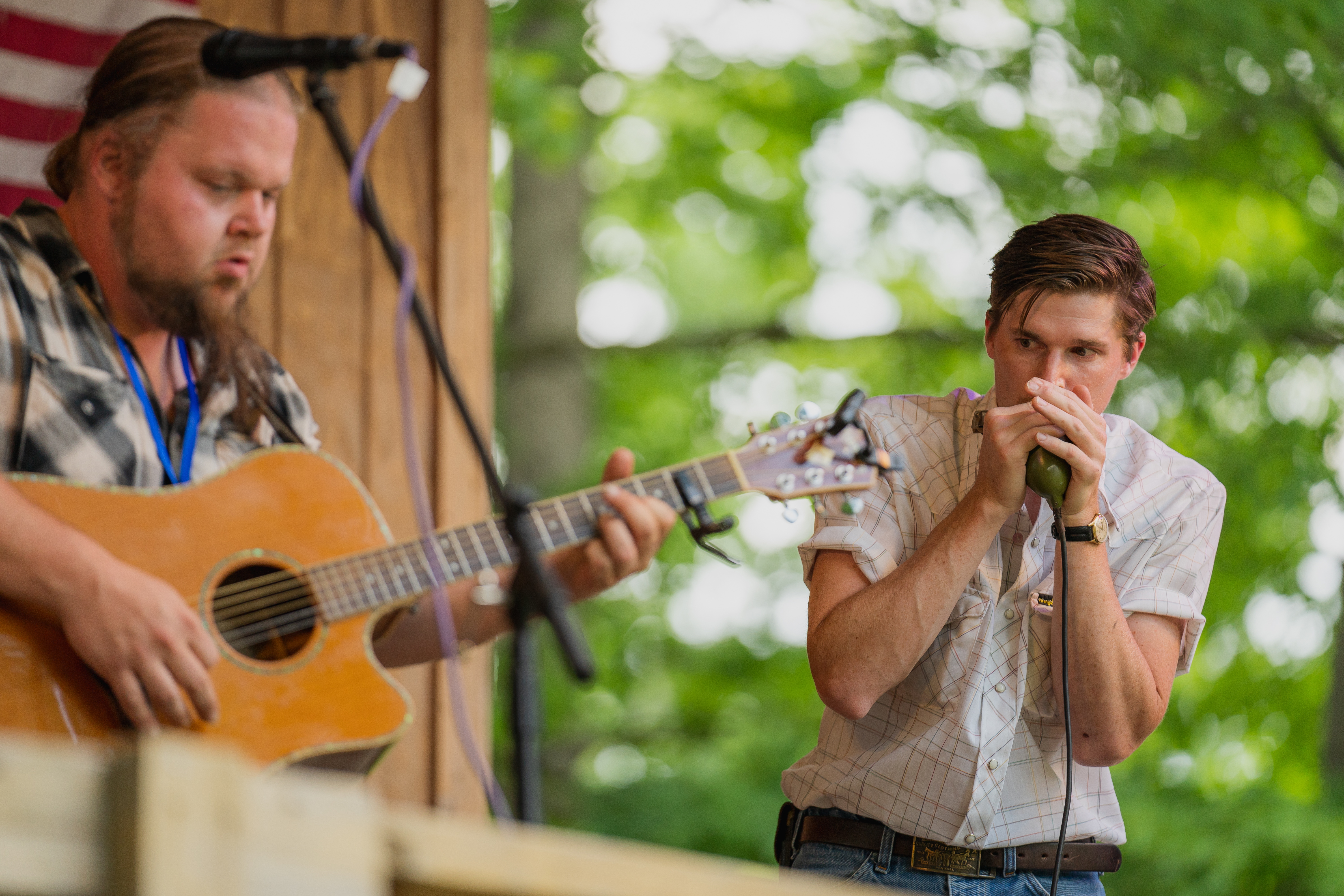 GW: What makes Brown County a music gravity well?
Sisson: I feel Brown County is slowly becoming a destination for quality live music. Americana, roots, bluegrass, we have a lot of variety around here.
GW: Does the local music scene have community support promoting shows and providing new venues and audiences for musicians?
Sisson: Yes, for the most part, all the groups that played Americana helped support each other. The local community is supportive of live music on the whole. There are a few small groups that think it detracts from our scenic town but I think most of the locals agree that it adds to the character for visitors.
Sisson remembers the Hartford Memorial Festival run, attending it for 7 years. He loved the jams after things closed up on the main stage each night and would canvas the park, looking for the best jams to jump into. Sisson is currently working on his first full-length album. It'll be about twelve songs, all originals, some written by his friend Sam Love. On the Hippie Hill stage, Sam Love played harmonica and Frank Jones joined them on bass. He is hoping to release the music in late fall or early winter. Find him on Facebook, David Sisson.
Friday, June 2, the ABJ opened with Alex Dunn on the main stage. He is tall and lean, a talented poet, artist, and performer from points west. We shared a connection over family heritage in Eastern Montana, another land of high lonesome character. His songs were well crafted. I enjoyed Colorado Line from his first album, Scatters Poems, a danceable tune fit for a big western party at the local water hole in some small town. And his new album Southern Star has been in heavy rotation for me. On Southern Star, he covered Sorry Your Sick, written by Ted Hawkins (1936-1995). I associated the song with Chicago Farmer as I have heard him play it a lot. It was nice to hear another interpretation and learn who wrote it. Dunn's original songs reflect the romance and hope of the West. He said he was influenced a lot by Gordon Lightfoot who wrote with an understanding of life on the western plains. But his writing is most influenced by his love of modern Irish poet John O'Donohue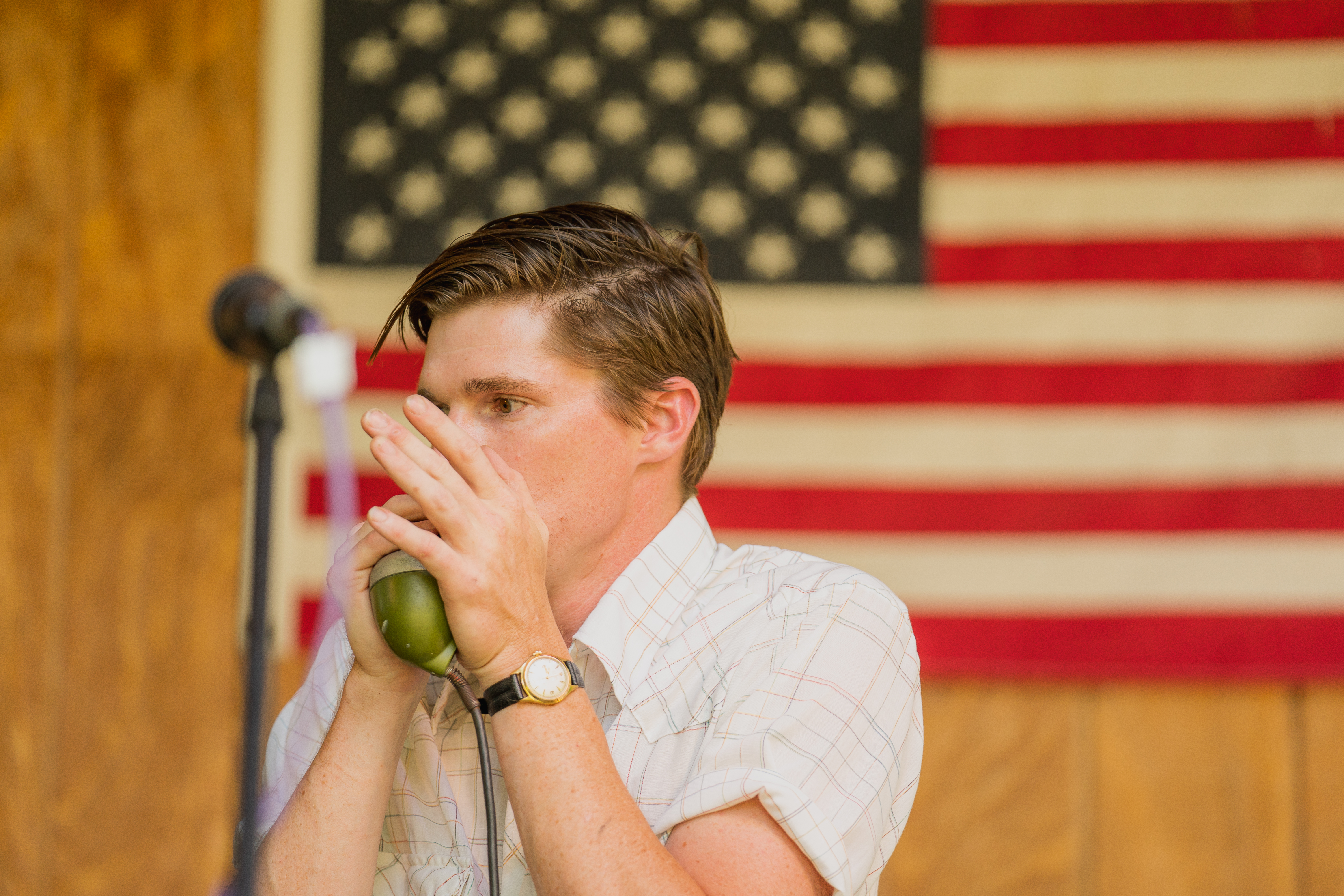 More Western connections turned up on the main stage. Hailing from western Montana, Tophouse is a young bluegrass band with a twist. As a fourth-generation Montanan, my first question was, University of Montana? When they all said yes. I said, I went to Montana State University and joked, we're done here, Go 'Cats! (This football rivalry goes back to 1897.) The band members, William Cook on fiddle, Joe Larson on banjo, Jesse Davis, on guitar and mandolin with Andy LaFave on keyboards, have a sound much like Mumford and Sons. This young band recently moved to Nashville, Tennessee and this was their first festival as a foursome. As two members (Wm and Jesse) were Music majors; Joe, Business; and Andy, Philosophy, they seem to have the needed skill sets to forge ahead in the music business. Their harmonies are tight and they claim Nickle Creek and Need to Breathe as their primary influences. Let's hide and watch and see where this young band ends up.
Americana is at its best when it finds the deep core of being human.
Being human, with all its trials, could be heard in the music of Caitlin "Spanks" Spangler, local Indiana talent opening the Hippie Hill stage. Her voice reminded me of Bonnie Raitt, passionate and raw at times, a warm caress at other moments. Any woman that has experienced tough times, will find a connection to her songs. She said she likes to look tough but she's really a softie. The audience at the Hippie Hill stage was attentive and supportive of the local acts up there, as dedicated to listening as the performers to playing. She had some stories to tell in her songs for sure. Find her on Facebook at Caitlin Spangler Music. She frequently plays in the Brown County area, often with David Sisson.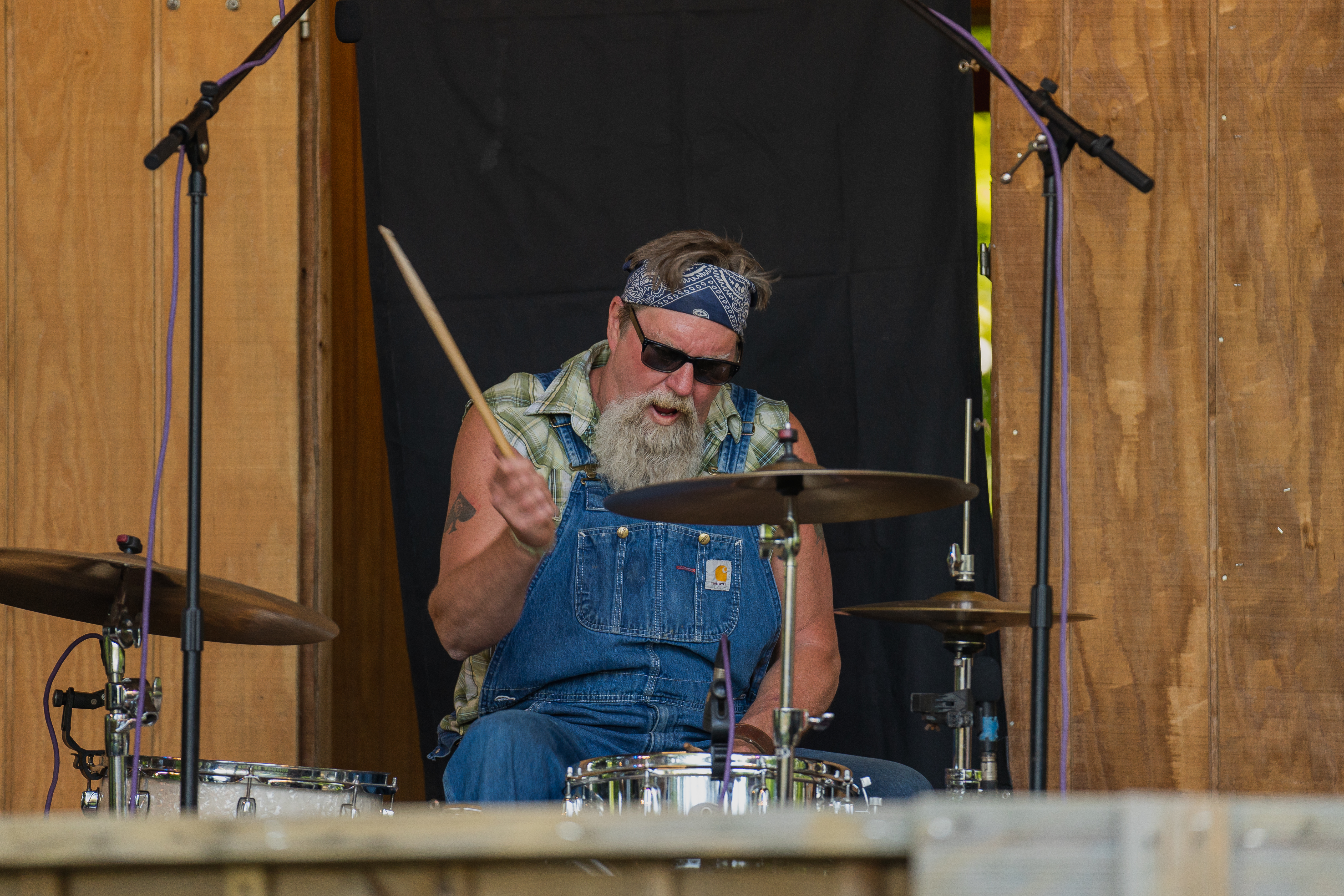 Next up on Hippie Hill was the music of Jason I. Blankenship with Chuck Wills. Blankenship is a man of deep thought as well as a student of American history. He worked as an intern in Chicago at Alligator Records and then as a club manager at Buddy Guy's Legends in the 1990s. He lives in Nashville, Indiana, and hopes the BMMP venue can keep Bill Monroe's vision alive and thriving, supporting local music as well as regional and national touring musicians. He leans to a blues style of Americana.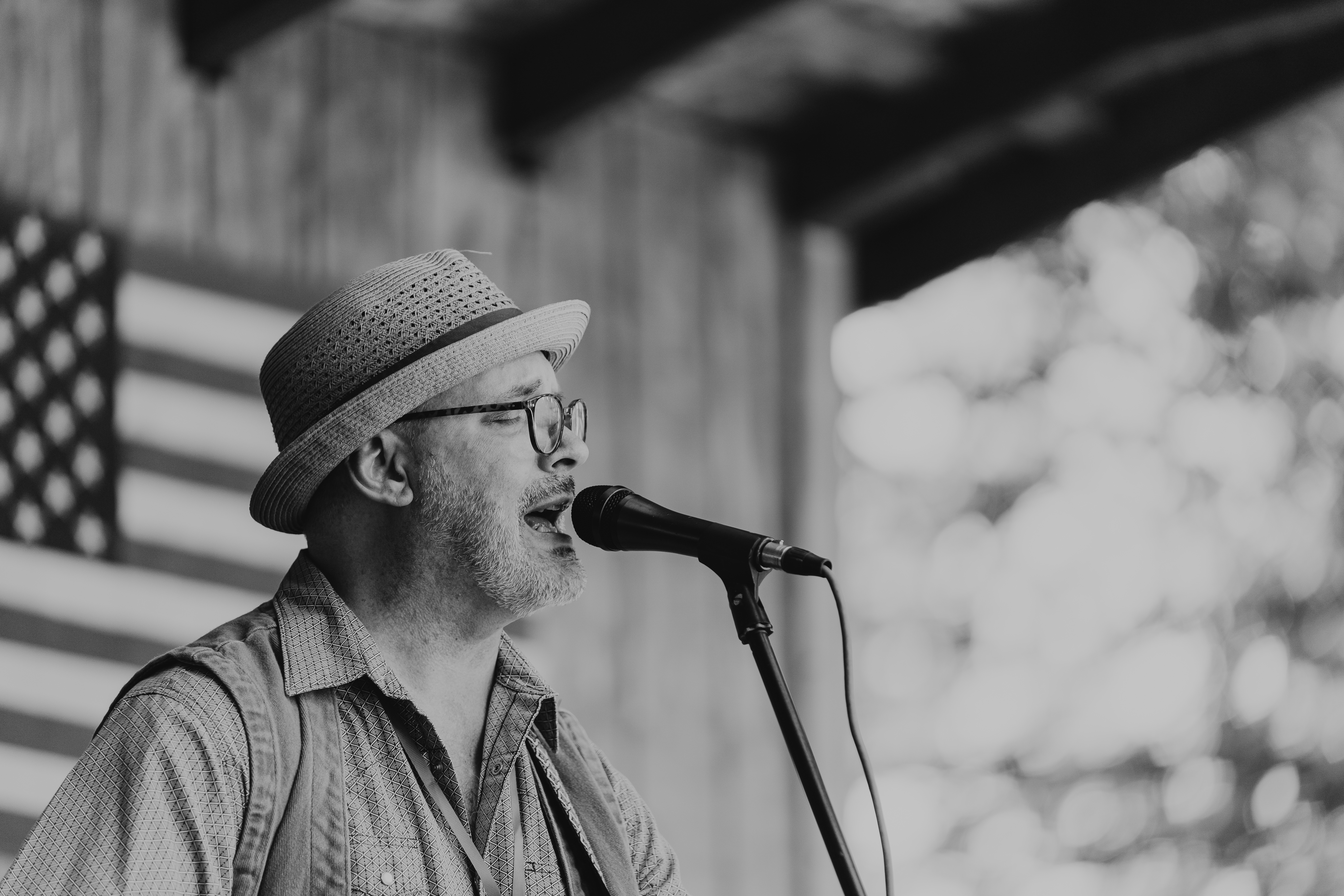 Blankenship wrote an interesting bit on his Facebook page about venues, tribute acts, and concert series offering little room for local acts to open or play at those venues. He understands that venues need to fill the seats to keep the doors open. But he said when local musician support fades, we lose a lot of vitality and creativity in the music. The Blankenship Band
After being a musician for 30 years, Blankenship says he is still learning the industry and is glad for groups and communities helping musicians. He is an administrator for the Network for Original Americana Music on Facebook. And he also recommends Folk Alliance Region Midwest, Farm Folk, located in Lisle, Illinois. This site hosts Zoom meetings on topics pertinent to performers, as well as sessions with Zoom performances. In October, this group hosts The Gathering 2023 with Robbie Fulks as the keynote speaker.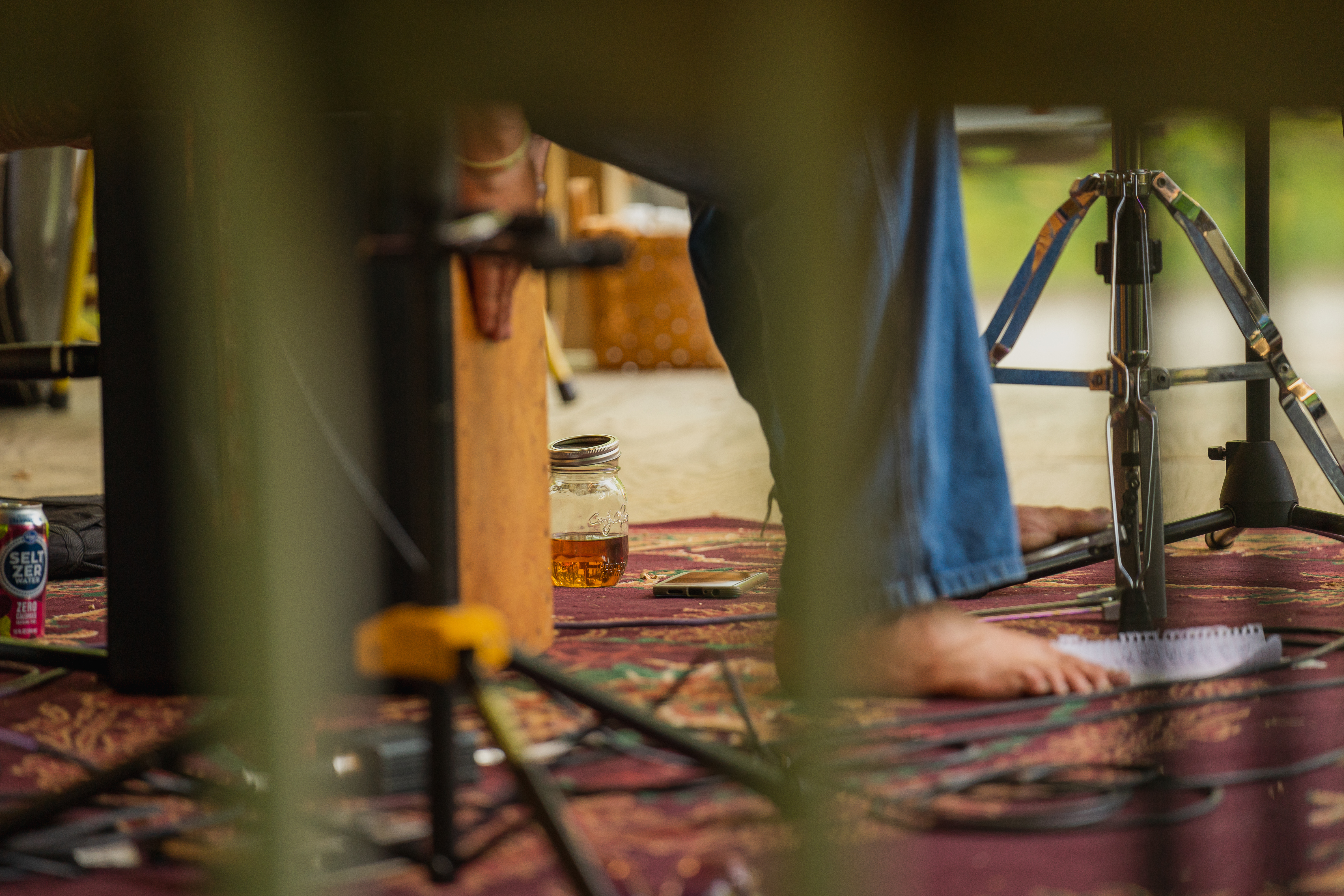 Currently, Blankenship is assisting his partner, JC Clements, on a new album they will be releasing songs from soon. The album is being produced by Linda Loveless, a talented musician in her own right.
Otto and The Moaners, another Brown County band from Bloomington are originally from Oakland, CA. Solidly country/blues rock and tight, they visited all the country tropes: rivers, smoking, addiction, big city lights, wind, country girls, and cars in their catalog of original songs. A perfect band for any county fair, danceable, entertaining, and instantly familiar with pedal steel for the right touch at the right time in a song. Otto and the Moaners are songwriter Matt Lundquist on slide guitar; Mark Wayne Minnick on drums; Devin Brown on bass; Ryan Jackson Payton, on pedal steel, and Jerry Miller, on guitar. Check them out: Ottomobile
Backtracking to earlier in the day at Hippie Hill. Elkins Jamily is a heritage family that settled in Brown County in 1778 and music has always been in the blood. Heather Dawn White, nee Elkins, is a fine songwriter. Her song, Beautiful Brown County, could be an anthem for the area and Four Cold Walls, a prison song, had gravelly voiced angst. Not bad for a young songwriter. And a shout out to Bryleah, her daughter, and likely the next generation of musicians who insisted I get her name right. Heather's father plays mandolin Heather plays acoustic guitar and Bryleah is learning tambourine.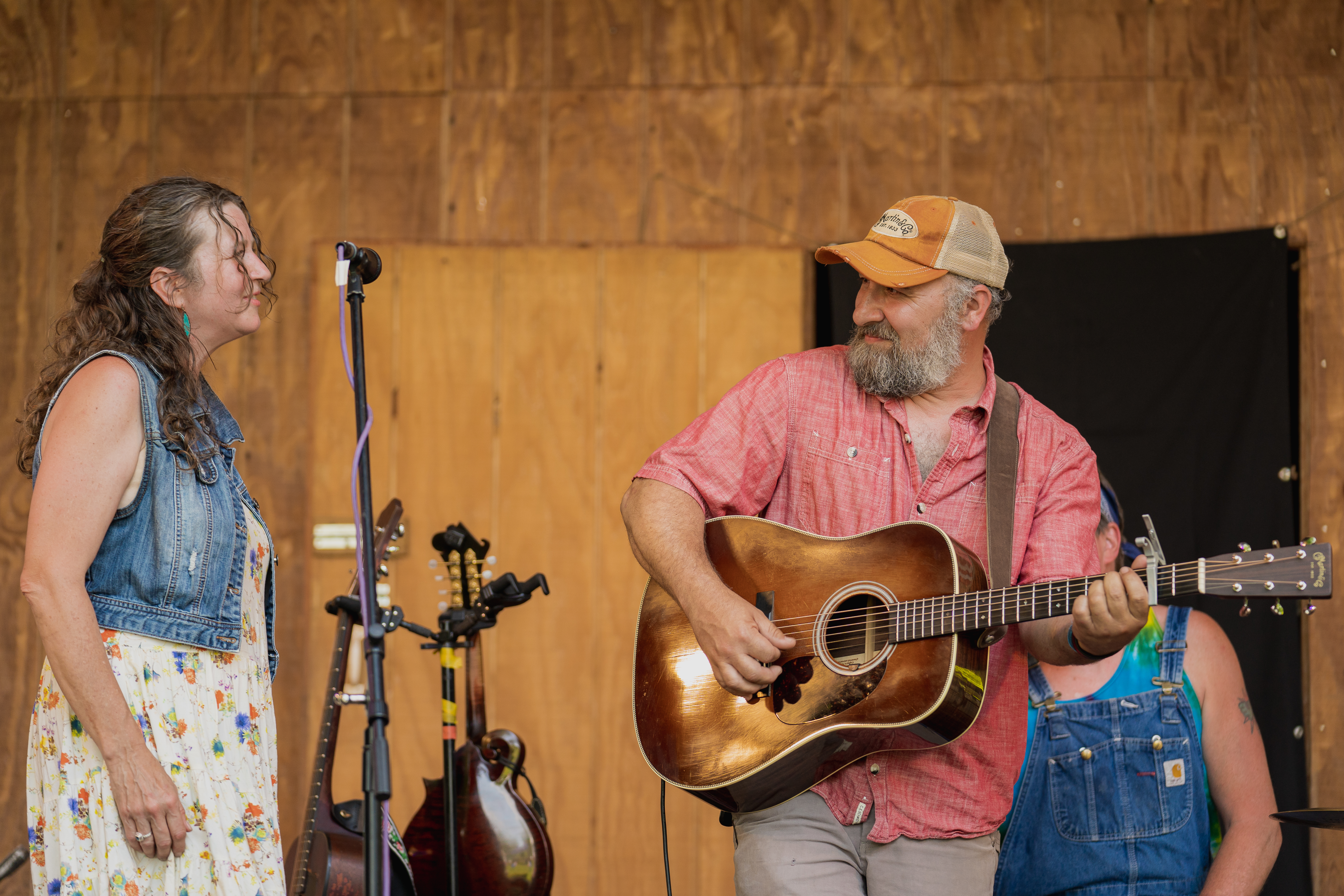 One of my favorites at ABJ was The Hammer and The Hatchet, John Bowyer and Jayme Hood. I have heard this duo before and their range and knowledge of Americana traditional music is solid. Their original tunes are lovely. Rose Garden seemed a bit at the bottom of Jayme's range but I believe she said allergies had been hard on her. David Sisson joined them onstage for a couple of tunes adding grace notes from his slide guitar. Tin Foil Rings, based on a true story, is destined to become a fine sing-a-long song. The funniest song of the entire weekend was their Bailey's Small Engine Repair, based on a local establishment just down the road from BMMP. I hear they will be getting a band together for some gigs, The Hammer and The Hatchet and the Implements of Destruction. I can't wait to hear this happen!! They are also working with JC Clements and Jason Blankenship recording alternate acoustic versions of songs on the Clements album, along with Caleb Powers, fiddle, and Megan Palmer, fiddle and piano.
Listened to Wilson Banjo Company as we broke down camp Saturday evening because we had an early leave time Sunday morning as well as Rainwater 4 with Corey Flick playing at the Hippie Hill stage made the work pleasant. (Did I say I loved our cabin?).
A shout-out to the other bands that played: Ryan Ahlwardt, Scott Ellison, Bourbon Revival, and the Lowlanders.
We enjoyed Americana Bean Jamboree 2 and hope this event will continue to grow. We all love the big touring acts but the less well-known bands need to be heard, too. Talking to these musicians and seeing the strange circle many take, often from hometowns to big cities and back to small towns, shows the importance of all music fans supporting local live music. It is how we grow the music, creating connections between people and communities that have vibrant music scenes no matter the size. Music matters.