When I saw the location for Rumble Down, I smiled. I wanted more of my family (kids and grandkids) to experience a small jam-grass festival. Four of the grandkids are multi-year Shoe Fest veterans but more of them need the experience and my tribe is all in the Springfield vicinity. The festival site, The Kampground, is within bicycling distance for one of my sons. This would be a bunch of first-time adventures for the family.
 It is so grand to have a beautiful local place for a festival. Recently, The Kampground, a new enterprise near Mechanicsburg, Illinois, has opened up to host music festivals and other events. Formerly a Nazarene church camp, the site is about 15 miles east of Springfield, Illinois. They offer a quiet and peaceful family campground on 25 acres, featuring RV/Camper and tent campsites, cabins, a fishing pond, hiking trails, a basketball/volleyball court, and fun. Music festivals are a new direction for the campground. It was a good day when the Rumble Down management team approached The Kampground as the festival site.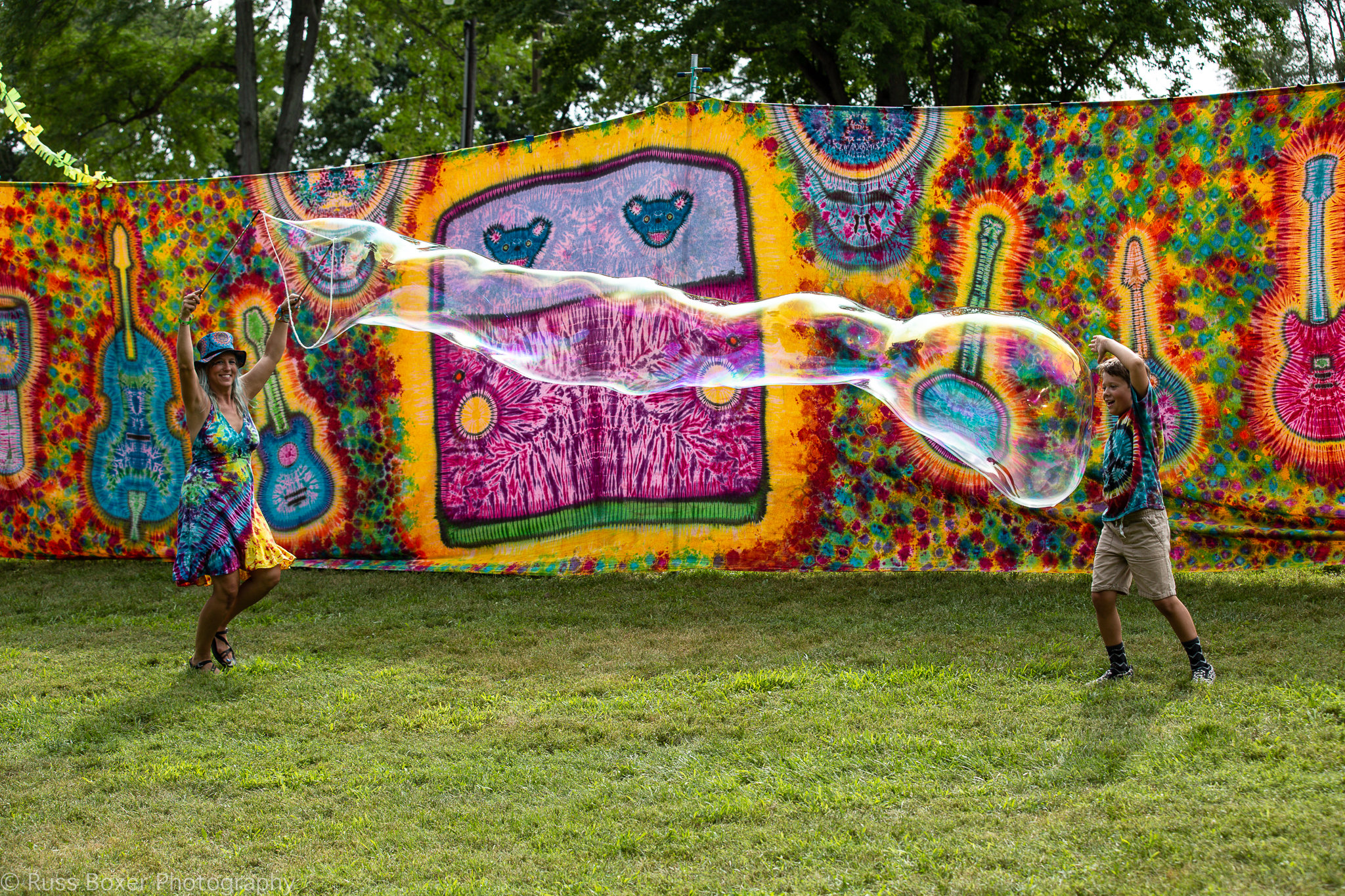 The inaugural Rumble Down Festival was held on July 29 & 30, 2022. And since this is its first go-around, it means whoever attends can help set the tone, vibe, and culture of the event for years. Good beginnings matter. So, given close to home, family-focused, and a nice mix of bands, I cast out the word of my willingness to buy tickets to family and waited to see who took the bait. The initial response was meh. Two of the older grandkids, Shoe Fest vets, knew about the event. It wasn't until the day of the show that I finally got an idea of who would attend. It was a good thing I bought some early full event tickets a Saturday pass and won two full event tickets courtesy of WRZD 88.3, the wizard home of free-form radio Chicago.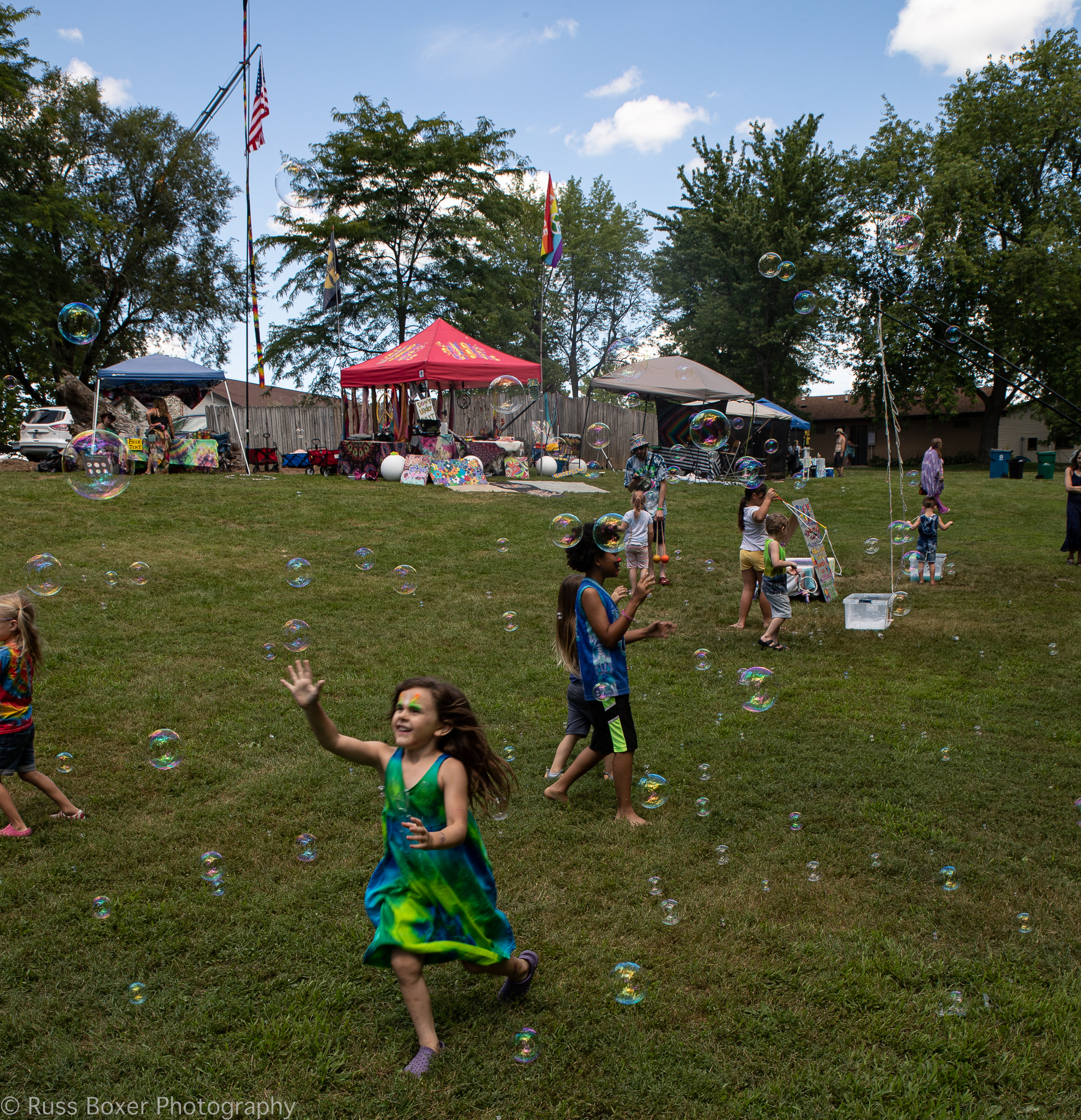 There would be a lot of work at a new event. I spoke to Anj Way, event coordinator, marketer, and band-management guru, on August 3 about Rumble Down. Way said she has been working with The Rumpke Mountain Boys, out of the Cincinnati area for the past couple of years. Jerry Thompson, aka Bear, is a Springfield, Illinois native and knew about The Kampground. The last part of the production team is Rick Shay, their Chicago investor. Along with the Rumpke Boys, they brought in Armchair Boogie, and Sicard Hollow, among others, two bands Way feels are taking off. Of course, Bear knew he had to bring in the local flavor of Central Illinois so Sunshine Daydream, out of Springfield, was brought in to play Dead, towing along a group of friends I knew back before 2005 and a move to Joliet. Sunshine Daydream has a legacy going back to another Springfield Dead cover band called Perfunctory This Band. Sunshine had Brad, a Perfunctory member, as one of their early founders. Stretching out a bit farther north to Bloomington/Normal, Illinois means touching base with Chicago Farmer and the Field Notes. So new musicians for me to hear, old familiars to sing along with and new people to meet.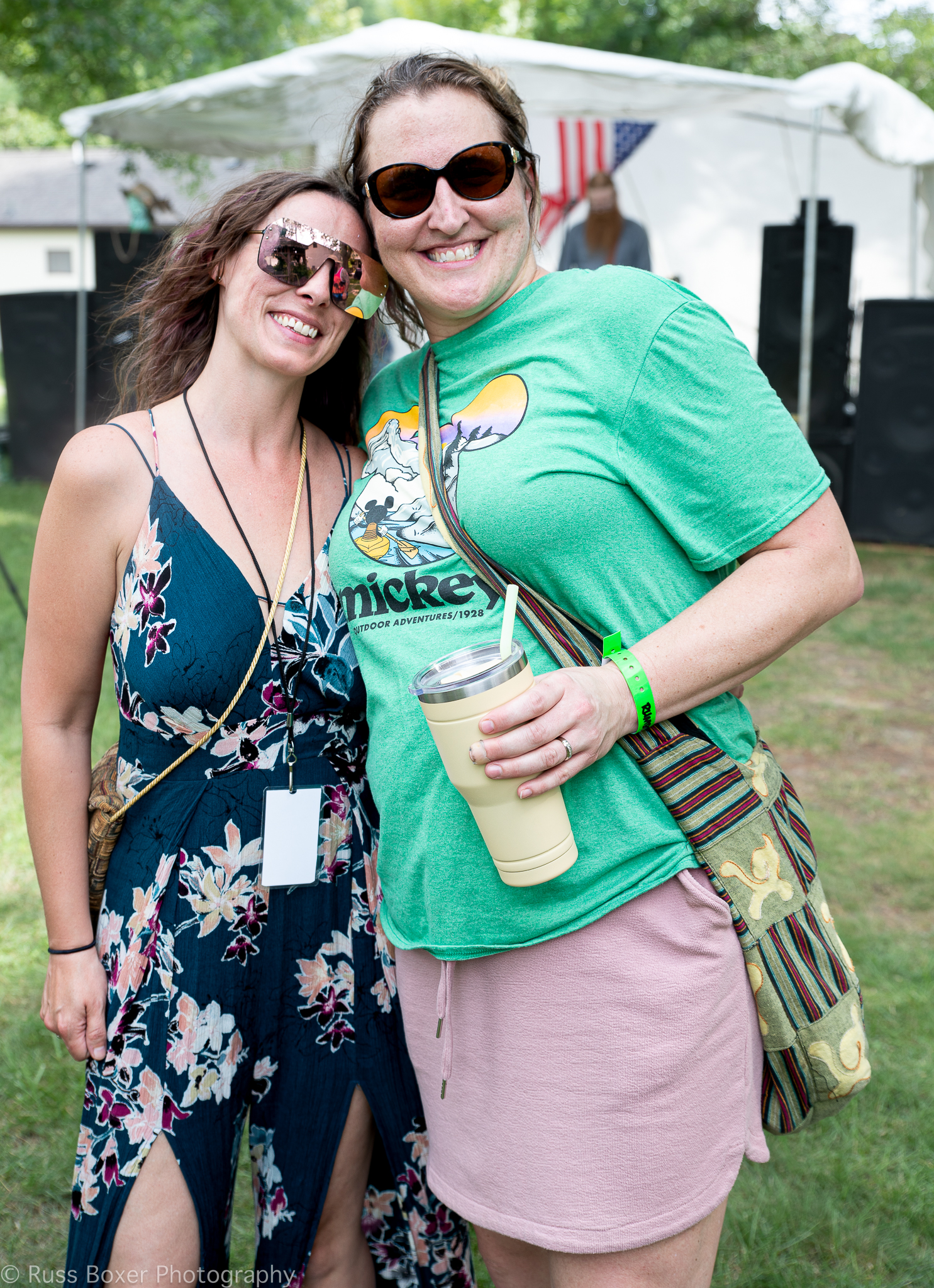 My thought was the first-time festival means it will be small, not so overwhelming for people new to this scene, and safer for the little ones. And the event worked hard to make sure kids were entertained with activities, lots of painting, crafting, bubbles, and silliness. Way said she was proud of the kids' team, Rick, Violet, and Haley, and their efforts. I have observed that keeping a family focus is what makes small festivals a success. It means families can enjoy the music and scene together. And I think it is easier for people on a sobriety journey to enjoy the day when it isn't focused on partying, at least through the daylight hours. My friend Joe proudly wore his Wharf Rat shirt. Keep on it, Joe!
We arrived Friday afternoon just as Pete Jive finished opening the event on the main stage. Pete told me, "It was the first time I was not in jeans and boots onstage. I wanted to feel good, to feel that breeze." Pete, in shorts! And, the weather was amazing, a break from the heat and humidity that usually marks a Central Illinois summer.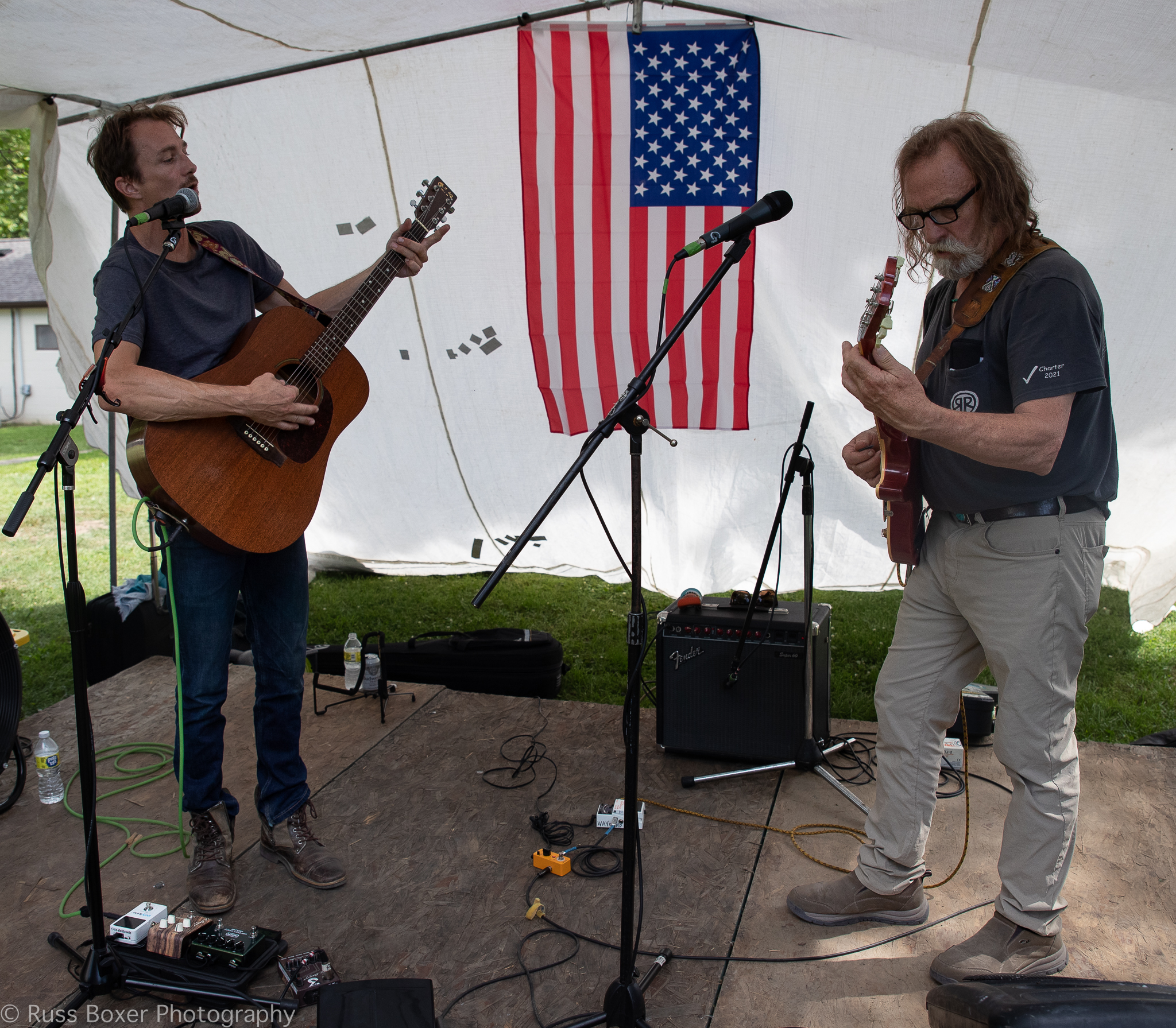 I have to admit the next few bands, good as they are, were background sounds as I welcome two grandkids, Danika and Mikah. We caught up with each other and with the Jon Griffin clan. Then we explored vendors. A first-time vendor was Gregory Sergi, from Fond du Lac, Wisconsin. A friend talked him into vending. He had spent several years living and studying at a Buddhist temple in Guatemala where he grew coffee. And he had the most amazing coffee. It was a shade-grown, honey processed, which means beans aren't rinsed after the berry around the bean is removed. Then the bean is slow dried.  He had beans and a tank of cold brewed coffee and Guatemalan goods to sell. Sergi is raising money to build a new Buddhist temple in Fond du Lac, "trying to change the crazy in the world".
Danika scored big at Little Kin, a vendor from Mt. Vernon, Illinois. The soon-to-be freshman scored an upcycled corduroy jacket and skirt which she totally rocked on Saturday. Little Kin shared vendor space with a partner, Tucky Reynolds, a fine artist specializing in glass mosaics with his studio at The Pharmacy, an artist collective in Springfield, Illinois. We also met another first-time vendor, Egress Records and Comics from Metropolis, Illinois. And they came from north and south to all be a part of Rumble Down.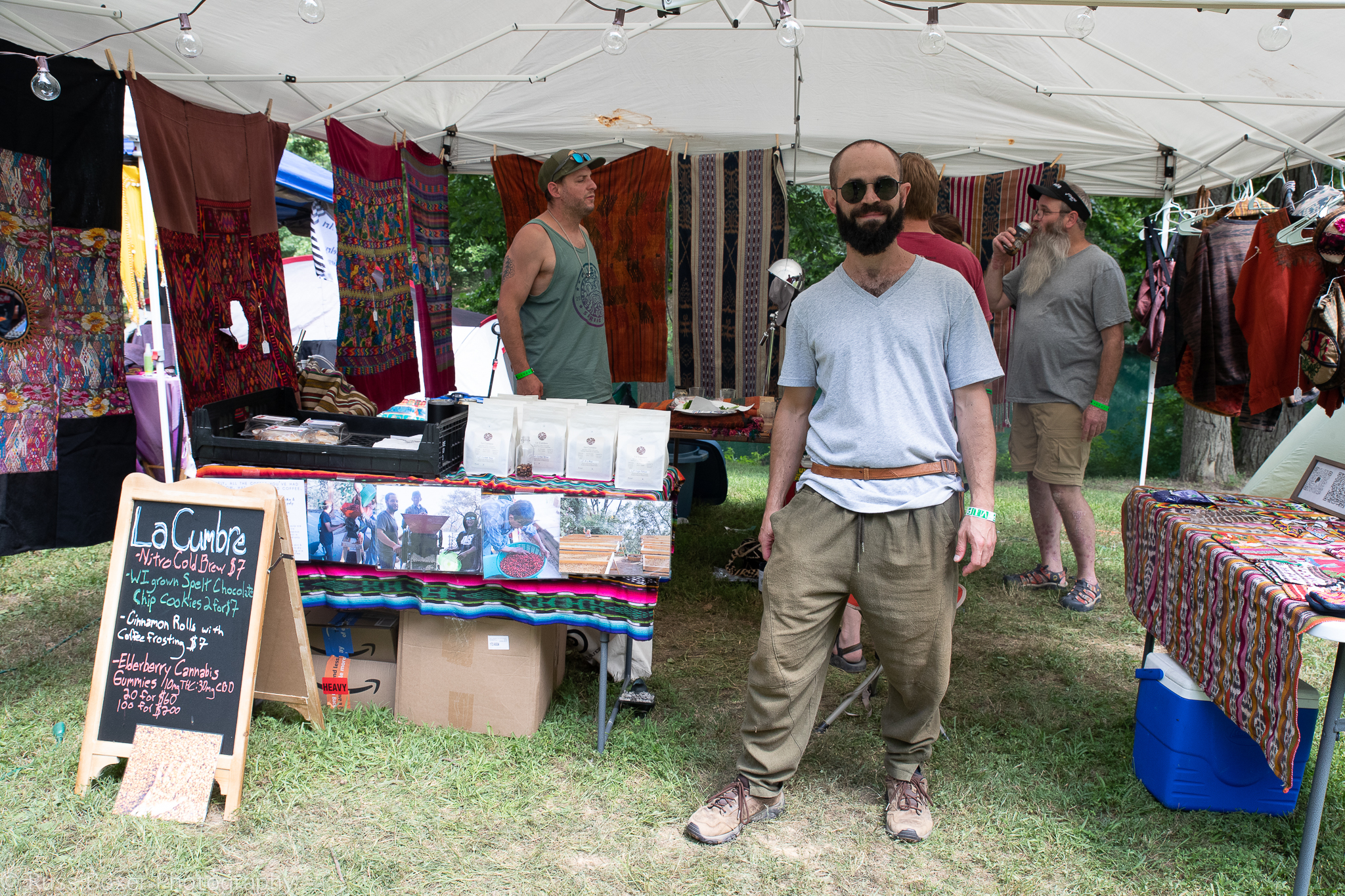 Now I could settle down in time for Burle and Friends, and that was magical, a tonic for my soul. Benny "Burle" Galloway is a songwriter/performer whose influences mirror my favorite musicians, Hartford, Watson, and so on. I had short sleep the night before and as he sang Night on the River, I wanted him to sing me to sleep. It was soothing. But no time for sleep. Off to find food from vendors. And the food was a nice mix of local vendors as well as traveling outfits. Getting local connections impressed my son on Saturday. Then, back to hear Sicard Hollow. They definitely were a crowd pleaser, and I enjoyed them but was too tired to process more than that. We sent the two grandkids off home and packed ourselves up to drive into Springfield and a real bed.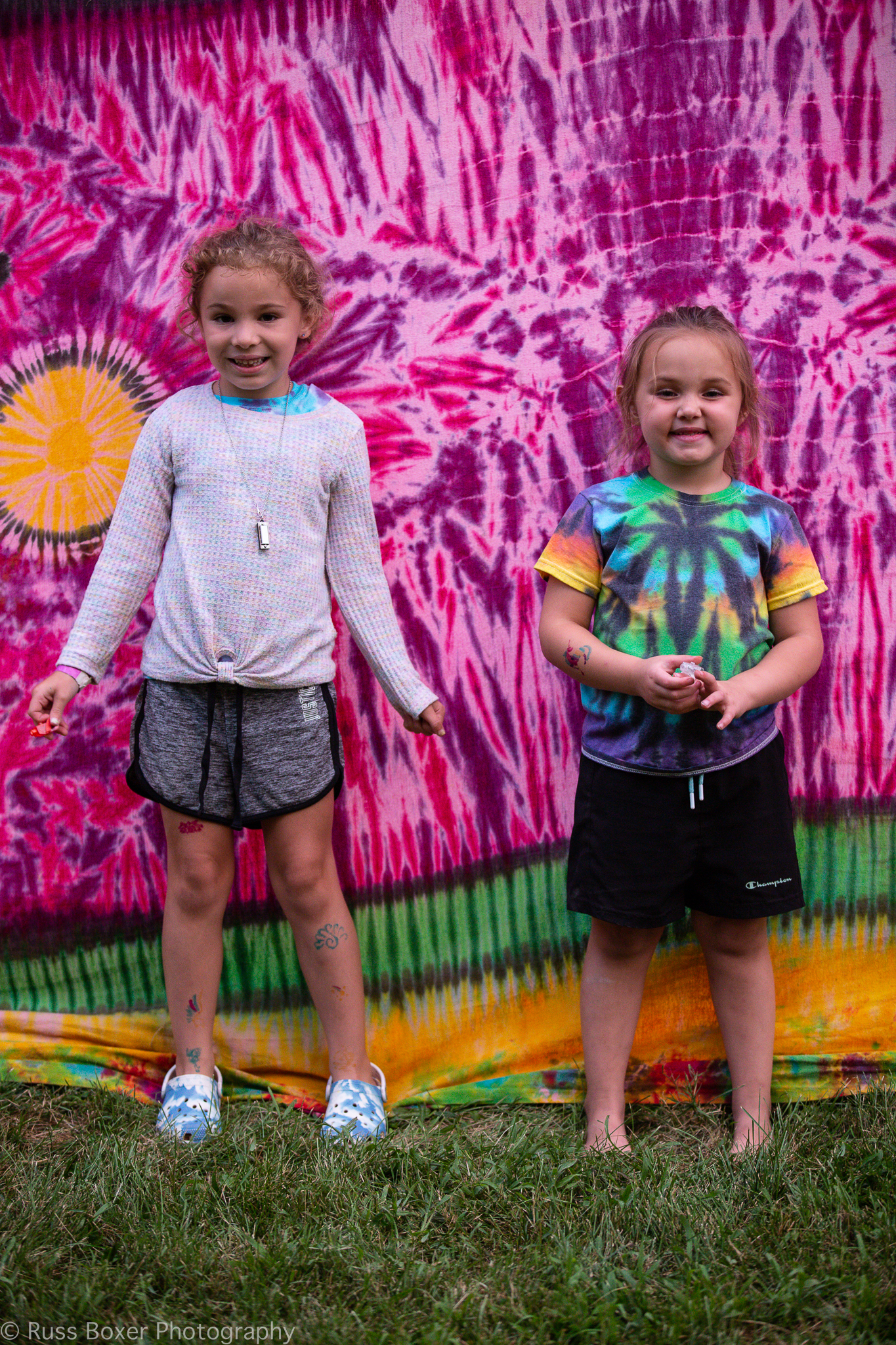 Saturday morning, we arrived before opening band and got ourselves settled. I bought a Nitro-infused cold coffee from Sergi. He said it had the strength of three regular coffees and he added a special creamer made with ghee, almond, and coconut oils. Flavor, umami, but no sweetness to speak of, this caffeine would get my festival started. As did Chickadee Sermon, a female-led bluegrass band, clear and sweet as summer rain. As I sat sipping coffee with Amy Griffin, we laughed and talked about many things. Reminder, Amy, to write your children's book, Picnic with a Goat. And I'll write mine, Are you a Flower?
Booted, a band led by Dan Huber, was up next on the main stage. I heard a lot of Neil Young in the vocals and enjoyed the music but was interrupted by the arrival of Danika, in her new ensemble from yesterday, and her two friends. One quickly bought herself corduroy patch festival pants. It is good to know they will never go out of style. The Mighty Pines were fun, good semi-psycho bluegrass blues, and mandolin lead with a fine bass player. Friends showed up in time for Sunshine Daydream. We set up their tie-dyed banner and it became a way to mark our place. Sunshine Daydream got my husband and me up dancing, granddaughter reported we were a crowd favorite. But I also had opportunities to go up and dance alone, working on my spinning. One must always be spin-ready to dance to many Grateful Dead songs or with my husband, Floyd.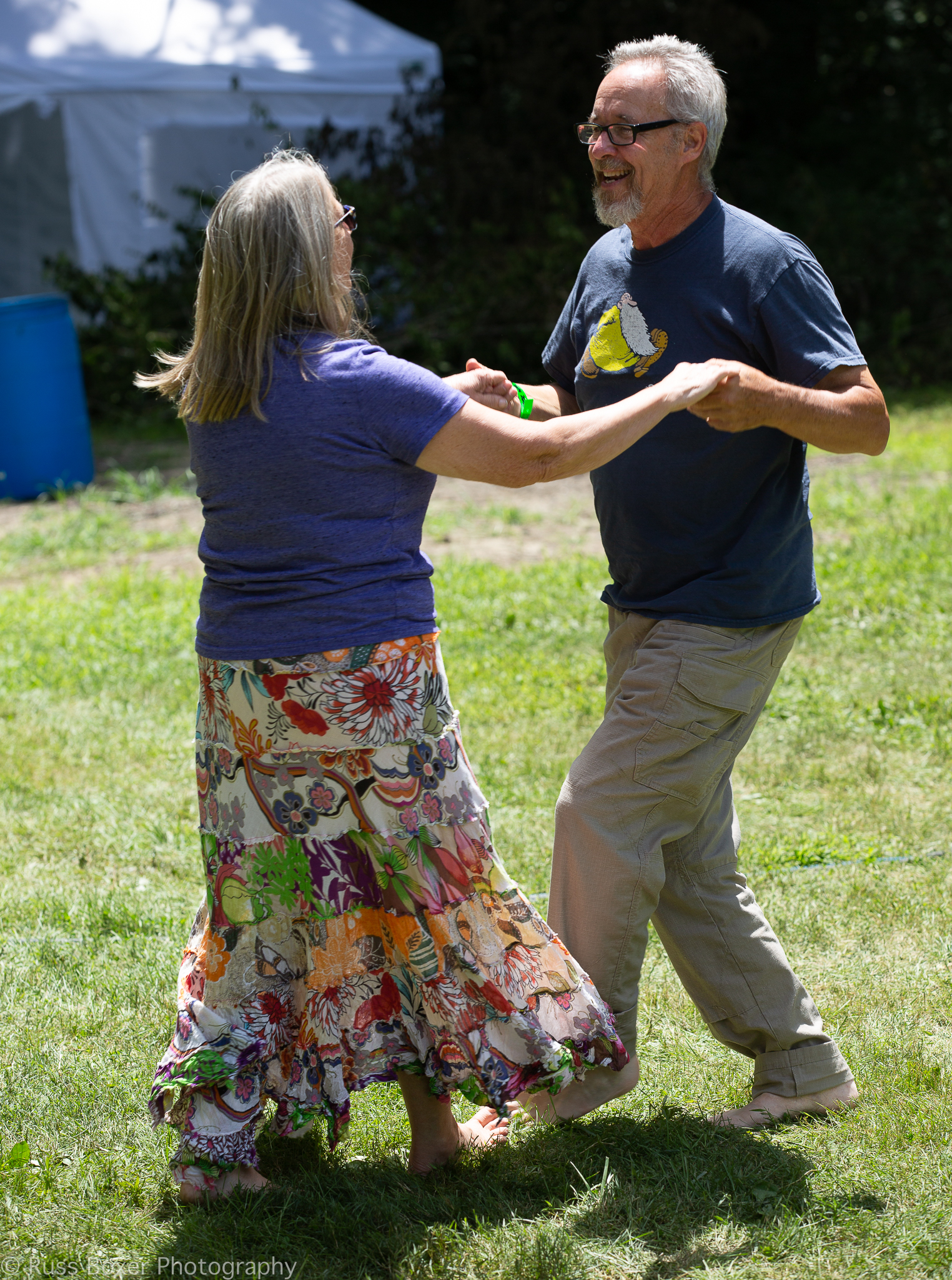 I admit I was a bit nervous about my son and his wife, Aaron and Shannon, and their family being exposed to the alternative culture that rolls on at a festival, but I knew he and his wife had seen a thing or two in their lives. They worry so about the kids. We met them at the gate to get tickets bought and to haul gear suitable for a family group: blankets, chairs, cooler. They had four of the kids, the oldest would show up after work; only one granddaughter missing. After getting set up under our tree, and the grounds had many well-placed trees with welcome shade, folks started disappearing to check out vendors, find food or play at the children's activities.
The space set up for kids' activities was within easy viewing from all the vendors and seating at the main stage. The youngest grandson, Oakley, three and a half years old, loved the bubbles. He was so enamored with his wand that he backed himself into a tub of bubble solution a few inches deep. Aaron, was there as fast as an in-shape marathon bicycler can run to fish Oakley out, dripping bubble solution. As he got him back to our area, a vendor was there with a towel for him. Shannon took him off to the showers after buying a tie-dye shirt and checking the car for extra clothes. Oakley spent the rest of the festival commando in his shark-boy jammies with a t-shirt over. It was a perfect festival look.
And that is exactly what I like about small festivals. Everybody keeps an eye out for the kids, well mostly. I did see a golf cart being driven through a group of littles, in bad form! Cart routes should be designated and marked beforehand to the service stage, sound, or merch tent. There are things both the festival producers and site owners need to work on for next time. But in general, the people at this festival were marked by how well they seemed to listen to others, even to kids and there was a concern for each other. The conversations were great as this new tribe made connections with each other.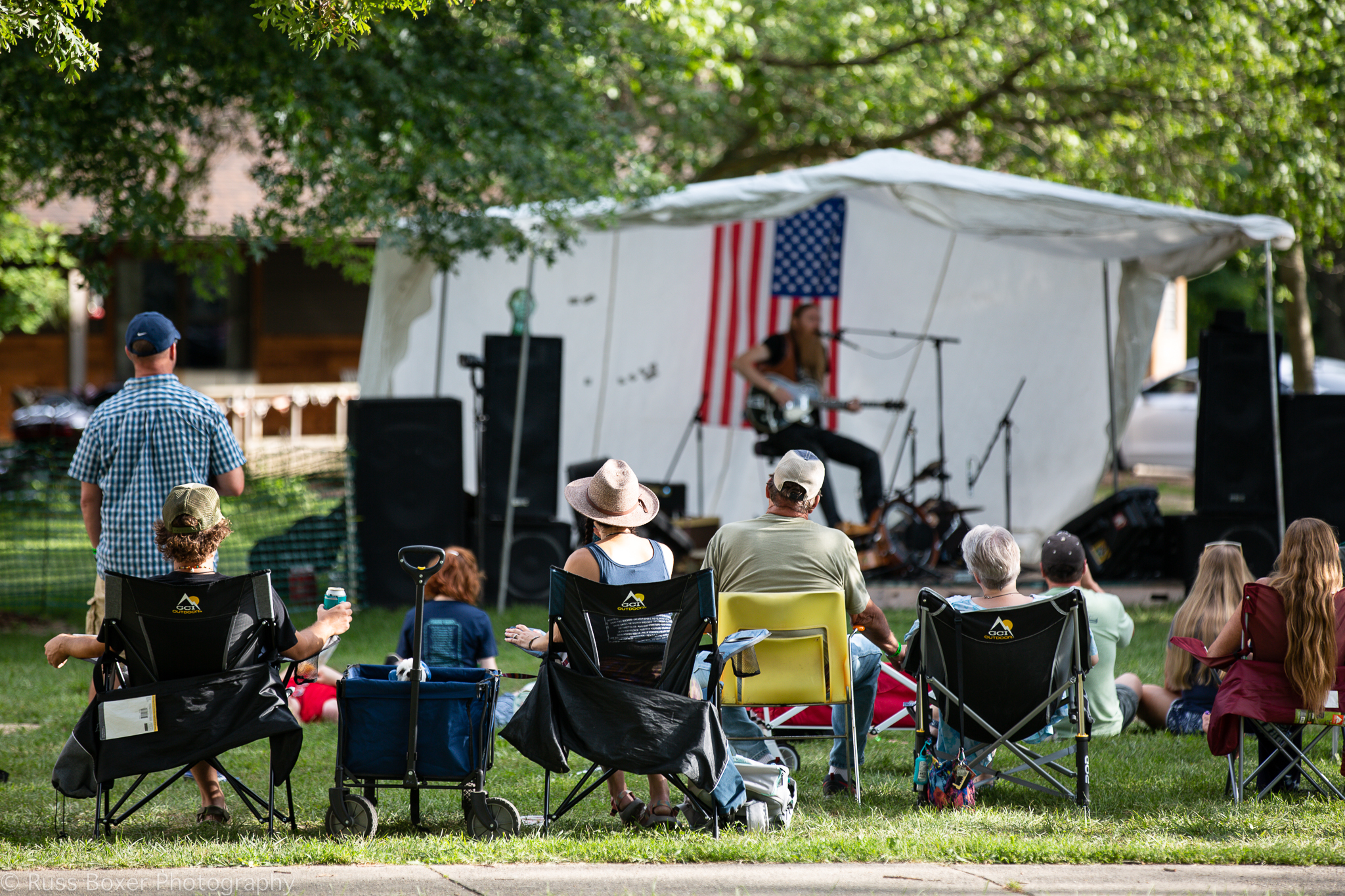 Visiting with Patrick Griffin, son of the talented Jon Griffin, I learned how he valued growing up attending festivals as a family. He was told at each festival to go and make friends with the other kids. Now, as a young adult, he has a network of people he is connected to across the Midwest, friends everywhere, and potential ports in a storm if traveling. And he has learned a thing or two about people. He said he was about 10/11 when he told Jon he had seen someone drinking a clear liquid from a glass quart jar and was curious. His dad told Patrick it was probably moonshine and to watch this guy and see what happens over the day. Patrick said, "Later that day I saw this guy face-planted along a path, still clinging to his jar." Jon told him this was a lesson in what moon-shine does to people; way to teach, Jon!
And teach Jon did, he offered a painting experience for kids, hosting two sessions, one with fifteen kids and a later session for my family of seven painters. Garret, age ten, has met Jon before and had a lot to discuss about his painting and the one Jon was working on. Garret eventually sold his painting to a nice woman, charmed by Garret's story about what the painting represented. He put a lot of thought into it. It was the first festival sale for G! I hope he will be excited to come back to this event next year.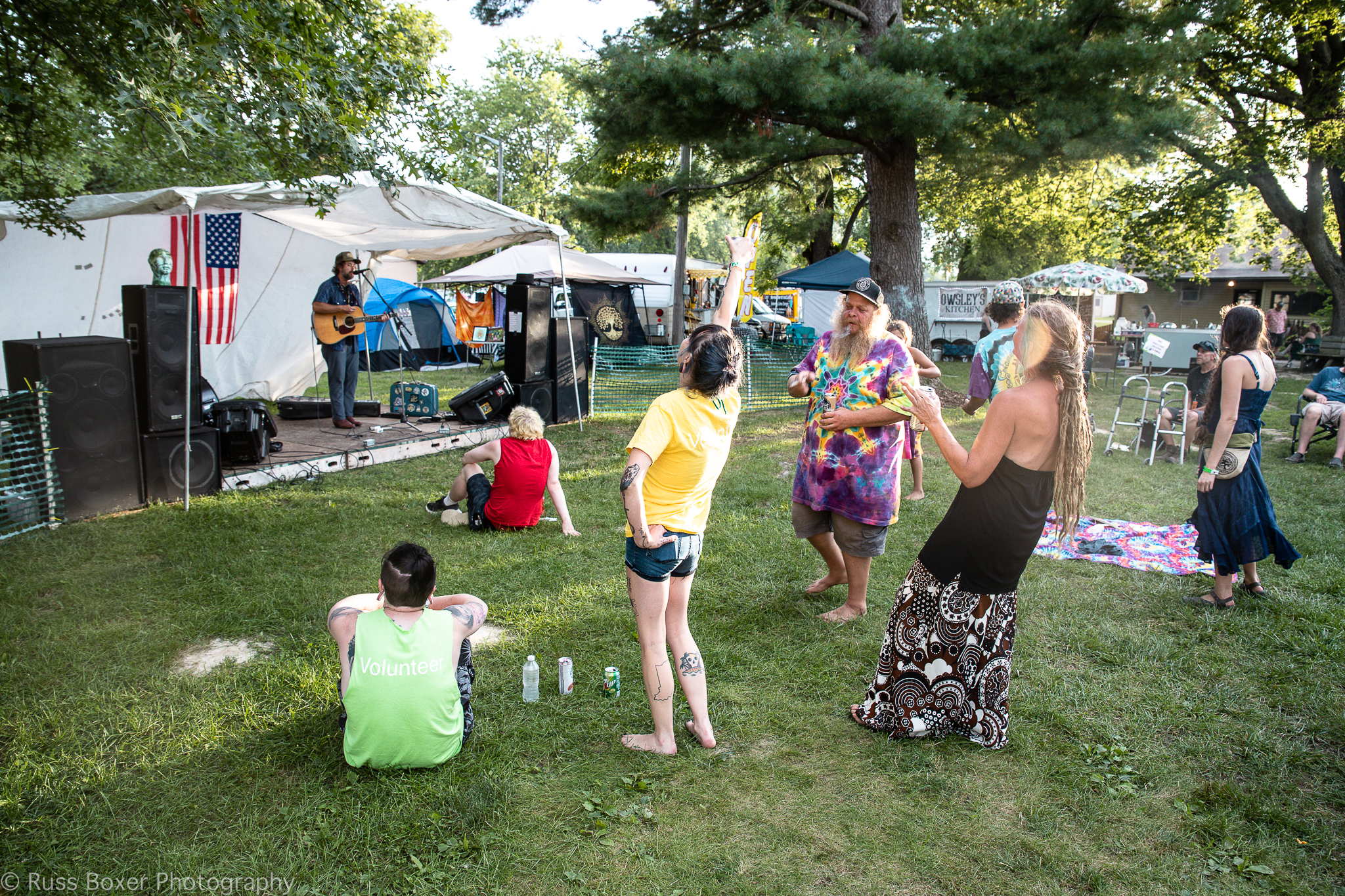 We did manage to catch some of Jaik Willis and Chicago Farmer and their solo performances, which are always great. The second stage was much smaller but an easy walk from the main stage area and close to the cabins. The cabins were quite tricked out! I spoke to Steve Luparell, owner of The Kampground. He said it sat empty and unused for fifteen years.  He bought the place at auction in 2017 and is now on his second five-year plan to make it all work. He has been going through the cabins, updating and decorating the rooms. Many of the cabins, sleeping 4-6, are much like glorified hotel rooms, air-conditioned and each decorated with a theme such as automotive, music, sports, etc., by his partner, Janeen.  Some of the rooms include sinks and baths and can be connected to another cabin to create a suite, perfect for families at festivals or for family reunions. All rooms include a refrigerator and microwave.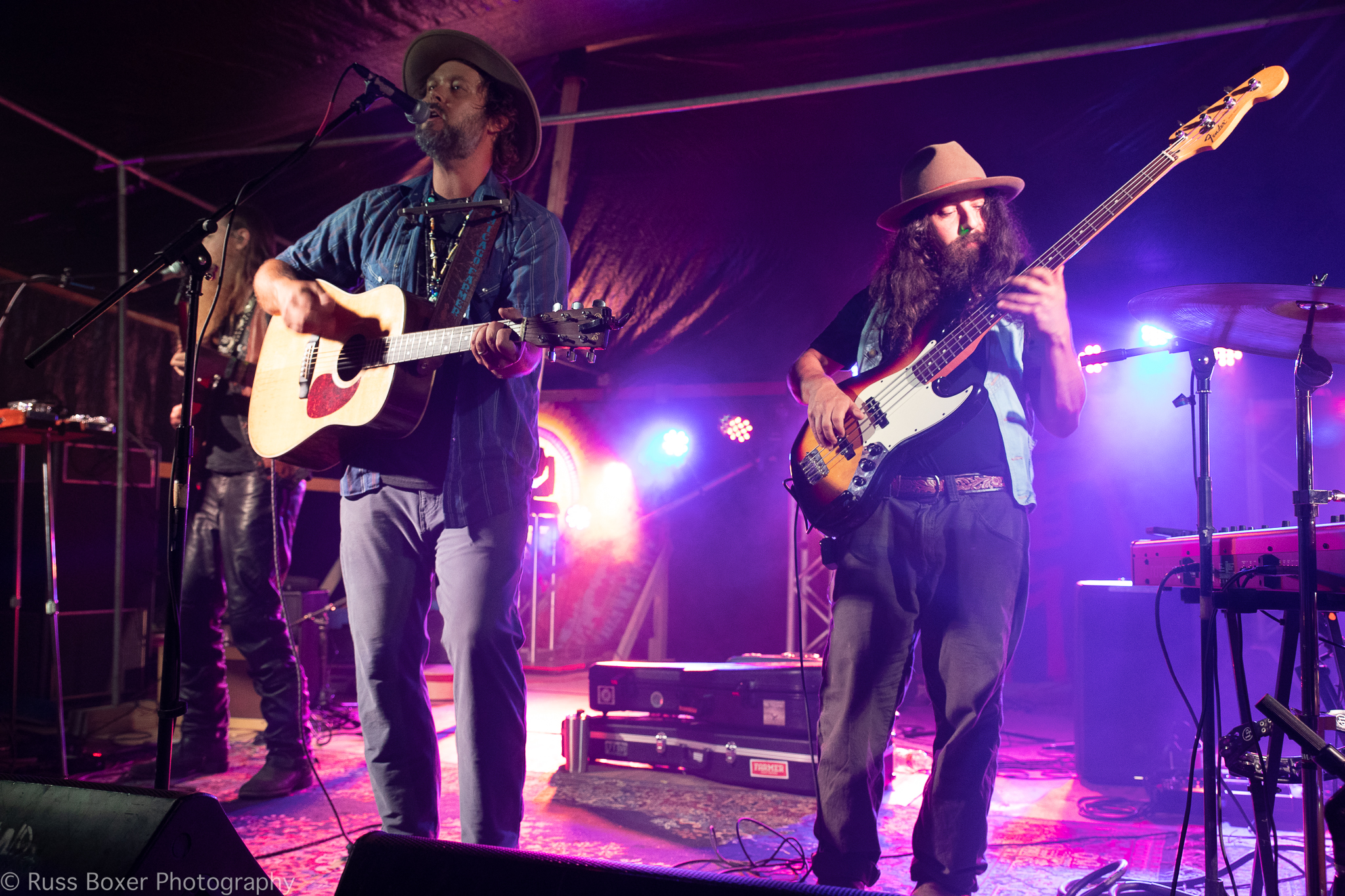 Luparell is looking to attract weddings, reunions, more festivals, and whatever he can to make the grounds pay. He has 30 rooms, about 40 RV hook-ups, and camping spaces in the woods. Some of the RV sites are used by seasonal workers on various construction projects in the area. A large gathering place has been recently refurbished as a wedding/reception event space with a kitchen area to service catering companies. As for festivals, he thinks the site would max out at about a thousand people. Between the shady performance area, charming cabins, and setting, it is a great spot for small festivals. Because the site was used for years as a summer camp for a local Nazarene church, Luparell says he has people coming by for a walk down memory lane. He hopes the memories lead to bookings. Steve@thekampgrounds.com  He also said the management group for the event was good to work with and after three festivals on site, Folkin' Boogie Festival in 2021, Let It Grow, and Rumble Down, he is reassessing things to better prepare for such events. Luparell didn't get to listen to a lot of music, he was that busy but did make time for a bit of fun Saturday evening.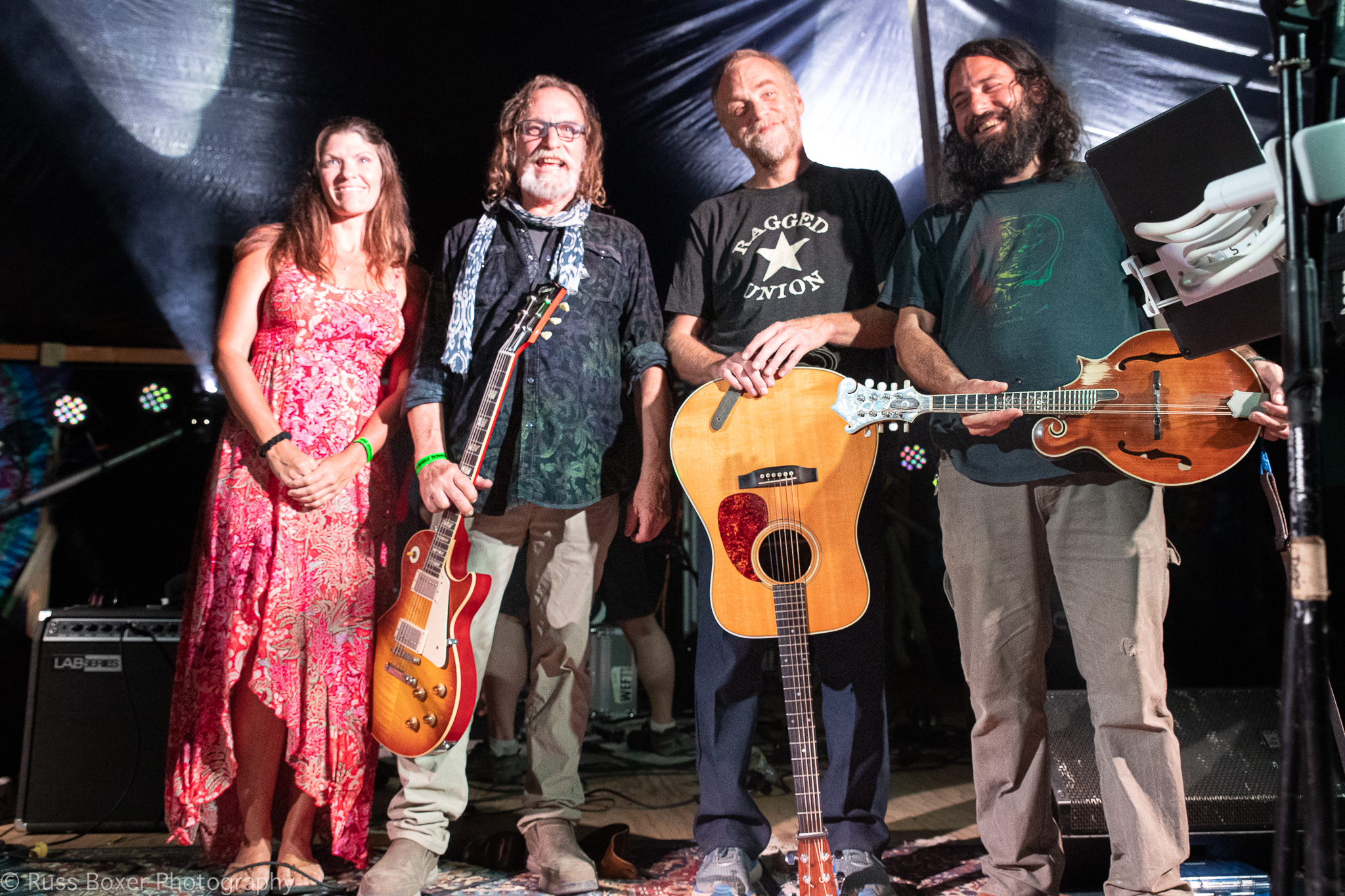 Saturday evening meant settling in to hear good music. Songs from the Tin Shed was a homage to Jeff Austin and the 2004 album Songs from the Tin Shed, with Chris Castino of Big Wu and Wugrass. Nick Forster of Hot Rize and Noam Pickelney, Leftover Salmon, also played on the album. The set deserved more attention and the list of massed musicians playing this set more kudos. I will track down the album; I miss Jeff Austin. It was a wonderful set and we found ourselves off to dance a few times. 
Chicago Farmer and the Field Notes were up next on the main stage. I wanted my son to hear those guys, we love them. But as it was getting dark and little ones were wearing out after playing with bubbles, rolling down hills, and constant motion. It seems they were ready to pack it up. We got them to the gate and shortly afterward met Mikah who was there to pick up his sister. Once I was sure all the family and friends were safe and sound, we hung out for a while longer playing in the music Farmer and the Field Notes were playing. They definitely had the crowd dancing and singing. But it had been a day and we headed out without seeing the Rumpke Mountain Boys and any of the late-night scenes.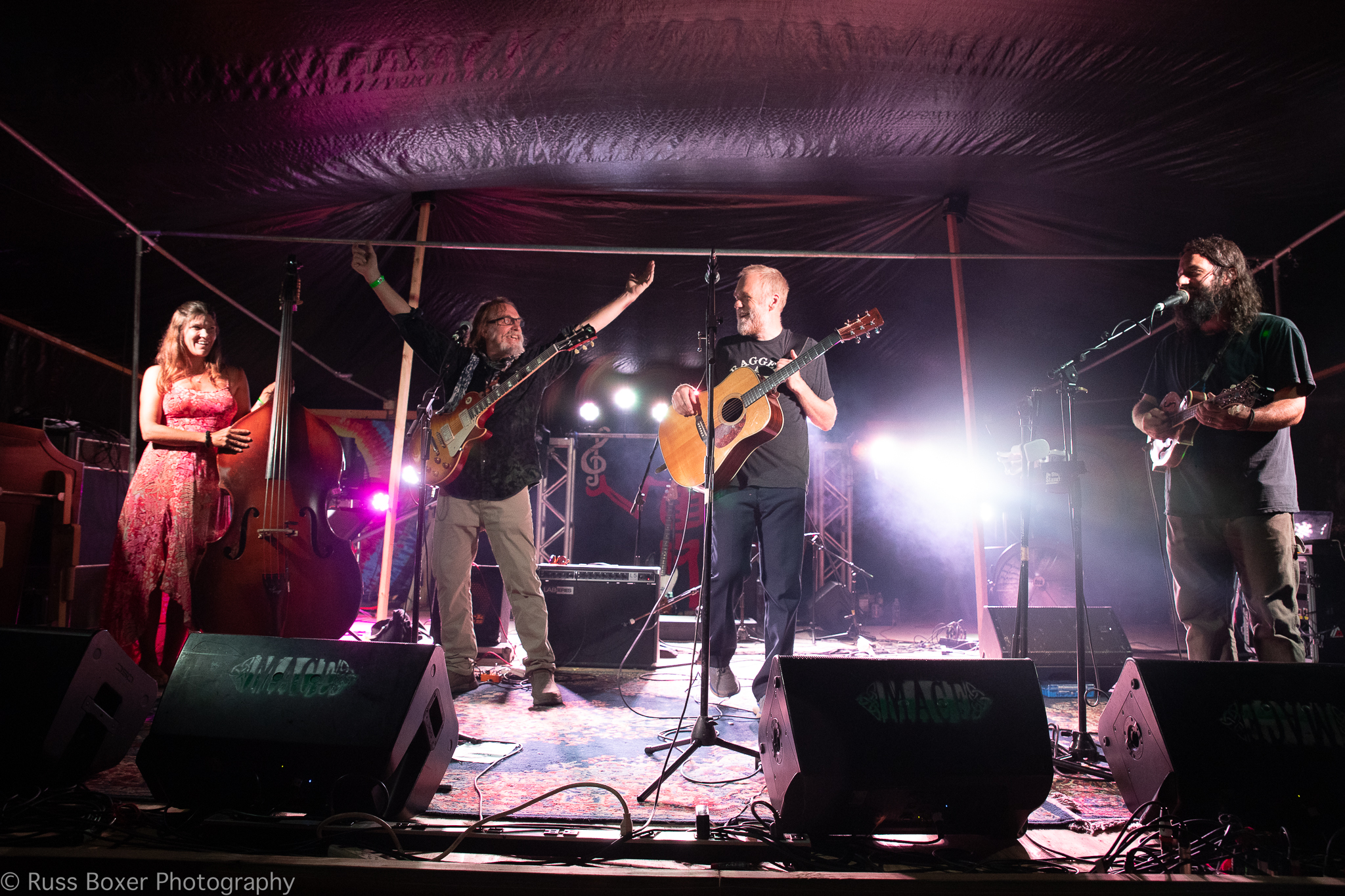 I hope Rumble Down decides to do this again at The Kampground. It will make a special family event over the years, The grandkids had fun and my son and his wife found it relaxing. Nothing to do but listen to music, watch kids play, chill out and smile, smile, smile. Floyd even managed a nap at one point, sleeping with the gnomes the granddaughter and her friends bought. Maybe next year I can concentrate more on the music as I know the family knows the ways and means of hanging out at Rumble Down.
Check out more PHOTOS from the weekend!