Sometimes when musicians combine different musical genres, it can be a case of worlds colliding, with collateral damage thrown about. And then, in cases such as veteran rock guitarist Jeff Pevar and his current band The Gilmour Project, multiple influences come together in a harmonic convergence that creates deep, new electrical reactions, with many good vibes but no debris left to clean up.
Pevar's five-man, all-star band has bitten off a big chunk to chew on, all right, with the music of blues-psych-prog guitarist David Gilmour, who has left his mark on music history by creating the edgy and transcendent guitarscapes in Pink Floyd. But Pevar's Gilmour-centric concept is not without credibility and serious chops of its own, either.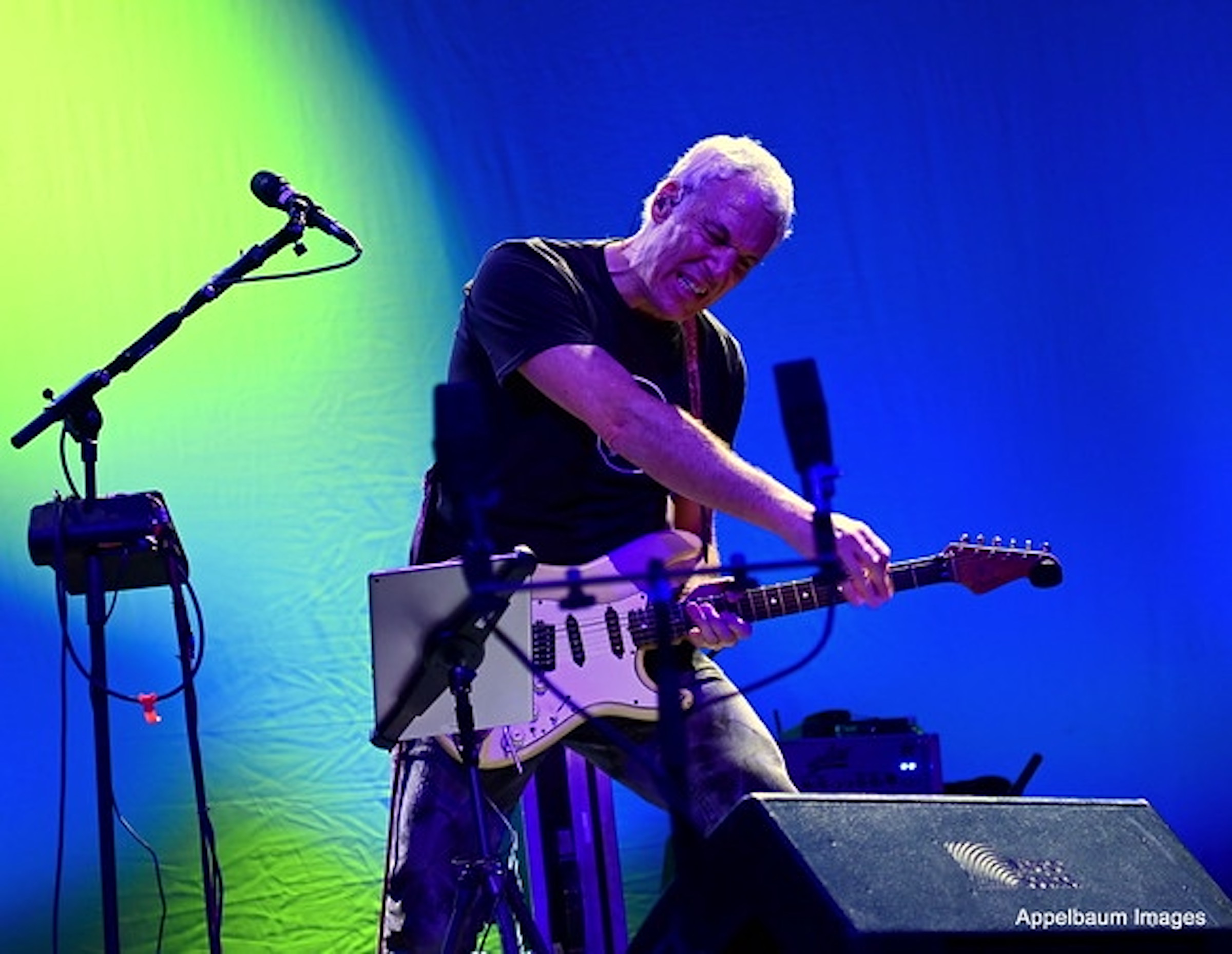 Pevar – himself a seasoned band member and session player with such luminaries as Phil Lesh & Friends, CSN and other David Crosby projects, James Taylor, and Rickie Lee Jones – is joined by bassist Kasim Sulton, keyboardist Scott Guberman, drummer Prairie Prince, and guitarist Mark Karan. Their collective résumés include artists ranging from Todd Rundgren, Journey and the extended Grateful Dead musical family to The Tubes, Patti Smith and Talking Heads. There's no shortage of the psychedelic and blues-focused textures of Gilmour's Floyd, but the obviously jam- and alternative-based roster in TGP brings a surprising amount of new emotional connections to that legendary band's and Gilmour's personal back catalogs.
The original concept for the Gilmour Project actually was born in the mind of veteran manager Michael Gaiman, known for his work with Jefferson Starship, Phil Lesh and other West Coast artists. Seeing the potential for a new take on Floydian music, he pitched the idea to Pevar, himself a veteran of the early-2000s Gov't Mule offshoot, Blue Floyd.
Then, back in 2019, they recruited the other members of the team. The next year, everything was set to roll out a TGP tour. They launched with a few livestreams of the band performing a reimagined version of the Floyd's Dark Side of the Moon album, plus a handful of celebrated PF tracks and Gilmour solo songs. But then, the dreaded, worldwide Covid viral crisis brought the lockdown that stopped all performances for the remainder of 2020. TGP scuttled their plans but then poked up their heads and re-entered the performing world, a little at a time, with more streams in 2021.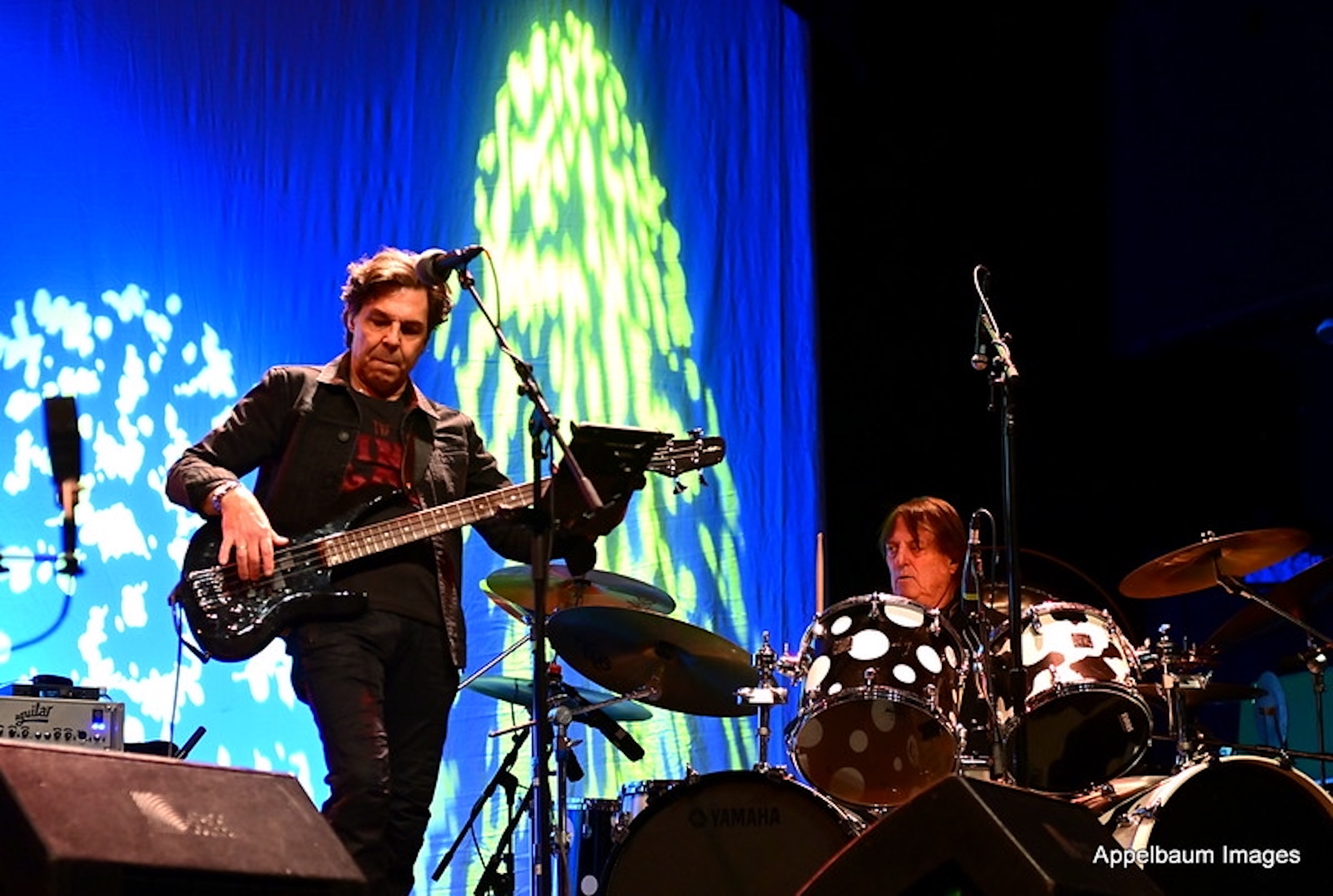 In 2022, the Project steered their ship for the beachhead of live performances again, but still a late Covid uptick in early January 2022 forced the rescheduling of several shows booked for that month. And then the band burned brightly for a few months leading into summer, performing some 30-plus shows. That tour culminated with a show in Mexico City in June. Early 2023 dates from January to now have also gone off without a hitch, including a two-night stand this past March on the Rock and Romance Cruise (from Miami through the Caribbean). And, now, TGP has a new, three-week leg on the mainland in early May which will likely be all of their dates for the current year. (You can find a complete list at the end of this article.)
Obviously, since TGP has always featured Dark Side of the Moon as a main attraction in their shows, the time-honored concept album will once again get center stage during its current 50th anniversary year. Yet, principal guitarist and vocalist Jeff Pevar is quick to point out that TGP does not apply the usual tribute-band formula to performing Dark Side – or to any other Gilmour-based music. Instead, he says, TGP likes to think of the music as only a blueprint for nightly interpretation.
"What we offer in this band is an assortment of – Dare I say? – high-pedigree players who have worked with very well-known, established artists," Pevar told us in a recent phone conversation. "Combined, we bring our experience and strengths to this kind of iconic music. So we're an interpretive ensemble, versus a tribute. So, yes, we're honoring [Pink Floyd's] music but – at the time – we're taking liberties to bring our own flavor to it."
Pevar expanded on this idea of interpretation, saying there are, of course, certain structures and riffs that remain faithful to the original, well-known PF versions. But, he said, not only does TGP rearrange elements in the Floyd's music but they also leave a lot more room for nightly exploration.
"There's a certain amount of improvisation that happens every night which is unique to every single performance," Pevar says, alluding to the way the early-'70s Floyd did a lot of live experimentation with new songs before capturing final versions in the studio. So, he agrees, TGP's version of DSotM is much closer in spirit to the original live versions when PF first began performing it.
"We change it up – constantly. And we always do a Dark Side set – but with lots of variation – but when we are able to do a two-set show, we have a second set of [PF and Gilmour solo songs] that we're sure people will enjoy hearing and that we can also have fun playing."
Pevar says audiences who have seen TGP before will get some overlap from the previous year but confirms that there will be new, surprising additions to the show.
"There are songs we are [working on] now for the next run that we've never played before," he says. "That's at least four to five new songs. But the thing is, we change up the sets each show, so not every song will be played every night. We have about a dozen deep tracks that we [rotate] from night to night. So if folks are going to see two nights [on the tour] or watch a couple of live streams (TGP streams every performance.), they're going to hear different songs."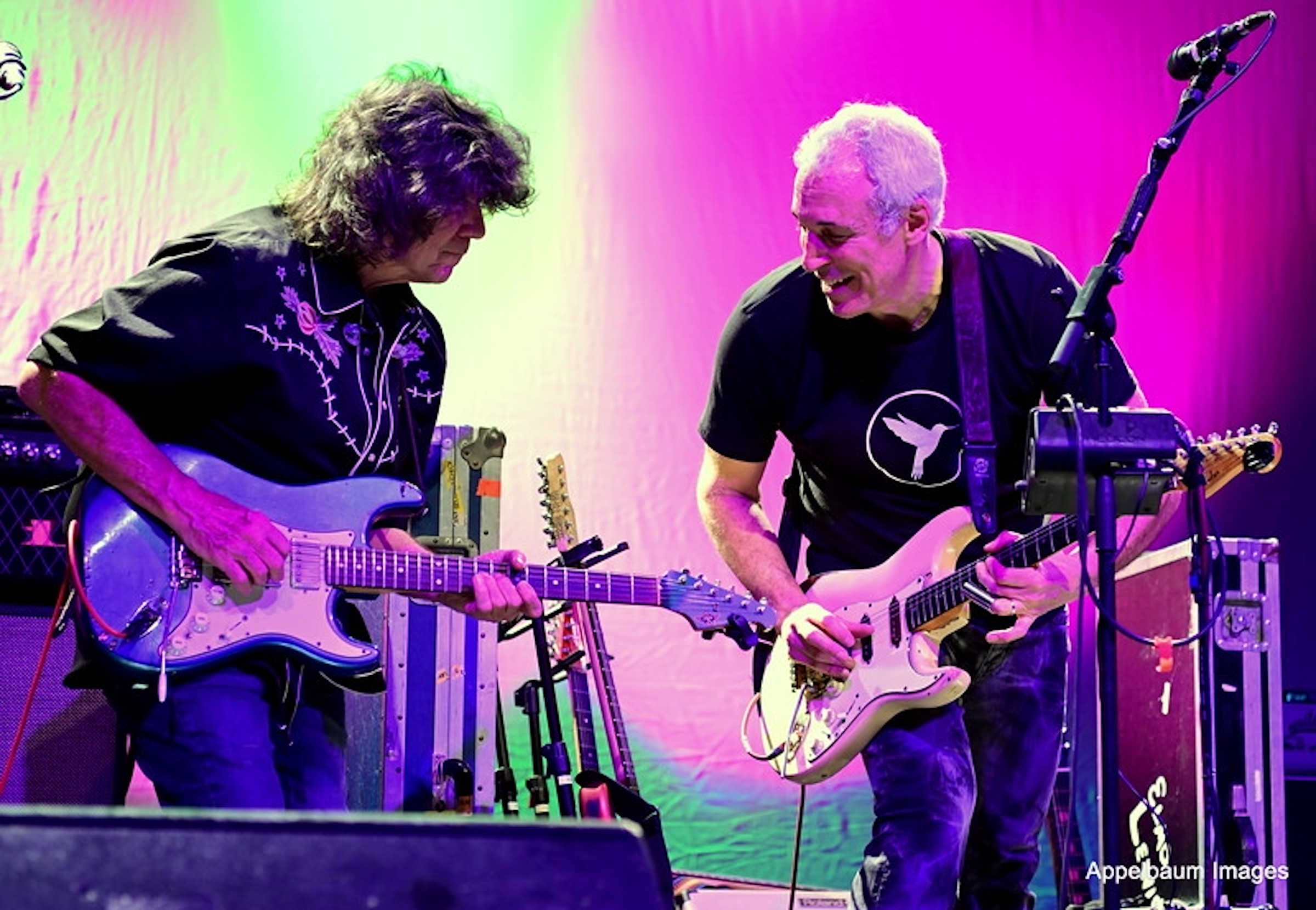 Pevar gives kudos to TGP's producer/manager Gaiman for the added streaming exposure of their shows. "Yeah, [Gaiman's] a guy who likes to 'spread the love'.  He just clicks his iPhone up by the soundboard, and then throws [full shows] up online for people to see. He's a big fan of how the Dead were self-made media giants – heh – by just allowing fans to tape their music and sending it out there – in the ether – for free. Not everyone does that. And the word about the Project tends to get around because they're enjoying the opportunity to share it with their friends."
Wrapping things up, Pevar explains that he's humbled by and values the opportunity to play such deeply revered music. As he notes, he deeply respects both the music's creators and their fans.
"I'd love to think that any artists – not just David Gilmour or Pink Floyd – are excited that people still love to hear their music played live and that there are musicians who support this art form – this iconic book, if you will, of music history. As established musicians ourselves, we hope can keep the flame alive and give it new life by celebrating it as we do."
The Gilmour Project's May 2023 tour leg includes the following dates, venues and cities. For more information, please visit Jeff Pevar's website, http://www.pevar.com.
May 12 – Turning Stone Casino, Verona NY
May 13 – Riviera Theater, Tonawanda NY
May 14 – Hard Rock Casino, Northfield Park OH
May 16 – Palace Theatre, Greensburg PA
May 18 – Barrymore Theatre, Madison WI
May 19 – Arcada Theatre, St. Charles IL
May 20 – Des Plains Theatre, Des Plains IL
May 21 – The Fillmore - Detroit MI
May 23 – The Egyptian Room/Old National Centre, Indianapolis IN
May 24 – Memorial Hall, Cincinnati OH
May 27 – Sellersville Theatre, Sellersville PA