GW: Congrats on the recent sold-out New Year's show in Boulder - you guys seem to be building up a loyal following in Colorado. Is CO the home base for the Gasoline Lollipops then? How was the show?
AP: Just over a year ago I transitioned from full-time drummer for Gasoline Lollipops to focusing on promotion, booking and management - for them and other groups - and just drumming from time to time while I also work as a writer and work for veterans. It's been a blessing to let go of trying to, in essence, ride a train while simultaneously laying down the tracks it runs on. Young Kevin Matthews is the band's new drummer, and he's a real trained pro. The annual New Year's show at the Fox was fantastic - the band covered a full album again (this year it was Creedence's Cosmo's Factory) and I had blast sitting in on drums for a little and just enjoying the show with my girlfriend. Yes, all the members of Gasoline Lollipops live here except Scott, who has been flying out from Philly more and more. 
GW: You're planning, and playing in, a Dead/Dylan tribute show March 26 at the Fox Theatre featuring Joe Marcinek and Grateful Dead Hour host David Gans. How did you get involved in this show? Tell us a bit about what we can expect. Other guests? What's your background with David and Joe?  
AP: Yeah, David reached out to me a couple months ago and I'm excited. Joe is well-known around the country for his great guitar work, and David of course is one of the leading torch-bearers for the Grateful Dead. David and I played together a whole bunch when I was a snot-nosed kid in San Francisco, and it's going to be great to reunite and get to stretch things out musically and just have a great time. We're going to play nothing but Dylan and Dead covers, and we'll have some surprise guests from the Boulder scene sitting in.
GW: How familiar are you with the Dead's catalog? Will you be playing some old records to remember some of the tunes?  Do the Lollipops cover any Dead or Dylan?  Have you seen the Dead?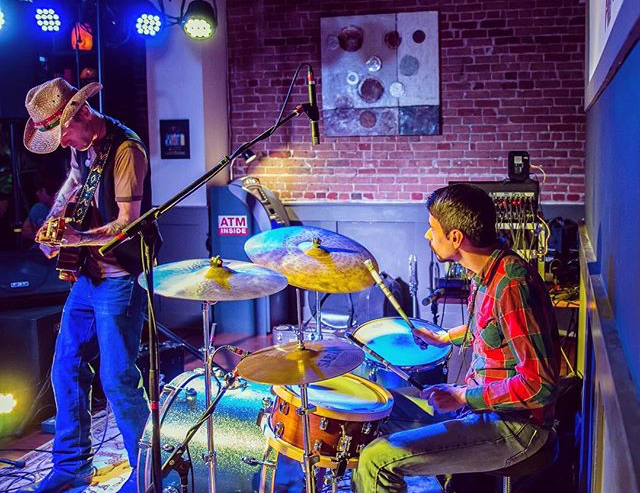 AP: There was a time in my early 20's when I listened to the Dead constantly, and I played a lot of their songs with David when we toured together, so there pretty much isn't a tune of theirs I don't now, although there are only a few eras of the band's 30 years together that I like. Even the most die-hard Deadhead, I think, has to wade through a lot of crap to get to the gems, but it's worth it when you discover tapes of some of the Dead's peaks - soundboards of shows from 1977, 1989, and the best of the '60s psychedelic era when they were really just a bunch of kids on acid rather than a billion-dollar stadium-rock snoozefest.
Gasoline Lollipops has a killer Telecaster player named Don Ambory who appeals to people who like the Dead and other jambands because of his explosive improvisations during solos, but we've never played a Grateful Dead song or really "jammed." Clay Rose (GasPops frontman) and I play "Tombstone Blues" by Dylan at some of our acoustic duo shows, though, and that's a riot. No, I never saw the Grateful Dead - when Jerry Garcia died I was a high-school kid playing in punk bands, so I didn't really hear the Dead until much later.
GW: Tell us a bit about the Lollipops' new album coming out later this year?
AP: The band recorded the album (All the Misery Money Can Buy) in Lafayette, Louisiana and they're in the process of mixing and mastering before getting it out to the world. It's going to be fantastic. They played a bunch of the songs on New Year's Eve at the Fox and the reception was great.
GW: We asked Clay Rose from Gasoline Lollipops the same question -- we want to get your thoughts regarding this year's upcoming elections -- what's your opinion on musicians expressing their political voices?
AP: More than anything else, I think people with a platform, an audience listening, should encourage - if not demand - that everybody votes. I could get on a soapbox and talk for hours about how we failed in the last election, how worried I am about the Democratic Party dropping the ball again by not nominating someone who at least pretends to be progressive, and how truly rotten Trump and his entire administration are, but at the end of the day he got elected because of a low voter turnout. About half of eligible voters cast their ballots in the 2016 election, and less than half of those who voted actually voted for Trump, and yet he won - because of the electoral college and because young people, in particular, didn't vote. Yes, we absolutely have to nominate a Democratic candidate who has real, progressive ideas and a real movement behind him or her - instead of just the DNC behind him or her - but whoever runs against Trump needs us to get off our asses and vote. And musicians should be screaming - in on-stage banter, in songs, on social media, etc. - for everyone to vote.