The Grateful Web's Bailey Elise McBride recently had the chance to speak with Jacob Hemphill of DC-based reggae band SOJA while at Wakarusa Music Festival in Ozark, Ark. The two discussed SOJA's first experience at an American festival, their latest album and why international audiences find SOJA's music so appealing.
GW: First off, how has your Wakarusa experience been so far?
JH: It's been cool. We're having lots of fun--This has been a good time. It's really our first time doing the American festival circuit and we're just really pumped up and excited.
GW: You performed last night at 12:30 a.m. and are set to perform today at 6:00 p.m. Do you prefer the late night shows or the day/evening?
JH: There's different good things about both, definitely. Late night is fun, it definitely gets you going and all the lights make it super kick ass.
GW: Do you think there's a big difference between the crowds that show up to late shows vs. earlier ones?
JH: Not really, it just depends on the audience. Some times they're more hyped, sometimes they aren't. 
GW: What do you think is different or unique about performing at festivals vs. normal concert venues?
JH: Festivals are cool because artists get the chance to watch all the other artists perform and the fans get a chance to see all the artists for one price. You get a lot for what you pay and you get the chance to really experience a lot. 
GW: Let's talk a little more about you guys and your music. The first thing that I notice about SOJA is that your influences for your music are not necessarily what most people think of when they think reggae. Can you tell me a little about what inspires you musically?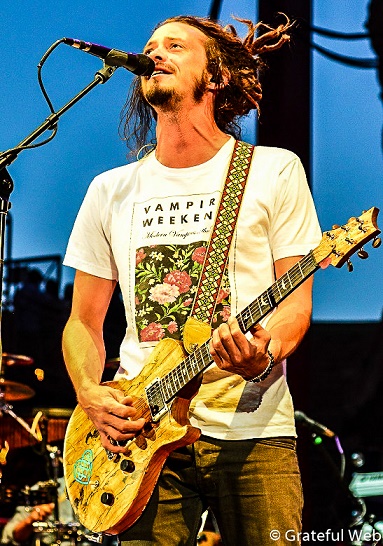 JH: Good songs. My favorite artists are the guys who write the really good song. You know it's not really about just the finishing touches its about the raw thing the song is trying to convey, what that song is really about. I like the guy like Bob Marley, Paul Simon--folk artists of all backgrounds who are just trying to tell a story with their music.
GW: Speaking of Bob Marley, your fourth album, "Strength to Survive", has strong ties to Marley's album "Survival".  What about that album spoke to you and inspired your latest release?
JH: Well, he was writing about Africa, and when I grew up I lived there for a year and a half. I hadn't really thought about it much until I was a teenager and I was going through listening to all of Bob Marley's albums and I listened to "Survival" and I thought "This is about Africa." I started thinking about everything I remembered from growing up and [Survival] became my favorite album he ever did. [SOJA] did an experimental album for our last album and we really wanted to go back to our roots so we really looked at [Survival] as a diagram.
GW: Something that I think is really cool about you guys is that you write lyrics that demonstrate a really sincere concern for social justice issues--the environment, poverty, and the like.  Why do you think it's important to talk about those things through music?
JH: Music separates us from animals. It's a reminder that you can do what your instinct tells you or what your mind says is correct. That's what's different about humans from animals--you can write a song to show emotion and from the verse to the chorus to the next verse you write it how you want it. It's really the opposite of just following instinct-- that's what's so cool about it.
GW: You all have developed a pretty serious following around the world--playing shows in other countries, people who follow you show to show, a huge viewership online--what do you think these people, many of whom don't speak English as a first language, find so appealing about your music?
JH: You know, I don't really know. I think it must be that something they figure out and we just sit around and wait to see what they think. I don't really know--it could be any number of reasons. It could be that Americans think they own the world and we don't think that or that nobody really sings about political and environmental issues and we do but I don't really know.
GW: You've recently had some big breaks--an appearance on The Tonight Show with Jay Leno, your album in the Billboard Top 40--where are you guys going to go from here?
JH: Honestly, I don't know. That's a good question--our goal is just to make music and change the world, that's the only thing that really matters.