There's a lot of David Bowie suddenly in the air again this year, roughly coinciding with the 75th birthday of the famed genre-fluid singer/songwriter/showman. Earlier this year, there was the Bowie extended-musical-family production – dubbed the Bowie Celebration – featuring former DB sidemen, such as Mike Garson, Gerry Leonard and Carmine Rojas, just to name a few.
Then – just in the last few weeks and still in theatrical release in some cities – came film director Brett Morgen's epic, eye-(and ear!) popping, multi-media tribute to Mr. Bowie called Moonage Daydream. The film serves as both a passionate visual and musical love letter to hardcore Bowie fans and a "Young Person's Guide" to what the fuss over the Talented Mr. Bowie was all about, all those years ago.
And next on tap, in the early days of October, is the stunning, superstar Bowie tribute tour christened with another flashing-marquee-lights name, Celebrating David Bowie. Even more than the movie, this tour promises to bring it all back home to the essence of Bowie's singular musical magic – his one-of-a-kind, always-evolving and timeless songs.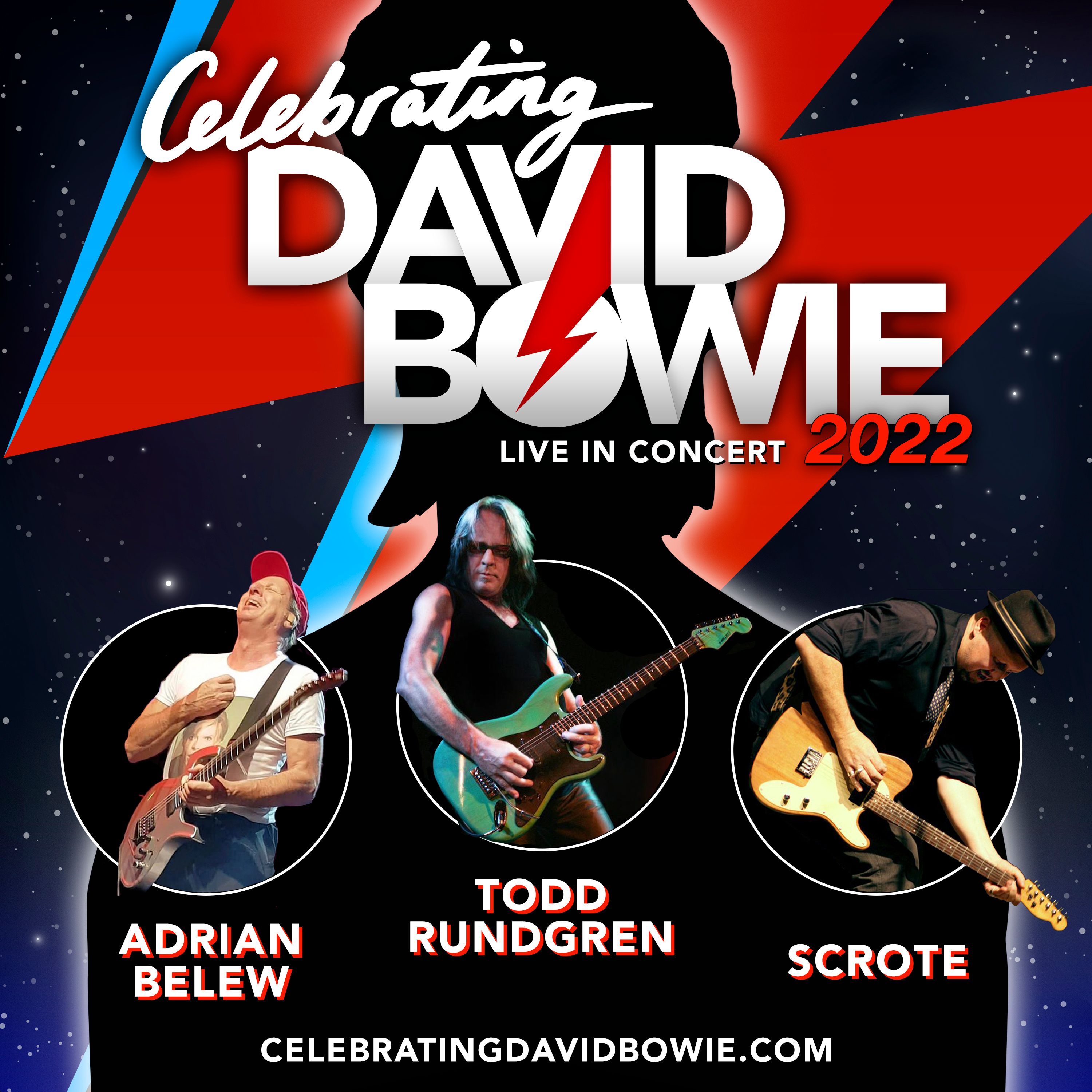 The advanced buzz for this upcoming Bowie-centric tour – abbreviated on the tour's website as CdB – is very strong. This in large part because of two of the heady superstars on the front line, multi-guitarist and multi-instrumentalist Todd Rundgren and guitarist extraordinaire Adrian Belew. Promising some 30 North American dates, in both the U.S. and Canada, and kicking off on Thursday, October 6, at San Diego's Balboa Theater, CdB is a much-anticipated tour that builds on the concept of the original stand-alone Celebrating shows from 2017 that coincided with what would have been the iconic singer's 70th birthday.
Grateful Web recently had the most pleasant opportunity to line up a phone chat from Los Angeles with longtime Bowie friend, collaborator and guitar slinger Adrian Belew, literally just days away from the tour's October 6 launch. Being the in-demand guy that he is, Belew has also been finishing up a run of special dates in L.A. with former Talking Heads' guitarist/keyboardist Jerry Harrison in honor of the now-40-year-old Heads' album Remain in Light. (Arguably, one of Belew's finest career moments.) Houses – and heady guitarist! – in Motion, indeed!
So, as you'll see in the following transcribed conversation, Belew cheerfully discussed his working relationship with the ever-shape-shifting art-rock conceptualist Bowie, the history of the CdB project and what fans can expect on this breathtakingly compact, five-week fall tour.
GW: Great to talk to you today, Adrian. I know you must have a lot going on. So thanks for squeezing us in...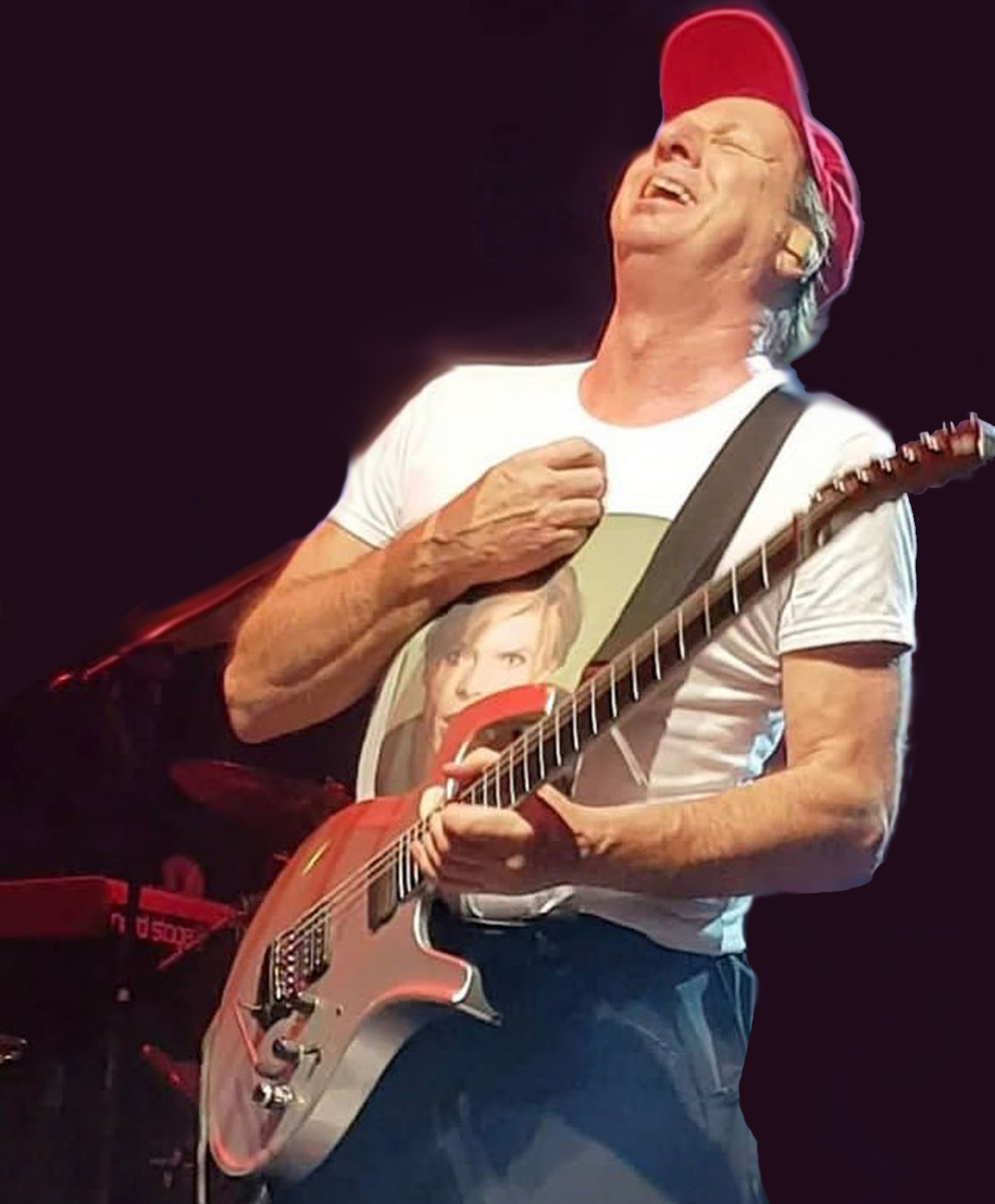 Adrian Belew: No problem!
GW: So, I understand that the CdB project got its start back in 2017, around the time of David's 70th birthday. So you've been involved ever since. Is that correct?
AB: Yes, lemme see. . .yes, this will have been the third one that I've done. The first two were a lot more like, 'Here's a couple of dates here, and a couple there,' not really so much of a tour like we're doing now. Starting out, we'd play in London, then over to Japan for a show and so on. So this is first time where we have [a longer series of dates] booked and we're going to take the show from one city to another, over about five weeks.
GW: From what I've learned about the history of CdB, it seems that Miles Copland [founder of IRS Records and music producer] was a primary person behind the concept and that Scrote (CdB guitarist, aka Angelo Bundini) is now the main driver.
AB: Well, actually, Scrote was the originator of all this. He was the producer for all of the shows, and, eventually – from what I understand – he made contact with Miles, then Miles took an interest in it. So they partnered up. And that's a really good thing to have, because Miles is definitely a big name in the industry and can get things done for him.
GW: And how do you fit in with the team?
AB: Y'know, I'm part of the team in that Scrote and I kind of started out on it together. But I don't want to take credit for it, because it's really his baby.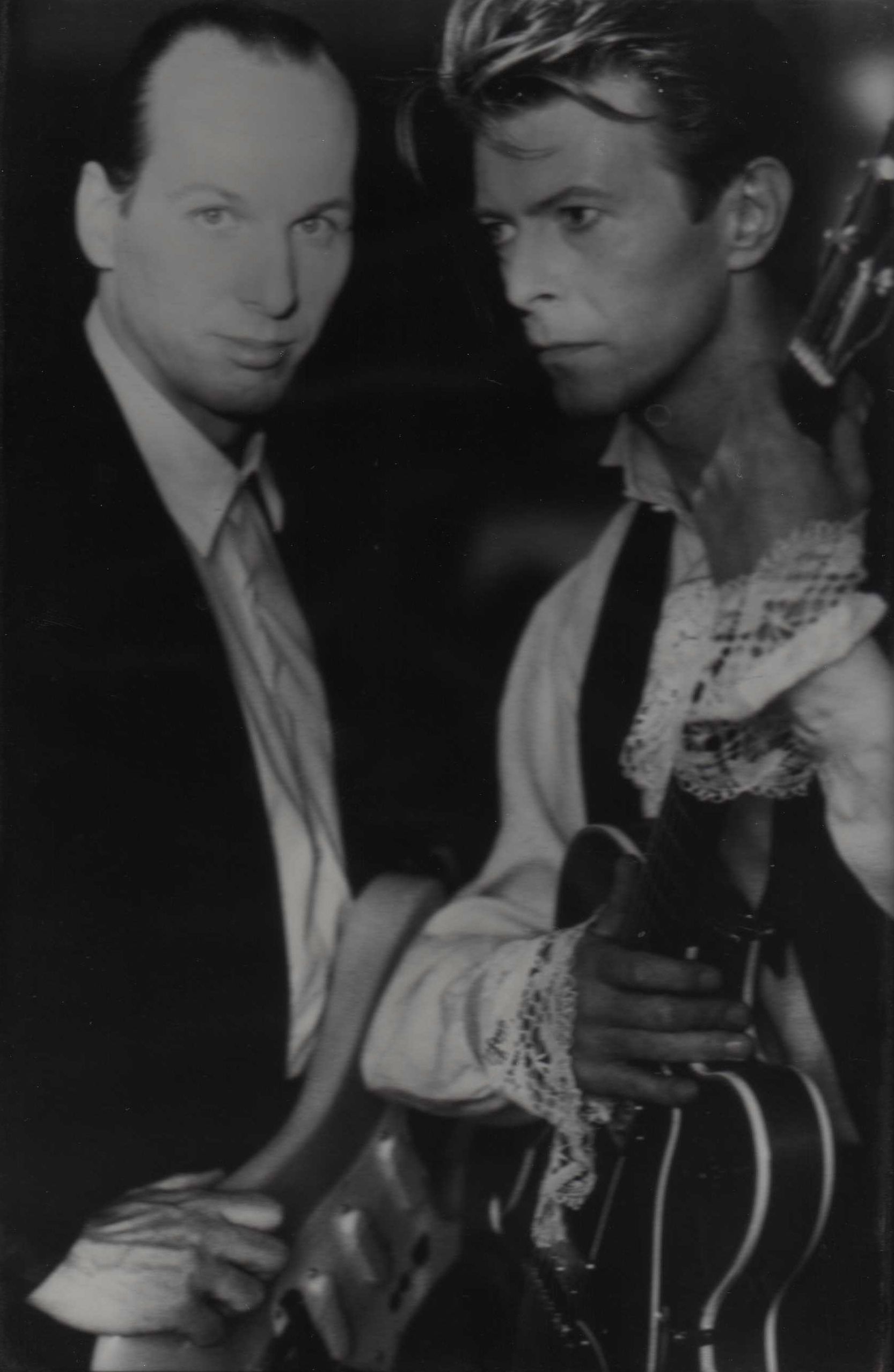 GW: Right. So, as you were the musical director for David's 1990 Sound + Vision tour,  is that the case with Scrote now, that he's the musical director and you're 'just one of the guys'?
AB: Yeah, it's a lot like that. He does consult with me, still runs ideas by me every now and then on song choices, arrangements and so on. But it's really his production. I don't want to get too much in his way on all of this. I'm – heh – 'The Cheerleader', more than anything else.
GW: Funny, yeah. . .I've seen promo videos of you and Scrote on YouTube announcing the tour, where you're playing your old Stratocaster from your tours with David and talking about the shows. So I got a bit of the 'flavor' for what the tour is about from watching those.
AB: Right. . .
GW: So, did the team have the idea for this [full-on] tour in place before lockdown, or did it all come together this year?
AB: Yeah, we were a couple of years behind in the schedule from where we were supposed to be. We finished up the second CdB tour in 2018, in Iceland – in Reykjavik – and those were the two shows where Todd [Rundgren] joined up with us. So that started the ball rolling again, because 'now, we've got Todd interested, so maybe we should try to do something more.' And I kept saying, instead of us just doing five shows – one show in Australia, one in London, one in New York and so on – 'Wouldn't it be nice if we could sort of cover the U.S. and Canada?' Which is what we're doing now!
GW: Since the first CdB shows were intentionally set up to honor David's 70th birthday, was there a sense –with it being David's 75th birthday and also with Moonage Daydream coming out – of 'This is a big year–we should do this!'?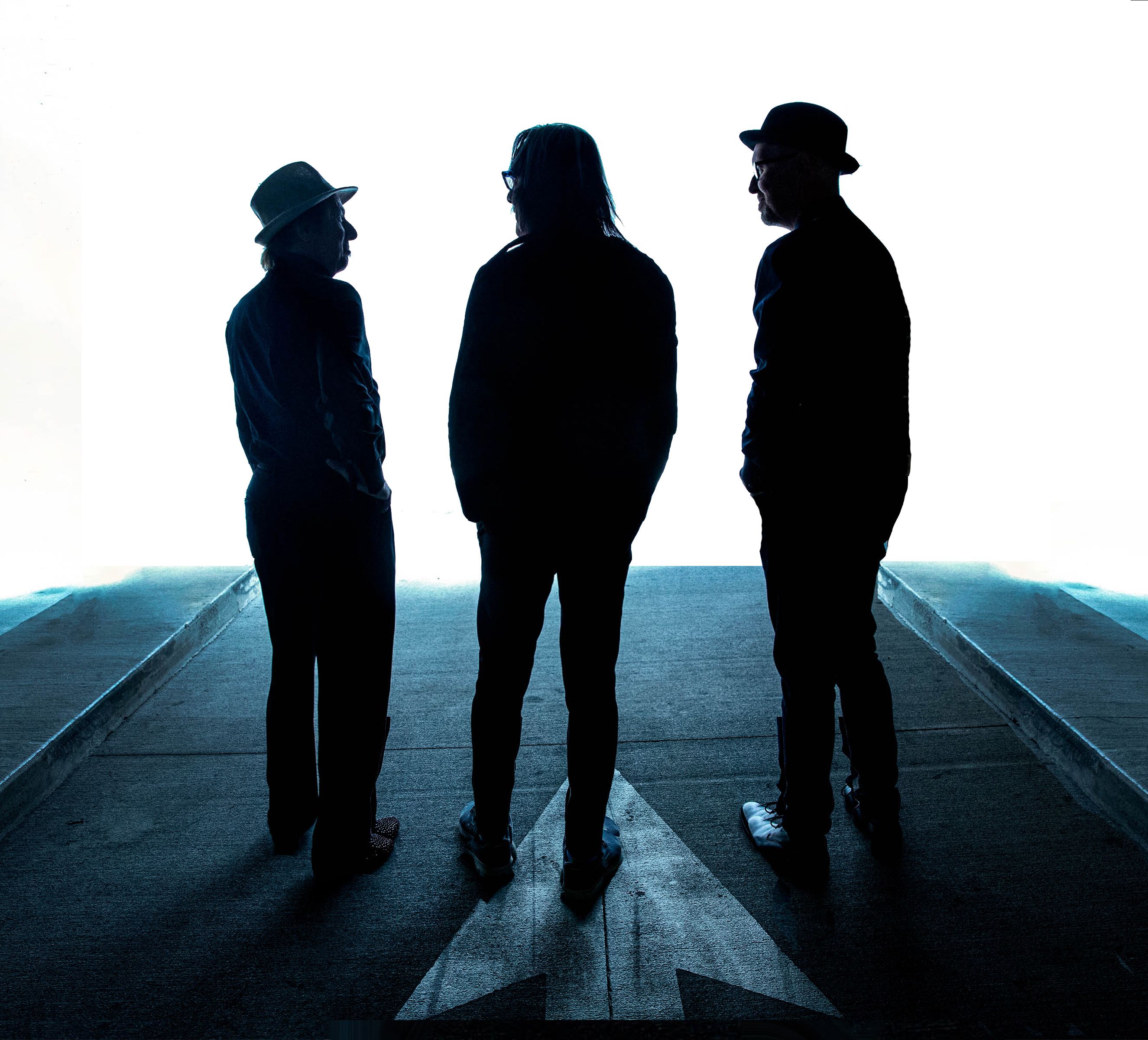 AB: Well, that's probably more of a 'Scrote question', to be honest. I've been contacted little by little and told that maybe something would be happening this year. But I don't think anything was ever said to me that this was particularly around [Bowie's] birthday or anything like that. But, of course , any reason to do it – heh-heh – would be good!
GW: Understood! Well, the song 'Heroes' is a centerpiece in the movie Moonage Daydream, and you're featured in the film clip of that performance. How do you feel about the movie and how it portrays that time period in David's career? And relating that to CdB, are you trying to evoke any certain period in his music or just to show the whole spectrum of his work?
AB: Well, I don't know the film yet. I was all set to go and see it [two weeks ago] at the IMAX in Nashville, where I live, and when I went to look at the times, it had gone away the previous day.
The last showing was on Thursday. So I'll still need to catch up with it somewhere. Just so you know, I'm currently rehearsing for these two Talking Heads' shows right now that precede the rehearsals for the CdB shows. So, what I'm doing is I have two more shows with [Remain in Light], and then I fly back here to LA, and then we start up the final rehearsals for CdB. So catching up with the movie will be a little bit hard for me to do right now. From what I understand about it, though, it's pretty much the director's vision of what he thinks of the art of David Bowie.
I've heard such great comments, and that, obviously, he's done real well. I've heard that the director basically sacrificed three years of his life. Just living and breathing David Bowie. And he screened every piece of film of David – looking for possibilities – that he could get his hands on. There's no telling how much music he had to sort through. So it's a big deal! And I'm so sorry I didn't get to see it in IMAX, because – heh – I was looking forward to seeing myself 40-feet tall on the big screen, y'know?
GW: Yes, it's very much like Peter Jackson and his sifting through 50-plus hours of Beatles film footage to make the Get Back documentary. I'm so sure that [director Morgen] had a lot more. I read he had actually had a heart attack early in production!
AB: Well – heh-heh – that's what'll happen with this kind of thing! Heh!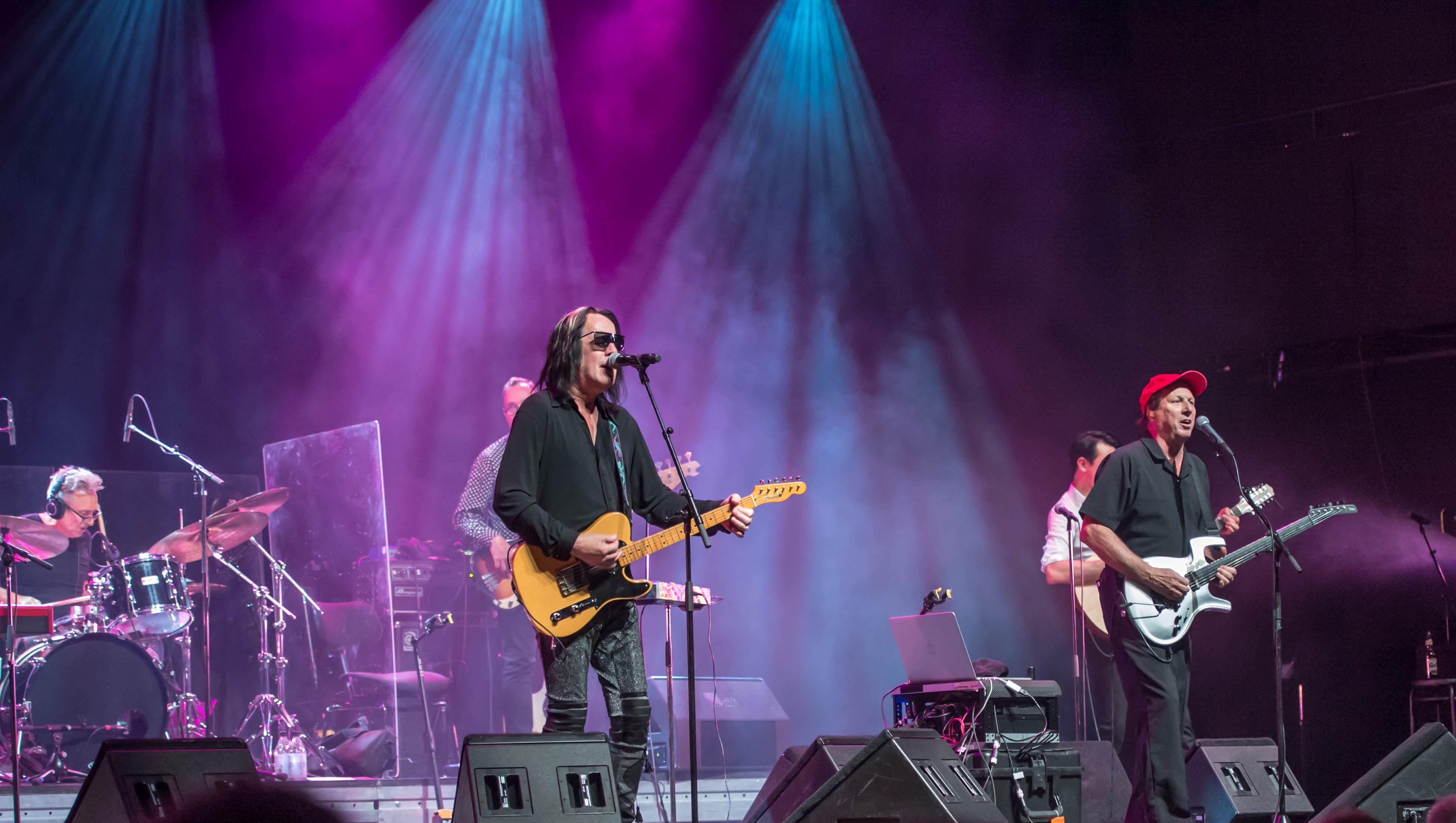 GW: Well, there you go!
AB: Well, one thing about David is, I don't think there's ever  been – other than maybe The Beatles – anyone else who was more filmed than David. It seemed that every aspect of what he was doing was always being filmed. The strange thing for me, personally, is the 1990 Sound + Vision tour seemed like it was being filmed all over the place. Big film names were coming and going.  I even, at one point, went in to replace some guitar tracks that weren't correctly recorded. So I always felt like [the S + V tour] was going to have an enormous amount of film [documentation] connected to it. But I don't know that it has. I've never seen anything from all of that out on YouTube.
GW: I'm guessing that some of that was source material for the [Moonage Daydream] movie, at least, because there was a long list of source credits at the end. On a related note, I was going to ask you, since the movie was strongly multi-media – heavily layered and very hallucinogenic – is there going to be a multi-media component to the CdB show?
AB: Well, we're not in a position, I don't think, to do that yet – hopefully, if this continues and grows, we would be. Scrote and I have talked a lot about this. We'd actually kind of like to do what [Cirque du Soleil] did in Vegas with the [extended run] of The Beatles' Love performances. Really, because of the fact that there's so much imagery connected. Right now, this will be the first tour ever where we own the light show. So we're taking baby steps – heh-heh!
GW: So, when you met David in the 1970s and he hired you for his studio work and the 1978-79 tours, you came at the recommendation of [Bowie collaborator] Brian Eno. Did David give you free reign and trust your choices or did he – at least at first – have a slot for you to plug into?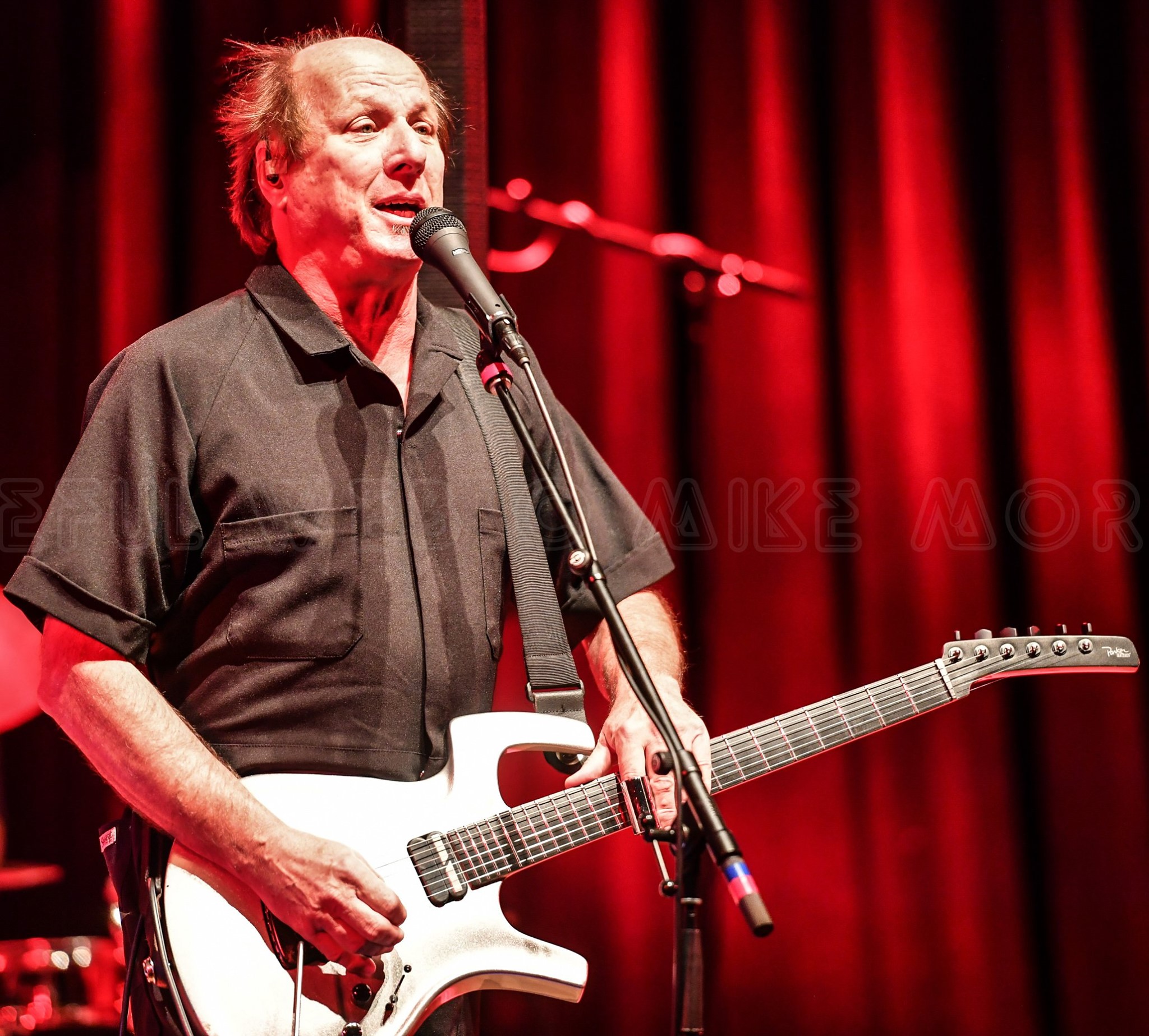 AB: No, actually, from the beginning, David was full-on, 'It's up to you. Go wild! Paint a lot [musical] colors with your guitar.' I think that's exactly what he was looking for, and it was very much in contrast to what I had just done with Frank Zappa. His music was very much already laid out exactly the way he wanted it played. So [with Zappa] there wasn't that kind of freedom, but what there was instead for me were the lessons to be learned from consistency and the [discipline] of being a world-class touring musician. I learned that stuff with Frank, and the next step was David. Having David say, 'Yeah, go wild!' was just what I needed. That was a really big deal, right there. It set the stage for me. Whether it was for Talking Heads or Nine Inch Nails — you name it. That's what everyone wanted from me. They'd say to me, 'We want you to play what you want to play!' David set all that in motion!
GW: OK, as I've read, when David went out on the Glass Spider tour in 1988, he caught quite a bit of press criticism that the production was excessive and the songs were lost in the production. And then, when you and he were setting up the Sound + Vision tour for 1990, he was consciously taking a different approach. I understand that you and he started building a lot of samples to strip down the arrangements. And that technology was 30 years ago. So what kind of a technological approach are you taking with these songs this time? Maybe focusing even more on the music and less on the effects?
AB: What I'm trying to do personally is to be the right guitarist and singer for the right songs. I'm probably on stage only half the time, to begin with. And that's because there are certain eras of David's music where I feel I'm not necessarily the best person to portray those songs. Some of the songs I did before, of course, but I'm going to try to make an approximation of what I did then without copying myself. I have a lot of better things I can put in place, better sounds. But when we have been putting these shows together – and mainly Scrote – we talk about all of this. Choosing the membership is very important because you bring in different people who are very good at certain periods of David's music, to make it [a full experience].
For example, nobody I can think of can do 'Suffragette City' or 'Ashes to Ashes' better than Angelo Moore. He's such a showman, and, at the same time, he knows that material so well. Me? I'm more versed in the 'Trilogy' period [Low, Heroes and Lodger, which Bowie recorded in Berlin with Brian Eno in the late 1970s] and Scary Monsters. And songs I did with David early on for the 1978 tour, like 'Station to Station' and 'Stay' or others that people mention a lot. So it's down to picking the right people and giving them the right material.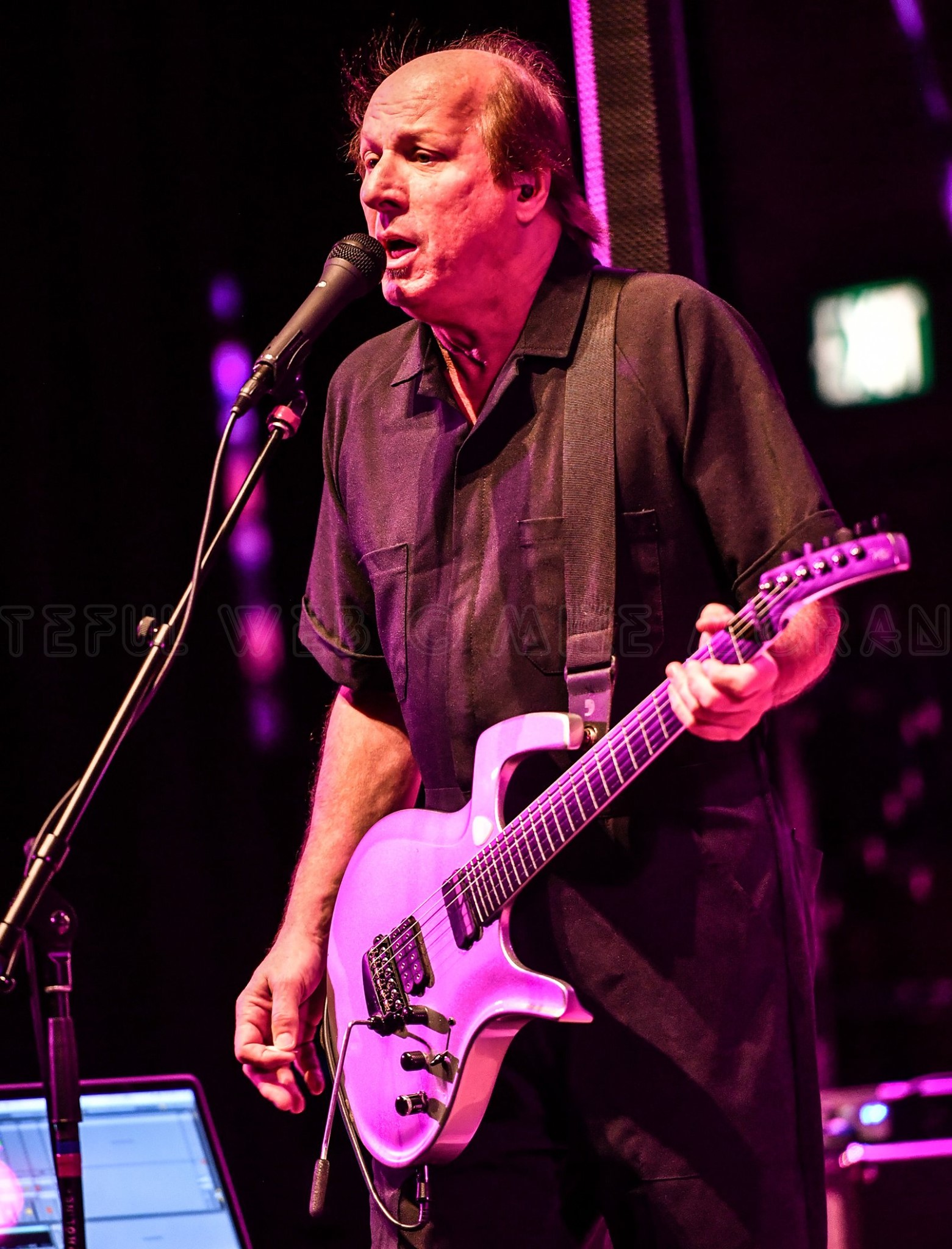 GW: How many songs that you originally played with David on the 1978 and 1990 tours would you say are included in the CdB show? Also were there any deeper, surprise songs you would have liked to have done with David that you had to leave out with him, like 'Gunman' [a song Bowie wrote and performed on Belew's 1990 solo album Young Lions]?
AB: Heh-heh – wow! That's funny you say that. I was just thinking the other day, 'Man, I wish we had thought of that one!' Naturally, 'Pretty Pink Rose' [another Young Lions song featuring Bowie] was something I really wanted to do, since it was the duet I had with David. When we [the CdB band] did those first two shows I mentioned earlier with Todd in Reykjavik, Iceland, we did it with Todd taking David's part and me taking mine, and it was really, really successful. So we're doing that one. And that's good, because in the first rounds, we didn't even think of that. I think Scrote is always trying to paint with the broadest possible palette that he can.
So you can't stay stuck in one particular realm. There are quite a few things that go back to 1978 and 1979, like 'Station to Station', which I haven't played since that time, and it was always a big piece for us. And, of course, 'Heroes'. We've played that on [the first two CdB tours], but this time out, we'll be sharing vocals and doing some interesting things in that area. But – heh-heh – I'm more curious than probably you are as to what we're gonna end up with! Heh, heh! I don't know everyone in this band, and that's been true in every single line-up we've done. They're not necessarily people I've worked with before or who are personal friends with – yet!
GW: Does everyone in the band read music? Are there arrangements charted so everyone can come in like Classical musicians, do their part to rehearse and jump into the tour?
AB: Most likely, most of them can read, but I don't think it's something they do for this. This is more about feeling the songs and knowing the intent of the music. You wouldn't read most of this from a chart unless you're one of the string players that we've had. For example, in Reykjavik, we had the Iceland Orchestra join us, and, of course, those people would be reading a score. I don't know how often that would happen on this tour.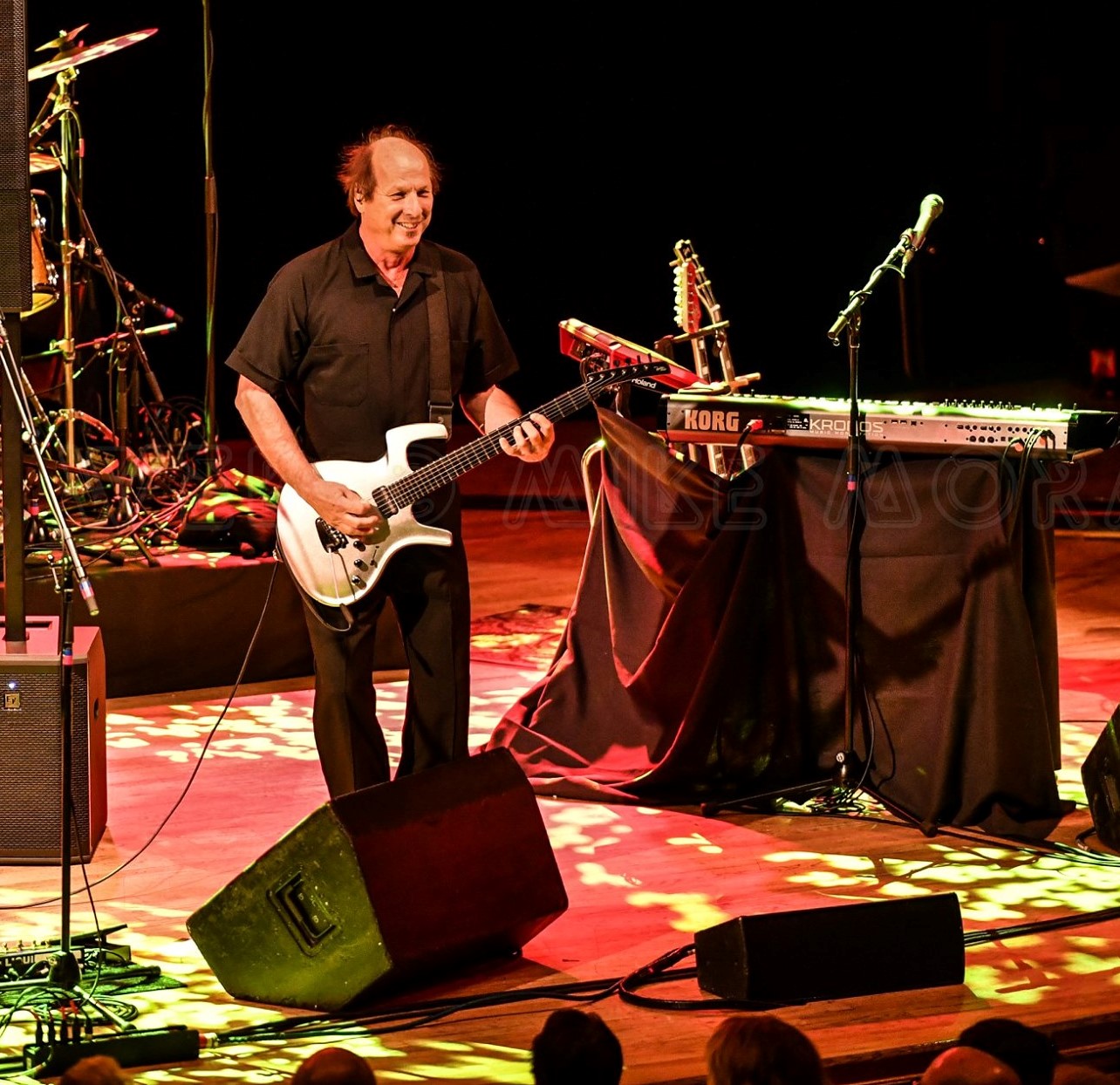 But there are also a lot of guest artists who'll join us along the way. And that's always a surprise to me. I never know who they're going to be – heh-heh–  until a couple of days before. 'Oh, by the way. . .Sting is coming in next week for two shows!' and that sort of thing.
It's kinda fun – shakes things up a bit. Sometimes we might have to learn a little bit of extra material. And if it is with an orchestra, it's the same way. We come in a day earlier, we rehearse with the orchestra, and then we go into the show the next day. You never really know. This is a pretty flexible situation here. We're just trying to get a lot people who have some kind of working relationship with David and who know his music, even just keen fans of what he's done. Of course, that includes a lot of artists!
GW: Out of the songs picked out for this show, how many are ones that you originally played on and how many new ones will you be featured on? Are you singing on every song you play on or just a few standout songs?
AB: I'm singing [lead] on about [half] of the 14-15 songs that I'm playing. So the other ones, I'm either just playing guitar or I'm also very happy to throw in some harmony. I used to sing a lot of harmony with David, like on 'Space Oddity' and 'Life on Mars'. And I still do that in this show with Todd taking the lead on those particular two songs. David had so much  harmony in his music, and some of it that was odd and interesting. And I always liked that. So, as I say, in 'Heroes' we plan to switch off on who gets to sing [lead] so it won't just be one singer as it had been before. It used to be me, all the time, and I'm happy to let other people share that. So, the thing I like most about our [project] is that we have six singers. So we can share among everyone and get songs that each singer can shine on. And the beauty of that – heh-heh– is that no one is trying to be David Bowie. So that takes a lot of weight off anyone!
GW: As I understand it, you'll also have a couple of special guest vocalists for limited portions of the tour. So things will change, depending on their personalities, too...
AB: Yeah, that's right. We'll have Jeffrey Gaines joining us for a few of the dates instead of Angelo [Moore]. I think Angelo had some previous engagements, but that only happens a little bit. And then, we'll have Thomas Dolby joining us. That'll be two nights at the Ram's Head, in Annapolis [Maryland]. And – heh-heh– who knows what else will happen? That's gonna be incredible, because I've done the Ram's Head, recently – on my last [solo] tour, in fact – and it's a pretty small stage. We already have a large band, and that's going to be adding one more person right on top of the next. So that'll be very exciting in that room, for sure – heh-heh!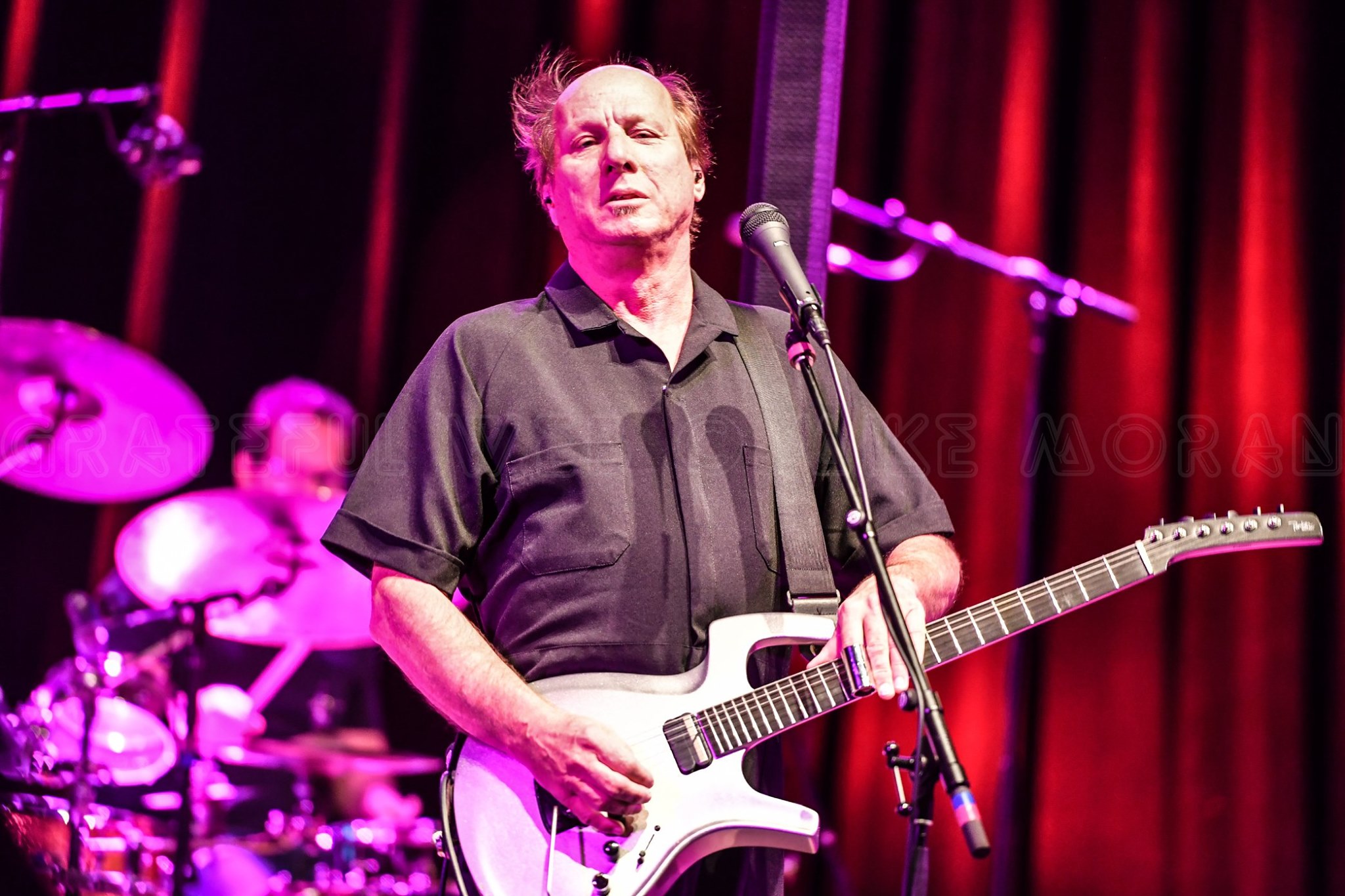 GW: Wish I could be there! So, really, just wrapping up here that I see a lot of similarities between what CdB is doing with three guitarists and the Zappa Band. I had a great conversation about ZB with Mike Keneally a few months ago, and he talked about how having three guitarists in ZB provides a lot of variety and contrast, lots of different colors and tones, if you will. So I guess you have that same dynamic with Todd, Scrote and you?
AB: I love Mike! He's really something, and we've been friends for years. But he's right. With us, Todd is completely different from Scrote and me. And Scrote is a more varied kind of player. He can play any style, when you want him to, but he also still has his own kind of sound. In terms of guitar playing, our show should be really nice. And I'll be very interested to hear it myself!
For more information and tour dates for the Celebrating David Bowie tour, please visit the tour's website at: http://celebratingdavidbowie.com