In 1939, at the age of 13, a precocious and aspiring trumpet player in a high school band was criticized mid-song for playing with too much vibrato. The band teacher had stopped the song short to deliver a message to the trumpeter that he would never forget: He told the boy that he had to create his own style. That he was gifted and able to mimic any of the popular players well, but that to be truly successful in the jazz world, he would eventually have to develop his own sound. At the time, the criticism burned the boy; he remembered feeling deeply embarrassed. Eventually, he realized the value within the critique, that to stand apart and rise above the rest he needed to develop his own voice. That boy was Miles Davis. Davis not only developed his own style, he revolutionized jazz by helping to usher in a new style of playing called hard-bop.
The first time I heard Lotus it made me think of this anecdote from Miles Davis' autobiography. A friend with similar music tastes had suggested that I give Lotus a try. Being admittedly closed minded when it comes to others suggesting music, I delayed following her advice. Eventually when I did follow her advice, I regretted I hadn't acted on it sooner. Lotus had a sound that I had not heard before and one that sets it apart from other bands within its genre. The style is heavily instrumental, influenced by rock and jazz, with few lyrics and plenty of improvisation. While having a shortage of lyrics is a turnoff to many music fans, it strongly appeals to my love of improvisation. When I attend a concert, I want to hear something innovative and what cannot be found on the band's CD. I have never understood the mainstream appeal for artists that perform rehearsed and choreographed concerts. To me, a mainstream concert takes all the fun out of a live performance: the raw, unrehearsed but well prepared, risky side of music that I find exhilarating.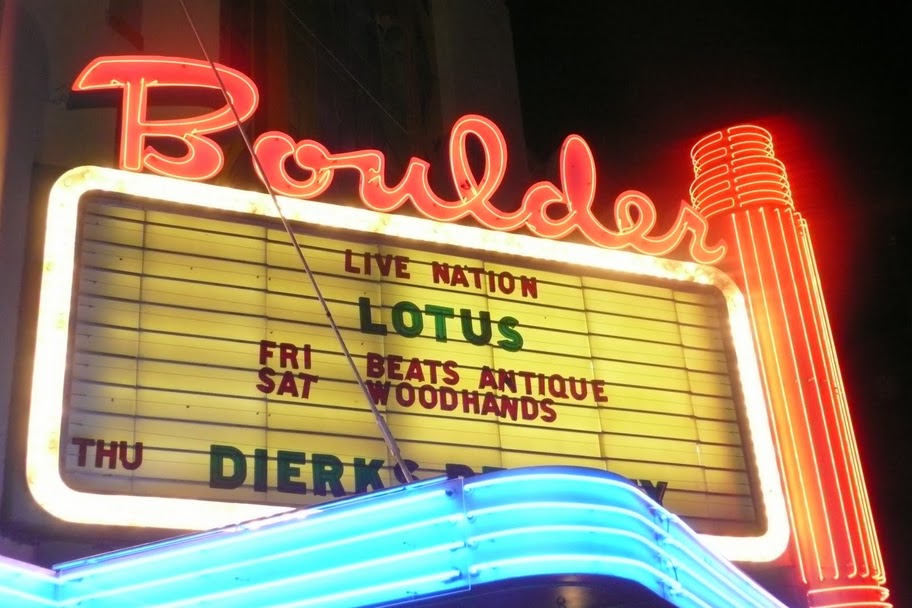 When going to see a band that improvises, you enter an informal contract with the band to take the good with the bad. All improvisation runs the risk of sounding terrible. Yet is also holds the possibility of sounding serendipitous, treating your aural and cognitive channels to new and amazing sensory pleasures. That is why I go see improvisational music – for the spontaneous music, hoping the stars align and that it will sound like nothing I have ever heard before – and I bet that is the same reason many Grateful Web fans choose to see live music.
Lotus' first show at the venerable Boulder Theater proved to deliver only the good elements of improvised music. With historical roots that reach back to 1906, the Boulder Theater is an ideal place to enjoy a concert. Its art deco façade and warm and inviting interior with over-sized murals seem to nurture the creativity of the artists it hosts. Lotus took to the welcoming vibe from the onset and performed a nearly three hour flurry of improvisational music at its finest. The palette from which Lotus creates its music is rich and diverse. From adagio tempos with delicate compositions to presto tempos with intricate textures, there is something for everyone to enjoy. And from the looks of it, the crowd enjoyed everything, dancing non-stop and with exuberance for the show's entirety. It was the kind of show that makes you remember why you love live music. If you have the opportunity to see Lotus live, give it a shot. You may find that new sound you've been looking for.