The last time I saw Lotus was in April 2010 at the Boulder Theater in Boulder, CO where my friend – who I treated to the show - had the unfortunate experience of a bicycle accident on his way home afterwards. I'll never forget the phone call I received the next day when he described the accident; it still makes me laugh. He had a second-hand cruiser with a recycling crate he jerry-rigged to the back as an aftermarket pannier. He loved that cruiser. The next day he called and immediately started off with something like "I can't find it, bro. My basket completely disappeared on the trail. I searched for a half hour. I'm lucky I found my glasses. They're scratched all to hell, but at least I was able to see to get home the rest of the way. I took a H-U-G-E digger, but that was one hell of a show we should see them again." My friend was ultimately fine and maybe the comedy of the situation doesn't translate well in the written form, but I bring up the incident because although he would never admit to it and no PhD psychologist could ever prove it, I believe the cause of the accident was Lotus' hypnotic music – its engaging vibes, rhythms, and melodies. My friend is the type of person that cannot sit still, especially when groove-oriented music is playing (I once caught him jamming out and actively dancing in a chair while he was working on his master's thesis). So my theory goes that as my friend was riding his bicycle home, he was dancing to the lingering jams in his head, became distracted, and then took a crate-losing and glasses-scratching digger. It also being dark outside and he being fatigued from dancing at the show were not factors. Good thing my friend isn't litigious because the case would have been a slam dunk for compensatory damages.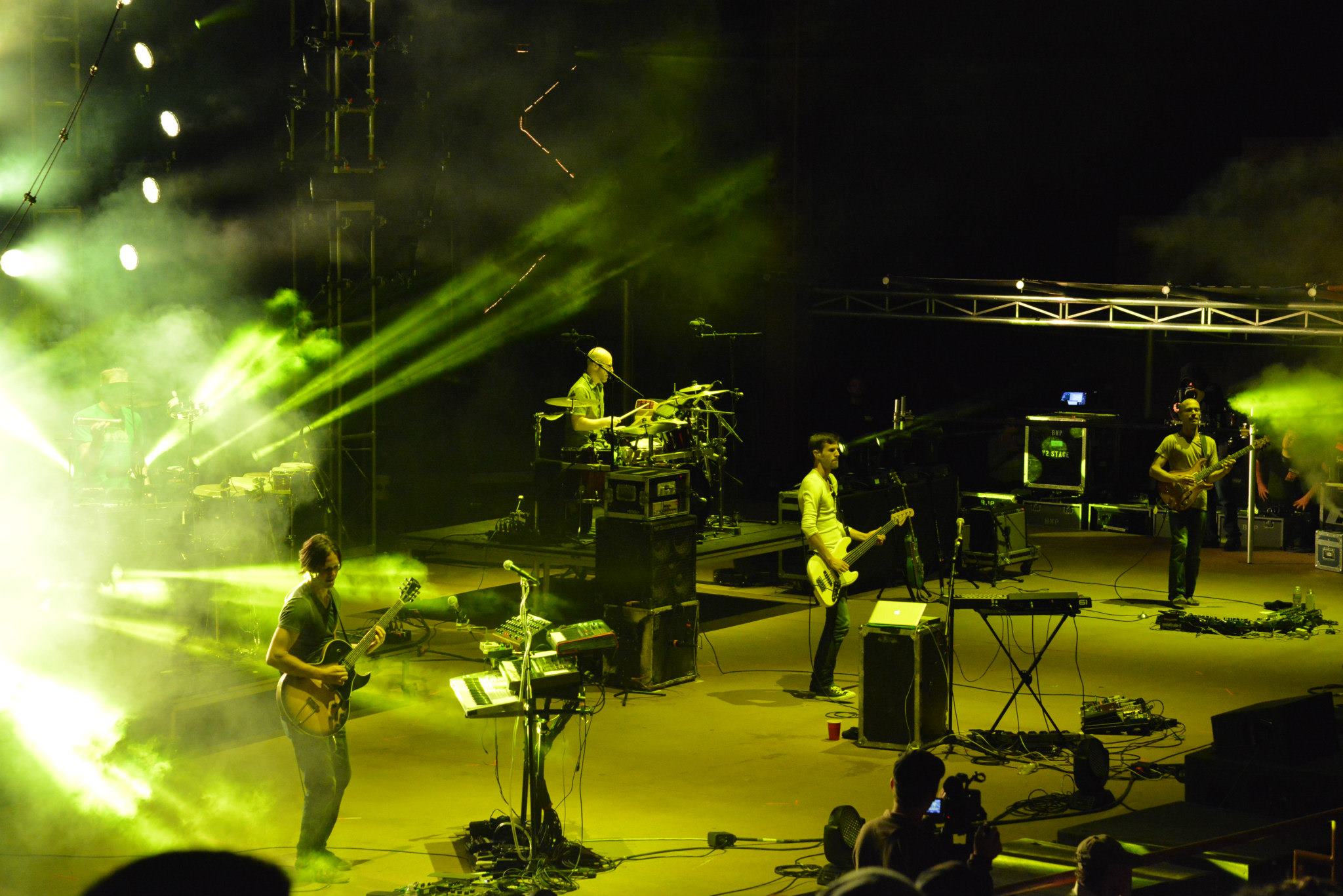 Needless to say, I had been eagerly awaiting my next opportunity to see Lotus live. The fact that the venue would be Red Rocks was just icing on the cake. Lotus' roots began in Colorado where Mike Rempel (guitar), Luke Miller (guitar and keyboards), and Jesse Miller (bass and sampler) met at a camp in high school. Later the three would meet Steve Clemens (acoustic and electronic drums) at the very same camp. Being a Coloradan I am biased towards Red Rocks, believing its stunning natural beauty brings out the best in bands and audience and one of America's premier musical venue.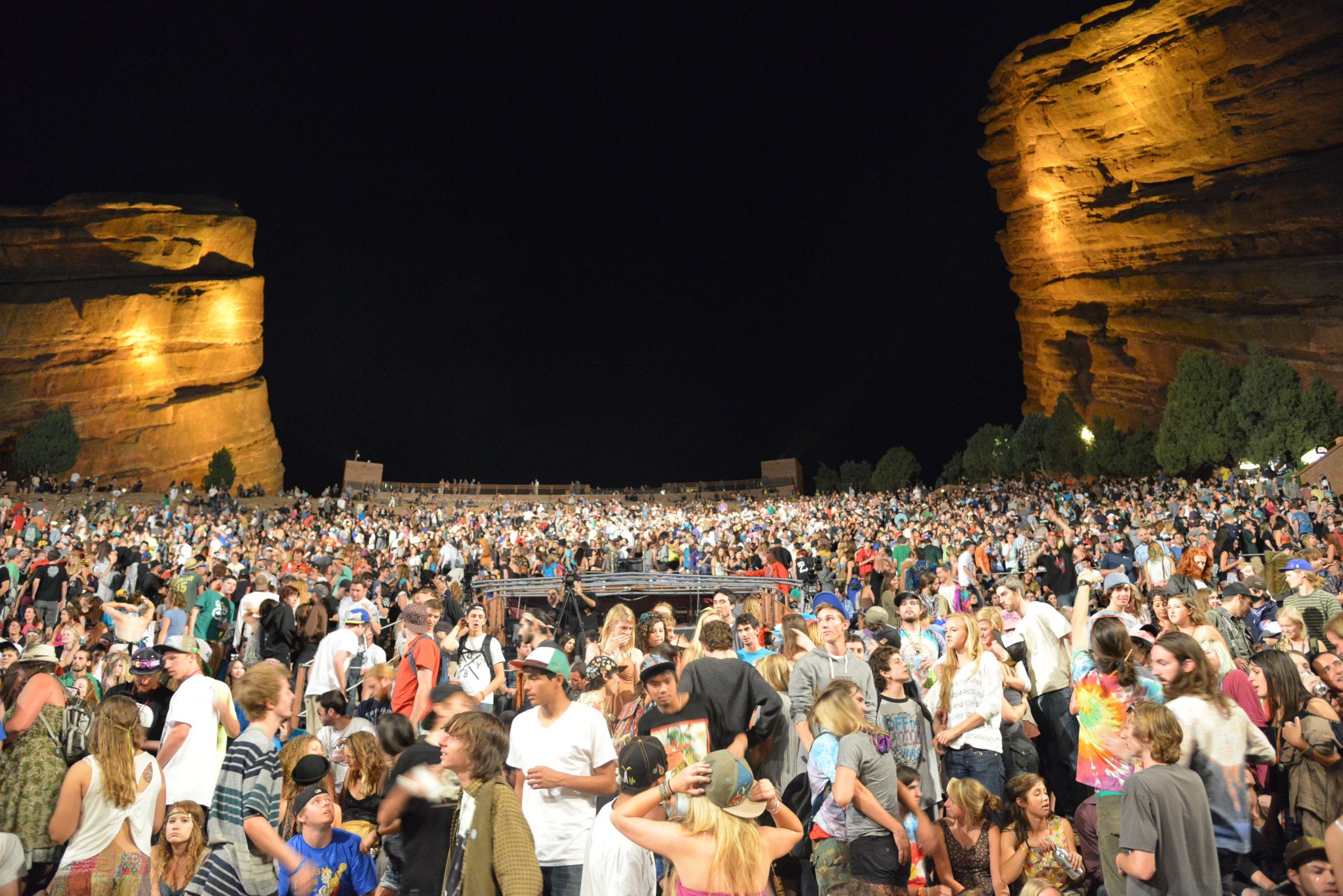 Lotus no doubt shares this same bias or at least lives up to it. Last night's show was of epic proportion with the band playing a crowd-pleasing mixture of established fan favorites and newer material. In a previous review of Lotus, I compared the band to Miles Davis and the fine art of musical improvisation. There is nothing quite like the excitement of hearing entirely new music of complex textures that weave rhythms and melodies into serendipitous compositions. Because there is some level of cognitive effort involved with enjoying improvisational music - patience, focus, and dedication - it doesn't suit everyone (think how many friends or colleagues you know that just can't fathom how you like a jam band or don't know who John Coltrane is or what instrument he played). Lotus, however, makes liking improvisational music easy. If you haven't seen Lotus live or checked out some of its music and you consider yourself a jamband-fan, I think you're missing out. The band creates stunning music well worth your time.