Thanksgiving weekend is a time for family and friends to get together. One of the experiences people can be thankful for is live music. The power of live music to bring out the best in people is well known. On Saturday evening, in The City Of Brotherly Love, hometown heroes, Lotus, brought their progressive jammed filled tunes to The Fillmore.
Muscle Tough, who also hails from Philadelphia, opened the evening, with an energetic and fun set of music. The trio of seasoned musicians led by Ross Bellenoit on guitar, Joe Baldacci on drums, and Jonathan Colman on bass got the crowd psyched up. Right out of the gate with the opening number, "Down To Clown", off of their latest release, "Modern Romance", the electricity was at full throttle.
With an eight-song set, including the ABBA classic, "Gimme Gimme Gimme A Man After Midnight" featuring Jesse Miller (Lotus), and Sheryl Crow's, "Everyday Is A Winding Road" (Which is still stuck in my head.), Muscle Tough, gained a number of fans on Saturday.
The main course, Lotus, has been turning heads in the jam band world for over two decades. With the opening "Eat The Lights", the Saturday audience came to get down and the band brought the fire to the hometown crowd. "Livingston Storm" gave a chance for the band to really plant their roots and improvise, with The Millers, Luke, and Jesse, on bass and guitar respectively, this was a shining spot early on in the first stanza. The dynamic duo took the instrumental number to new highlights with their virtuosity at their craft. The five veterans eased The Fillmore audience in for the ride of their lives with an oldie but goodie, "Sunrain". As (Mike) Greenfield locked it in in the foreground with Chuck Morris (not to be confused with Chuck Norris), on percussion, Mike Rempel closed his eyes and took the jam to "the next level", weaving in "Nematode", and then closing with "Sunrain". 
With Set I in the books on Saturday evening, Philadelphia strapped in and geared up for more from the hometown heroes. It's amazing what the five musicians can accomplish when they are firing on all cylinders. The second set was sure to be a heater when the energy level rose to an "11", with the electronic-based, "Slow Cookin" that drifted seamlessly into a relaxing state of mind with "Soma". Taking the near-capacity bro outer space and back, Luke Miller's keyboard effects really brought the house down during, "Juggernaut".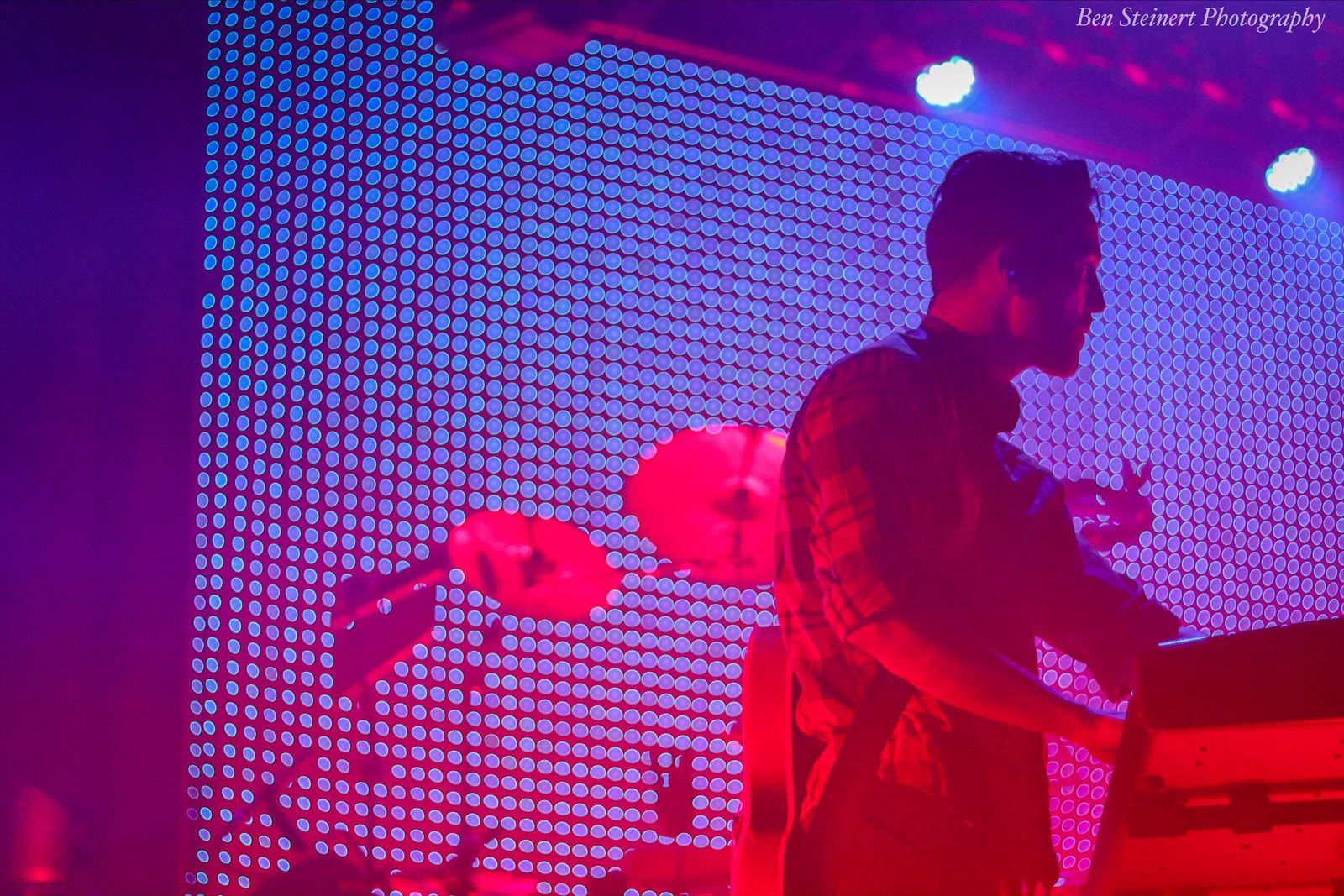 With a triumphant return to the stage, after a short break, the five band members sent the audience into a frenzy when the brought the evening to a close with, "Spiritualize".
Overall, both groups really brought some of their best live numbers to the stage in Philadelphia, and it became an all-out dance party throughout the auditorium. The energy and precision of Lotus is why for twenty plus years they have remained relevant in the electronic and jamband scene.