Marco Benevento
is smiling. Do you know why? Is it the thought of his infant daughter? Perhaps the continual climb upward he has made in his career since bursting onto the scene in the late 90's? Or maybe it's the culmination of his most recent musical phase, the release of
Me Not Me
, which gave him the chance to combine his original magnum opuses with interpretations of the masterpieces of a number of other artists. But, the real reason he's smiling? Well, you already know what it is.
Despite his immense creativity and originality,
Benevento
conveys, in the limited number of originals on the album, it is his musical brethren that are most important to the music he is producing. "Everything is connected to everything," an off the cuff comment from the genius that is
Marco Benevento
when he recently sat down to talk to me about his album set to be released on February 4th. This connection, he went on to explain, is not only between musicians, but between the different things a listener hears. "Putting my tunes with other tunes [covers] is sort of the value of my music. When you play a song for somebody and they say 'Oh yeah, I've heard that. Who wrote that? I love that.' And you say 'I wrote that.'… I've always felt a connection between covers and originals because, ideally, you want it to sound like someone else wrote it. That to me is a connection to the universal energy that is flowing around all of us," a statement perfectly exemplified in the song 'Mephisto'. The hook is incredibly familiar sounding. Is it a vocal chorus from some well-known singer interpreted through the piano? Nope. Perhaps some unknown Thelonius Monk tune reworked by the mad scientist? Guess again. You will be as surprised as I was when you read the album notes only to discover, it's all
Benevento
, and that is what makes the transitions from cover to original back to cover work on this album. The transitions are unnoticeable. In the midst of Beck, Leonard Cohen and Zeppelin, Marco does more than hold his own, Just as each of these giants he pays tribute to have done before,
Marco Benevento
forges a new and dynamic path.
An artist best known for his live shows with Joe Russo or the short lived G.R.A.B. with Russo, Mike Gordon and Trey Anastasio or the trio of artists that appear on
Me Not Me
– Reed Mathis on bass, Andrew Barr on drums and Matt Chamberlin on drums-
Marco
understood that what he laid down in the studio had to be different than what he plays to the throngs of gawking onlookers night in and night out. "The mind has less of an attention span when you're listening in your car or in your home. So the song has to be more concise. But, at a show your listening in a different way, so the songs can be stretched out. Jams can last longer."
Benevento
is selling himself short, for, from the opening notes, you will be hypnotized by the sweet sounding progression of his take on My Morning Jacket's 'Golden', a rendition in which the effects and drum track rush over you like water before
Marco's
melodious piano tones join the fray.  The piano acts as a parent to the rhythm section, calming it down when its excitement causes the drums and bass to try and separate from their caregiver. Piano timbres drip off the back of each note
Benevento
plays, as if he is straining to keep up with the fervent pace of the drummer, yet every note is perfectly in time. He conquers the parameters of each note he plays.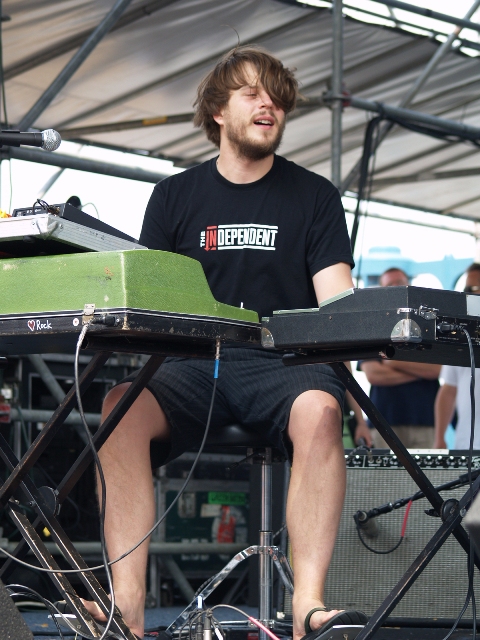 Cleary, with the number of diverse projects
Benevento
has played with over the past few years, he can be considered nothing short of a workhorse. Having recorded the music for
Me Not Me
in a two-day marathon, in the midst of a coast-to-coast tour promoting his first studio effort Invisible Baby, you may think
Marco's
getting jaded by the amount of work he is putting into his craft. Fortunately, that is far from the case. "It's [music] the thing that I can study until beyond when I die. I cannot be satisfied with how much I know about music. In my next lifetime or my next phase I will still be studying music and learning about it and what it is." He is hungry. He is never satisfied. He overdubs. He listens. He overdubs again. And the next day he wipes the slate clean only to try once more. In his interpretation of Leonard Cohen's 'Seems So Long Ago Nancy,' he breaks from the original and reworks the rhythm into a flowing waltz, and yet with the meticulous overdubs and production, he regains the songs original era, ironically celebrating the songs title all these years later.
It seems
Marco
is capable of creating irony in the title of the songs he covers, as well as creating it in the songs he writes, as he explained when describing the process of coming up with 'Now They're Writing Music', or as he refers to it, "the circuit bent toys song." "I made a loop with those toys and let them play and walked around, cleaned the house and let the toys loop and loop and loop and loop and I cleaned and washed dishes and then, whoa, that's totally a song. These fucking things are writing music now?" Yet, again,
Benevento
, always humble, is celebrating the work of others, even if those others are electronic contributors, when in fact it is his contribution that will define the song. It is his piano mastery, if removed form the electronic background, which sounds as if it came from the cool jazz period marked by such heavyweights as Herbie Hancock and Miles Davis.
When listening to 'Now They're Writing Music' and the rest of the songs on the album, the complexity of the music slowly reveals that the circuit bent toys, overdubs and effects clarify what Marco hears in his head when composing his music goes well beyond the eloquent piano leads. And yet, if you were to remove all of the effects, the piano's full sound could standalone. "Ideally no matter how many overdubs you do, when you play it on the solo piano, people will know the tune and know it's a good one."  But
Marco
, who is forever modest, is quick to point out the value of overdubbing. "The intent with overdubbing is making sense out of your own songs or your arrangements of other people's songs. I chose to overdub certain things because I heard it. A couple of times I would play the song and I'd stop it as soon as I thought of something and I'd run to overdub something right then and the next day you listen to your one minor thing that took 3 hours to do and it makes the tune stand out." Mystifying the process even more on
Me Not Me
is the addition of esteemed engineer Bryce Goggin and his vision of each song. For 'Call Home',
Marco
recorded the sounds of crickets and frogs while walking one night in Jamaica. "Katie and I were walking around outside in Jamaica and you could here frogs chirping. I wanted to record the songs of the frogs. We're carrying our baby Ruby, so you hear the sound of her cooing in the background of the song." And yet, the process was only half complete, as Bryce, upon hearing a rough track ran out into the streets of Brooklyn to capture the city sounds. These paradoxical reverberations mix with the saloon piano track to create a memorable trip through
Marco's
world.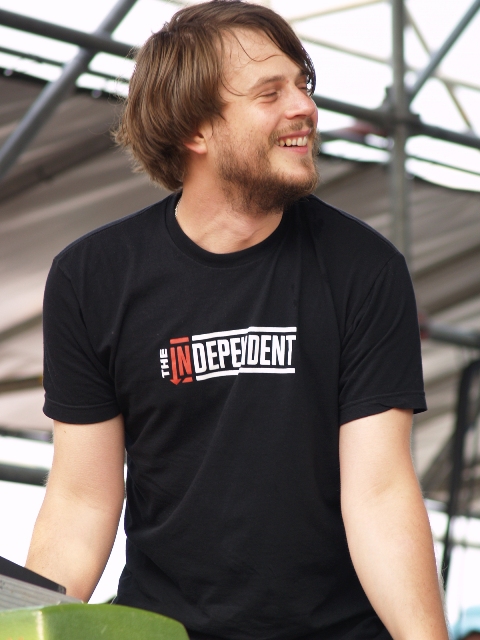 Every song on the album will leave its own impression on the listener. The punk ballad "Twin Killers' true to its offbeat originators Deerhoof, with Marco pounding the grand piano to recreate the vocal and guitar style of the original. 'Heartbeats,' perhaps the most electrified pop song of the album, features masterful drum work, with riffs and rolls that evoke the lighter side of emo rock.
But I, ever the purist, will always return to those songs with the minimal amount of effects. They stand out in my mind. Pulled from a smoky jazz bar, both ballads. Songs that should be played at the end of the night, when the energy of the room is spent, and the only person left needs something to make those tears well up. Appropriately, 'Sing It Again' and 'Run of The Mill' come near the end of the album, although they are surrounding
Marco's
ode to the rock gods, covering Zeppelin's 'Friends'. While the rock anthem drains every last drop of energy after listening to the bulk of the album, the two jazz ballads create emotion in the listener. This is no coincidence as the stable of jazz giants who have influenced Marco along the way is an all-star team of cool. "I studied jazz with Kenny Werner. I studied Bill Evans quite a bit. I love Tony Williams. I love Miles Davis. When I was in college I listened to a lot of Ornette Coleman." These players knew how to play a quarter note that dripped with feeling, and
Marco
is no different. But as a 21st Century man, a man whose connection to the world, to god and to the people all around him comes through music, he has taken what these leviathans have taught him further into the future of music and its connection to the universe. "I read a lot about mysticism and learned a lot about the philosophies of meditating and getting into a zone and how it relates to John Coltrane, Miles Davis, Kenny Werner and probably Beck, and Jim James at the same time." You see
Marco
has figured it out. He understands these men, just like him, reveled in the connection that exists between us all, musically. A dream he once had in which he was visited by the spirit of Bill Evans, who wanted to pass on the information he had learned, opened up
Marco's
paradigm. "There is a higher connection and that's why you get hooked eventually or trapped or sucked into music. It's a cool, humbling feeling. It sets the comfort for me. I am patient to know that through the 3 or 4 twenty-year phases of my life I will always be learning. It's a religion. I love performing. I love gigging, I love the rhythm of my life." So that devious smile that's always on his face is only an extension of the connection we all share. If you think it's because he knows something you don't, then you don't get it. "We are all one, so you know what I know too." And through the music of
Marco Benevento
, we all know greatness.