A story with a head wound is always a good story. This story has a head wound. But it's not the best part of the story. This story is about music. Music at Grey Fox Bluegrass Festival. You'll notice I omitted the. It's not The Grey Fox Bluegrass Festival. It's Grey Fox. We'll get to that just like we'll get to the head wound. But first, music. After all, that's why we travel to the Catskills every year. But why this music? What about this music sets it apart? Truth be told, bluegrass can feel so rigid. It can feel like the same music year in and year out. If I told you that this year's music was so different than last year, we'd need to examine why.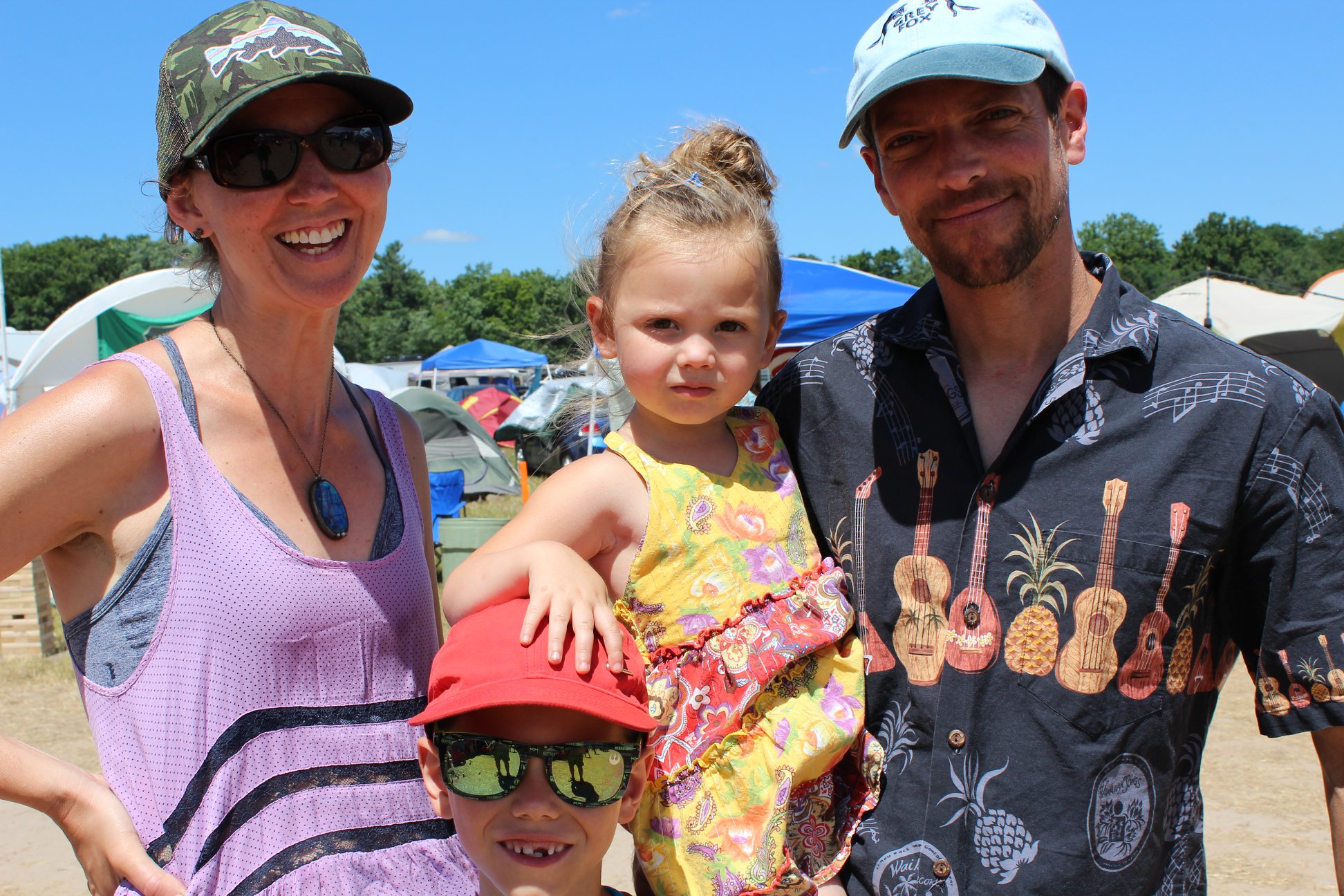 Having covered Grey Fox for nearly ten years, I wanted to make sure this year's approach was fresh. "Don't miss the things that are right in your face every year," I told myself as we pulled our antiquated pop up south on 1-87. This, of course, opened my eyes to the trip itself. Not everyone who attends the festival leaves one New York mountain range for another. Most attendees are leaving some version of a concrete jungle behind for a year's worth of bluegrass crammed into four overstuffed days. But, the approach to the tiny town of Oak Hill begins the weekend's therapeutic effects. Almost immediately after leaving the interstate, I felt the suburban weight begin to lighten, and the airiness of country towns began to take over. Lawns manicured up to the edge of the horse field became the norm. Small villages with one restaurant and two churches were the consistent ratios. Dry rock freckled creeks wound under the road until the entire weight of responsibility was lost and I turned into the Walsh Family Farm.
I've never actually met a member of the Walsh Family. I assume that they spend the weekend like the rest of us. Moving from happening to happening at Grey Fox. The only difference being that they return to a Rockwellian farmhouse while the rest of us are only living in temporary shelter amongst the hayfields. But we are part of their inner sanctum, given wristbands for the weekend granting temporary passage into the family, while they are the stewards of this agrarian utopia.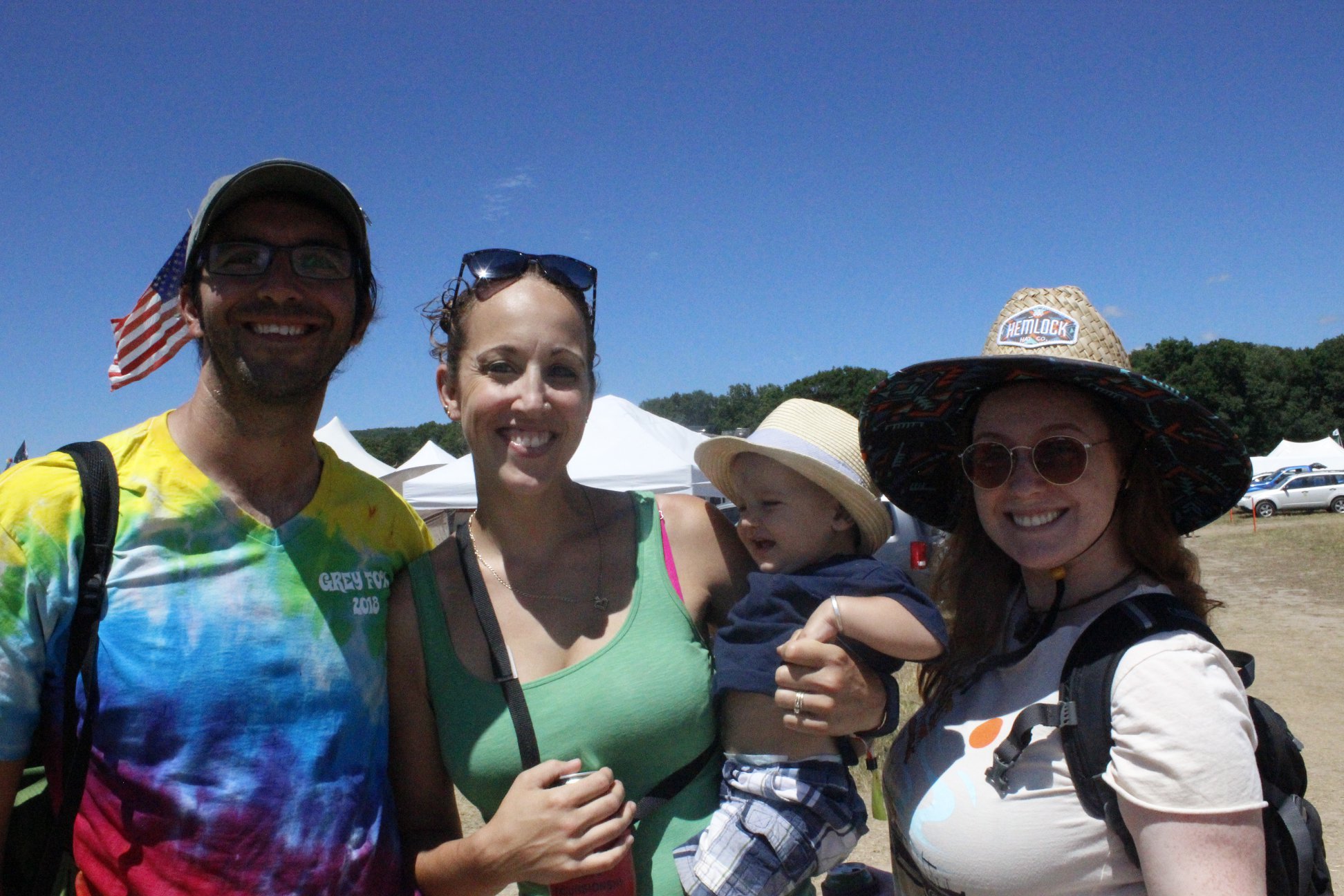 You see, Grey Fox doesn't start with music. It starts with family. Festival family. Some festival families exist outside the confines of Grey Fox weekend. Some, like mine, are a hodgepodge of families from the Northeast who always find their way back together for the weekend. We look at each other's kids and see a year's worth of change in one day. Kids growing out of infanthood into childhood. Kids growing out of childhood and into the Bluegrass Academy. Any festival that recognizes the need for age specific entertainment and in turn offers free daily classes in the classic bluegrass instrumentation (standup bass, acoustic guitar, banjo, mandolin, violin, fiddle) is in step with our parenting philosophy. Our newly named "Camp Caution" (because what fun is a group of people if that group doesn't have a catchy name?) is held together by one super-friend who has befriended us all. Being a part of a festival family is part of what makes Grey Fox so special. We don't see these people for 361 days a year, but for one magical weekend we feed each other's kids, watch out for each other's kids, dance, laugh and listen together.
TO be honest, when I first saw this year's lineup for Grey Fox, I was a bit concerned about what we were going to listen to together. After all, music is at the center of any good festival family. On paper alone, the lineup didn't feel sufficient. Bands that had been the working class of Grey Fox had grown into headlining slots. Who were the bands that would replace? The bands that would fill the side stages with amazing finger work in the shade by day and raucous dance tents by night?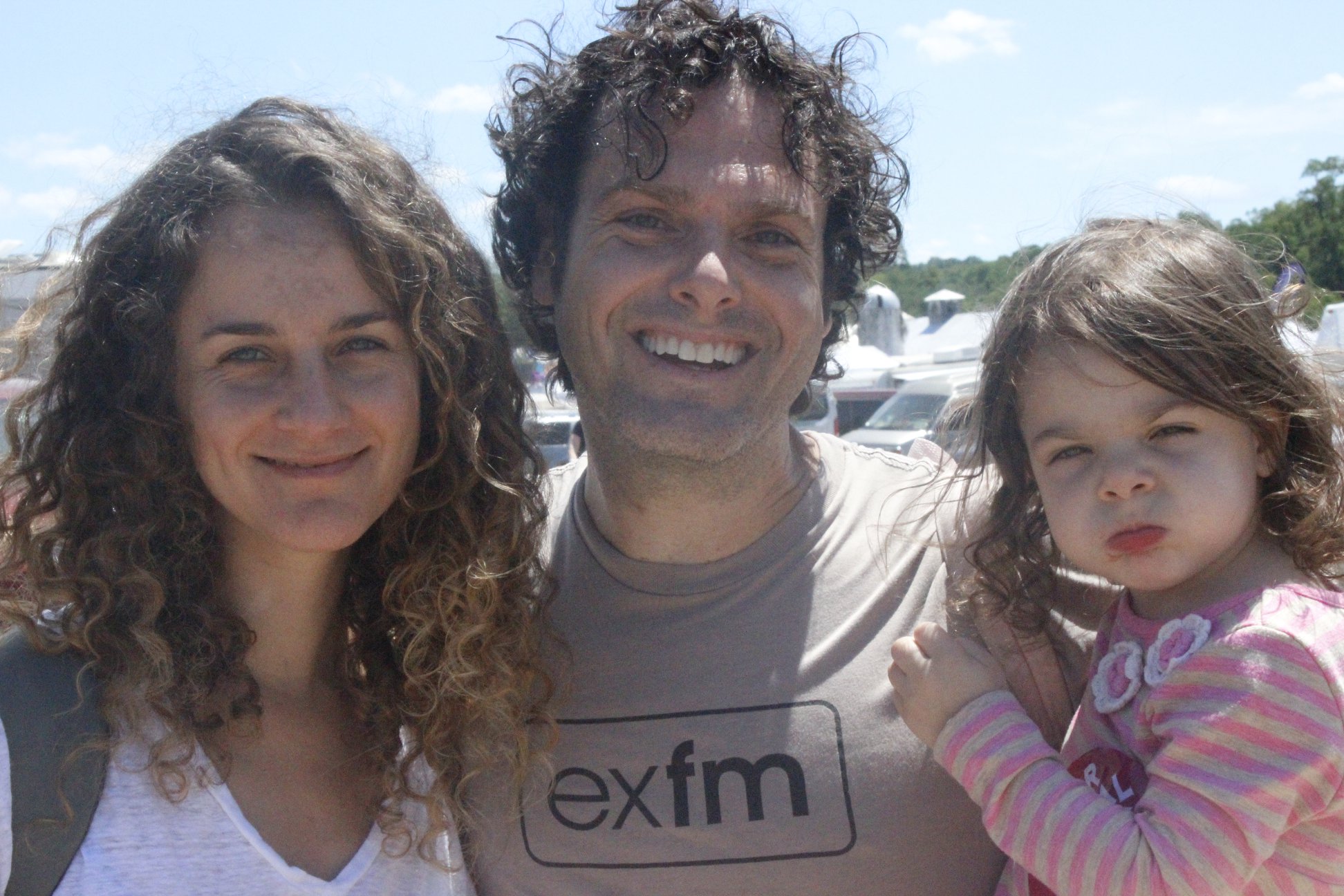 I am only immersed in the true bluegrass scene for a long weekend every year. Most of the time I am listening to those bands that bridge traditional bluegrass with the jam scene. What I discovered this weekend was that the difference between those two classifications continues to be blurred by the bands who are up and coming.
"Happy Grey Fox!" is the greeting of choice when you arrive at the festival. This weekend has risen in the pantheon of holidays for so many of the extended festival family. Who needs "the"? Grey Fox is its own definite article. It's not the Christmas Day. It's Merry Christmas! So, drop "the". Its, Happy Grey Fox. It's tradition, like cowbells being rung by the emcee proceeding the opening band of the festival. Tradition that is as simple as the ringing of a cow bell is the best kind. I imagine it has been like that every year. Not too grandiose. Why does tradition have to be flashy? Just like each year starts with the same band, "your hosts for the weekend," Dry Branch Fire Squad. Before this year, I had never been to the official and ritualistic opening to the festival, but don't plan to miss it again. After being greeted by the cowbells, I was privileged to see Dry Branch Fire Squad's set of standards, ballads, originals and humor. Ron Thomason, a mandolinist with the truest southern drawl in his playing and speaking, keeps the audience giggling at his dad-caliber jokes that are as old as the hills they usually describe. In detail. Ron definitely gives the band plenty of time to tune, rest and maybe make a phone call between songs. But while bluegrass can feel hurried in the frantic few minutes of a breakdown, it is not about breakneck speeds. It is about pace. And the pace of this festival in its first few minutes was leisurely.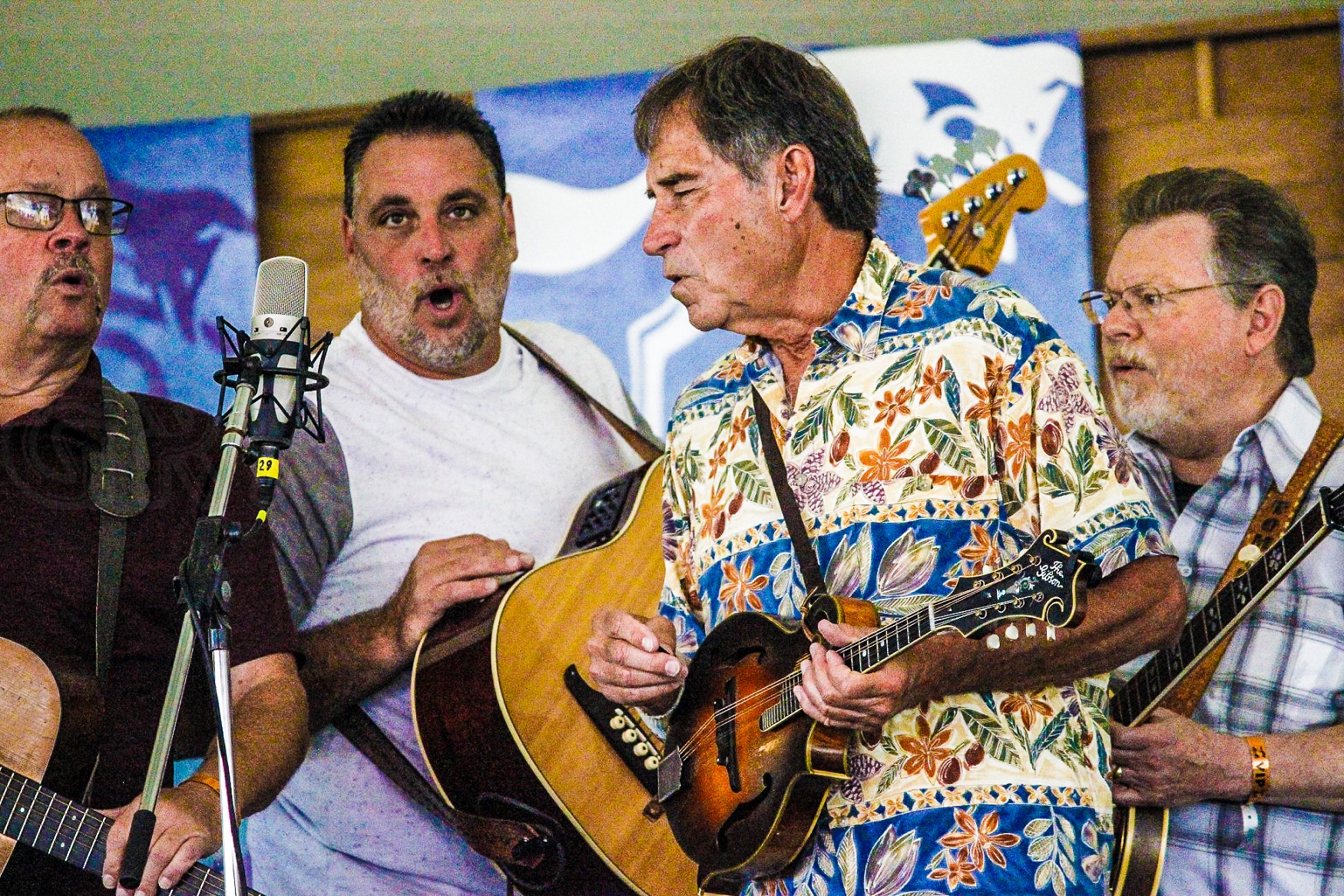 After Dry Branch's set full of soothing acapella harmonies, I stayed under the tented stage next to the mainstage. Last year the matriarchs and patriarchs of the Grey Fox family realized the full days under the hot sun were doing their older concertgoers no favors. So, they erected the High Meadow Tent; a daytime mainstage offering seats and a reprieve from the sun right up until dinner break. Yes, the dinner break is actually part of the daily schedule at the mainstage. Bluegrass fans must eat.
The next band to take the stage juxtaposed the tradition of Dry Branch nicely. Beg, Steal or Borrow won a competition to get their slot on the mainstage and made the most of it. Hailing from Vermont, this quintet was slightly more experimental in their exploration of bluegrass. The scene was set for a unique approach from this band when the stage's emcee introduced them as foreigners, since they are from Vermont. "Welcome to the United States," he said to the band before they immediately hit their stride. Their progressive Vermont-esque personalities shone through in their playing. The song list was not that different than that of Dry Branch, yet the music sounded completely contrasting. I can't remember being so struck by what a difference my perception of a player's personality makes in my perception of their sound.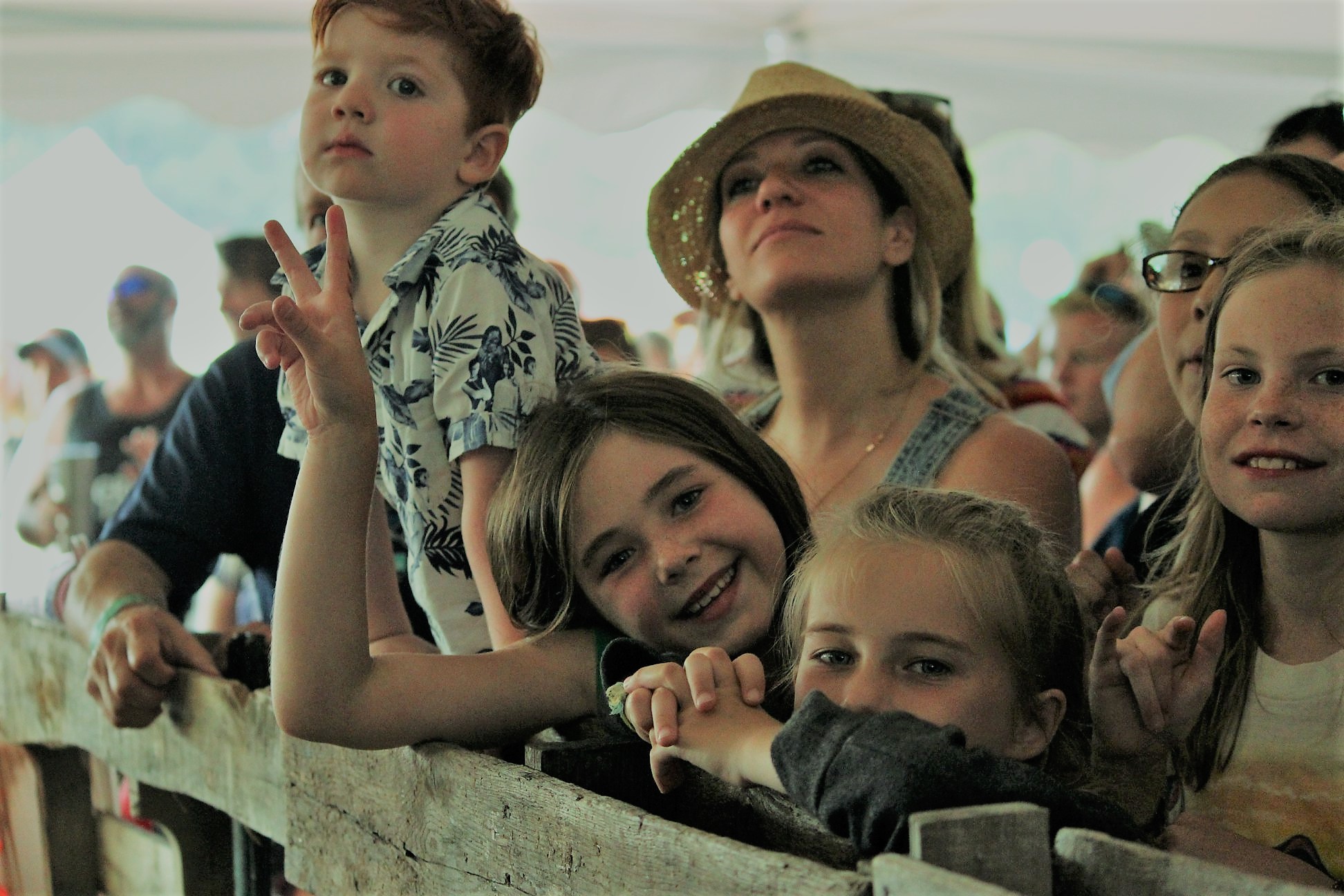 After two sets under the tent, I got up to wander. Thousands of die-hard bluegrass fans were already roaming the festival grounds, many of whom had been onsite since Wednesday afternoon creating their camps; setting up their kitchens, their dining rooms, their cornhole court, all decorated with tacky plastic wares that screamed of inside jokes. Everything at Grey Fox is personalized. People don't just drive golf carts. They drive golf carts adorned with Christmas decorations, or inflatable rubber ducky floats or stuffed animals duct taped to the front like some furry road dust collector. Each stage is a reflection of it's long time stage manager with plants, lighting, seating and amenities that reflect the culmination of someone's work who gets the chance to come back to the same spot year in and year out.
I left the High Meadow Tent and found my choices being dictated by the heat and a five year old. But before he could take hold of the plan entirely, I ran into Mary Burdette behind the Catskill Stage. Mary has been my contact and onsite editor since we first attended Grey Fox. A musician in her own right, Mary puts down the bass for the weekend and takes up the cb. She is important enough to Grey Fox that she does every job onsite and is able to walk away for a few choice hours a day to sit side stage and watch a set or two. She is important enough in the bluegrass scene to welcome bands when they come, the first person they see at the farm. I happened to be standing nearby when she welcomed some of the women of Della Mae to the festival. After smoothing over some technical issues regarding where they should park the band's van as they practiced in the Walsh's barn, she turned the conversation to the ongoing online scrabble game between her and Della Mae. "It's my move and I'm winning," Mary told me as the band walked away laughing and feeling reconnected with their Grey Fox family.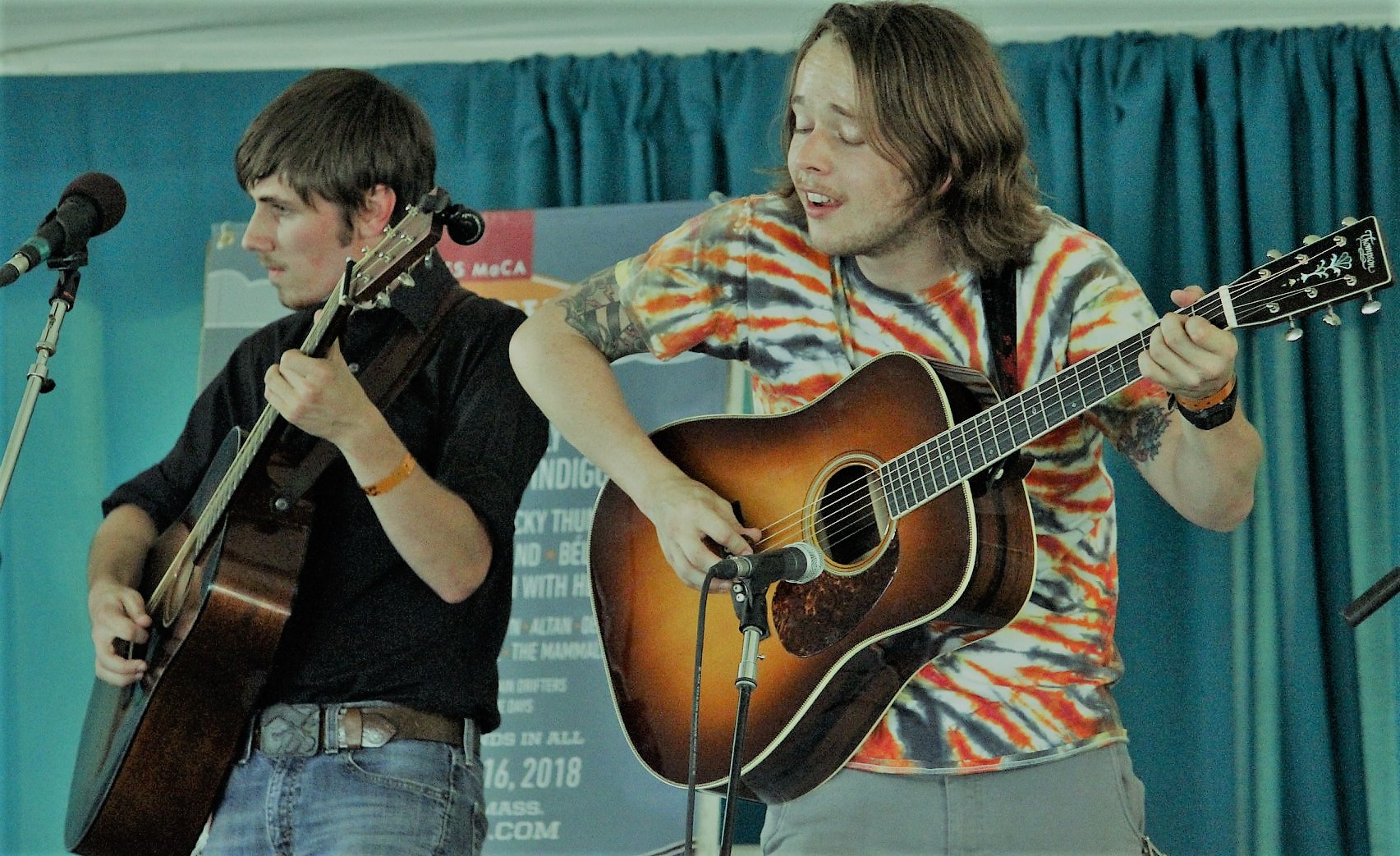 Thursday afternoon Mary pulled me aside to let me know that Billy Strings was about to sit in with a band for the first time this weekend. The entire weekend came to be dotted with Billy's sit-ins. He was everywhere playing with everyone. He did have his own set, with his own band each night, but it was what he brought to other bands throughout the weekend that really showed his prowess and acceptance by the close-knit bluegrass family of performers. His first sit-in of the weekend probably made the musical careers of the young men of Cane Mill Road. This was the one and only time when Billy Strings sat in and was the elder statesmen on stage. But the young men of Cane Mill Road were not starstruck. Instead, they were elevated in their play, sounding older than their years. Even Billy looked a bit shocked as they raced through some of Cane Mill's originals.
Before the heat of the day felt too overwhelming, we made our way to the creek behind the campground. The creek is strictly off limits, so of course everyone goes. There is even a sign and a well-worn path to take you down to this out of bounds location, where you are always able to meet up with other festival goers looking to get recharged in the streams flowing water. A lack of rain resulted in a lower stream that was tepid when I waded out. But, as it always does in the seasons between Grey Fox, the water that rushed through this area had reshaped the rocks on the bottom of the stream creating new places to find depth and a place for a dad and his son to happily and cooly swim around. As I splashed water on my face, I could feel a new sense of patience permeating through the festival grounds. We were taking what Grey Fox was offering and staying in the moment. So often at festivals, each thing you attend is just a timer for the beginning of what's next. On this opening day of Grey Fox 2018, I had watched complete sets and felt no need to look at the schedule worriedly as I missed something else.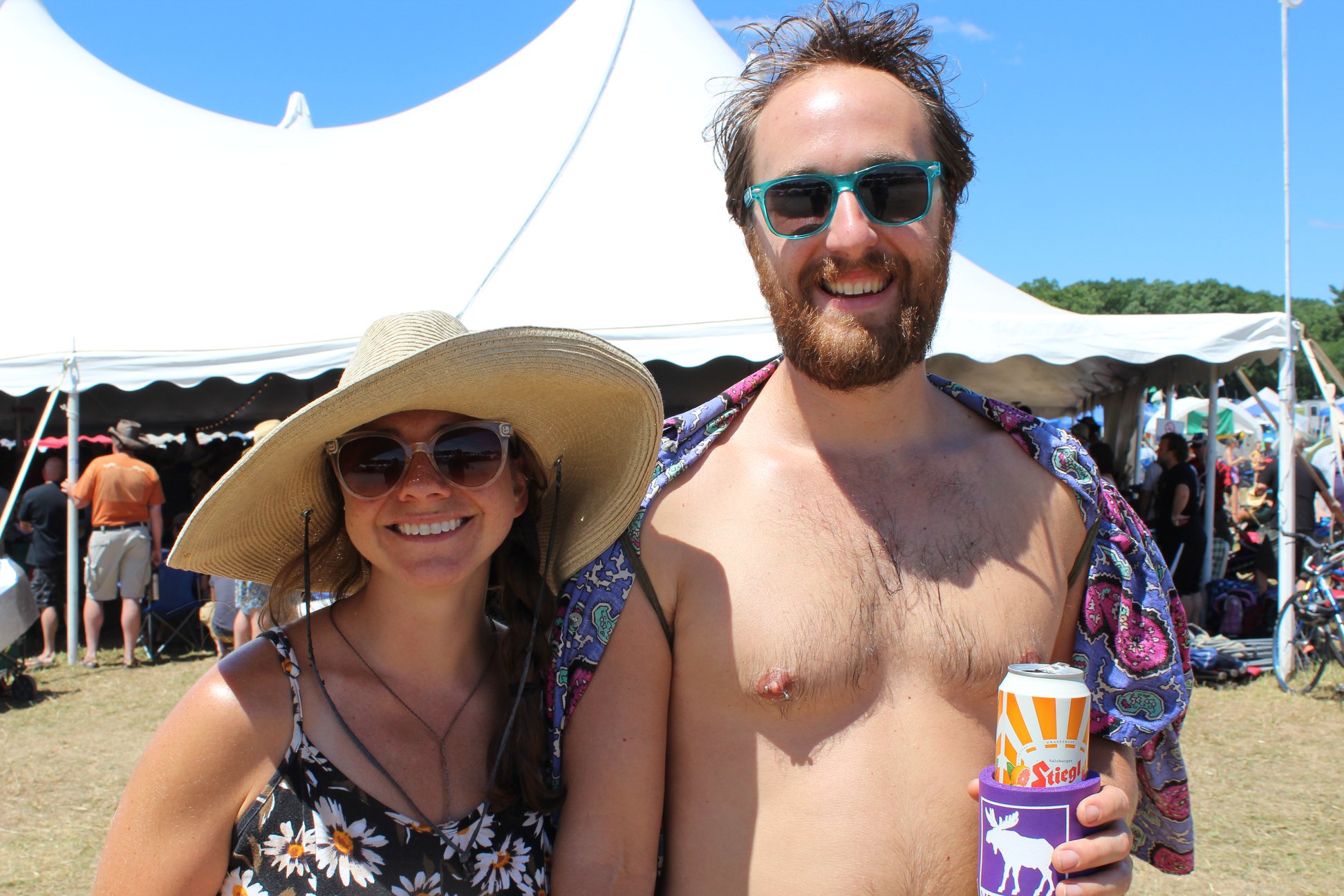 After a long afternoon meal at our ever-growing camp, we made our way to the Catskill Stage for the evening. Often, this is the site of some of the most creative and far-reaching playing at the festival. It's at the Catskill Stage that band's experiment before they eventually make their way to the High Meadow (Main) Stage. On the High Meadow Stage, tradition and polish are the polished traditions. Thursday night, we stayed at the Catskill Stage for 4 of those bands who are refining their sound. Bands that have a following but are growing faster than they comprehend.
Front Country was the first of these bands to take the stage in the early evening as the sun was hiding behind the tops of the tent giving additional dancing room behind the back flaps of the structure for the overflowing crowd. Front Country's traditional instrumentation was contrasted by the non-traditional rhythms they found. Their approach towards standards and their own originals caught others by surprise. It's always cool to see musicians take interest in another band. As Front Country laid down African rhythms over traditionally straightforward bluegrass standards, heads poked out of the artist's tent backstage. Eyebrows were raised and a collective, "huh" was sighed by all of us seeing Front Country for the first time. They sealed the deal for me by playing a beautiful bluegrass interpretation of "Tennessee Jed". Front Country is a band whose difference is setting them apart. Not because it is different, but because they are so good at what makes them different.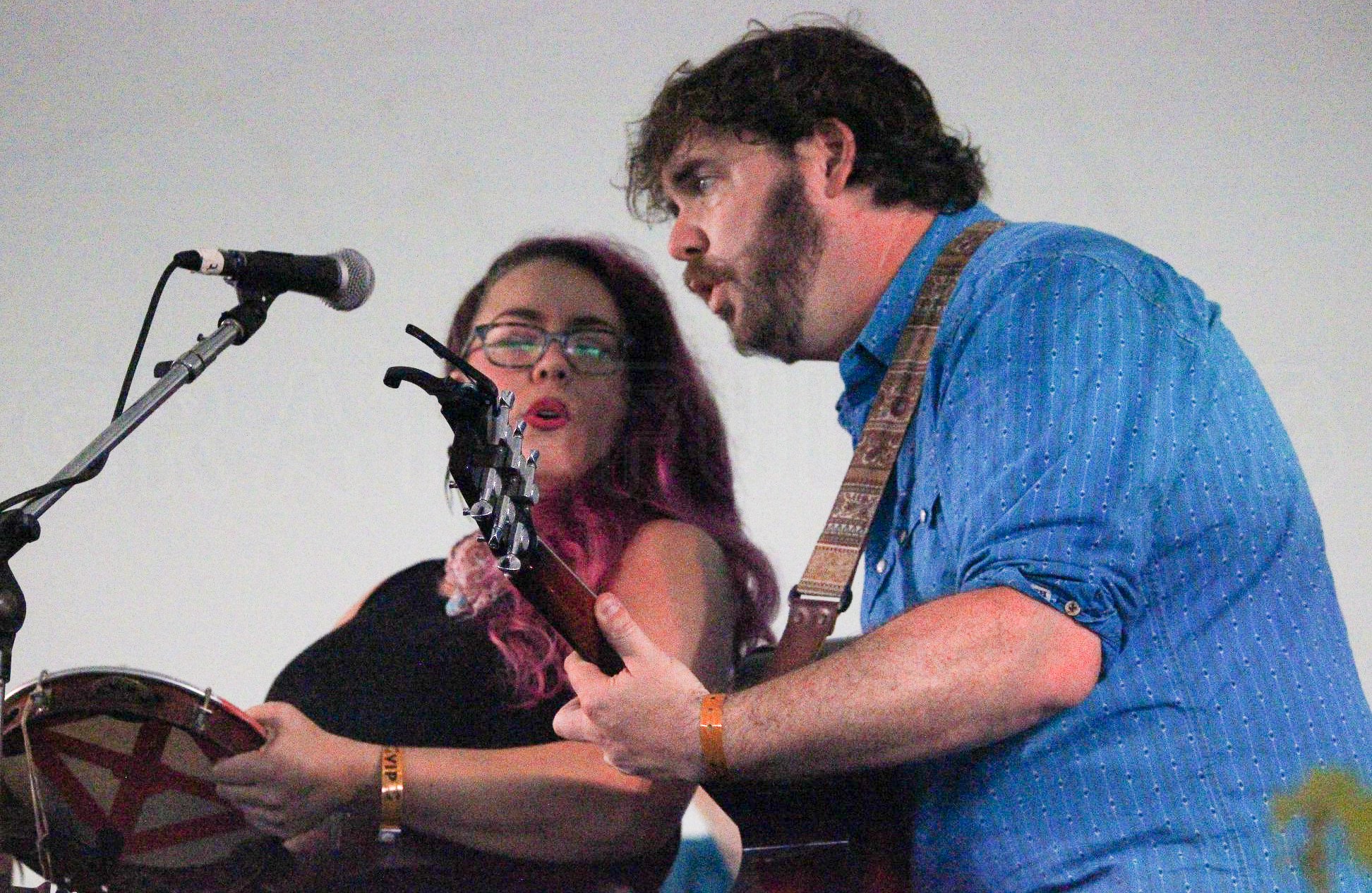 Next up Fireside Collective showed that the pretense of being bluegrass traditionalists was no longer the primary consideration to play at Grey Fox. Sure, this young quintet covered standards. But as their set went on, they played Bob Marley and The Eagles. They were sharing their influences with us, and they weren't limited to just Flatt or Scruggs.
The Hillbenders took the stage next, and I realized that, already that evening, I had and resolved an internal battle. Thursday night I was embracing what was next in the bluegrass scene at the sacrifice of what has always been, specifically Peter Rowan. I had missed his set on the mainstage and now was being sonically rewarded with an alt-country take on Tom Petty. Speaking of alt-country, when I hear that term I think that what is alternative country today is what was called country in the seventies when Willie Nelson, Merle Haggard, and Kris Kristofferson were household names.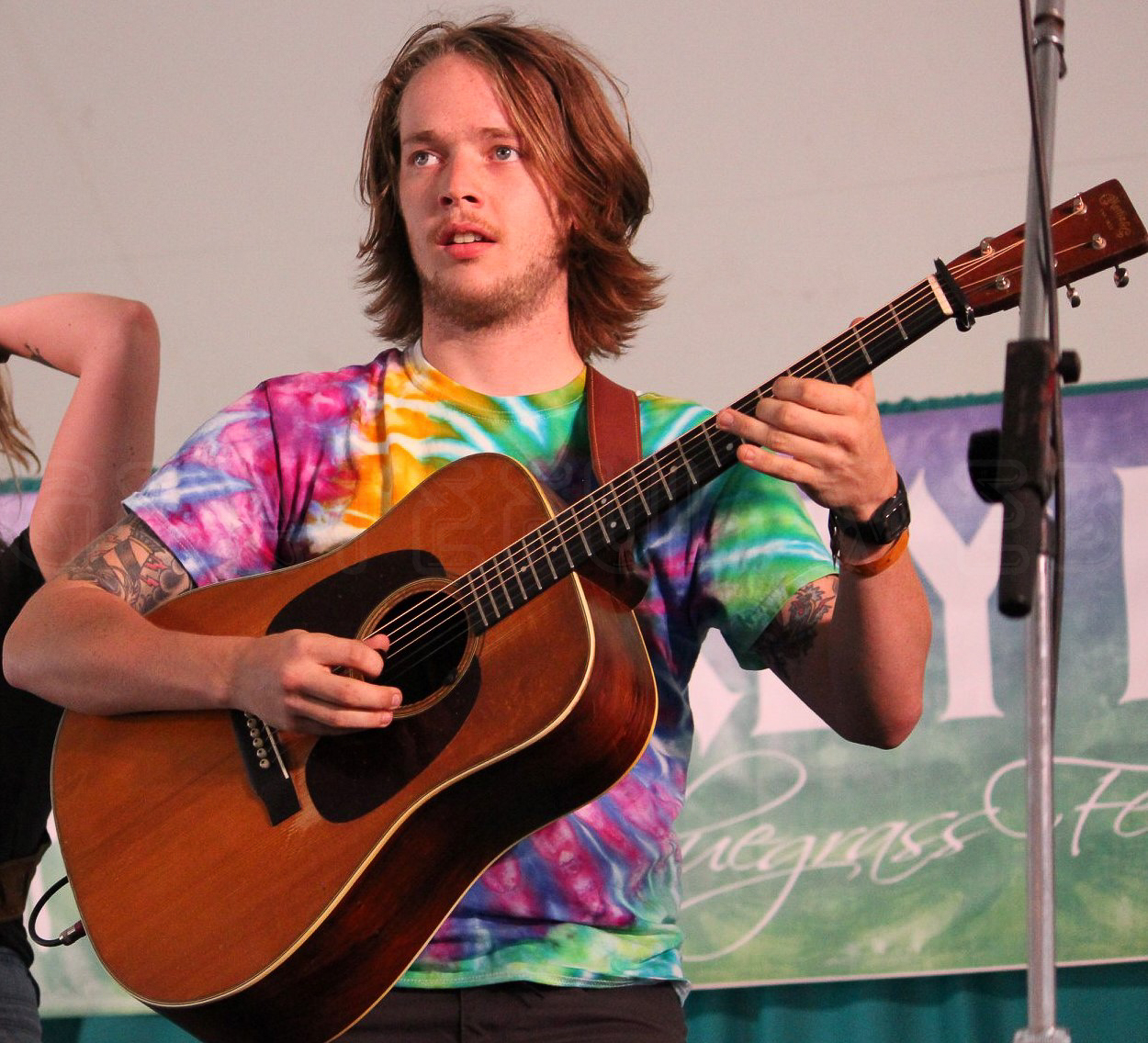 I was alone with my five-year-old son for the first couple days at the festival and as hs eyelids got heavier during the Flatt Lonesome set. I realized my attention too was leaving the stage as I vicariously focused on my son's needs. We made our way back to camp before Billy Strings took the stage. We had not seen a single of the day's headlining slots on the mainstage, yet I couldn't have been happier. I felt like I was beginning to see bands who were answering the question of 'what's next in bluegrass?' and I liked what I heard.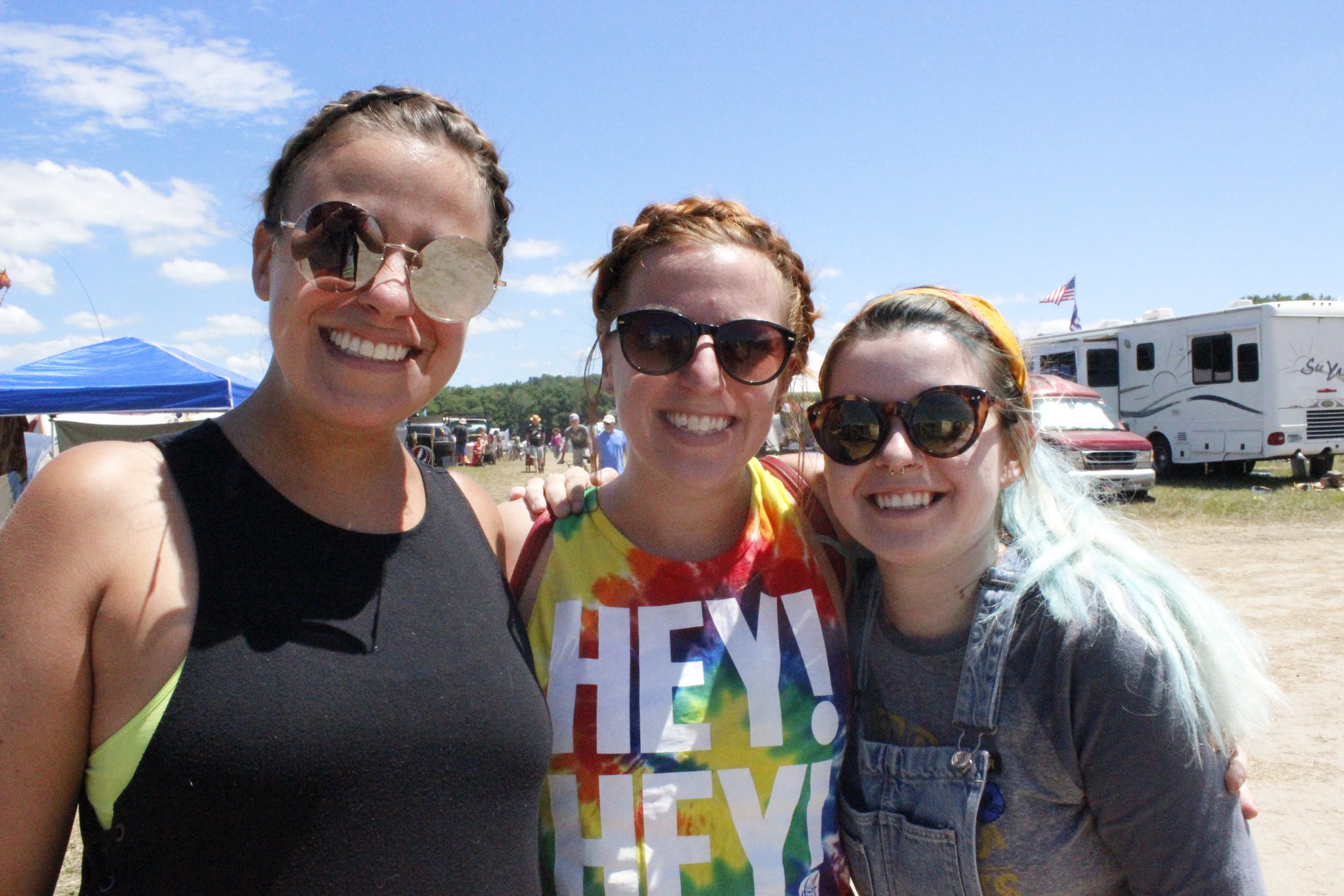 And now, the story about how I got the gash in my head. As I briefly explained at the beginning of this tale, it's not the best part of the story. But if you are still reading, it worked to keep you around. So, in essence, I am a bit clumsy. When my wife arrived later on Friday and rhetorically asked how many times I have already hit my head on the back hatch to our car, I realized that I may be a bit more than clumsy. But that is exactly what I did. I aggressively walked into the hatch on my jeep. A hatch that won't  go all the way up with the storage box mounted to the roof rack. A hatch I've bumped countless times before. But today, in the heat of a hayfield, with the only medical help for miles housed under a white tent that was a 10-minute walk from camp, with one child and no partner in parenting within 2 hours, I really went for it. This collision left no question in my mind, especially since my mind was full of pain and popping color, that blood was drawn. I did not yell. I did not cry. I did quickly brush by my son and into the camper to grab paper towels that quickly confirmed my suspicions as they became immediately saturated and red. Many friends happened to be in camp at the same time so a few minutes of unexplained absence by me as I tended to my wound caused no concern. That was just what I wanted. The last thing I wanted was a worried five-year-old watching blood run down my forehead. Once I had the bleeding under control I quietly sought out the opinion of another parent about the severity of the cut. Her screaming gasp brought the attention of everyone else in our camp, including a nurse, who encouraged me to seek professional help. So, a trip to the medical tent turned into a trip to the walk-in clinic resulting in purple glue holding together the two-inch gash in my scalp.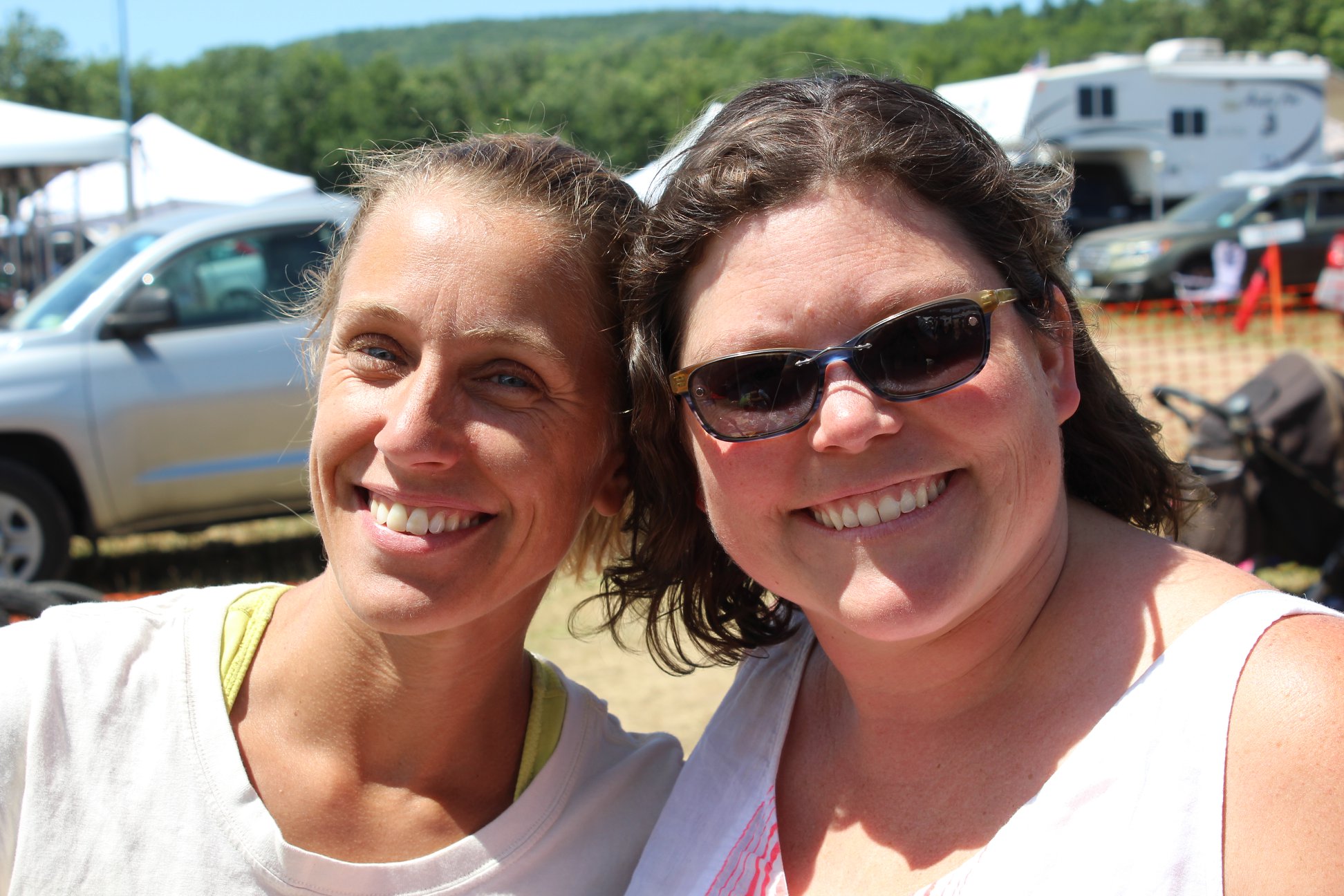 We got back into the festival in time to welcome my wife and daughter who arrived Friday afternoon. I also noticed that the festival was welcoming an influx of new arrivals, some who would stay until the festival ended and some who were just there for Friday. While Grey Fox has a hard cap on space available for camping, it seems that they have found ways to increase revenue by increasing the number of single day tickets sold. So, the first of the weekends sprinters arrived to compliment those of us who were there for the marathon. Sprinters may have showered that very day. Their clothes and feet were clean. They definitely did not have adequate sunscreen. They Sprinters would clearly burn fast and bright.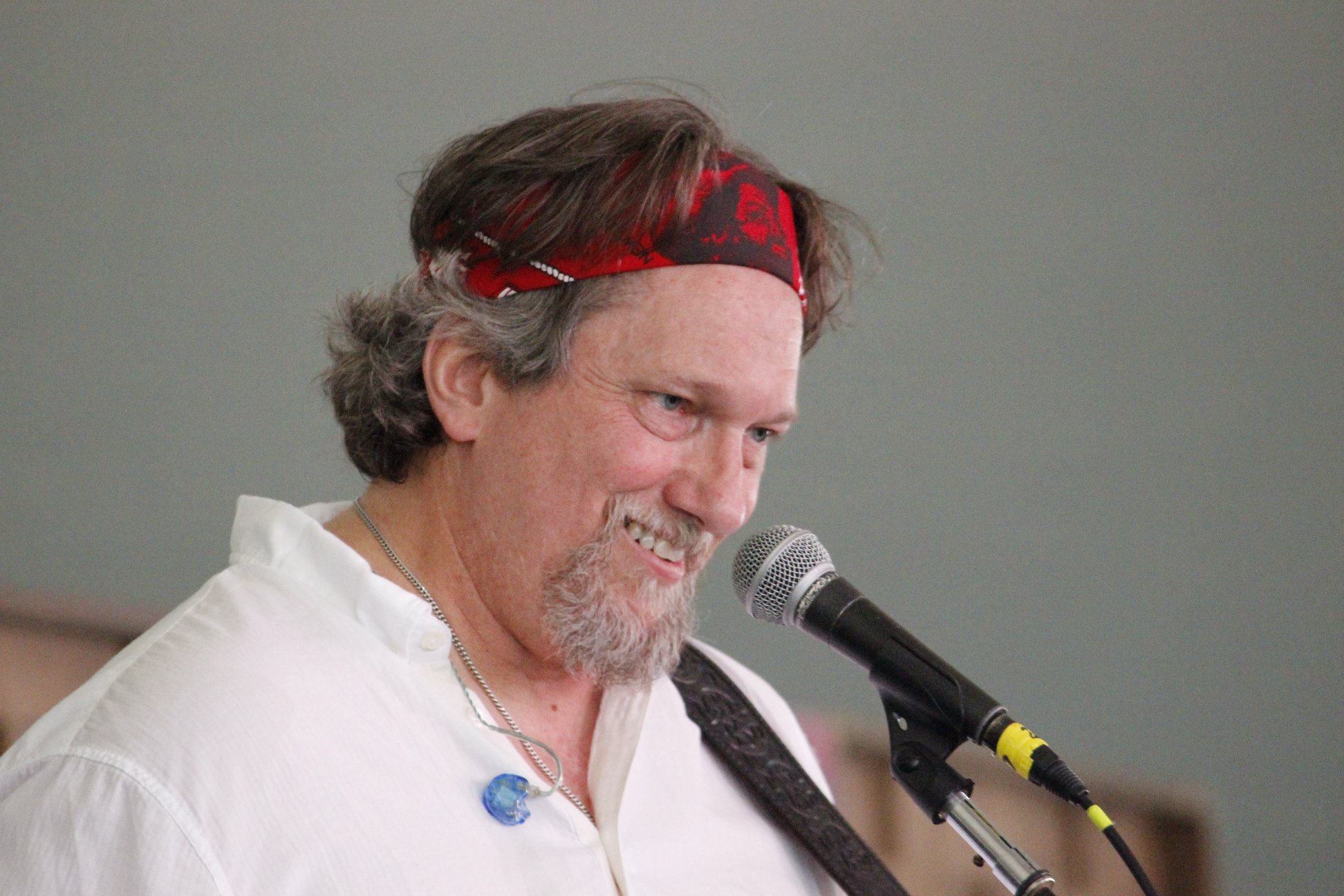 Friday afternoon I was back under the High Meadow Stage Tent. As I leaned on a temporary, yet well-built fence constructed only of pallets, I dug into the set of solo dobro playing by Jerry Douglas. Early on in his set, Jerry recollected that his first Grey Fox, known at the time as Winterhawk, was 1976. And while he deprecatingly let us know that means "I'm old," what it said to me is that there are those of the old boy's club in bluegrass music who are pushing the envelope and embracing new-grass. Jerry can just as easily cover Doc Watson as he covered Jimi Hendrix (twice!) that afternoon. The first of these Hendrix covers was with the weekend's artist-at-large, Billy Strings. I wonder if it's harder for Jerry Douglas to pull Bluegrass into a more modern iteration than it is for Billy Strings? For Billy, this progressive identity is the only identity anyone knows of him. For Jerry, he is rooted in the tradition. It is what defines the first 30 years of his career. Roots run deep and change is sometimes harder than originality, even if they both are on the same path. When Billy left the stage, Jerry told the crowd "bluegrass music is in good hands." As a fan, I can't help but think that he was talking not just about Billy, but about himself as well. When I realized how mesmerized I had been by a 75-minute set of mainly vocal-less solo dobro music, I felt the need to move. His set-closing cover of Duane Allman allowed me to dance my way out of the tent.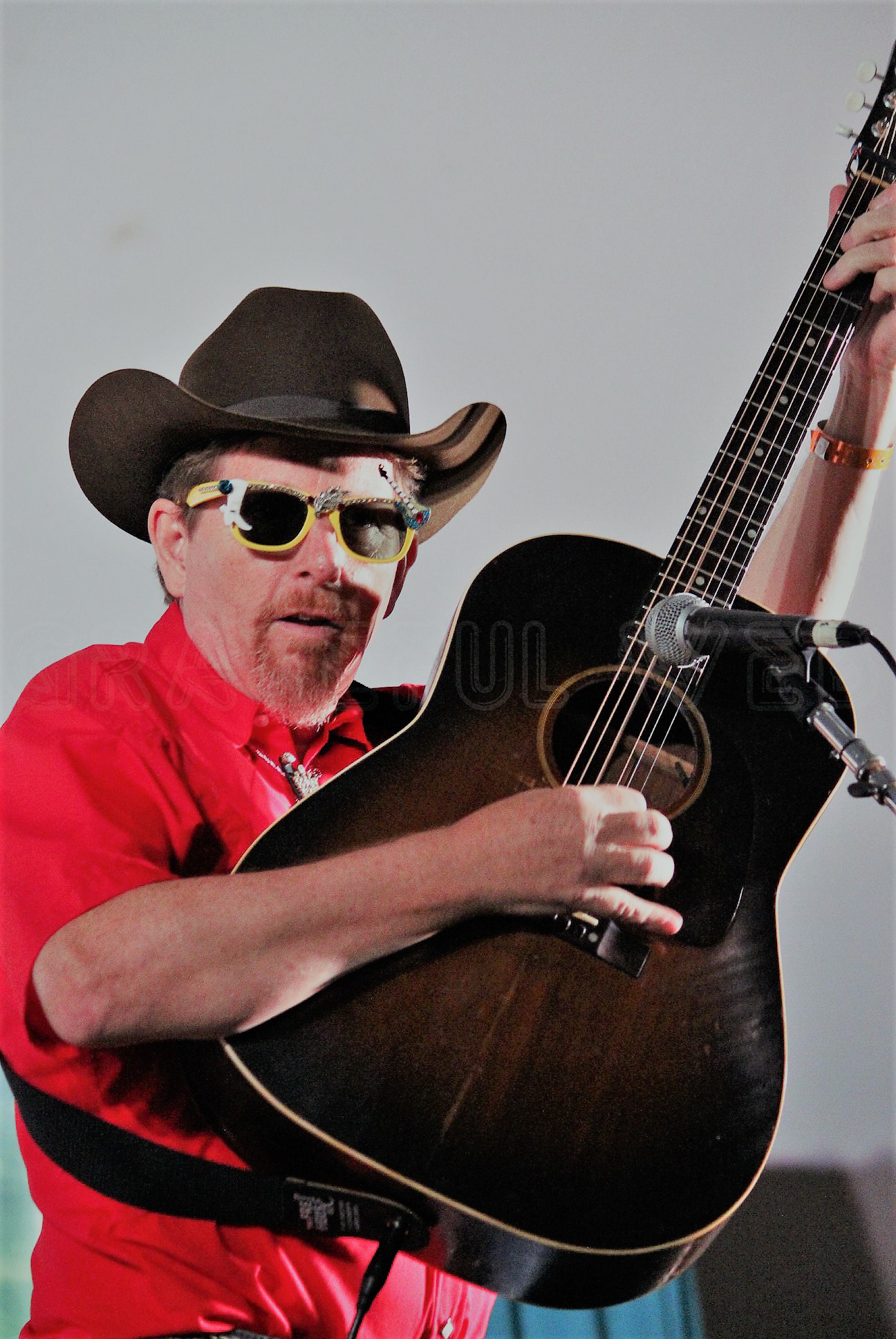 While Grey Fox 2018 was showing me a new generation of working musicians coming along, Friday's early evening was dedicated to the old boy's club. After Jerry Douglas and the mandatory dinner break, I returned to the au-natural High Meadow Mainstage in time to hear Hot Rize's 40th Anniversary show. Even though Nick Forster was unable to play bass that night, Hot Rize still spent the entirety of their set in the pocket. They were spacegrass players long before Leftover or Yonder or any of the bands we think of as the pioneers of newgrass were on the scene. They let their solos become exploratory, not obligatory. Yet they are rooted in the traditional sound of Doc Watson and other founders of bluegrass. They are the chronological bridge between what was and what is. Earlier, when he sat in with Jerry Douglas, Tim O'Brien compared bluegrass music to Camel filters. Neither were designed for too much mainstream acceptance, yet each requires a certain coolness to be accepted. Then, in his deadpan stage banter, Tim turned to the crowd and asked if we were cool enough. The irony being that making bluegrass into this version of itself, a version that is cool in a fringe way, is the crowning achievement of Hot Rize and their contemporaries over the years.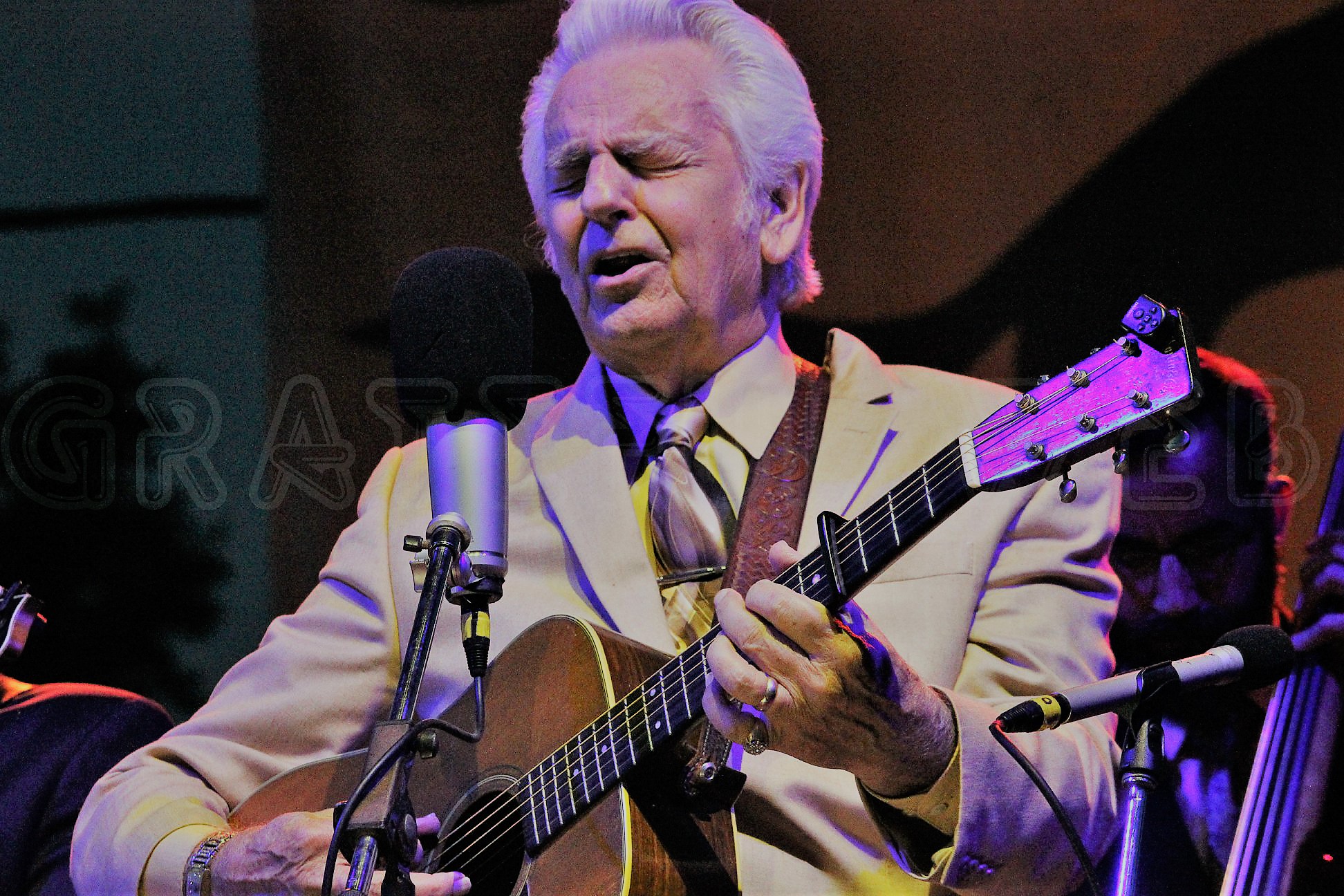 One of our camp-mates, whose musical paradigm is as far from mine as it can be without being a fan of yodeling, thinks of bluegrass a bit differently. "Bluegrass is like metal, just unplugged and without distortion." At times it is hard to see his comparison, but when Del McCoury, the elder statesman of the bluegrass scene, took the stage, I made sense of his thought over and over again. Del's set was similar to his set last year and the year before that. Despite always perpetuating the belief that he will take requests, what ends up being "chosen" by the band includes 'Nashville Cats,' 'Cold Rain and Snow' and other standards. Still, the band drove into these tunes at full speed, with strength and ability that goes unmatched for every player and singer. The band still wears dark suits, offset by Del's lighter suit and quaff of white hair. The banter is part comedy, part-time killer and fully rehearsed. I will always carve the time out of the schedule to see the Del McCoury Band. As so many before and so many after would, Del welcomed Billy Strings to the stage for a sit-in. What impressed me most about this particular guest appearance, beyond Billy's voice and guitar playing skills, was that Del put his guitar on his back and stepped away from the microphone to let Billy play lead and sing lead during his sit-in. Del takes a backseat to no one. This was the strongest signal of accepted change I had seen all weekend.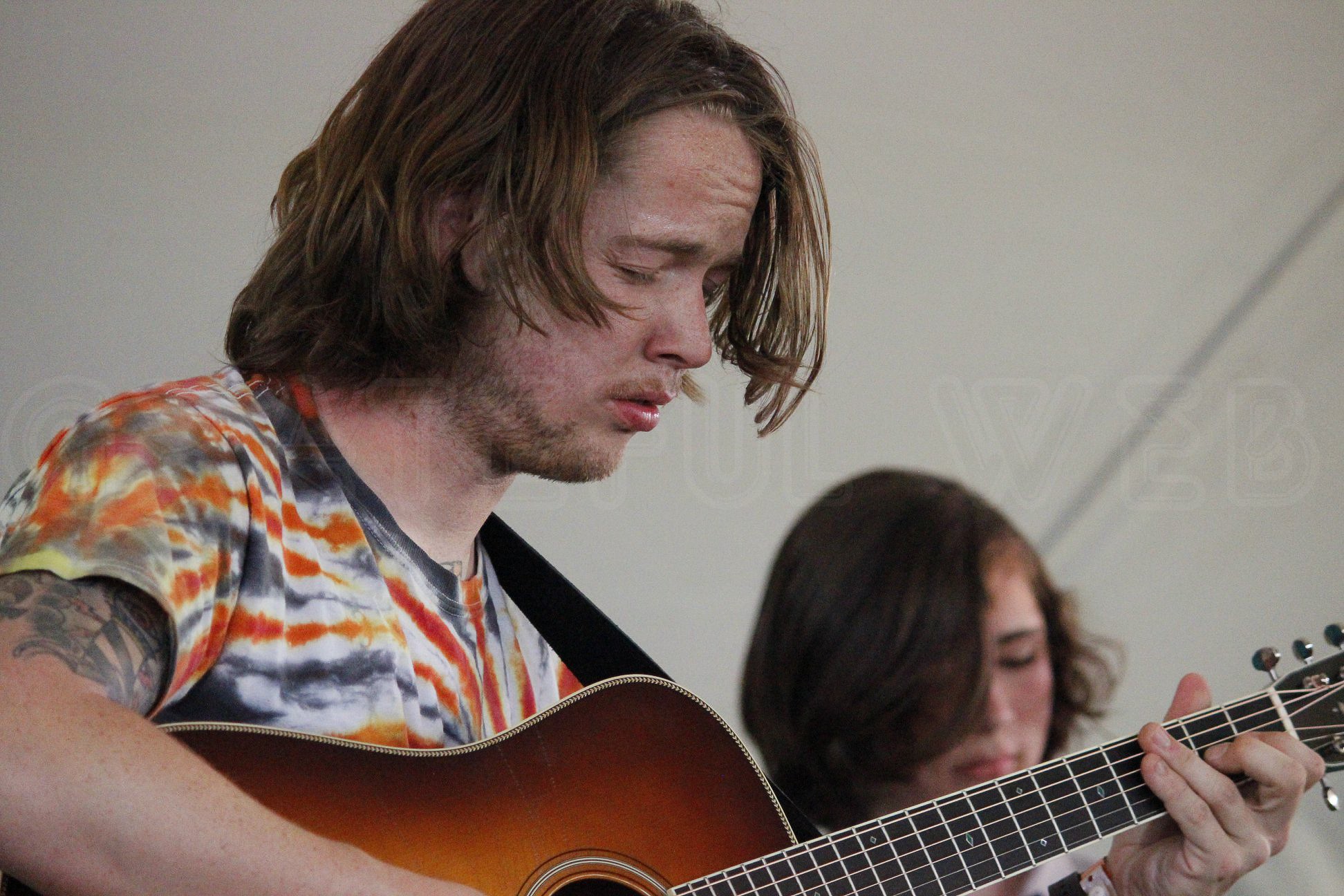 After Del's set, I finally was able to see Billy lead his own band. I was a bit speculative before the set. I had seen him sit-in and play amazingly with other bands but was yet to see what he would do with a band of his own. I am further worried when I see a band named after the lead singer, as this set had been on the schedule. But as he had done all weekend, Billy pleasantly surprised me. He has surrounded himself with like-minded musicians. Players who were comfortable playing the standards and who were comfortable moving more towards psychedelic exploration of the music as the clock clicked closer to midnight. The lines separating bluegrass and jam music were further erased by this up and comer.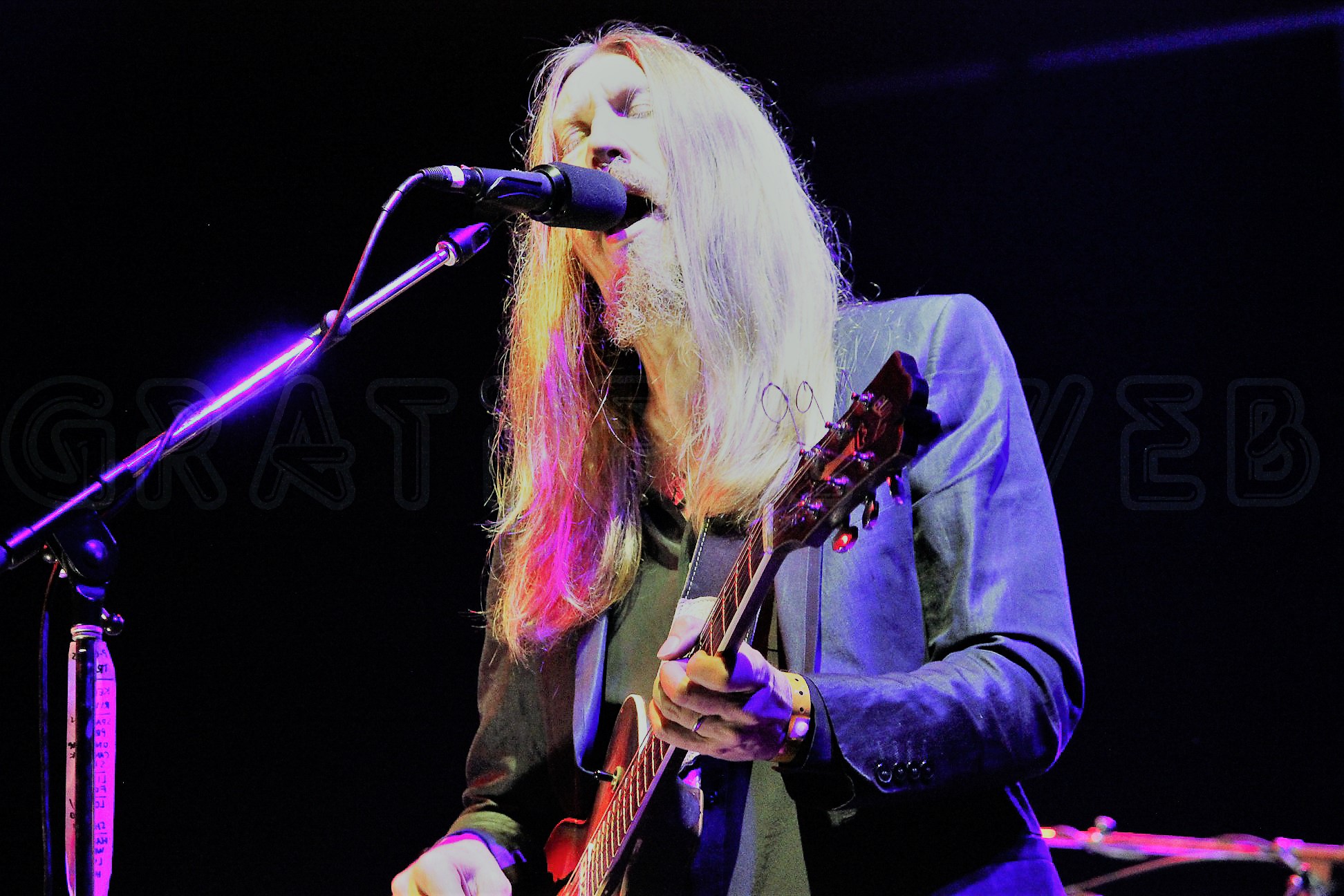 Although the Wood Brothers took the stage next, the crowd dwindled as the clock struck midnight at Grey Fox. Tradition is still comfortable, more so for the attendees than the players as a whole, and midnight is the end of the music day. So as the old guard left the seated part of the mainstage field, while the younger folks filled in the small dance section to the right side of the stage. This caused an interesting experience for the Wood Brothers as they took the stage. The area directly in front of them was sparsely populated with sitting fans. Yet the dancers were lapping up what they had to offer, music falling outside of the box of bluegrass, no matter how you spun it. The Wood Brothers were playing their second Grey Fox, showing the respect that the organizers and fans alike have for this band, even if it's music that challenges their conceptions of the festivals traditional face. So, what is it that gets the Wood Brother's invited back each year? Well, if you look past Oliver Wood's amazing non-bluegrass voice and the fact that they have drums and keys (played simultaneously by one person, sometimes while singing harmonies), what really separates the Wood Brothers from other bands is the bass playing of Chris Wood. I had never been up close enough to see his tentacle-like fingers wrap around the neck of his bass. His playing pushes the instrument to its fullest. Of course, I found Mary Burdette sitting side stage for this set. Afterward she let me know how taken she was when Chris broke into dance. Seeing how his mind interprets rhythm as he moved across the stage to a beat only he could hear, shows us as listeners where the rhythms he plays find genesis.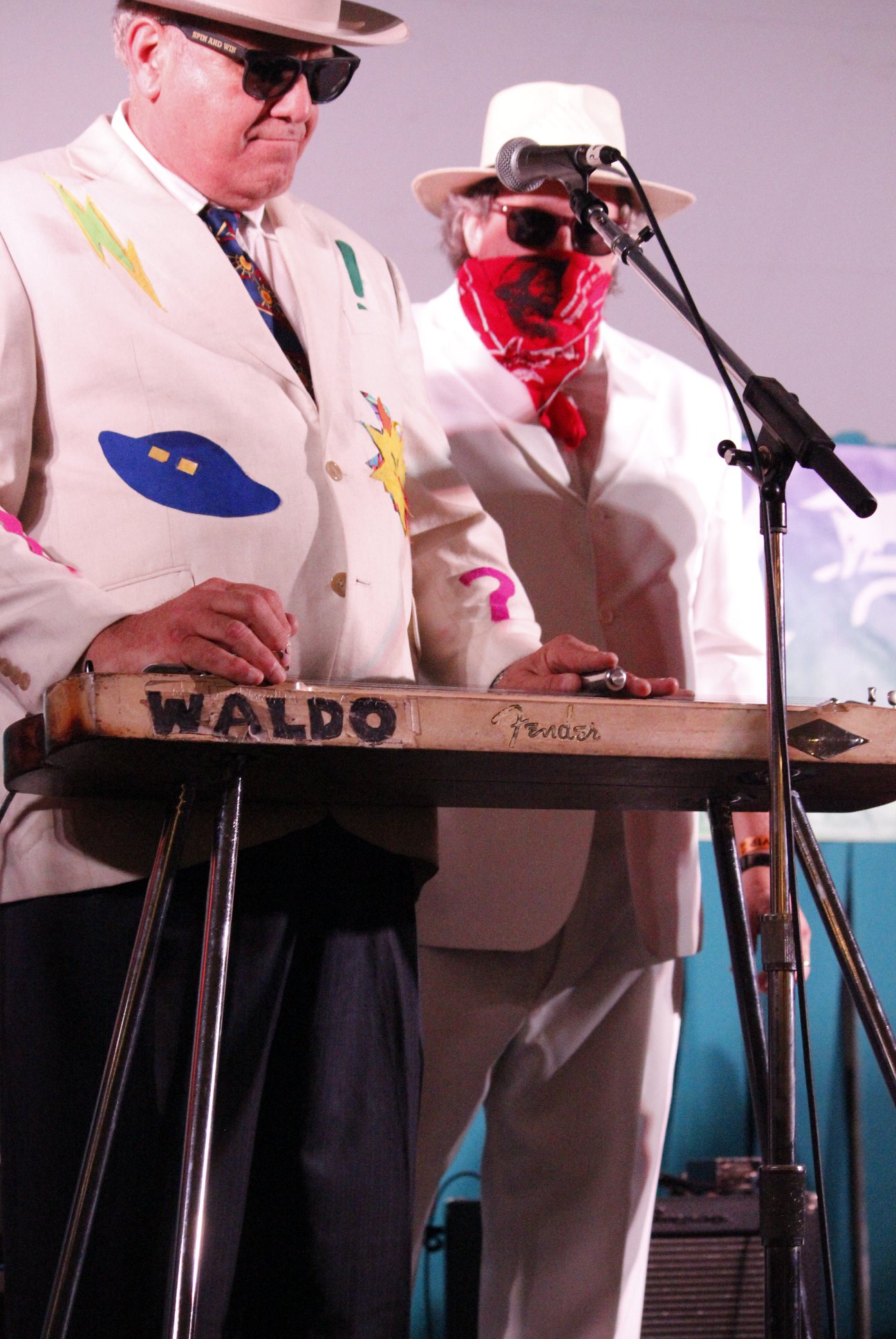 Before the Wood Brothers set, I wandered passed the Red Knuckles & The Trailblazers set on a stroll. This is a band made up of the players from Hot Rize, assuming alter-egos and playing more rockabilly-grass. The band seem to be growing to include players from any other bands who have a pair of sunglasses and a desire to jam a little more outside the traditional confines of bluegrass. As I walked by I saw Jerry Douglas on stage. But upon further investigation I realized he was without an instrument. He was just standing stoically on the side of the stage with a bandana over his face. This, plus his hat pulled down and the dark sunglasses gave him the appearance of a modern bank robber embracing the character of outlaw form the Old West. He only pulled the bandana down to sing the occasional lyric and smoke a cigar. Now, read the following sentence and go back to read the last paragraph- The scene at the Red Knuckles show had the same vibe as a rap concert. All in all, everyone on the stage seemed to be right on the same level with everyone on the crowd who was enjoying the buzz that a full day of music can build towards in the wee hours of the night.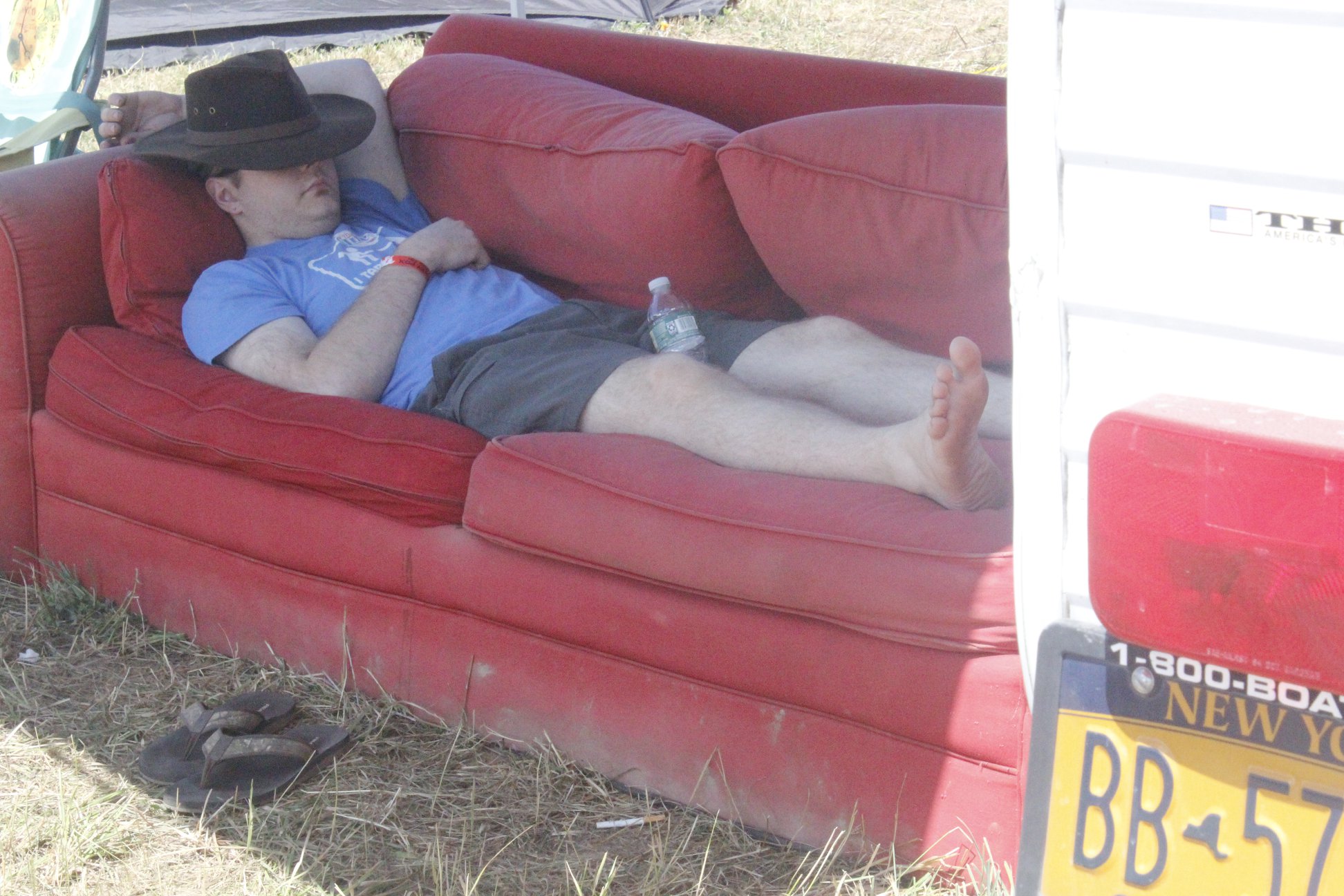 Saturday started as the third day at a festival often starts. I was a little burnt out. A little frazzled. My senses had been overloaded. My sleep bank had been overdrawn. The perfect cure for this is time under the kids tent. And apparently tabouli salad. Neither of which were for me. But when you are at the Grey Fox kids tent, appropriately named "The Family Tent", everyone gets something. For me, it was rest. The tent blocked the sun and a cool breeze moved underneath as the impending cold front and rain began slowly moving into our region. I leaned against one of the tents poles. For the kid, they get the entertainment. Puppet shows with pertinent social stories and sing-alongs with players genuinely happy to be playing along with the offbeat rhythms of children armed with their own plastic guitars and noisemakers. And of course, The Chicken Pot Pirates. I expounded on their brand of humor last year, so I won't go too much into it. But when the tent is packed and all of the kids are doing every gesture and repeating every word of their complicated "do as I do, say what I say" songs and they are getting requests screamed at them- exclusively from parents- you know that they have got both the young and old hooked.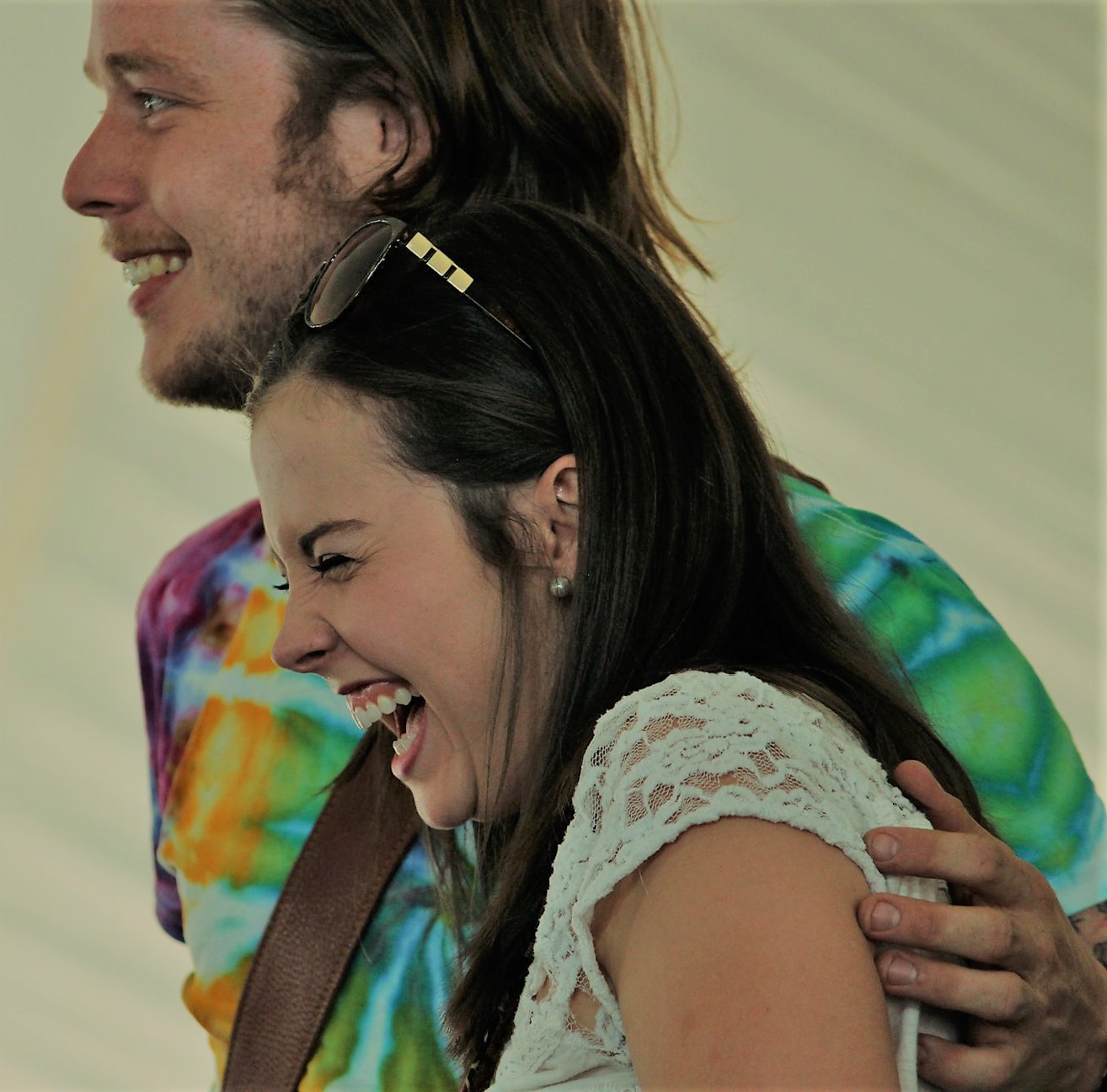 Between the puppet show and dancing/sing the "David Hasselhoff song (a song always requested by the dads, according to the Pirate of the Chicken Pot Pirates) it was time for music. The night before an amendment had been made to the Saturday schedule and the Sierra Hull set that was scheduled to be solo was turned into a duo set. I'll give you two guesses who was added to play with her. The first guess doesn't count. That's right, Sierra and Billy Strings played an amazing set of standards and originals, a set that felt rehearsed and polished. Later in the set Sierra told the packed crown under the Catskill tent that this duo had never played together as a duo. They have shared the stage, called out to jam with other bands or during super jams, but the two of them had not rehearsed a single note.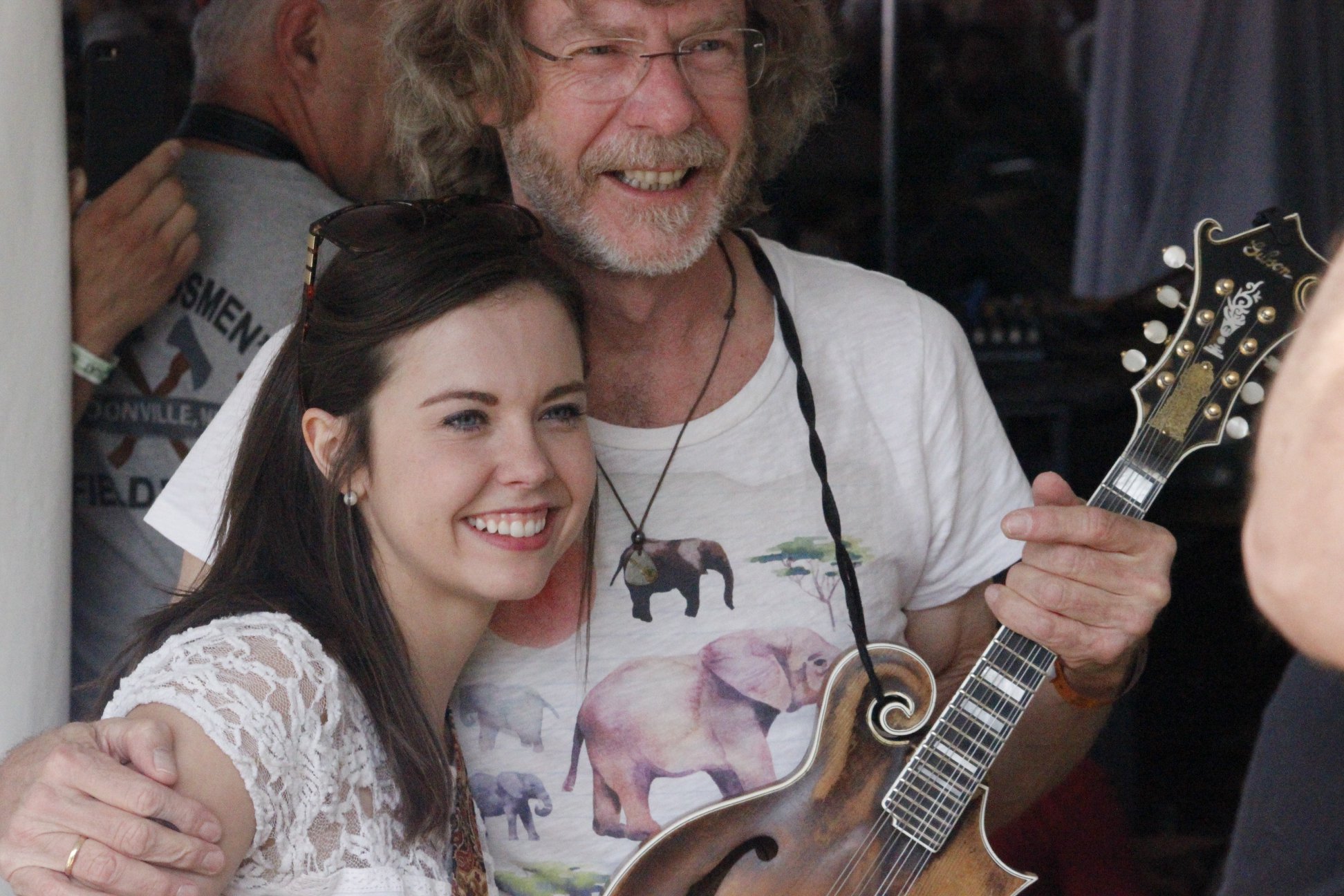 This turned into the afternoon of Sierra Hull, as I found myself under the Creekside tent for her next set. This time, the vibe was even more mellow with Sierra joined by one of her favorite and inspiring elders on the mandolin, Sam Bush. The duo played together and told stories of their connection that dates back to when Sierra first met Sam at nine years old. Despite the fact that this was only 15 years ago, Sierra has come incredibly far in that time. As Sam told us, she has let the old boy's club know that bluegrass isn't just for boys anymore.
It goes without saying that Della Mae has turned the gender-specific assumptions of bluegrass upside down as well. An all-female band that has grown up here at Grey Fox (the lead singer tells the story every year about how her first Grey Fox was as a volunteer on the trash crew), they have grown into a well-deserved headlining slot. They still love to play a set on the Catskill Stage, where they can be more experimental and let their rock and country influences creep more to the forefront of their sound.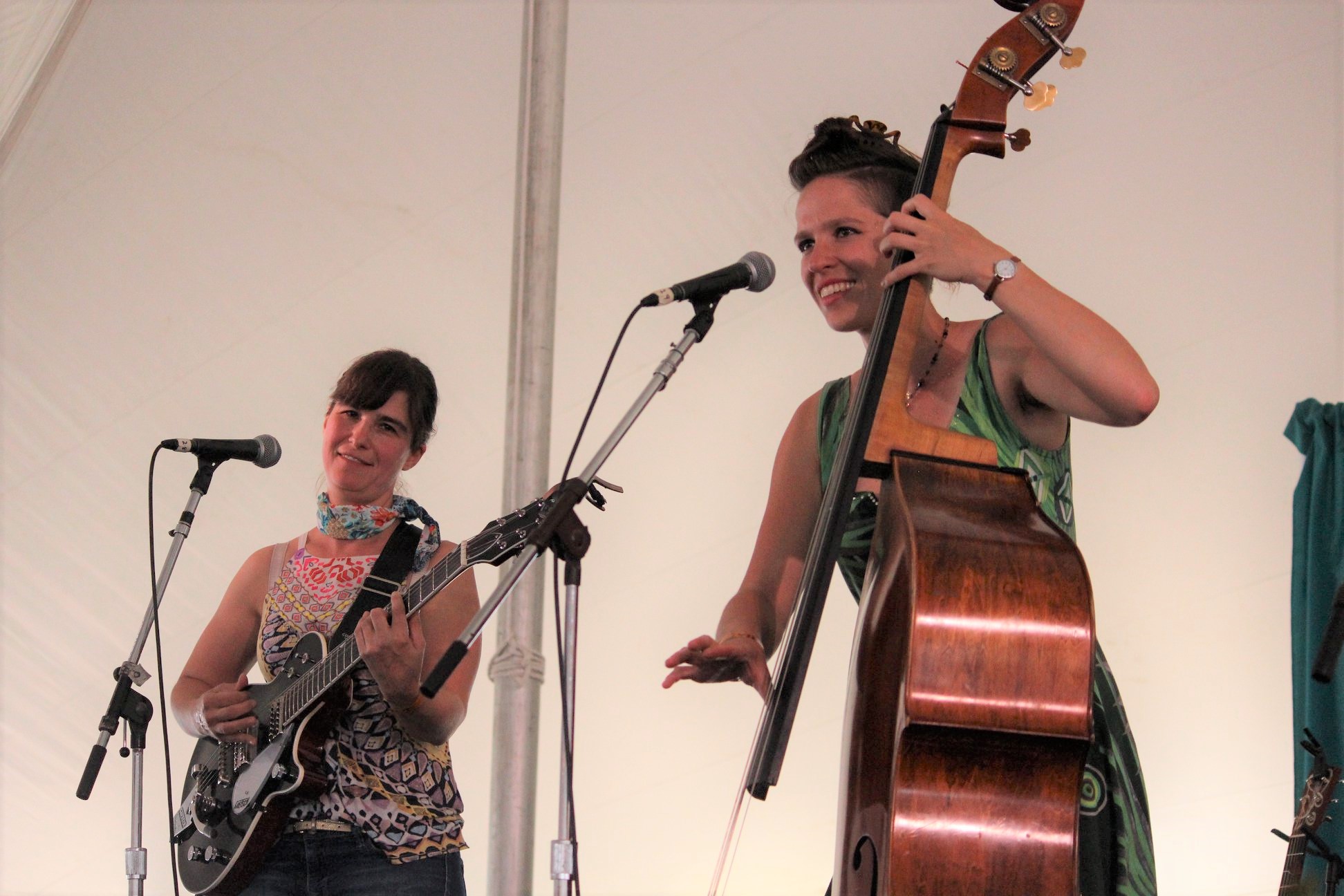 By the time Della Mae took the stage and let us know that the weather was perfect and that we had paid our penance with the weather at Grey Fox 2017, I had haphazardly battened down some? most? of the hatches in anticipation of the Nor'easter expected to hit the festival in the earliest hours of Sunday morning. During Della Mae's set, I heard that they had already played an unannounced set for the kids from the Bluegrass Academy early in the day. They explained how excited they were to see so many girls in the academy. Of course, they need to take some of the credit for that. I mean, for my daughter, Della Mae is like NKOTB was for girls when I was young. And if you don't know what NKOTB stands for, it's cool. Clearly, that reference wasn't meant for you. Of course, Billy Strings had to show up for a sit-in. Clad in what had become his uniform for the weekend, a tie-dye t-shirt and a wispy early twenties version of a beard, Billy helped Della Mae to continue completely erasing the line between many of the bands at Grey Fox and the jam scene in their cover of 'Mississippi Half-Step Uptown Toodeloo". The ladies went on to cover A Shania Twain song questioning whose bed a cowgirl's boots had been under and the TLC song No Scrubs. These two songs embracing different view of women's empowerment don't need any mansplaining from me. Needless to say, the message was clear.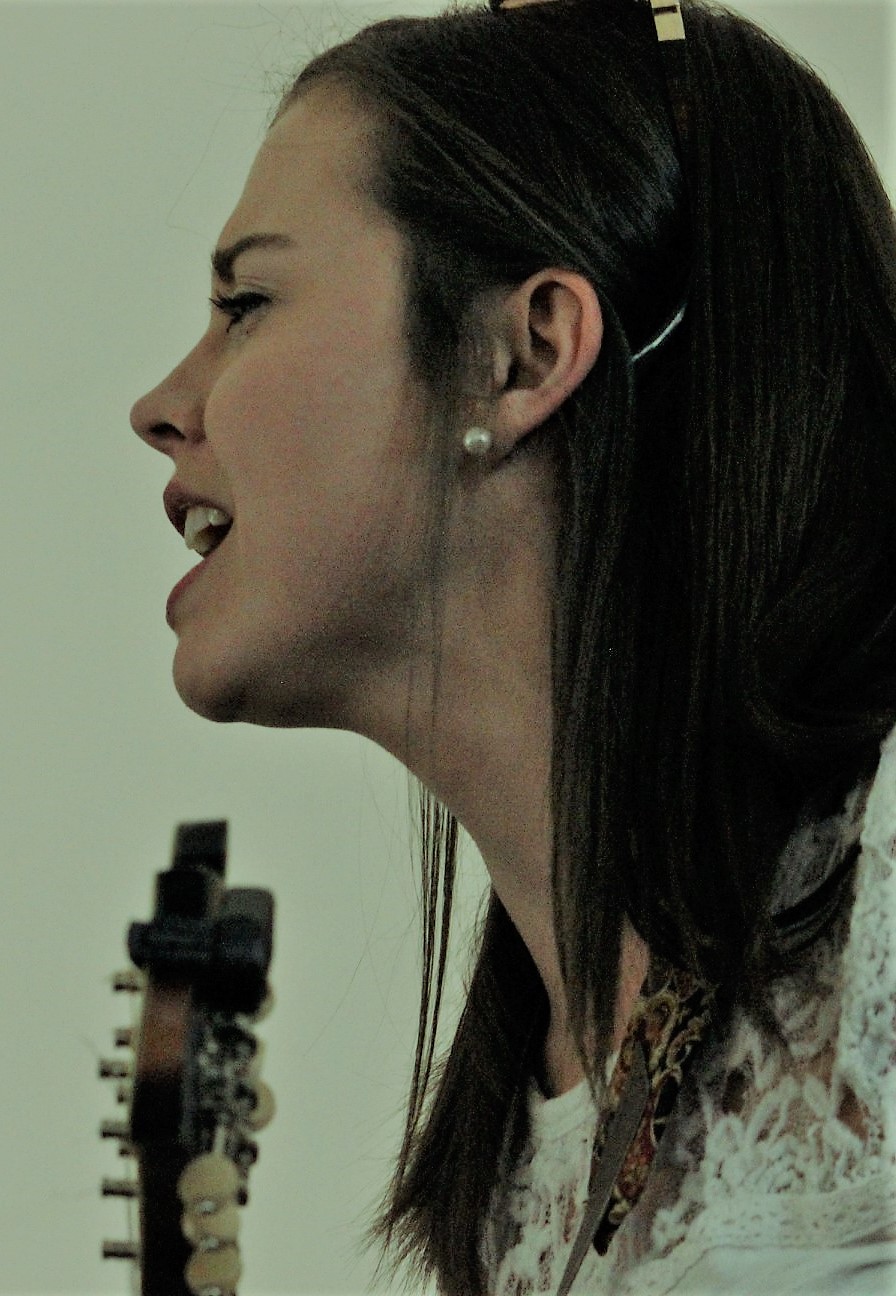 After seeing two sets of Sierra Hull in duos where she played a smattering of her own music and many covers, it was exciting to see her take the mainstage with her own band. It also gave me a chance to revel in the stage introductions at a bluegrass festival. "IBMA award winner" in this category, "three-time mandolin player of the year" recognized by this group. Can you imagine what jamband intros would sound like if they did this? Just kidding, we aren't organized enough to vote on anything. Besides, voting creates a false sense of rating man. "Winner of tons of thumbs up and stoned high fives for 30 years, please welcome Phish!"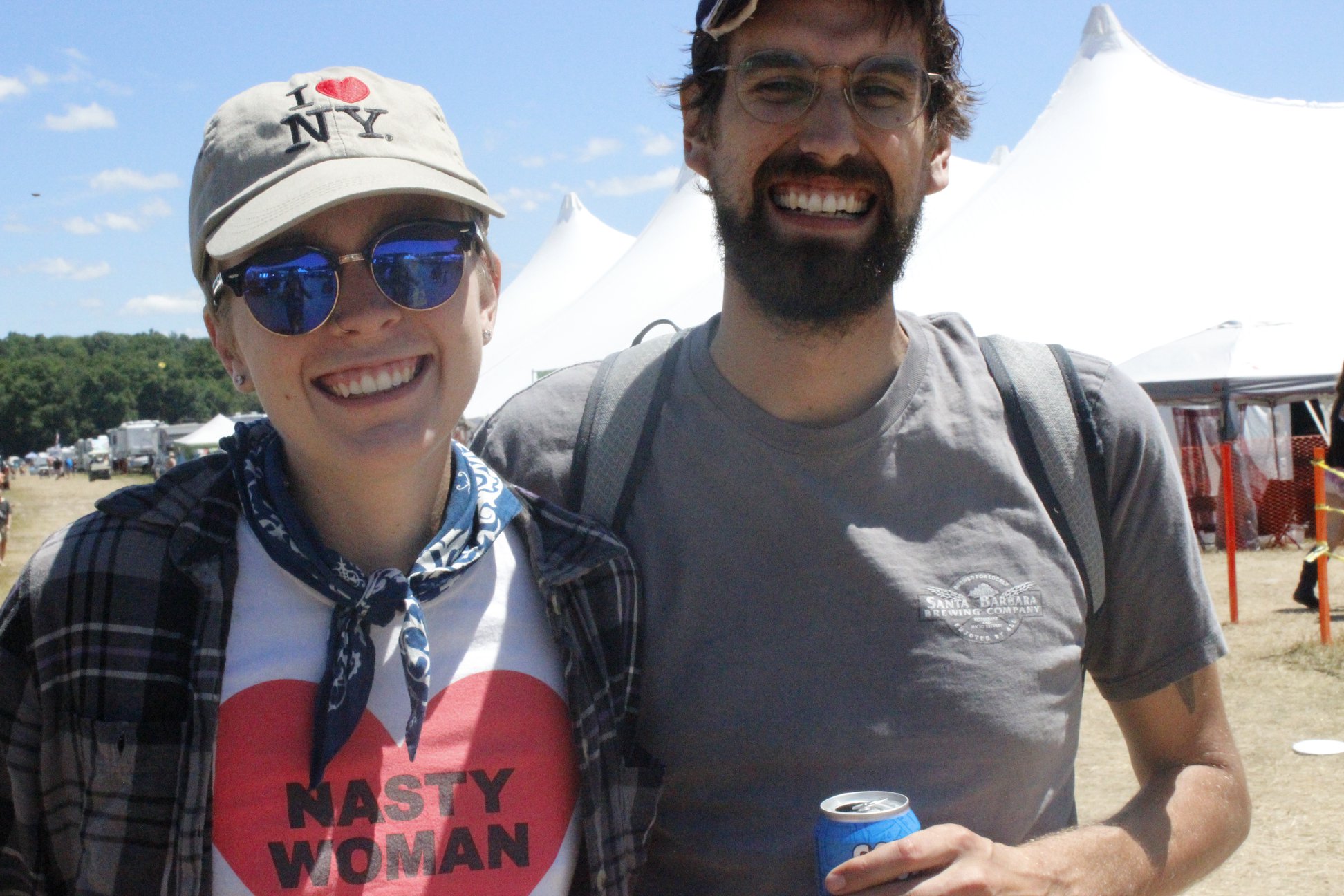 From my superficial listening place, it seems that Sierra took the entire Nickel Creek catalog in as a child. She can blend what Chris Thile brought to that band as a mandolin player and what Sara Watkins brought as a vocalist. This sound is not always a big sound; it's more about precision and orchestration. Sierra's physical self may be best described as diminutive, but her sound is anything but. And physically, she isn't going to grow, while musically, she will clearly swell up to be at the forefront of the bluegrass scene for years to come.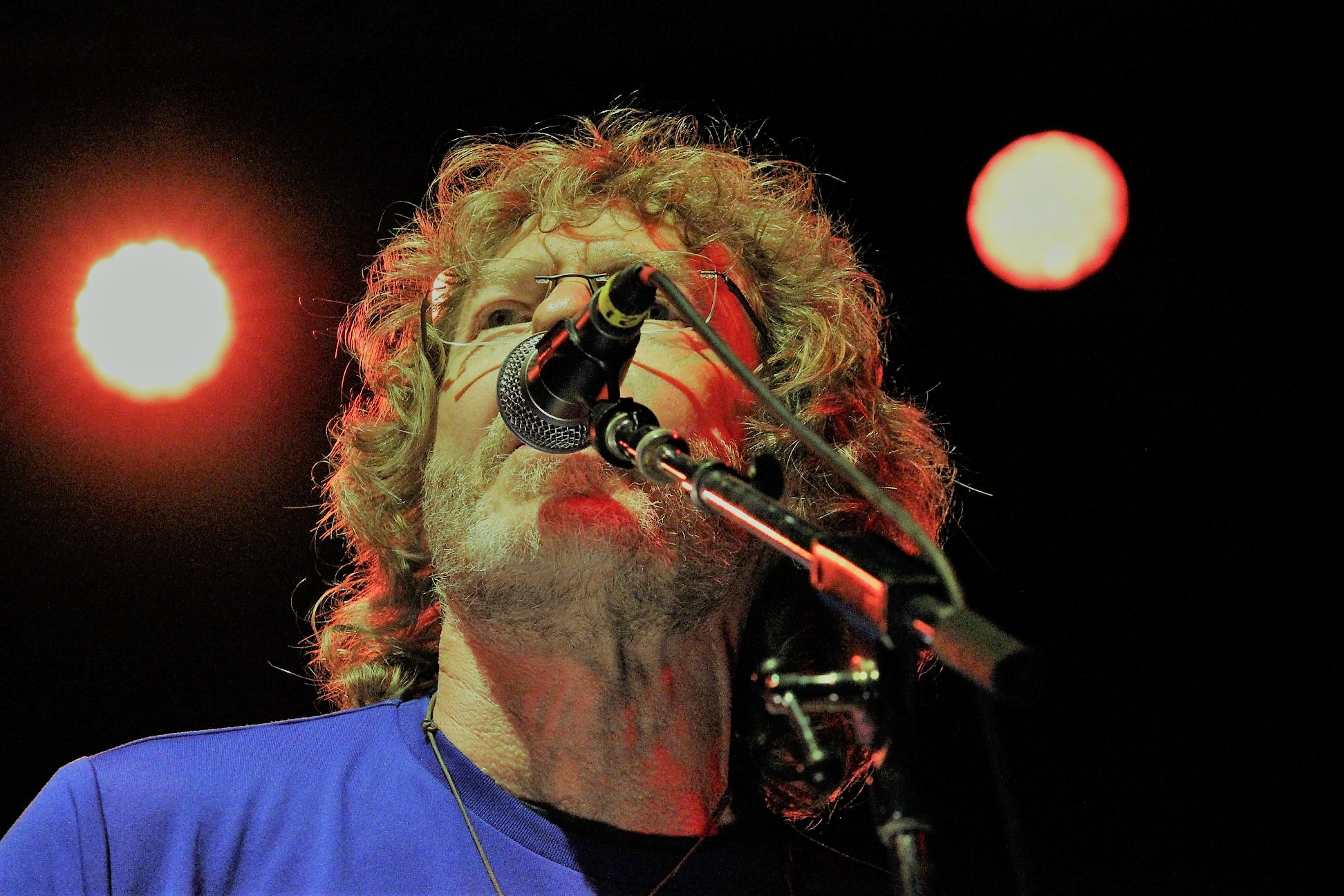 The last two headliners of the night on the High Meadow Stage did not disappoint. Sam Bush was joined by his longtime band and played all of his long-time hits. His sound is equal parts pop-jam, reggae, and bluegrass. What sets Sam apart from other bands playing similar sounds is his ability to weave these sounds together throughout his set, even within each song. Whether on fiddle or mandolin, Sam always is in control of the chaos coming out.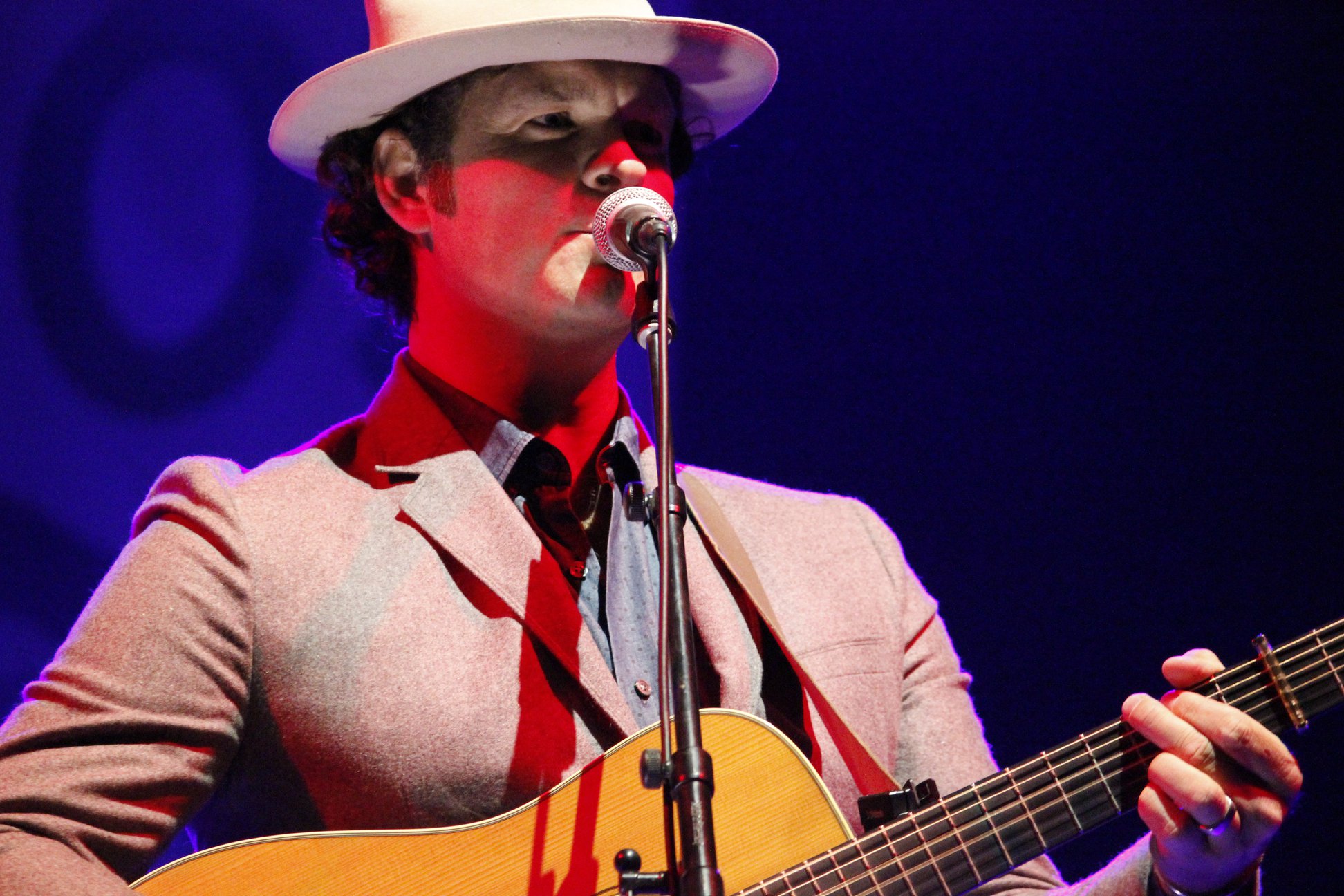 The Steep Canyon Rangers embody everything about the growing band at Grey Fox. Years ago, you could count on them playing at least one set under the Catskill tent before playing their early evening slot on the mainstage. These two sets would always be so different, like two different bands. On the Catskill Stage, they would play in t-shirts and flip-flops. They would explore. When they took the mainstage, they were in ties, and the music was just as buttoned up. Now they have grown into a band that blends both styles. Sure, some of the guys are in ties, but that is because they want to be. And their musical identity is bridging that divide as well. They are exploratory, yet traditional. Forging their own path, while praising those who came before them. No other band seems quite as ready as The Steep Canyon Rangers to find success that goes beyond musical borders. They are the kind of band that could headline at Grey Fox, Newport Folk Festival, and Bonnaroo all in the same summer.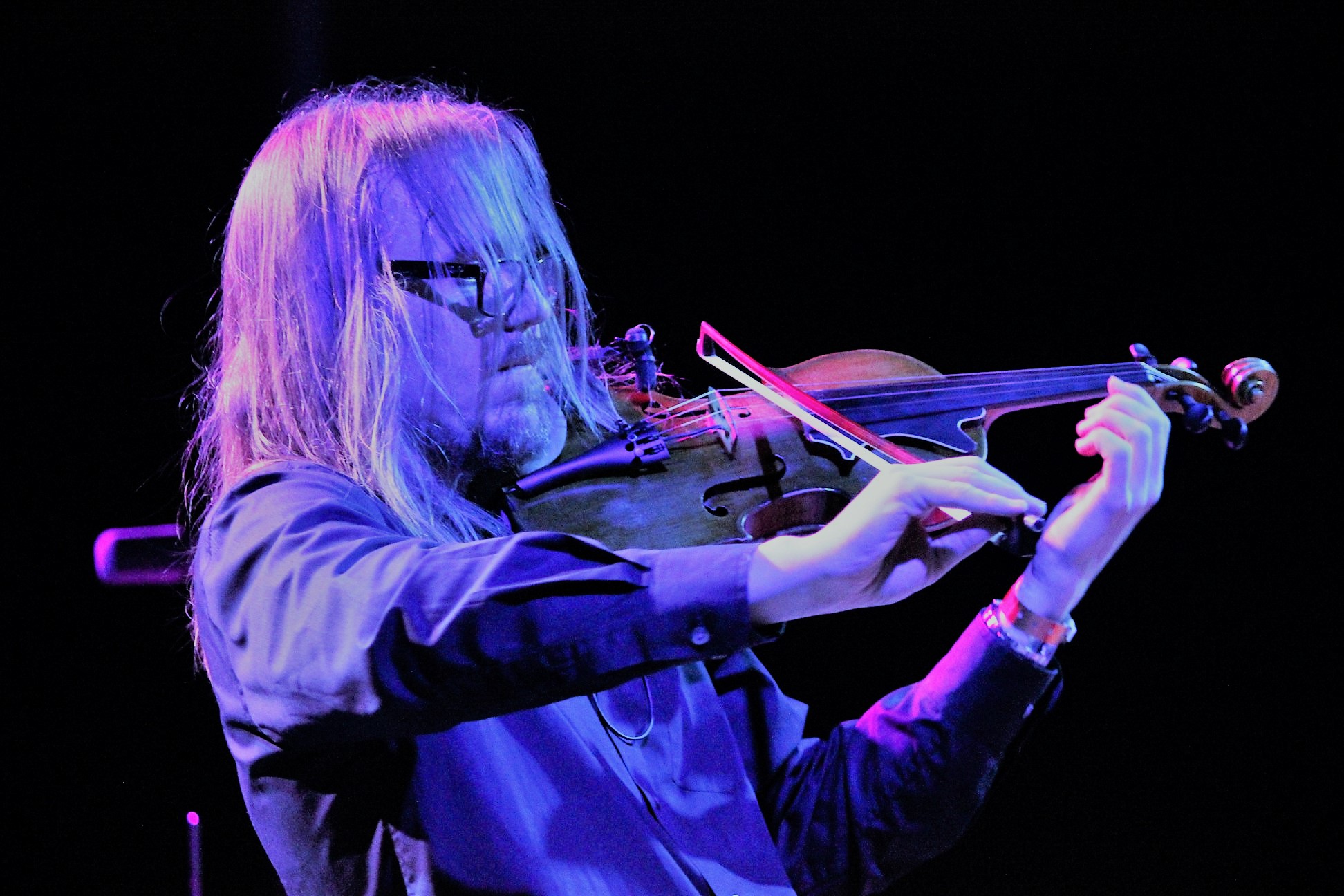 The rain started to fall as the Steep Canyon Rangers finished their set, but my intuition had told me to leave the mainstage and forgo the Della Mae late night set in favor of the Horseshoes and Hand Grenades set under the Catskill tent before calling it a night. Regardless of how Della Mae sounded, I made the right call. After the obligatory sit in from Billy Strings, the band rocked through originals and covers alike. These young rockers were the perfect way for me to end the day. Before their set ended, I made my way back to camp. As my head hit the pillow, I heard the first of the heavy raindrops on top of the trailer. The Nor'easter was here, and I was spent.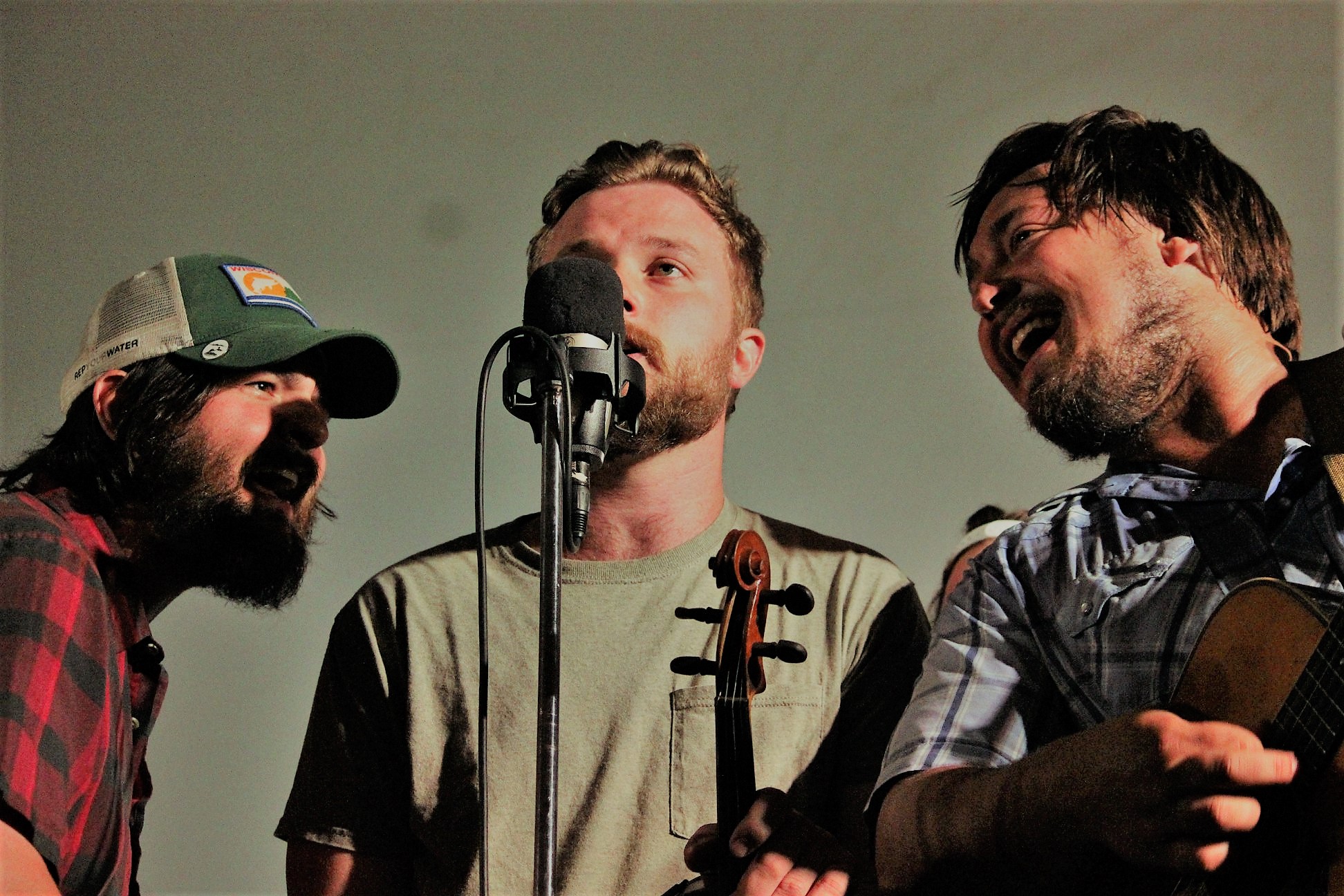 When we awoke Sunday morning, the rain had not ended, getting stronger overnight. The question as to whether or not to watch or camp-mates son play on the mainstage along with the all of the other graduates of the Bluegrass Academy had been answered by Mother Nature. We packed up, and before the roads throughout the camping area, roads bearing the names of the greats of bluegrass got too muddy, we made a right off of McReynolds Ave. onto Watson St. Just like that, Grey Fox 2018 had ended.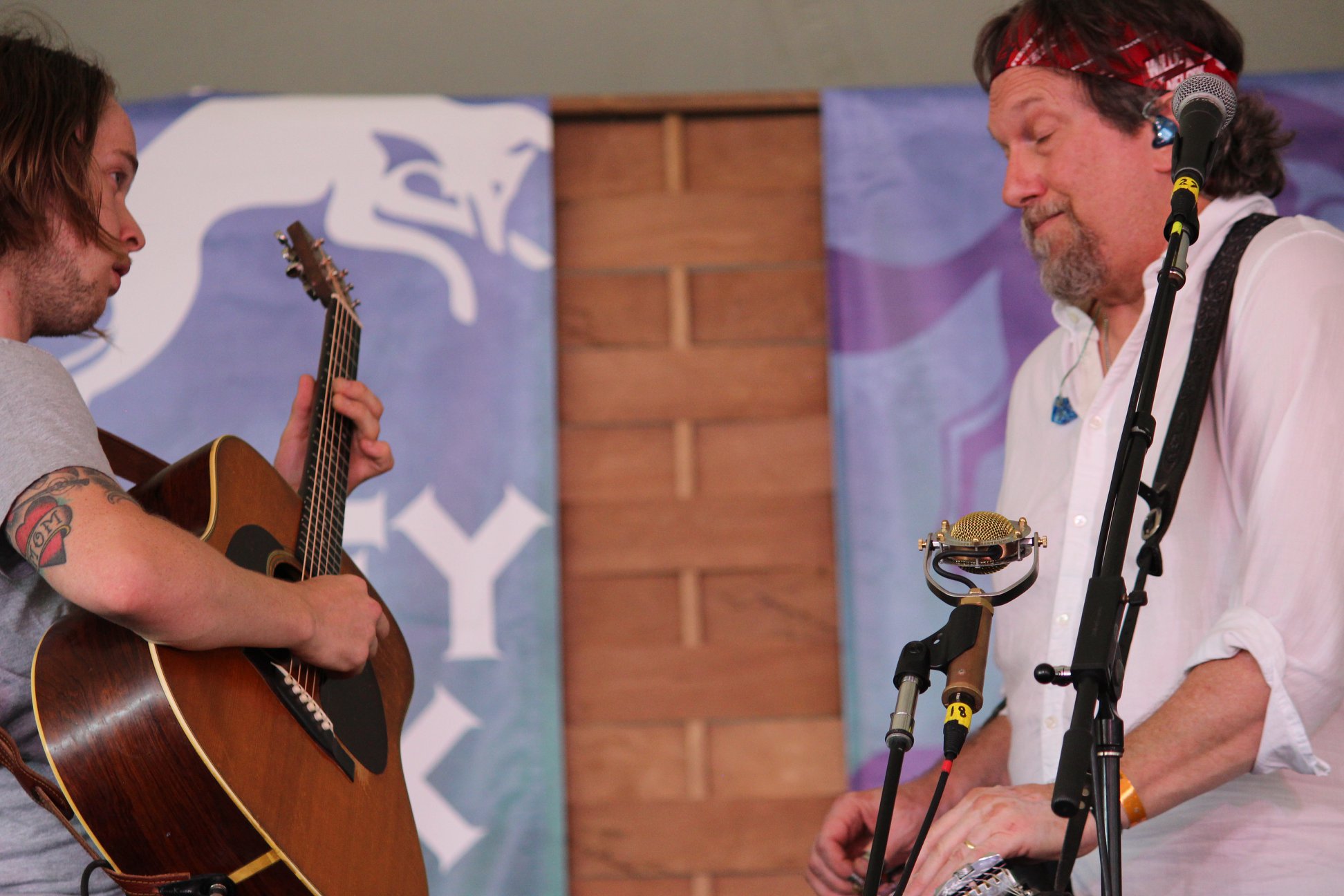 Driving home, I couldn't help but think back on what Jerry Douglas had said. Bluegrass music is in good hands. But those aren't just the hands of Billy Strings. Those are the hands of Sierra Hull, of Della Mae, of Front Country, of Fireside Collective and of so many more. When we first came to Grey Fox all those years ago, The Infamous Stringdusters, Elephant Revival, Steep Canyon Rangers and The Punch Brothers were the up and comers. Now that these bands have secured the headlining slots alongside the founding fathers of bluegrass, the up and comer scene needed to be restocked. It has been. But instead of following the conventional expectations, the new rising players are redefining bluegrass.