From their debut performances at the Village Gate, a historic jazz club located on the west side of Lower Manhattan, to their high-profile collaborations with an eclectic variety of musicians, avant-jazz funk trio Medeski, Martin & Wood have developed a signature style that has continued to push the boundaries of American jazz for the last 23 years. On their latest release Juice, the incomparable John Scofield joins the effort to provide a soulful and soaring confidence to the group's Latin-inspired compositions. Together, the jazz quartet's fourth cohesive studio album explores different African-based themes and rhythms, while staying genuine to their avant-groove roots with undertones of jam and elements of experimental free form.
Medeski, Scofield, Martin & Wood's third studio album Juice opens with a flavorful rendition of Eddy Harris' "Sham Time," a soulful funk classic that explores the seemingly effortless chemistry between the quartet. The pure improvisational talent that flows so charismatically from Scofield's guitar is unmatchable, adding fuel to the funky fire that is Medeski, Martin & Wood. John Medeski's analog keys shine bright next to the melodic blue riffs being provided by Scofield, and what evolves is a wonderful, eclectic exchange of jazz-fusion between the two musicians.
Billy Martin's "Louis the Shoplifter," keeps the album grooving as Scofield plays a patient, focused guitar alongside Martin's samba inspired rhythm. The Latin theme that MSMW infused into Juice is evident through Martin's percussion, with Afro-Cuban and South American elements clearly embedded into many of the compositions. According to MMW.net, "The blueprint for Juice was found in a compilation of African-derived music put together by drummer Billy Martin and shared among the ensemble." John Medeski explains, "We all love music from Brazil, the Caribbean, and Latin America, and it has always been intertwined with jazz, we got together and started exploring that connection in our own way."
The Latin and world influence flows heavily throughout Juice, however in typical MSMW fashion that formula doesn't stick around for long, and sounding much more like an acid-infused Frank Zappa track than a jazz quartet, "Helium" takes off into an exploratory journey of high-energy percussion and free-form musicianship. Medeski and Scofield intertwine psychedelic improvisational riffs and exchange turns dipping into the dark depths of unknown musical territory, while Martin's drums and Wood's bass attempt to hold together any semblance of structure left after the musical wreckage. In a recent interview, Scofield explains that, "MSMW entered the studio with the intention to record music from the different rhythms of the African diaspora, by which you can say jazz, rock and roll, Afro-Cuban and Brazilian—all of which comes from the African root. We also said, 'Are we really going stick to this?' and then decided, 'No, let's let it go wherever it goes.'"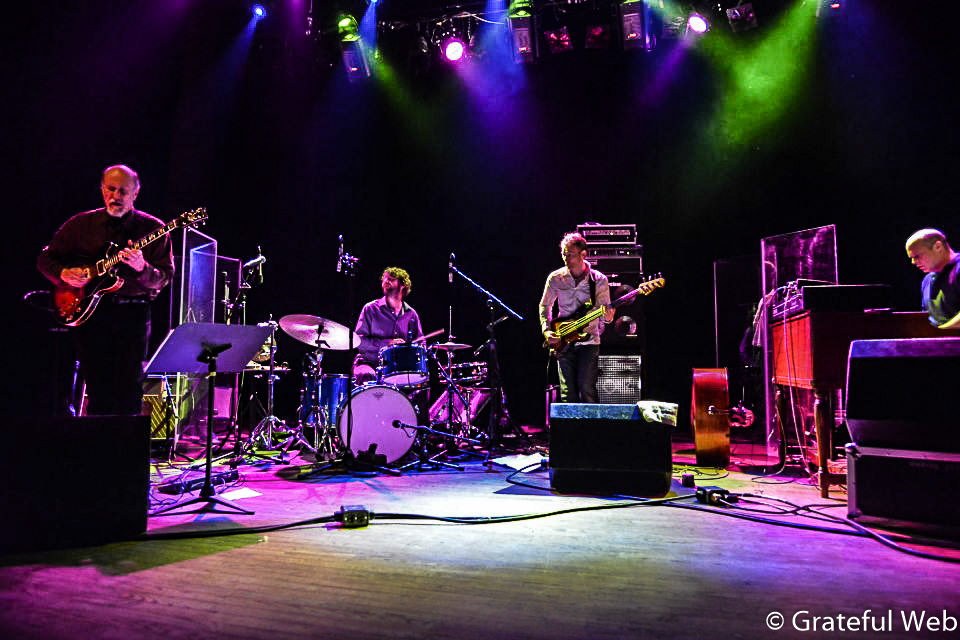 The experimental, yet oddly familiar Juice features a half-dozen original tunes including the smooth rolling bounce of "I Know You," and the slow-building textures provided by John Scofield in the energetic "North London." Both tracks were written by Scofield himself, and provide ample evidence as to why he is regarded as one of the premier jazz guitarists of our modern era. Alongside the original arrangements, MSMW's Juice provides us with some masterful covers of both classic rock and Americana, including a passionate take on Bob Dylan's "The Times They Are A-Changin," in which Medeski's church-style organ drives the melody, as well as particularly fiery, upbeat interpretation of the Doors' "Light My Fire." The stand out cover track however, stems from the hypnotically hazy groove of "Sunshine of Your Love," in which MSMW exchange Cream's bluesy overtones for a completely mesmerizing dubbed-out stride, equipped with the strong backbone of Chris Wood's double bass.
Never satisfied and continuously approaching their work from a different perspective, Medeski, Scofield, Martin & Wood have an impeccable way of delivering a masterpiece of emotion and elegance, and Juice is a testament to that trait. The pure familiarity between the four artists is evident from the beginning, and the raw chemistry embedded throughout their musicianship is enough trump Walter White. Medeski, Scofield, Martin & Wood's Juice is available now on Indirecto Records, and don't miss this electric jazz quartet live on their Pacific Northwest tour in support of the new album.