Award-winning instrumentalist and vocalist Molly Tuttle will perform a very special album release concert on Thursday, August 27 via Instrumenthead Live, a new streaming service created by acclaimed music photographer Michael Weintrob. The stripped-down, acoustic performance will preview Tuttle's new covers album, ...but i'd rather be with you (out August 28 via Compass Records), with a portion of the proceeds benefiting the National Alopecia Areata Foundation. The concert stream drops at 8pm EST on www.instrumentheadlive.com, and will be available to view afterwards on-demand. 
Instrumenthead Live is Weintrob's streaming platform that launched earlier this month celebrating music and art, together. The multi-cam virtual concert series offers a mix of live and pre-recorded performances from Weintrob's Nashville photography studio, with fine art prints of the performers' Instrumenthead portraits available to purchase with tickets. A portion of the proceeds from each show will also benefit a charity chosen by the performer. 
Tuttle lives with alopecia areata, a common autoimmune disease that causes hair loss, and chose to benefit a charity close to her heart. She hopes to raise awareness and help normalize alopecia-induced hair loss for the 6.8 million Americans affected by the disease. "The National Alopecia Areata Foundation has helped me and countless other alopecians find a path to self-acceptance and love," Tuttle said. "I'm thrilled to give back to the foundation by donating a portion of proceeds from the show and auctioning off prints of photos taken by Michael Weintrob that celebrate Alopecia." To learn more about her journey living with alopecia areata, read here. 
A virtuosic guitarist with a gift for insightful songwriting, Molly Tuttle has become an integral member of Nashville's folk, bluegrass and Americana communities since moving to Music City in 2015. The California native is currently nominated for the International Bluegrass Music Association (IBMA) "Female Vocalist of the Year" and "Guitar Player of the Year" at this year's Bluegrass Music Awards. Tuttle became the first female to win the coveted "Guitar Player of the Year" IBMA Award in 2017. The following year she not only repeated the category, but also won "Instrumentalist of the Year" at the Americana Music Awards; and in 2019, NPR included Tuttle's original tune "Take The Journey" in their list of the 25 Best Songs of the Year.
Tuttle's new album, "...but i'd rather be with you" puts her spin on 10 well-chosen tracks from across the musical spectrum and the decades – from FKA Twigs to Cat Stevens, Rancid to Karen Dalton. "With my new record "...but I'd rather be with you" I chose to cover some of my favorite artists who inspire me to be true to myself in my life and in my art," Tuttle said. "When I play music and when I share my alopecia story with the world I hope to show others that it's ok to be yourself no matter what." 
Watch the music video for her cover of "Standing On The Moon" by the Grateful Dead HERE, and for more information visit https://www.mollytuttlemusic.com.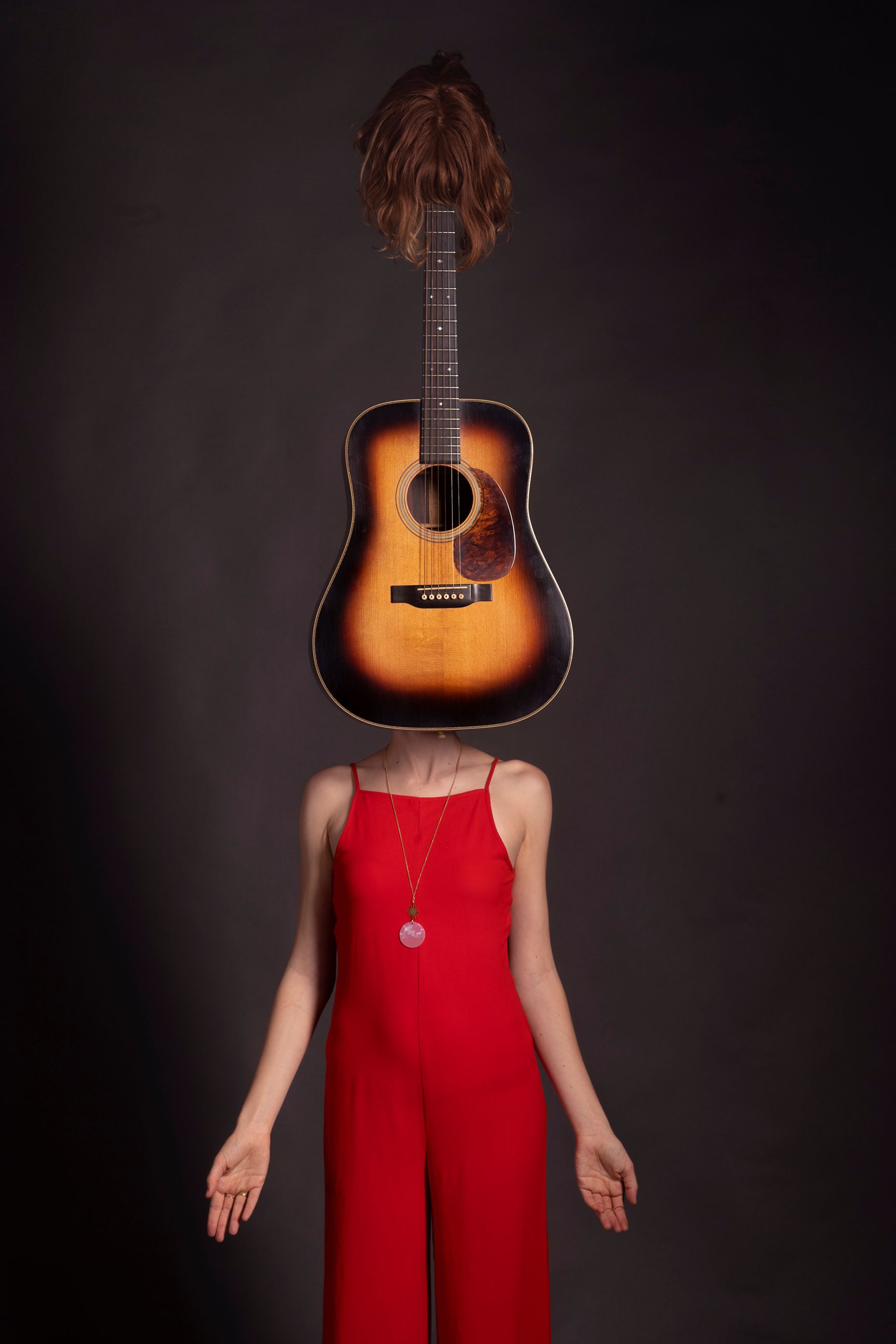 Instrumenthead is Michael Weintrob's signature portrait series that captures a surrealist look into the soul of a musician – not through their eyes, but through their trademark instrument, which obscures the artist's face in each photograph. To date, more than 600 musicians from around the world have had their Instrumenthead portrait taken – ranging from well-known artists like Derek Trucks, Bootsy Collins, and Billy Strings to cult instrumentalists and eclectic performers of every genre. After presenting a series of pop-up exhibitions at events like the New Orleans Jazz & Heritage Festival, Weintrob relocated from Brooklyn, NY, and opened a brick and mortar studio in East Nashville in 2016. The following year, he published INSTRUMENTHEAD (Magnet Bound Press), a fine art book that won the Independent Publisher Book Award (IPPY) for Most Outstanding Design. Now during the 2020 pandemic, Weintrob continues to build upon the Instrumenthead experience by showcasing immersive music and art experiences through Instrumenthead Live. 
"I have been fortunate to share space, through my photography, with many musicians around the world. This pandemic has affected us all, in one way or another. This new series is our opportunity to create a safe and fun environment in my Nashville studio for everyone to enjoy high-quality audio and video in a unique gallery where the art is curated specifically for the artist performing. We are empowering live art," Weintrob said.