Alongside Jimi Hendrix's 1967 breakout single 'Purple Haze', The Doors' unconventionally romantic 1967 song 'Light My Fire' and Steppenwolf's 1968 smash 'Magic Carpet Ride', perhaps Cream's hit singles 'Sunshine of Your Love' and 'White Room' can be tagged – without too much argument – as two of the toppermost examples of late-1960s' AM-radio psychedelia. (Are we leaving anything out? Of course we are! It's a jammed-up list.)
And so, for many young radio listeners at the time – including this reporter – Cream were a major 'gateway' band for early- and mid-teens who heard them first on AM Top 40 and then crossed over to the then-ascending underground FM format. Hearing the full album versions of those two Cream songs – kept short for the short-attention AM format – on FM radio for the first time in the late '60s was ear-opening and mind-blowing, even without artificial mind 'sweeteners'. And we couldn't get enough!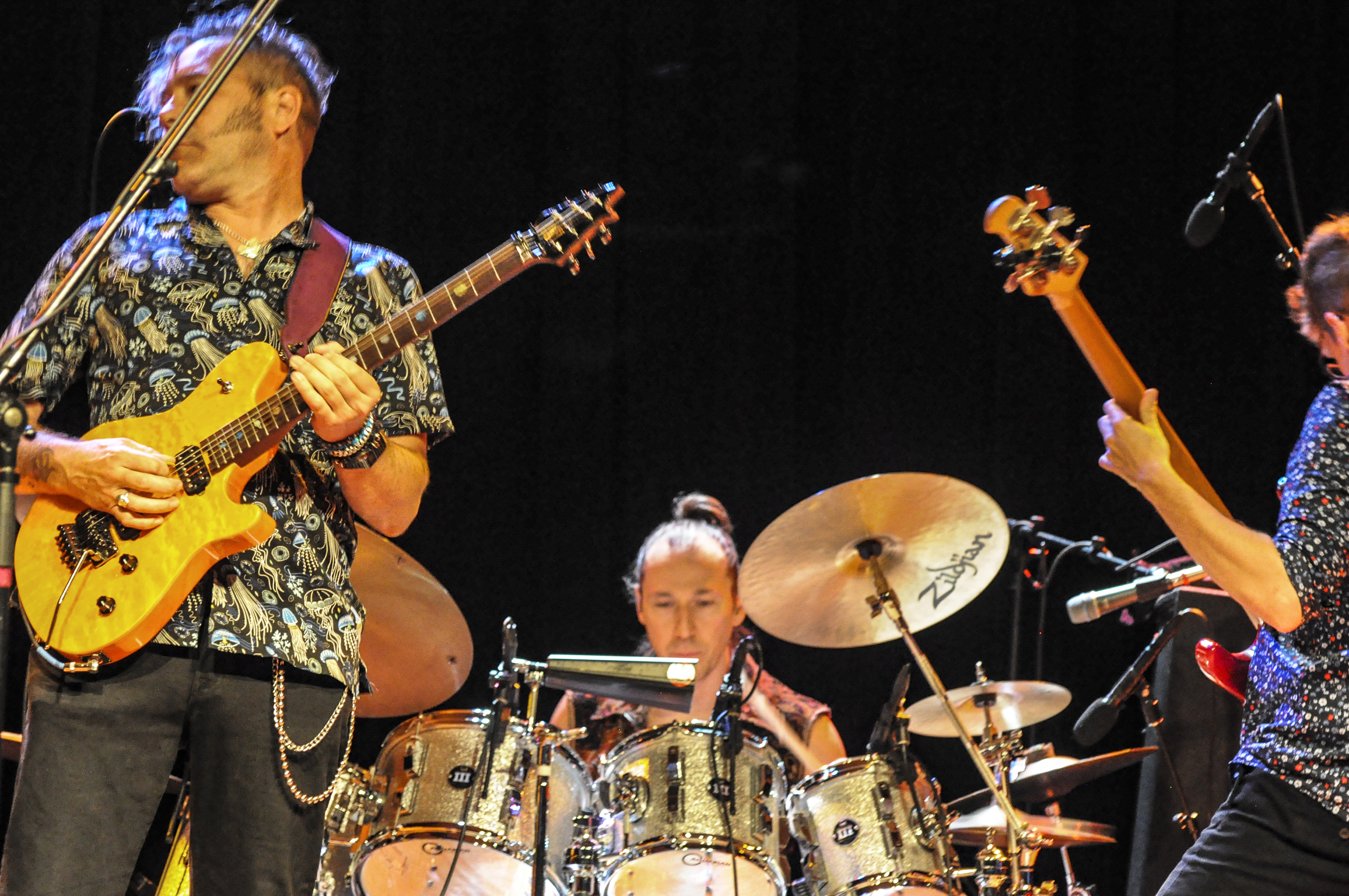 Because they were billed as the world's first "supergroup" – boasting of drummer Ginger Baker, guitarist Eric Clapton and bassist Jack Bruce, and already ignited with gushing critical acclaim – Cream burned more brightly than many other "heavy" psych bands of the time. And, sadly, the band's famously temperamental members also burned through more quickly, lasting only from 1966 to 1968. But in their wake they left the indisputably psychedelic relic – the late-1967 album Disraeli Gears – for future fans to rediscover in all of its mesmerizing, experimental glory. Now, younger family members of Cream founders Baker and Clapton have been touring under the name of Music of Cream, and featuring that album as a main attraction for their current tour.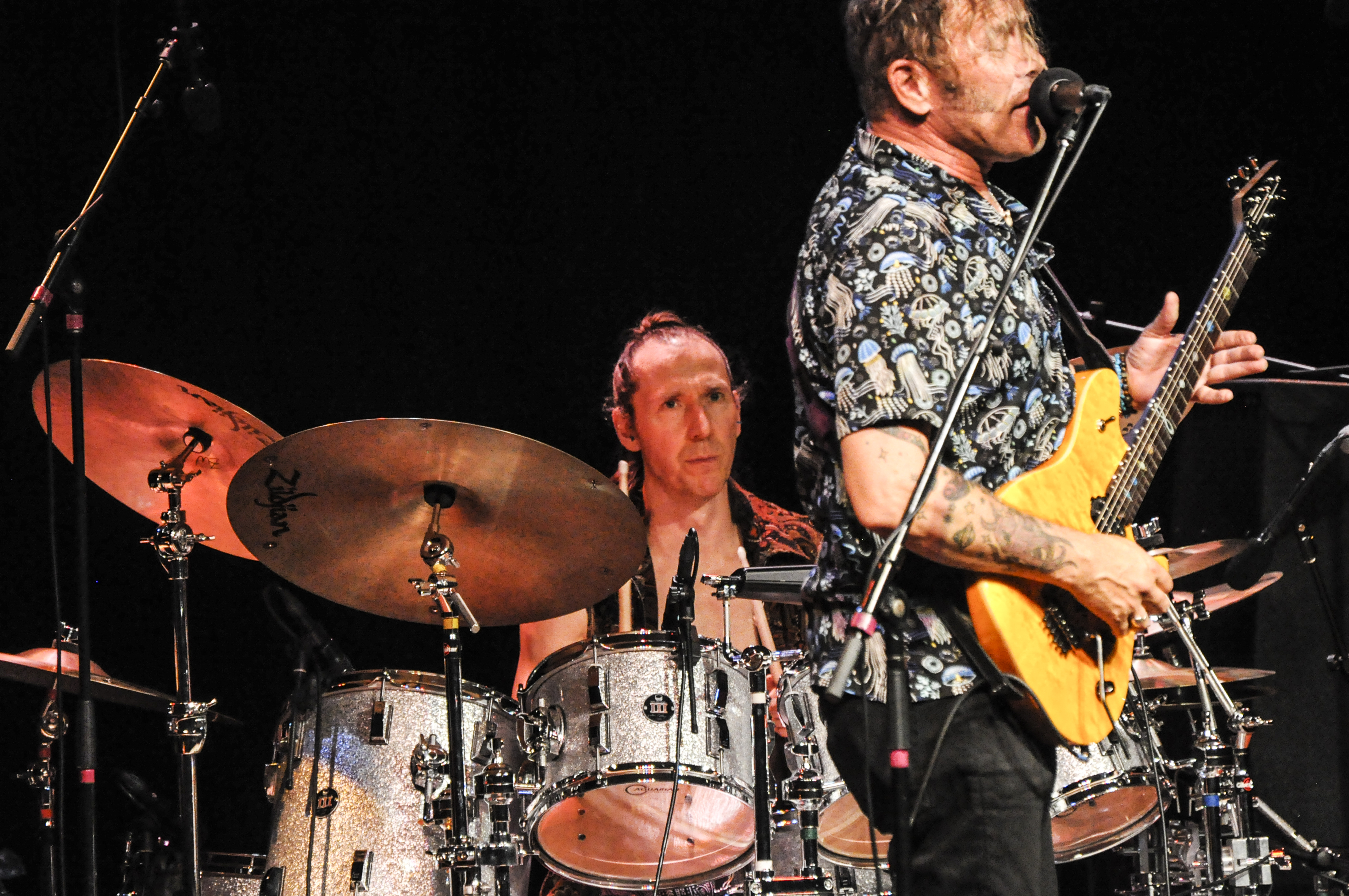 In early June Music of Cream visited the Cincinnati area, with a show at the Madison Theater, a general-admission venue in nearby Covington, Kentucky.  The show was billed as "Disraeli Gears & Clapton Classics," and it proved to be quite a condensed career capsule of many EC-associated songs during and after his time in the band. And, at various moments in the night, it proved to be a showcase for Ginger Baker's notable contributions as well.
This converted movie theatre has been a popular stop for many bands of past eras and the jam-band scene, including Bob Weir & RatDog, Gov't Mule and Chris Robinson. And in that spirit, things got seriously trippy right out of the gate, with a first set featuring a nearly-complete Disraeli Gears song list and a stunning set closer of 'White Room'.  And the second set, which featured Clapton "evergreens" from latter-day Cream and Blind Faith – his follow-on project after Cream with Baker – also revisited EC benchmarks from the '70s into the '80s.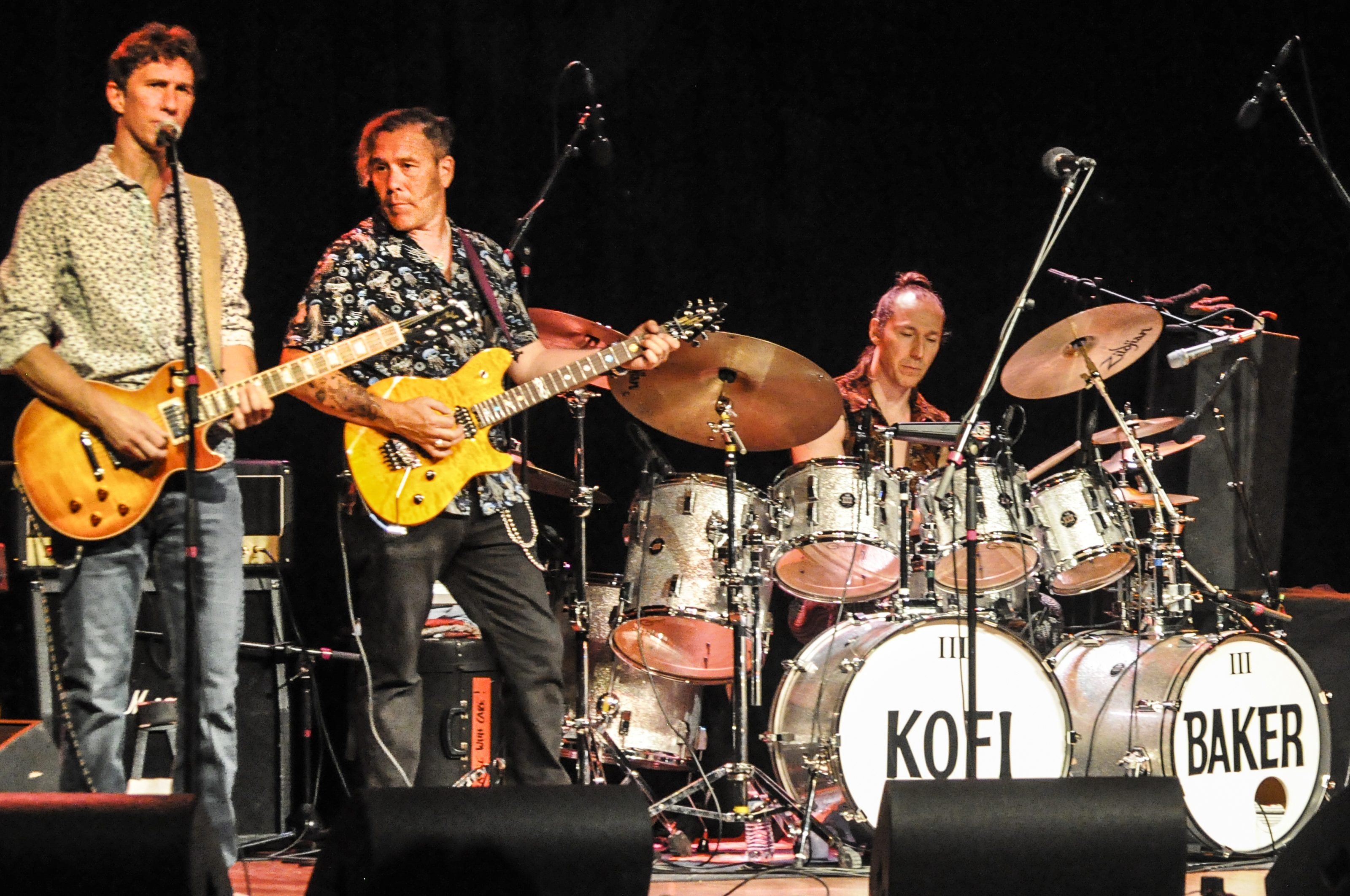 Right from the kick-start opener of 'Strange Brew' through 'Outside Woman Blues', the band dialed in on the heavy blues-rock style that Cream had electrified in more ways than one. And things moved quickly apace, with a sense of purpose and brief-or-no interludes between songs. Lead guitarist and vocalist Will Johns – son of famed recording engineer Andy Johns and also EC's nephew – engaged in some brief stage banter midway into the show. But the album-faithful song progression spoke for itself, with bristling blues energy, urgent rhythmic foundations, and crackling lead-rhythm guitar interplay on such songs as 'Sunshine' and its psychedelic soulmate, the wah-wah guitar workout 'Tales of Brave Ulysses'.
And for the Gears' finale before the set capstone 'White Room', drummer Kofi Baker – son of Cream co-founder and drummer Ginger Baker – took over the mic and lead vocals for an extended, smile-inducing rendition of his father's objectively silly album track 'Pressed Rat and Warthog'. But, as the junior Baker noted, this was "the psychedelic version", and it was nicely tricked out with a meandering Mixolydian groove decorated with super-flange-y, Trey Anastasio-type leads. Coincidentally, his band had a gig in nearby Indianapolis more or less at the same time that night, so this juicy, little headtrip nearly seemed to be channeling 'The Phish from Vermont' for those who couldn't be there!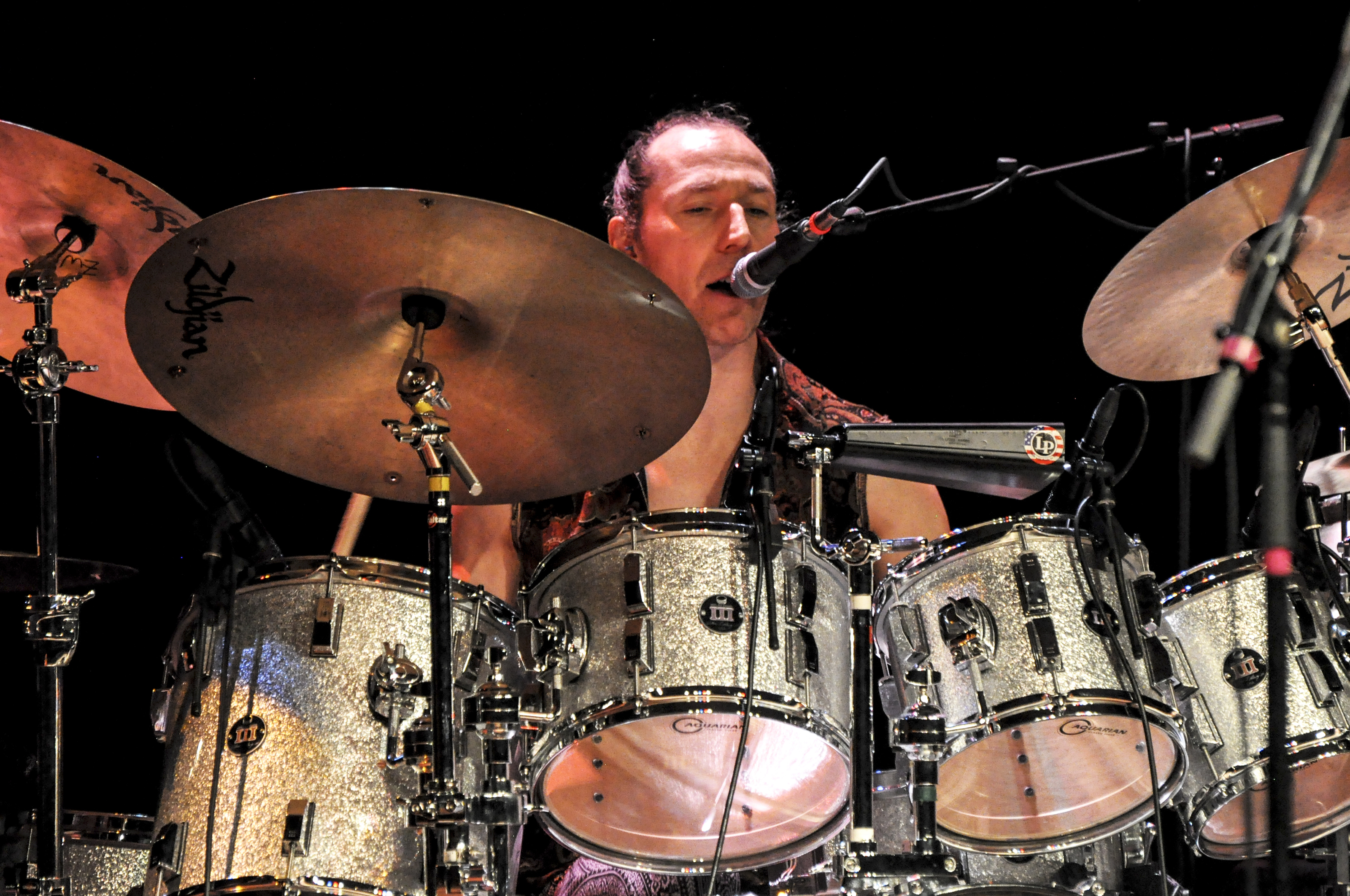 Although Music of Cream had toured previously as a power trio, the current line-up features a fourth and quite indispensable fourth man, Stephen Ball, on rhythm guitar and keyboards. Many of the arrangements on Disraeli Gears had relied on guitar overdubs and smatterings of keys, so the band replicated the layers and guitar harmonies of the original recordings, with some slight deviations. Laying in the sharp, R&B rhythm parts on song such as 'Brew' and 'Outside', he provided a backbone for lead man Johns to lean into fully. For example, on the Gears deep track 'Dance the Night Away', Ball opted not to emulate EC's original 12-string part from the studio recording but simply scattered ringing patterns throughout the song.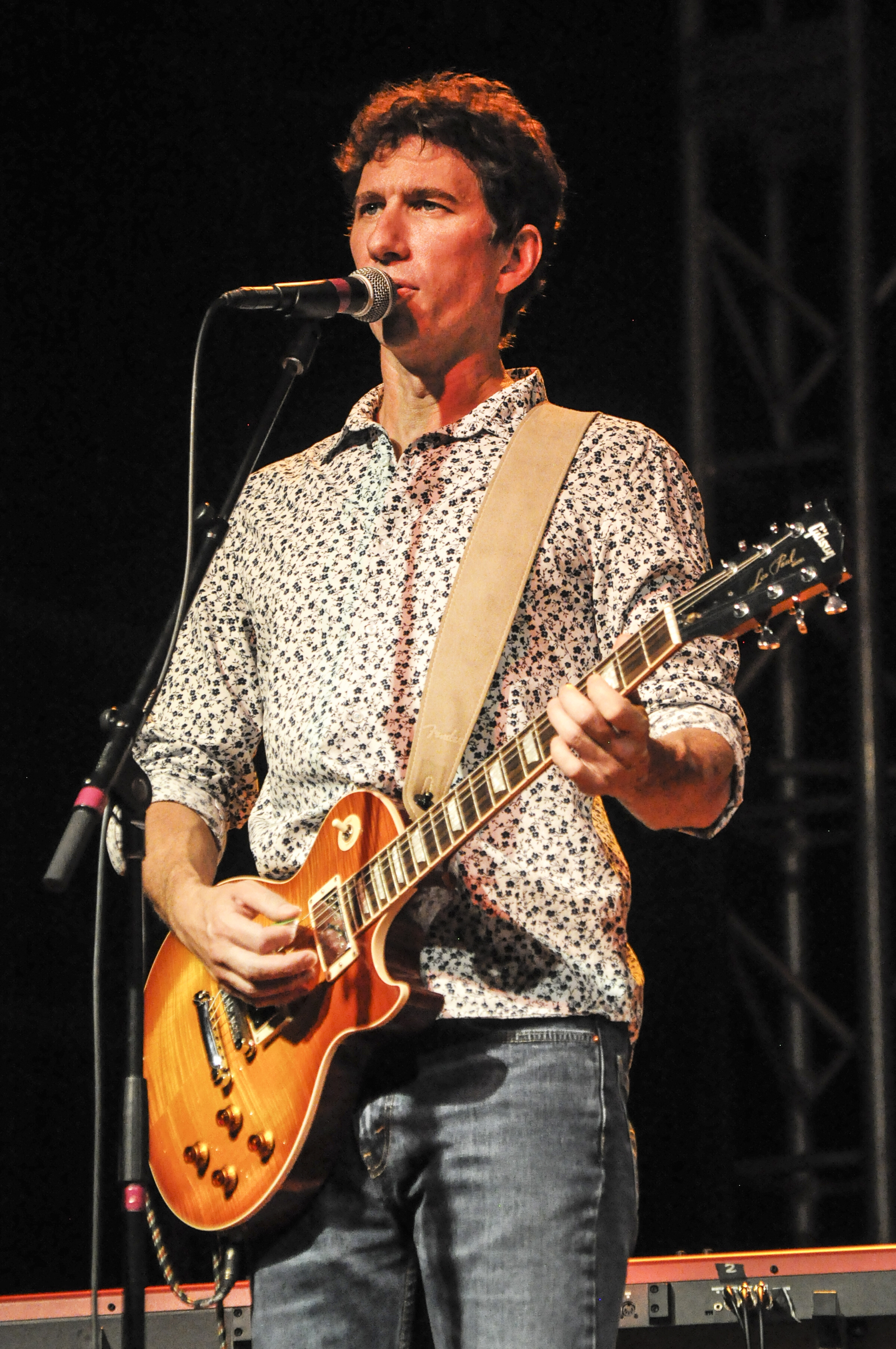 The most powerful moment in the opening set came with a soul-stirring performance of the classic Cream dirge 'We're Going Wrong'. Guitarist Ball took on the Jack Bruce lead vocals with fitting melancholy, and drummer Baker dialed in a rolling, tympani-mallet pattern across his drums that built into emotional crescendoes at several peaks in the song. And newcomer on bass, Kris Lohn, stepped into the spotlight for the first time in the evening with a keening, lead-bass solo while the others supplied foundation. The heartbreaking song of doomed romance then ended with a final dissolve into a dense cloud of dissonant harmonic-feedback. Truly breathtaking.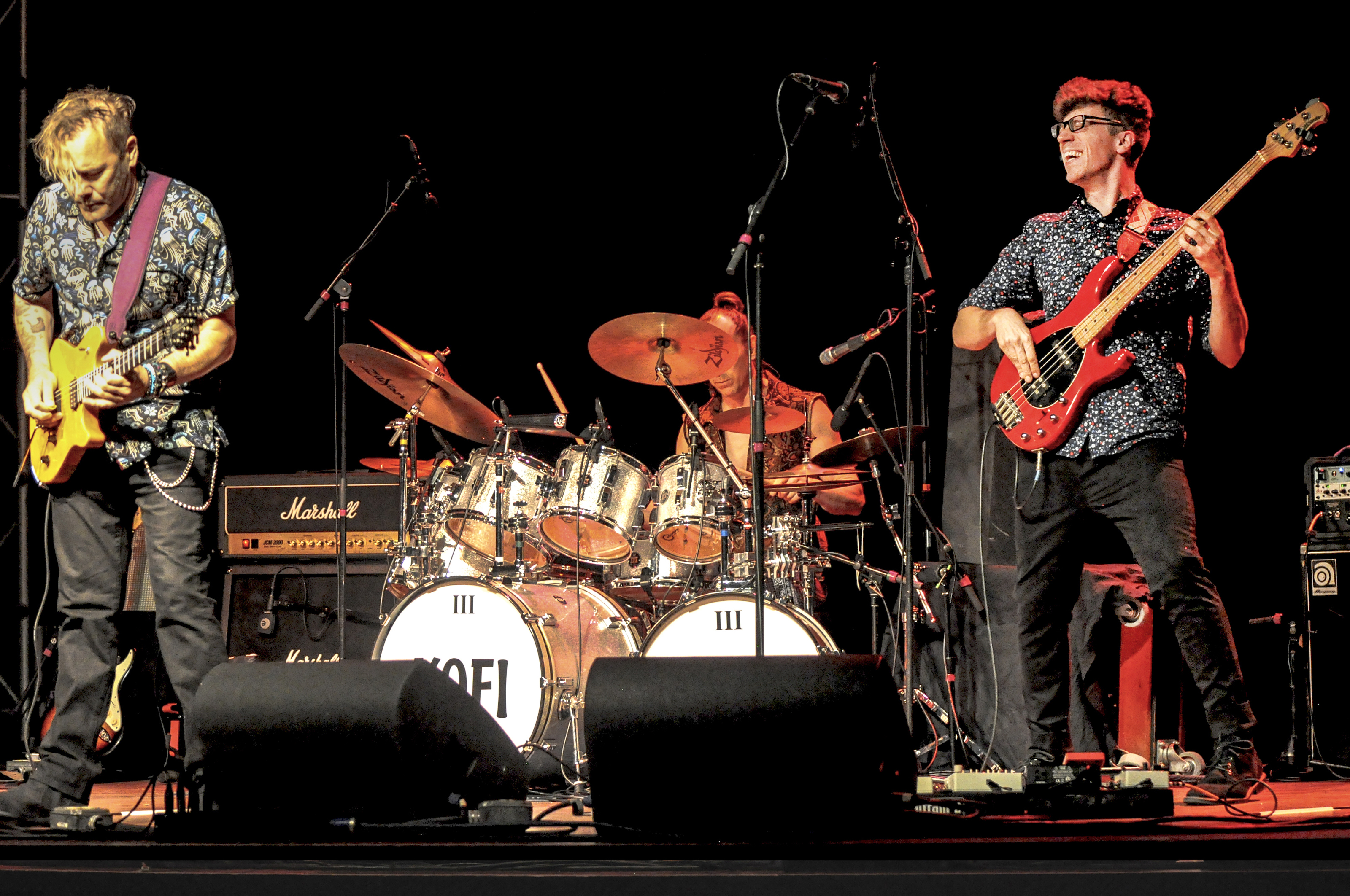 In the second half Baker and company stepped forward in time – as well as backwards here and there – to visit various well-known moments in Clapton's career. At first, they jumped into Clapton's mid-'70s, 461 Ocean Boulevard era, with a cover of his cover of Bob Marley & The Wailers' 'I Shot the Sheriff'. With a somewhat more updated arrangement, the band gave lead guitarist another moment to show off his well-honed guitar chops with their version of 'Crossroads', the storied Robert Johnson song that Cream immortalized on their 1968 Wheels of Fire album.
Bookending the centerpiece Ginger Baker drum-solo-centric song 'Toad', they also did a couple of slower-paced but heartfelt Blind Faith songs. On these songs, fourth-man Ball made keyboards his priority but also took on lead vocals at times, including a moving performance of Steve Winwood's plaintive prayer-song 'Can't Find My Way Home'.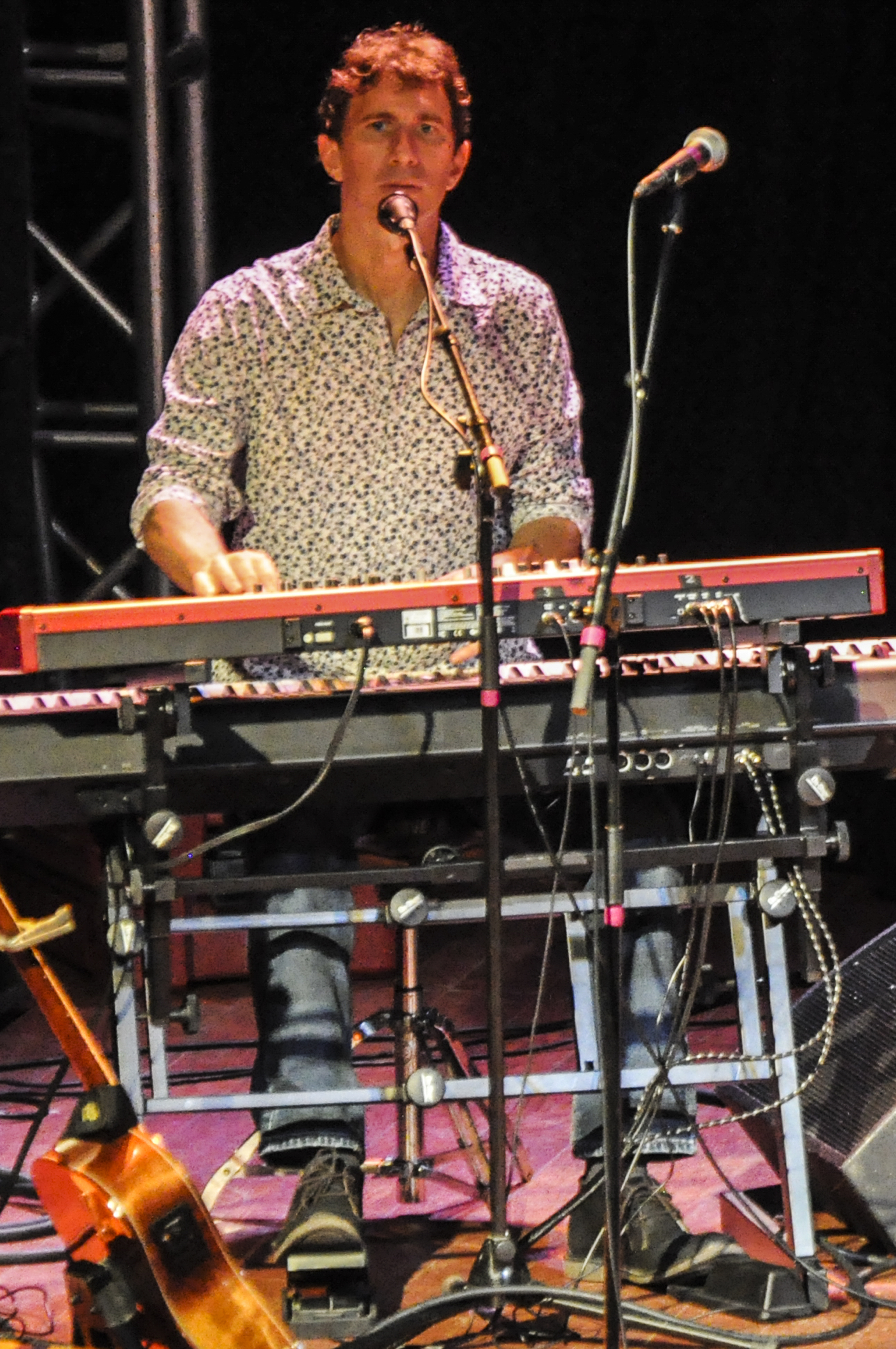 Undoubtedly, Baker's drum in the middle of 'Toad' was the main event of the evening. After the customary, throwaway band-rave-up intro, Baker was off into the cosmos with a spellbinding, ten-minute performance. He included many Afro-based patterns with jazz accents, and used different parts of his sprawling drum kit to interlock various rhythmic vignettes.
Near the end of this deep journey into pure rhythm and texture, he suspended playing with his sticks, only to concentrate with his legs on powerful intervals between his two bass drums. They were so strong, one could feel them deep inside. Although on a previous tour the band had traveled with a projection screen so Baker could play along with a film of his father performing the 'Toad' solo, it was a pleasant surprise to be able to concentrate fully on the younger Baker's performance. And it was all the more rewarding for that reason! His bandmates soon returned to the stage and together they brought the instrumental tour-de-force to a rousing conclusion.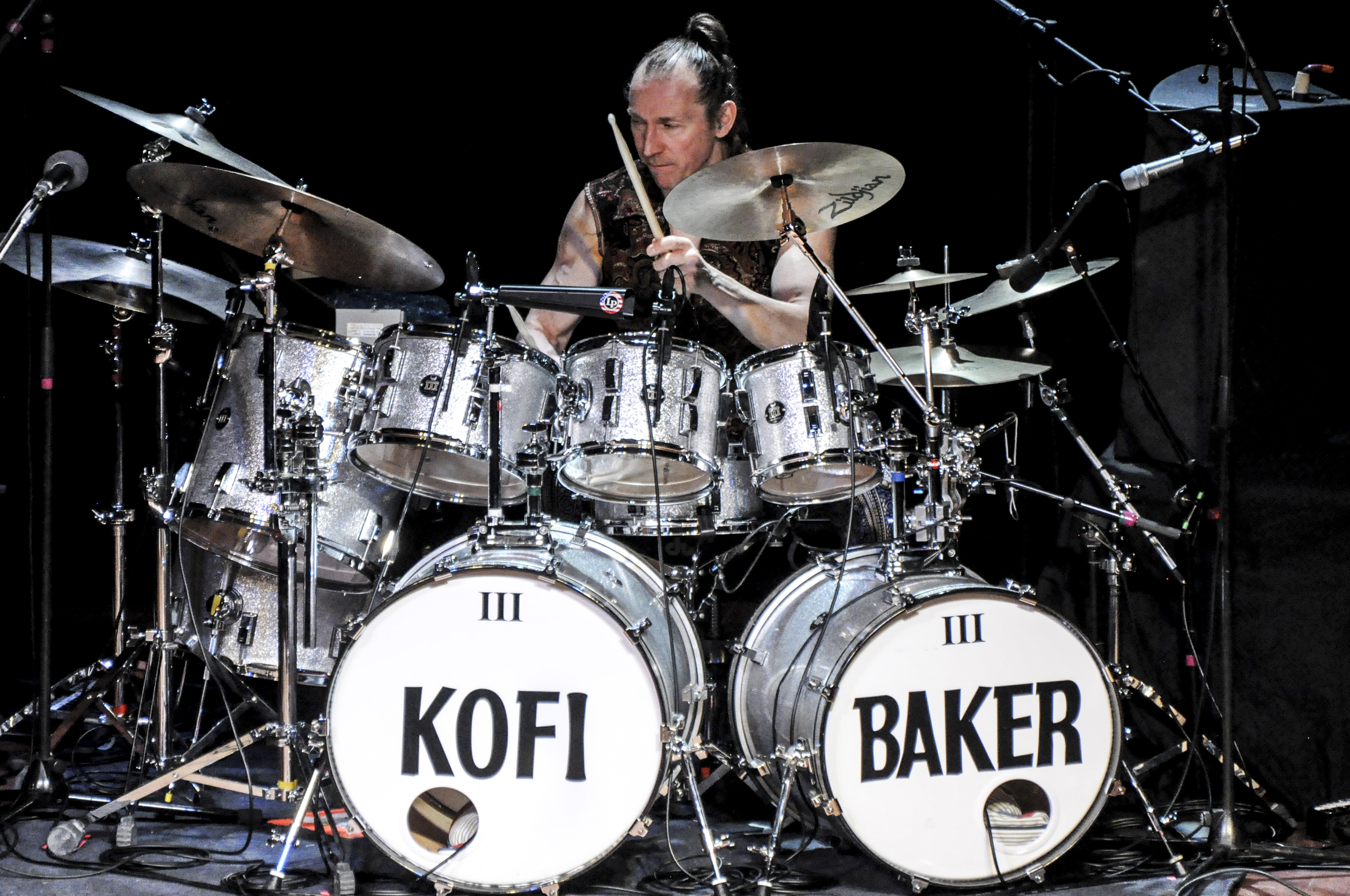 It appeared to this reporter that the band worked hard during the first set to connect with the somewhat lighter-than-usual attendance in the venue. The general-admission theatre – featuring a low front pit, a terraced mid-level and a wide balcony – often presents acoustic challenges to the artists who perform there, especially when there are obvious gaps in the audience. Not having a fuller audience, which was spread around on the two back levels and did not fill the pit until later in the second half, had to have been frustrating for the band in trying to generate a response during the Gears' set. That seemed to change in mid-second set, however, when Baker took over the stage with his commanding 'Toad' solo. Dancers – many were women but also a few men – soon came on down to the pit from the other levels and sparked the band onward in the set.
Moving into the 'final reel', as it were, the band rallied and concentrated the audience with several more EC favorites. They rounded out the main set with another Cream-Clapton classic, 'Badge', which EC wrote with his guitarist friend George Harrison in 1968, plus the Slowhand crowd-pleaser 'Wonderful Tonight' and the timeless Derek & The Dominoes' song 'Layla'.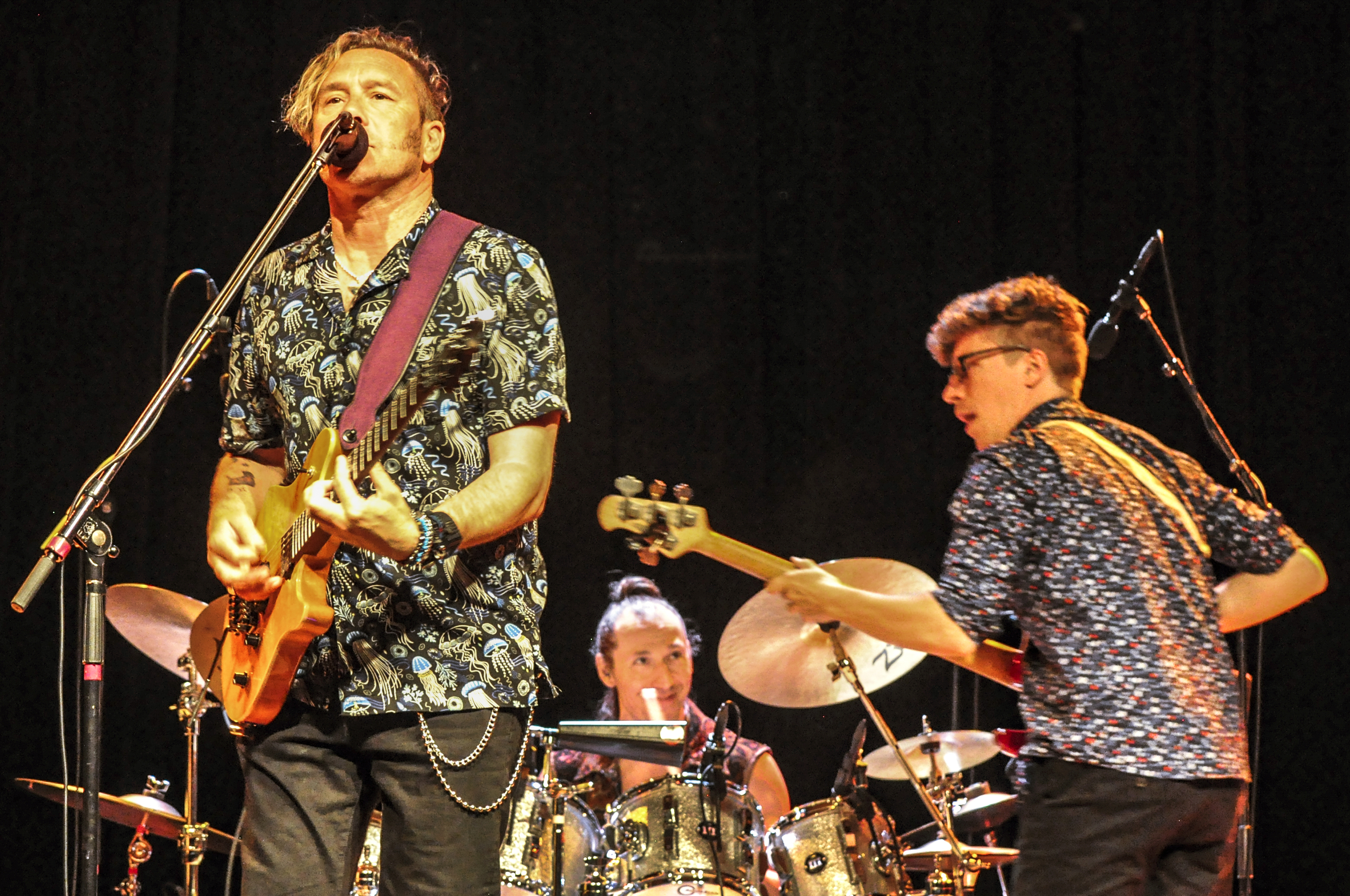 During the extended, one-song encore, the four-man band peaked out the audience with an inspired medley of Clapton's J.J. Cale cover, 'Cocaine', and Stevie Wonder's 'Superstitious.' As he had throughout the show, lead guitarist Johns convincingly channeled the bluesy vocal growl of latter-day Clapton and seemingly burned up every last drop of his energy with his leads right to the very end. Once he tossed his guitar pick into the crowd and took a smiling bow with his bandmates, one knew they had truly given all they had.