Beginning in early April 2022, the long-running Canadian rock band The Musical Box will hit the road again with a deluxe staging of the classic 1974 Genesis double- LP concept album The Lamb Lies Down on Broadway.
This acclaimed Genesis legacy band – known for their authentic recreations of Genesis's legendary live production from the early 1970s – plan on an extensive tour visiting close to 100 cities in North America, the UK and Europe. And the tour – launching soon, on April 7, 2022, in Sherbrooke, Quebec – will continue through February 2023.
Attending any Musical Box show – whether it be a production of The Lamb or others, such as Selling England by the Pound – is often described as stepping into a time machine. And this would be especially true of TMB's Lamb re-enactments. Aside from the fact that the band and their production team are now using more reliable, state-of-the-art technology than clunky 35mm slide carousels and dodgy, old-school Mellotrons, the "look-and-feel" and sound of Genesis's groundbreaking stage show are faithfully reproduced with painstaking detail and love for the music.
Having first emerged in the mid-1990s with full blessings from the extended Genesis family, the Montreal-based TMB tackled their first Lamb tour in 2000. This included set design, effects and costumes closely following those of the historic 1974-75 final Genesis tour with then-vocalist/frontman Peter Gabriel. And a centerpiece of TMB's restored show was a similarly iconic, three-screen, rear- projection system for the original 1,200 35mm slide images from the Genesis days.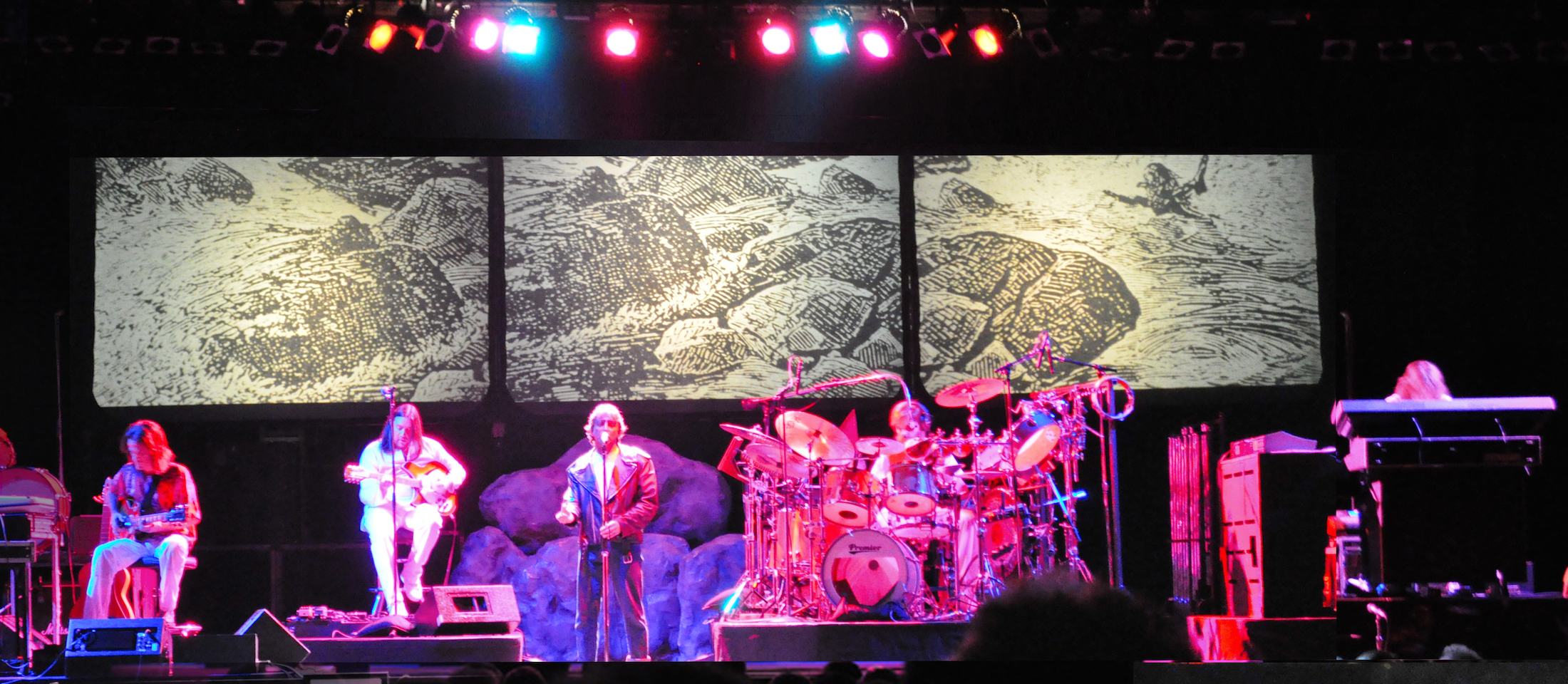 With exclusive licensing from Gabriel – the story's principal lyrical creator and license holder – TMB have taken the surreal, shadow-musical world of The Lamb on tour a total of three times, performing more than 300-plus shows in the process. These included the debut 2000-2001 tour, plus two more lengthy tours in the 2004- 2006 and 2011-2013 time periods. Of course, during the prior and intervening years, the band has been continuously presenting other full Genesis albums and themed shows, including the cleverly-curated 2018-2021 musical showcases Genesis Extravaganzas, I & II.
Each time out with The Lamb was reportedly a learning experience, with TMB not only honing its renditions but also continuing to research historical/technical details to fine-tune the shows even more. Since no official films of '70s Lamb shows were ever captured, TMB have been especially fortunate to gain insights from archival photos and amateur 8mm films shared by fans.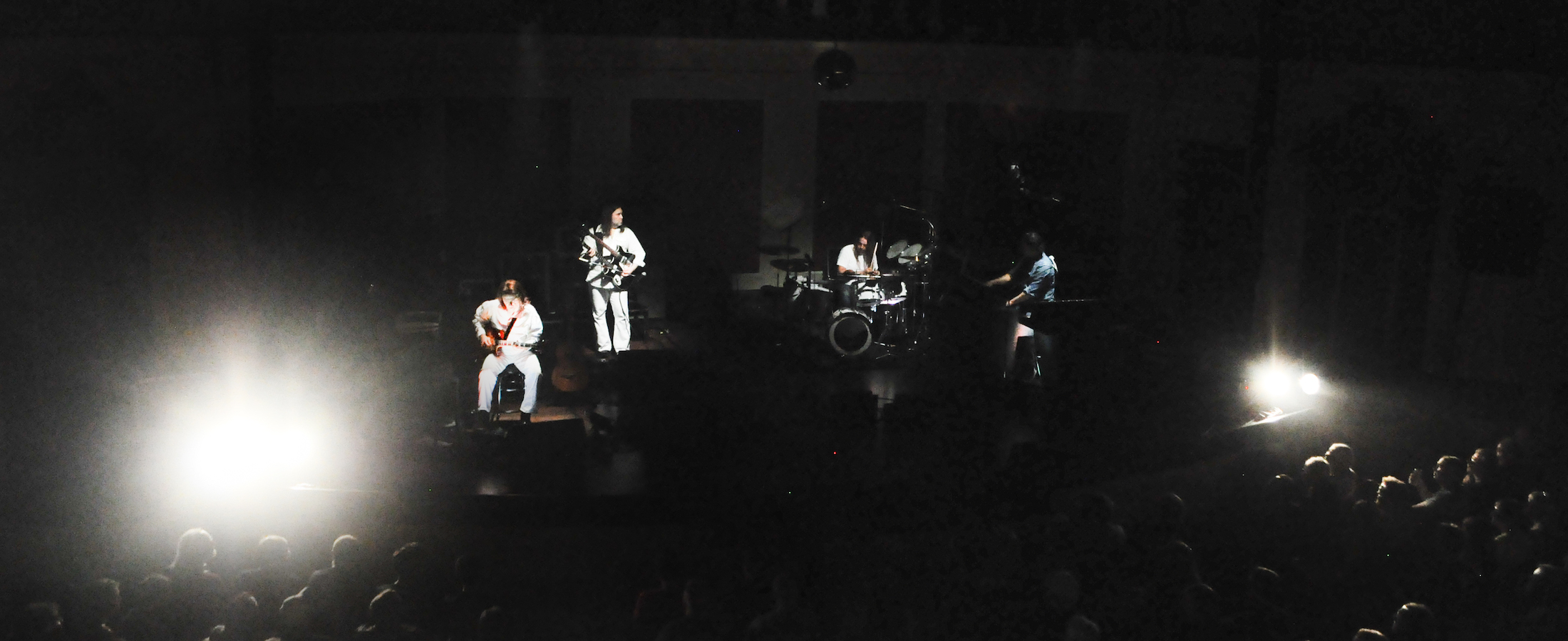 For those unfamiliar with the dense, character-rich storyline of The Lamb, Gabriel himself has often described it as a morality tale – in his words, "a sort of Pilgrim's Progress" – set in decidedly more "modern" times. The proverbial "hero" of this tale, named Rael, is a young, Latin-American rebel who leads a violent, hedonistic life on the mean streets and in the subways of New York City, only to suddenly end up going through "some things" himself. Karma, in other words.
Right from the start – when a giant "Wall of Death" descends upon Manhattan and sucks the hero into a subterranean world of shadows, tunnels, and cages – Rael meets assorted oddball characters and undergoes many soul-testing moments. Not unlike the character Ulysses in Homer's famed epic The Odyssey, Rael must confront his own fatal character flaws and demons, and shed them one by one. In the end he comes to learn that empathy and sacrifice may be his only salvations.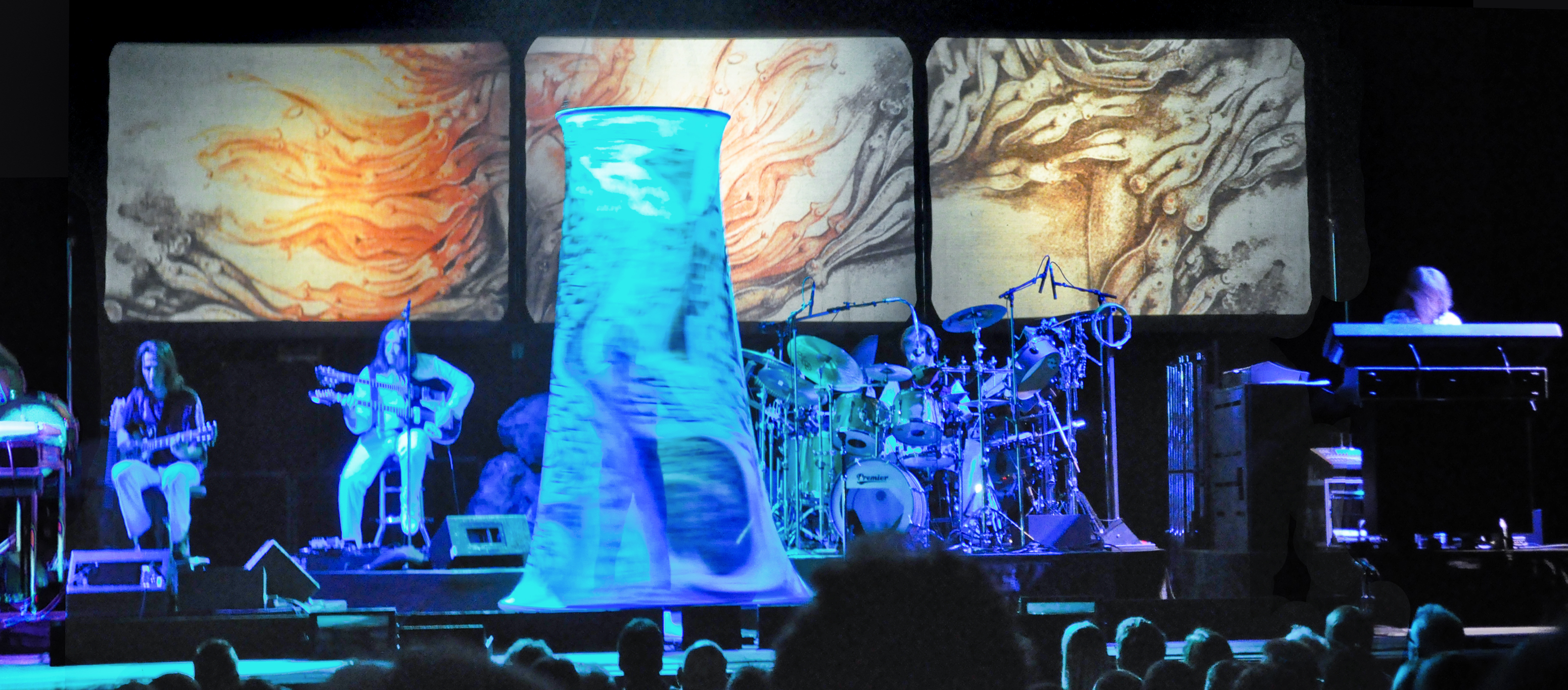 Earlier in the 1970s Genesis had earned a reputation for a deeply fantasy-based style of progressive rock, with often long, complex songs, full of deep literary and mythical references, and even the odd sci-fi twist. To a certain extent this carried over to The Lamb, both Gabriel's final album and tour with Genesis.
But, as reported out in Genesis fan world, the deeply impressionable Gabriel had been exposed to the controversial, midnight-art-house, acid-Western movie El Topo (The Mole) – itself a nightmarish tale of personal transformation – at some point during Genesis's 1973 U.S. tour. And, at the same time, he had also observed things on American tours – perhaps even the emergent punk rock scene in mid-'70s New York – that jarred and jump-started him into a new storytelling direction.
El Topo's impact on Gabriel is not so hard to see when one learns that several of the film's more bizarre elements and symbolism – such as a "grand parade" of meandering people, a pool of seductive women and an ominous raven – had mysteriously jumped the screen and re-surfaced in his lyrics.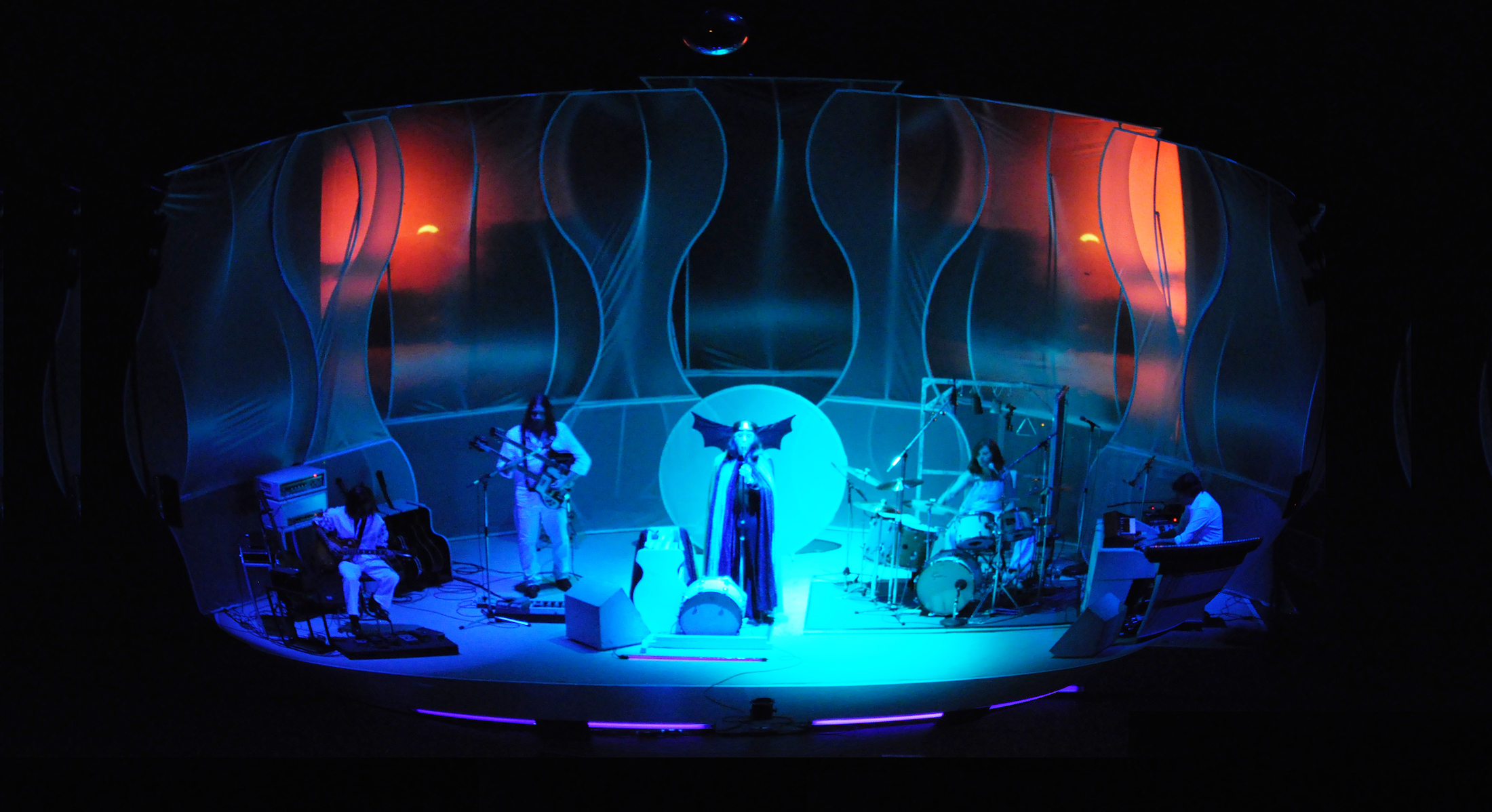 So, yes, Gabriel soon began to conceive of a tougher persona, in grittier circumstances, and, thus, the Lamb's lead character of the leather-jacketed, jack- knife wielding, priapic graffiti artist was born in his mind. In contrast Genesis bassist Mike Rutherford and keyboardist Tony Banks had proposed a lighter-weight option – a musical adaptation of the children's book The Little Prince – which Gabriel dismissed out of hand as "too twee."
As his fellow band members busied themselves with the writing of the instrumental music apart from Gabriel in mid-1974, the hallucinatory story of Rael percolated in his head and exploded in a torrent of emotion and psychological narrative that – even today – fans still strive to understand fully. (Even Gabriel continued wrestling with it. Years later, he had reportedly even explored tasking none other than El Topo's director Alejandro Jodorowsky with translating The Lamb to the Silver Screen, but the project did not proceed.)
To recreate the hard-to-nail, classic, electro-acoustic Genesis sound of 12-strings, double-neck guitars, and amply layered keyboards of The Lamb, TMB perform with the same vintage brands of guitars and amplifiers – but a few more modern keyboards – as Genesis had used. But the band's current members also bring with them nearly a lifetime's worth musical knowledge of performing the deep and varied Genesis songbook. And, better yet, they have a charismatic lead vocalist in the person of Denis Gagné, who convincingly conjures the shape-shifting figure and reedy, plaintive voice of the younger Gabriel in his travails as Rael.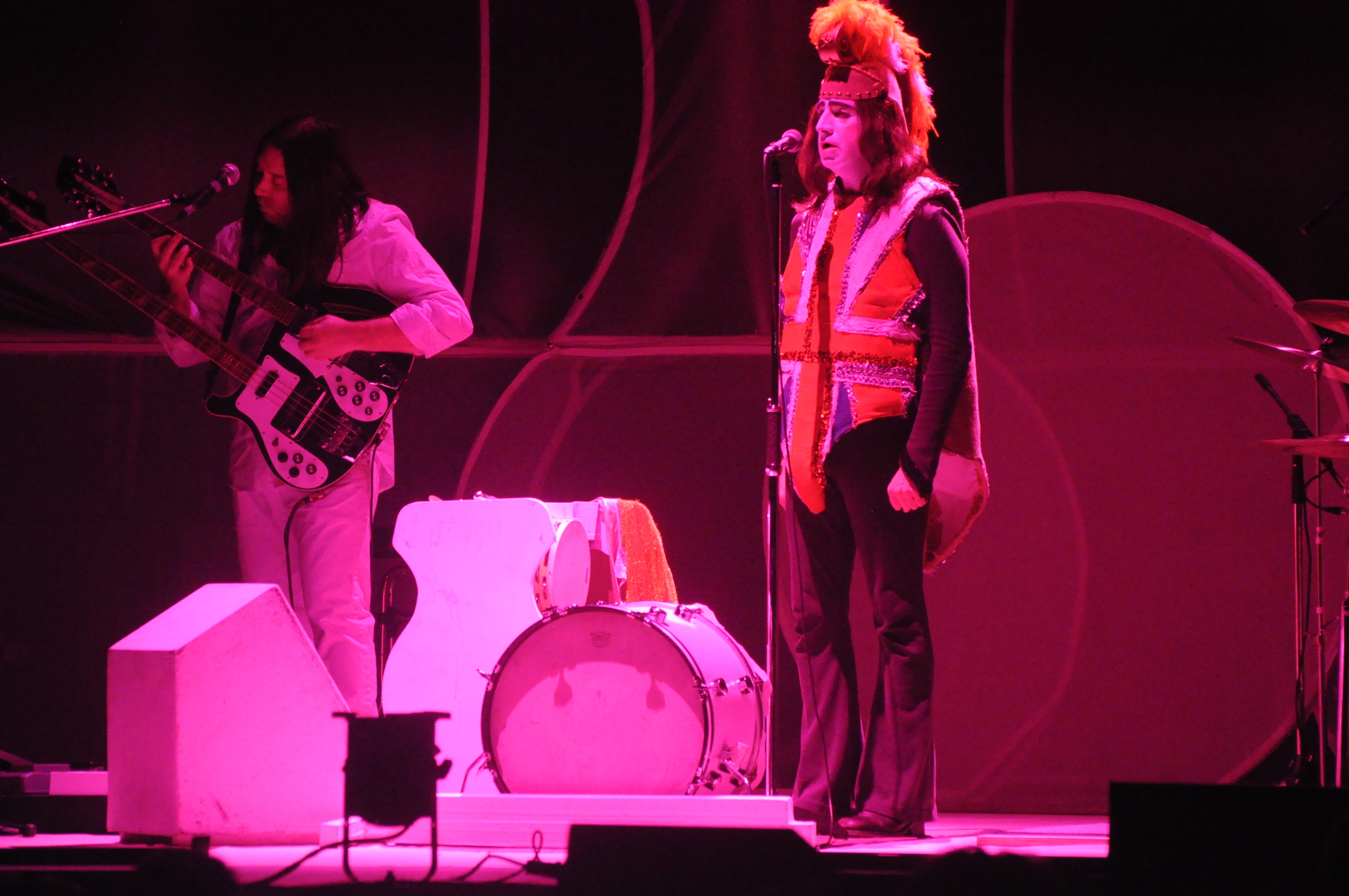 Gagné is joined on stage by the four instrumentalists who provide the musical backbone for The Lamb production. These include bassist/founding member/musical director Sébastien Lamothe, lead guitarist François Gagnon, drummer Marc Laflamme, and keyboardist Ian Benhamou. In unison with the vocalist the four players follow the original Genesis arrangements, without substitution or modification, delivering them with all the passion, yearning, and irony inherent in the original lyrics, music, arrangements and recordings. Truly, every ingredient of the show – musical, technical and human – adds up to a sum greater than the whole.
Whether you're a fan of the "Golden Age of Prog" who never got to experience the magic of the "Gabriel Years," or even if you've seen The Musical Box before and can't get enough of their crazy, musical "Wayback Machine," then the upcoming Lamb tour is one you will definitely want to plan on seeing. In fact, with TMB having logged so many Lamb performances along the way in their nearly-30-year career and Genesis fully retired from performing, this time around may very well go down as the final chapter in this epic musical adventure's long and storied life.
As Rael himself declares in the concluding song of The Lamb story, "It is here. . . It is NOW!"
More information about the full Musical Box tour dates can be found at the band's website: htttps://www.themusicalbox.net