When I was in college in the early 1970s, a musician friend of mine and I went to a Cincinnati nightclub to see a band from Atlanta that wasn't the Allman Brothers. (In fact, it was at a club where the band had actually played just a couple of years prior. So it wasn't a new thing for Southern bands to come to the Upper Midwest along the same tour routes.)
The band on hand that night were an aspiring and arty prog-rock outfit that played a lot of Beatles, Yes, Traffic, Jethro Tull and the like, with a few originals thrown in. (Yes, I do remember their name, but does it even matter?) They even had a flute player! But, at intermission, my friend laid it all bare.
"Well," my R&B bass-playing friend cracked wisely, "the only amazing thing about them is they're from Atlanta and they don't even play the blues!" True enough, there was no blues, no boogie and not a single Brothers' cover in the whole show. Too bad.
The Allman Brothers Band had already locked down the Southern Rock template by 1971 for anyone coming out of Georgia and even throughout the upper Midwest. And, in fact, the ABB had done time in Cincinnati several times by then, even recording an April 1970 show at the locally-legendary venue The Ludlow Garage. (This archival recording was released on CD in 1990, and remastered for the expanded, 2015 release of Idlewild South.)
But as anyone who knows the ABB's music well could tell you, the blues was just 'foreplay' for the Brothers, and it wasn't until they got deep into a show that they could turn stones and unearth glistening, new musical moments that defied easy pigeonholing. The new archival release of the legendary January 17, 1971 Allman Brothers show at Pittsburgh's Syria Mosque Theatre – long-traded within fan circles and out on YouTube, and now officially released as Syria Mosque 1/17/71 as of Friday, October 28 – documents a good number of such stone-turning moments.
Neither members of the Allman Brothers nor fans who came to see them on that January night over 50 years ago could have known that they were present for a historic performance. That Sunday night show was still at the beginning of a busy year for the band, which would tour extensively – hundreds of dates, in fact – throughout that year. Within two months they would make "real" history, recording their career-defining live album, At the Fillmore East.
Nearly down to year's end, the road ended for guitarist Duane Allman when he died tragically in a motorcycle accident in Georgia, in October 1971. So all that preceded his sudden absence certainly took on much more significance, especially for the fans who were lucky to be at the Pittsburgh show. And so, when recordings of the show surfaced, they became highly coveted souvenirs. So much so that tapes of the ABB's return visit to Syria Mosque on October 15, 1971 – two weeks before Allman's fatal accident – would often get mixed up with the January 17 recording, and 1/17/71 was sometimes even billed on bootlegs as Allman's final gig. [All of the mix-up is fortunately cleared up and detailed in the liner notes in the new release.]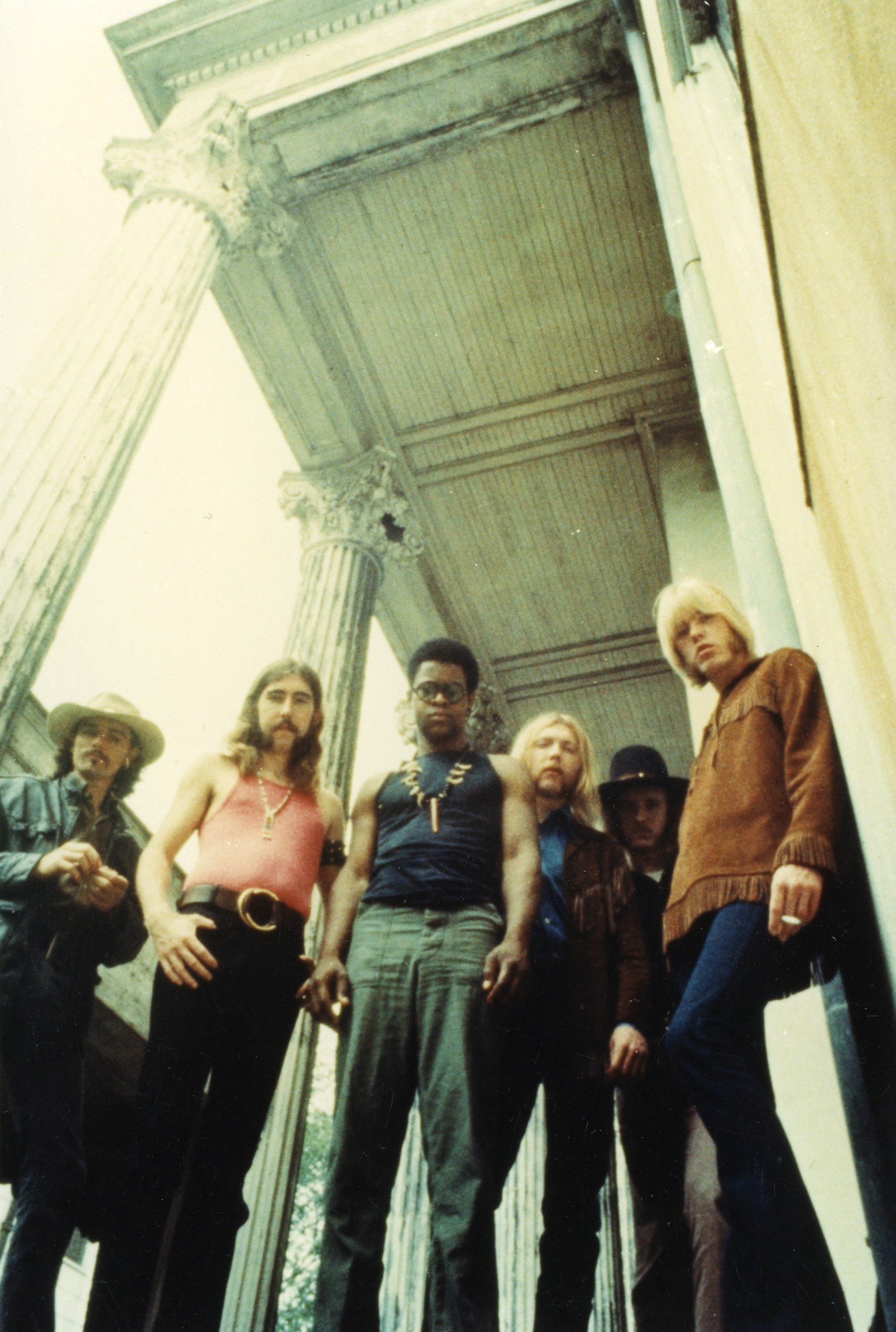 In this now-official soundboard recording, one can hear a number of jitters and stumbles that make sense for where the band were at the time. (These are the type of  'clams' that were conspicuously missing on At Fillmore East, we should mention.) And, no surprise, the mix still has much of that 'warts and all' soundboard quality about it – momentary squeals of feedback, buried guitar leads, muffled vocals, unexpected shifts in balance and volume, tape warble, etc. But, after all, this is an archival recording – not at all unlike many a Dead, Zeppelin or Floyd audience recording – that gives us all a privileged window into the mists of time. And what we hear is what we get!
The setlists at the Syria Mosque and Fillmore shows – and the 1970 Ludlow Garage show, for that matter – were not identical but still highly similar in structure, with the same opening song, centerpiece and finale. The Pittsburgh show – which consists of an hour-long performance of only eight songs – featured a few more original songs from the ABB's then-recent Idlewild release, while the later Fillmore set would veer a bit more toward blues-based covers. But the January performance showed the band in a highly experimental and searching mode. In any case, both casual and die-hard fans will find all the key tracks – 'Statesboro Blues', 'In Memory of Elizabeth Reed', 'You Don't Love Me' and 'Whipping Post' – on the Mosque recording and ready for comparison.
While the imperfections are front and center, they're certainly not show-stoppers. For example, in several places, the late Allmans' bassist Berry Oakley had an overdriven bass tone that comes cutting through in places where it probably wasn't meant to. (I'm a bass player myself, so I do like that!) Also, on some of the featured Idlewild tracks that were still new set entries at the time, such as the chooglin' slide guitar workout 'Don't Keep Me Wonderin' and the more countrified 'Midnight Rider', there are tentative moments where the rhythms feel clunky and not fully sorted out for live performance yet. But the band adjusts and so do the listener's ears, and the show goes on.
Obviously, the Brothers were shaking it all down and more of those dodgy moments had come early in the show, mostly in newer songs limited to compact song formats. There was something else going on, however, that the recording captures – the magic of this six-piece band listening and reacting to each other in real time, locking in on musical invention with songs they knew deeply and taking listeners outside of their known boundaries. So the second half of Mosque is truly where the musical gold is buried.
One of the expected deeper, long tracks – 'In Memory of Elizabeth Reed' – comes at the mid-point of the performance and starts off tensely. It sounds as if the band had had monitor problems and were not hearing each other well. There are moments of overplaying in the opening section where you'd expect more restraint. But the performance quickly becomes more fluid once the band gets past the familiarly melodic header section and launches into this always-expansive, Latinesque instrumental's open jam.
Duane Allman and his guitar counterpart Dickey Betts, already amply demonstrating their twinning guitar harmonies elsewhere in this performance of the mythical Betts composition, engaged in full conversation during the vamp. Both playing Gibson Les Pauls, the two make their personal guitar voices known through a contrast of spiraling lead lines against crackling chord shapes, hammer-ons and chromatic lines that signal directional changes. This is where Oakley seems to be fighting hard to get himself into every opening he can find. Just before the closing drum break, he finally grabs a short, chunky solo slot. And of course, the band's two iconic drummers, Jaimoe and Butch Trucks, keep the polyrhythmic base churning from start to finish.
There are a number of standard segues in the composition, such as the syncopation and rubato rhythmic tags that mark the hand-offs to the next player which we all know and expect. And, as with the front section, some of these transitions still displayed some awkwardness that would seemingly be absent months later. Gregg Allman seems to be the glue holding it all together. He comps nicely on his Hammond B3 organ behind the other players for most of the song but then makes his own breakout move with a Jimmy Smith-styled solo when his signal comes. And the organ is tilted heavily forward in the mix here, so it's plenty easy to follow. In the overall recording, this song, perhaps, stands out as best as a showcase of his keyboard prowess.
Another song that gets the stretch treatment is the Brothers' cover of bluesman Willie Cobbs' 'You Don't Love Me', a well-loved track also preserved on the historic Fillmore set. Yes, this time, the band does mine the blues, plunging into the pain and confusion of Cobbs' edgy lament about romantic rejection. And this song more than usual displays Brother Gregg's most soulful singing in the Mosque performance: "Gonna tell everybody/what those young girls do to you. . .", he growls with a vivid sense of a man seeking to vent his pain.
Moments of unsettled rhythm again color the opening verses, but after a brief, free-time pause where Allman and Betts squeeze out slow, crisp licks about five minutes into the song, the guitarists and drummers soon fire up a guitar-centric riff fest that runs nearly for 15 minutes. The interplay between them turns into a country-meets-city guitar duel, flavored with many short quotes and familiar ditties carried along on a chugging blues bottom, not unlike the Cream's live classic 'Traintime'. Humorously, it brings to mind 'Dueling Banjos'. And, ironically in light of 'You Don't Love Me' being a blues song, the jam wraps with a rattling crescendo, quoting the Christmas song, 'Joy to the World'. Hah!
The other iconic, extended-play track that had come to define the Brothers' live set and usually served as a show finale is 'Whipping Post'. The exploratory structure of this 20-minute arrangement had already been well established from its earliest inclusions in ABB shows. There are the raging, hard-blues moments, driven by Oakley's insistent, staccato bass lines in the verses and the percussive counterpoint of drummers Jaimoe and Trucks in the open jams. But Allman's brother Gregg's electric piano and organ are also equally assertive instruments in a number of passages where the four are fluidly reshaping the structure behind guitarists Allman and Betts.
In this extended jam there's a great deal of tension and release – an essential element in the Brothers' long-form musical compositions. The pent-up fury of the band in the opening verses gives way to Arabic-flavored passages, expressive tremolo phrases with sweet, violin-like timbre, and airier, strummed-chord moments that float far away from the torment of the main song.
And, of course, in moments like these the fury ebbs but comes surging back. Throughout this tumbling jam, guitarists Allman and Betts double down and bring in modal jazz influences that suggest Carlos Santana and jazz saxophonist John Coltrane. There are frenetic moments, for sure, but also more delicate, lyrical interludes, and extended percussion crescendoes over hanging bass drones and sustained harmonic feedback. Definitely a journey beyond the blues.
One thing commonly said about live albums is that they are more of a souvenir for those who were actually at the show or only for the true, completist fan. (Some live albums have notoriously been heavily doctored and are not true records of the performances, so they are a kind of a hazy fantasy for the mainstream fan.) In other words, they often leave less ardent fans or newcomers with a feeling of 'I guess you had to be there'. And then after one or two listens, the collection might go quietly to the back of the shelf. But I suspect, now that I have heard this album several times with close attention, this release could break that rule. The Mosque recording makes it abundantly clear that the early '70s were a different musical time for bands and audiences. And at this stage in life of those adventurous, imaginative players in the Allman Brothers Band, they played as if their lives depended on it — warts and all!
This article is: "Dead-icated with love to Mark Burnett of Galena, Ohio, a true Dude of Life who loved his Brothers and his bourbon in equal amounts."