Last weekend's Railbird Festival which took place at Keeneland Horse Racing Course in Lexington, Kentucky, took some hard hits from the media as the first day seemed to be filled with long lines, high temperatures, and lots of thirsty concertgoers. It was the second time the festival has been held, after being forced to cancel the 2020 event due to the pandemic.
While it is impossible to ignore the logistical errors that lead to many upset patrons on Saturday, I'd rather discuss the positive aspects of the day, as there were many worth mentioning.
Going into the weekend, I was prepared for anything. I hadn't been to a music festival in over 2 years, and the world was a different place than it was in 2019. I was definitely a different person than I was then. On top of that, I was going solo for this trip, so there was an added layer of anxiety around that.
The general buzz on social media leading up to Railbird seemed uneasy. Between artist cancellations, new additions to the lineup, and COVID safety protocols that were updated the month of the event, I was unsure what the general mood of the crowd would be. All of my worries disappeared as soon as I arrived on the grounds at Keeneland and I remembered what this was all about.
The parking lots were buzzing with general pre-show festivities. Tailgating, laughing, easy-ups and chairs as far as I could see. The crowd wasn't easy to classify into any distinct group or category, as the lineup was fairly eclectic and offered a decent variety of genres. While the majority of attendees could be put into the 20-40 year age range, there was no absence of children, families, or the elusive 65 and up concert-going crowd.
The process of proving you were vaccinated or had tested negative for COVID within the designated timeframe was smooth, quick, and easier than I expected. For anybody planning on attending an upcoming event that requires this for entry – fear not! It is a very simple process, and one that Railbird seemed to get right. I was inside in a matter of no time and was greeted by Lexington local Abby Hamilton on The Burl Stage, a last minute addition that was added to the lineup that morning.
It wasn't long after I arrived that I linked up with some friends from home and we made our way to check out the other stages. Next up was Sarah Jarosz on the Elkhorn Stage. Her beautifully simple voice was perfect for the midafternoon in the Kentucky summer sun. As the set continued, the crowd grew. It was obvious that festival goers were still arriving in herds.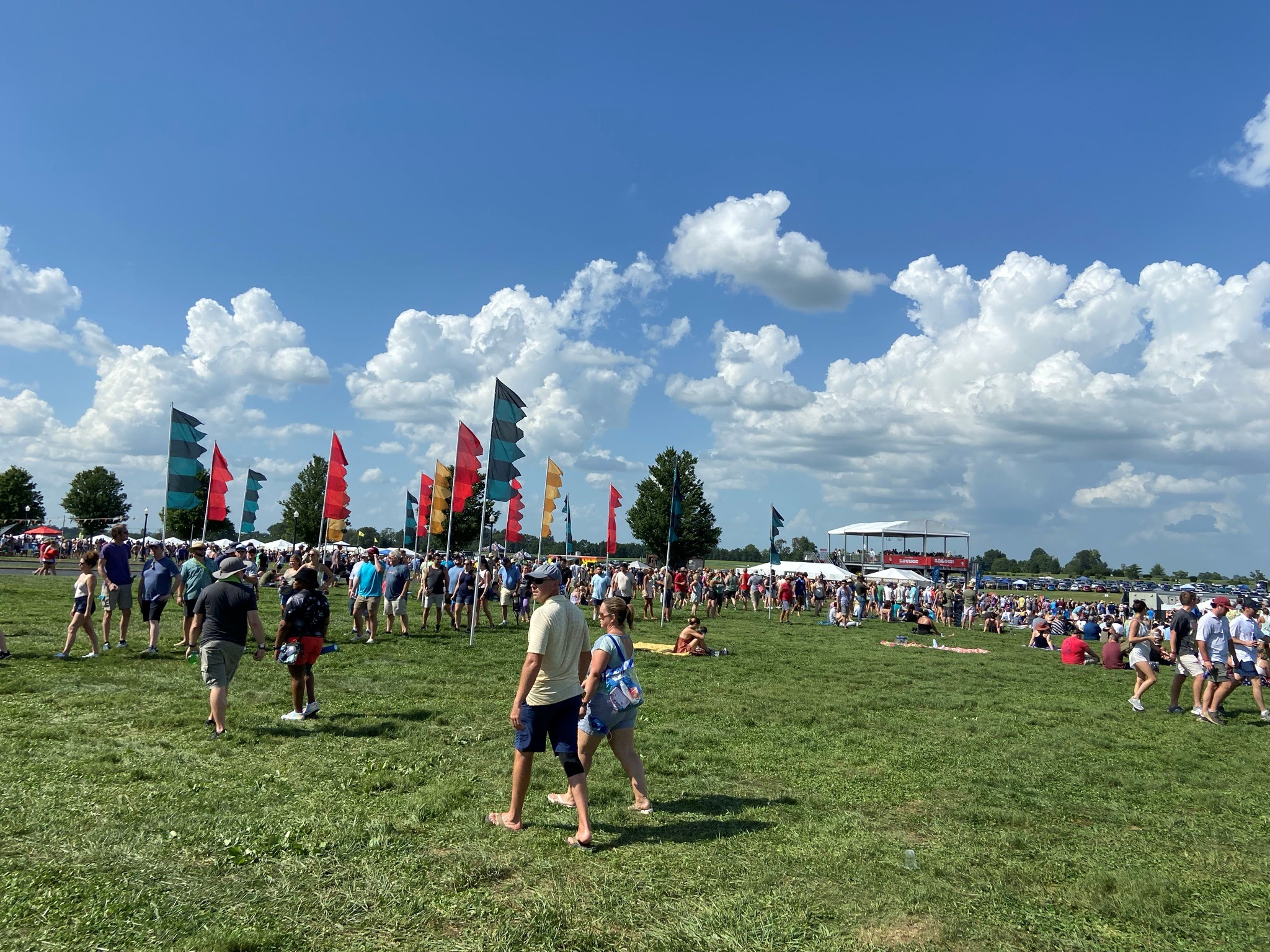 We decided to continue checking out the grounds and made our way to see where the festival's largest acts would be preforming – the Limestone Stage. We walked from one end of the venue to the other to make the trek, and the heat was in full swing at this point. While the grounds were easy to navigate, shade was hard to come by, and large groups could be found taking rest under any trees or canopies they could find.
Joy Oladokun and her band were beginning to take the stage when we arrived in the largest crowd I'd seen so far that day. "We're going to play some music for you all and talk about my mental health for a bit," Joy said as they began their first arrangement. Their music was a soulful blend of Joy's emotional vocals, some inspirational piano chords, and a jazzy dream-like percussion to hold it all together. Taking the time to speak directly to the crowd about issues like mental health and our roles in the world, Joy's monologues were interspersed between songs, without taking away from the musical performance.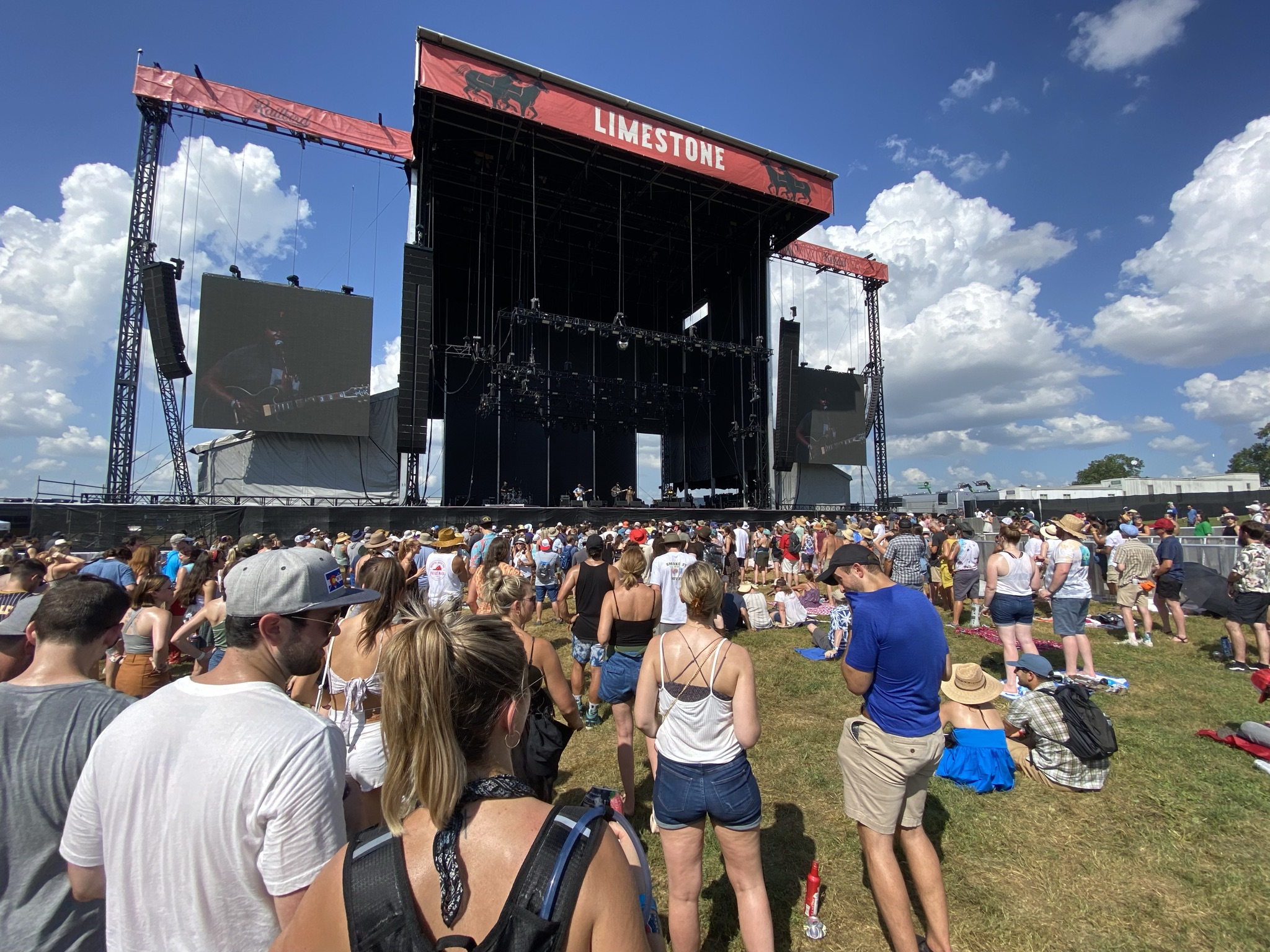 I decided it was time I headed off on my own again to check out Magnolia Boulevard. Having heard them on many of my Spotify Daily Mixes, I was even more impressed with their live energy when I showed up at The Burl Stage. A band like knows how to harness the energy from a crowd and turn it into an incredible performance. The 5-piece jumped between a hard-rocking blues band and a funky folk-inspired jamband, impressing me with every note along the way.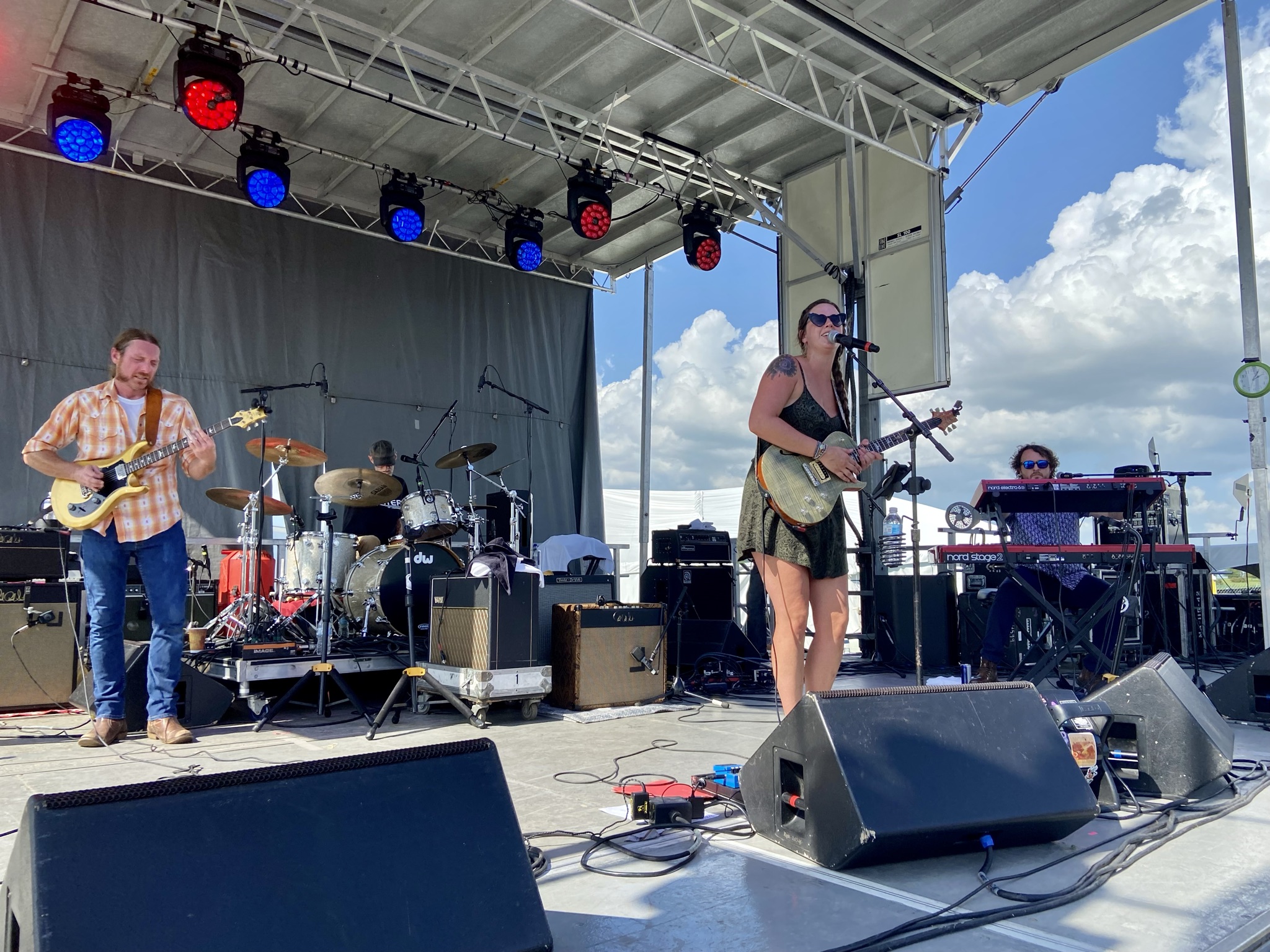 After grooving to Magnolia Boulevard for as long as the tightly packed daily schedule would allow me, I raced towards Margo Price, whose distinctive southern voice could be heard booming across the fields before I could even catch a glimpse of the stage. Her performance was fun, personal, and energetic. The highlights for me were her cover of "Dead Flowers" by The Rolling Stones (which she dedicated to the late Charlie Watts) and a unique take on "Help!" by The Beatles.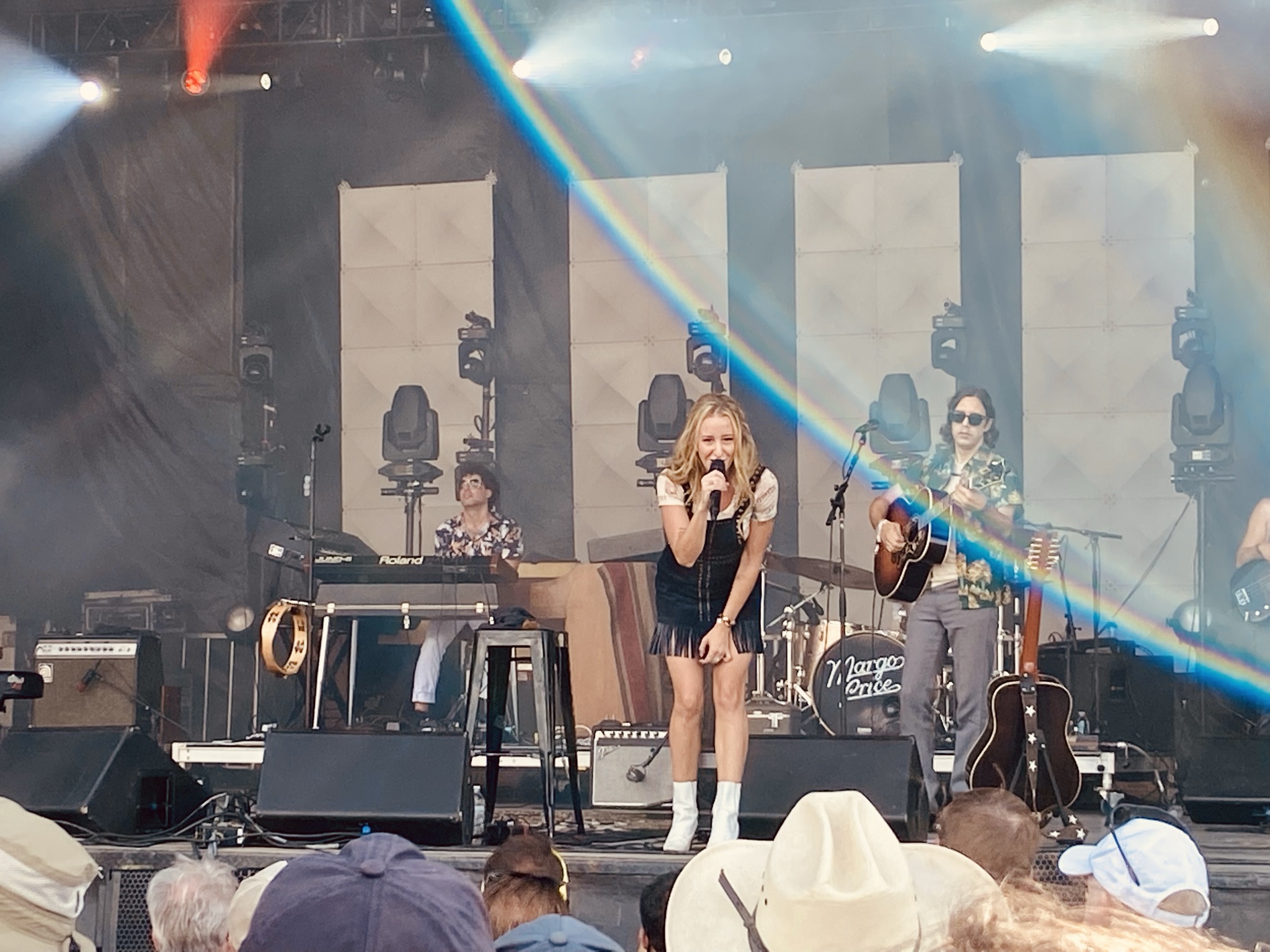 After yet another trip from one end of the venue to the other, Black Pumas were getting comfortable after a few songs of their performance. Their vocalist Eric Burton was a captivating ball of energy as he bounced and danced across the enormous stage. Their timeless sound is a very unique blend of soul, grit, and groove, with an unmatched rawness that is almost tangible.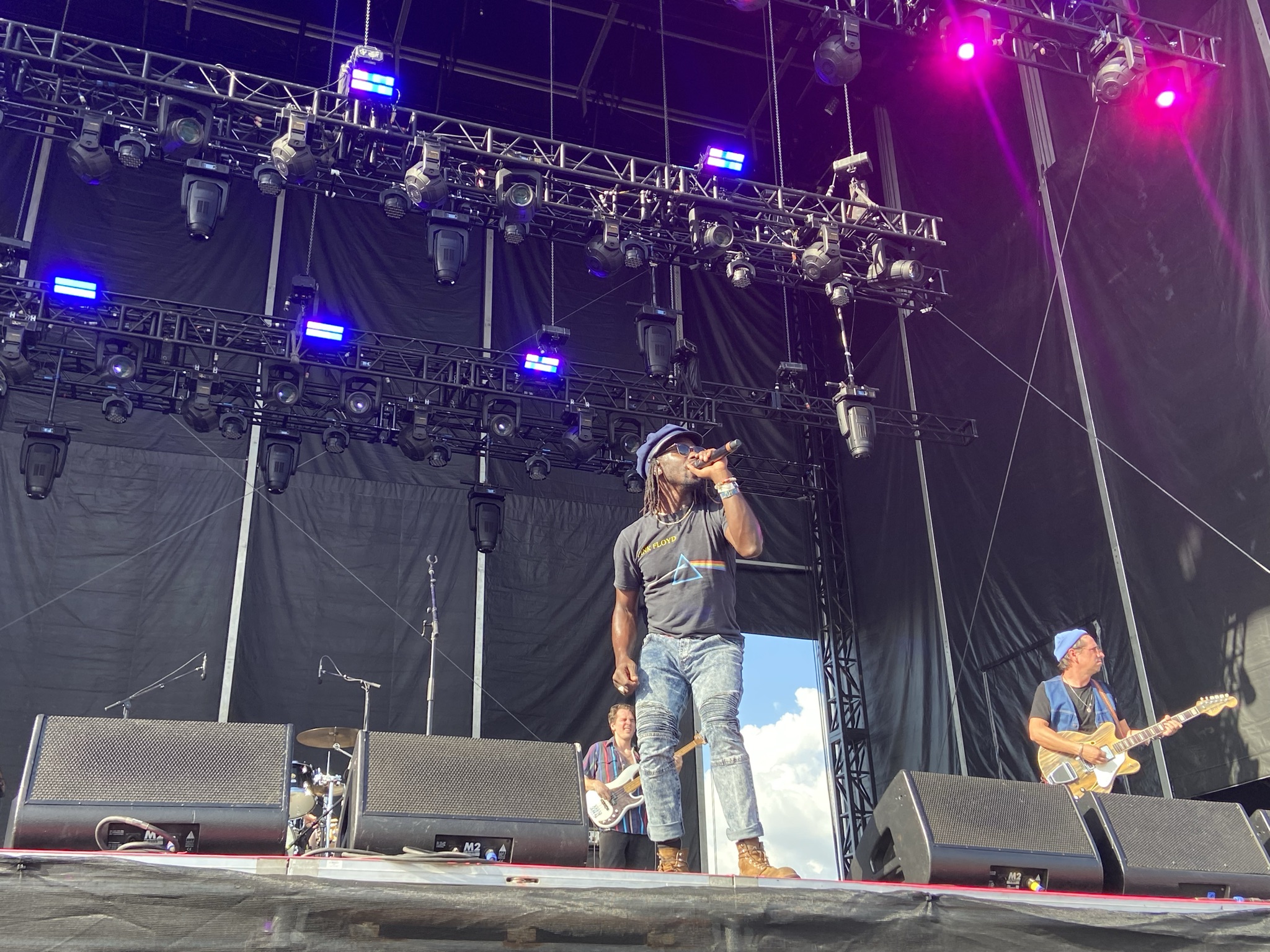 Having seen and heard about the lengthy lines for concessions all day, I decided it was time to take a dinner break and gear up for the evening ahead. I was in line for around 30 minutes to get a cheeseburger, but that didn't seem too bad compared to some of the other wait times that others reported. I was also lucky enough to not have to suffer through another wait for drinks, as there was a happy hour presented by Four Roses taking place in the media tent. I took an hour or so to eat dinner and enjoy a specialty batch of Four Roses before checking out some of the non-musical aspects of the festival.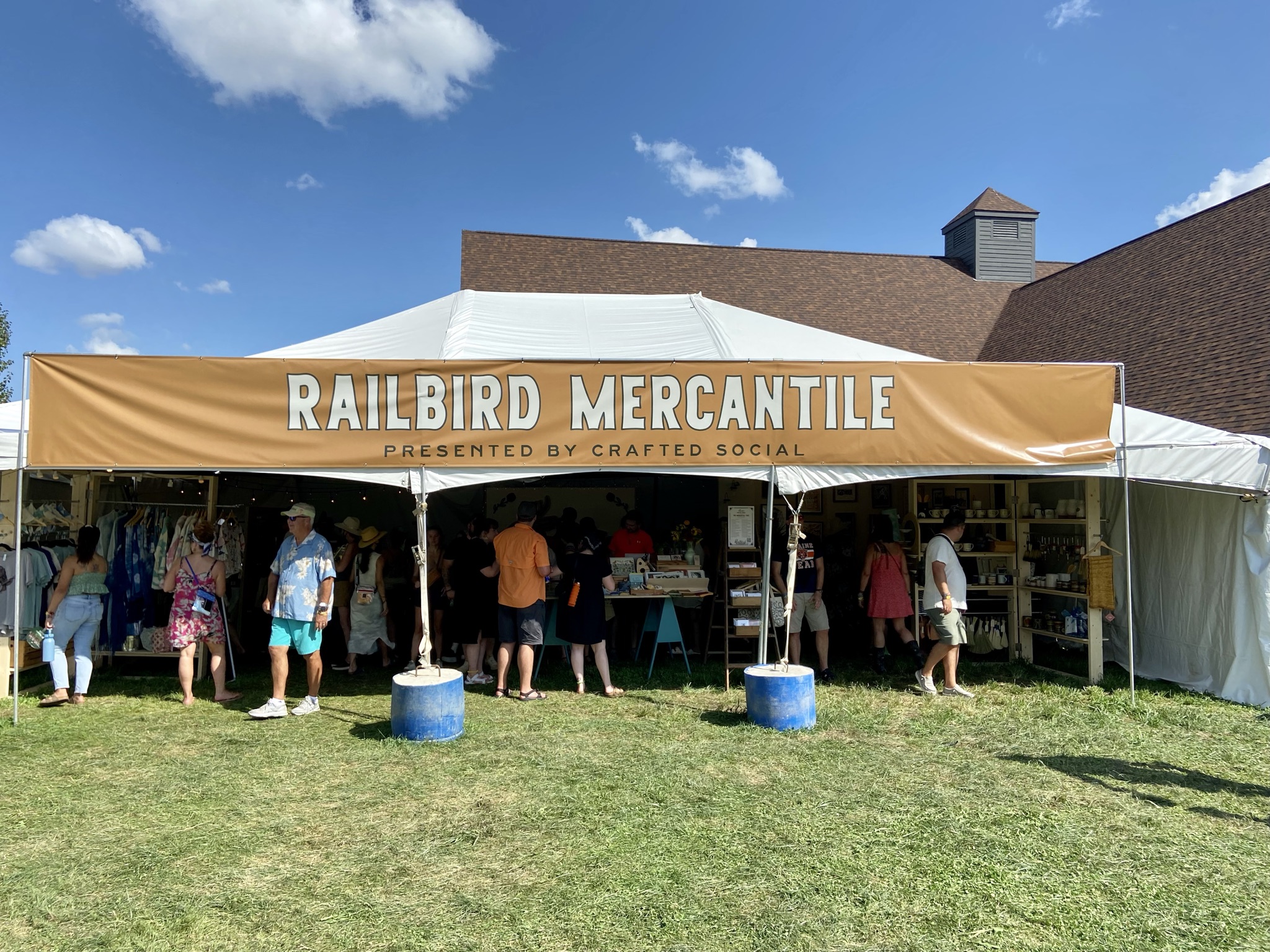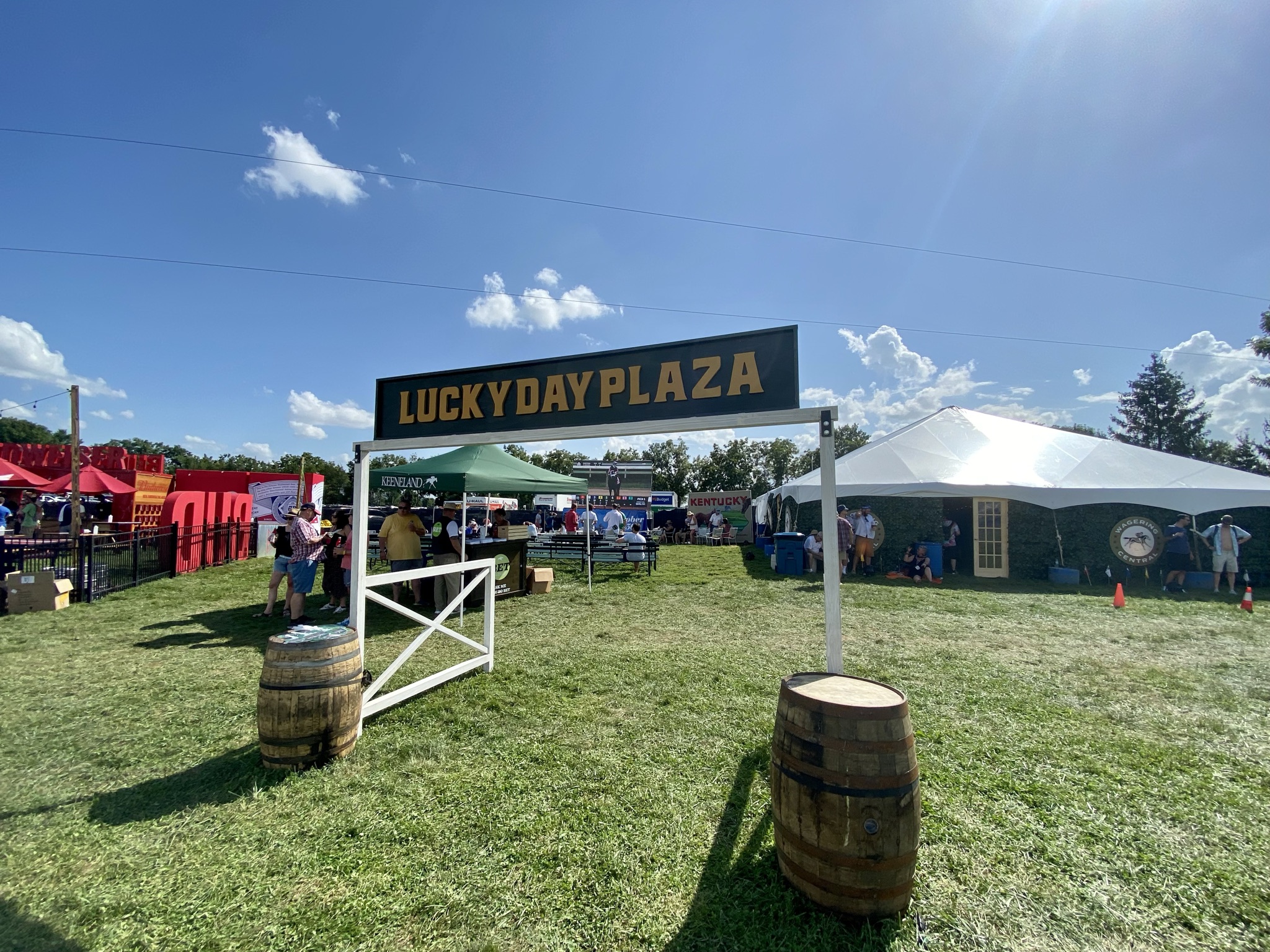 If the bluegrass, bourbon, and August heat wasn't enough Kentucky atmosphere for people, they could try to "Get Lucky In Kentucky" at the Lucky Day Plaza. Here, horseracing fans could place bets on active horse races taking place across the country. There was also a large indoor building called The Rickhouse that housed highly curated bourbon experiences from several distilleries throughout Kentucky. Along with The Rickhouse, attendees had access to over a dozen culinary demonstrations known as Sip and Savor.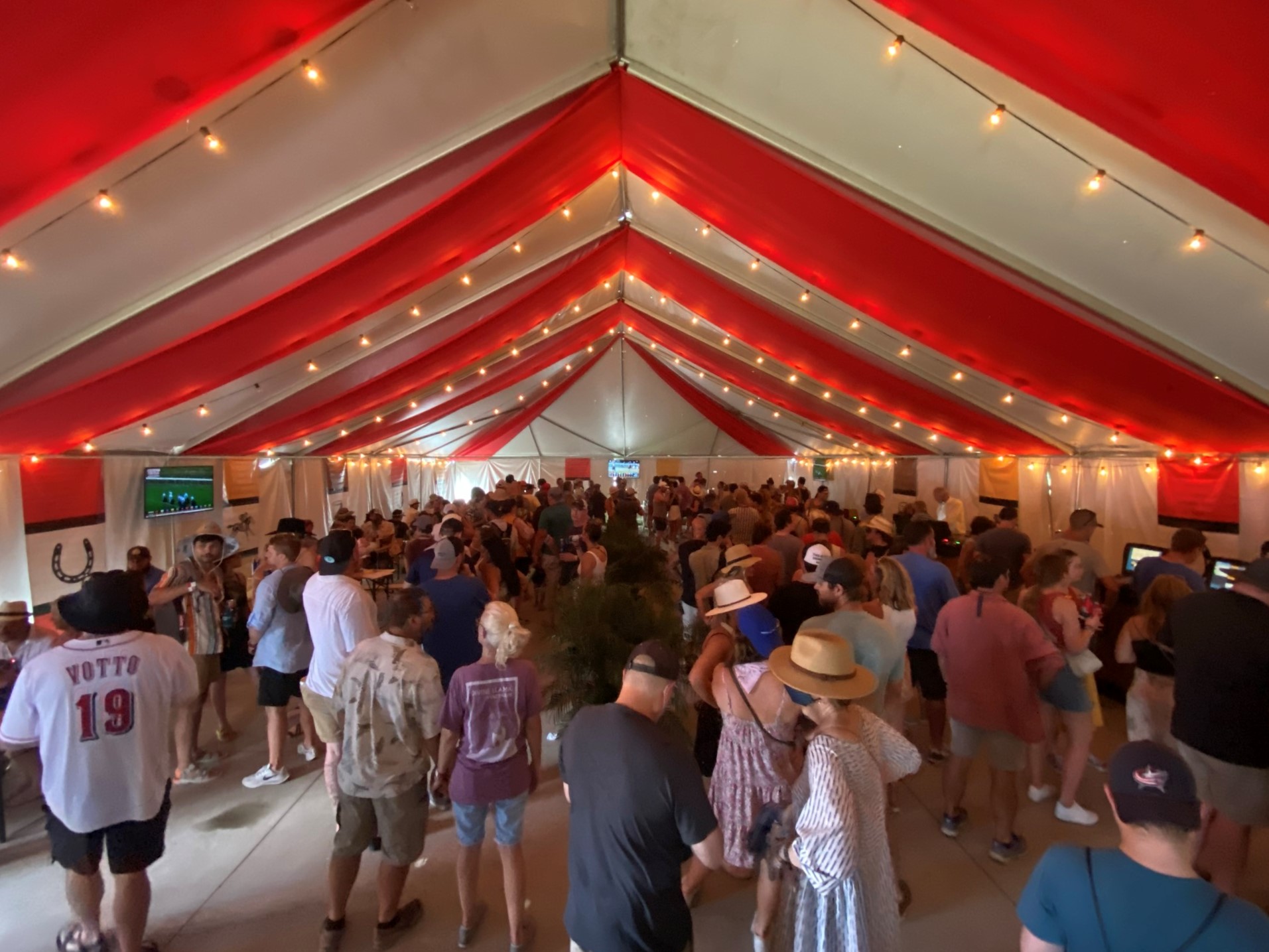 When I stepped back outside, the sun could be seen making it's highly anticipated retreat towards the horizon, which meant one thing to me. It was time to get as close to the stage as I could before Billy Strings started. Billy Strings is the only artist on the lineup that I had seen before, but what I saw might as well have been a completely different band than the one I saw 3 years ago. The four-piece is one of the hottest thing in the bluegrass and jamband scenes right now, and by the size of the crowd Saturday night, there were thousands of new fans who were eager to check out what the fuss was all about.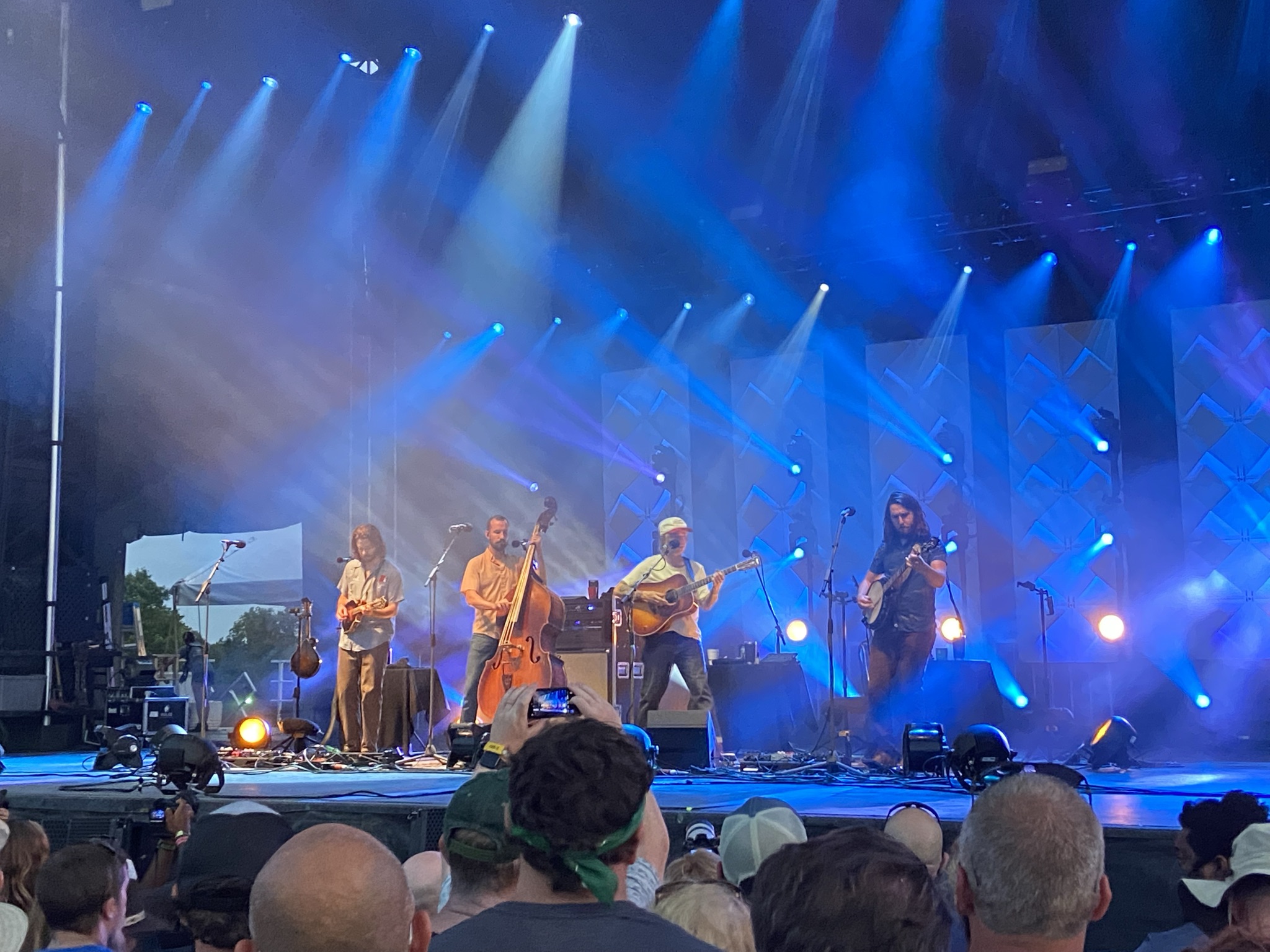 "Holy f-ck that's a big crowd!" Billy said as the band was taking the stage and tuning their instruments. The size of the crowd just meant there was more of our energy for them to feed off as they delivered their signature style of traditional bluegrass through the psychedelic lens of 4 free-spirited millennials. They packed their 1 hour and 15 minute set with as much intensity as they could, seeing as they are used to preforming closer to 2 and a half hours of music during their non-festival shows.
The crowd, which was easily over 10,000 people deep, erupted halfway into their set when the opening guitar lick of "Dust in a Baggie" was hammered out. Within seconds the entire place was stomping their feet, hootin' and hollerin', and getting down – The Bluegrass State way.
Billy and his band left every ounce of themselves, along with a healthy supply of sweat, on the stage by the end of their set. It was apparent that neither the band nor the crowd wanted the show to come to and end, but that's what keeps them coming back for more each show, I suppose.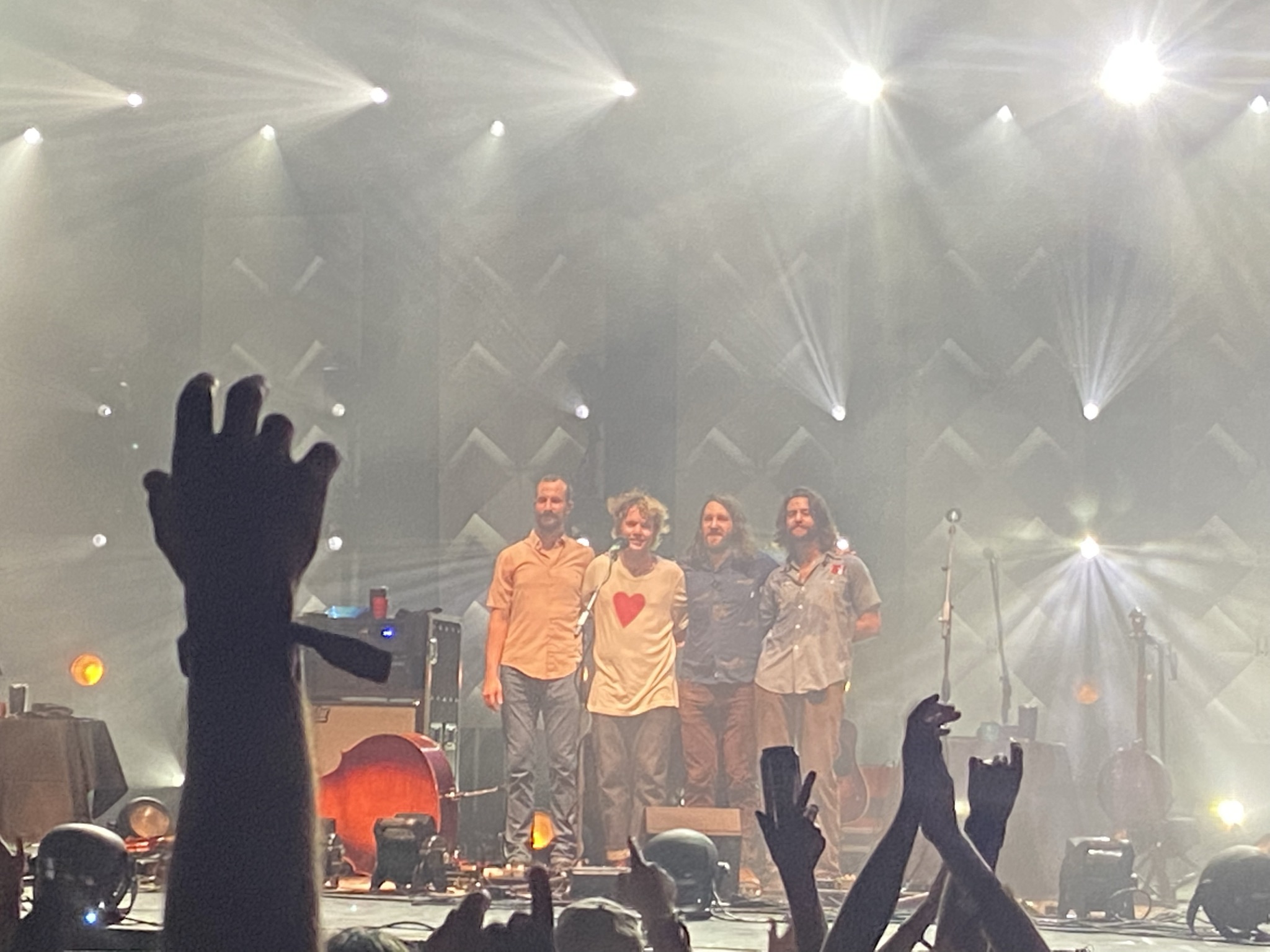 The Saturday night headliners, My Morning Jacket, had already started on the Limestone Stage by the time the Billy Strings crowd dispersed. As I walked towards MMJ and the amount of bodies near me diminished, I finally got a break from the heat that had become part of my identity for the earlier part of the day and enjoyed the cool nighttime air as I began to hear the music from the main stage getting louder.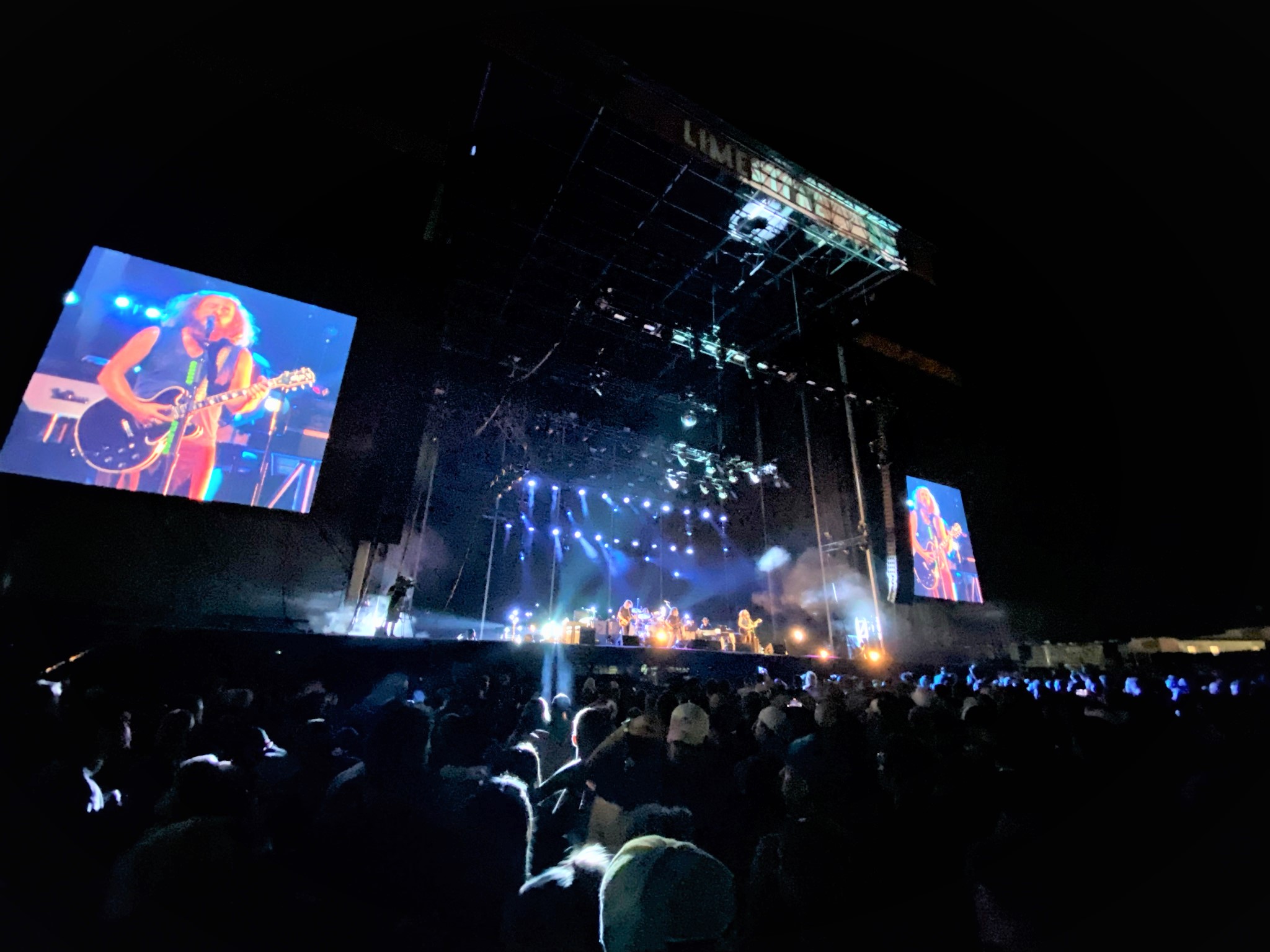 Hailing from Louisville, Kentucky, My Morning Jacket treated this as a bit of a homecoming show to the fans of their home state who had been there since the group's humble beginnings. With a set list spanning their entire career, the band busted out a few debuts from this tour and treated the crowd to a preview of their upcoming self-titled album when they played the lead single – "Regularly Scheduled Programing." I left before the concert was over, but was excited to hear my favorite song by the group, "I'm Amazed" as I was leaving.
I originally planned to return to Lexington on Sunday for a second day of music, but after waking up feeling sick, I decided it was best to play it safe and stay home. Sunday featured performances by headliners Dave Matthews Band, Jason Isbell and the 400 Unit, The Revivalists, Kruangbin, Band of Horses and more. It should also be noted that the talk of long lines for water and concessions seemed nonexistent on the second day, indicating that the festival delivered on their Saturday night promise to improve the logistical errors from the first day.