On July 26, at the popular all-seasons concert venue KEMBA Live!, in Columbus, Ohio, waves parted, and classic guitars and keyboards came out to play in the hands of Warren Haynes and Gov't Mule. The Mule had recently kicked off their Pink Floyd-heavy tour called Dark Side of the Mule, and this was one of those generous, nearly three-hour shows where Haynes and the team front-loaded the audience with a whole lotta Mule in the first hour, and then, truly, went deep diving through the Floydian universe in an extended second set. (For festival slots and some stand-alone dates, the band plays shortened or alternate sets, so this was the full tsunami, all right.)
On one hand, Gov't Mule – a band that began in 1994 as a side project for then-Allman Brothers' band guitarist Warren Haynes and bassist bandmate Allen Woody – is not one of those seemingly countless tribute bands who eat, breathe and, umm, reproduce Pink Floyd music note-for-note for insatiable PF fans, year after year. And on the other, the Mule's members are no strangers to the deeper roots of Floyd's music, in large part because blues is a common musical currency to both Floyd guitarist David Gilmour – a major architect of Pink Floyd's blues-infused foundations and atmospheres – and to Haynes and his trusty stallmates.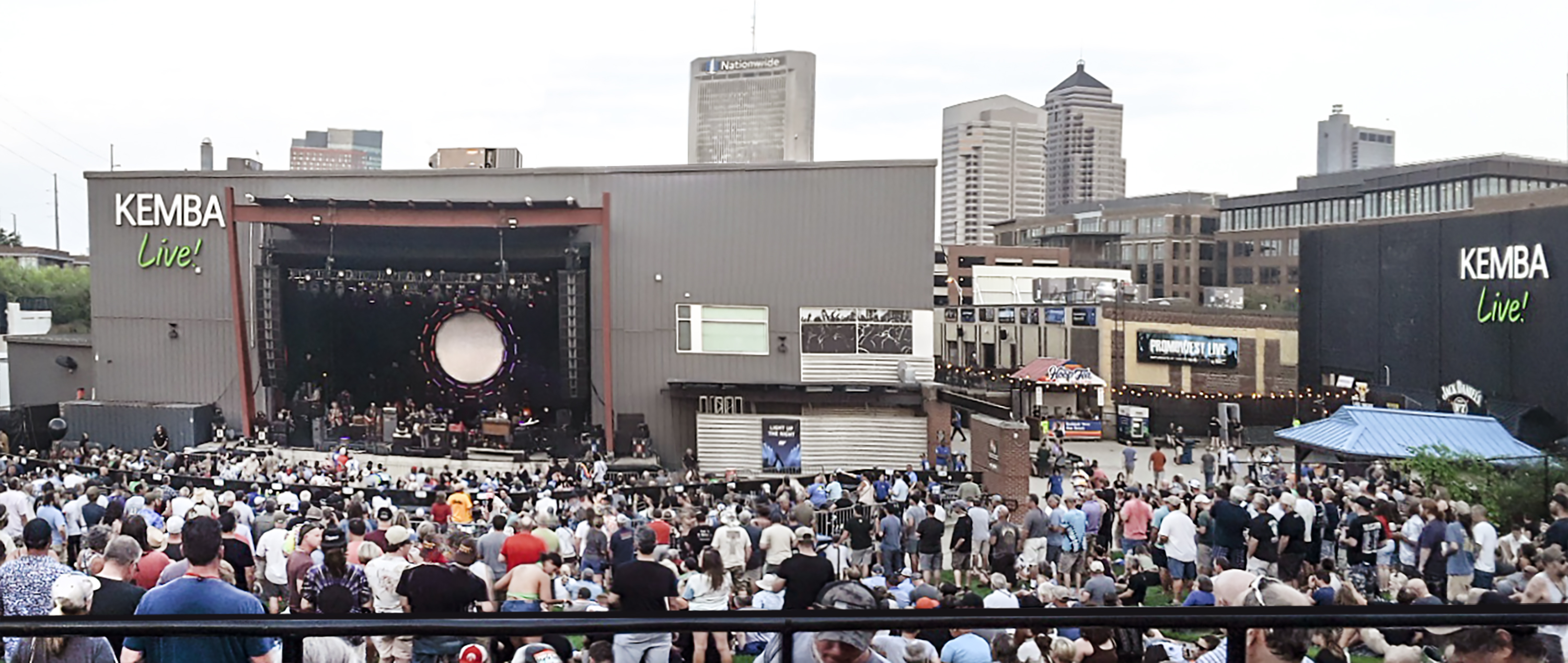 So when the Mule have done Floyd-filled shows in the past, such as their surprise initial Dark Side of the Mule Halloween show in 2008 and periodic follow-up DSotM nights, they have approached that music with a keen reverence but also a willingness to bring plenty of their own shadow and light to it. And now, with this year being the 50th anniversary of the landmark PF album, Haynes and Co. decided that it was an ideal time to visit the Dark Side for one last dedicated tour.
With the early-evening sun still out for an hour or so as the show began on the hybrid indoor/outdoor venue's summer stage, the band broke out of the gate with a bluesy, stomping pace that included such Mule staples as "Bad Little Doggie", "Blind Man in the Dark" and "Beautifully Broken". Early on, Haynes and newly-joining bassist Ken Scott jumped into the set with their vintage, angular-shaped Gibson Firebird and Thunderbird guitars respectively. And then, they swapped those to try on a Les Paul and other axes for different chops and feels in later songs.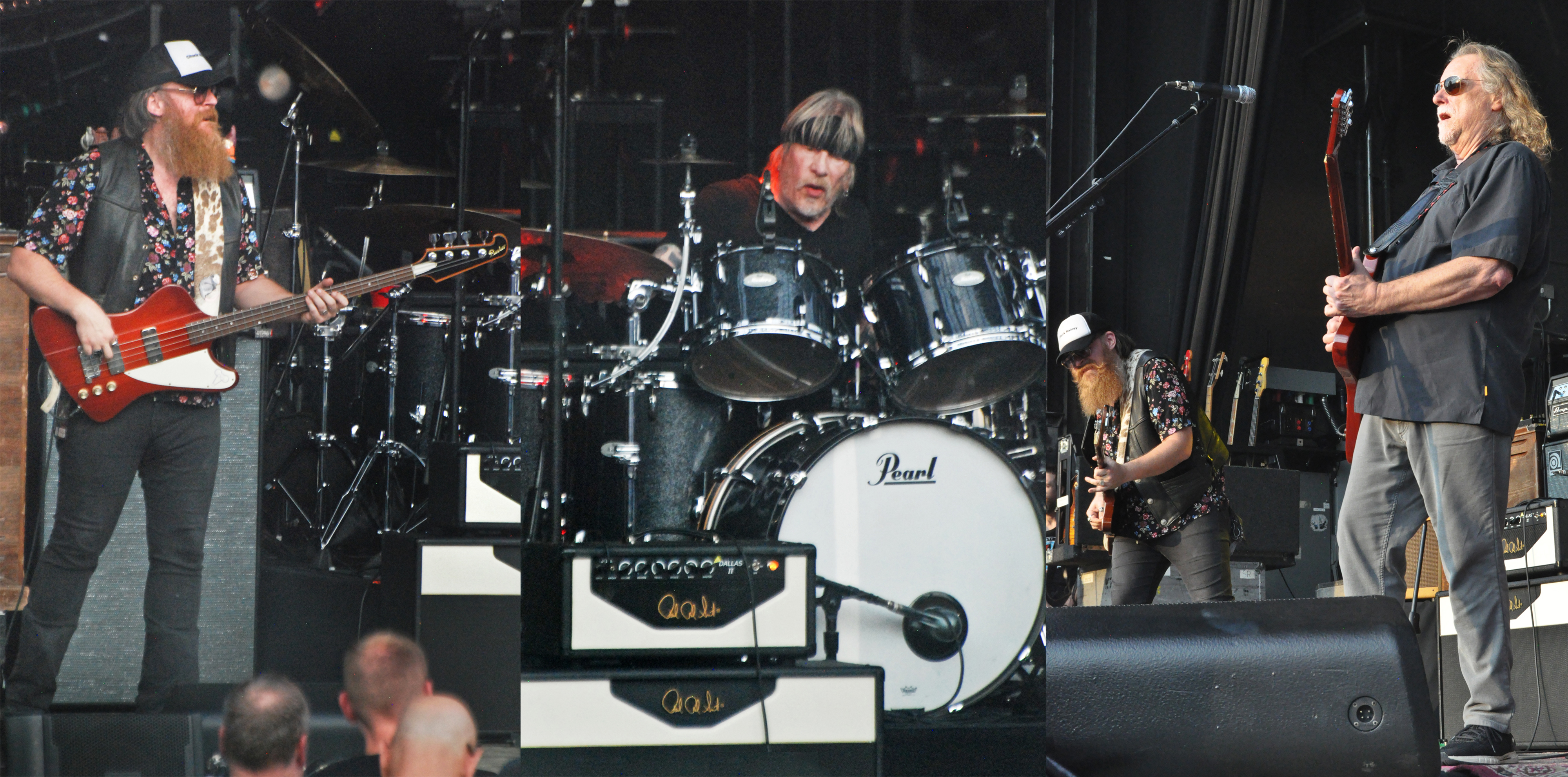 Seemingly fully warmed up by four songs in, the band tore into a blistering version of "Sco-Mule," from the Mule's 2011 tribute album nod to long-departed bandmate Woody called The Deep End. Guest saxophonist Ron Holloway – who would return several times throughout the night – came out to shine for the first time on this full-tilt, Latinesque fusion jam, first performed by the Mule in 1999 with jazz-guitar virtuoso John Scofield. And longtime GM drummer Matt Abts played like a man possessed, with many quick fills and counterpoints to the quick-cut, call-and-response interplay that went around the stage. And this is not at all to overlook the heavy Hammond organ groove and percussive Hohner clavinet fills of keyboardist Danny Louis. But the chunkiest part of the set hadn't even come yet, and that was with the rollout of several heady new songs from the Mule's 2023 album, Peace. . .Like a River.
It was at the mid-point of the opening set and while the band took a quick, collective deep breath that Haynes chatted up the audience for a minute: "So," he asked playfully, "do you wanna hear some new songs?" Before the audience could even with eager applause, he immediately answered his own question with a shrug and a laugh. "We're gonna play some new songs for you. Heh – you can hear the old stuff any time."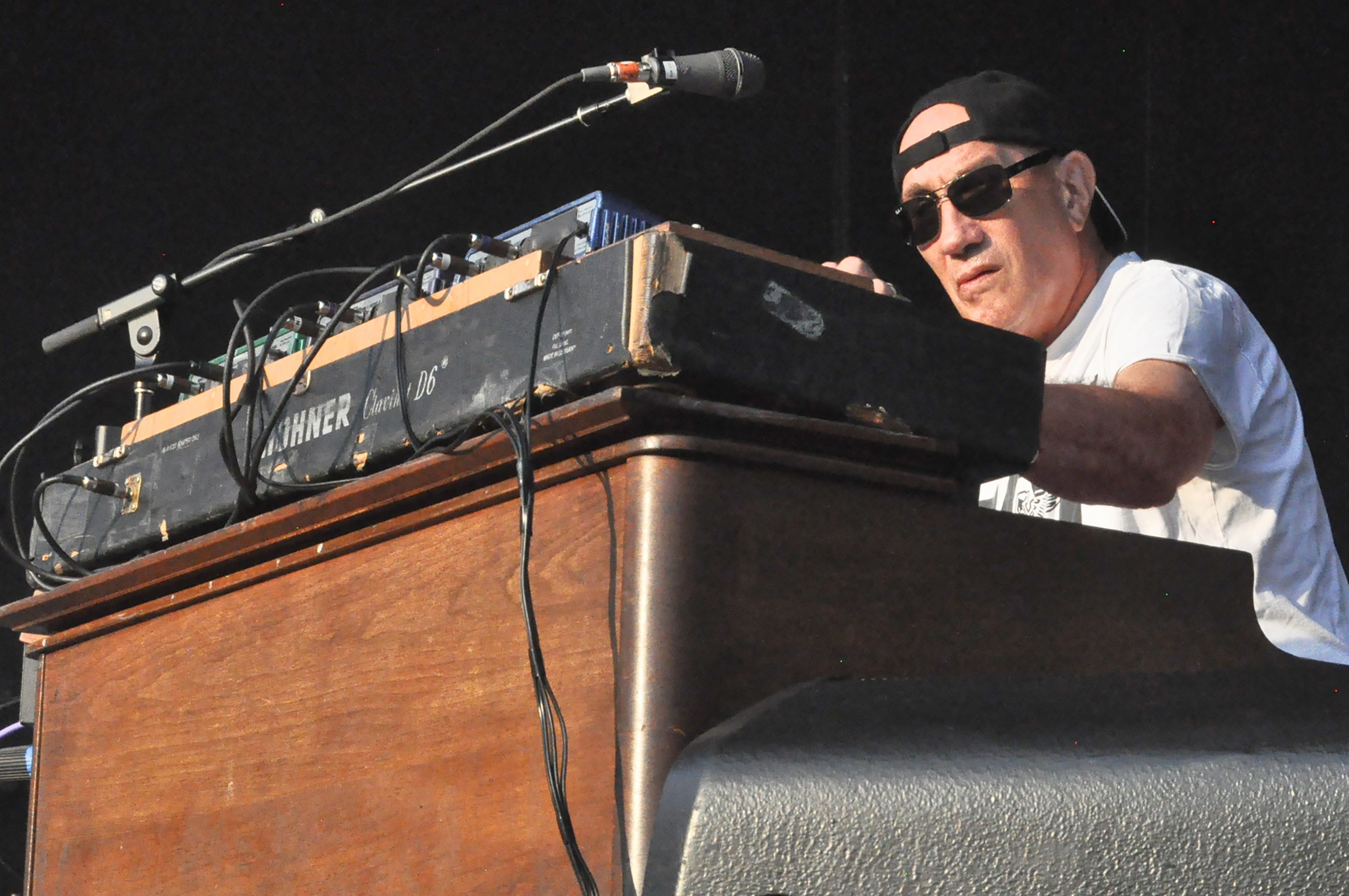 It was a hefty chunk of three new songs (plus one new-ish piece for the set finale), leading with the 9-minute-plus "Made My Peace." Notably, this a slow-cooking, near-art-rock epic, which on the album combines deep South blues with a snatch of a Soundgarden progression and swelling, Beatlesque choruses and bridges. On the studio recording, they even employed orchestral backing. However, the band did not bring the orchestra with them or use recorded drop-ins on this. Instead, they delivered the chromatic power strokes in the song's midsection on the strength of the stage musicians alone.
An almost story-like piece that relates the regrets and turning points on life's journey, "Made My Peace" gave Haynes a wide musical canvas. And he took full advantage of it, filling it with his florid George Harrison-style slide guitar melody in the mid-section and dramatic, heart-on-his-sleeve vocals. Main keyboardist Louis also asserted himself, too, on the latter half of this with an extended honky-tonk piano section. And, notably, there was also a fifth member on stage – keyboardist/guitarist/vocalist Jackie Greene, known for his work with Bob Weir and Phil Lesh, among others – who lent more weight to this made-for-the-stage arrangement of the song.
Darker, and grittier blues-pop rock – more of a Mule-ish variety – followed with two songs from the new River album titled "Peace I Need" and "After the Storm". Quickly approaching the top of the hour, the band figuratively 'released the Kraken', performing the set-closing title song of their relatively-recent, 2017 album, Revolution Come, Revolution Go. This deeply groovy, multi-part, funk-soul-rock fusion finale opened with a percolating bass figure by Scott, with the rest of the band quickly piling in on top of him for another raucous jam showcase.
There were clear shifts and modulations between each section of "Revolution", and then the band brought it all back home in a return to the main theme. Scott's kinetic and rubbery bass fills ricocheted around drummer Matt Abts' hermetically-tight rhythm pockets, especially in a high-speed, syncopated center section. It all went down a storm with the audience, too. You gotta admit, these guys – from start to finish – really know how to work a crowd!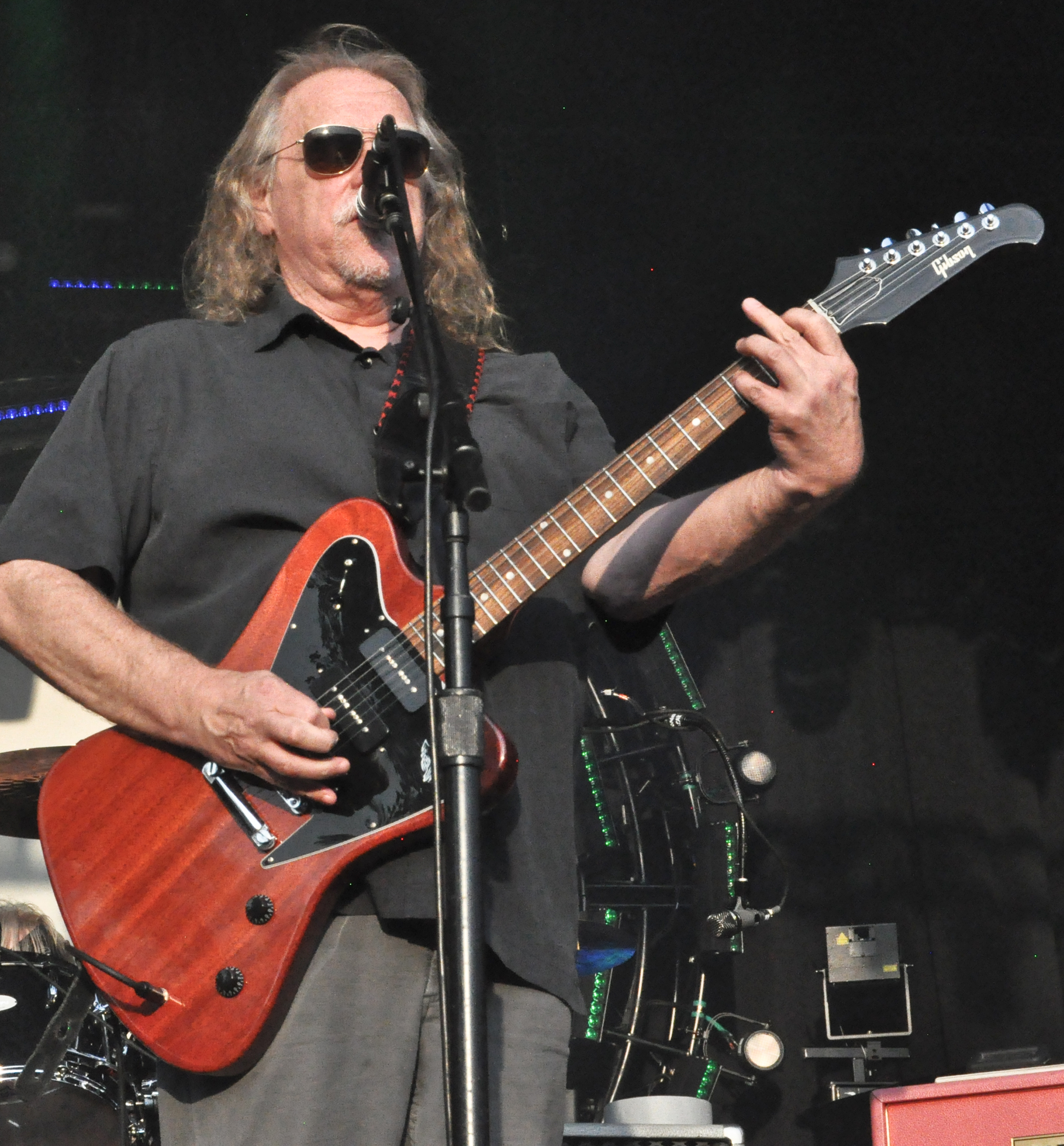 As the clock neared the witching hour of 9 o'clock and dusk settled in like a charcoal veil, the band took a quick, 20-minute break (It was reasonable to guess it might be longer.) and a cheesy-orange half moon drifted into its high point in the sky. The air was thick with humidity (plus a bit of that old skunk) and scrambled-egg clouds blew past that lonesome half-face which had to work a little harder to shine through the still-hazy sky. (There had been pop-up storms in the region throughout the day, but conditions held for an uneventful weather night at the show.) And with an estimated return at 9:30, the band surprised everyone and started up again in earnest with a fully darkened stage at 9:15 p.m.. It was time for the Main Event.
At that moment, there was no heartbeat, no cash registers, no muttering voices – nothing that hinted the slightest at Dark Side of the Moon. (In time, but not yet.). Not exactly a curve ball, but Haynes emerged on stage by himself and, under a solo pink spotlight and with a rear-projection image of clouds in a blue sky, he began a plaintive rendition of the Roger Waters-penned song from PF's 1977 Animals album, "Pigs on the Wing, Part 1".
This time, in order to do his best David Gilmour impression, Haynes was wielding a solid black Fender Stratocaster with a blonde maple neck, a longtime Gilmour trademark. The available tonal options of this three-pickup guitar, however, were exactly what the Floyd material requires. Band members – and supplemental musicians Holloway and Greene, and backing vocalists Machan Taylor and Sophia Ramos – then joined him as stage lighting remained artfully subdued and more abstract patterns emerged on the circular center screen.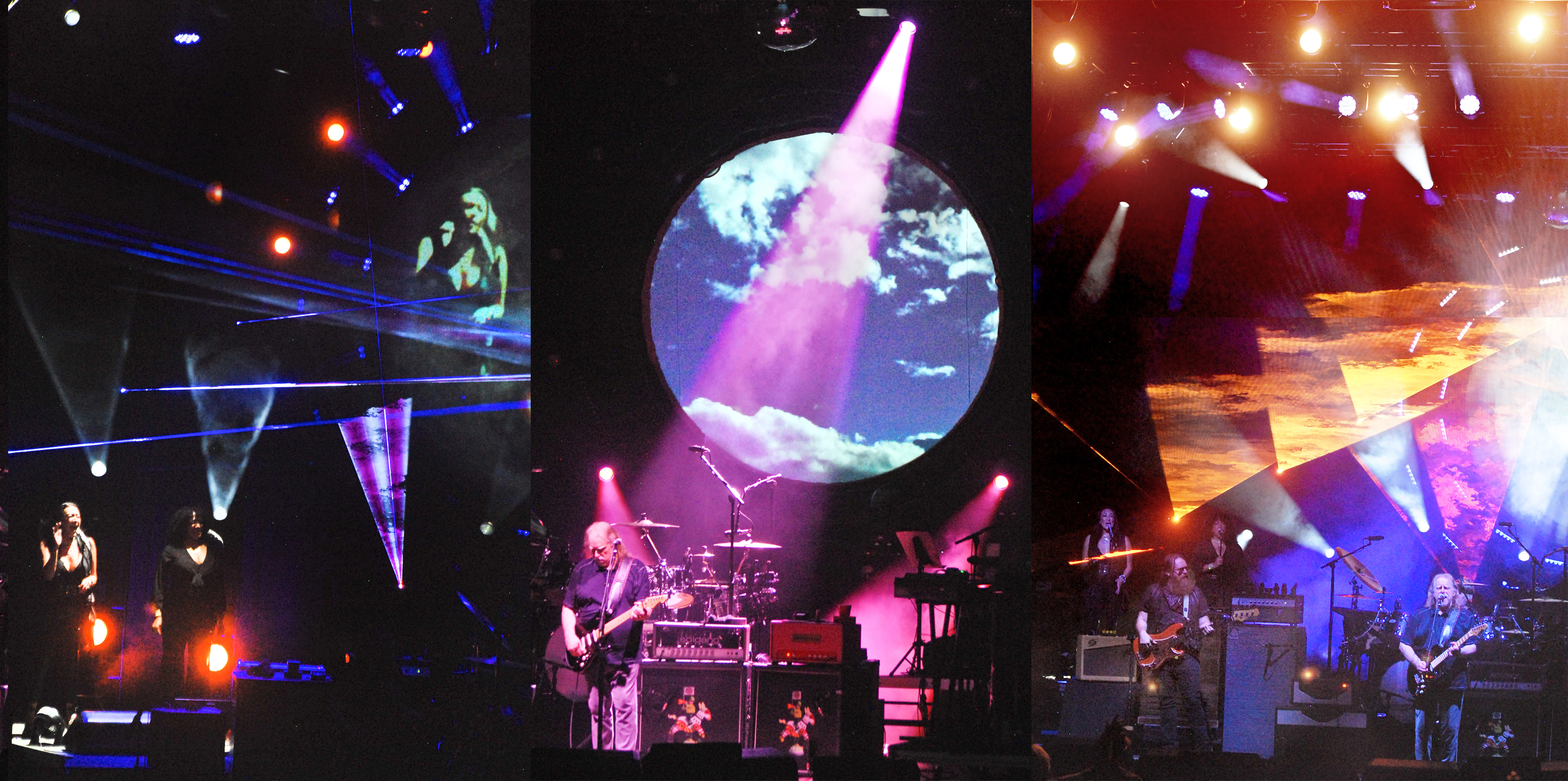 Including the first half of "Shine On You Crazy Diamond', "Have a Cigar" and "Welcome to the Machine" – all from Pink Floyd's 1975 album, Wish You Were Here, this opening song block was effectively the first half of that album. And, as is customary for the song, drummer Abts delivered his patented snarky lyrical variation on the infamous question embedded in "Cigar" when as lead vocalist he sang, "Oh, by the way. . .which one's the Mule?" Cheers and laughter rippled through the audience, obviously making that another crowd-pleasing moment.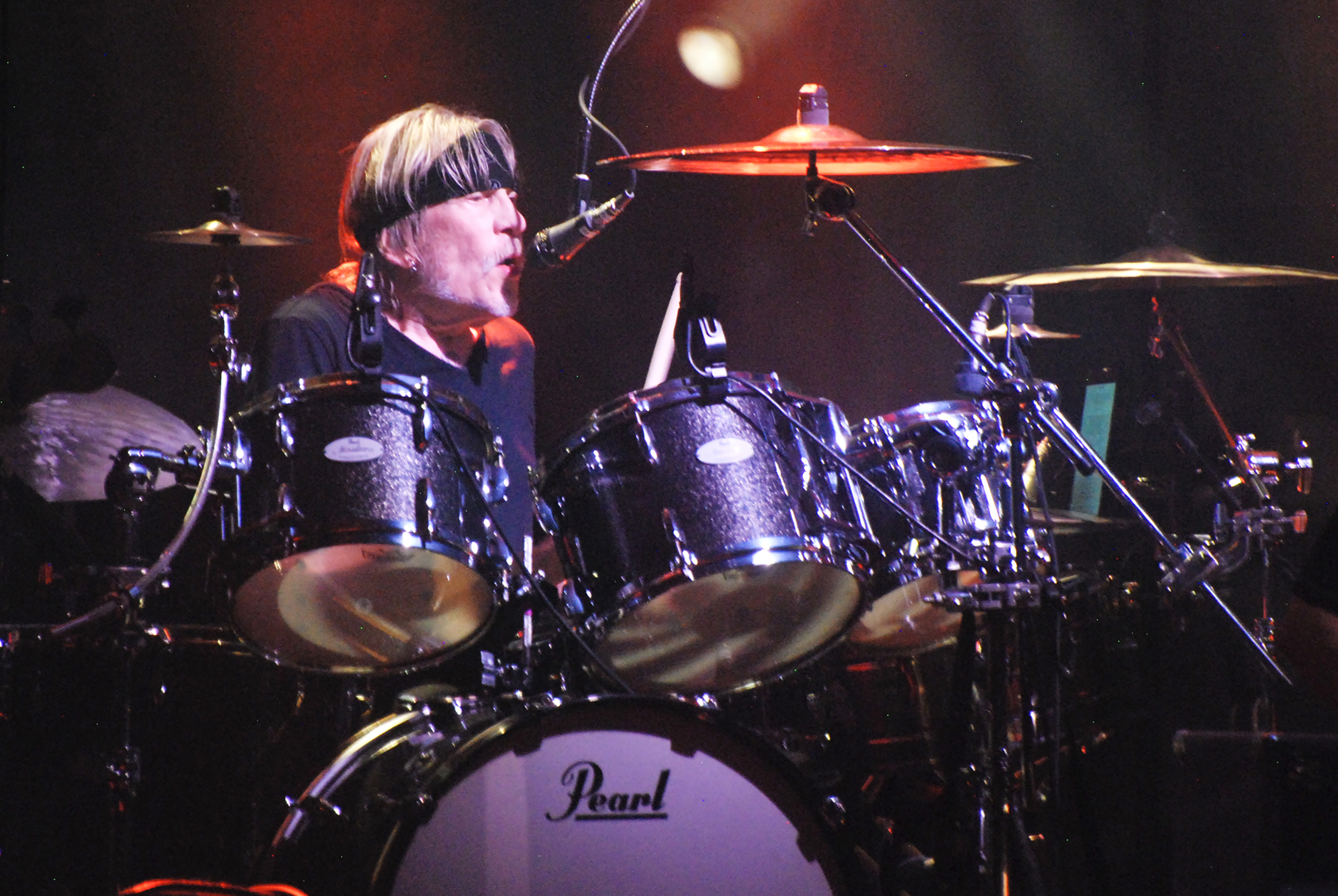 Darken the stage again. Now cue the sound effects, and ready the musicians. Finally, the moment had arrived for the timeless pulse of that trademark Dark Side heartbeat to make its throbbing entrance. And just like that, without skipping a beat, the band seamlessly took the audience deeper into the mysteries of Pink Floyd's timeless 1973 masterpiece and beyond. To say the least, they admirably ended up doing things with the Dark Side songs that the Floyd themselves never leaned into. But for a longtime, 50-plus-year Floyd fan like me, these tweaks were not sacrilegious showstoppers but actually a welcome, mind-refreshing change of pace.
Much like the Floyd in days of yore, the performance of the Dark Side songs was a highly visual experience, although the GM team wisely avoided the literal film interpretations of lyrics that so many PF cover bands attempt to replicate faithfully. Instead, they showed much more imagination in uses of lighting color and abstract images, as well as generous use of lasers and Vari-Lite beam patterns. Many of these effects – especially the multiple arrays of colored and animated lasers –were much more vivid toward the back of the venue. But, wherever you were, they had the pleasant effect of keeping you dialed into the musical dynamics , not distracting you as it can so often happen with films.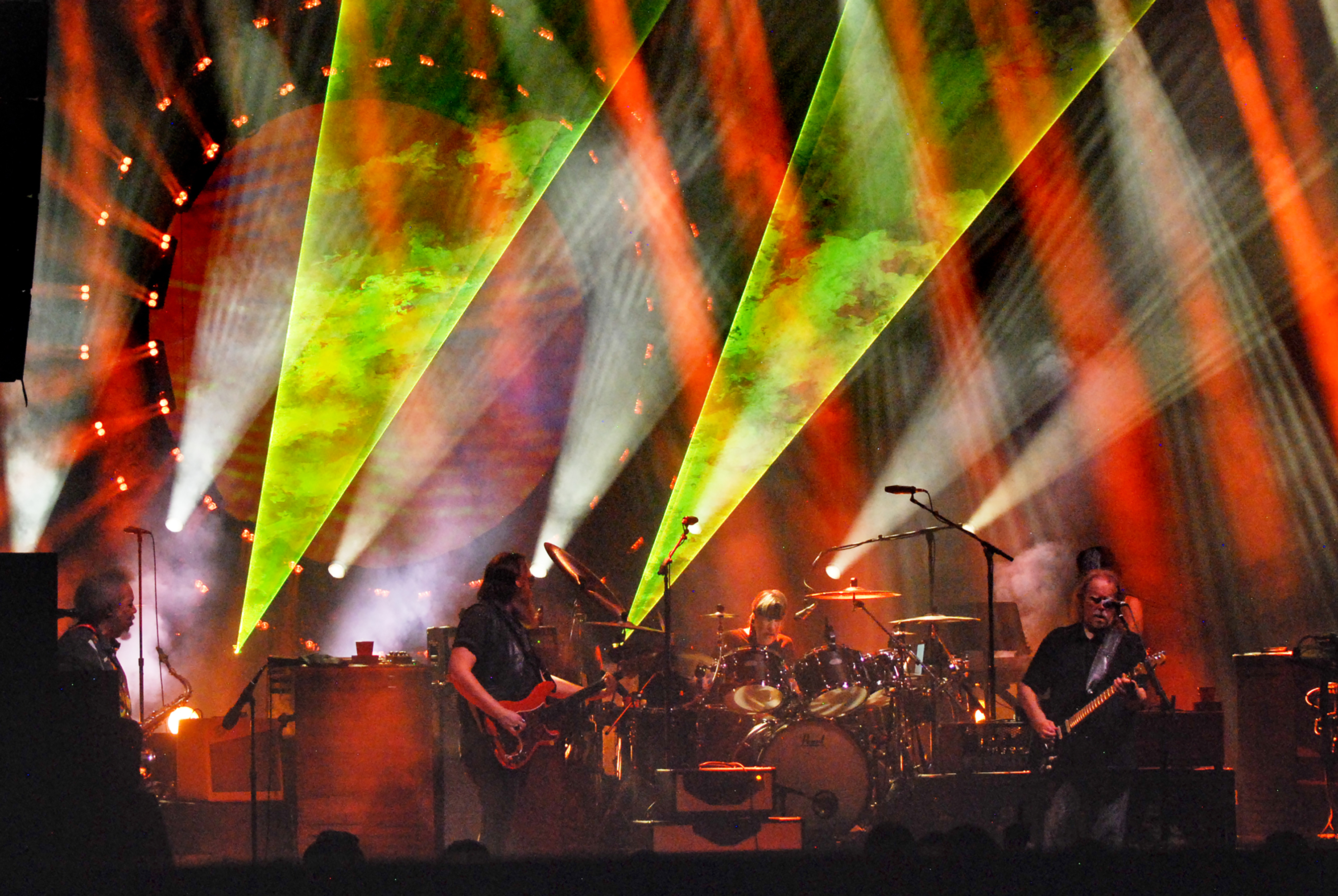 There were many standout moments in the musical performance of the deeper Floyd material, which included that first half of Wish You Were Here, the majority of songs from Dark Side (not the full album from end to end, though) and a generous chunk of the Floyd's 1971 album, Meddle. For example, guest saxophonist Ron Holloway stepped into the spotlight on several of the WYWH and DSotM songs that make heavy use of sax. Quite a bit brighter and more joyful sounding than than the earthier style of original PF saxman Dick Parry, Holloway's use of a hiccupping, octave-jumping style brought more of a Mel Collins flavor to the Floyd material. (Longtime session player Collins had also worked on Floyd solo projects and tours, and his sound and style were notably different from existing recordings.)
However, Holloway's standout moment for me was his outro solo on the hushabye coda of "Echoes, Part 2", a performance that was deeply spiritual and brought the second set to a masterful conclusion. (Full disclosure: Meddle is my #1 'desert island' disc, and my final wish is to have "Echoes" played at my funeral service. So maybe I'm just the slightest bit biased and more easily swayed? I'll have more to say about this later.)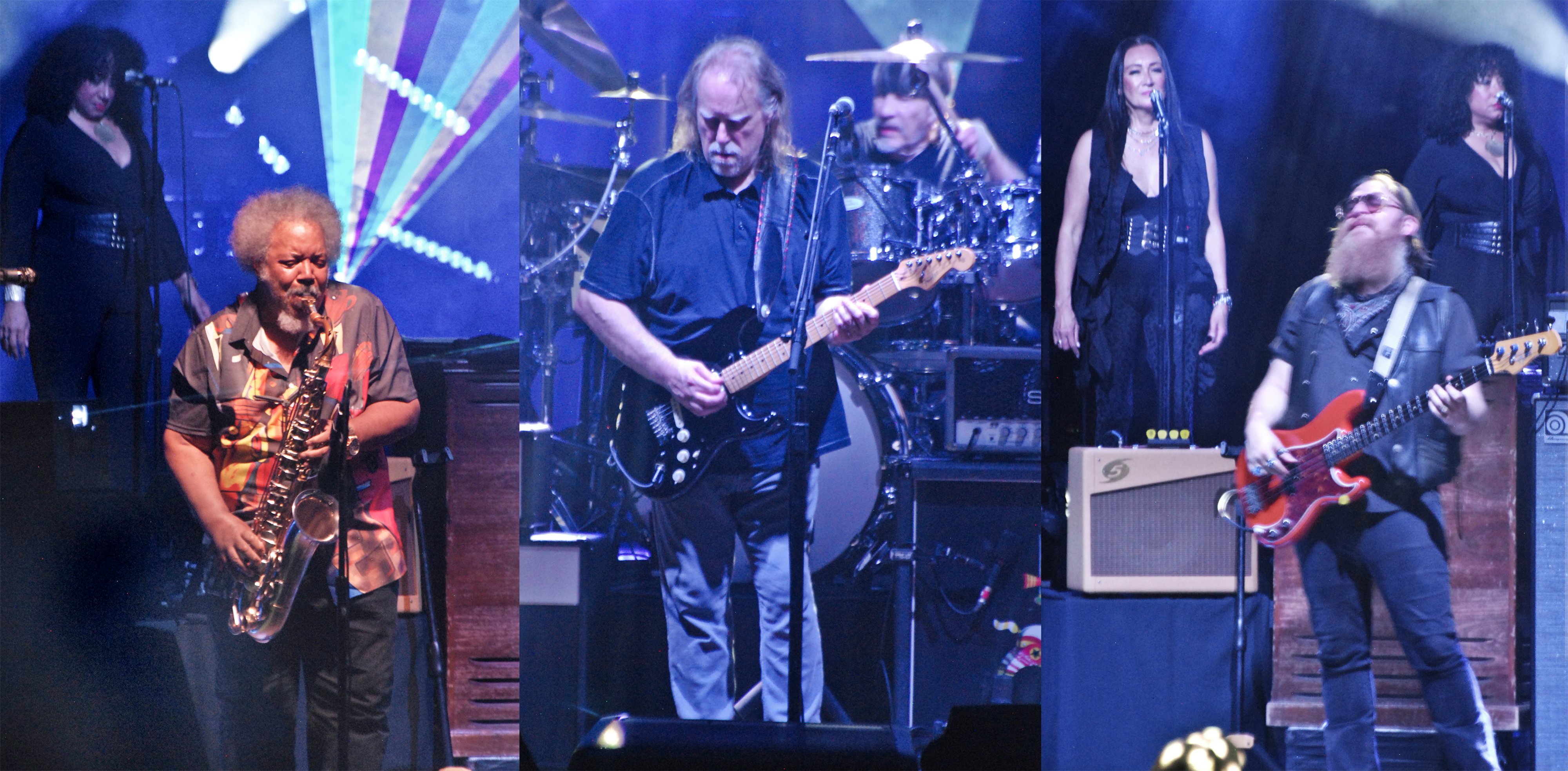 As with nearly every Pink Floyd-themed band, having female backing singers helps to sweeten the heavy gloom and regret inherent in many of the lyrics of PF songwriter Roger Waters. Sometimes, in other PF-based shows, there are as many as three singers in the backline, but the Mule did nicely with just two, thank you very much. Vocalists Machan Taylor and Sophia Ramos provided that much-needed, spiritually uplifting harmony on a number of songs. But then, for that most singular, wordless song of ecstasy in the Floyd's history, "The Great Gig in the Sky", the duo shared the spotlight, taking turns and blending their voices for a stirring rendition of this always cathartic piece.
In addition, Danny Louis performed the deeply Gospel-inspired piano progression written by the late Floyd keyboardist Rick Wright with a fittingly detailed grace. He even added a bit of exploratory jazz comping at the beginning that was reminiscent of the intro to The Who's "Love Reign O'er Me". Although the band did not acknowledge it at the time, it was personally poignant for me knowing that the performance was within two days of the birthday of the former Floyd member. (Note: Wright, who passed away in 2008, would have turned 80 on July 28. I thought hearing his composition interpreted so well was a memorable way to celebrate this special anniversary.)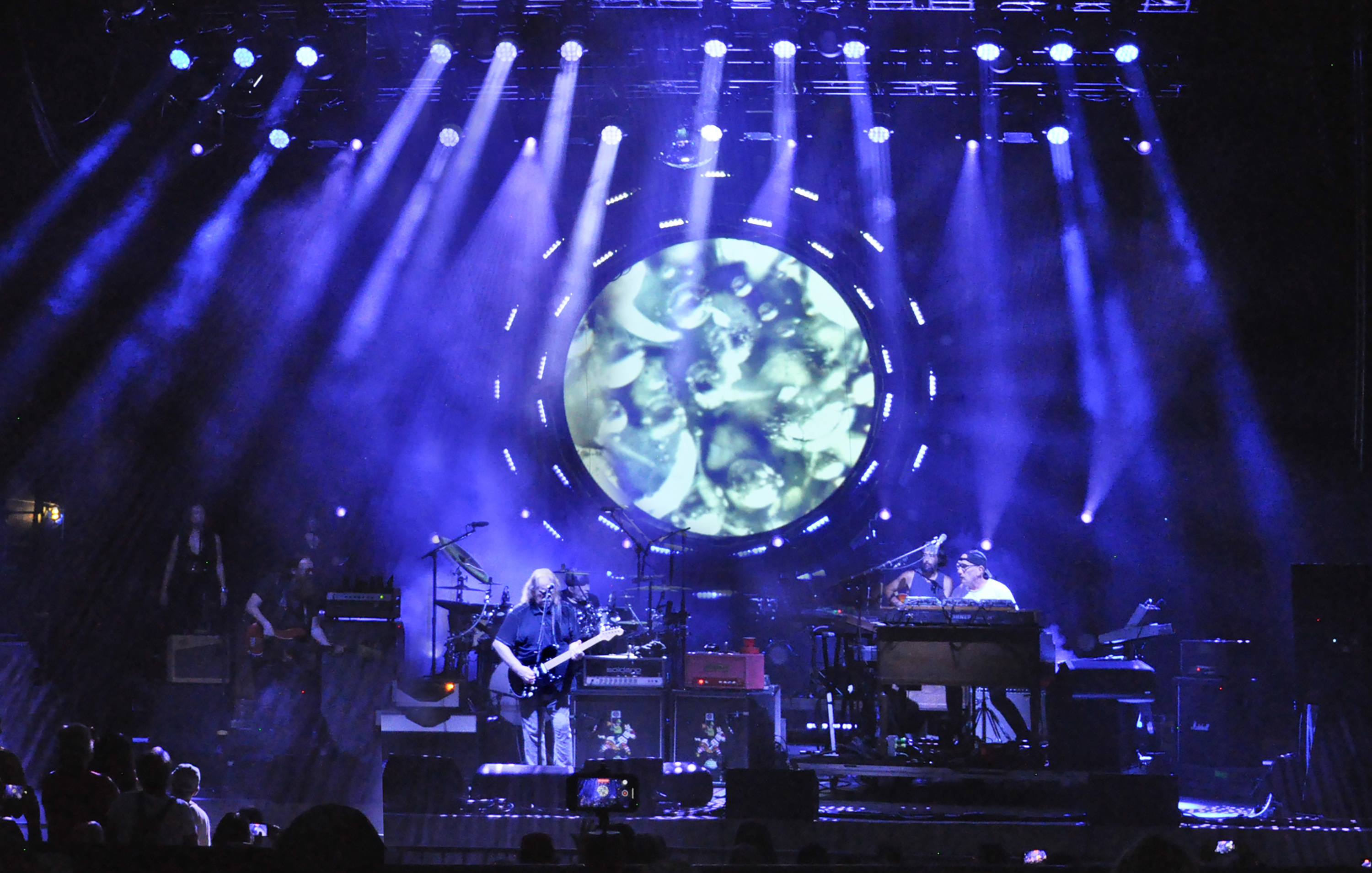 As a longtime follower of all things Floyd, this writer must admit to having a level of knowledge about PF that some might consider to be bordering on unhealthy. And so, for me, Dark Side doesn't necessarily hold quite the same level of musical magic as it once did. (Oversaturated with it after all these years, I'm afraid, even though its mysteries still vibrate in my imagination independent of the music like a mirage.) But what I heard from Gov't Mule was a deep musical insight of the album's distinct blues DNA and its deeply universal lyrical themes, plus a sensitivity to the intertwining aspects of jazz, classical and techno/electronica.
A common misconception is that Dark Side was a 'space-rock' album, when it never really was. Truly, it did grow out of PF's early infatuation with psychedelia as the band moved toward a more mainstream sound in the early 1970s. And, in reality, it was a heavily psychological album, concerned with the inner spaces of the mind and soul. With that in mind, I'd say that the Mule did not attempt to exaggerate the latent psychedelia of the DSotM songs, but also did not overplay the drama, rush through the changes or airbrush the finer details. But they also didn't always color inside the lines, either. There was recognition of the spaces between instruments and a full but uncluttered sound that helped the textures to stand out and the emotional content of the songs to reach the listeners' deeper feelings.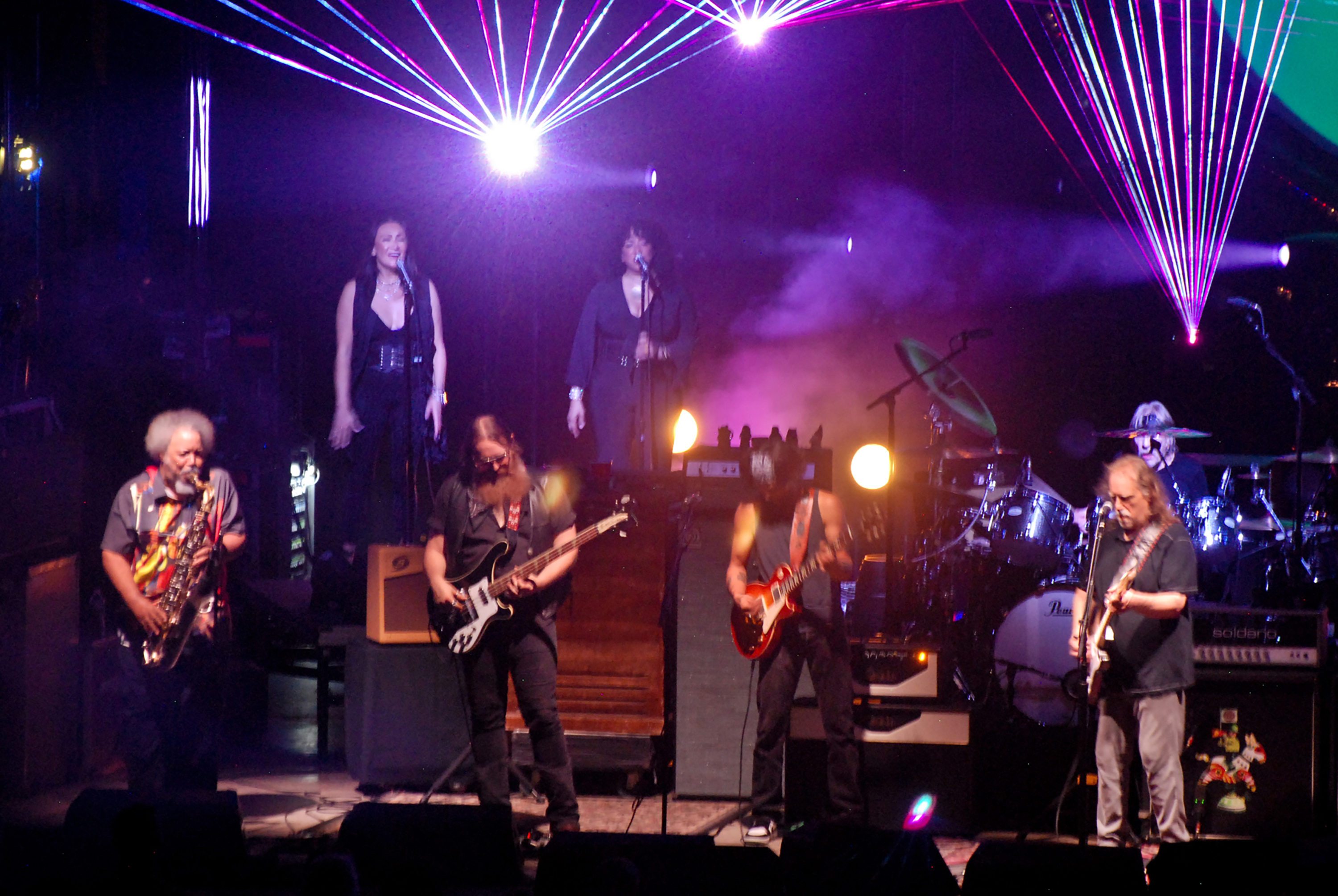 There were even extended ambient moments between some of the songs that allowed listeners to stop and absorb the weight and energy of what they had just heard. Being an early Floyd adopter as I am, I found great delight in hearing the Mule play these songs in such a simple, direct and emotional manner, closer in spirit to Floyd's original, pre-1973 live arrangements than its highly polished and – to me – overexposed official version.
Without being an intentional spoiler, a really big clue for you, the reader, is that the Mule impressed me the most by using Dark Side to take the audience somewhere else in Floydian time rather than treating it as the destination of the show. Near the end of the evening, there was an incredible ambient transition between Dark Side's "Any Colour You Like" jam and the windy wilds of Meddle's "One of These Days".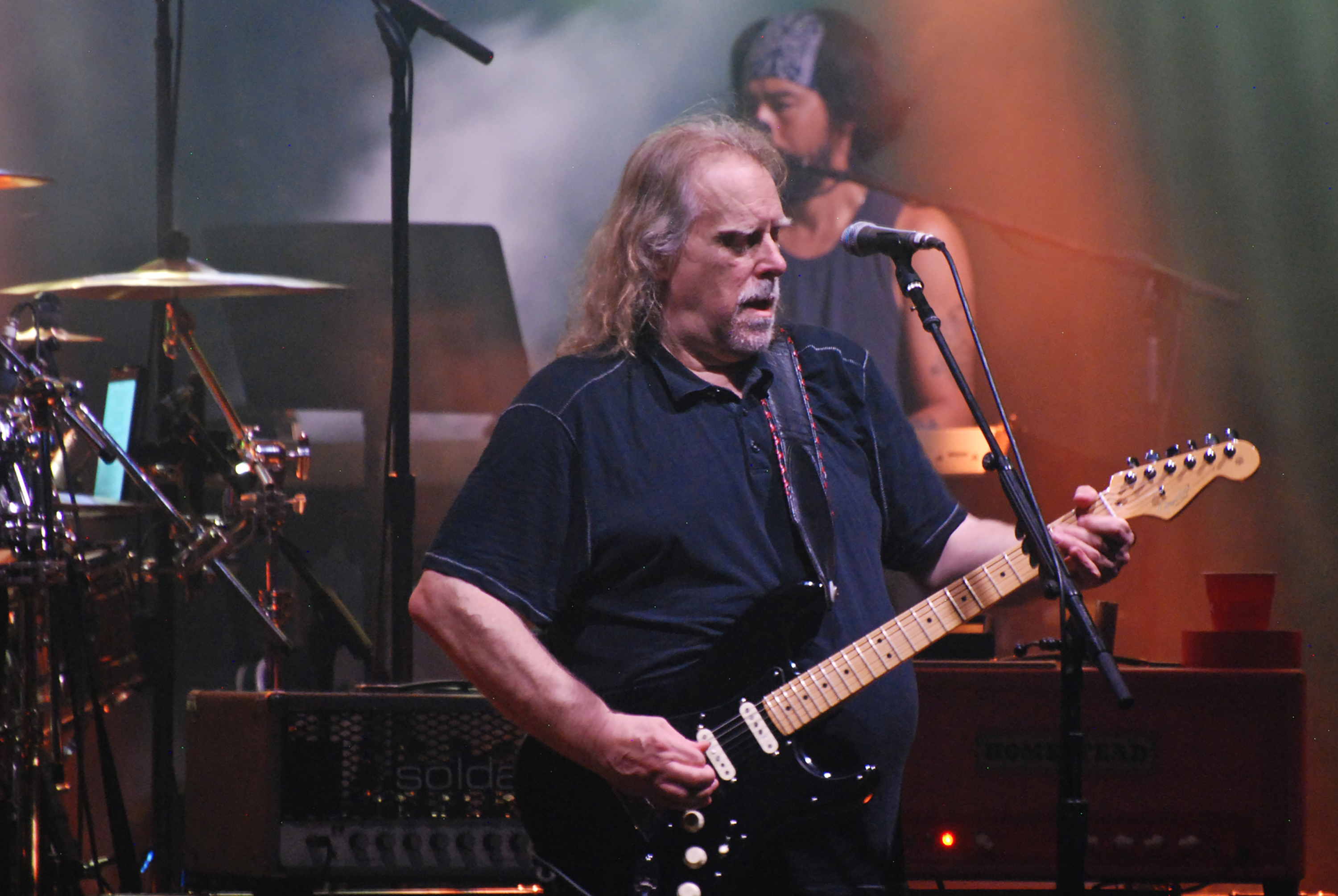 The instruments descended into a swirling vortex of sound during a fade down in the middle of "Colour", and it almost sounded as if a troublesome storm had finally arrived and would force the musicians and the audiences to run for cover. Except, of course, it didn't feel that windy out on the lawn! It was just the amped-up howls of wind that set the stage for the first track on Meddle, and if you know that track at all, then you know what I'm talking about.
For a guy like me who discovered the Floyd in the late 1960s and being able to see my first PF shows in the 1971 and 1972 time period when Meddle first came out, these kinds of transitions confirmed for me that the Mule were right on the money with everything that followed from this moment. In fact, even though the encore ended somewhat predictably with a roaring "Comfortably Numb" from The Wall and the subdued country-blues title ballad from Wish You Were Here, Meddle seemed to be the Mule's true-north destination for the night, and that was all right with me!
For example, although Haynes did not play a lap steel for the buzz-saw guitar lead in "Days", he again employed his feel for the in-your-face blues slide attack that Gilmour first brought to the song. And bassist Scott rocked the deep-echo on his delay unit with the rhythmic slap-bass groove that drives the main rhythm of the galloping instrumental. This was probably the most unapologetically psychedelic moment of the night, as the Mule went deep into abstract hyperspace in the always trippy mid-section, full of whooshing synths, gusts of wind, echoed cymbal crescendoes, and squalls of bass-and-guitar chaos. And, of course, they also used a heavily-signal-processed voice to announce the ominous title phrase, One of these days, I'm going to cut you into little pieces. . ., as the band came thundering back in unison with the backbeat.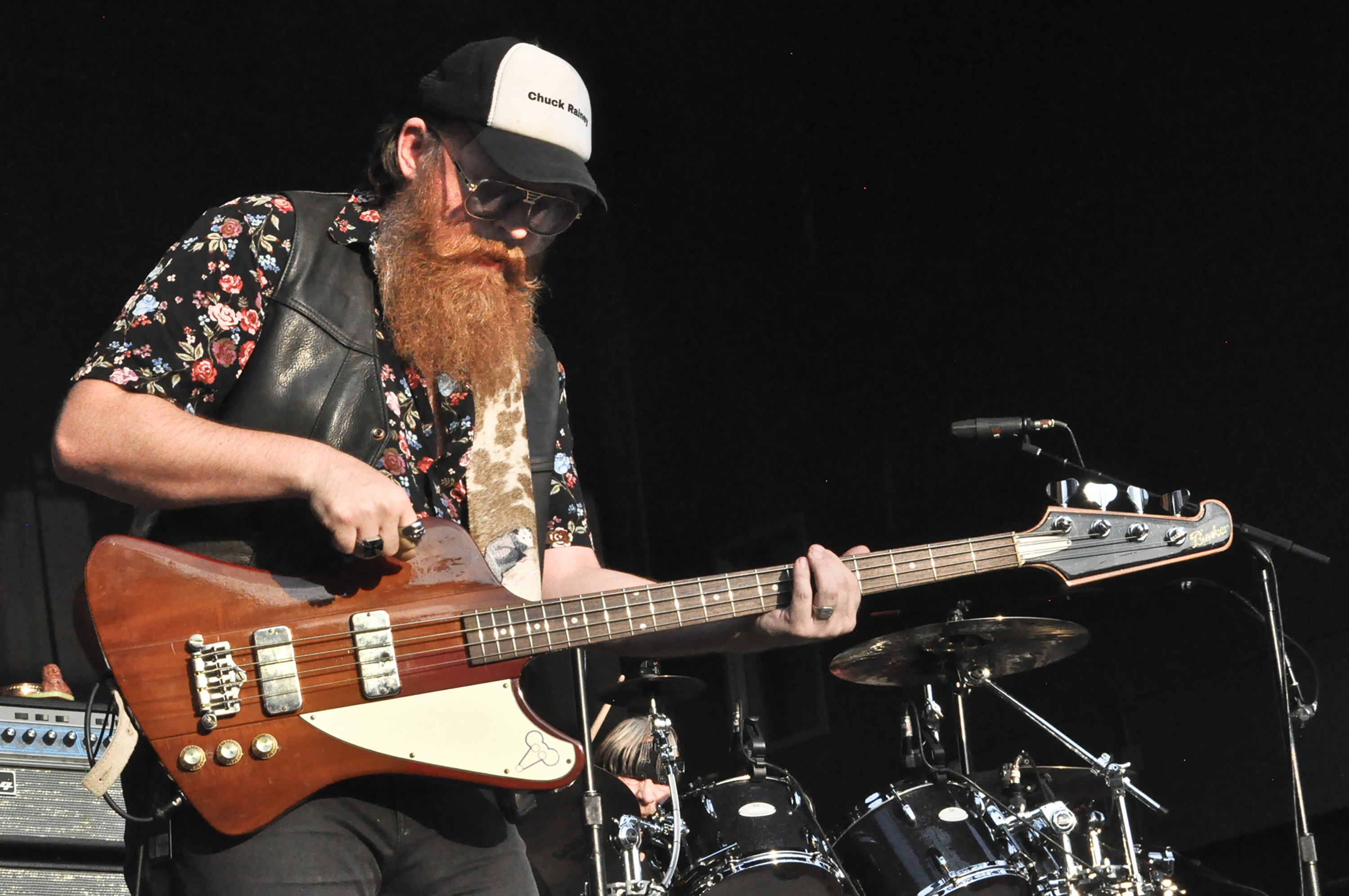 My admiration continued with a well-placed choice of Meddle's eclectro-acoustic, folk-blues anthem to self-esteem titled "Fearless". Actually, a song that the Floyd themselves neglected to play live, it had seen some latter-day airings by song author Roger Waters in the recent 2000s and regular inclusions in the sets of PF drummer Nick Mason's 2019 and 2022 solo tours. But the Mule have been playing it regularly in their Floyd-based shows ever since 2008, and it has the comfortable, deep-in-pocket feeling that conveys joy, confidence and love for the source material. For those who know the song, it was also a great audience participation moment for sing-along.
Having been imprinted with "Echoes" as I was all those years ago, I was a drop-dead target for the Mule's surprise inclusion of that song's triumphant second half as the set closer. The ten-minute-plus climax actually began slowly, rising out of the extended ending of "Fearless", which included a playback of the famous football-audience singing of the Rodgers and Hammerstein song "You'll Never Walk Alone", just as PF had used on the original Meddle version of the song. That in itself felt heroic, as it inspired some in the audience again to sing along with it.
An amorphous, echo-ey interval full of roaring, oceanic white noise followed "Fearless", and Haynes and the two keyboardists started layering the arpeggiating patterns that build toward the climax right before the final verse and chorus of the song. And then after a sweetly-sung final lyrical section over Leslie electric piano, the band broke all the rules, playing the song's grand instrumental theme, with crackling lead guitar, over a generously repeated stanzas. When the song finally surrendered to the quieter, floating end passage, Ron Holloway – taking the place of the original's piano and tape-looped choral conclusion – wrapped it all up with an achingly beautiful saxophone solo that brought the entire evening to a soulful, sensitive mood of closure. Truly, it was the element of surprise combined with musical finesse and a supreme command of flow that made it a moment for old Floyd fans like me to cherish. And as I drove back down the interstate to Cincinnati that night, with that cheesy half-moon tilting downward in the sky ahead of me, I could still hear that ocean's roar in my head.
Summer and Early Fall 2023 Dates
** With Jason Bonham's Led Zeppelin Evening
++ Outlaw Music Fest, with Willie Nelson & Family Headlining, also Nathaniel Rateliff & The Night Sweats, Kathleen Edwards, Particle Kid.
August 3, 2023 – Ruoff Music Center – Noblesville, IN**
August 4, 2023 – Credit Union 1 Amphitheatre – Tinley Park, IL**
August 5, 2023 – Stir Concert Cove - Harrah's Council Bluffs Council Bluffs, IA**
August 7, 2023 – Red Rocks Amphitheatre – Morrison, CO**
August 9, 2023 – Dos Equis Pavilion – Dallas, TX**
August 11, 2023 – PNC Music Pavilion – Charlotte, NC**
August 12, 2023 – Cadence Bank Amphitheatre at Chastain Park – Atlanta, GA**
August 13, 2023 – PNC Pavilion at the Riverbend Music Center (Riverbend Music Center) – Cincinnati, OH ++
August 15, 2023 – Hartford HealthCare Amphitheater – Bridgeport, CT**
August 17, 2023 – Bank of NH Pavilion – Gilford, NH**
August 18, 2023 – Leader Bank Pavilion – Boston, MA**
August 19, 2023 – PNC Bank Arts Center – Holmdel, NJ**
August 20, 2023 – Wolf Trap – Vienna, VA**
September 13, 2023 – Massey Hall – Toronto, ON, w/ Very Special Guests Big Sugar
September 14, 2023 – CityFolk Festival – Ottawa, ON
September 16, 2023 – Harvest Music Festival – Fredericton, Canada
September 17, 2023 – MTELUS – Montreal, QC, w/ Very Special Guests Big Sugar
September 19, 2023 – State Theatre – Portland, ME
September 20, 2023 – The F.M Kirby Center for the Performing Arts – Wilkes-Barre, PA
September 22, 2023 – Healing Appalachia – Lewisburg, WV
September 23, 2023 – Clay Center – Charleston, WV
September 26, 2023 – The Forum Auditorium – Harrisburg, PA
September 28, 2023 – Warner Theater – Erie, PA
September 30, 2023 – Koka Booth Amphitheatre – Cary, NC
October 1, 2023 – Firefly Distillery – North Charleston, SC
October 3-4, 2023 – Greenfield Lake Amphitheater – Wilmington, NC
October 10, 2023 – Shreveport Municipal Auditorium – Shreveport, LA
October 11, 2023 – Raising Cane's River Center Arena – Baton Rouge, LA
October 13, 2023 – Barbara B. Mann Performing Arts Hall – Fort Myers, FL
October 15, 2023 – RushSouth Fest – Columbus, GA
European Dates, Fall 2023
November 6, 2023 – The London Palladium – London, England, UK
November 8, 2023 – Alte Kongresshalle – Munich, Germany
November 9, 2023 – Globe Wien – Vienna, Austria
November 11, 2023 – Le Trianon – Paris, France
November 12, 2023 – De Oosterpoort – Groningen, GR
November 14, 2023 – TivoliVredenburg Grote Zaal – Utrecht, Netherlands
November 15, 2023 – Hugenottenhalle – Neu-Isenburg, Germany
November 17, 2023 – Cirque Royal – Brussels, Belgium
November 19, 2023 – Teatro Celebrazioni – Bologna, Italy
November 20, 2023 – Teatro Dal Verme – Milan, Lombardy, Italy
November 21, 2023 – Politeama Rossetti – Trieste, Italy
U.S. Dates, Winter 2023
December 29, 2023 – The Met – Philadelphia, PA # ALL PREVIOUSLY PURCHASED TICKETS WILL BE HONORED
December 30, 2023 – Beacon Theatre – New York, NY # ALL PREVIOUSLY PURCHASED TICKETS WILL BE HONORED
December 31, 2023 – Beacon Theatre – New York, NY # ALL PREVIOUSLY PURCHASED TICKETS WILL BE HONORED
For more information about Gov't Mule, Warren Haynes or the tour dates, please visit these related websites: https://mule.net/tour/ and http://www.warrenhaynes.net.