The first set of Steve Hackett's April 28 performance on the "Seconds Out + More" tour in Cincinnati, Ohio, was breathtakingly short. Thirty-six minutes and twenty-one seconds, to be exact. (Just kidding, but really not that far off.) And the British prog-rock guitarist took a moment after the first song to "apologize" to the audience in advance.
"This set is going to be a bit short," he cautioned the Taft Theatre audience, adding that they would hear a few of his most well-known solo pieces plus a couple of brand-new tracks. True, it was abbreviated but densely packed with energy and oozing with musical super powers. "After this, we'll take a break. . .and when we come back," he said, pausing dramatically, "we're going to play the whole Seconds Out album."
As if on cue, the Taft Theatre audience erupted with mad approval. Then again, at the sold-out May 1 Hackett performance at Akron's Goodyear Theater, Hackett gave a similar intro after the first song. And the audience's reaction was more than just a carbon copy. Nice work when you can get it!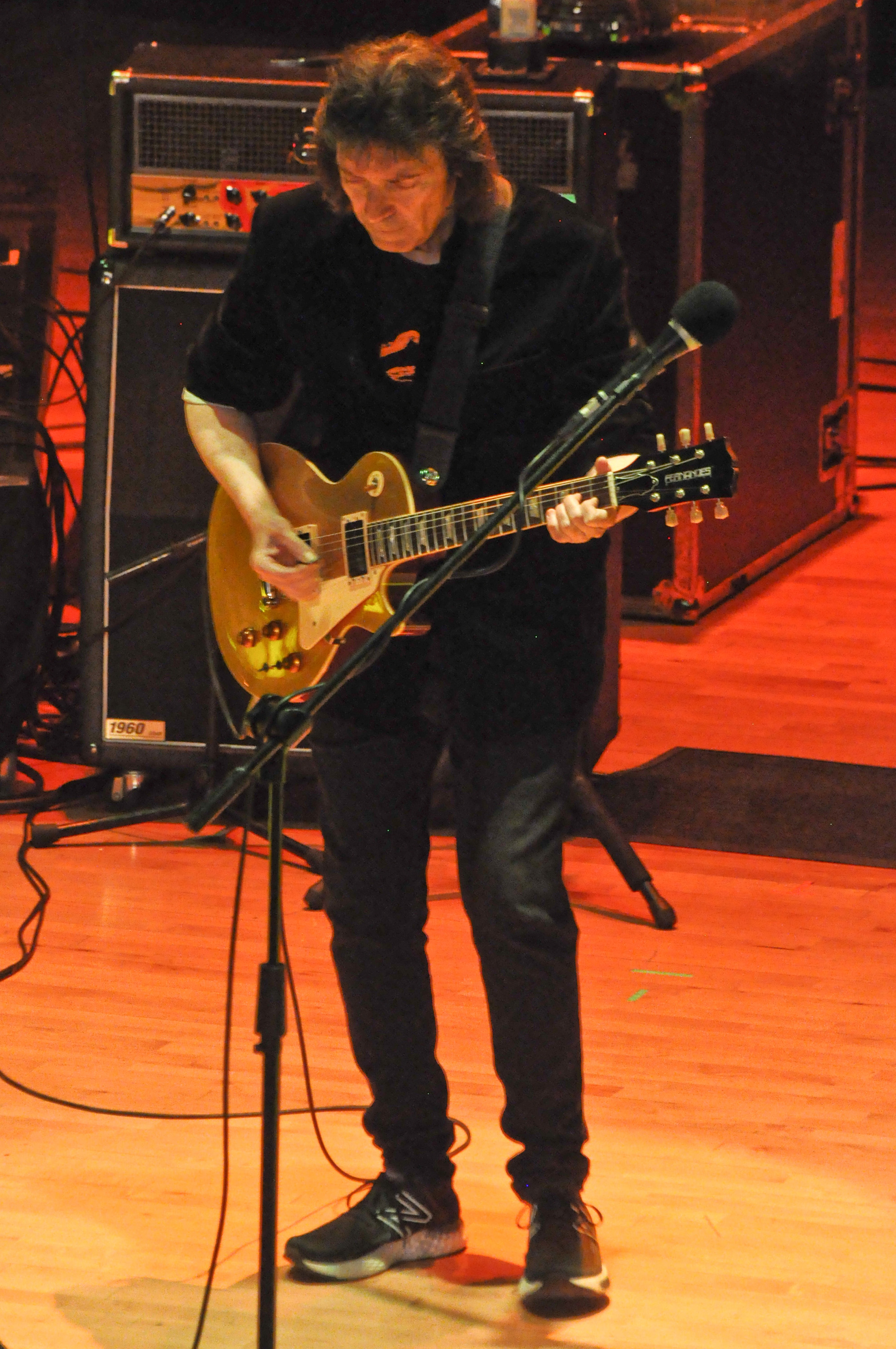 Obviously, these wound-up Ohio audiences must come as no surprise to Hackett and his band, Genesis Revisited. Inching toward the 50-year mark since its 1977 release, the landmark double live Genesis album Seconds Out remains an object of great affection for the former Genesis guitarist and for Genesis fans everywhere. And that's largely true because that tour and recording were Hackett's final contributions to Genesis. So, no one's kidding anybody here: Killer first set aside, Seconds is the main attraction for Hackett's fans on this current tour.
Yet, we can happily report, there was no shortage of rapturous moments for fans in that commanding first set on both nights. Leading with only five songs, Hackett and the band amazingly time-jumped through his entire solo career, from his 1976 debut Voyage of the Acolyte to his most recent release, 2021's Surrender of Silence.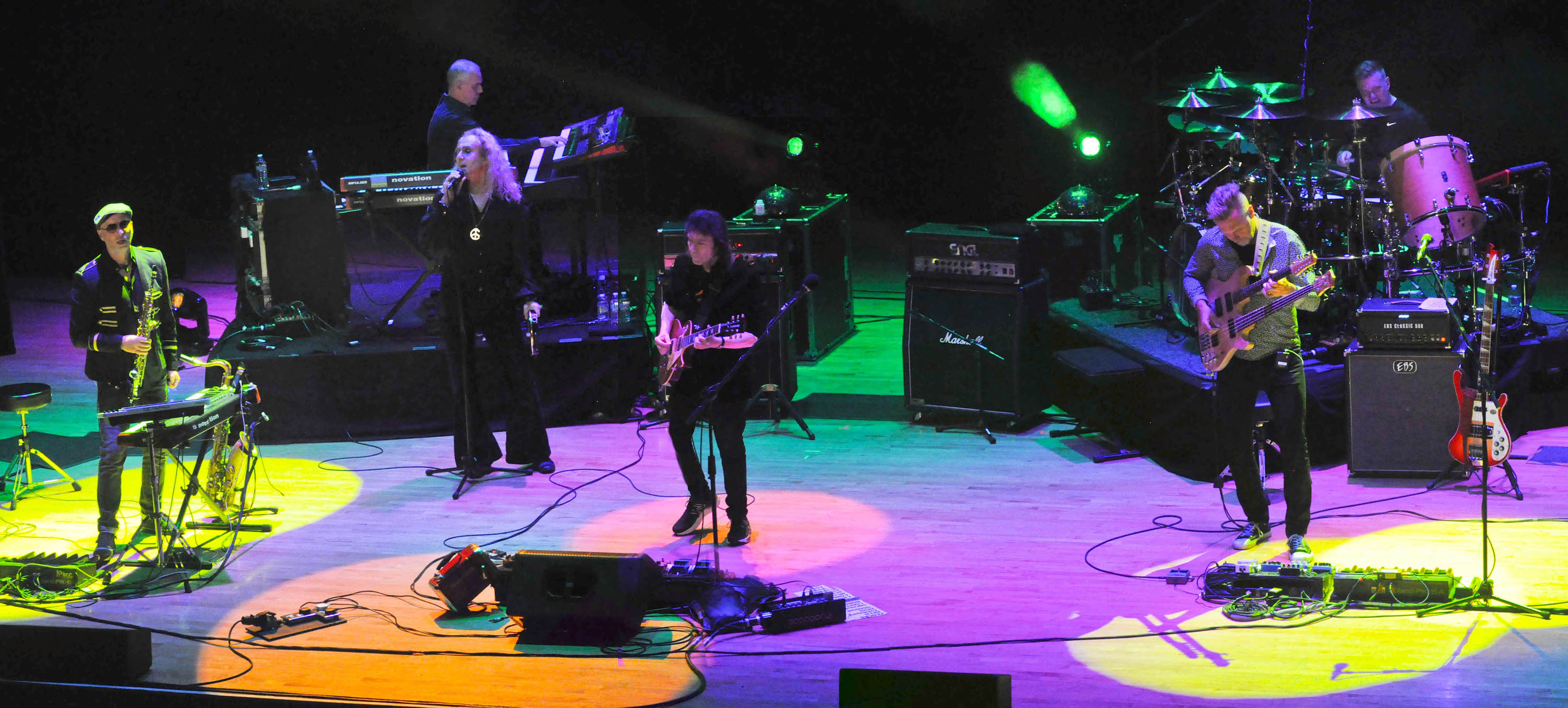 In short, the set was front-loaded with songs and sounds that make all your neck hairs stand up straight! For example, the Mellotron- and synth-powered instrumental opener, "Clocks-The Angel of Mons," from 1979's Spectral Mornings, ignited the audiences with madhouse zeal. Then, in mid-set, came an arresting new track full of twisted saxophone, organ and guitar licks titled "The Devil's Cathedral." (Hackett, whose music often has supernatural overtones, described it in Cincinnati as "a dark tale" of murder and other dirty deeds.)
Hackett gave the closing slot to the glacially grand, Moog bass-pedal instrumental "Shadow of the Hierophant." In its booming climax, drummer Craig Blundell also took the spotlight for the first time with his percussive equivalent of a heavy-metal guitar solo, much to the audiences' delight in both cities.
Break time came and went both nights in about the same amount of time and found everyone back in their seats for The Main Event – Seconds Out. And what an event that proved to be! Far from just going through the motions, Hackett and the band used the double live album's original running order only as a starting point. Much like unearthing buried treasure, they brought each gem in the Seconds setlist back to the present with loving care, and a liberal amount of creative enhancements thrown in for good measure. Adding many twists, layers and extensions, Hackett's finely-tuned team made this 50-year-old music sound newly found.
Lead vocalist Nad Sylvan, who made only intermittent appearances in the instrumental-heavy first set, became the focal point of the second "half" as the Mad Hatter MC without a hat. Joining in on every song, he deftly navigated the Seconds repertoire, wisely hand-picked by Genesis originally to showcase the best mid-'70s songs of Peter Gabriel and his successor Phil Collins. Through varying of his vocal timbre – whether deeper or tense and reedy like Gabriel, or airier and melodically sweeter like Collins – Sylvan emulated the styles of both singers convincingly. He also employed various phrasing mannerisms typical of Collins' live performances that put listeners in that other "Phil Zone." And whenever needed, bassist Jonas Reingold also supplied higher harmonies.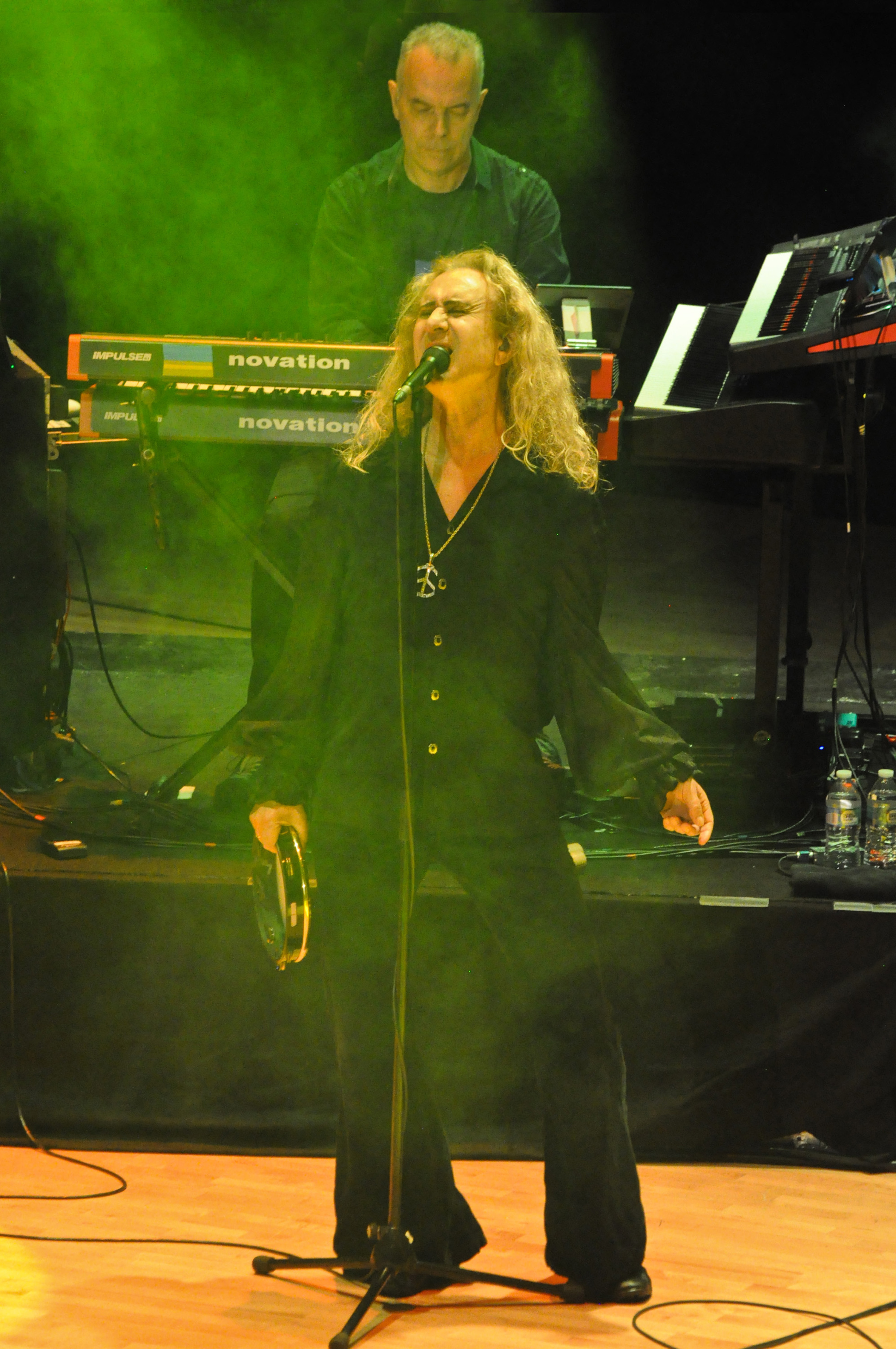 Throughout the Seconds presentation, the five-piece band behind Sylvan brought a welcome weight to many of the songs that some have stereotyped as melodramatic or overly sentimental. For example, early in the sequence, the obviously 'churchy' "The Carpet Crawlers" began in its usual hushed, processional way, with an arpeggiating keyboard figure and a somber vocal overlay. Through the stair-steps of each verse, the band boosted their levels behind Sylvan, and by the time of that song's resounding peak, a true communal feeling flowed out over the fans.
In classic songs such as "Firth of Fifth" and "I Know What I Like," the band's multi- skilled utility player, Rob Townsend, played clarinet in place of flute lines. He also strapped on a tenor sax for an extended, funk-jazz strut in the middle of the latter song. Obviously, the band was not rushing to plow to the end of the sets on either night, and they took turns leisurely passing licks around the stage. And, truly, this R&B reboot from the song's original, trippy shuffle was enough to make longtime fans forget for a moment that this was Genesis music!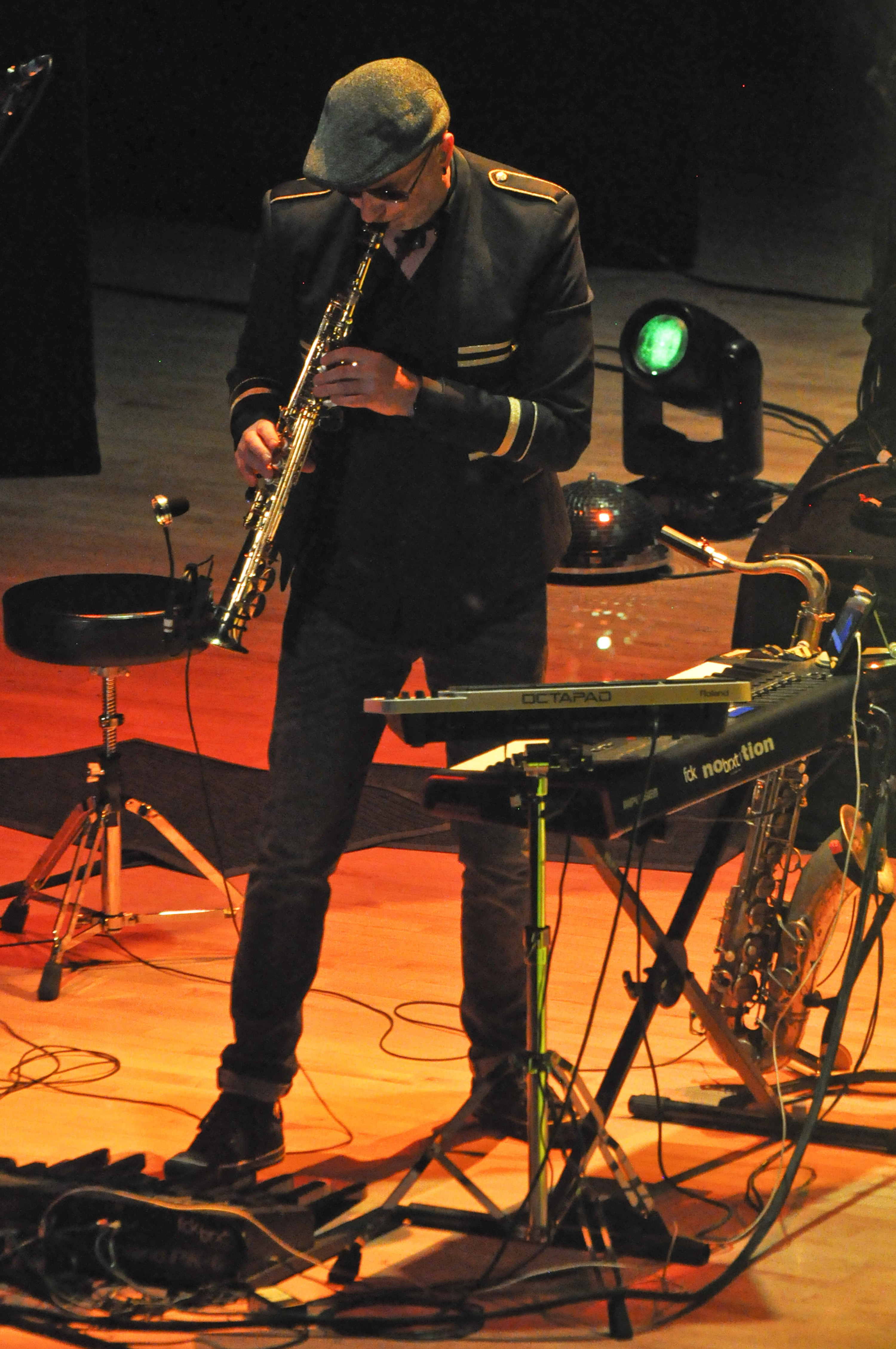 Another spiritually uplifting song with a wide dynamic range, "Afterglow," also came early in the Seconds set, and – in spite of Sylvan's plaintive and passionate vocals – it really owed much of its emotional impact to Blundell and Reingold, whose urgent rhythms helped lift the audience to full "ascension" by song's end.
Later on, in the "final reel" of the set, came the moment of ceremonial magic that practically every fan was really there for – the Genesis conceptual deep dive, "Supper's Ready." Brilliant throughout the evenings, Roger King was superb in reproducing the many keyboard layers originally conceived of by Genesis' Tony Banks for this dramatic set piece. Through the 25-minute epic's quick moves from melancholy pastoral passages into a hard-charging prog vamp, English Music Hall whimsy, a tense, offbeat section with an organ solo over a swelling martial cadence, and then the glorious orchestral finale, King used every keyboard at his disposal.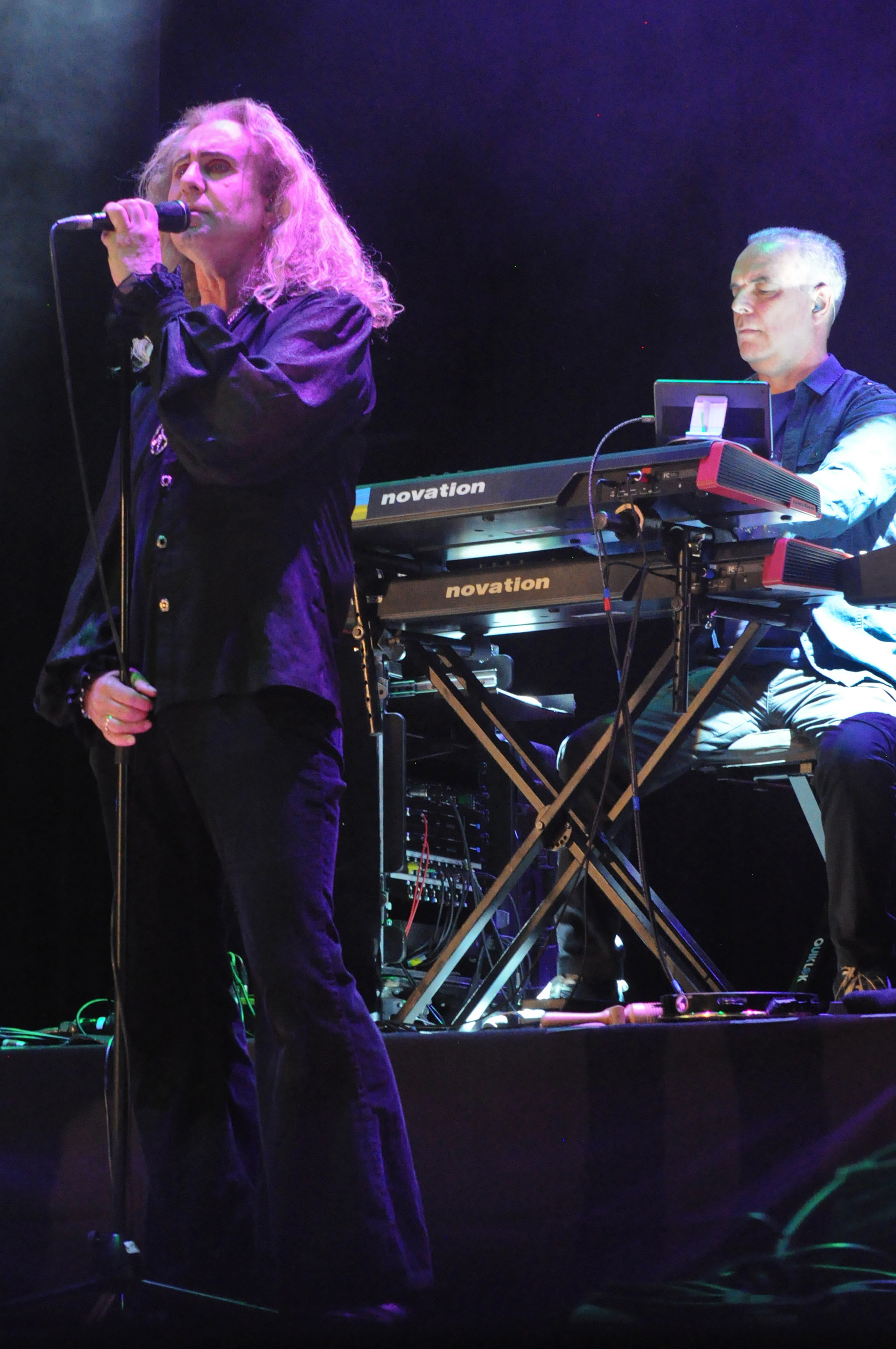 Ever the master of the fretboard, Hackett was in full flight himself in the multi- part "Supper's Ready," moving seamlessly through the many sequences that build toward the triumphant ending. On previous tours Hackett would take the liberty of extending the original's heroic but all-too-brief outro guitar solo. And this time, he not only stretched it into a "kiss-the-sky" moment that lasted nearly four minutes longer but also he masterfully dialed his guitar volume down into a pulsing ambient tonal bed that suggested the ever-outward expansion of the Universe. Truly mystical!
The storytelling didn't end with "Supper's Ready." Hackett's band had one more Genesis mini-drama in store at the end with the fan favorite "Cinema Show," which began with the twinkling of finger-picked guitars set to the sparkly rotation of multiple half-mirror balls spread across the stage.
In a perfect 'Peter' voice, Sylvan artfully sang the story of the song's romantic young couple Romeo and Juliet, and then the band took the audience on the breathtaking synthesizer rollercoaster that Genesis had slightly truncated for their live arrangement in those days. But Hackett & Co. had a musical surprise in their back pockets, performing the song in full again with a slide into a companion song from the original studio recording on Selling England by the Pound. And with his slight vocal return in this coda to the main set, Sylvan gave an almost prayer-like hush to the concluding song.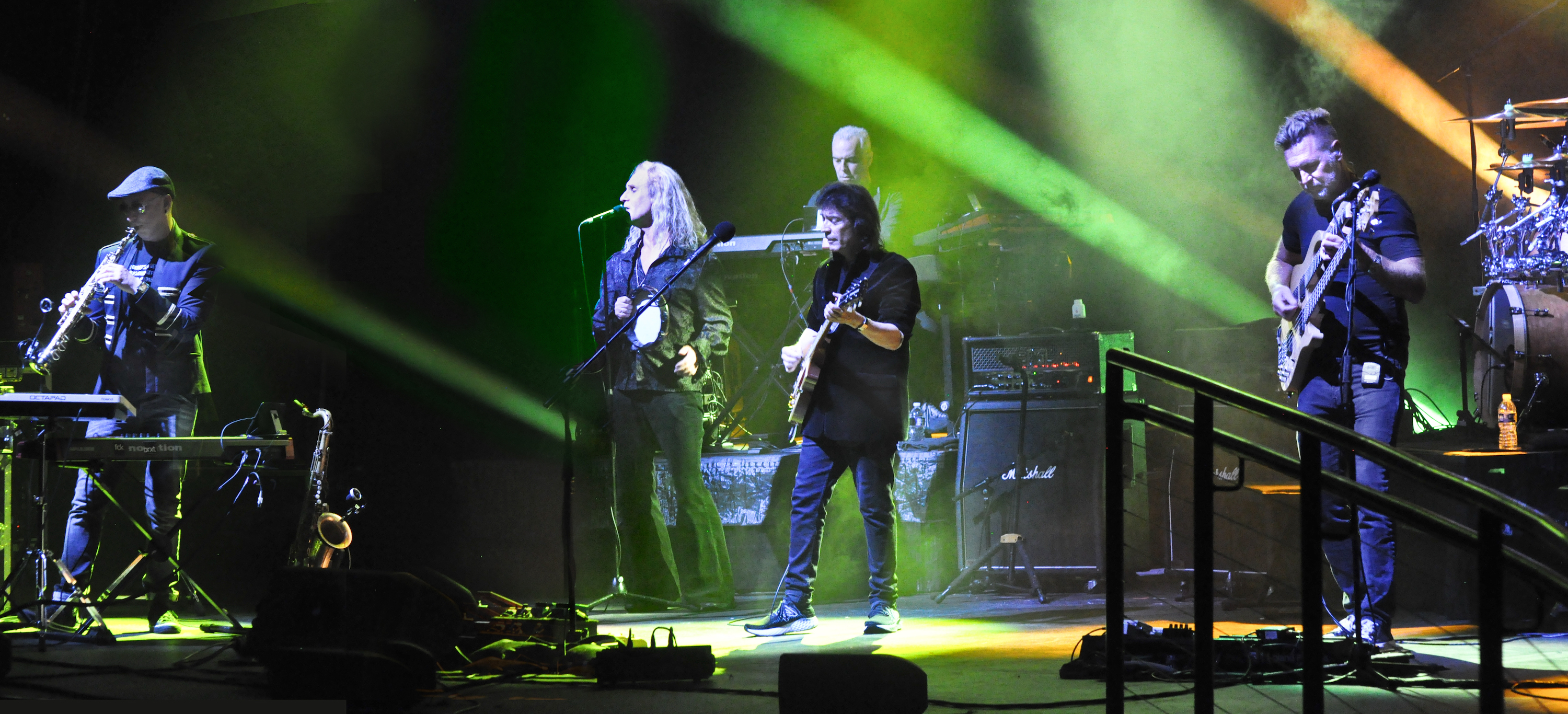 The encore, of course, had to include the original grand finale medley "Dance on a Volcano/Los Endos." And, thanks to Craig Blundell's wondrous performances on both nights, that ending was pure musical fireworks. With the stage all to himself for an extended solo in the middle, he thundered his way into the solo using his larger drums. Changing up the dynamics, he skittered around on a small set of splash cymbals set atop his bass drum, then threw in an impressive sequence of pitch bending with an elbow pressed down to alter the drum head tuning as he delivered a series of altered tones. The crescendo audibly built toward a final volley of full-on drum attacks. It was slightly different each night but, undoubtedly, a powder-keg performance each time.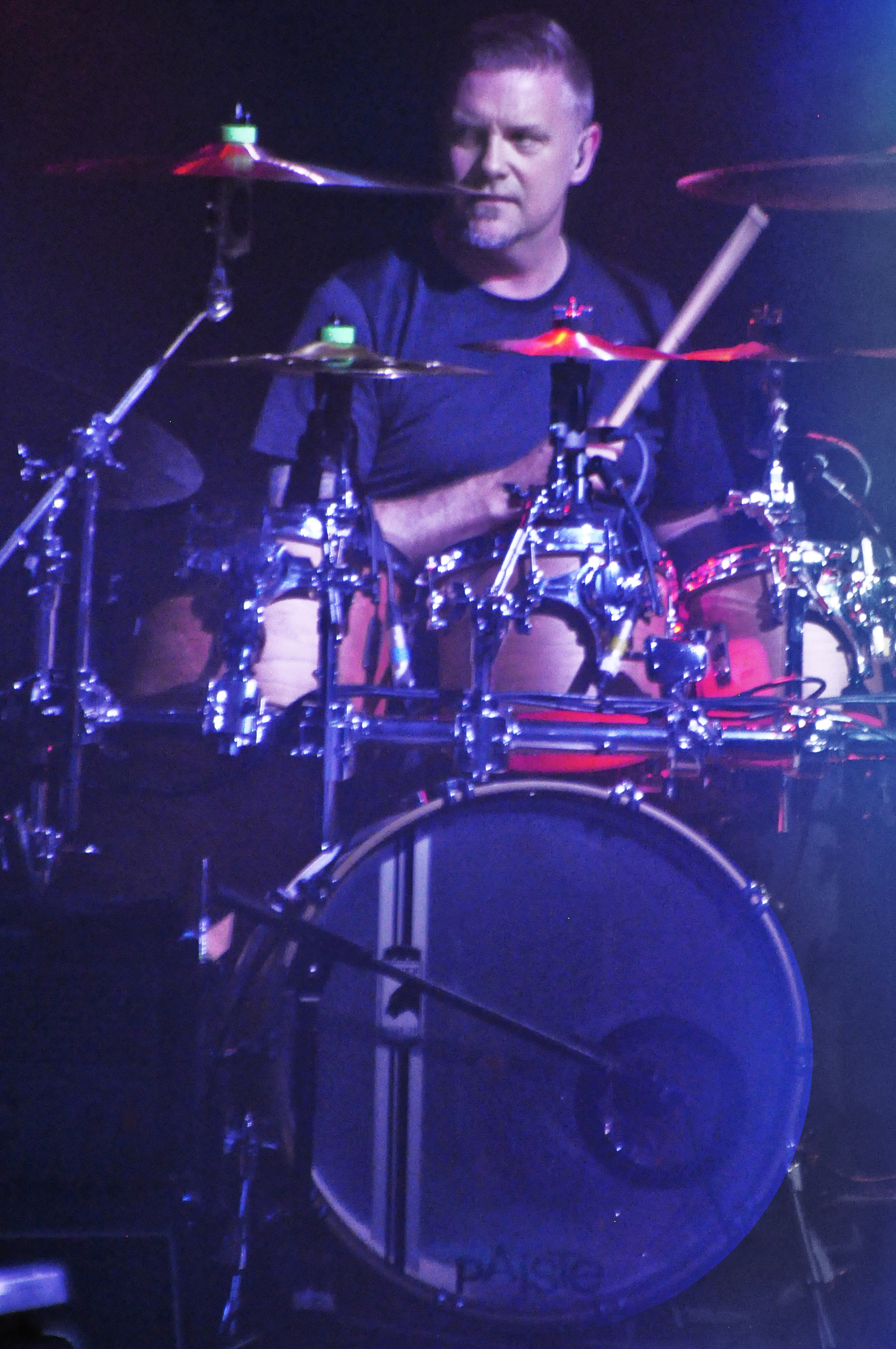 Like the perfect maestro, at the very end of "Los Endos," singer Sylvan turned to face the audience with his blonde mane glowing halo-like around his head. Smiling slyly, he raised his arms slowly from his sides to over his head and gently summoned fans onto their feet. But, judging from both of these Ohio audiences' reactions, one could easily see they were already way ahead of him.