Chicago is excited to host the inaugural Sacred Rose Festival on August 26 - 28, 2022. A big reason for that excitement is that Lettuce will be bringing the funk. After the release of their new album Unify, Meagan Panici caught up with Adam Deitch from Lettuce to talk about the funk, the origin of Funkateer and how the last few years have gone for them in their artistic pursuits. Check out her interview from her radio show on Chicago's home for freeform radio, the Wizard, WZRD 88.3 FM.
MP: You are listening to WZRD 88.3 FM, the Wizard, Chicago's home for freeform radio since 1974. I have on the line Adam Deitch of Lettuce and he is with us right now. Are you with us Adam?
AD: Yes I am! How are you doing?
MP: Doing really well, excited for all the great music coming back to us here in Chicago this summer. You're going to be playing at Sacred Rose Festival with your wonderful band Lettuce. Tell us a little bit about Lettuce and the hip-hop jazz, and New Orleans funk that you guys do.
AD: We're all just die-hard funk fans. Soul Music, funk, and mix in a little bit of psychedelia with reggae vibes here and there, we're just die-hard to this funk thing and we can't wait to bring it to Chicago!
MP: Awesome! We love it as well as your new album. I'm really enjoying it. It came out a month ago, yes? Unify?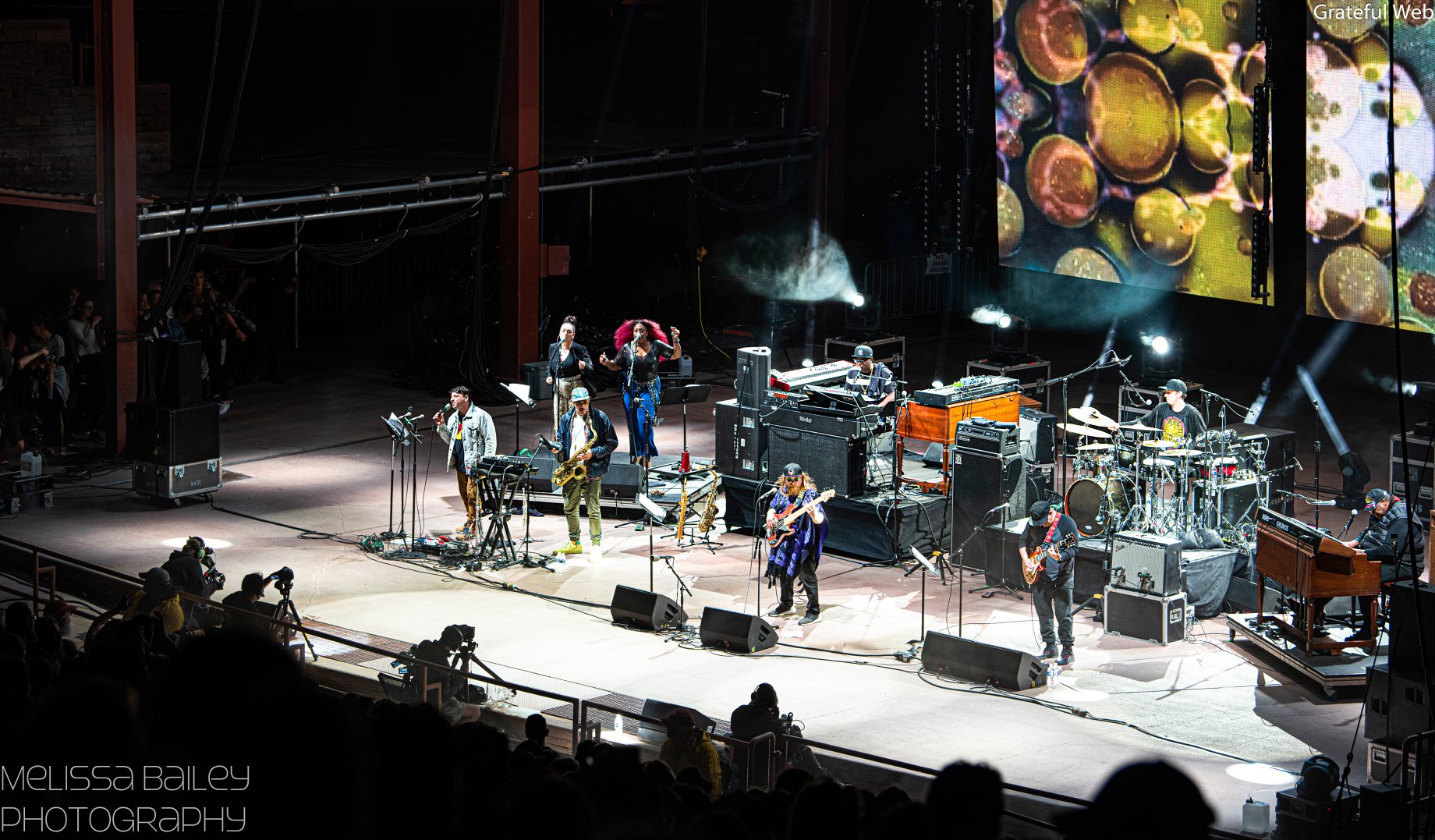 AD: The response to Unify has been great. We are really excited for people to hear it
MP: You are the drummer, the heartbeat of the band. You were Berklee trained. Tell us a little bit about your background and where you come from musically.
AD: Both of my parents went to Berklee. They are both drummers. My mom is a phenomenal funk drummer and my Dad is a great drummer. They both play 8-10 instruments each so they just became music teachers for me. I grew up in a house of professional music with professional musicians that also went on to teach music later in life. It's been music around my house since I was born. I'm happy to continue that tradition. 
MP: That's amazing. Did Lettuce meet at Berklee? Did you all go to Berklee?
AD: The core of the band started 30 years ago when we met at a Berklee music summer camp. We were about 6 years old. My mom forced me to go to this summer program which is like a mock college program, you go to Berklee, live in the dorms in Boston, and you go through classes so it's like a college experience before college. That is when we all met in 1992, 30 years ago.
MP: Dude! 30 years ago?! That's really something. I was listening to the Comes a Time podcast with Oteil Burbridge. You and Jesus from Lettuce were talking about how you met at Berklee and all the jam sessions that took place back then. It was really insightful. Can you tell us what happened with that?
AD: Oh yeah! Well, when we went into the summer program we met some of the best musicians we've ever met. They ended up being our mentors. Little John Roberts who played with Janet Jackson for 10 years. He is just a phenomenal next-level drummer. Chris Laughlin is another great bass player and a friend of ours. They are just a few years older than us but they just took us under their wings and really helped us to get to the next level.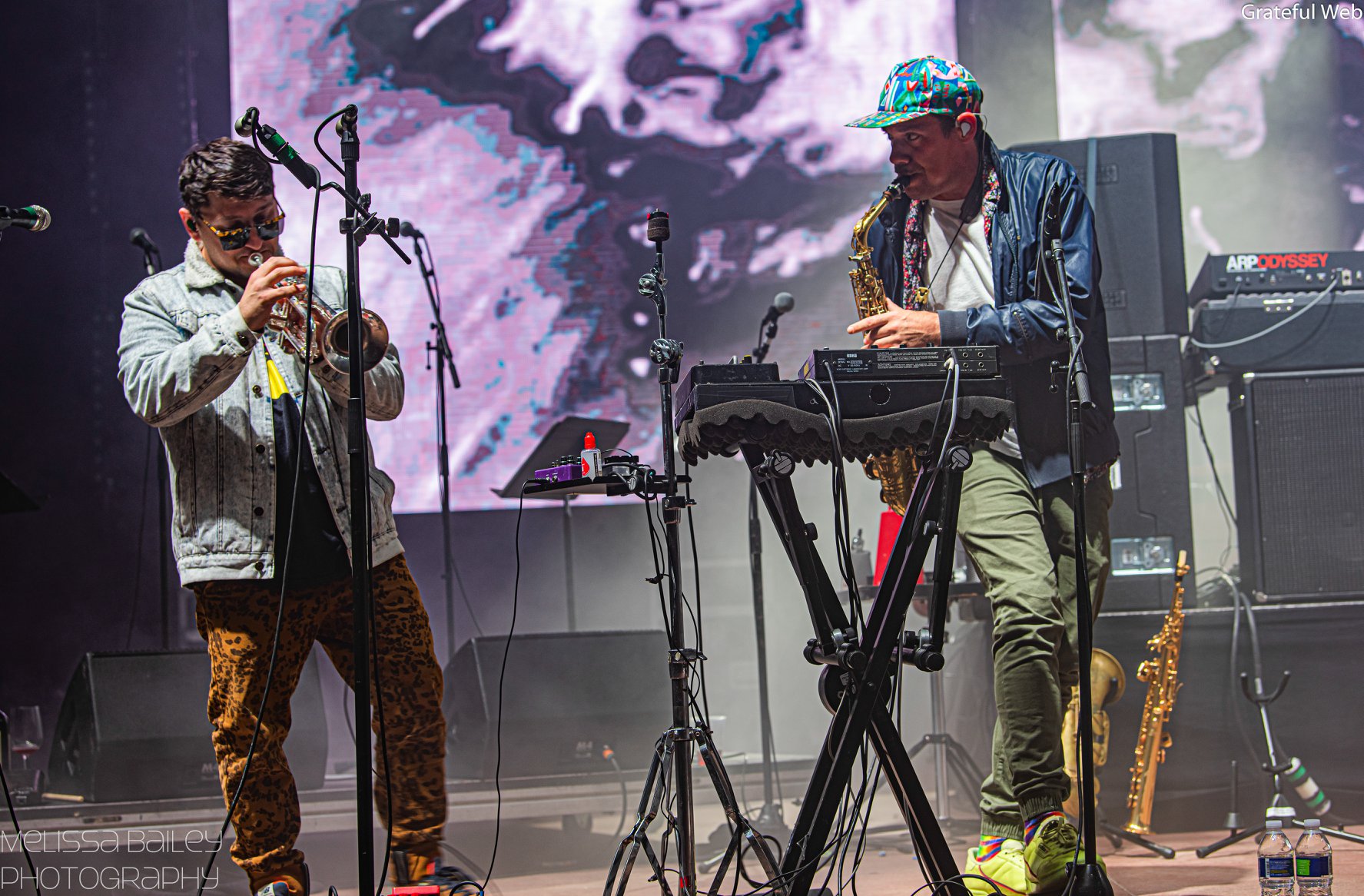 MP: I also heard that Nigel Hall was introduced to the band as first a fan and then a member?
AD: As far as Benny, our trumpet player, they both knew about the band. We have mutual friends about 5-6 years younger than us. When they joined, they fit like a glove. They have both been in the band for 10 years now.
MP: You guys have a core and you keep funking it out. I love that! Can you tell us a bit more about making the new album Unify?
AD: Usually the writing process is done on the tour bus or after the show because we're touring all year long. We don't have much downtime to really compose or write songs, but with the pandemic, we had about a year and a half of just hanging out and envisioning what our sound would be in 2022 and beyond, where we want to go, and how to incorporate what makes us who we are. We were just getting better at what we do. This album had a lot more time as far as writing and creating and the studio session was great because there were no outside distractions. It was sort of like a bubble right in the middle of the pandemic when we recorded it. We were super focused and we had great tunes where everybody came to bring the songs to life. We're happy people dig it.
MP: Not only did you guys do it, but you brought along a very special Funkateer! Tell us who joins you and how much fun it was to work with this person
AD: Yeah, he is THE Funkateer. He is the origin of Funkateer. Bootsy Collins is absolutely a god to us and someone that we couldn't even imagine meeting and better yet, working with and becoming friends with. It's been a dream come true. Keep the Funk Alive is the featured song. Bootsy got sent that song that we had all worked on as a band for him. He loved it and immediately put vocals and bass on it. He added his flavor on Keep the Funk Alive
MP: There is a really cool music video you can find on You Tube for it. I saw that you might have storyboarded or created some rough drawings for?
AD: We've never had a chance to do that before! Usually, we hire animators and they do their own thing but this guy Adam Hatch was so great to work with! He is an amazing animator. I took it upon myself to do some storyboards. I used to draw all the time. I actually wanted to go to art school before I met the Berklee guys when I was 16. I kept a little bit of that fire inside for visual art and I got to use it. I really loved comic books growing up. I created a scenario where Bootsy comes down in a spaceship and beams us up out of a Lettuce patch. We go up and jam with him in the spaceship in the galaxy universe then he brings us back to Earth in the end. It was really fun to work on that. I think it turned out pretty cool.
MP: I'm impressed! You could be a comic book artist. Your Instagram had me these drawings, honestly, so good!
AD: Funny because those pictures didn't take me very long at all. I just kinda sketched some ideas out for Adam Hatch so he could have enough of an idea. He had enough of an idea of what we were going for as far as the vision of the video. Thank you for saying that! I really do love doing that and hope to do some more.
MP: Those long days on the tour bus and all the interesting interactions you encounter… I'd totally read an Adam Deitch comic series. Let me know!
AD: I'll keep that in mind. 
MP: So tell us more about working with Bootsy. Was it remote?
AD: At first it was remote. We spoke through emails and phone calls, just a totally amazing interaction. Then he started sending tweets about us and saying all these things to his fans, letting people know, and that's when I knew it was for real. We had a gig in Ohio and he offered for us to come and spend time at his house and in his s recording studio. We got to hang out and do some vocals for his new album. We are actually going back again soon to finish up some stuff for his record. It just turned into a really beautiful friendship. We're so honored to get to work with such a legend of funk and soul music.
MP: Was there anything that you took with you from working with Bootsy that you didn't think you would? Like a piece of advice that he gave you or some sort of reflection?
AD: His original piece of advice that sparked the whole thing was to Keep the Funk Alive. Keep this thing that he talks about on his Instagram - despite the pandemic, despite the fact that all the musicians are at home not working. You could still keep the Funk alive. You could still create and still put out music and still be a part of this legacy. That was a big thing. He has an aura. It's an aura of this is fun, this is enjoyable, this is a beautiful thing. He kept saying that funk grows from underneath things. Underneath the grass, in a crevice, in a corner. That's where the funk lives. Funk doesn't even have a category at the Grammys yet. We're camping for that. 
MP: No funk category?!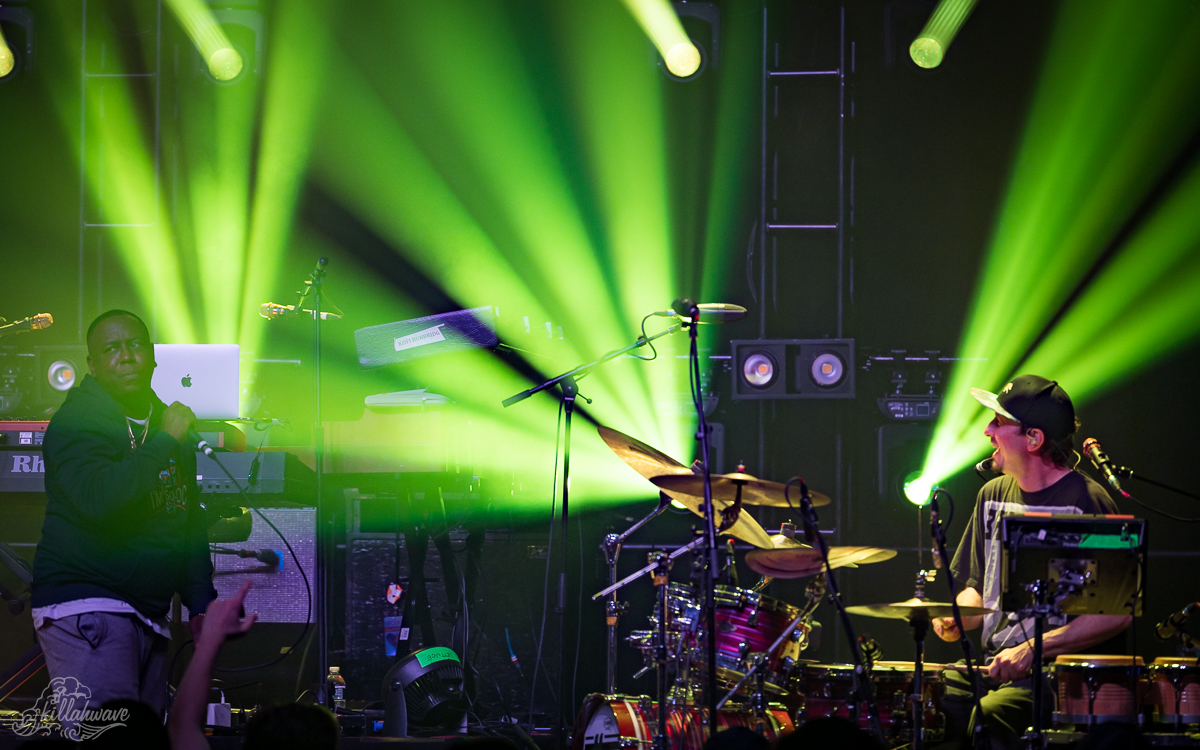 AD: No funk category. Just like there's no funk radio station. It's sort of like an underground art form and Bootsy is one of the inventors of it. We are more than happy to continue that legacy and try to push it into the future.
MP: That's wonderful! I knew that he had to have given you some seed of wisdom because just listening to him on his podcasts, he is so connected. He's connected to something else, like Colonel Bruce Hampton, otherworldly.
AD: He is a deeply spiritual person. You could feel that with his humor and fun and so many amazing qualities that we all try to soak up. 
MP: Bootsy's album The Power of One that he put out in 2020. For all the listeners who haven't heard of Bootsy's album check it out. It is so good and there are a ton of people featured on it. Now you guys will be going for something that you really want and you're making it happen. 
AD: If you don't try then you'll never know. You gotta put out the feelers and see what comes of it, really, whatever it is.
MP: You miss 100% of the shots you don't take.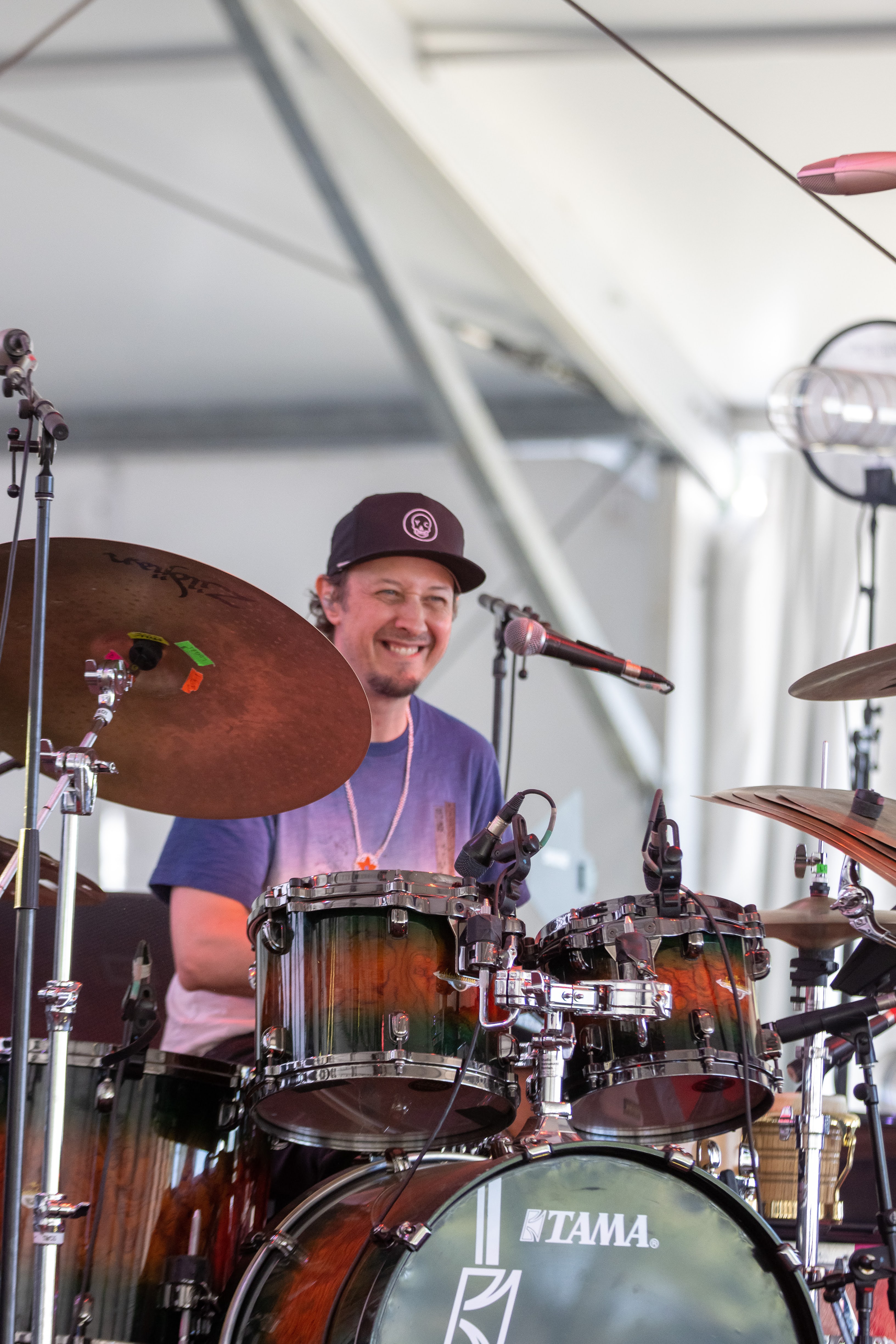 AD: A lot of people don't do things for fear of rejection but you have to not think about that. Go into it with a positive mindset and hope that it's going to work out. If it doesn't, you move on and continue forward. You gotta take a crack at it tho to see if it works or not.
MP: On Oteil's podcast I really enjoyed where you two talked about you never know who is in the audience watching you, right? You never know who is in the crowd and who is watching. Do you have an experience of when somebody was in the crowd that you didn't realize was a fan?
AD: Well, thanks to Instagram I have gotten to know so many artists that I would have never thought would have any idea who Lettuce is. The drummer from Korn is a big fan. Who would have thought a heavy rocker, like a metal band would be dropping some funk before they go on stage? He told me that we are their kind of music, us and Steele Pulse a great reggae band. It's always great to see people across musical genres. I worked with John Scofield a bunch and yeah. You never know who's checking you out. 
MP: Steele Pulse too, huh? We connected with the bass player once. Do you know what he told me? He told me that when he is playing bass when he has his little funk groove going, he is just farting. He's just farting the whole time! I love that dude!
AD: It's like his bass is a love gun and he holds it up sometimes. He points it at the crowd as if it's a shotgun. He's just giving you love frequencies through the bass. That's kind of how Jesus approaches the bass. The intention is coming from his heart going through the strings of the bass and the amp and going straight to the people so that they can feel it.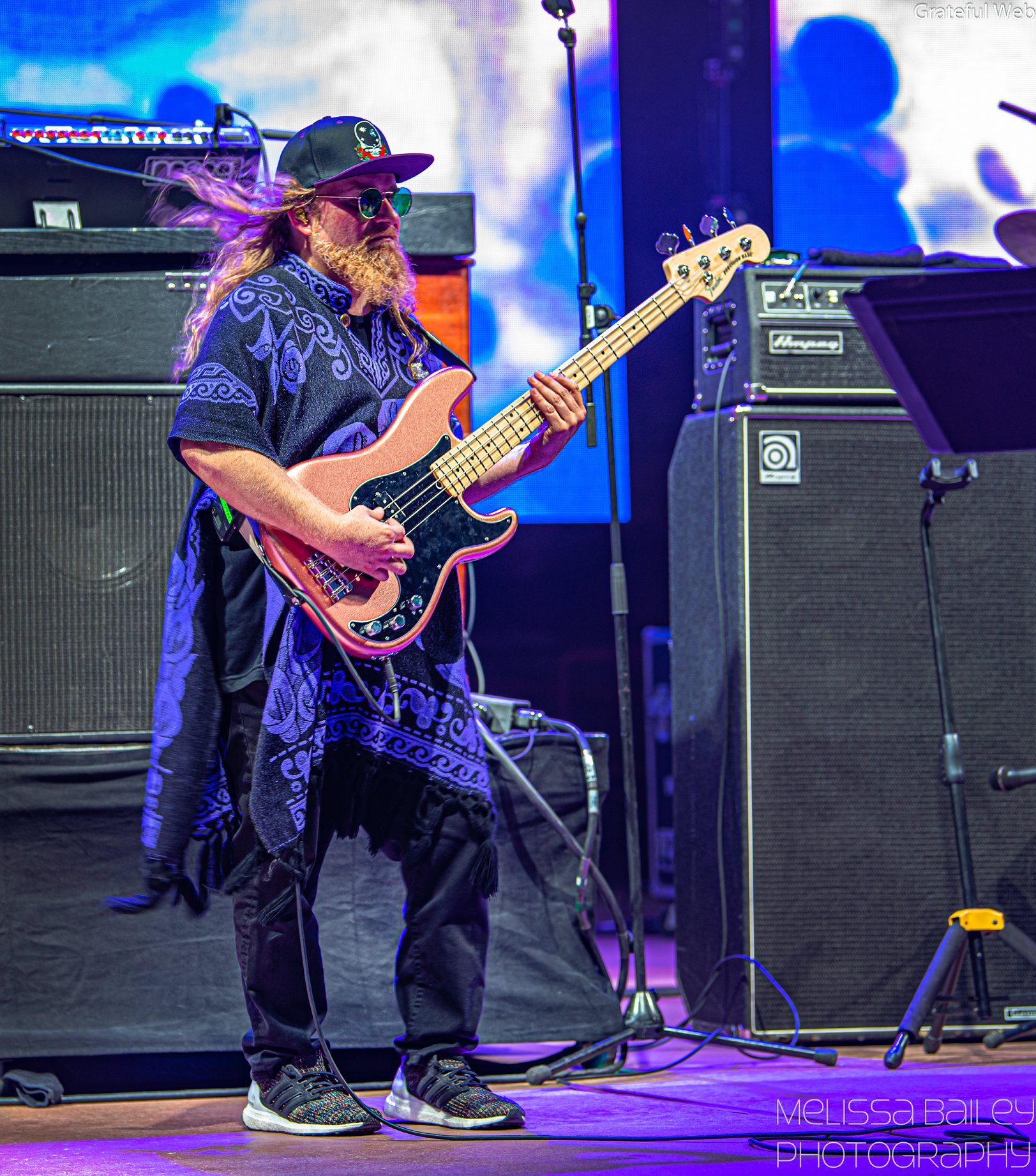 MP: A lot of people are coming for the frequencies, I think. It's why we get in a room and feel the bass. We feel the drum and the heartbeat without even realizing it. We don't put it into words, but it's the frequencies, right?
AD: Absolutely. Frequency science is getting deeper and deeper. It's not so much of an outside concept anymore. Sound is healing. With healing intentions and with the right vibes going into the music, you can really affect people in a positive way. We're all really keyed into that. I read up on everything that has to do with sound healing and that sort of stuff. It's great to see science prove what we felt and what musicians have known for centuries. 
MP: It makes it more of a viable career for some too. Maybe not you because your parents are drummers but someone might say, don't be an artist. You're not going to get paid or you won't be great. But what if you're resonating sound? What if you're able to heal people with music? Then you're a great source for science or a doctor in a sort of way, right?
AD: I feel like sometimes we are traveling doctors and our medicine is the notes. Notes with good intention coming from a band of best friends that just known each other for 30 years, we have a lot of love to share through the music. Funk music is our way of expressing the dark side and the light side of it all. It's not just one thing, it has all the colors that we love. I'm happy to be a traveling healer of sorts. 
MP: Traveling healers, I love that! Lettuce has such a great brotherhood. You guys love each other so much and it shows through with the music. You mentioned working with John Scofield and that you missed your boys. Here you are working with this jazz giant and you missed being with your band. 
AD: Absolutely. I did my best to get those guys into Scofield's band for just that very reason. Everyone else did gigs - our guitar player was with Lady Gaga and Robert Randolph, all these amazing artists - Jesus was working with Dr. Dre and Snoop, DJ Quik. We all had outside gigs but we were like, man… If we could just do this ourselves and hang out with each other and run this business… That was the dream. I have to give it up to Eric Jesus Coombs for having the real belief before we did that we could make this work. It really was just a matter of believing it.
MP: Missing time to continue on this path of wanting to be a great funk band too. I'm sure it felt as if that was great and all but you didn't want to abandon your ship. Got to get back to my friends and where I came from. What did you get working with Scofield that you could bring back to us?
AD: So many things! I think we knew the music thing before. We understood how to be a professional operation. From seeing how Scofield runs his business, his wife Susan is amazing, she takes care of everything from booking to management. She just has it all together and understands how it works. I learned so much from her. Now you know how to do European festivals and European tours and the way to interact with people on a business level and that sort of thing. We've all learned a lot from working with other artists. I worked with Average White Band. They are one of the great funk bands of all time. I did three years with them. I also learned how they run their business and put out records. It has all been very informational. I don't think we'd be a band today if we hadn't done those years working for and being mentored by these people that had very professional operations. They aren't dependent on just getting a song on the radio. That's not how we kept this thing going. It was more about being a band that people will keep seeing night after night. It's always different and it's always an adventure. You never know what is going to happen. The Grateful Dead and Phish and jam bands, jazz groups like Weather Report and Miles Davis, and Electric Period, set the groundwork to where it's not about the hit single. It's not about a big song. It's about the concert experience. That is what I learned from those guys.
MP: That is wonderful. Thank you for expanding on that. How old were you when that happened and you found yourself working with Scofield?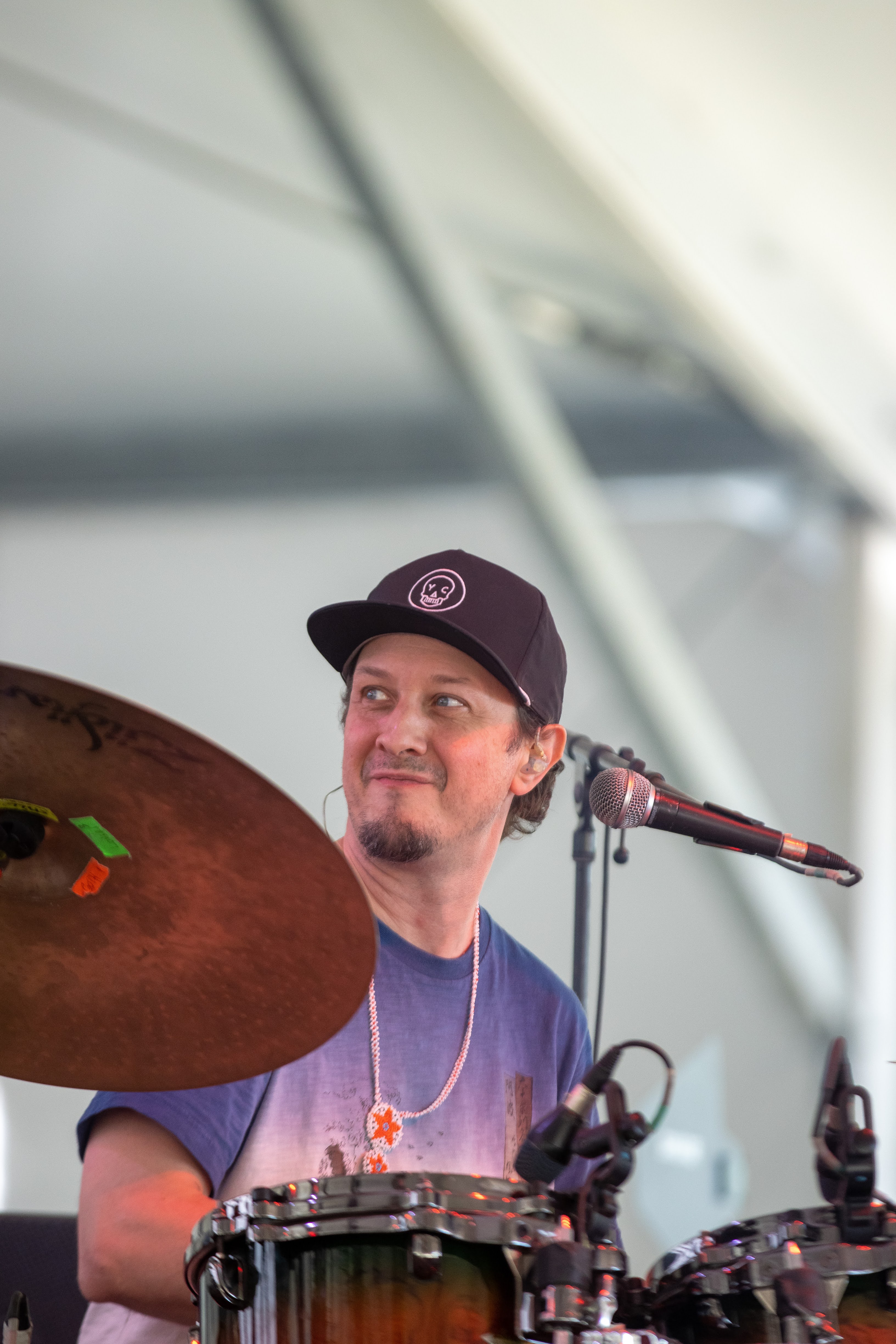 AD: I was about 24 years old. I'd already done a couple of years with Average White Band. Actually, it was Eric Krasno that ended up bringing Scofield as a guest to a Lettuce show. Krasno thought I would be a good fit for Scofield's new project. I was about 25 years old and we went for a little tour and wrote a bunch of stuff on guitar. He had some great ideas and then we went right into the studio after the tour. Here I was recording with the great John Scofield, the legend, and it really gave me a huge boost. It alerted people to the kinds of styles that I like to play from expansive funky hip hop to hip hop-inflected jazz-inflected music. Scofield is a great traffic director. He has this pointing thing where he just points. I want just the drums and the bass for eight or six bars or whatever. You never know what he is going to do arrangement-wise because he likes to break it down as if he is a mixing board. He will take certain instruments in and certain instruments out. Then when he puts it all back together again, the crowd always goes nuts. They end up living the sound of just two people together. Then they hear all six instruments come back together and they love it. It is an experience in sound. 
For example, in our song Fearless, whenever we get to the middle of Fearless, it's open. We can do whatever we want to and it's improvised every time we play it. It keeps you from getting sick of a song because when you get to that section, it's up to how you feel and how you respond at that moment. That's one of the things that keep us going. 
MP: That is really cool. That does keep it fresh because there has got to be that point where you're like, okay I've played this song a million times. I'm bored of it or whatever. Worst-case scenario, the audience is bored of it. In this formula, you can totally change it and make it a sound experiment.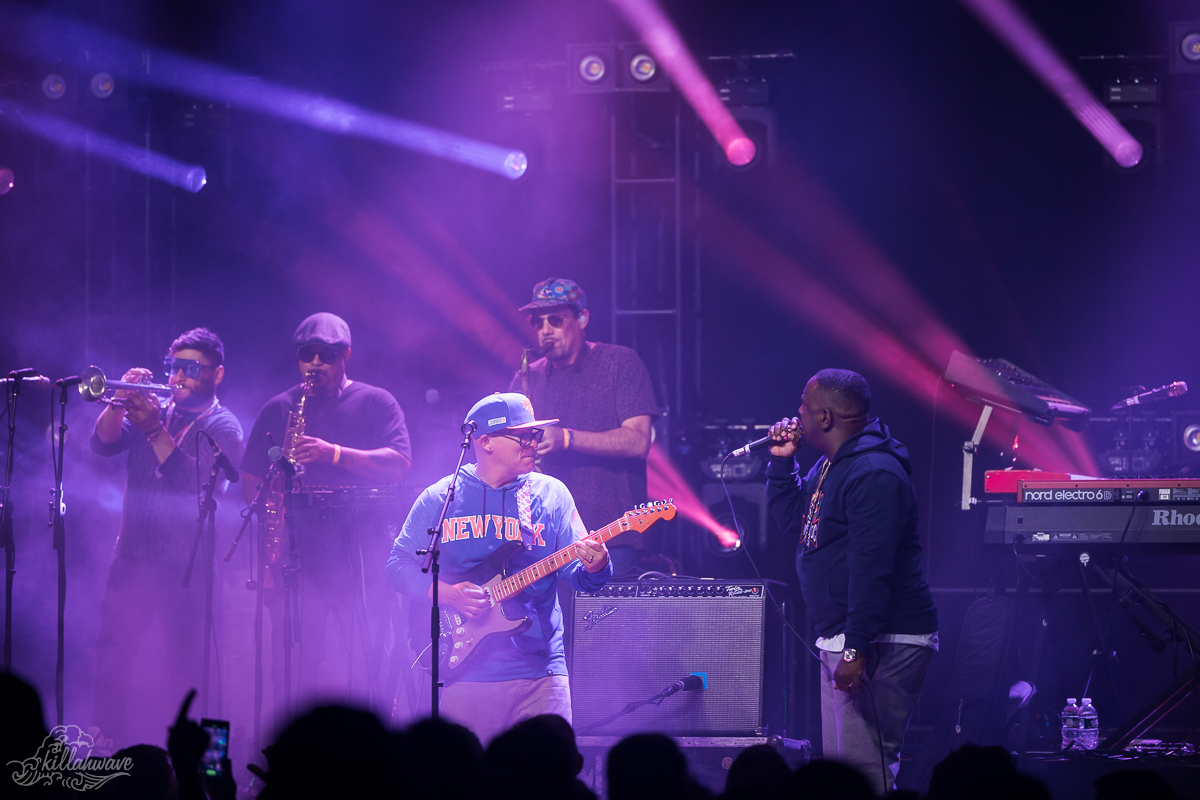 AD: Absolutely. Our fans come to our shows for a while and they understand this. We really care about the long-term fans and want to give them an experience that is different from their last 510 shows or 20 shows. As long as we are keeping them happy and also keep getting new fans, that propels us into the future. 
MP: That is exactly what you guys are doing. One thing I find so fascinating about Lettuce is its hip-hop background. Tell me about that and how much hip hop means to you in your life.
AD: It's everything! It was the music I came up with as a young teenager in the late 80s early 90s. It was especially exciting to me as a drummer loving that power. I also love to dance. I was doing all the crazy dances, not breakdancing but you know, dance parties and hip hop. I was obsessed, completely obsessed and still am. Everyone in the band loves hip hop. It was totally a part of our musical development. We were all practicing and playing along with hip hop records. I think that's our secret sauce. That is what separates us from a throwback funk band.  All those guys like James Brown and George Clinton, without them there is no hip hop. These young producers and rappers coming up in the 80s grew up with these records and their parents playing them in the house all the time. The idea of taking these little parts of songs, their favorite parts that were so raw and exciting - looping them over and over again was a concept that hadn't really been done yet. The idea of sampling and taking this really weird moment of a song, that has a vibe. We incorporated that into Lettuce to try and get as much hip hop into what we are doing as possible.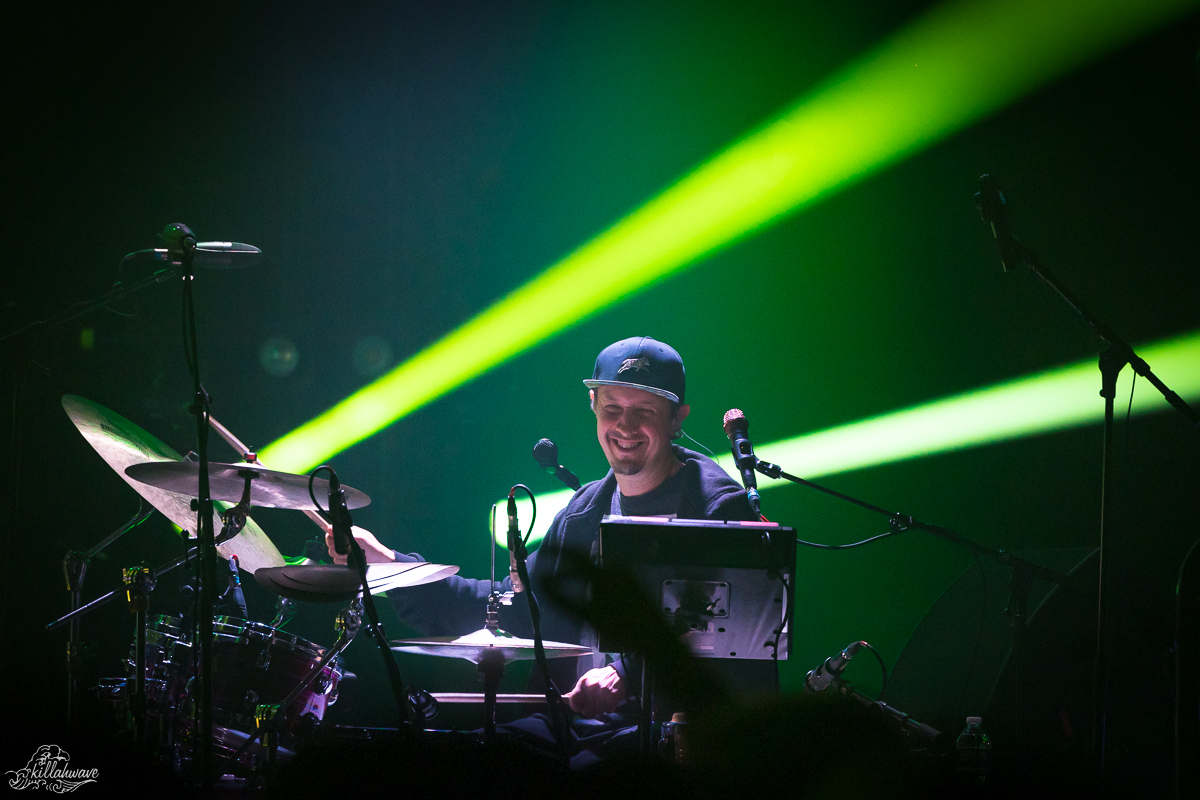 MP: That is definitely what sets you apart! 
AD: My dad's coming from Earth Wind and Fire, Stevie Wonder The Beatles, and that sort of stuff. That's traditional funk. It's all timeless amazing artists but it took him a while to understand how I felt about hip hop. When I was creating myself, my dad got to see how hard it was to make legit, good, hip hop. It's not easy. You don't just sample a record and put it on the radio. It takes a lot. It takes a lot of mixing, a lot of picking the right spots, picking the right drum sounds, the right bassline, getting the perfect rapper to rap over that and the art of the DJ and scratching and all that stuff. We love that stuff. We have been fortunate enough to work with some great MCs. We have toured as the backing band for GZA from Wu Tang Clan and we did tours with Slick Rick as his backing band. Talib Kweli, Pharrell, a bunch of amazing MCs… Charlie Tuna from Jurassic Five. We played on Jay Leno with the Game. From the west coast to the East coast guys to the Midwest, Detroit. I have to mention J Dilla who is one of the greatest producers that has ever lived. His style is very live-feeling music. It has this loosey-goosey not quantified, not robotic sound. In the early 2000s, I think that is what hit a lot of musicians. You talk about Robert Glasper and Derrick Hodge and all those guys. Dilla influenced their style of jazz and their style of music. It is a huge part of our DNA and who we are.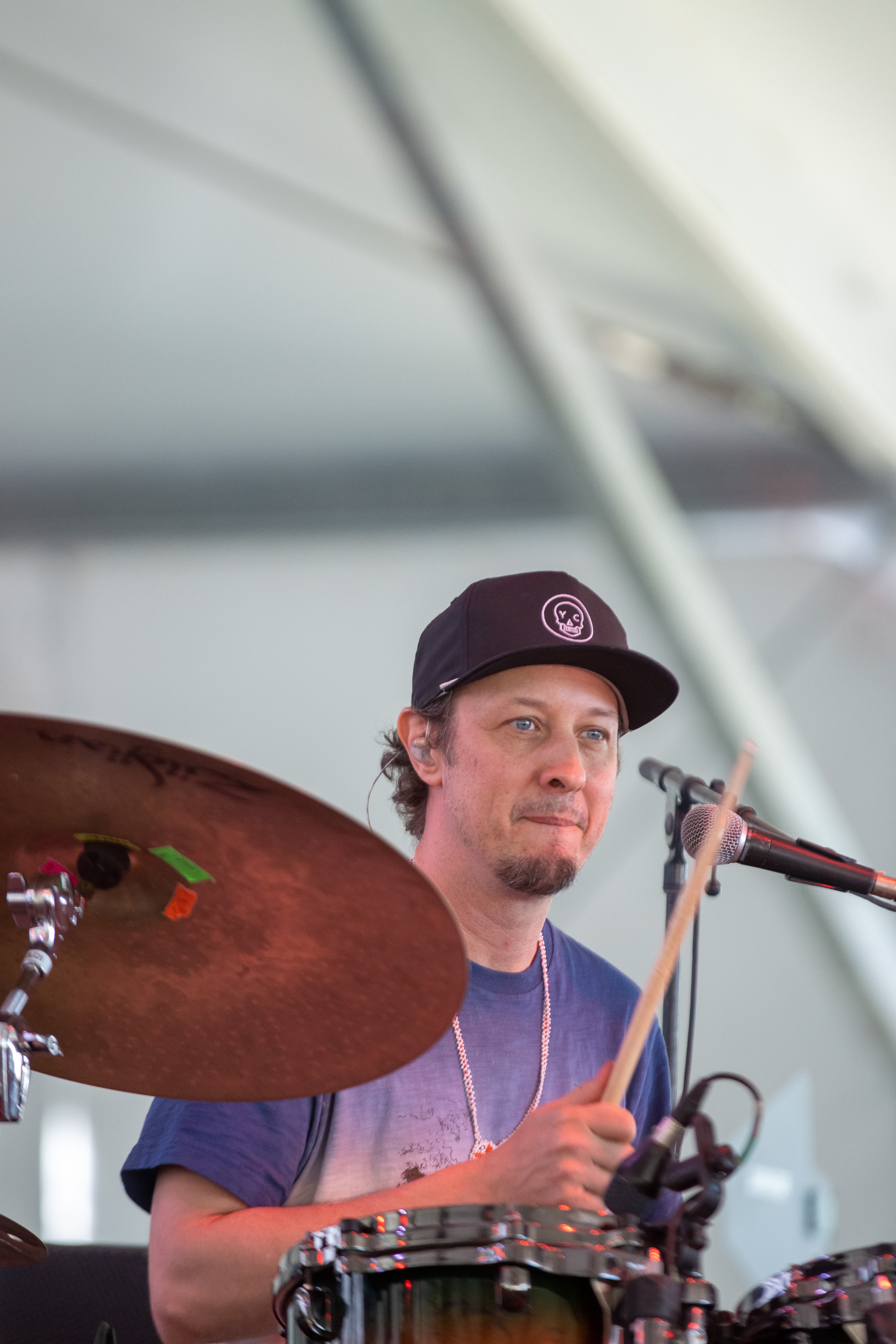 MP: Haven't you also produced a record? 50 Cent? Redman, Talib Kweli? What is it like to be on the other side of it and produce?
AD: Oh its great! Obviously, they are kings and I had to come up with a piece of music that they could tell a story over and talk about their life and experiences. It was really interesting. It's a way different experience than being in a band. It's an 'I really hope they like this' sort of vibe. With 50 Cent, I was skateboarding to his house every day in Manhattan. Sometimes he wouldn't even listen to what I brought. I'd play it in the office and his boys would take my skateboard and skate around the office and not even listen to my music. We'd just hang. They wanted to make sure I was cool and the vibe was right. Then they really started listening. He heard one track and said this is going to be perfect for my album because he liked the live guitar on it. Shout out to Eric Krasno for putting the live guitar on that track.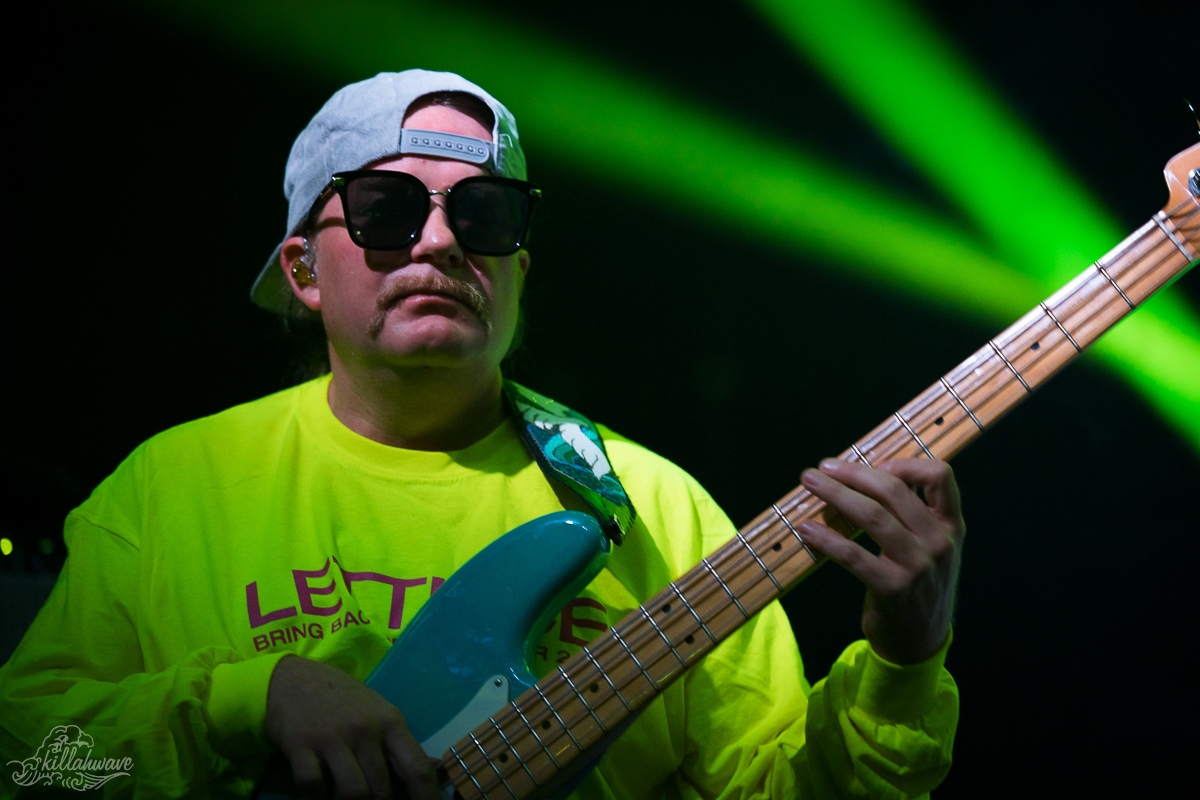 MP: Krasno certainly knows what he is doing. I never thought 50 Cent would know who Krasno was. How about that?!
AD: He definitely knows his live guitar playing and has a sample of his live instrumentation. That was cool. He grew up in church so he knows the deal.
MP: Oh that has got to make ya feel good.
AD: It was cool. Hanging out in New York when that record came out… every car playing it as they drove by… It was a great experience.
MP: I love that you and Jesus were in a hip-hop group before Lettuce.
AD: Oh wow! You really did your research! You really went all in! The Formula was what we intended on doing. We really wanted to be a band that had a steady MC in it like the Roots. That was our goal. We started the Formula to try and get that going. It was hard to find an MC that we could lock down in 1995. The industry was geared toward rappers being solo artists, just going out and being them. The guys who we wanted to be a member of the band as a rapper didn't want to be tied down. We decided then to make music that is powerful enough to not be dependent upon a vocalist. We figured we would work with rappers or work with singers. When we finally linked up with Nigel about 10 years ago, it was a match made in heaven. He loves hip hop, he loves soul music. He can sing like Danny Hathaway and Stevie Wonder. It's definitely a cultural thing. He can play keys like Bernie Worrell or Herbie Hancock, it's just a dream. He filled out such a huge part of what we were missing. I'm just… so thankful that he is in the band today.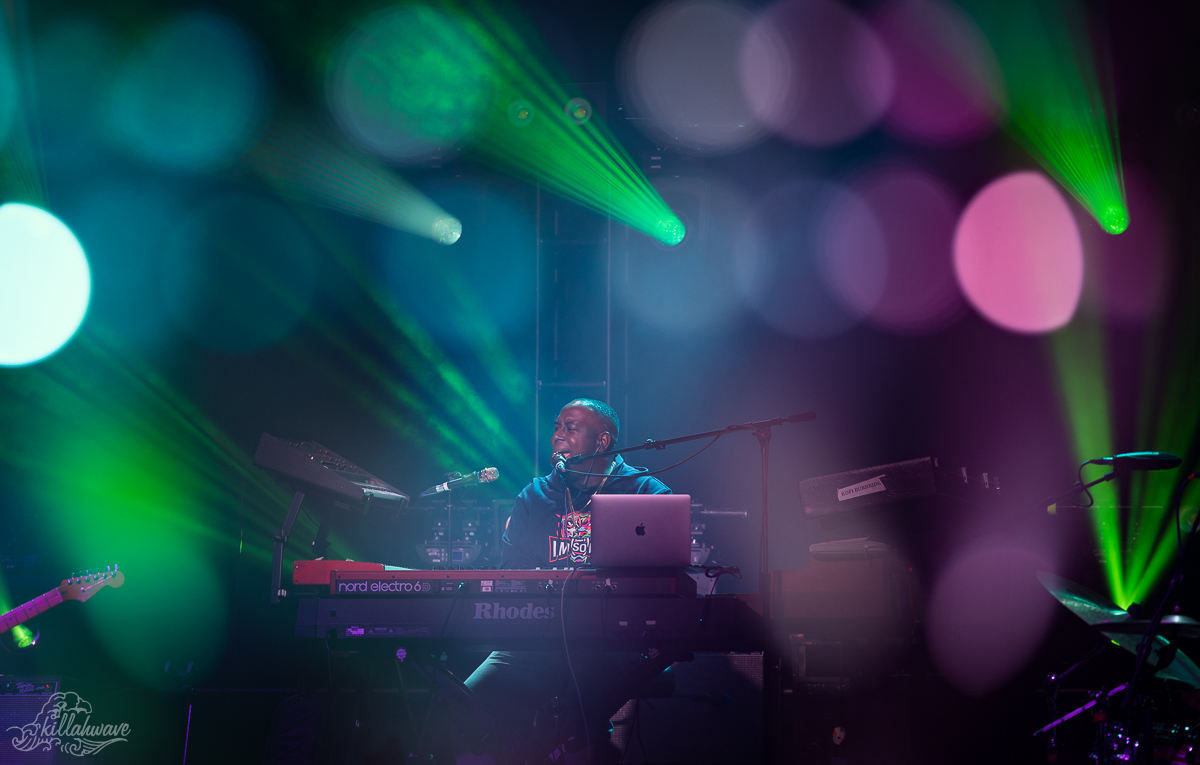 MP: We are so thankful that Lettuce will be playing Sacred Rose Festival which is coming up Friday August 26th. You guys are playing the same day as Phil Lesh and Friends. They are calling it Philco - Phil Lesh and Wilco! Crazy lineup eh?
AD: Yes! I am so excited about this lineup! I saw Kamasi Washington is there. I am really excited for him. There are a bunch of artists I am really excited to see, Hiatus Coyote. I really want to see them live.
MP: Yes! Can you tell us more about them?
AD: They are from Australia - a cool quirky, funky, progressive R&B group. They are kind of beyond explanation. The lead singer is phenomenal, the whole band is phenomenal. Of course, Cory Wong and the whole Wolfpack crew. We love them! Joe Russo, so many of our friends are here. We are really excited about this one.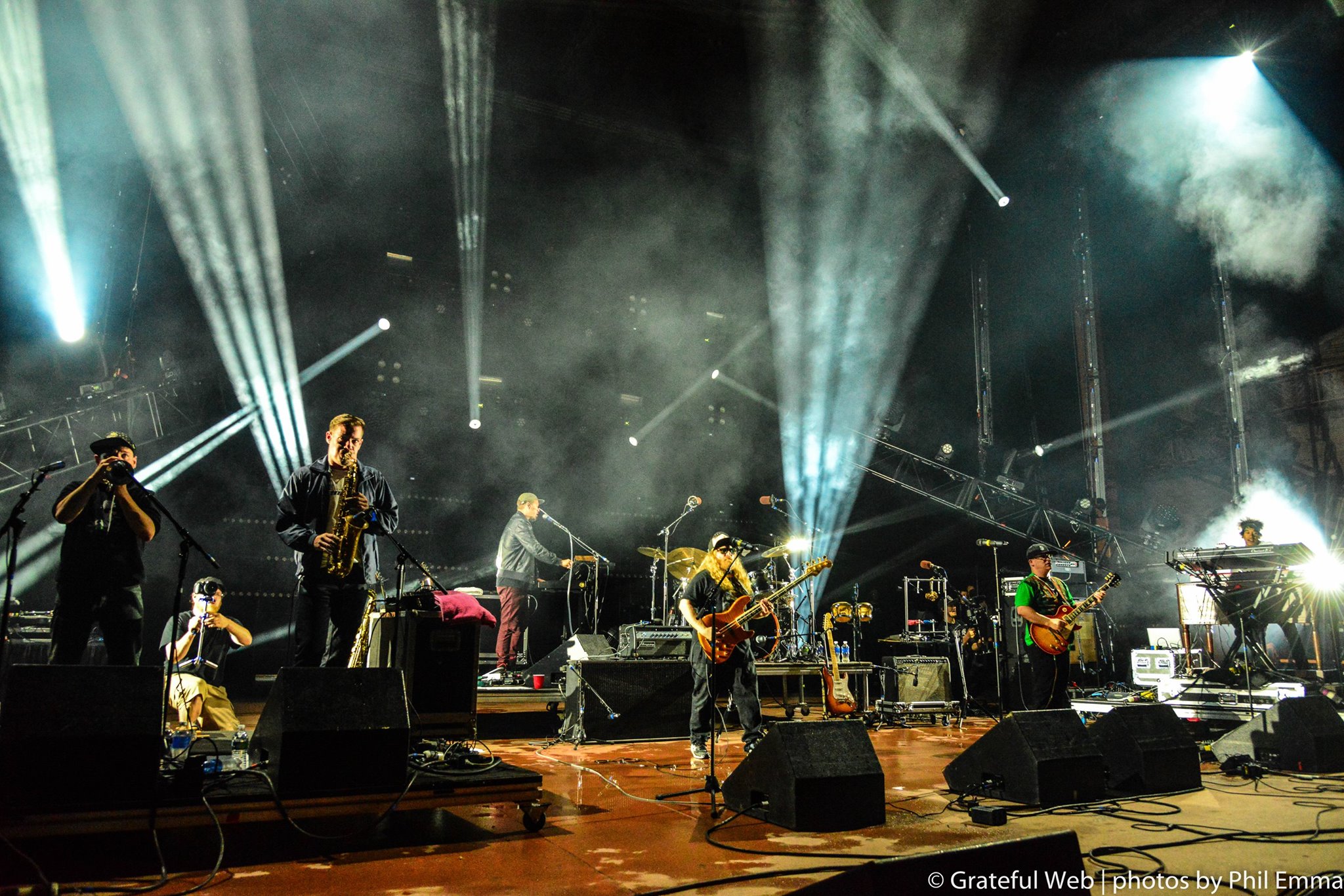 MP: Wow! So this is going to be just as much fun for the musicians as it will be for us in the audience, right?!
AD: Absolutely! This is the kind of festival where you get there and go walk around to try and catch as much music as you can until your set. Then when your set is done, you change your shirt and dry off, eat something, then go back out and look for more music. Get in as much music as you can before you grab that ride back to the hotel. 
MP: Exactly! I am so glad you guys are on this lineup. We are so glad to have you in Chicago! Lettuce is playing from 6:15 to 7:30 on Friday, August 26th. It is going to be such fun! I really appreciate you taking the time to talk with us today. Your music is so fun and it was so fun to pick your brain today as well.
AD: Thank you so much! Thank you for doing all that research. This is definitely one of the most in-depth interviews I have ever done so thank you, Meagan. 
MP: You are welcome. You are so welcome. One last question: How important is it to be humble in this business?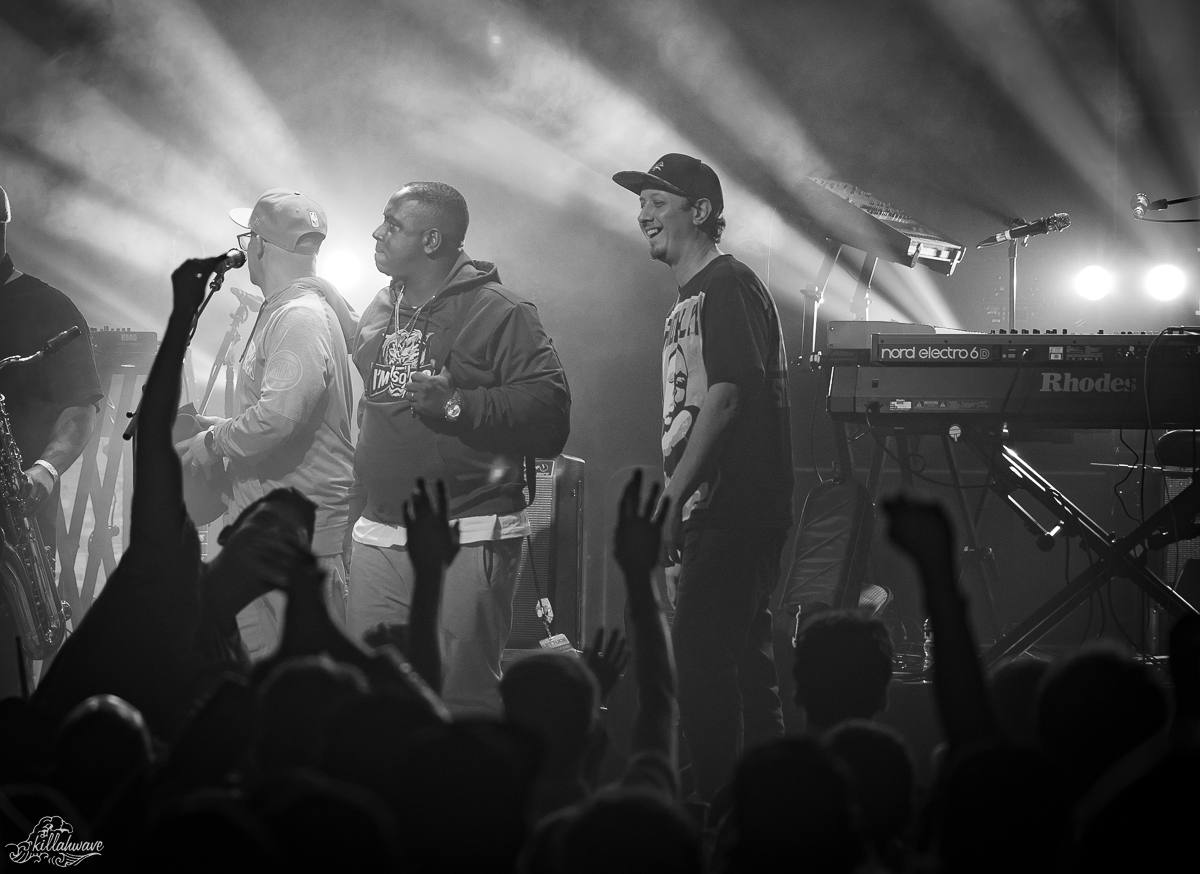 AD: How important is it to be humble? Be humble! Nobody wants to work with a jerk.
MP: It is just that simple. 
AD: It is just that simple! Our favorite musicians form Bootsy to Herbie Hancock to Earth Wind and Fire and Tower Power. They are humbled. They have done it. They have lifelong fans. There is no reason for them to have an ego. It is the people with the egos that usually have a complex of some sort. The idea is to be humble and treat people with respect. Know that there is a long way to go. No matter how good people might shower you with compliments but you have to know in your heart that there is a lot more to go. There is a lot more to do. That always works to keep us humble. 
MP: Adam Deitch of Lettuce ladies and gentlemen! We really appreciate you. We will see you in August at Seat Geek Stadium in beautiful Bridgeview Illinois!
AD: Thank you for having me. I appreciate it.
MP: Have a great day! You are welcome! It's WBEZ Chicago, 88.3 FM The Wizard, Chicago's home for freeform radio. I want to hear Vamanaos off Lettuce's album Unify right now. Get your dancing shoes one Sacred Rose is August 26 through the 28th, 2022. We will see you out there!