The inaugural Sacred Rose Fest is less than 2 weeks away. For the first time ever there will be a weekend full of music as diverse as the Grateful Dead in its current form. Phil Lesh playing with Nels Cline and Jeff Tweedy as well as Karl Denson, Stu Allen, Grahame Lesh, Jeff Chimenti, and Elliott Peck all in one headlining slot!?! Khruangbin, JRAD, Umphrey's McGee, Disco Biscuits, Lotus, Elliott Peck's Midnight North, Holly Bowling, and the Gone Gone Beyond are kicking it all off?!? The list is exciting and inviting.
WZRD 88.3's Meagan Panici recently received a call from Sacred Rose Festival's Founder Michael Harrison Berg. He talks about the festival's inception and the tender heartwarming story of how the festival came to be named Sacred Rose.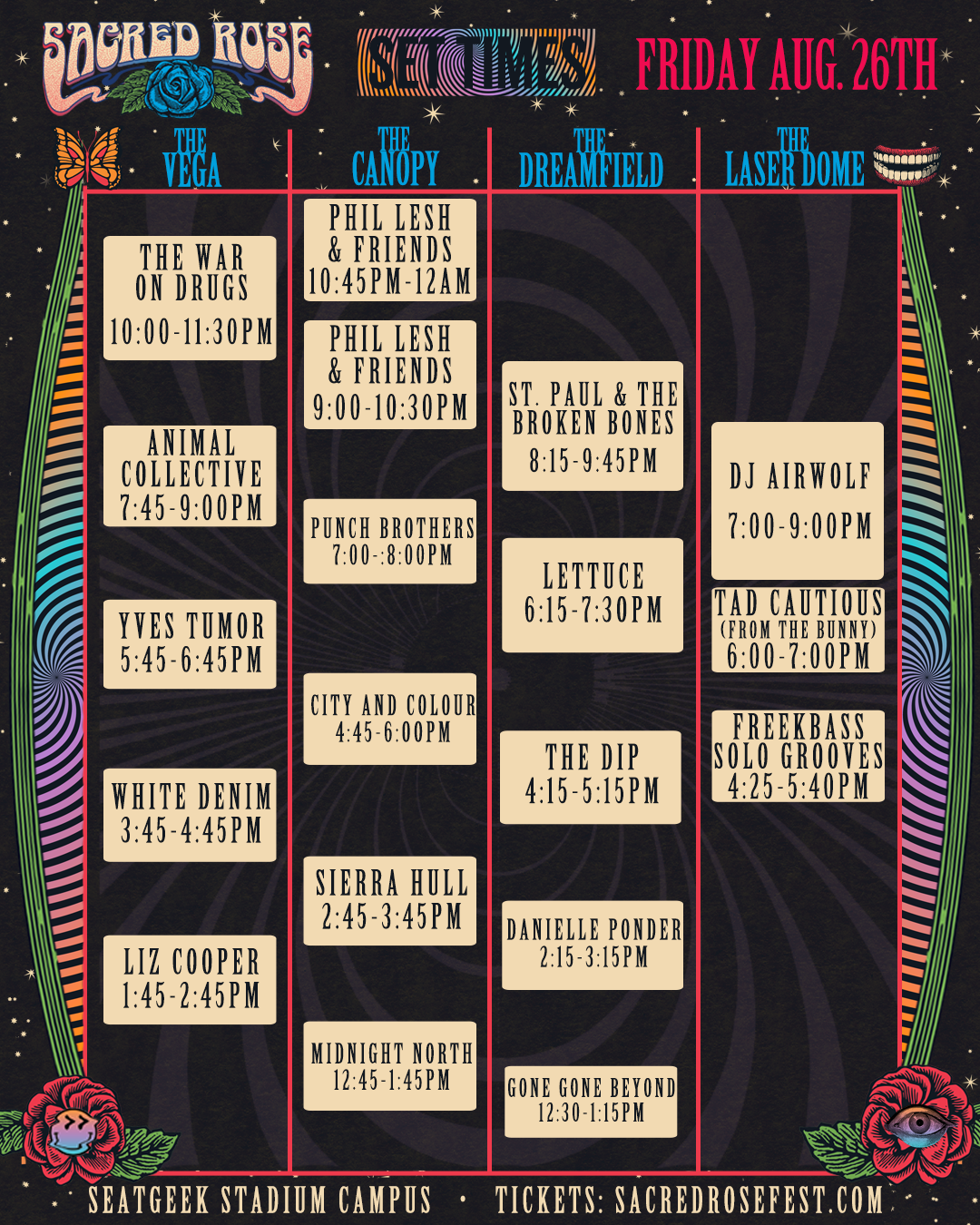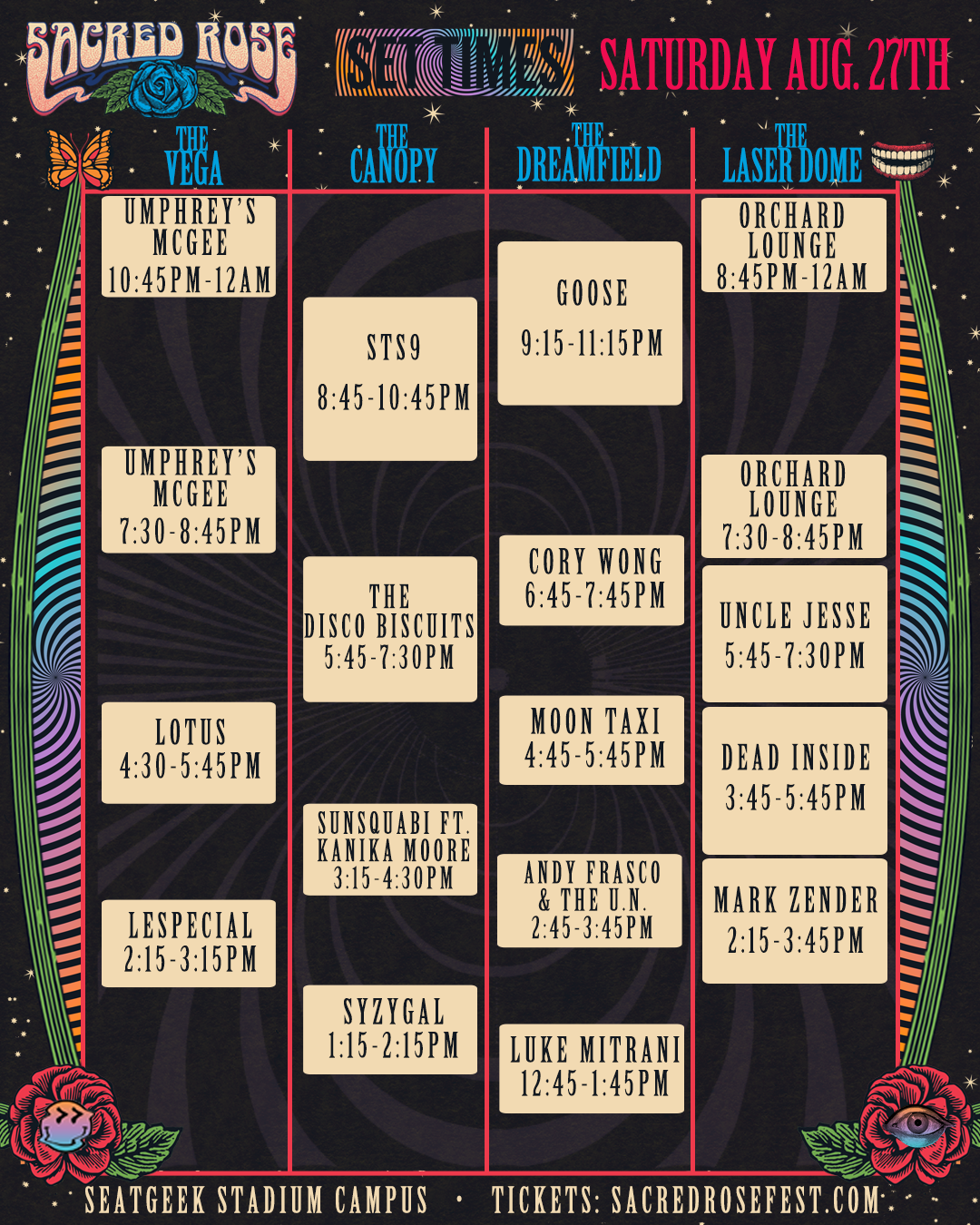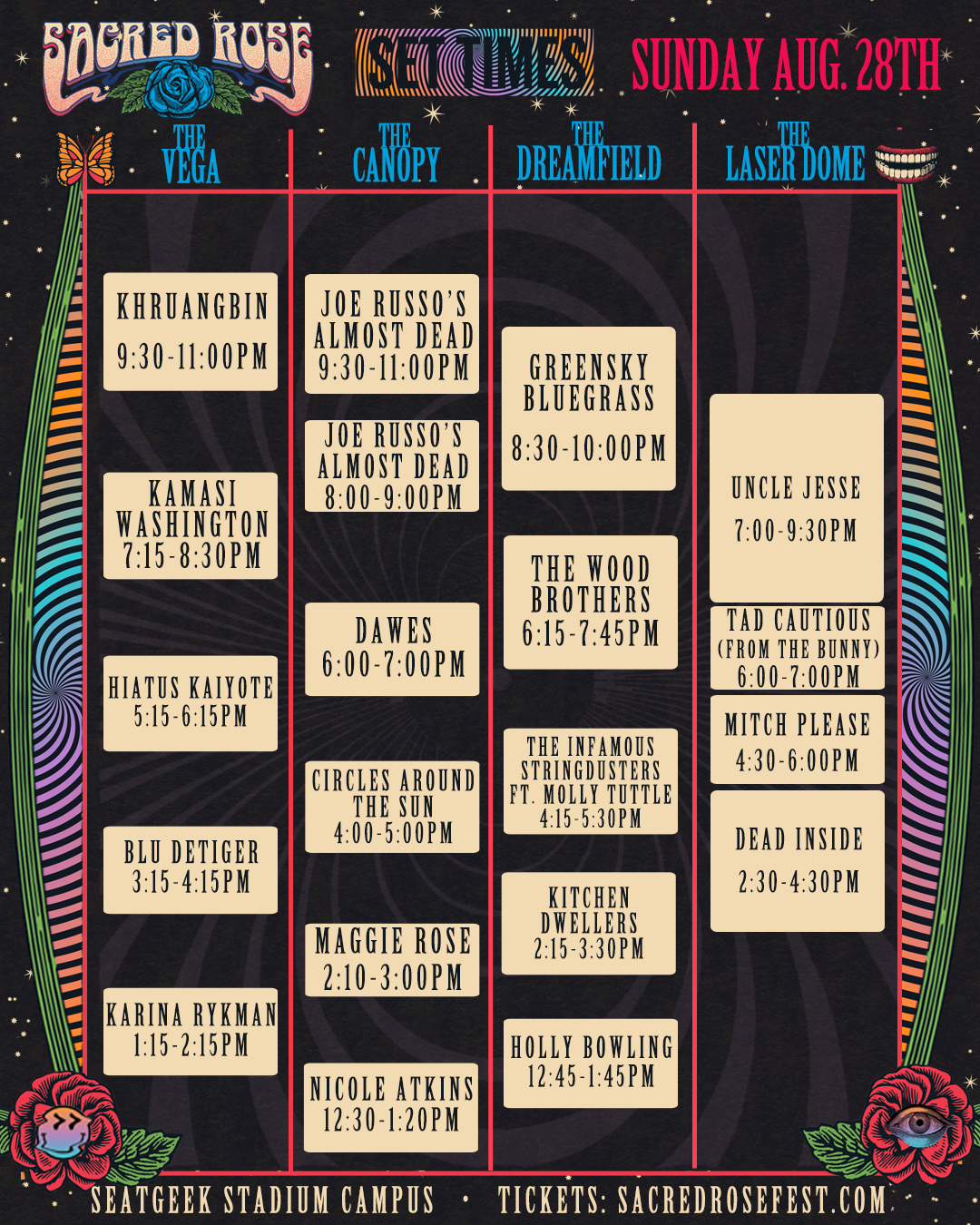 MP: First and foremost I want to give a huge Chicagoland Thank You for this. Chicagoans and music fans have been dreaming of something like this for forever.
MHB: I appreciate that so much. We are just as excited as everybody else is! We've been dreaming this one up for a very long time. It's filling a niche that wasn't here before. What is going to be really fun is to see everyone all together experiencing it, interacting with the art installments, all the sit-ins, and unique collaborations that are scheduled to happen. It's going to be very special.
MP: The curation of this festival from the jump has been fan first. First of all, you are a fan, a fan of this music, and you really care about what the fans experience. Tell us a little bit about what details and what things you put into this festival to make it such a fan-friendly easygoing fest.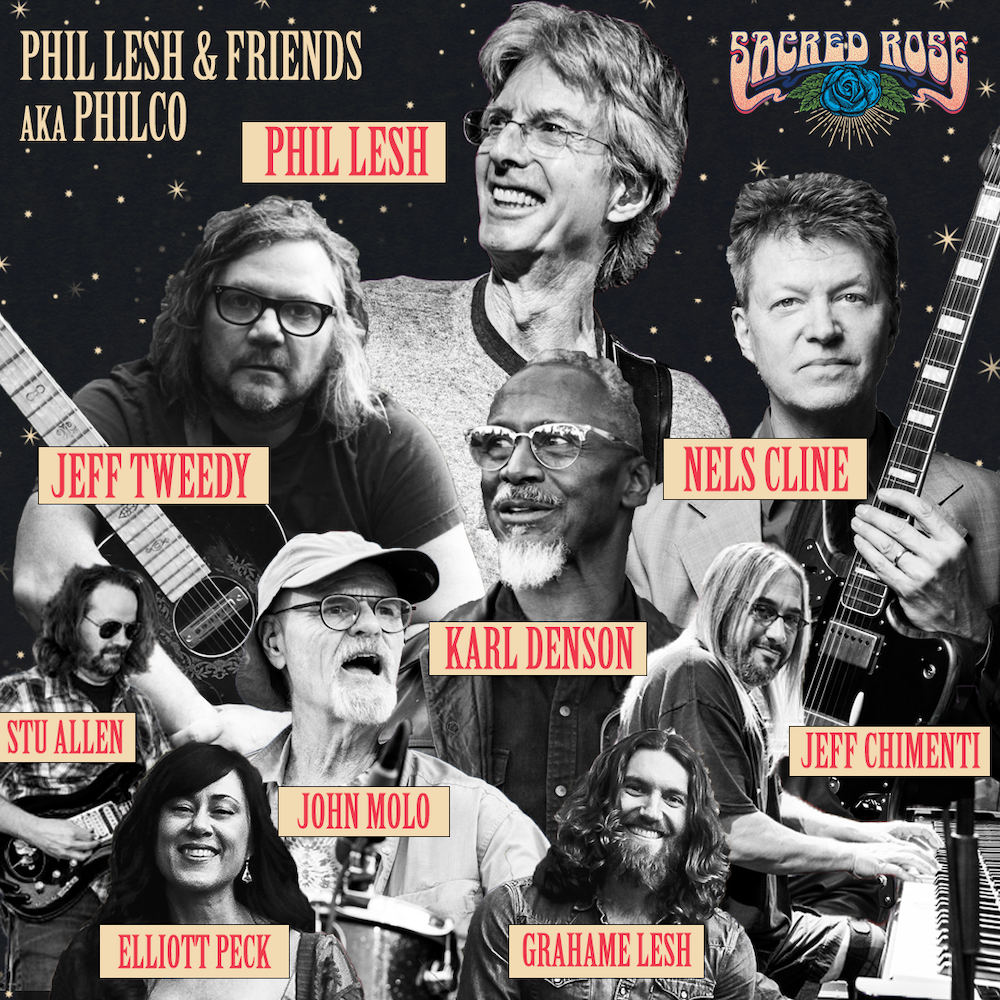 MHB: You just said it, that is the best answer. We are fans. I am a fan. I'll always be a fan first, no matter what I do with my career in this industry. We always try to book concerts and festivals that we would want to be at as well. We are from the culture that we're servicing.
MP: I think that by having the schedule out right away as you guys did, you showed people what they can expect. They can buy a ticket and decide if they wanted to buy a full festival pass or a one-day ticket. That was something I had never seen in all my years of going to festivals. How were you able to make that happen so quickly?
MHB: For starters, we almost launched this show in 2021. Due to a couple of the headliners not being able to engage, we chose to push pause and bump it to 2022 because we wanted to do it right the first time. We found ourselves in a unique position to be able to roll out the full schedule once the lineup was secured and confirmed ahead of time. There were pros and cons to that. We were able to launch the festival and the brand on the foundation of transparency and communication, which was received well in some regards. But there were also a lot of internet people that were negative about conflicts of sets and things like that. Our position from the jump was that we are telling you what you're signing up for. If you don't want to sign up for it, that's fine because I would much prefer to start off the foundation of the relationship with our fans that way then roll out the schedule right now this week and have people that bought tickets feel like they got duped. With a lineup this stacked, there are bound to be some conflicts on the stages. We made a couple of adjustments that helped to alleviate those conflicts to the best of our abilities. That was also received very well. We have tried to go above and beyond with our customer service on this one. We've replied to every single DM. We reply to comments when they are reasonable on all socials, and all the incoming email inquiries, we have tried to truly honor what we said we were setting out to do and be a fan-first festival. That being said, some people's expectations are unreasonable and some people's questions are silly. I don't think that every single person that decides to chime in on the internet necessarily knows the intricacies of putting something this complex together and the politics that go with it, all of those things with billing and with set times and who is closing stages and who is not. That is something that we've been able to hone in on the art and skill of over the last two decades as a team. We are fortunate to have relationships with these artists. They are amazing teams who are partners of ours to work through those challenges. Of course, everyone is going to have an opinion. We can't please all of the people all of the time. We certainly try to do our best.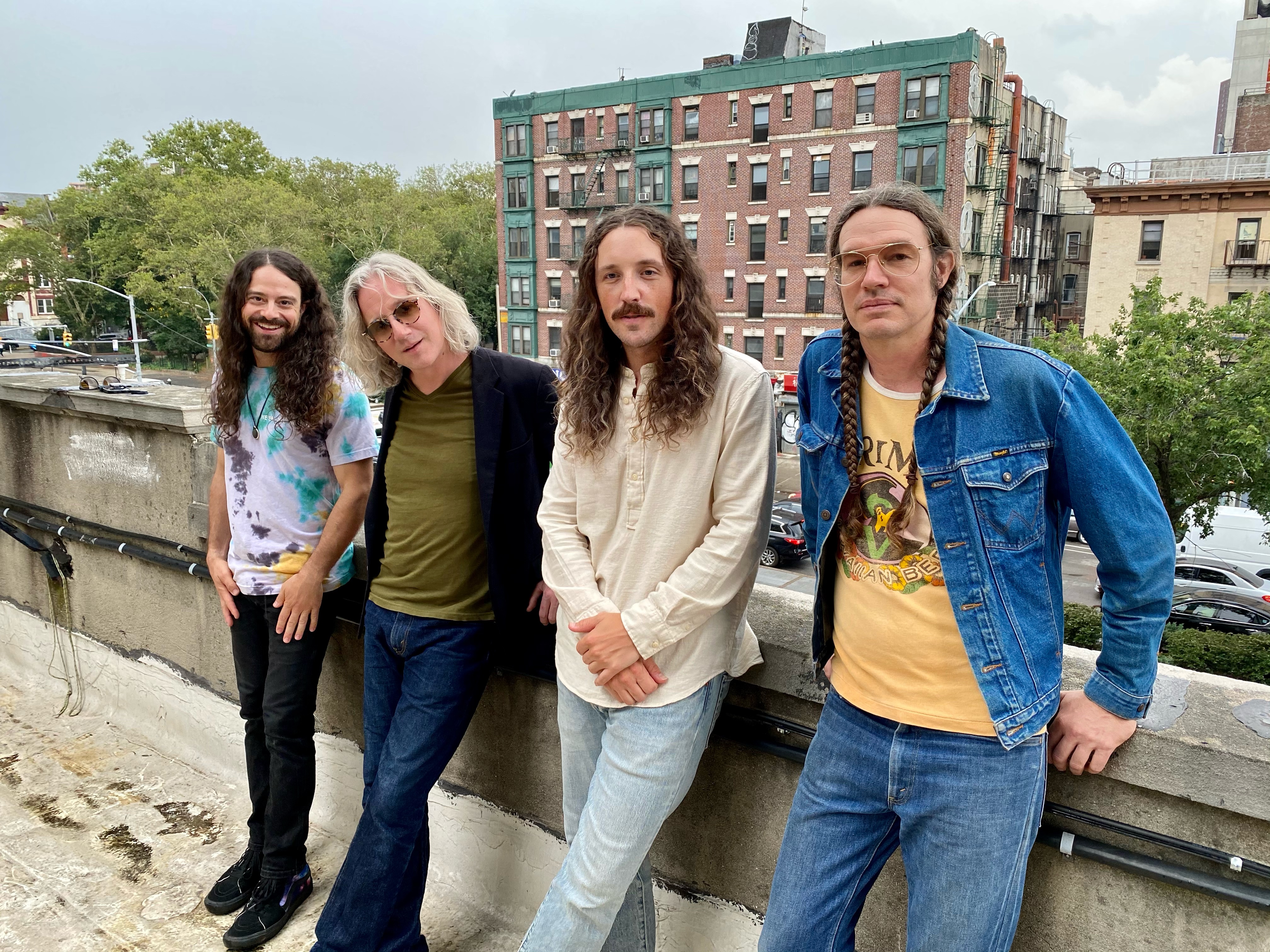 MP: You can tell that for sure! I think that's amazing to say 'Hey, I'm going to talk to every person at this festival that has concerns and try to reach out to them.' I don't think every festival is like that so that shows your true dedication. What do you do for anybody that has a negative review after a record comes out? Do you just let it go? What is the best advice for that? 
MHB: You have to have thick skin if you're in the arts business. Art is the most subjective thing in the world. That means everyone is going to have an opinion about it. I will admit, we are all human. Some days are easier than others. Some roll outs and announcements that get responded to favorably or unfavorably are easier to deal with in their own regards. Ultimately, you just have to know that if you're doing the best you can and you are doing what you think is the right thing, that you're trying to actually be truly righteous with how you're servicing people, treating others as you would want to be treated. You have to know that you can't please all of the people all of the time but hope that what you're doing resonates with enough people and that enough people will like what you're doing.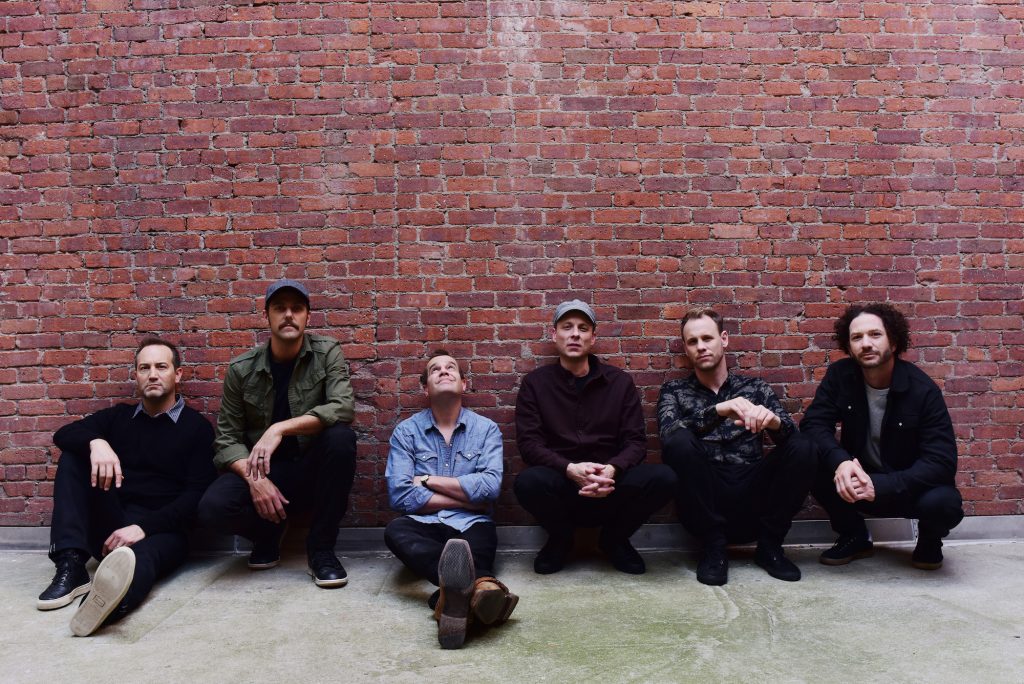 MP: Very true. Thank you for that! It's not easy for anybody to have so much feedback coming in. Thank you for trying to referee all of this and make it as easy as possible for everyone. Its apparent in what you are doing so give yourself a pat on the back because you are doing a great job!
MHB: Thank you. Again, I said this years ago about our festival in Florida for Halloween. It was and still remains today to be one of our most passionate fan bases that we have ever been a part of, like a brand launch to build upon. With passionate fans comes honest feedback. Sometimes You really just have to know that it is a blessing that people care about what you're doing. I promise, a few negative comments in the sea of positive comments is well worth the difference of nobody caring about what you are doing at all. That goes beyond being a promoter. That is if you're a sports team. That is if you're a musician. That is if you're a television show or a movie or just about any kind of entertainment. In this day and age with the internet and economy suffering, people only have so much disposable income. To have a fan base that is so invigorated to the point that they want to chime in and join the conversation, that is truly a blessing.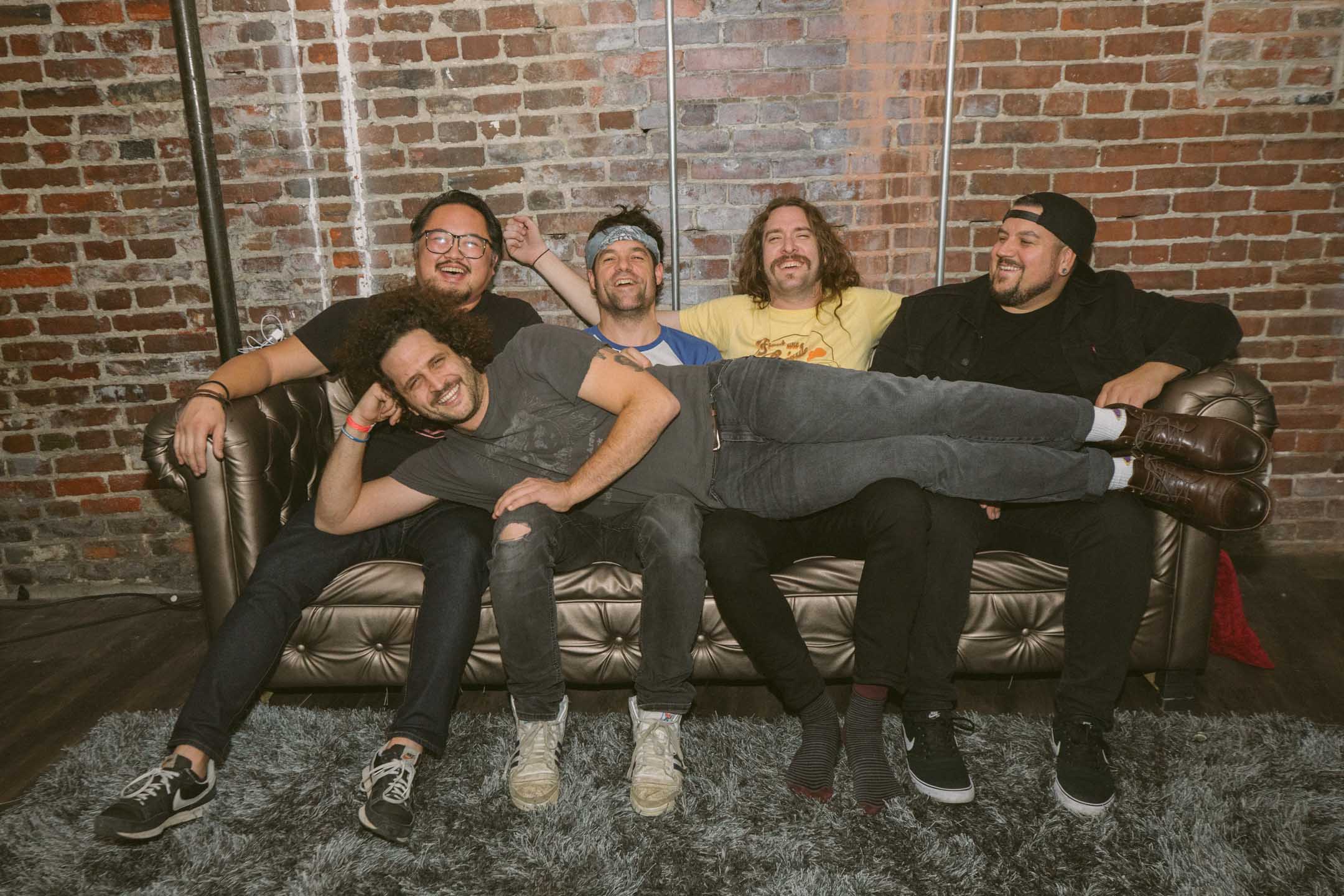 We are so grateful for this fan base. We try to do our best within our means and within the reality of what it is to produce something like this. We want to be accommodating and try to make changes according to the feedback that we get. We listen with an open mind and do what we can to make changes. We are all human. People make mistakes and we all learn as we go. We are lucky at this point of our careers that we have been doing this for two decades. A lot of hiccups that come up with year #1 of a festival have been avoided because we knew how to get around some of those things. It all comes with the territory and we're pretty hyped to be able to do what we do and to give this to Chicago. Chicago needs something like this. I'm not saying that as the event promoter or producer or founder or whatever. I am saying that as a fan of the jam scene, as a fan of the psych rock and Americana and funk world.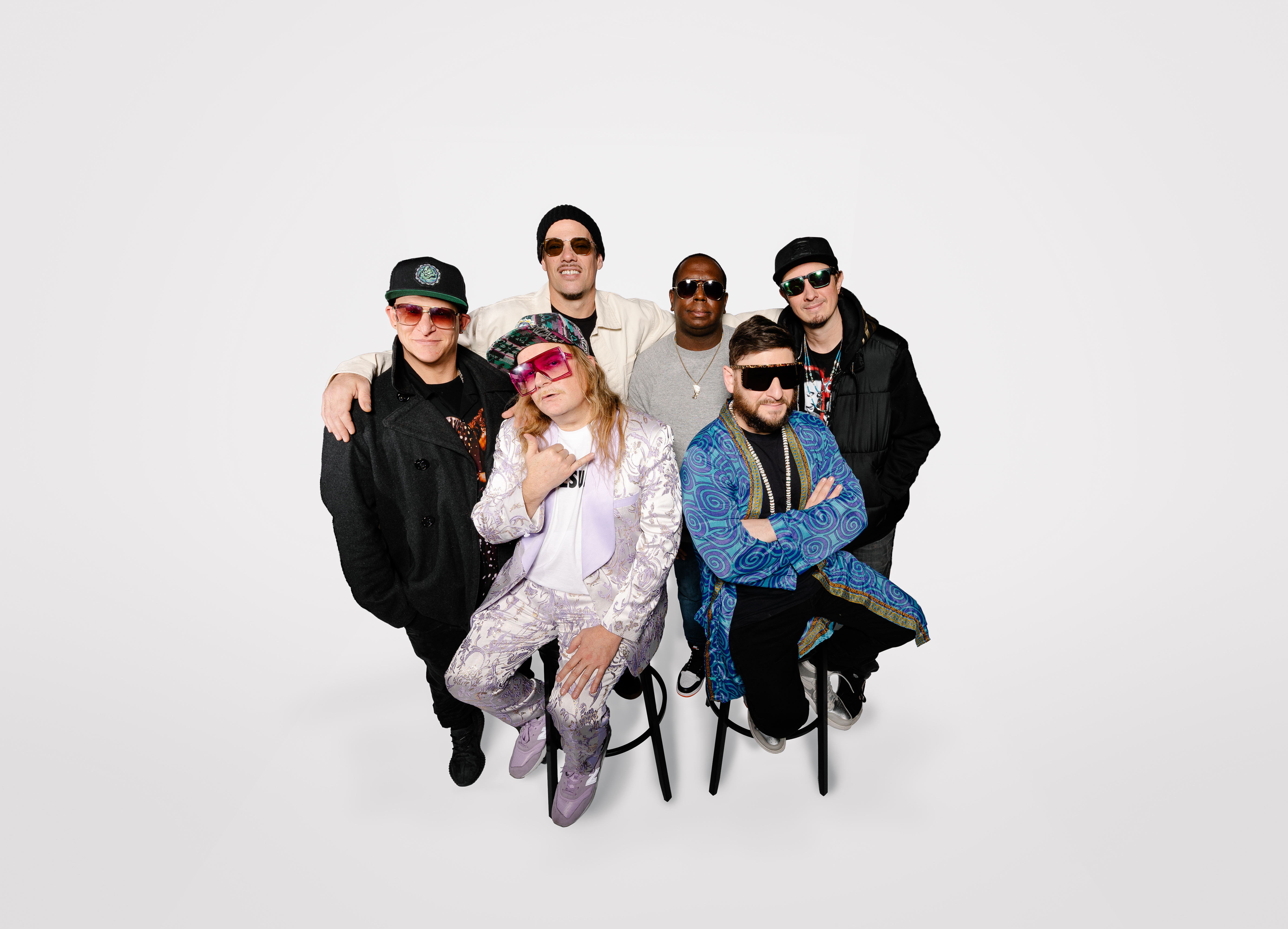 MP: You said it! We DO need this! As soon as I saw it, it was like, wow! We have never had anything like this! We have tons of stuff here but to have something so diverse… You have a day curated to each certain genre. You can feel the specific curation and the passion! It is so exciting to see. Thanks for expanding on that and letting us know what the inspiration is behind the scenes. I know the Grateful Dead is a huge inspiration, can you explain to us what that grandfathers inspiration dual tiered thing is?
MHB: Thank you for asking about that. We also produce North Coast Music Festival. When it concluded in 2018, it had been going on for 8-9 years and we had seen the difference of interest in a multi genre event versus the expansion of people in both their age range and their taste desiring a more niche event. We needed to make the tough decision to make North Coast Music Festival all electronic music. From that point when the decision was made, I instantly began to dream up the show with the team. We were going to call it the North Coast Jam because it will run back to back weekends in Chicago. We have very similar partners like Ian Goldberg from SummerCamp, C3, and Live Nation. A couple of weeks out before we dropped the announcement about the Sacred Rose fest, most of the artist had signed on to do the North Coast Jam. I really started seeing how special this could be and I realized through deep analytical conversations with our partners that this thing needed its own identity but it didn't. We didn't want to be attached to North Coast in that way. We wanted to give each fest its own brand and its own identity. 
We started brainstorming names. I was on the phone with my best friend Bobby and we were just going back and forth creatively, throwing paint. I looked a the vinyl copy of American Beauty that I have in my apartment. I saw the art. I saw the rose on there. The name came to me, what that means to this community, what this community means to us. It's sacred to a lot of us, myself included. We thought of the name Sacred Rose. Then I instantly went to the duality of my grandfather. His name was Bert Rose. He was a professional piano player in Chicago. My mom is a music teacher. Together they got me a guitar in the 3rd grade and set me off on a path of music and eventually into doing what I do now. Not only is the name Sacred Rose in homage to the iconic art and imagery of the Grateful Dead culture, but it is also an homage to my late Grandfather Bert Rose. To add a serendipitous cherry on top of the story, completely unintentionally, the opening night of the inaugural Sacred Rose Festival will be 5 years to the day of my grandfather's passing. My mom put that on my radar and I got the chills.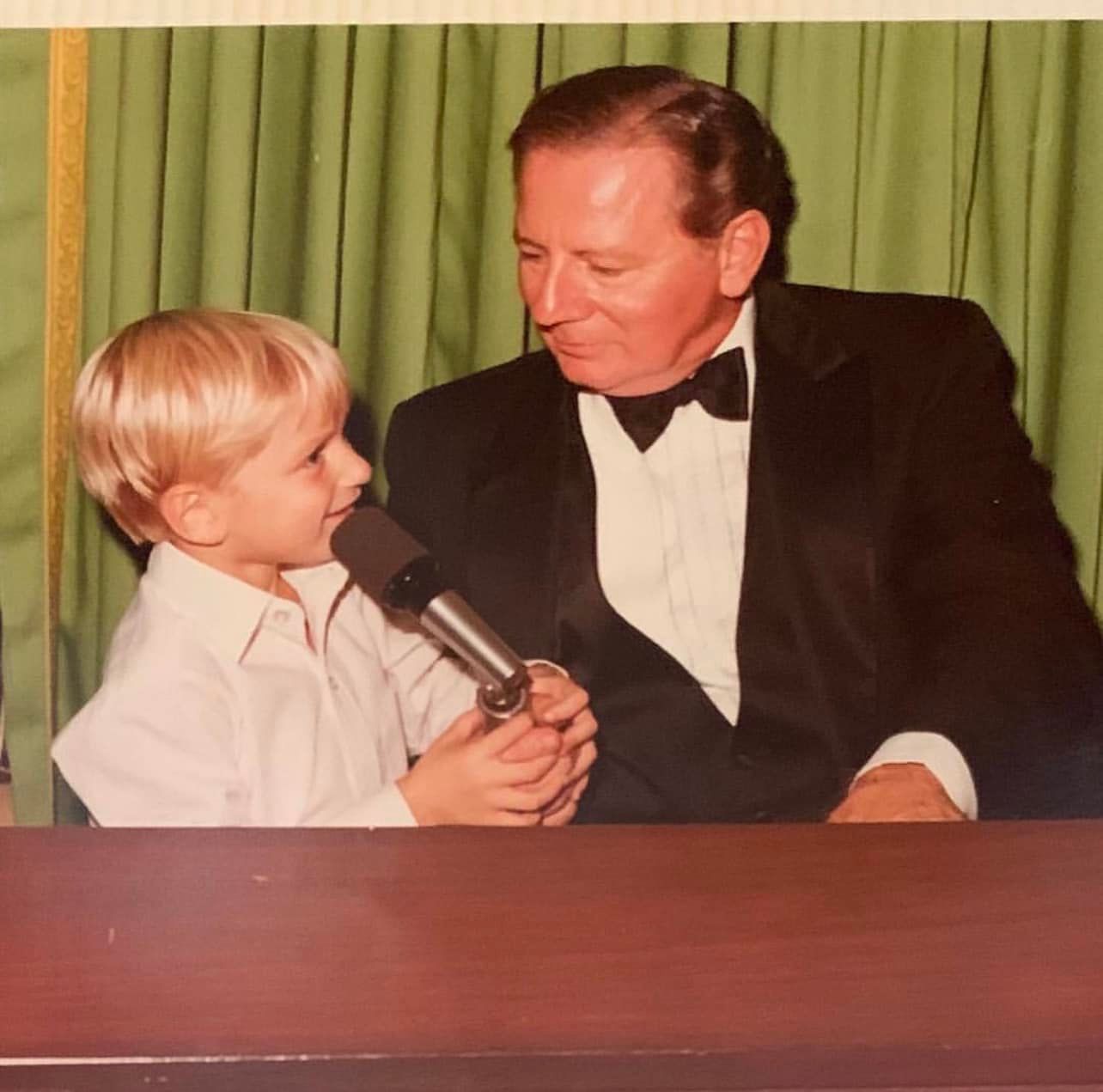 MP: Wow! That is so beautiful!
MHB: Yeah. It is an homage to my late grandfather and the Grateful Dead's iconic  art and imagery.
MP: To have something based upon such a beautiful duality like that, that is so beautiful! Like you said, this music is sacred to us. It does start with the Grateful Dead and then to have your grandfather's name Bert Rose, five years to the day, it all just makes sense. Wow. This is really cool. Now I have goosebumps! 
MHB: Thank you for asking about that. I really appreciate it.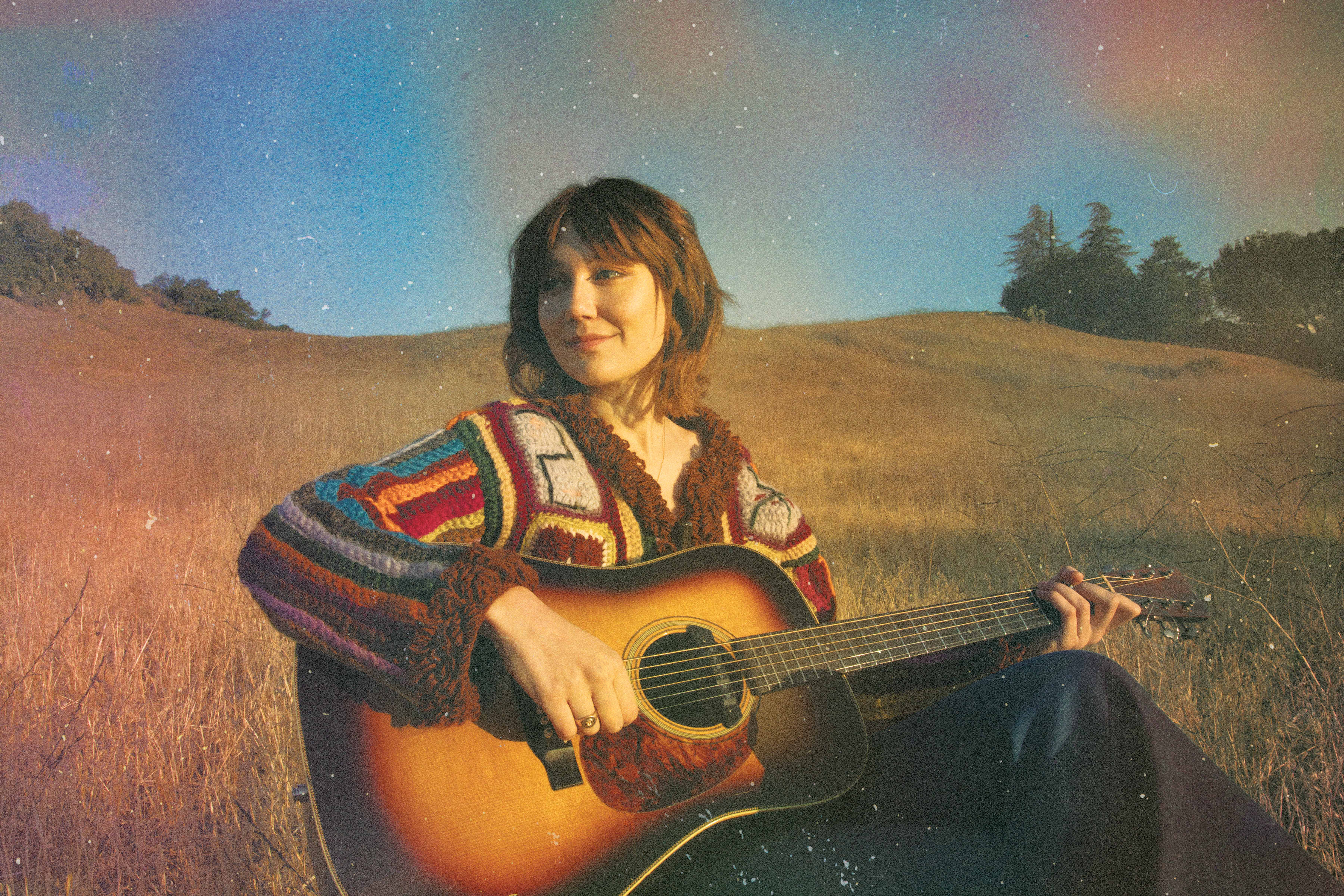 MP: Absolutely! Your grandfather was a professional piano player? For over 70 years? In Chicago?
MHB: That is correct! He did all sorts of stuff, playing parties and events. I think he did a Rockefeller wedding and played with Sammy Davis Jr and the Glen Miller Band and a whole slew of others that are not coming to mind right now. I know he played a party for Brooke Shields…
MP: Frankie Avalon, it says here Shirley MacLaine…
MHB: Yep! Both of them
MP: The Harlem Globetrotters! That is a lot of different aspects…
MHB: I think he played piano on the radio for the first time when he was single digits old
MP: Oh my! That is such a beautiful thing! I am sure he was very proud of your career in the music business.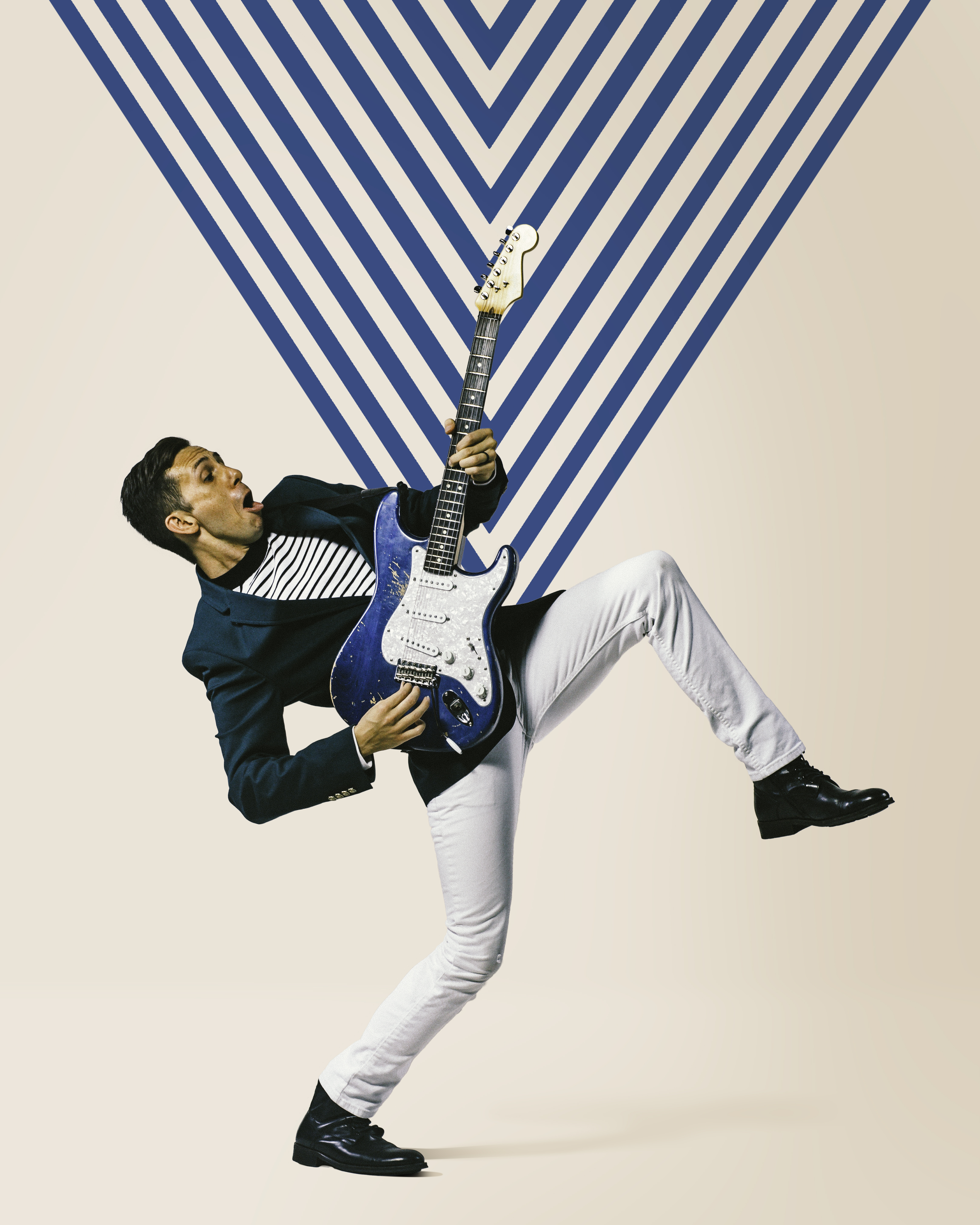 MHB: For sure! I loved all four of my grandparents. I had amazing relationships with all of them, but two of them passed away when I was a very young age, his wife and my dad's dad. Bert Rose was the longest living grandparent I had is the point. By default and by the gift of time, I had the longest relationship with him. As much as I've learned form my parents, my social skill set, the way that I interact with people, the way that I deal with people… I think I picked up a lot of that from my grandfathers mannerisms. Being around him growing up and again, being very lucky to have grown up with a family like I did because I know that a lot of people are not lucky enough to have that. I am deffnielty very conscientious of it and incredibly grateful. 
MP: That shines through 100%. I don't know if you've seen the new Netflix documentary about the Woodstock 99 festival but you are worlds away from the promoters there.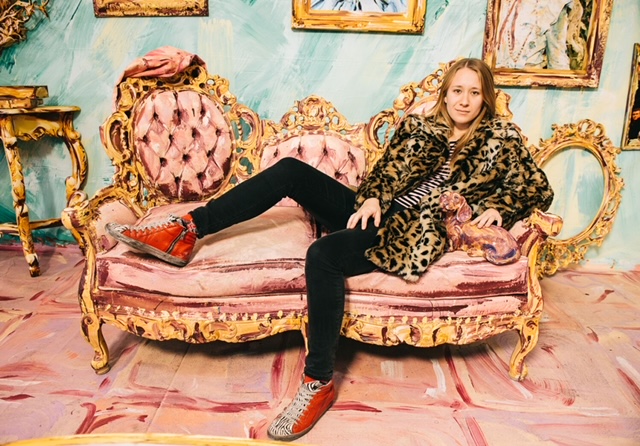 MHB: I didn't but I have heard and seen plenty of feedback online about it. It's a little sassy to say it, but it's like the people watch the Fyre Festival documentary or they watch this one about Woodstock 99 and they become armchair quarterback. They think they know everything about how to do this. It's funny but also not funny because these things are not easy to take on. It takes an actual army of people to pull them off. We have incredible partners, incredible people in positions of power and decision making plateaus. As much as I am the driving force behind this one, I'd like to go on record and say I absolutely would be failing without the team that I had behind me and supporting me. I have some of the best, best partners and the best teammates that I could ever ask for. We are all friends and there is a lot of love behind this. 
MP: Anything rooted in love like this is going to be successful. This is not your first rodeo and because of that, this is definitely going to be one of the best weekends of our lives! I am super stoked. I can't believe it's August already and it's almost here! Let me ask you a few logistical questions. I know we can come and go one time during the day, is that correct? You can go out in the parking lot and do a little tailgating?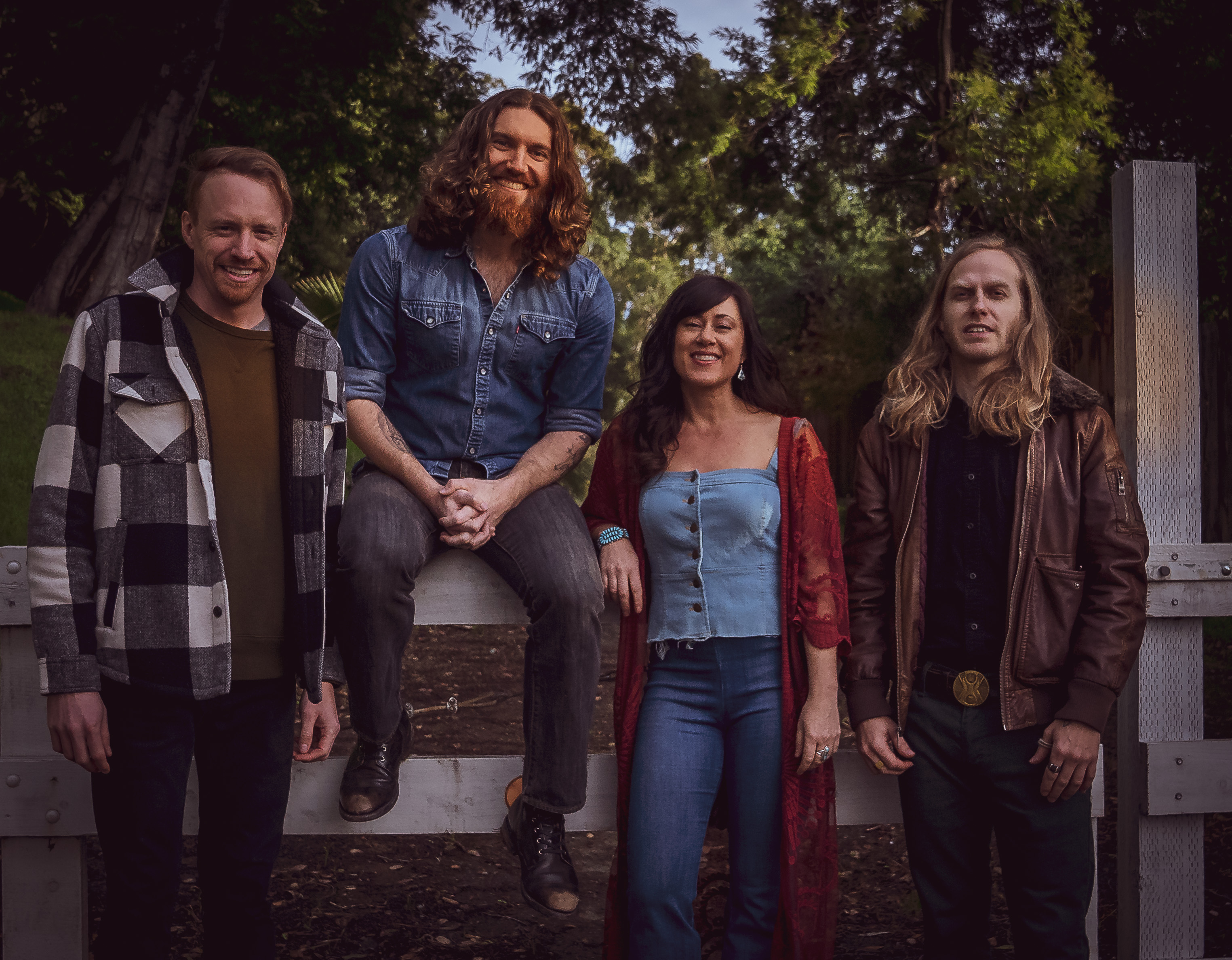 MHB: Yes, that is correct. That is exactly what it is, I'm glad you brought that up. One of the things we did for a change is that up until 6 pm we are allowing one in and out. The show is very long. It goes from noon everyday until midnight on Friday and Saturday and 11 pm on Sunday. That is about 5 more hours of music than you would get curfew wise at any other festival in Chicago. It is one of the benefits of using Seat Geek Stadium. It's a bit outside Chicago city limits proper, but inside Chicago limits you ahve got to be done by 10 pm. We are getting a lot more hours of music and a lot more hours of darkness to experience and engage in our art installations, which are robust and going to be special.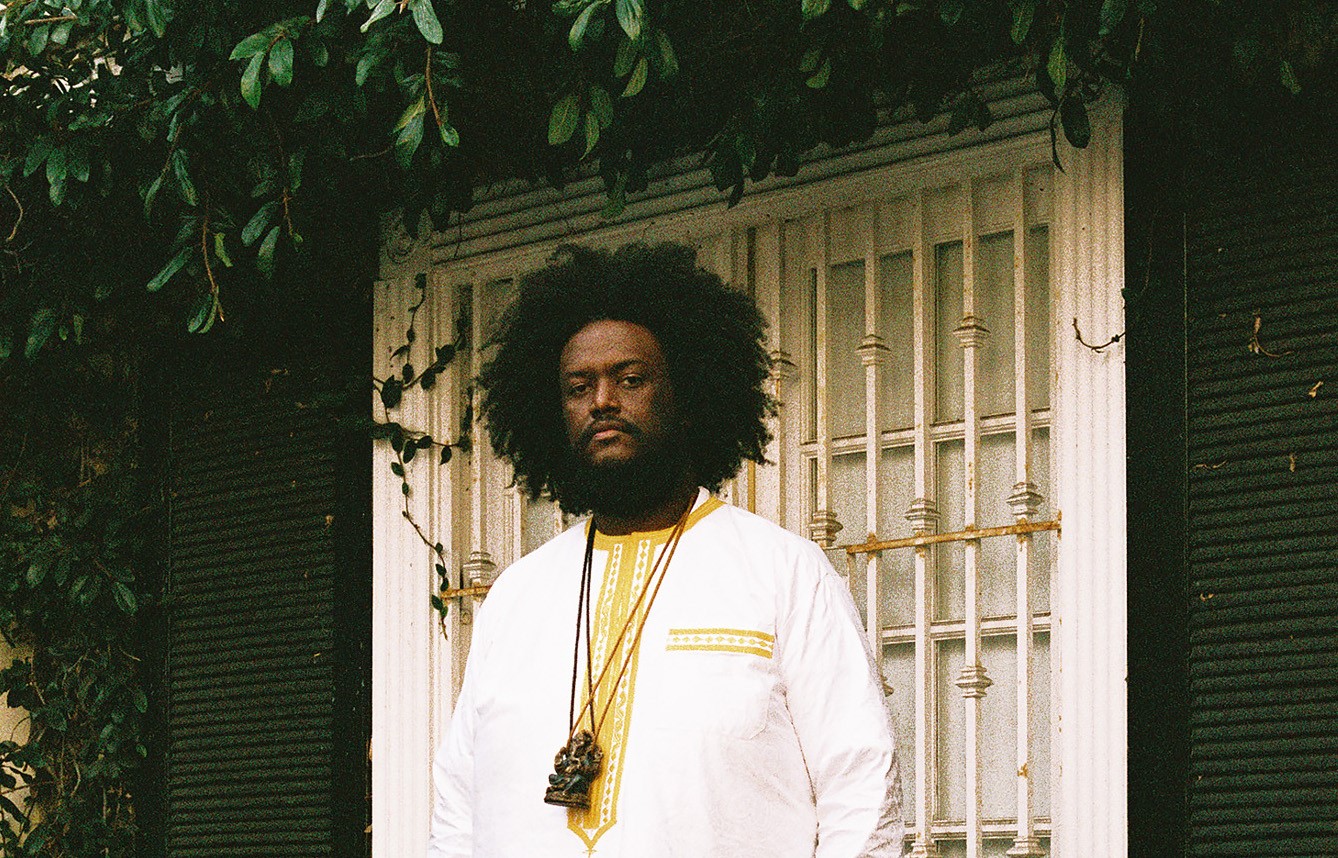 Because it's going to be a long show, we decided to amend the policy of no ins and outs so that we can allow up to one exit and re-entry. People can go out to their cars, maybe tailgate a bit, maybe have a snack, but past 6 pm we want everyone inside. It's a logistical nightmare for security to be scanning people in and out all day, especially as new people are just arriving. We tried to find common ground on something that would let people save a couple bucks and expand their experience. There have been a lot of questions about 'Will there be a lot scene?' Sure, of course there will be. We want people to tailgate and have fun. We obviously want them inside the festival where the magic is at. But like we talked about earlier, we are of the culture that we serve. Of course we want a lot scene at this thing, you know?
MP: Absolutely! That's amazing! That makes us feel good. We are want to feel comfortable. I brought up Woodstock because of the fact that they wouldn't let people bring in water or even a water container. People were paying $5 for a bottle of water in 99!?! If you allow us to go outside, have a snack, have some water or whatever, that helps people to stay happy and healthy during the day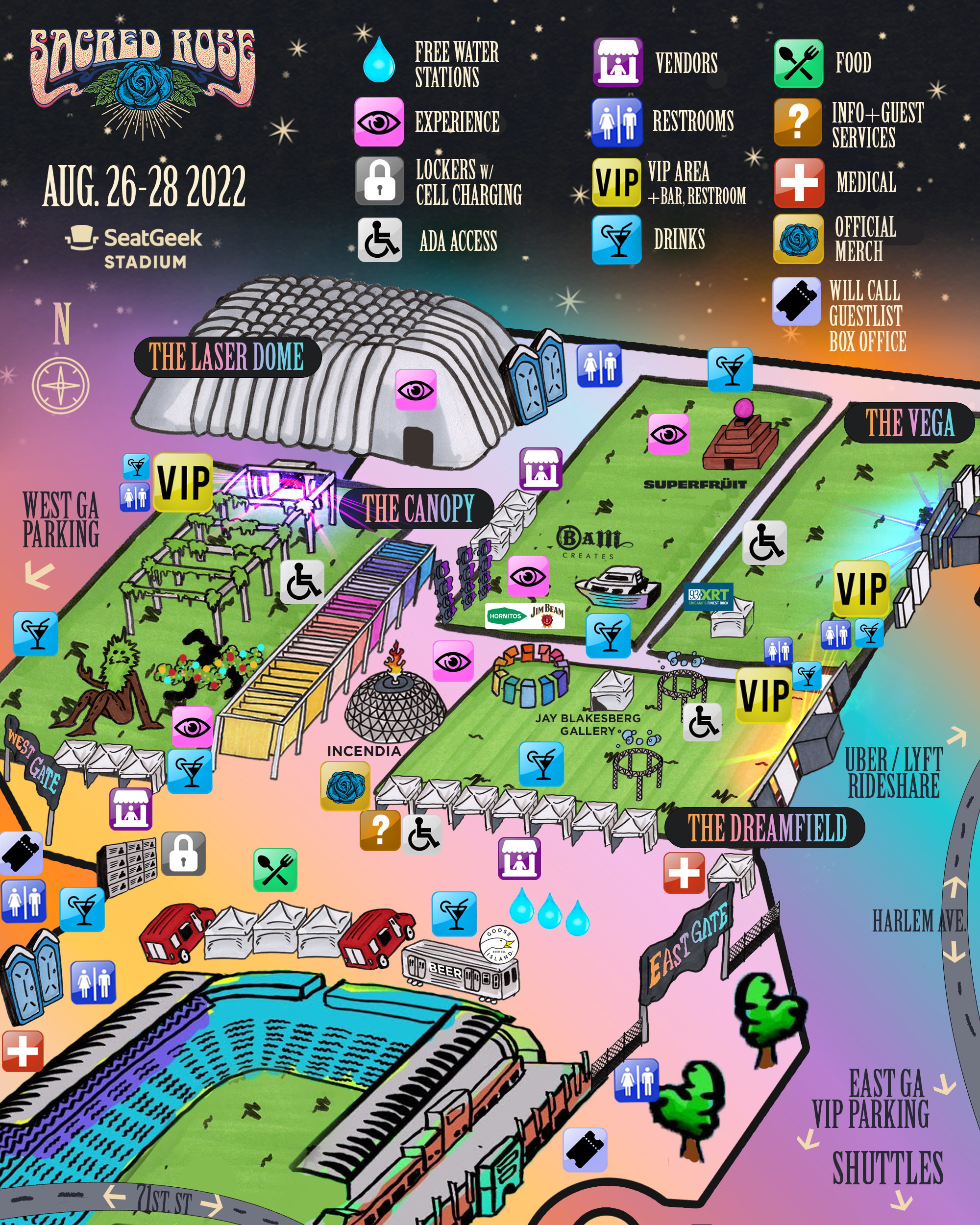 MHB: 100% That is part of it as well. I'm glad you brought up water. We are of course going to be selling water too, we are running a business. We have a water sponsor that will be selling as part of the show. But we also have 3 stations for water refills. They are identified on the map and there are multiple spigots. From doing the show last year at the same venue as North Coast, we have expanded the quantity of them to make sure the lines are short. We are allowing people to bring in water packs, like a camel back or something similar, but they have to be empty on the way in. They can also bring in a plastic water bottle. Any type, Nalgene or plastic water bottles if it's empty. They will be permitted to bring in but absolutely no glass or metal for safety reasons.
MP: Sure
MHB: Water is life. We are all aware of that. We don't want people dropping in hot August sun. We know it's a long day. We do want to make sure that people know those water stations are there and available.
MP: That is wonderful! That was my next question, what's the water situation? We get hot. We get thirsty. So glad to know that you already thought of that because you want to get us comfortable and make us feel good. We are talking to Michael Harrison Berg, the founder of Sacred Rose Festival coming up August 26-28th at Seat Geek Stadium. We are super excited! Last thing, you've got a thing called the laser dome. Give us a quick roundup of what to expect in the laser dome.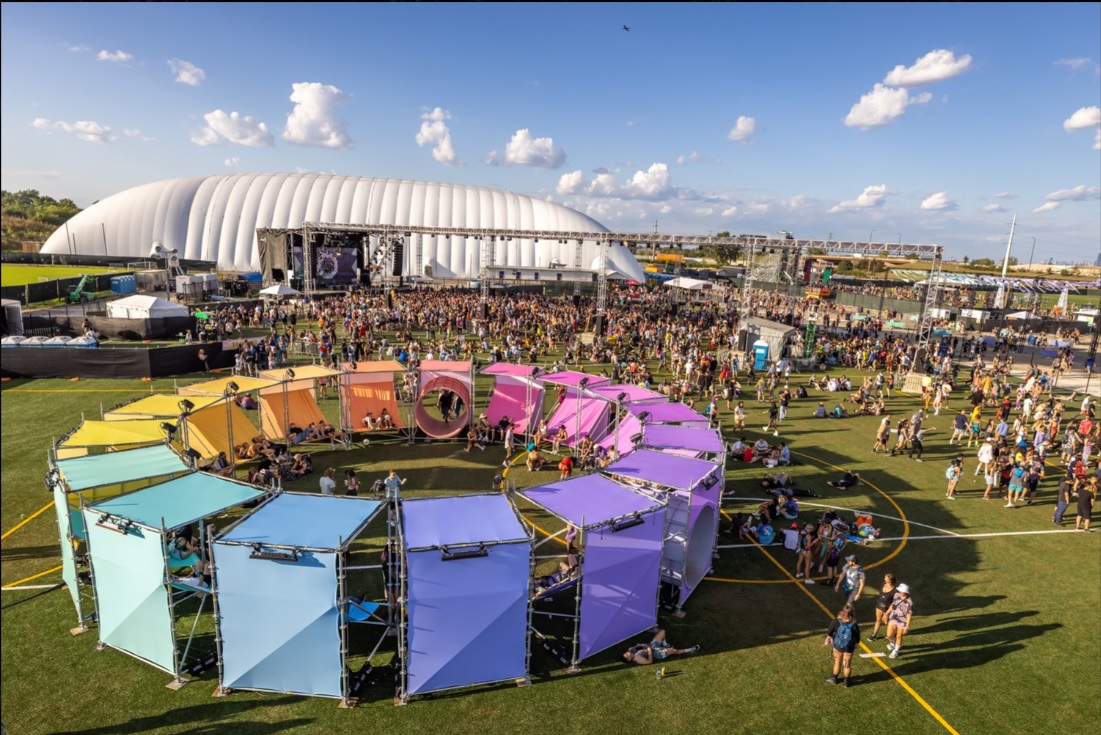 MHB: Alright! The Laser Dome is an actual field indoor soccer dome that the Chicago Fire practice at here at this facility and compass. It's another thing that is going to really help folks beat the heat. It's airconditioned and it's gigantic. I mean, we are talking a really, really large dome. We are setting up an art installment in there with multiple laser fixtures and there will be, for lack of a better description, a pyramid of pillows that people can lay on and lounge on to lay back and watch the laser show as it goes across the ceiling and across the dome. We are also doing DJ sets all weekend long with some really special and fun DJs. DJ Airwolf is going to be playing, Tad Cautious from the Bunny Radio will be playing, Mitch Please, and Uncle Jesse and Freak Bass is going to be playing in there with live bass over his DJ set. There is a local group called Dead Inside who are really good friends of ours and industry friends as well. All they do is play Grateful Dead on vinyl.
MP: I have caught their act before! They are super good!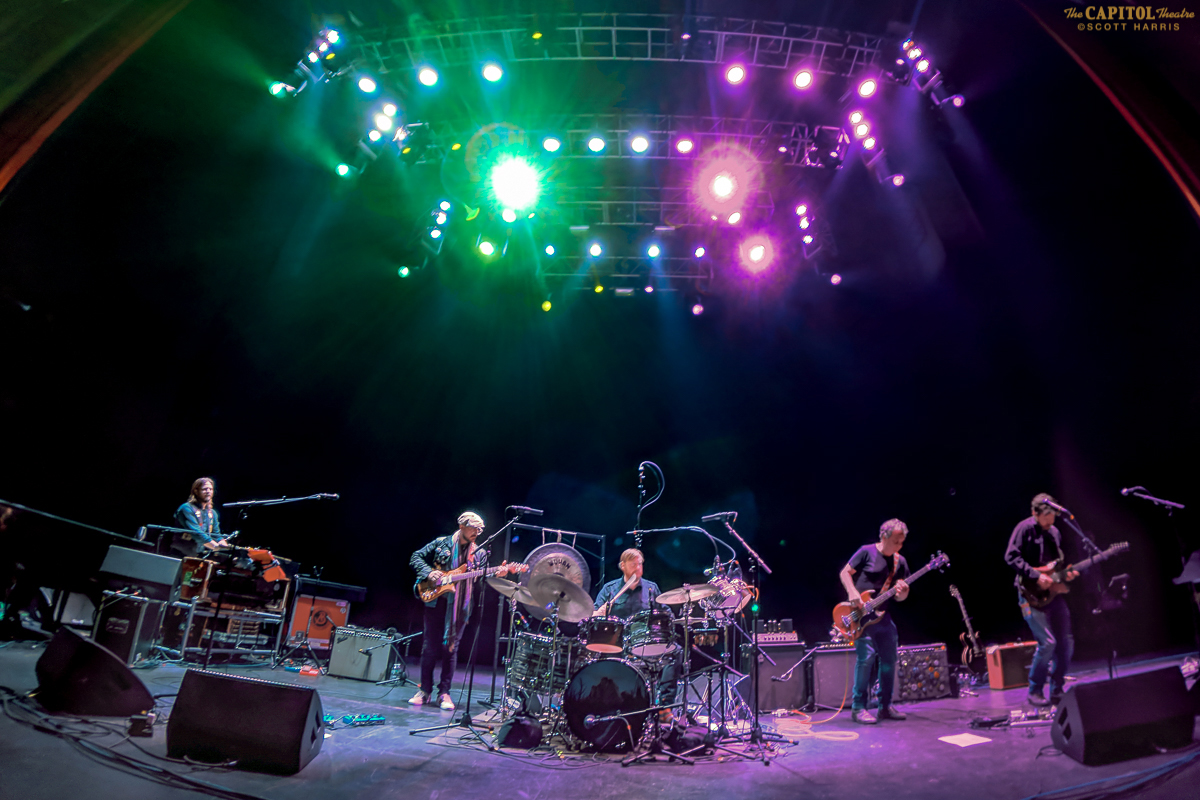 MHB: It's awesome. It's just a fun thing and it's totally on brand for what we are doing. People will walk into the Laser Dome and not only will it be an air conditioned space to get away from the sun and the heat, but it will also serve to take a load off. If you don't want to dance or you don't want to hang on your feet, you can lounge on some of these couches or couch cushion structures. You will have to just come and see for yourself.
MP: The idea is that you can cool off somewhere and that is cool. Or you can go out to your car. That is also giving people a chance to cool down and take a break.
MHB: Yes. There are other art installments like the Rainbow Lounge and the Incendia Fire Lounge where there is going to be seating. The Rainbow Lounge has a circle structure of rainbow colored hammocks that are largely oversized. You can put anywhere from 2-4 people on each one of them, all covered by shade. Even if you don't need air conditioning, you just want to take a load off to rest your hips and ankles and feet and knees and your back and just chill with your bestie or your partner or even by yourself. Those hammocks will be available for people to hang out in and lounge.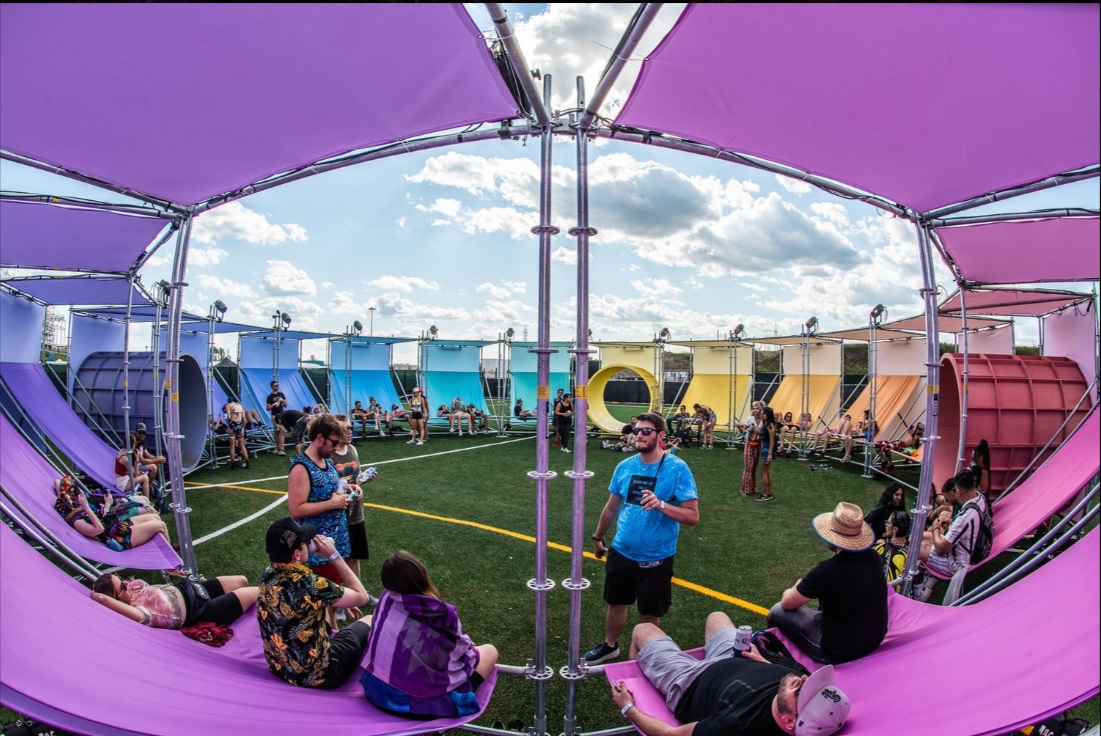 MP: That is wonderful! We are really stoked for this. Michael, thank you so much for taking some time today to speak with us and give us insight into this wonderful festival just weeks away!
MHB: The countdown is on! Thank you for all your support Meagan. I will see you and everybody else in just a few short weeks