Hiding From Andy | 'You Can Go Home Tomorrow' | Review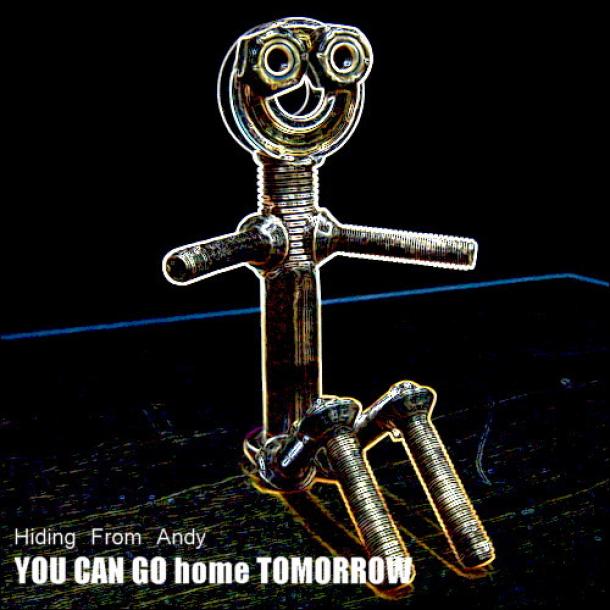 Who doesn't appreciate a great Christmas song?
A well-crafted Christmas song is akin to a present to the world from the artist who created it. I'm not referring to the type of warmed over, watered down holiday schmaltz that artists rush into the studio to re-record to cash in on their celebrity (Especially now that we can't get through one holiday without dealing with another; Please people, my turkey is still digesting).
What I am referring to are artists who step out of the typical, traditional holiday doldrums to produce something not only original and imaginative, but distinctive and unique as well. Such was the rare gift I received when first acquainted to the music of local Philly natives, Hiding From Andy.
I happened to stumble upon the band's holiday single "Rudolph Was A Reindeer" while researching music from their newly released album "You Can Go Home Tomorrow", and at a time when I had been subjected to Andy Williams (God rest his soul) singing "It's The Most Wonderful Time Of The Year" for what felt like the 8 millionth time that week, I actually smiled at the notion that there are still artists in existence who care enough to step outside the boundaries and create an individuality they can call their own; Something that first time listeners and longtime fans alike can truly welcome and embrace.
"Rudolph Was A Reindeer" puts the fun back into funky. It's classic, festive cheer that goes well with both eggnog & yule log. If you've lost your Christmas spirit, this is sure to help you to find it again.
"Rudolph" was my prelude to Hiding From Andy's latest material from the new album, but in many ways, was the perfect indicator of what direction the band was pointing towards.
Listening to the tracks on "You Can Go Home Tomorrow", one cannot deny the originality and inventiveness of the band. The music is Groove/Funk/Rock/Jam in a similar vein as G. Love & Special Sauce, with just a slight twist of The Dead Milkmen stirred in to keep things happy, entertaining and bright.
The album is in many ways a debut for the band, as it is their first definitive work in the jamband scene. The songs "The Bearded Lady", "Stepping On The Moon", "Light The Way" & "Ycght" reflect the band's interpersonal relationship with each other and their fans, and to the experiences they've encountered along the way.
The band, formed in the mid 90's and hailing from Warrington, Pa, is comprised of members Fady Khalil (Lead Guitar, Lead Vocals), Steve Heine (Rhythm Guitar), and brothers Brandon Berry (Bass) & Brad Berry (Drums).
They are friends of Philadelphia's WXPN college radio circuit, and their original material, including their latest single "Light The Way", has received featured airplay at the station.

An upcoming album release party for "You Can Go Home Tomorrow" is scheduled for March 3, 2013 on the WXPN World Café Live stage, with further dates to be announced.
You can find "You Can Go Home Tomorrow" as well as "Rudolph Was A Reindeer" at http://hidingfromandy.bandcamp.com