At age 67, Neil Young is looking classically weathered for a rocker his age, but no more so than any other celebrity who came of age in the 1960's, and definitely not withered in form . The "Godfather Of Grunge" saddles up again with bandmates Billy Talbot (Bass), Ralph Molina (Drums) & Frank "Poncho" Sampedro (Guitar) of Crazy Horse for "The Alchemy Tour", showcasing the band's first original material in nine years from their October 2012 release "Psychedelic Pill".
With blistering sound that has transcended time, Neil Young & Crazy Horse revisit the days of thunder and lightning, and invite their legions to dance and frolic in the storm along with them. The material from "Psychedelic Pill" strongly holds its own, and can be mounted on a golden shelf alongside the likes of Crazy Horse staples "Rust Never Sleeps" and "Ragged Glory".
As easy as it would be to classify the music as self or overindulgent based on its length and freeform style, those who are most familiar with the history of the band, its style and its methods of operation, know better than to attach such labels. The long, freeform jam was applied to extended versions of much of the material performed onstage.
The twenty plus minute, arena shaking "Walk Like A Giant" is an instant classic; as "giant" as the well known centerpieces "Like A Hurricane", "Cinnamon Girl" & "Powderfinger", which were also performed at Thursday night's show, although its footsteps loomed larger and louder, threatening to stomp the Wells Fargo Center and all inhabitants like a child's toy.
Neil Young's genius on new songs "Ramada Inn", "Twisted Road" & "Born In Ontario" play softly to the heart and soul of the listener like so many of his songs over the years have done. Doing what he does best; he takes us under his wing and shares intimate stories with us, and the audience hang on his every last word and note.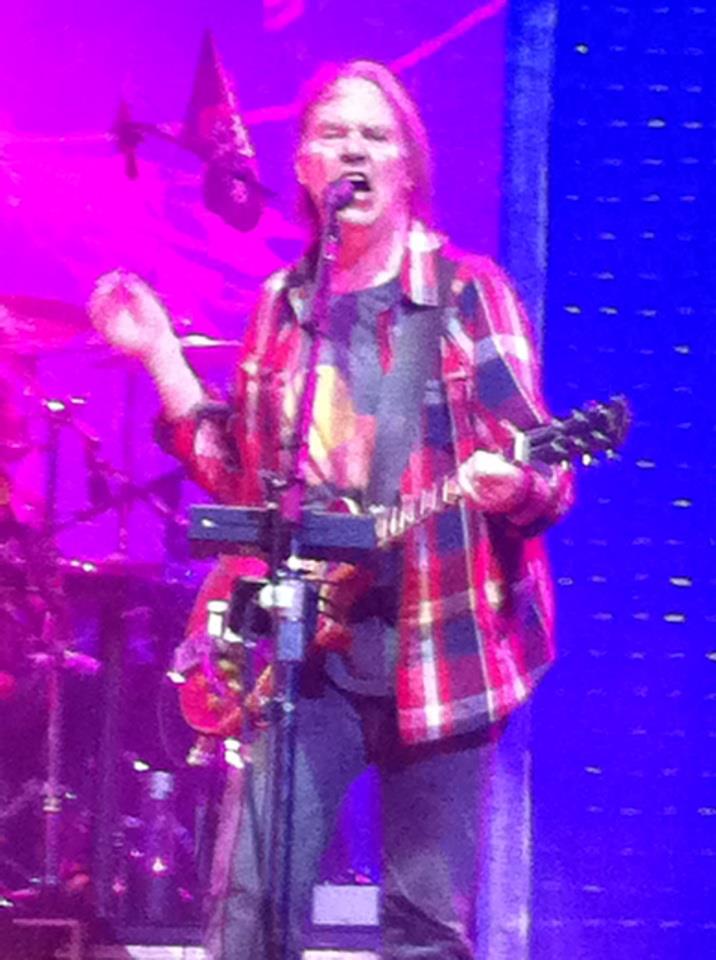 "Love And Only Love" & "Fuckin' Up" harkens back 22 years to Ragged Glory", while "Needle And The Damage Done", "Hey Hey, My My (Into The Black)" & "Mr. Soul" take us back nearly to the beginning. It's not a walk down memory lane (Or a trip in an "analog time machine" as Young described it) ; It's more like a ride down the freeway on the back of a Harley with extremely, righteously loud pipes.
Curiously missing from the set list were selections from the summer 2012 release "Americana". Also absent, the epic 27:37 "Psychedelic Pill" opener, Driftin' Back (And oddly enough, the album's title track, "Psychedelic Pill", too). No surprise forty minute jam here, although the unreleased acoustic "Singer Without A Song" made an appearance, complete with Greendale-like theatrics, as an unknown woman wandered the stage aimlessly with guitar case in hand as the song unfolded its tale.
No one could be disappointed or offended by the overall offering of material or its presentation. Amazing. Iconic. Timeless. Neil Young & Crazy Horse in their finest hour and sounding as young as when the Horse was new.
(11-29-2012 Setlist) Love & Only Love, Powderfinger, Born In Ontario, Walk Like A Giant, Needle And The Damage Done, Twisted Road, Singer Without A Song, Ramada Inn, Cinnamon Girl, Fuckin' Up, Mr. Soul, Hey Hey, My My (Into The Black) Encore: Like A Hurricane