Past an array of rainbow tinted Victorians, countless psychedelic peddlers, and that iconic Haight-Ashbury intersection, a dusty footpath leads into the thousand acre site of 2011's Outside Lands music festival: San Francisco's Golden Gate Park.  Attendees of the extravaganza, which returned to its full three-day incarnation following last year's brief truncation, were treated to a genre blazing blend of rock, country, folk, blues, soul, dubstep, mashup, reggae, and everything caught in the cracks.
InThe queue to enter the festival grounds for Friday's opening ceremonies moved shockingly fast, providing an early clue that Outside Lands organizations would be at the top of their game all weekend long.  Now in its fourth year, the festival's musical offering were beyond stellar, the food scrumptious, and Wine Lands featured some of the best vino on the planet.  But as a chilling fog struggled to obscure the nearby Eucalyptus patches, scantily clad fans began to appreciate that twisted oxymoronic joke known as San Francisco summer.
Starting things off, Wesleyan grads Benjamin Goldwasser and Andrew VanWyngarden of MGMT trotted nonchalantly onto the Land's End stage for a set of neo-psychedelic electro pop.  Reminding fans that MGMT was "not from Montego Bay, but the Eastern seaboard," the liberal arts scholars opened with a lackluster rendering of "Flash Delirium" off their 2010 sophomore LP Congratulations. Disappointingly, singer VanWyngarden had absolutely no presence on stage, and presented himself like a statute with a fear of public speaking. Falling short of their ultimate objective, MGMT failed to get the white kids dancing.
Even "Time To Pretend," the young band's breakout hit from debut album Oracular Spectacular, came across as bland and uninspired.  In what ought to have been one of the set's most cathartic and energetic moments, VanWyngarden turned sheepishly toward the audience, speaking without a trace of enthusiasm: "This is our decision to live fast and die young / We've got the vision, now let's have some fun."  Sadly, nobody seemed to care about his declaration, MGMT included.
In the days and weeks leading up to Outside Lands, San Francisco's citizenry buzzed and bantered about whether legendary jam band Phish has "still got it."  After two and a half decades on the scene, many –myself included- wondered whether the group could channel the vivacity and verve that mobilized their millions of followers in years past.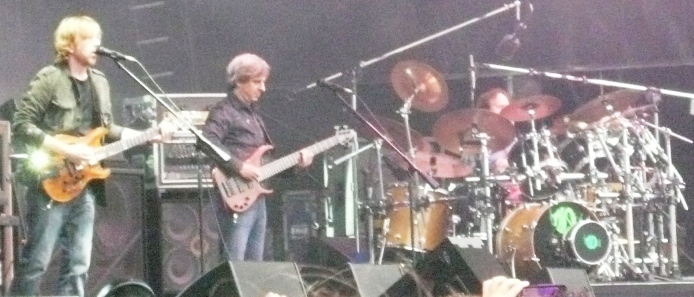 Just chords into "Kill Devil Falls," a cut from 2009's Joy, singer/guitarist Trey Anastasio answered these questions unambiguously in the affirmative.  As an aging hippie sporting a "Humboldt" trucker hat embraced the spiritual possession hijacking his limbs, Anastasio belted a bluesy, restless tale of crippling boredom and painful isolation: "Stared at the ceiling for over a day / But none of my questions are answered this way / Won't make any calls, I'll just bounce off the walls / Till I go back to Kill Devil Falls."  Atop a backdrop of floral scarves wafting freely in the breeze, bassist Mike Gordon unleashed a barrage of funky, tasteful grooves that sent hips swaying merrily and shoulders bobbing to the beat.  Set to a skittering piano, Anastasio's guitar solos were precise and intricately nuanced, delighting his disciplines with deftly controlled distortion and eye-popping fret navigation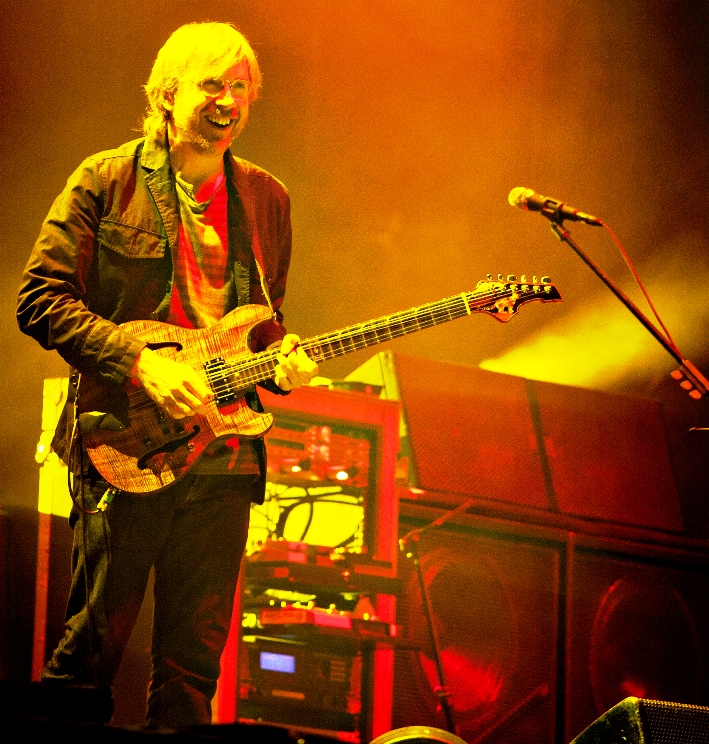 Reaching all the way back to the epic '87 tale of fictional wonderland "Gamehendge," Phish shouted a desperate cry: "Willlllllllson!"  Fans, on the precipice of delirium, erupted in response: "Willsonnnnnnnnnn!"  Interspersed between a pair of electric power chords, Phish rattled off a bizarre cast of characters from early album The Man Who Stepped Into Yesterday, including the King of Prussia, Duke of Lizards, and that killjoy Wilson: "You got me back thinkin' that you're the worst one / I must inquire, Wilson, can you still have fun?"
Smashing his sticks together, drummer Jon Fishman hollered to the crowd: "I feel…Come on and dance!"  The audience, immediately picking up on his prompt, responded in unison.  Conveying a stream of scathing, accusatory lyrics on "The Moma Dance," Phish taunted their erstwhile companions: "And all throughout I gaze and glimpse you / Loving never did convince you." On "Possum," another cut off The Man Who Stepped Into Yesterday, jazzy guitar licks mesh with eerie, brooding organ, forcing a burley geezer to rip off his multicolored madras blazer to embark on a journey of euphoric gyration.
Throughout their three sets, which also featured fresh, inventive covers of David Bowie's "Life on Mars" and Lou Reed's "Rock 'n' Roll," Phish rewarded audiophiles with refined improvisational chops, rambling instrumental jams, and overwhelmingly successful ploys to get their fans involved in the spectacle.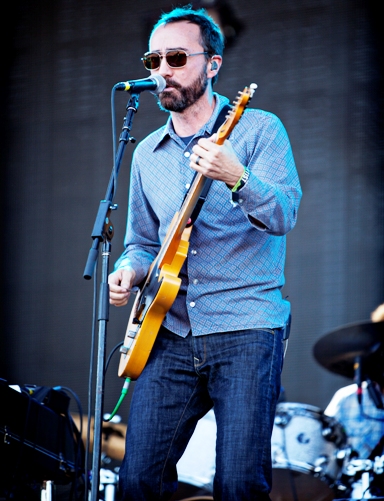 Friday's headline performance on the Twin Peaks stage featured a dramatically reshuffled Shins ensemble.  Following his critically acclaimed collaboration with Danger Mouse as Broken Bells, The Shins' front man Mercer parted ways with his entire band, substituting an indie super group that includes singer/songwriter Richard Swift, bassist Yuuki Matthews of Crystal Skulls, and drummer Joe (not the) Plummer of Modest Mouse.  Though The Shins formed almost twenty years ago in Albuquerque, New Mexico, the band is now based out of folk revivalist haven Portland, Oregon.
Cascading electric guitar riffs and a rapid burst of quirk set up "Australia," as Mercer decries the dull sting that accompanies those chronic reminders of our innate limitations: "Faced with the dodo's conundrum / I felt like I could just fly / But nothing happened every time I tried."  On Chutes Too Narrow folk-pop ditty "Mine's Not A High Horse," thrashing guitar and a rakish rejection of worthless dogma empowers Mercer's plea: "Don't ask for his opinion / They ought to drown him in holy water."  Honing new track "Double Bubble," The Shins bolstered Mercer's fluid falsetto with golden three-part harmonies and a rowdy, syncopated drumbeat.
After breaking ties with prolific Seattle label Sub Pop Records, The Shins are preparing to release their first LP in over six years on Mercer's private label Aural Apothecary.  The Shins' 2006 release Wincing the Night Away sold over 100,000 copies and peaked at #2 on the Billboard charts, remaining one of Sub Pop's bestselling albums of all time.  Wrapping up the set with lyrical powerhouse "Saint Simon," The Shins mourn the fact that life's fundamental questions often elude even the most sophisticated analytical probing: "After all these implements and text designed by intellects / So vexed to find evidently there's just so much that hides."