It's a packed house Friday night at SF's The Independent, and fans are jammed tight for experimental folk rockers Akron/Family. Crafting an indigenous vibe with some pagan artifacts, a frilled turquoise Cherokee quilt is draped over Miles Seaton's keyboard, as the band shuffles unassumingly onto the stage. Though Seaton mostly plays bass, he regularly pipes in on array of miscellaneous instruments. The same goes for drummer Dana Janssen and guitarist Seth Olinskyl. Wedding powerful harmonies with stark vocal effects, the entire trio sings together on almost every song.
The ominous sound of a rattlesnake shaker builds tension on "The River," off Akron/Family's 2009 LP Set 'Em Wild, Set 'Em Free. Seaton fires off poetic shards of excitement, passion and inferno, clashing with Olinsky's idyllic whistling: "And once this spark met kindling / Forgets its gentle ambling / Becoming heat, becoming steam / Becoming luminescent glee / Atoms splinter, sparkling / Alive and nimble symmetry/ Shadows dance triumphantly." In a visceral explosion, the band bellows repeatedly in complementary pulses: "You and I and a flame make threeeee!"
Formally on Neil Young's label Young God Records, Portland based Akron/Family teamed up with Dead Oceans Records for 2011's verbosely titled Akron/Family II: The Cosmic Birth and Journey of Shinju TNT. On paper it's a great fit, and the group looks right at home alongside Dead Oceans' catalog of oddball, genre-hopping artists like jazzy, eccentric ensemble Destroyer and off-kilter critical sweethearts Dirty Projectors.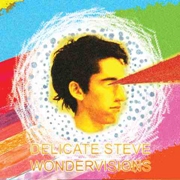 Early in the eve, Delicate Steve, powered by New Jersey's Steve Mario, heated up the crowd with intricate jams, frenetic electronics, and precisely layered instrumental compositions.  Paired with folksy melodies, up-tempo riffs on "Ballard of Speck and Pebble" drew emphatic applause from the audience. The Independent's punctual attendees were also treated to ditties off Delicate Steve's fresh cut LP Wondervisions. Teaming up with Luaka Bop Records, brainchild of The Talking Heads' David Byrne, Delicate Steve is taking his Fender on the road. As long as Steve's not too fragile for the open highway, expect more from him real soon.
Requesting more light so he could see the audience, Seaton noted that San Franciscans didn't look nearly as angst ridden as those on the East Coast. Leading the crowd in an old fashioned "scream-a-thon," Akron/Family helped fans kick off the weekend with chiastic hollering and bestial grunts.  Pointing out that "we're all about 78% water," Seaton argued that our differences are really illusory. "Everyone here," he preached, is "part ocean, part sweat, and part everything else." Right on!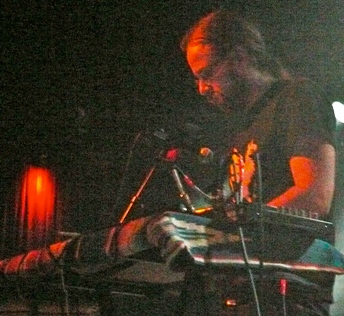 Getting supremely freaky, Olinsky chomped down on the microphone and Janssen struck an electric guitar with his drumstick. Thankfully, amidst this jarring cacophony, the quasi-melodic fragments of Seaton's smooth, throbbing bass peaked through the raucous.  On "So It Goes," off Akron/Family's newest LP, the trio sings with guilt and a heavy conscience of apathy and assimilation: "Just like them, I stopped giving my change / To all the homeless people out on the street." But fret not; it's never too late for a little compassion. In the very next line, the band inverts its message, declaring proudly: "But I changed back. I give my change again / To anyone who asks so long as I have a pocket." Charity, tolerance, and an open mind. Now those are what I call family values!