'89 Bronco clunking noisily over the Bay Bridge as San Francisco's skyline shimmers in silver and gold, a cold breeze reminds us that behind Sunday's idyllic serenity lurks a killjoy Monday morning. But that's tomorrow!
In an unexpected surprise, Dawes' Goldsmith sits in on bass and backup vocals for opener Blake Mills. Never heard of him? Mills has done session guitar work for artists as diverse as The Strokes' Julian Casablancas and alt-country songstress Jenny Lewis. Hearing Mills dish his blazing solos, it ain't difficult to see why.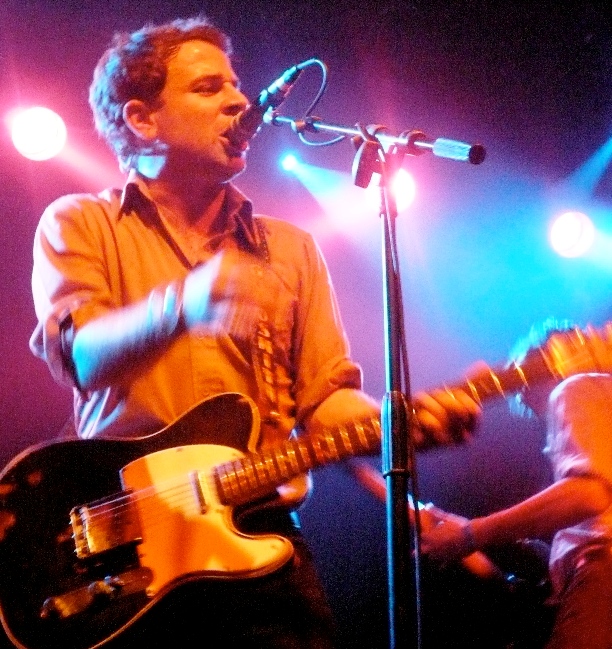 Self-proclaimed "exotic band" Middle Brother say they ain't no supergroup, but they're brimming with indie rock's finest road warriors: soulful Delta Spirit frontman Matt Vasquez, Dawes' country-folk hustler Taylor Goldsmith and Deer Tick anchor John McCauley. This resplendent synergistic concoction is brought to us curtsey of Partisan Records, home to anachronistic female trio Mountain Man and cross dressing miscreants Deer Tick. Drawing from Rock's bottomless tide pool, Middle Brother's eponymous LP fuses Mississippi blues, Dixie ballads and folksy Americana, cut with generous globs of quirk and kink.
Vasquez, donning a festive, pastel Hawaiian shirt, struts to the mic in "Green Eyes." Backed by Goldsmith's chiming Rickenbacker, high standards meet slim pickings: "I've been lookin' for sometime / in a room full of pennies, for my dime." Dwarfed by chronic loneliness, Vasquez dishes out a densely rendered fantasy: "She's a Southern girl without a drawl / she's a good girl who wears black bras."
On single "Me, Me, Me", Middle Brother fires an opening salvo with carefree, spontaneous yelps and skittering piano lines. Chuck Berry-esque guitar riffs drag us through a lyrical morass. McCauley, sporting a Technicolor Dreamcoat he must have borrowed from Jethro Tull's Ian Anderson, conveys an urgent tale of manipulation and egocentrism. Bombarded with questions, he faces fierce competition in life and love: "If he puts lies in your head / if he interrupts a feelin' / that he cannot comprehend / I guess it's meeee me me me meeee." The ensuing instrumental flurry, equal parts sock hop and raunchy carnival, sets up a proclamation of headstrong independence and boiling lust: "I do my very own things these days / I gotta desiahhhhh / I gotta desiahhhhh!'"
On "Blood on Guts," Goldsmith, looking like he just stepped off the farm after a hard day's manual labor, throws his arms skyward in exasperated defeat, as he softly purrs: "Am I killin' time / Or is it kill-lin' me?"
While orange polygon light fixtures glow from the rafters, country waltz "Theatre" matches Vasquez's glottal grinding with a deconstructed piano. He delivers coarse, dirty vocals with brutal conviction, frustration, and resentment: "This life will tell you nothing / nothing but lies." Ripping to shreds life's unfulfilled promises with the rapture of gospel, raspy howls permeate the track.  Through a sinister smirk and with questionable sincerity, McCaully apologizes for his conduct last time Deer Tick played The Independent. As the story goes, Deer Tick was banned for life after an allegedly intoxicated McCaully tried using his pecker as a guitar pick. Ouch?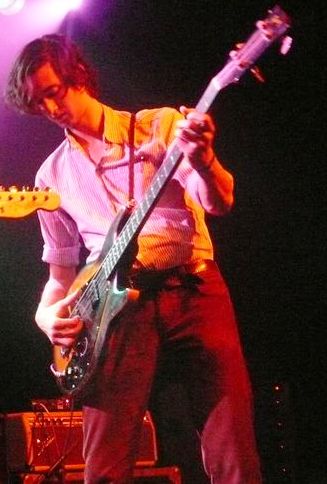 Shuffling tambourine and metronomic hand clapping on title track "Middle Brother" frame denial as second nature. In turn, ignorance is unadulterated bliss: "I know my days are numbered / but I'm bad at math." Playful riffs shoot from behind the vocals to the pulse of rhythmic excitement. Taking us back to those trailblazing '56 Sun Records days, Middle Brother interjects us with Elvis' throaty, erotically charged "Uh huh," chased by a cathartic, exuberant "Woooo, wheee!" that would have Jerry Lee Lewis crying happy tears. After McCauley chases Vasquez off the stage with his guitar as makeshift bayonet, Vasquez remains amongst the crowd for an entire track, trashing at his guitar wildly as his straight black hair whips erratically in every conceivable direction.
Closing out the set with "Million Dollar Bill", we are reduced to a two-dimensional slip of paper in pursuit of a gold digger that's already slipped away. Goldsmith's humble, pristine voice turns ambition on its head, as he fantasizes: "When it hits me that she's gone / I think I'll run for president / and get my face put on the million dollar bill." But his drive for posterity is neither societal progress, nor world peace, nor any of that groovy jazz, but simply to remain with his erstwhile lover as a mere shadow: "So when these rich men that she wants / show her ways that they can take care of her / I'll have found a way to be there with her still." Vasquez finishes the album with soulful quivering that is at once bewildered and bursting with passion, as he wails in merciless yearning for his love's return. Stuck in the middle with these three? Squeeze me in!
Supported by Dawes' drummer Griffin Goldsmith and bassist Wylie Gebler, Middle Brother sounded impossibly tight for a band that's only been touring together for a few months. In a bittersweet twist, however, the audience learned that this epic lineup shall be short-lived. Effective immediately, Taylor Goldsmith and his Dawes' comrades will be leaving Middle Brother. So what gives? The Band's immortal frontman Robbie Robertson needed a backing ensemble to promote How to Become Clairvoyant, his first LP in over a decade.  Stay tuned!