If you happened to be walking around Williamsburg in the late September weekend, taking in the unseasonably warm weather or grabbing a bite to eat, things would have seemed like any other weekend. Maybe you noticed the matching wristbands of the people walking back and forth along Wythe Avenue, or you saw the groups of people hanging around smoking cigarettes outside a few music venues from early afternoon until late into the night, but nothing that struck you as particularly noteworthy. Had you entered any one of the three venues playing host to Brooklyn Comes Alive, though, you'd have been stepping into an entirely different world.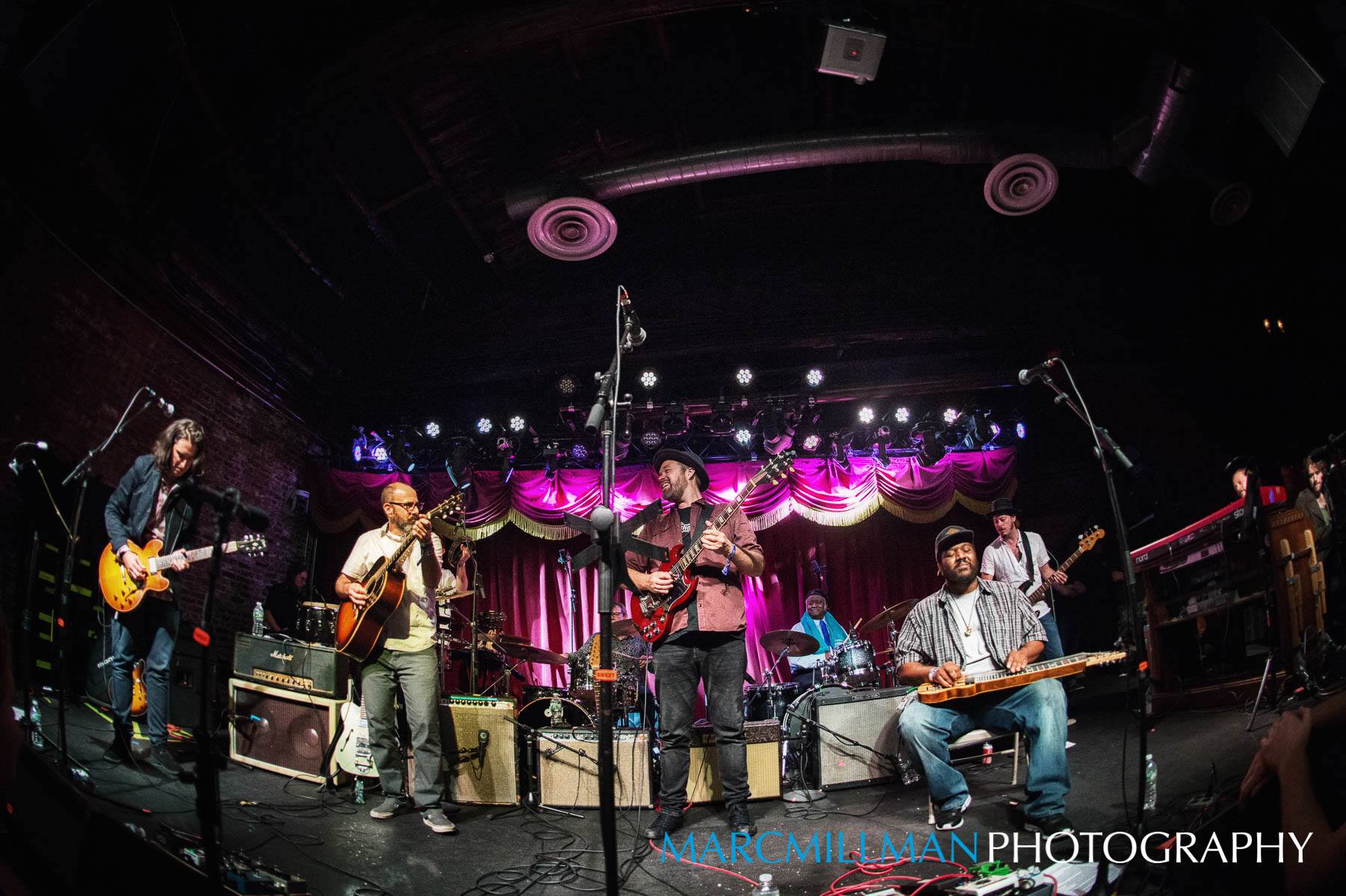 The festival, now in its third year, brought together musicians from the jamband world and beyond for unique collaborations, tributes, and one-off sets, and had fans from all around bouncing around from venue to venue excited, or at least curious, to hear what was about to come next. Despite a few gripes that seemed to be shared among many attendees – Schimanski can go to hell for refusing to provide free water – the festival as a whole was a resounding success. All those in attendance, musicians and fans alike, were in high spirits from the opening notes of Leslie Mendelson's or Midnight North's sets early Saturday afternoon to the dance freakout of Sunsquabi on Sunday night. It was nearly impossible to stumble upon anything close to a "bad" set, and those with an eye on the schedule may have had to make a few tough calls but there really were no wrong decisions. As such, narrowing this list down to just 7 picks is something of a futile effort and some amazing sets will inevitably be left off, but here goes nothing.
Rooster Conspiracy (Eric Krasno, Reed Mathis, Todd Stoops, and Jay Lane)
After performing under this name with Bill Kreutzmann earlier this year, the trio of Krasno, Mathis, and Stoops recruited veteran drummer Jay Lane to join them for their east coast debut, the first real all-star set of this year's festivities. The group had promised a Grateful Dead theme to the set, but beyond that it was anyone's guess what shape the music. Eric Krasno introduced the set by promising a balance between "the unknown and the familiar" and that proved to be on the mark as the ensemble embarked on what was essentially a single, stellar, extended jam, with Mathis serving as quasi bandleader.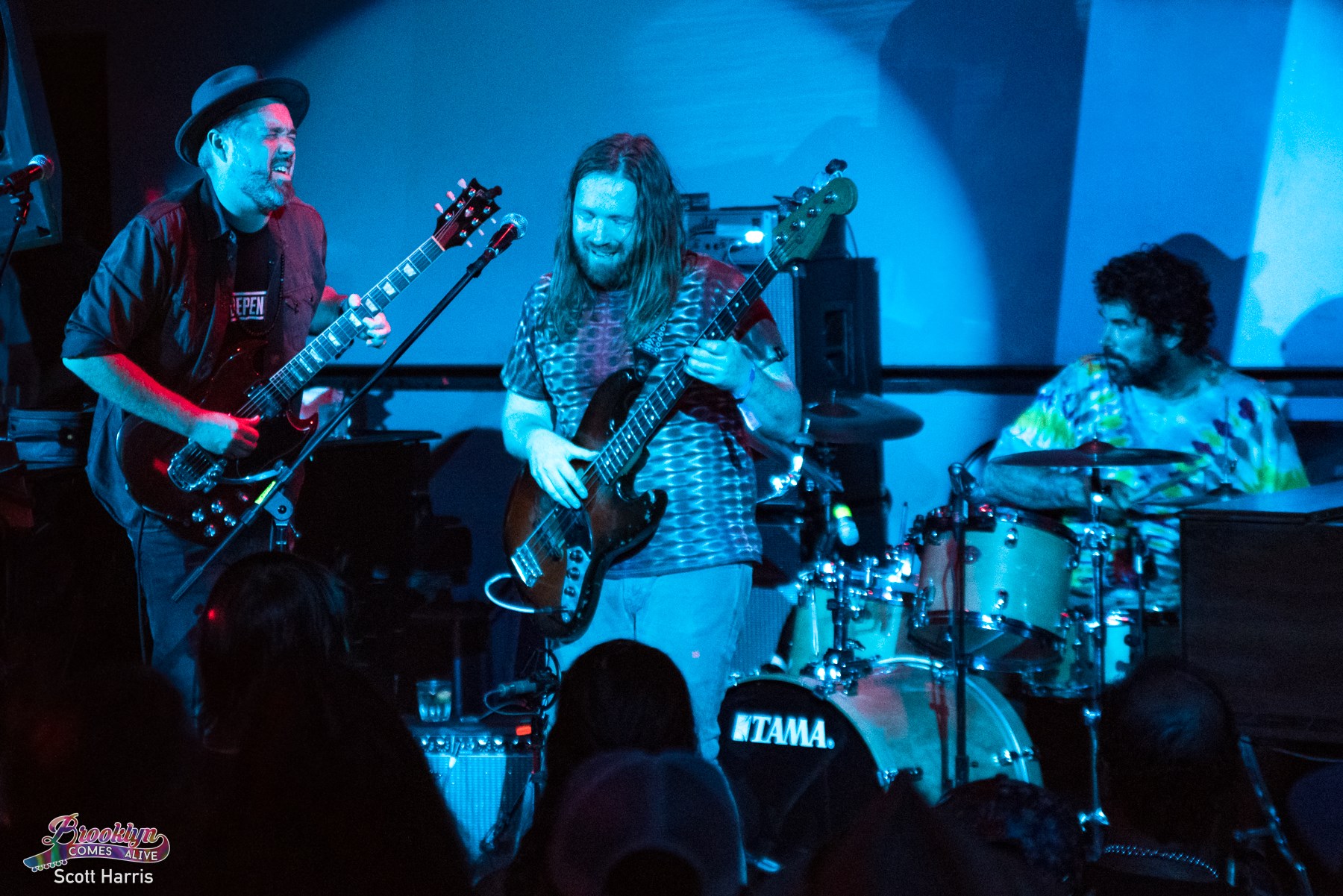 Within that improvisatory workout the group wove in and out of both "Deal" and "Cassidy," along with various other teases from all the band members, notably Krasno's riffing on Hendrix's "Third Stone From the Sun" and The Beatles' "Get Back" (the latter of which he'd return to in his Eric Krasno & Friends set the next night) while shifting up the feel from blues to funk to spacey grooves, to hard rock. Singer Hayley Jane joined in on the fun and brought a fiery passion as the set reached its conclusion and the band returned to the chorus of "Deal" one last time, bringing the house down with 'em.
The Road Goes On Forever: Celebrating the music of the Allman Brothers Band
This held the honor of being the closest thing this festival had to a "headlining" set, with a prime two-hour time-slot at Brooklyn Bowl and one of the biggest crowds of the weekend. It was, of course, organized in the wake of the deaths of both Gregg Allman and Butch Trucks, and the announcement of Charles Bradley's death just that day threatened to cast a mournful cloud over the affair, but the musicians assembled opted for a more celebratory approach, roaring through tight grooves and bluesy sing-alongs with unexpected force. And with a guestlist that included Eric Krasno, Roosevelt Collier, Dave Harrington, and Rob Compa, it was child prodigy Taz Niederauer who stole the show with a jawdropping 4-minute solo in "Whipping Post" that was easily one of the most memorable moments of the entire weekend.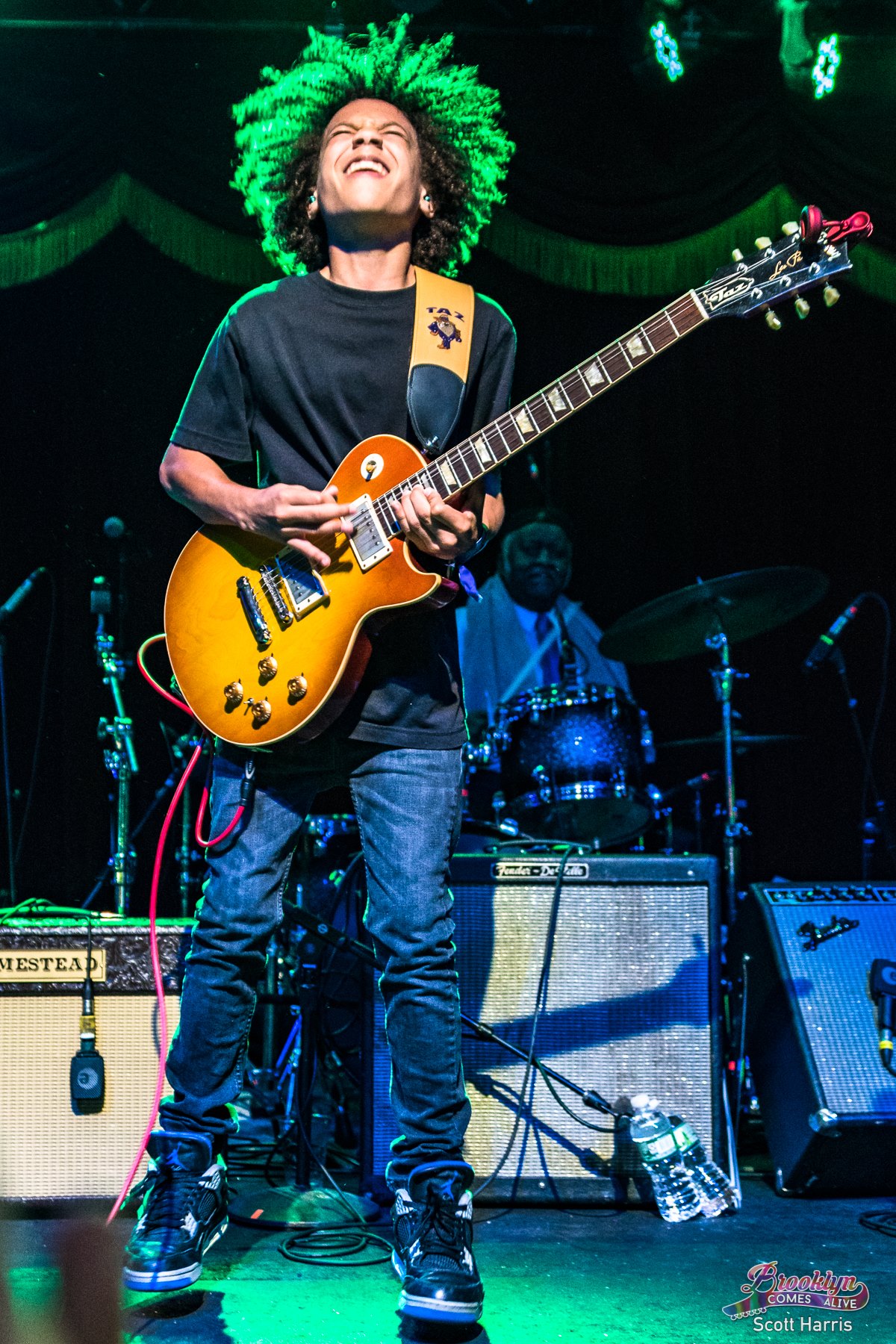 Dave Harrington's Merry Pranksters (Dave Harrington, Skerik, Yuka Honda, Spencer Zahn, Mauro Refosco, and Ian Chang)
This set proved to be one of Brooklyn Comes Alive's biggest outliers this year; there was nothing else on the lineup quite like it, and it was absolutely stunning. Following the high energy of the Allman's tribute, Music Hall of Williamsburg was the place to be as the Pranksters began their set at with zero fanfare, never a word, and gradually led the audience down the rabbit hole. Like any Merry Pranksters show, this was best experienced from beginning to end, as the fully improvised set grew established hypnotic currents of dark psychedelia that underscored ambient soundscapes and trance-like dance grooves. Each member of the impressive lineup Harrington had assembled for this performance proved vital, most notably percussionist Mauro Refosco (Atoms For Peace) who was able to shift the energy in the room with every musical move, but the strange beauty of what the Merry Pranksters do comes from the complete sacrifice of ego that each musician makes when stepping on stage. There are no solos, there is no leader, it's a group of people coming together to build something out of nothing and then, once it's been built, let it return to nothing again.
Jazz(-ish) at Schimanski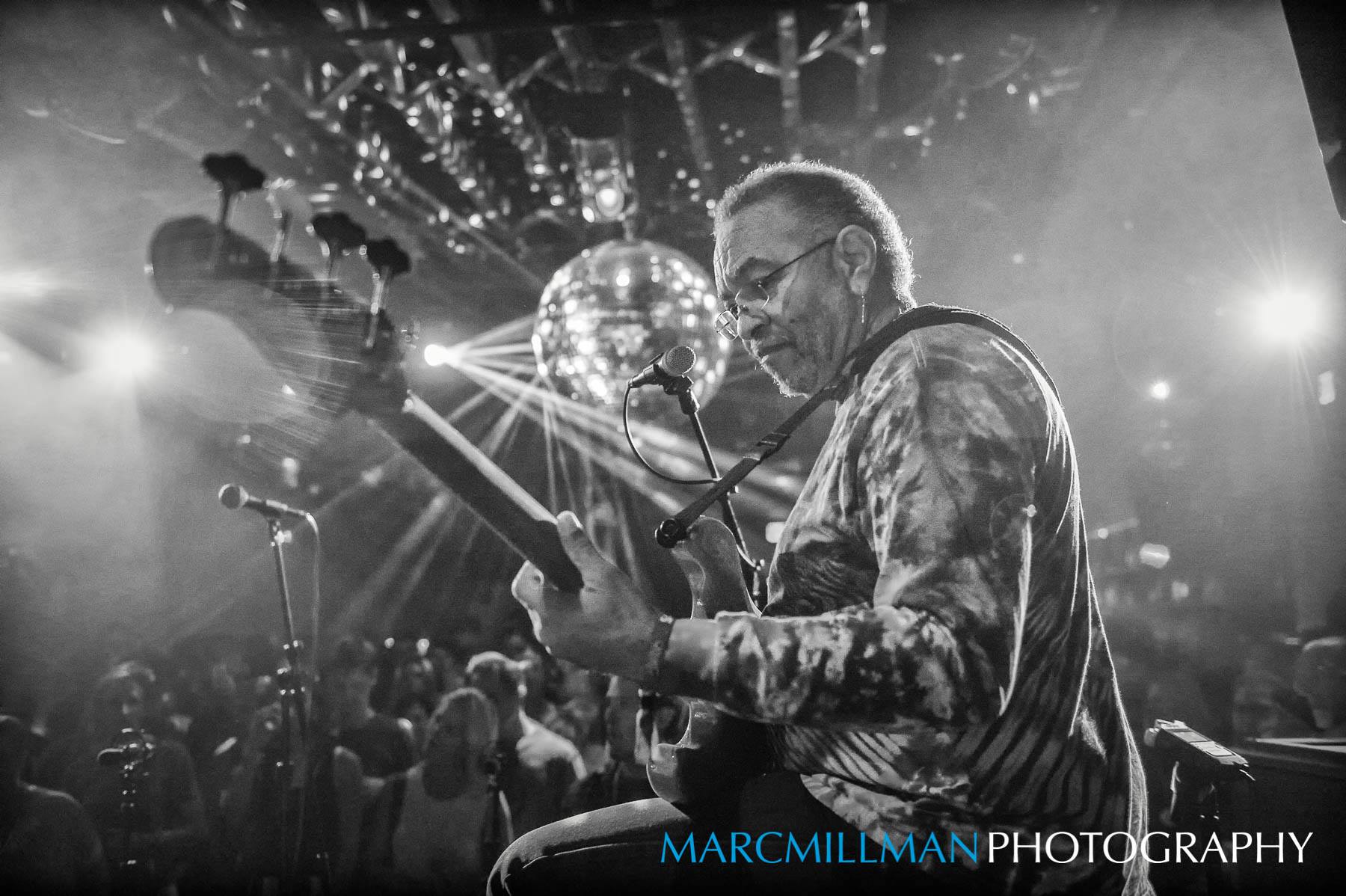 This is a bit of a cheat, but like I said, choosing just 7 sets couldn't hope to do the breadth of this festival justice. For much of Sunday afternoon, Schimanski played host to some truly extraordinary sets of jazz, which proved to be the perfect way to break up the more dance-intensive sets while taking in some of the best names in the biz. The always-incredible John Scofield paired up with pianist and singer Jon Cleary for a powerful set of relaxed duo set of R&B and blues standards, including a captivating performance of "Fever." Their set was followed up by a team-up between George Porter Jr., who proved a regular face throughout the weekend, drummer Johnny Vidacovich, and pianist Henry Butler in a more freewheeling set that would swing from New Orleans jazz, to Curtis Mayfield covers (a perfectly moody "Here But I'm Gone"), to slowed down, singalong funk, with the audience on board at every turn.
Marc Brownstein/Aron Magner/Joel Cummins/Mike Greenfield/Ryan Jalbert/Natalie Cressman/Jennifer Hartswick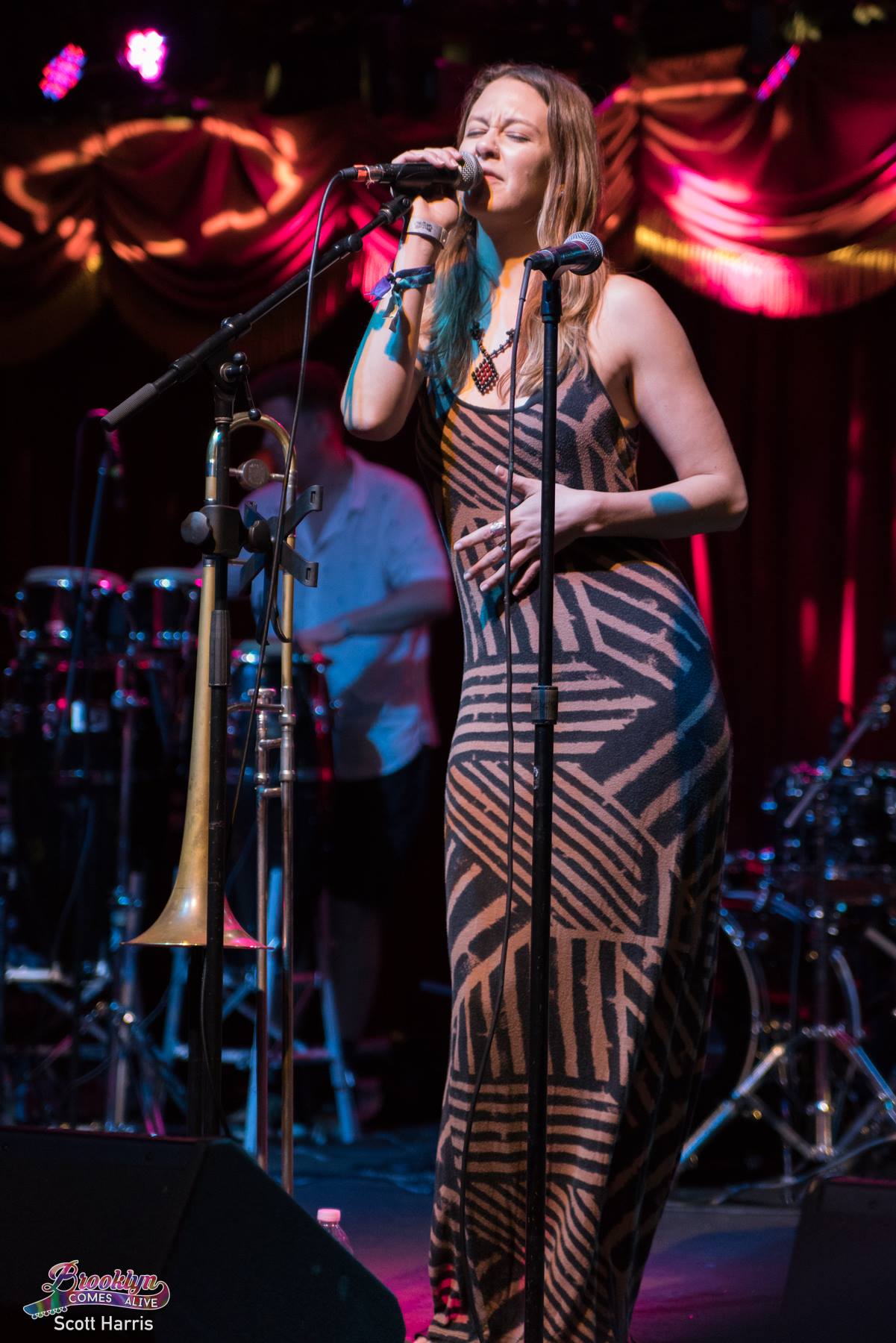 Those names were the thing to know about this set before it took over Brooklyn Bowl. Sunday upped the ante on jamband staples, with this mashup of members of The Disco Biscuits, Umphrey's McGee, Lotus, The Motet, and Trey Anastasio Band serves as the perfect example. After opening with a near-20 minute jam, the supergroup showed what they were all about an assortment of covers and a willingness to spin each tune in a new direction in a performance that just kept getting better and better. Hartswick vocal turns on a spaced out take on Blondie's "Rapture" and a funk-as-hell "Just Stopped In To See What Condition My Condition Was in" (dedicated to Sharon Jones and Charles Bradley)were stunning and Cressman's sultry turn at the mic on Britney Spears' "Toxic" was simply stunning.
Moe.queous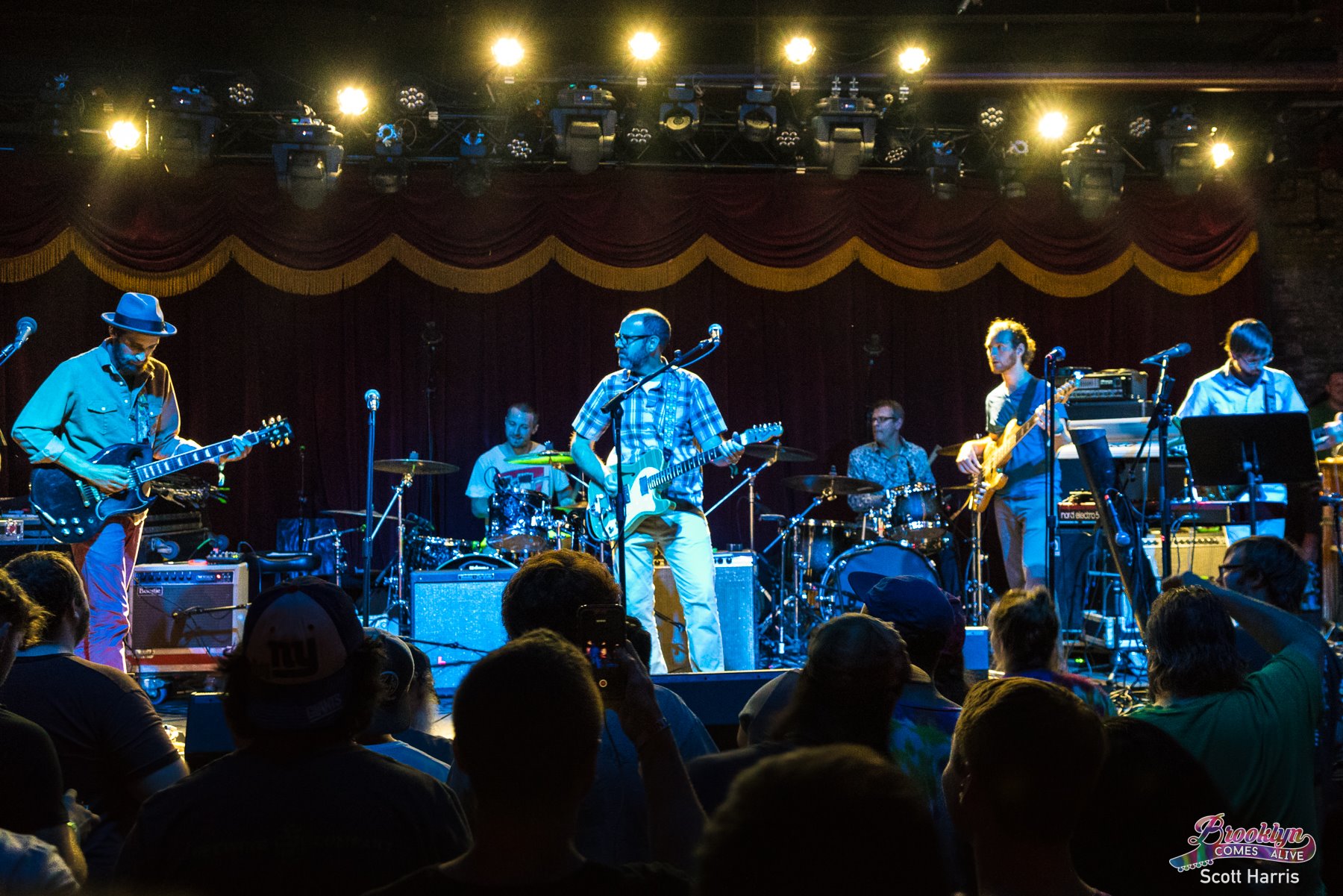 It didn't take long for this set to shoot off into the stratosphere. The pairing of the moe.'s Al Schnier and Vinnie Amico with their Buffalo disciples featured a mix of songs from both of their catalogs and some of the best proper jams of the festival, hands down. The opening run took them on a nearly 30 minute journey from moe.'s "Head" into Aqueous' multipart "Origami" and back again with a jet fuel-powered intensity bolstering it's forays into prog rock, reggae, funk, country, and Dead-like dreaminess. It seemed as though there wasn't a soul on the Brooklyn Bowl floor not completely enthralled; most of them couldn't stop dancing from beginning to end. Schnier gave an emotional shoutout to moe. bassist Rob Derhak, whose battle with cancer has taken the band off the road for the time being. I have to shamefully confess here that I left this set early and in doing so missed the group's cover of "Bertha" along with moe. standout "32 Things." Don't worry, I'm still kicking myself.
A Tribute to Jamiroquai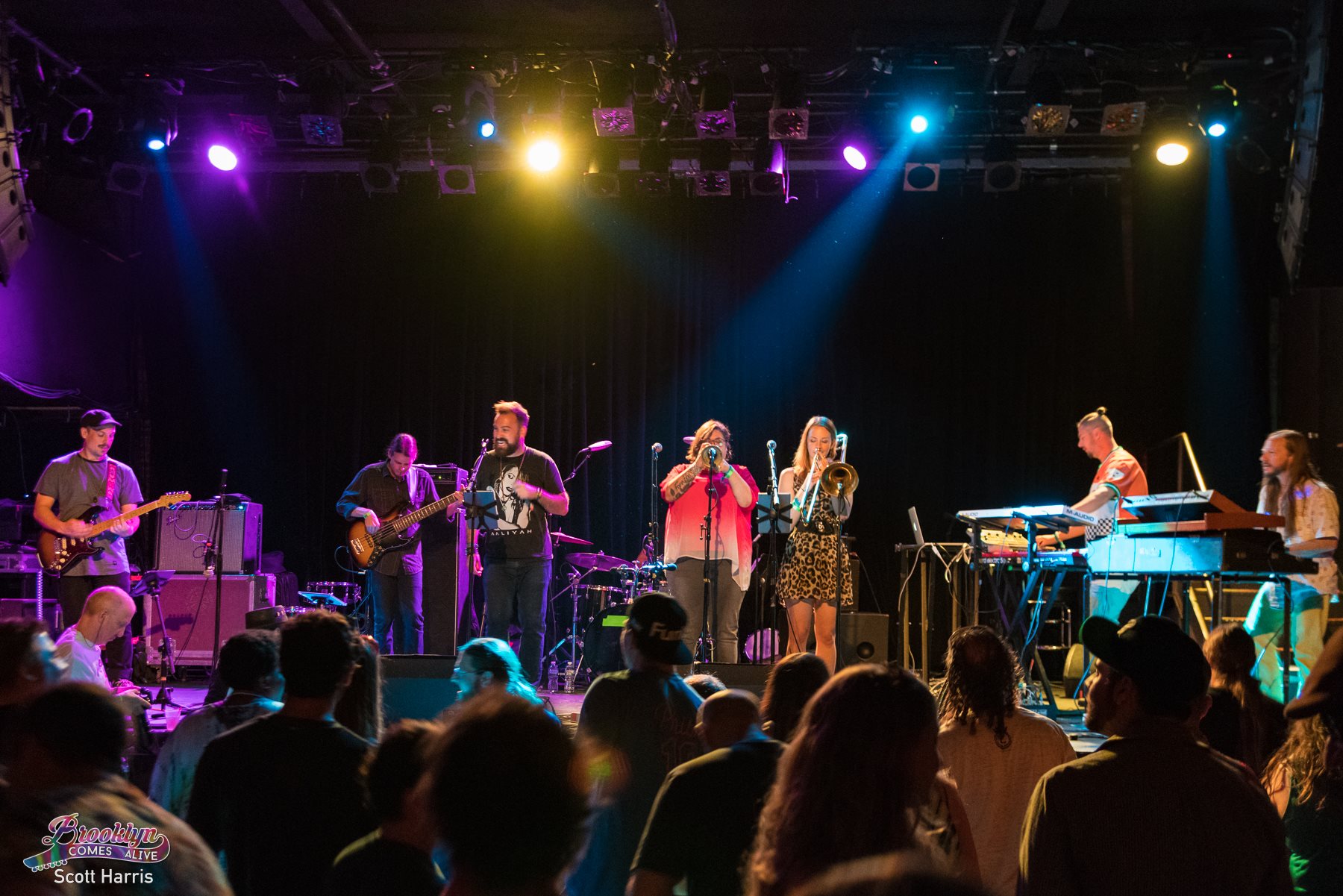 British funk masters Jamiroquai came back on the scene this year after a few years away, but they've still yet to bring their renowned live show back stateside. So, in their stead, most of The Motet along with Todd Stoops, Natalie Cressman, and Jennifer Hartswick decided they'd bring the party themselves in what was potentially the most stupidly fun set of the weekend. Motet frontman Lyle Divinsky proved the perfect MC for the affair, equally as amazed as the crowd at the level of musicianship sharing the stage with him and singing the songs with funky abandon. By that point on Sunday night, the wear and tear from the festival was setting in, and it seemed the only way to effectively stave it off was to just keep dancing, and that's what this crowd did. The harder they danced, the harder the band played, and the whole thing felt downright explosive by the time it reached finale. There was a whole lot of funkiness across both days of Brooklyn Comes Alive, but this one took it all to a different level.