It's Wednesday afternoon, smack-dab in the middle of the tornado we call SXSW.  The music portion of the festival officially starts tomorrow, but for the people who know where to look for it, it's well underway.  Dogwood, a popular watering hole on the West side of 6th street, had lined up a number of stellar artists for the week.  My Aunt Julia, a music writer and magazine editor in town from LA, texts me to come meet her here.
At the outdoor patio bar, we each indulge in some hair of the dog.  Although an hour ago I pledged never to drink again, somehow I'm holding a glass of red wine and she's sipping a shot of tequila.  And so it goes.  She briefs me on the show we're about to see, and in the two minutes it takes her to do so the crowd doubles in numbers, everyone edging towards the stage in anticipation.  They're the Alvin Brothers, formerly known as The Blasters, a beloved band in LA in the 80s.  They disbanded in '86 when Dave Alvin took off on his acclaimed solo career.  Now, the brothers, Phil and Dave, who have had a notoriously rocky relationship over the years, play together every now and again, and luckily for us, in Austin at SXSW.
It's difficult to surmise what kind of crowd they draw—there are young and not-so-young fans in the crowd, huge Hells Angels bikers, hipsters, nerdy dads, music diehards, the works.  It seems like there's quite a bit of diversity and disparity here except the one important common denominator: we're all here for their music.  I decide it's time to take a long, hard, honest look at my life and really ask the tough questions:  You know you're not as trendy as you thought you were when your Aunt has to tell you where the best bands are playing.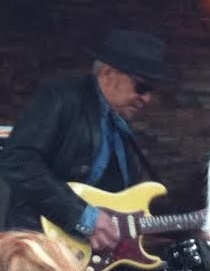 There's a distinct Folsom vibe in Phil's slicked back hair and crisp white shirt, Dave's wayfarer sunglasses that hide his expression and heighten the mystery—the whole band is outfitted in textured leather blazers.  These guys invented cool.  They span decades with their songs, their short set included hit songs from the past, songs they haven't played in thirty years, songs they only wrote in 2012.  This is nothing short of an intimate reunion for the audience.  They play the Blues the way the Blues were meant to be played—rolling drum beats and polyrhythmic verses—the kind of singing that strikes a chord in your soul.
Towards the end, Dave introduces a song off his latest album, saying "We'd like to do a song about brotherly love, not necessarily us but more the brotherly love concept," inspiring chuckles on and off stage.  They launch into What's Up With Your Brother and you can hardly hear them over the singing from the crowd.  They go out with a bang, following a Double Trouble-worthy guitar solo and erupted applause.  All around me I hear the same comments—"I haven't seen them since '85", "Man, they hold up," "They're better now than they were then."  Of all the things that I love about music, that just might be my favorite: no matter how much you change, no matter how much the world changes, music will remain.