When I was going through a period in my life where I thought there was a real chance I would become a percussionist in a reggae band or a ska legend, my dad would casually say things like "When I saw the Wailers here…" or "The first time I saw Bob Marley…" and I would endure the crushing realization that I was simply born at the wrong time. Well, thankfully, I've restored balance to the universe. When my hypothetical children get into classic rock and country (which is inevitable, considering their mother's flawless taste in music) I will start sentences like this: "Honey, when your mom saw Willie Nelson play at his ranch…"
It's historic. It's perfection. Never has a piece of property so aptly embodied one man's true mark on the world. I drive up with the windows down to a sprawling, rolling hillside ranch where I swear even the landscape had a southern accent. People are all casually interacting, conversing, and coexisting in scuffed handmade cowboy boots and flowing white linen. There are tents with musicians tightening their strings and strumming old tunes. There are two stages being inhabited by equally awesome artists. There is no sense of competition here: this is a place to enjoy and hopefully, inspire. This is the mecca of music. It's Willie Nelson's ranch.
At 9, he takes the stage. It's a warm, breezy, only slightly sticky Texas night. Nights like these have been written about. By Willie Nelson. Preceding him was his granddaughter and nephew, each with different sets but real talent. It must be true— it runs in the family. He's wearing a red bandana around his head, two braids, and a black shirt. When I imagined him before now, this was what he looked like in my mind. He walks on stage with minimal help. When he comes into my line of sight, I gasp. You never know how much you'll be affected by seeing certain people. Although his albums were played pretty constantly throughout my childhood, I didn't think I would have an emotional reaction to seeing him. By the way, he hasn't begun to sing yet. And yes, I'm already crying.
The first act was a bit of a blur. A better music reviewer would have diligently taken notes but the journalist inside me sort of dissipated the moment he took the stage. I was blinded by an admiration that I'm sure our parents felt for acts like Led Zeppelin or Bob Marley & The Wailers. While you're watching them, you can feel the magnitude of this experience. Of this performance. There is no way to minimize it.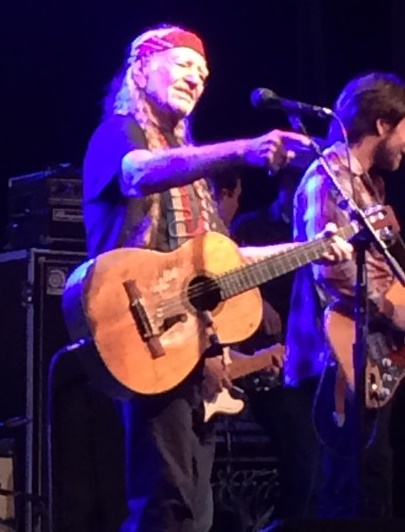 He included a number of my favorites. It was like walking down Wille Nelson Memory Lane, but arm-in-arm with Willie Nelson himself. Like a guided tour through his remarkable life. He hit major songs like "Across the Borderline" and "On the Road Again" and I swear if you closed your eyes his voice hadn't changed over the years in the slightest. I could've been 10 years old, dancing along to these comforting chords on my living room floor. He sang Whiskey River, and Ain't Misbehavin'. When he sang "Always on My Mind" and stopped playing and stopped singing and used his hands to guide the crowd, I lost it again. Impressively, through my tears, I managed to snap some photos.
His son joined him on stage for the last half of the set. He looked at his dad the way we all were: with reverence. The two bounced off one another and let the sweet songs drift into the quiet night, complimenting the sounds of the cricket lullabies all around us. For miles and miles in every direction, we are alone. This moment, captured by only a couple hundred people and very few reporters, is ours. It isn't supposed to be a big production. It's exactly as intimate as he wanted.
Afterwards, everyone reluctantly finished the last of their beers and headed back to the cars. Back to reality. The next day some of us would go to work, or RSVP for more highly-exclusive corporate-sponsored SXSW events, but as people who had seen the legend take the stage. Good music changes you, on some level, even if you don't realize it. And as I walked back to the car, somehow a little lighter and little heavier at the same time, I felt like he had just stirred my soul. That's what I'm going to tell my kids when they ask, anyway.