In later-2021, British guitarist, vocalist and songwriter Amanda Lehmann released a diverse, nine-song album of all-original art and prog/rock music titled Innocence and Illusion. The album – her first official collection under her own name in a 30-plus-year career, but not her first effort – has reached many ears and hearts along the way.
Notably, Innocence has garnered positive reviews and interviews with such publications and blogs as PROG and Now Spinning Magazine. And as we take time to share a few of our own impressions about the still-popular album, we've learned from Ms. Lehmann that she's already developing a yet-to-be-named follow-up. Meanwhile, she also now finds herself quite in-demand for other artists' projects.
In short, if you've heard a charismatic feminine voice on the studio albums and live recordings of British prog-guitar pioneer Steve Hackett over the last 15 years or so, then you've already had an informal introduction to Lehmann's own mystically-leaning musical colors. And thanks to guest spots from Hackett and several of his journeymen from his touring band Genesis Revisited, listeners will find a good number of familiar, proggy touchstones in the emotionally rich musical world of Lehmann's album. So from the POV of this longtime prog/rock/folk fan who has been following the British rock scene since the late 1960s, I can say it's a world worth exploring more deeply.
"I like to use music as a story," Lehmann said in a recent email exchange, explaining her approach to songwriting and performance, and what she hopes to do with her next recording. Listeners will find that the flow of Innocence is much like a story. "So it goes through dramatic, fast sequences, and into delicate, intimate pieces."
As her time has permitted, Lehmann has been appearing with Hackett in selected shows since he first welcomed her as an album contributor in 2009. With Genesis Revisited's live shows in particular, she fleshes out the mythical sound of that six-member band with a shimmering layer of guitar and vocal harmony. And her spotlight moment as a solo vocalist on Hackett's own Medieval-art-rock tour de force "Shadow of the Hierophant" – first recorded with British vocalist Sally Oldfield for his 1976 debut solo album Voyage of the Acolyte – is always an ethereal, soul-stirring moment in those shows.
In early spring 2023, this singer and multi-instrumental musician took time off from her own in-progress next recording project to join on with Genesis Revisited once again for a few special shows in the UK and Europe. Also, in the last several years, she and Hackett have made one-off, small-ensemble appearances together at more intimate venues, such as Trading Boundaries, in Sheffield Green, Sussex, England. These smaller shows have allowed her to showcase her songs from Innocence.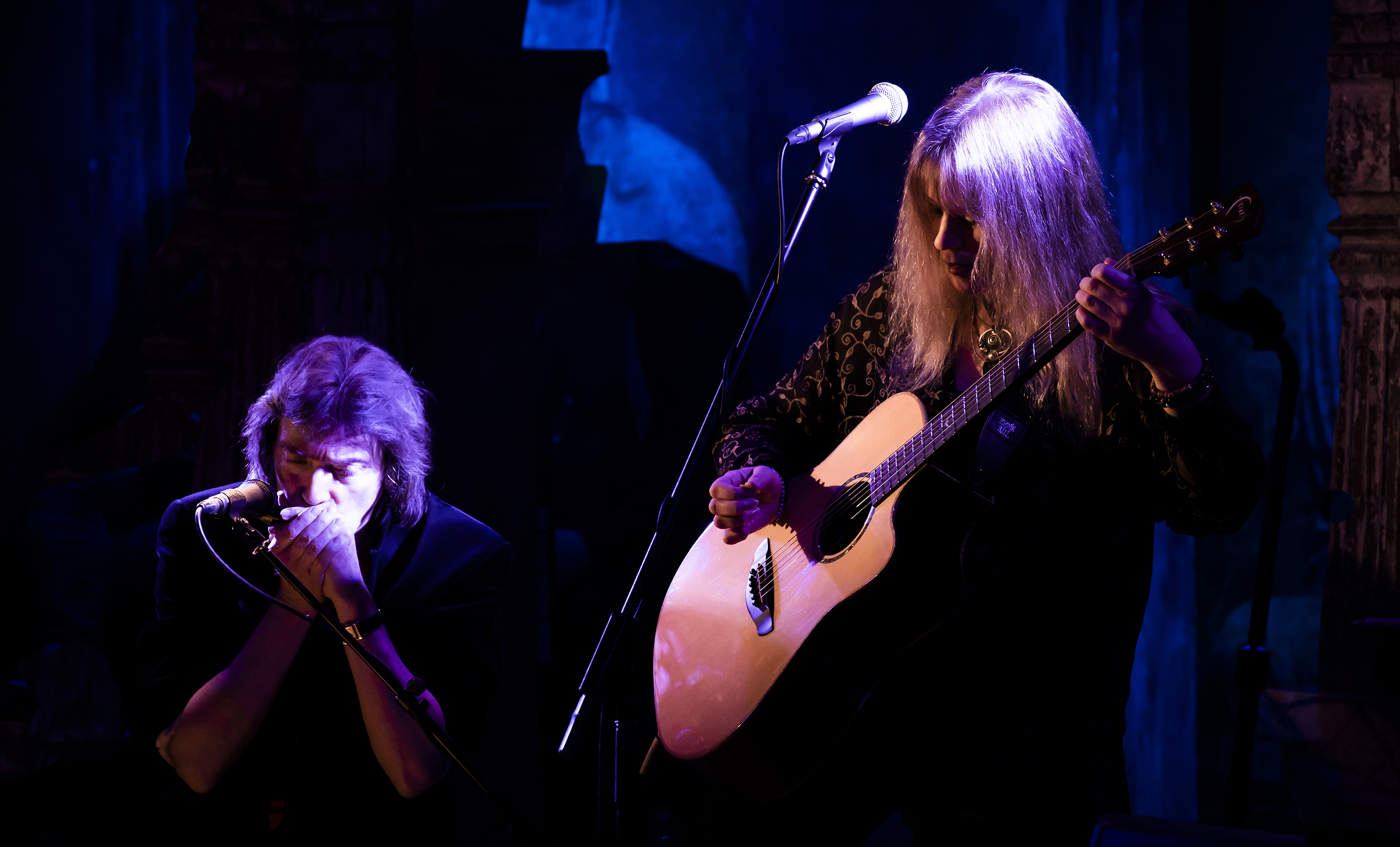 Reinforcing the perception that her house is always in motion, videos of newer special projects involving Lehmann have recently emerged on YouTube. For example, a new release by the dark-pop-prog band Random Earth this past March revealed Lehmann providing vocals and guitar on two standout tracks, "Gospel" and "Window". (Videos for both can be found on YT.) In addition, other artists she has been working with include the Raging Project, the Temple of Switches and – with current Yes bassist Billy Sherwood – a forthcoming project with veteran Chicago-based singer Kurt Michaels.
'All the musicians [with Random Earth] are a great, very talented bunch," Lehmann said, noting that she had been invited early on and encouraged to explore different styles of singing. "Although the lyrics were already written, I [had] a lot of freedom vocally with this, and [the tracks] inspired me to try out different vocal styles. For example, [the song] 'Gospel' required some gospel-style singing, which was both a challenge and a joy. And due to the changing dynamics, the end of that song was a total contrast. I recorded some raunchy, almost grunge-y vocals [for that]."
Free to explore her own songwriting and arrangements on Innocence, Lehmann – who was much more hard-rock leaning in her early career as a guitarist – has proved that she has learned many 'best practices' from playing 'proggy style' with that recognized master of the form, Mr. Hackett. (In fact, Lehmann also once performed in a Heart tribute band called Reckless Heart around 2015, replicating the role of guitarist/vocalist Nancy Wilson.)
"My learning journey has been a long one," Lehmann said. "I have countless influences along the way from many excellent – but unknown – musicians. With all this in mind, the years since 2009 (when she and Hackett made their first recording) have also been undoubtedly very important on my musical journey!"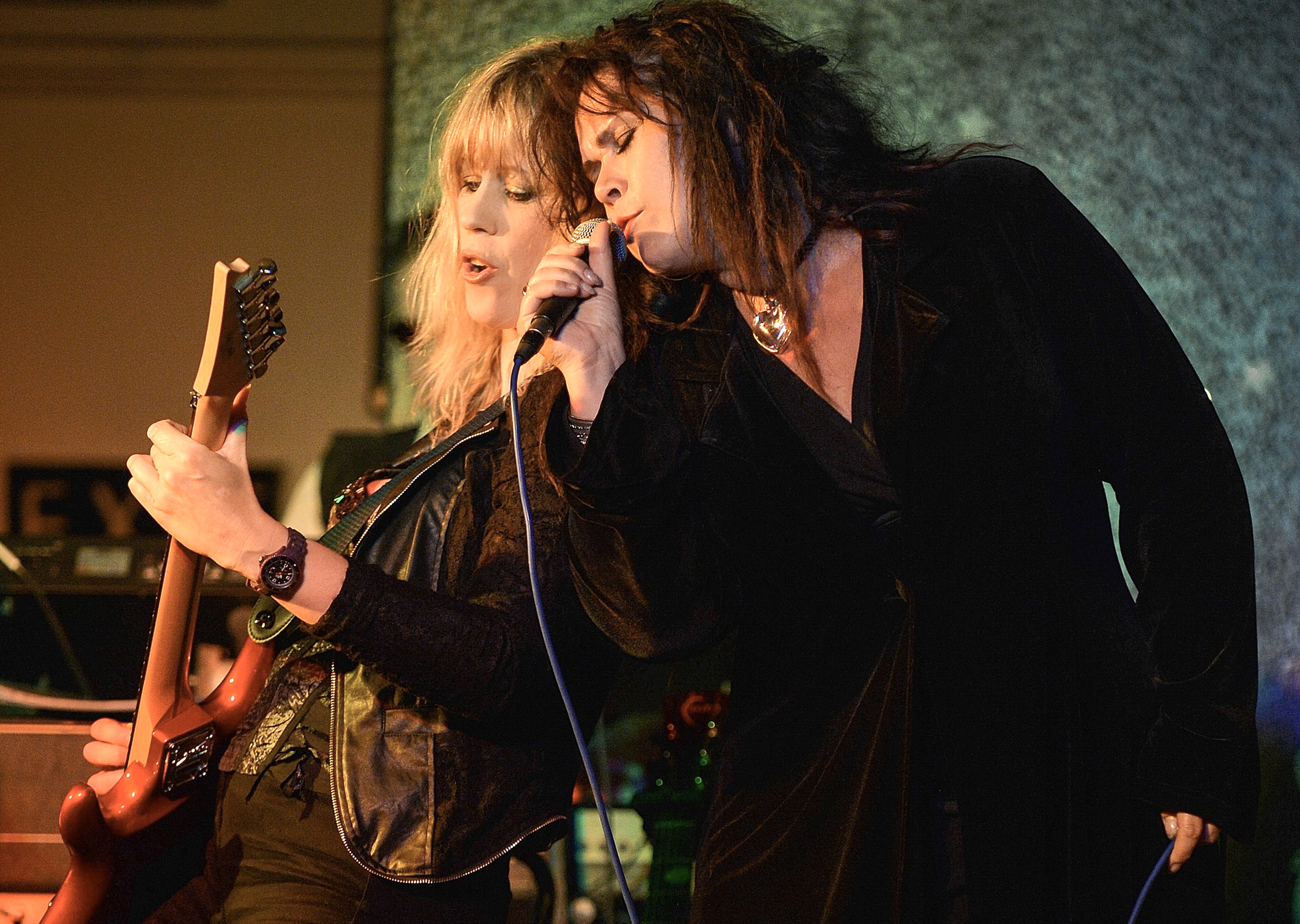 Resolving finally to capture her own musical vision gave Lehmann the focus to develop her vocabulary of evocative lead vocals, layered harmonies, interwoven keyboards, electroacoustic guitar mixes and deftly used dynamics. That combination on Innocence takes listeners on an emotional journey that draws from her own life but also enables them to make new associations and meanings for themselves.
"From my [close] observation of these extremely talented chaps, I've [learned the value of] precision," Lehmann said of working with Hackett's team. She added that she aims to make her recordings finely crafted, yet strives to keep the organic feel of a live performance. "With my guitar playing, I'm focusing [more now] on vibrato. Guitarists like Steve are masters of that – just the right amount at the right time, for the right length of time. For me, it's not about 'shredding'. It's about control and beauty – making the guitar sing and [mastering] that sound in order to express emotion through the instrument."
Lehmann confirmed with us that her influences run quite widely. On the male side – among many examples of late-'70s prog and hard-rock artists – she cited Genesis first. (She has noted that their 1977 album Wind and Wuthering was her personal prog 'gateway' as a teenager.) But also, in close formation behind that legendary band, she speaks highly of the Alan Parsons Project, Ritchie Blackmore and Pink Floyd.
"I loved Ritchie Blackmore's playing from his Deep Purple and Rainbow days," Lehmann said, praising the hard-rock pioneer's total mastery of the guitar neck and conceptual approach to playing. "I adore [his] cascading style that moves through harmonic minors."
With her being a female vocalist, Lehmann also gave shoutouts to such stars as Stevie Nicks, Barbara Streisand, Alison Moyet and Joni Mitchell. She also noted that learning piano as a first instrument and studying Classical music formally have also trained her ear for non-rock textures and forms. So there are obvious progressive and classic-rock influences but also symphonic and soul-jazz sounds blended throughout her sound.
In particular, vocal similarities to those of groundbreaking British singer-songwriter Kate Bush and the Wilson sisters in Heart abound – sometimes arty, others rawk-y, and some just plain pop. But many of the piano- and acoustic-guitar-based pieces blow the music strongly in the direction of Medieval and New Age musical themes. So the tonalities of Enya or Clannad might also come to mind.
With a haunting instrumental intro, melancholy lead guitar lines and her own stacked harmonies, Lehmann opens Innocence with the sweeping progressive-slanted track, "Who Are the Heroes?" Her siren-like vocals, the Wishbone Ash-like harmonized lead guitars and the martial drum beat all build toward an art-rock crescendo, conveying a sense of yearning, a call for humanity to lean into loving service to each other. That keening theme raises great expectations for the rest of the album from the start. And, yes, that theme continues, but many surprises and personal revelations await.
Interestingly, Lehmann paces the album with a mix of lighter songs of varied styles between the few straight-on rock tracks. For example, the second song up after that commanding opener is a wistful, romantic ballad called "Tinkerbell". As the name suggests, this is a song dipped in magic and fantasy, and it carries a wafting fragrance of late-'70s Renaissance or contemporary Celtic pop-rock music.]
Another early change-up before we get a nice, full chunk of that old-school prog that we know must be on there is a surprise appearance by the Talented Mr. Hackett. (This is the first of his three guest appearances on the album.) Interestingly, on this track, "Only Happy When It Rains", there's no trace of Hackett's stellar guitar playing. Instead, he shines through darkly as an awesome blues harp player. His harmonica lines dart around Lehmann's torch-y, Joni vocals and Rob Townsend's alto sax lines over a witchy, jazz-club groove, like a yowling cat in the night.
The first track that plunges the listener into deeper prog waters early in the album – and this writer's personal favorite – is "The Watcher". Initially, the bleak, brooding piece unfolds as a cautionary tale about restraints and repression of all kinds but then explodes with a fiery middle section before the final chorus. Unlike her treacly vocals on an earlier ballad, her narrative voice takes on a more weathered and warning tone here, sounding much like the huskier vocals of, say, a latter-day Marianne Faithfull.
Instrumentally, the dynamics on this track also show Lehmann taking cues from such rock guitar luminaries as Mark Knopfler and David Gilmour. The opening has smoky blues fills over a spare arrangement with her astringent vocals. Then, after a brief burst of hot guitar between the verses and choruses, she breaks into a fiery, mid-song Phrygian-modal guitar solo with climactic key modulations before landing like a feather at the quiet beginning of the final verse. And for anyone who has been living under a progressive rock as I have, that kind of dramatic harmonic shifting is always mighty powerful catnip!
Another subdued interval follows with the poignant "Memory Lane," a lament about the passage of time and the loss of memories. This leads into a full-on, arena rocker – if Lehmann should ever graduate to the arena circuit, this is one would be a no-brainer for the setlist – called "Forever Days". With a driving, riff-based rhythm and a triumphant melody that calls to mind early '80s Pat Benatar and Renaissance (Imagine that!), this track matches Lehmann and Hackett in a grunge-y, guitar duel. And it's a perfect showcase for both guitarists' more metallic chops.
From there, the album ends up with a three-song series of wistful-but-hopeful romanticism that include the Peter Gabriel-meets-Kate Bush anthem to the dignity of elephants "We Are One", the enchantingly bluesy "Childhood Delusions" and the floating outro "Where the Small Things Go." In particular, the latter piece is a short, Classical-guitar ballad, co-written by Lehmann and Hackett. After reaching some truly soaring, mid-album moments, Lehman's sweet finish with Hackett's distinctive nylon-string touch seemingly helps the listener to reorient, as if waking refreshed from a long, active, technicolor dream.
Although Hackett and his keyboardist Roger King and sax/clarinet/flute man Rob Townsend all play prominent roles throughout the album, it seems that Lehmann has another secret weapon on board. And that would be Nick Magnus, a longtime Hackett collaborator from the guitarist's earliest solo albums in the late-1970s.
Primarily a keyboardist, arranger and engineer, but also an artist with his own track record of releases, Magnus worked with Lehmann to develop several of her Innocence tracks from working demos that she recorded in her home studio, she explained. And he provided some supplemental keyboards – including Mellotron, which is all over the album – to her primary piano parts. He also built up all of the rhythm tracks from electronic drum samples and scored the full orchestral arrangements. This resulted in many of the ballads having a lush, cinematic feeling.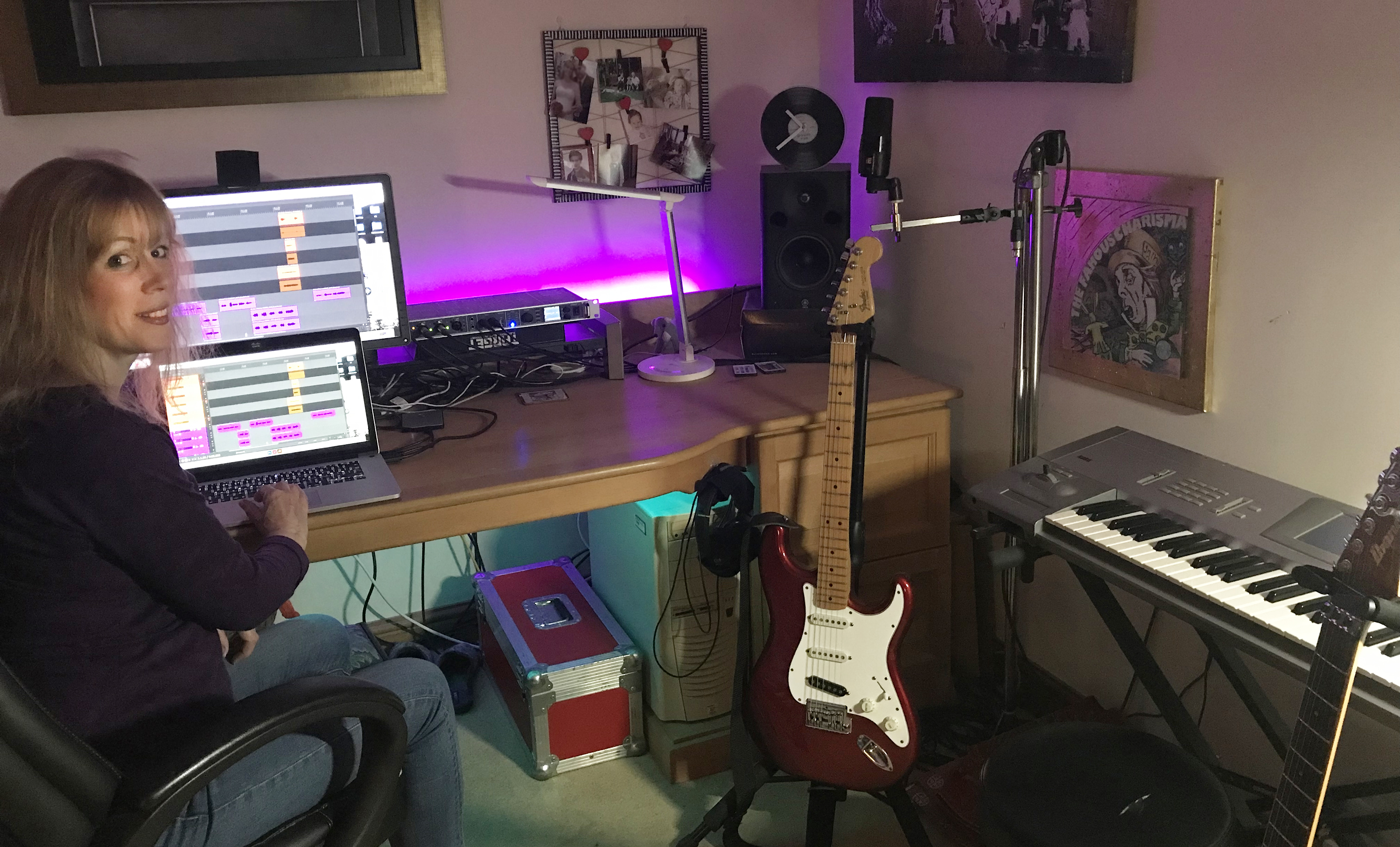 Magnus' agility with the drum programming is most impressive. Obviously, in the hands of a lesser technician, such full-band songs as "The Watcher" and "Forever Days" would lack the critical feel and reactions of a live drummer in the room. The really amazing part is that if the credits didn't tell us, we'd never know otherwise from the in-the-pocket performances of all the musicians!
In keeping with Lehmann's own descriptions of them, the songs of I&I clearly reflect a person's journey through life, with joys and disappointments, misunderstandings and clarifications, conflicts and resolution. The songs themselves, she has noted, were not written all in one batch but over a wider range of time, and the emotional shifts in the songs convey some changing points of view that come with experience and maturity. And perhaps looking at the album as a kind of diary of Lehmann's life helps to bring it all into focus: Older and wiser but still in love with life and very much believing in magic.
As Lehmann has explained elsewhere, she had written some songs – such as "The Watcher" – even much farther back in time but revised them in more recent years. Also, she and Magnus started assembling the tracks in 2019, and the project quickly gathered steam. Unfortunately, the Covid lockdown came along the next year and put a chill – but, luckily, not a complete freeze – on the recording process. A second burst of post-lockdown activity followed, however, with Lehmann and Magnus working remotely from each other and exchanging digital files for the final arrangements and mix. And then Lehmann finally delivered the lovingly polished gem in August 2021.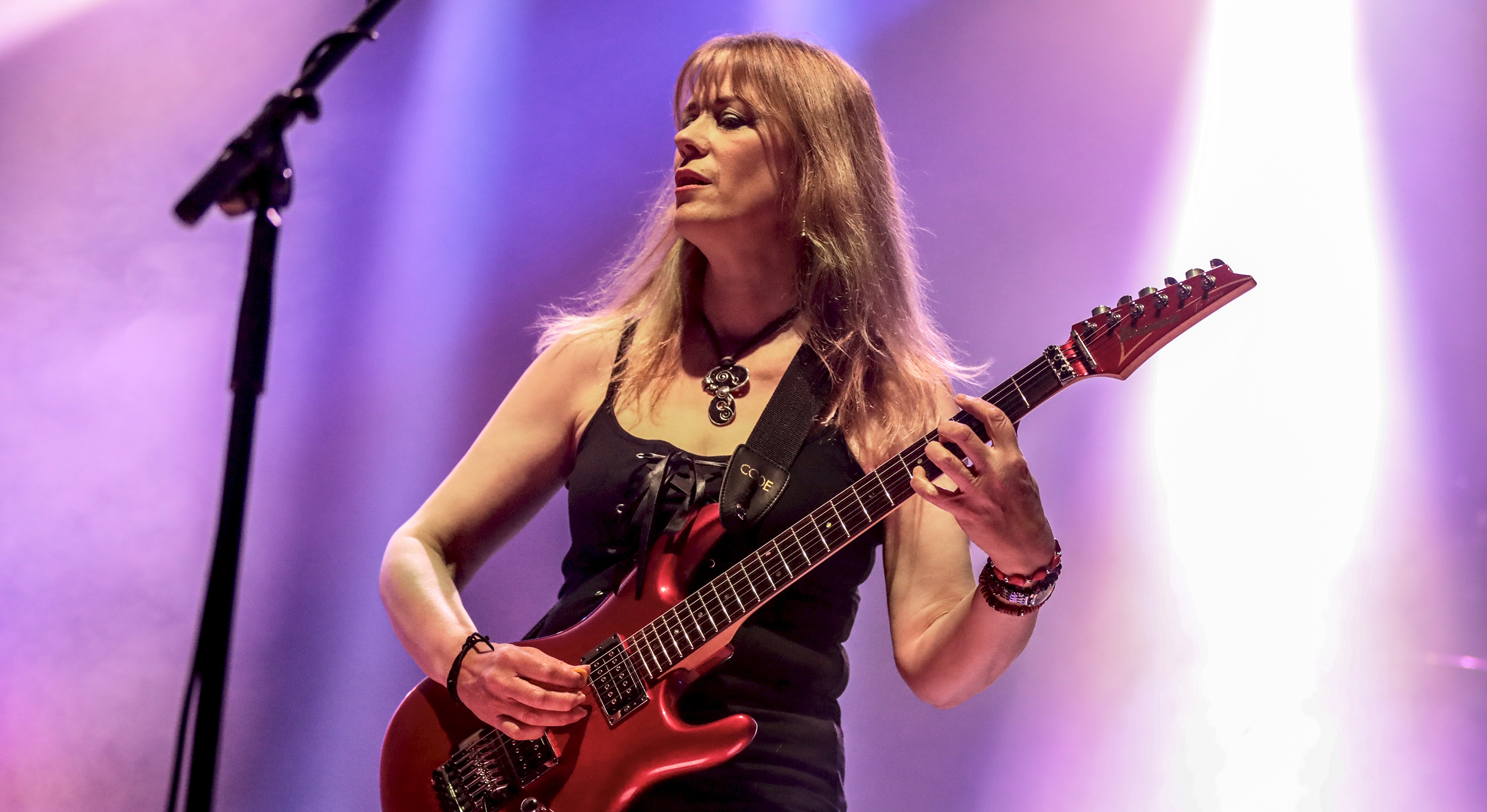 Having gone back to Innocence and Illusion many times now, I always find myself marveling at how much more centered and in focus I feel after listening to it. My perception is that Lehmann offers the world a hopeful, uplifting outlook and the healing power of music at a time when the world needs that most.
Looking ahead to her next recording, Lehmann confirmed it is shaping up and that listeners can expect a similar mix of extended epics and reflective pieces.
"Creating the 'follow-up' is always a challenge," she said, noting that she sees it as a chance to try some new ideas. "As with I&I, [her next] album won't exactly be a concept album but it will have a theme. Also, different musical genres – whatever suits the songs the best. And, as always, I'll indulge in multi-layered vocals, guitars and some piano as well."
In light of all this, it will be very interesting to hear what Lehmann paints for us with her colorful musical palette next time around. In the mean time, my very best advice is to make time to allow yourself to submerge fully as you listen to I&I, to go with the flow of Lehmann's dream, and then to make up your own mind about what is real and what is an Illusion.
Website: www.amandalehmann.co.uk/
Facebook: https://www.facebook.com/AmandaLehmannMusic
Twitter: @amandalehmann25
Instagram: https://www.instagram.com/amandalehmannmusic/
VIDEO LINKS:
Additional Innocence & Illusion Single:
Memory Lane
https://www.youtube.com/watch?v=Je6M8ncIBJ4
Collaborations/Features:
Random Earth Project: Window (Feat. Lehmann lead vocals, guitar solo)
https://www.youtube.com/watch?v=7rX8Q7TnaRc
The Raging Project: Procession [Excerpt] (Feat. Lehmann guitar solo)
https://www.youtube.com/watch?v=m1jPWcl2lmo
Temple Of Switches: The Wind (Feat. Lehmann lead vocals)
https://www.youtube.com/watch?v=gW77Wrb_vXE
Kurt Michaels: Relax… Nothing's Under Control (Feat. Lehmann lead & backing vocals)
https://www.youtube.com/watch?v=bpmgBHQJZ4o
Steve Hackett & Genesis Revisited videos (a selection):
Shadow Of The Hierophant (Live Hackett solo song)
https://www.youtube.com/watch?v=3vKVTYiCx5w
Fifty Miles from the North Pole (Hackett solo song from 2019)
https://www.youtube.com/watch?v=BjW6JLXu7wQ
Entangled (Genesis cover, Feat. Lehmann lead vocal)