So check out the crazy musical DNA of this duo: One guy's a longtime pro surfer from southern California who turned pro guitarist/songwriter in the early 2000s, and the other's the guitar-playing/songwriting son of a certifiable blues-rock-blues legend also active for more than 20 years. Both have sizable amounts of songwriting and recording experience under their belts and a shared passion for the road. So this year, they're hell-bent on setting a new world record to perform a show in all 50 U.S. states, inside 50 days! The duo is called Devon Allman and Donavon Frankenreiter, and right now, they are at the mid-point of that whirlwind, 50-date, hoping-to-break-the-Guinness-Record extravaganza that they call the See It All tour. What else would you call it?
Guitarists Allman – son of the late, great blues-rock pioneer Gregg Allman and former member of Honey Tribe – and surfer/singer/songwriter Frankenreiter are the musical kindred spirits behind this tour, which they launched on Aug. 5 with two shows on the same day in Maryland and Pennsylvania. And the big ramble – roughly continuing at the rate of a show per day – will end at the Beachlife Ranch Festival, in Redondo Beach CA, on Sept. 22.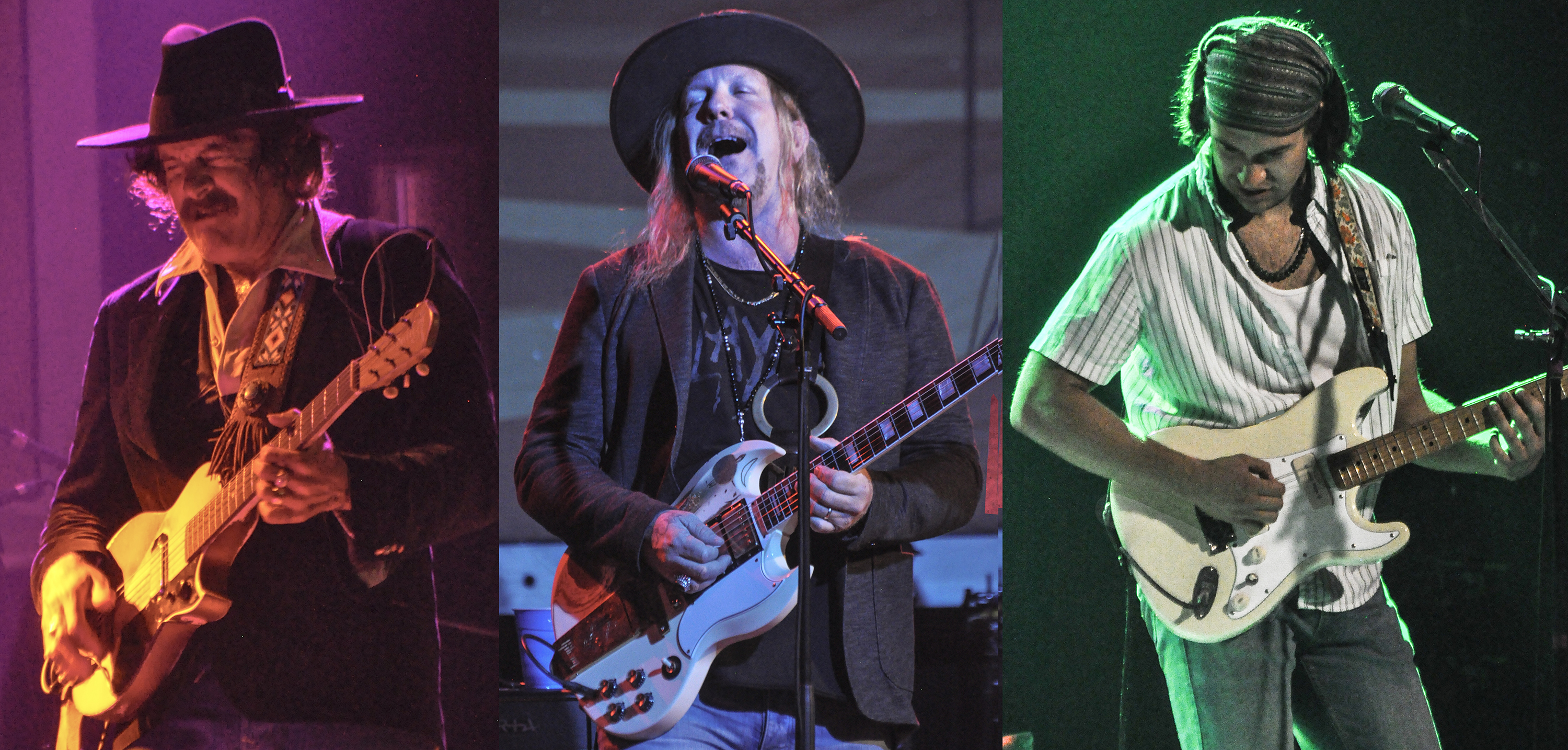 When I saw them at the Madison Theater on Aug. 24, in Covington KY, that night was the gig #21 of the tour, and they had obviously built up a head of steam in the early run of shows. Like a barreling, gas-guzzler with dual exhaust manifolds, their six-piece band came busting out of the garage like a steaming Formula One of Southern rock-and-soul, Latin rhythms, pop and Americana that hummed all night long.
As if their tour theme and goals weren't obvious enough, the hot-to-rock duo also recently released a six-song EP titled Rollers. Their ten-song, not-quite 90-minute set at the Madison Theater – which was preceded by two excellent warm-up acts, Jackson Stokes and Matt Costa – included five of those six songs, plus a few cherry-picked solo songs from both Allman's and Frankenreiter's back catalogues. It was all nicely tricked out with oodles of jams that ebbed and flowed like gnarly, foaming ocean waves.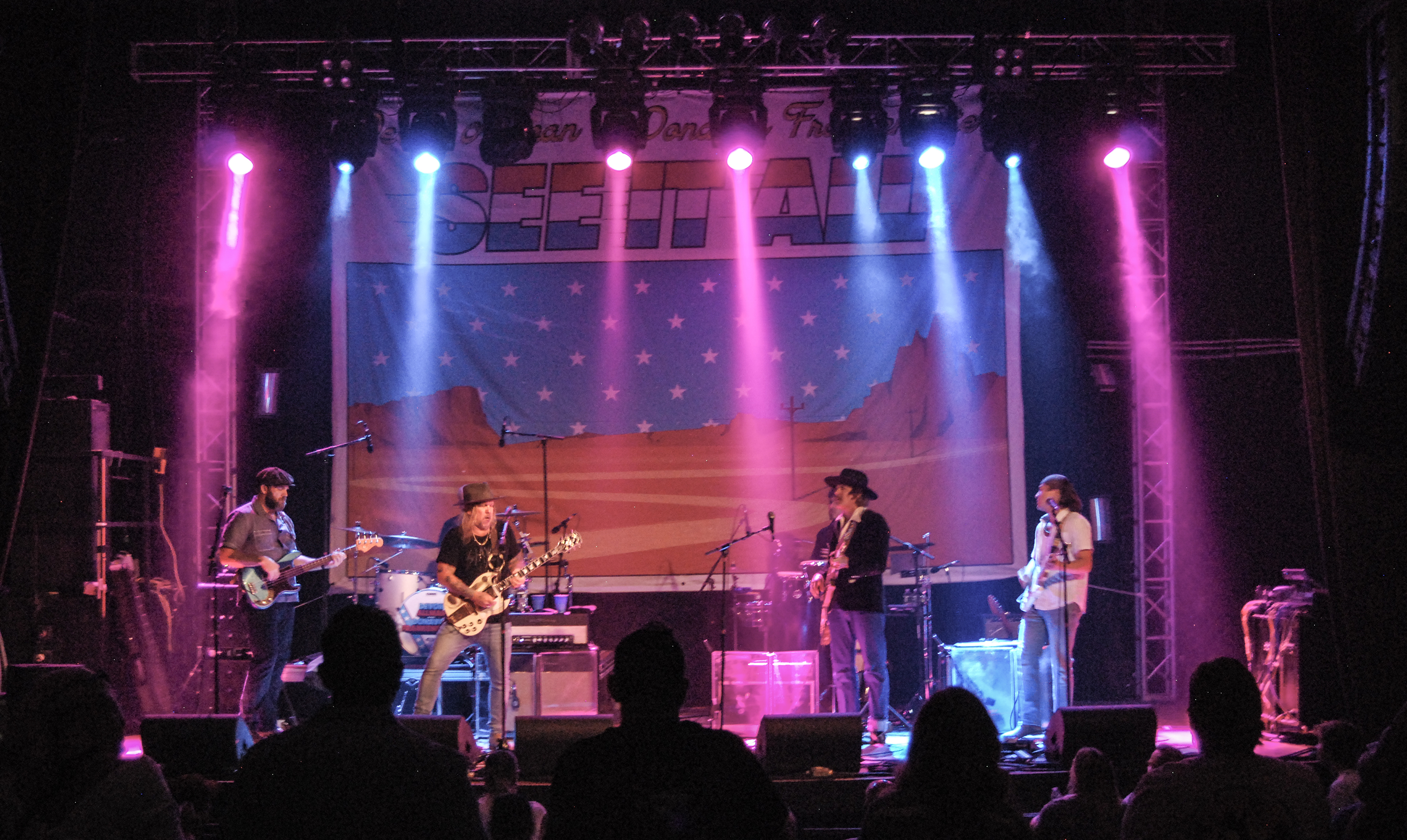 Notably, no covers – seemingly almost mandatory for all manner of artists these days – were necessary. Instead, the duo confidently wore their oh-so-obvious influences – from the Stones, Hendrix, late '60s Fleetwood Mac and California pop, to psychedelic, Latin rock and jazz, R&B, cowboy music and, yes, even the Allman Brothers – on their tattered, uniform-jacket sleeves. In their own image and likeness, they created an infectious, soul-stirring, danceable musical blend. Rollers, indeed!
The band kicked off their set in full stage darkness, with entrance music and nature sounds creating a cloud of sound. This flowed into a flurry of cymbal flourishes and bluesy, warm-up guitar noodling and then – Boom! Like that! – a thunderclap struck as the full band announced their presence just before the lights came up.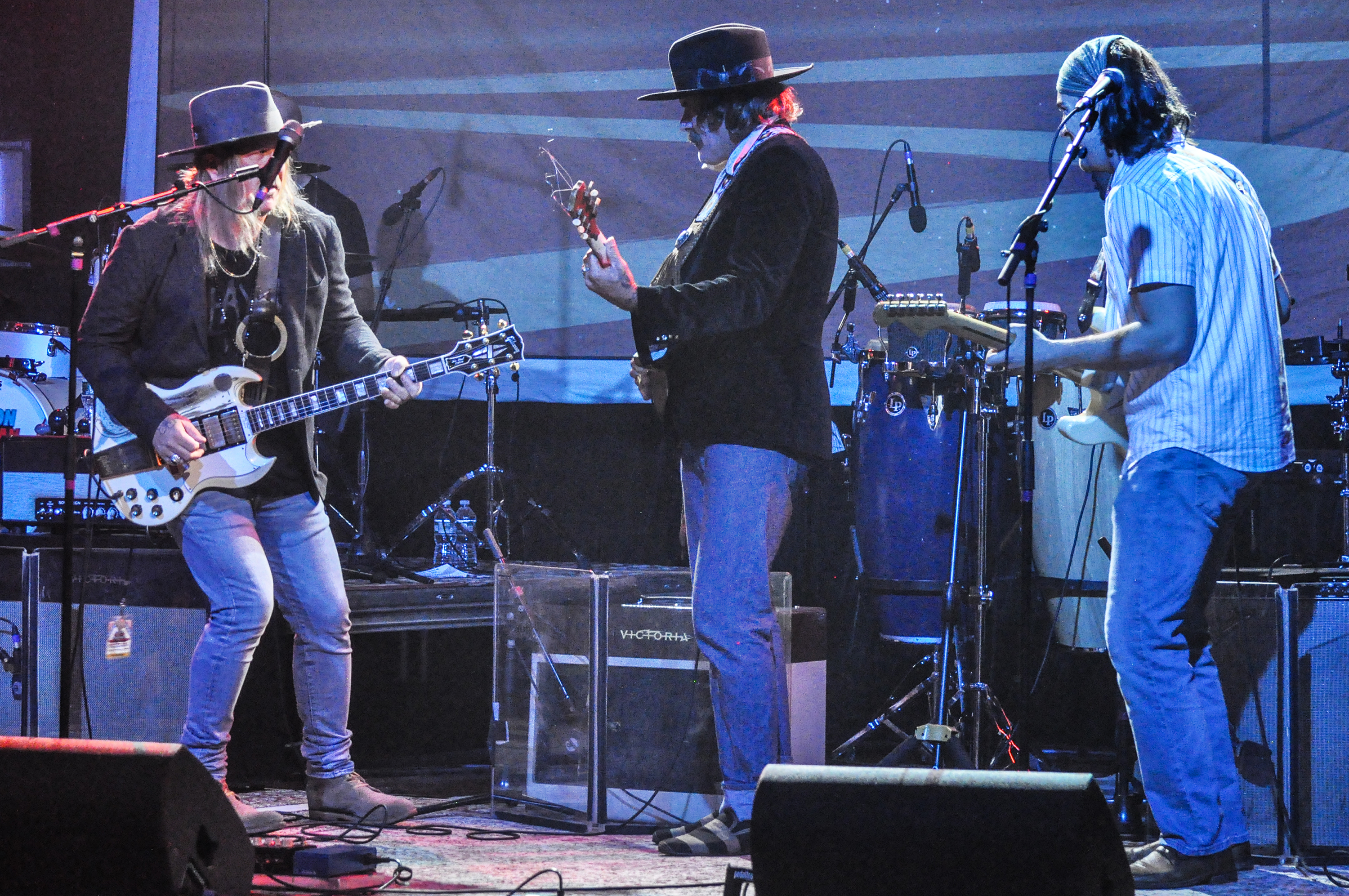 This 12-minute opening song – a Frankenreiter original titled "Move By Yourself" – was a smoky, churning Stones-like groove, less disco-like than "Miss You" but still possessing propulsive, two-chord, verse-and-chorus bass line and a steel pulse. And the turnaround chords showed a knack for bluesy transitions. The song came fully loaded with Frankenreiter's murmuring deep-soul vocals, blistering blues guitar breaks, drum-and-conga interplay and a capstone sax solo from the multi-tasking backing player Jason Gomez. For someone like me who had never heard them live, it was an unforgettable introduction!
The band's sound mix was excellent, though noticeably loud for such a small venue, which is a repurposed, working-class-neighborhood movie theatre that began as a silent-movie house in 1912. In fact, at times, closer to the end of the night, it seemed as if the musicians and audio techs were letting the sound level go extra hot, as the band hit a raging stride in the second half. Since I don't wear pro ear plugs at shows (and maybe I should?), I actually plugged my fingers into my ears during "Where Ya Gonna Run To?", a Lenny Kravitz-inflected rock-blues romp from the Rollers EP they included in the encore. (And, fwiw, I once did the same thing at a Kravitz show about 30 years ago.) But that's taking nothing away from the performance! In the end, what mattered most to me was that the vocals present and penetrating, not buried under instrumental ooze. Great front-of-house work!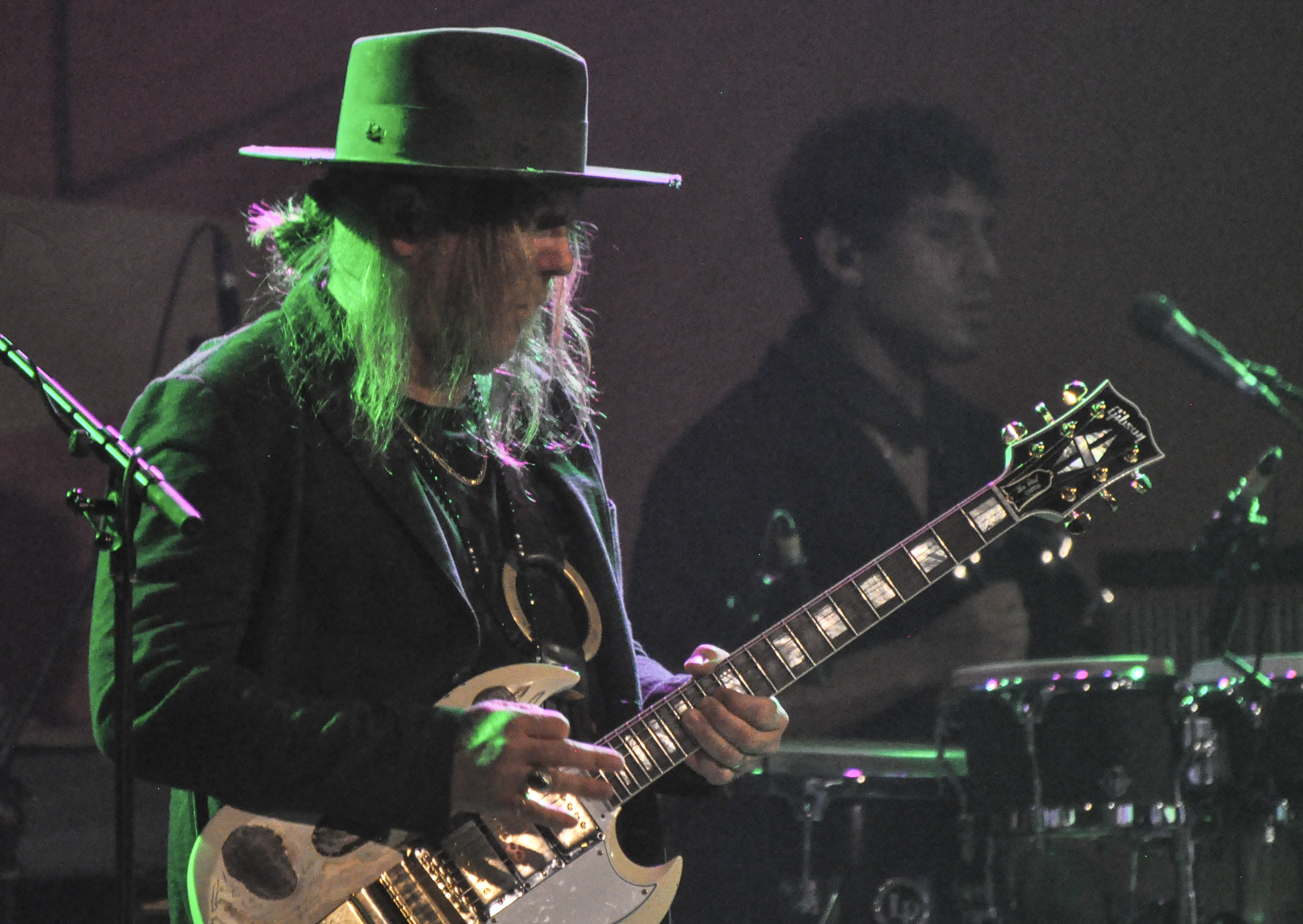 But speaking about that intensity, which was present from the very first song, the band masterfully modulated the music throughout the night, always pushing the beat, going for the peaks but also breaking down and simmering before breaking hot again. For example, after that nuclear opener, the players went immediately into the groovy, wah-wah-filled, Peter Green-flavored jam, "Fired Up", which made it easy to imagine Carlos Santana or Los Lobos stepping onstage for a surprise cameo. And who knows? Maybe some day they will! I just know that I'd love to be there for it.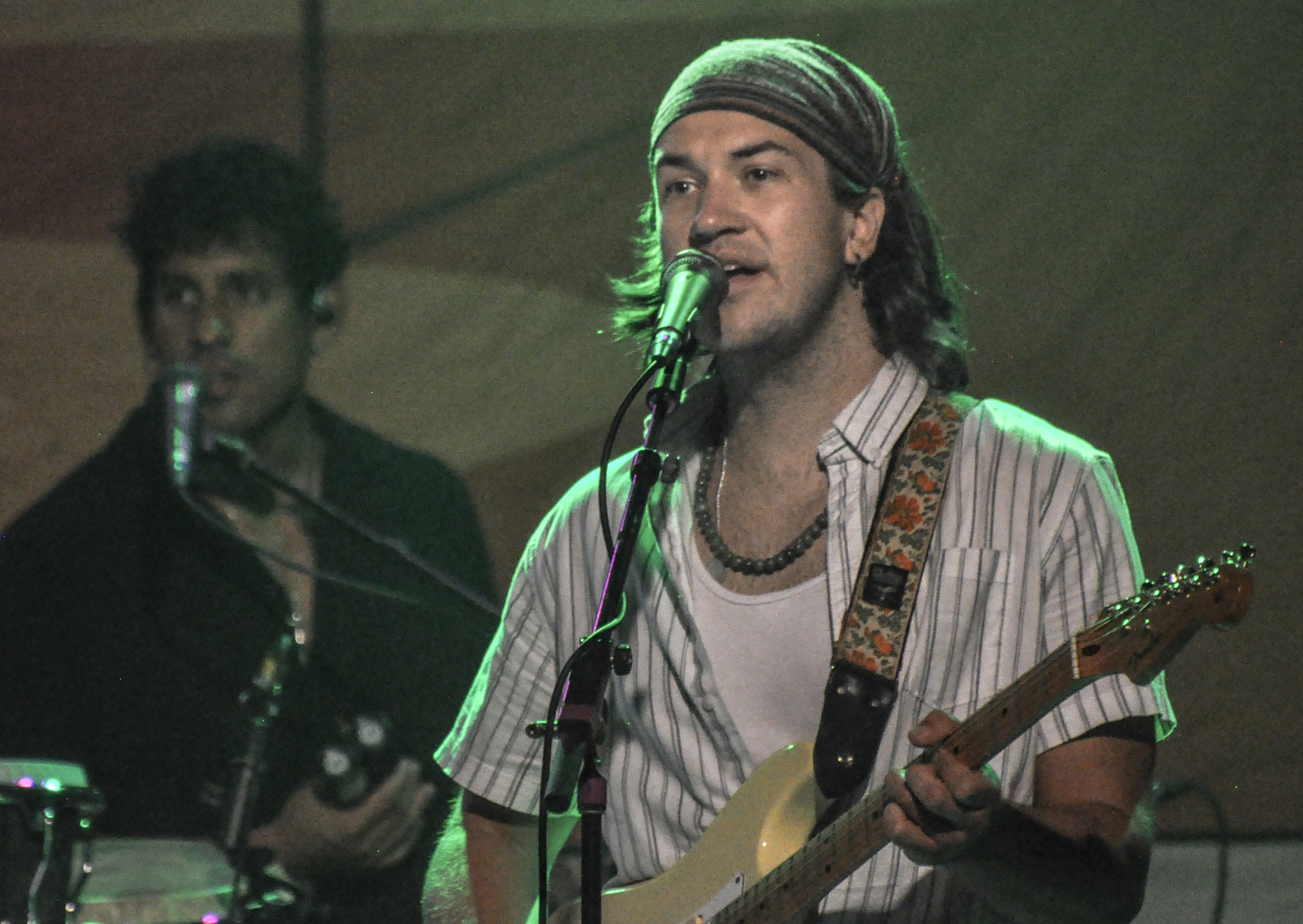 On this very same song, a strong whiff of classic, harmonized, Allman Brothers' twin-guitar leads blew in. (At one point, there was even three-way guitar harmony with guest guitarist Jackson Stokes adding another layer.) Bassist Matt Grundy also broke out with a confident 'talking' bass solo that punched in over the polyrhythms of drummer John Lum and conga man Gomez. Obviously, as in this case, the song titles raise certain expectations, but the music delivers the proof: They were undoubtedly firing on all cylinders.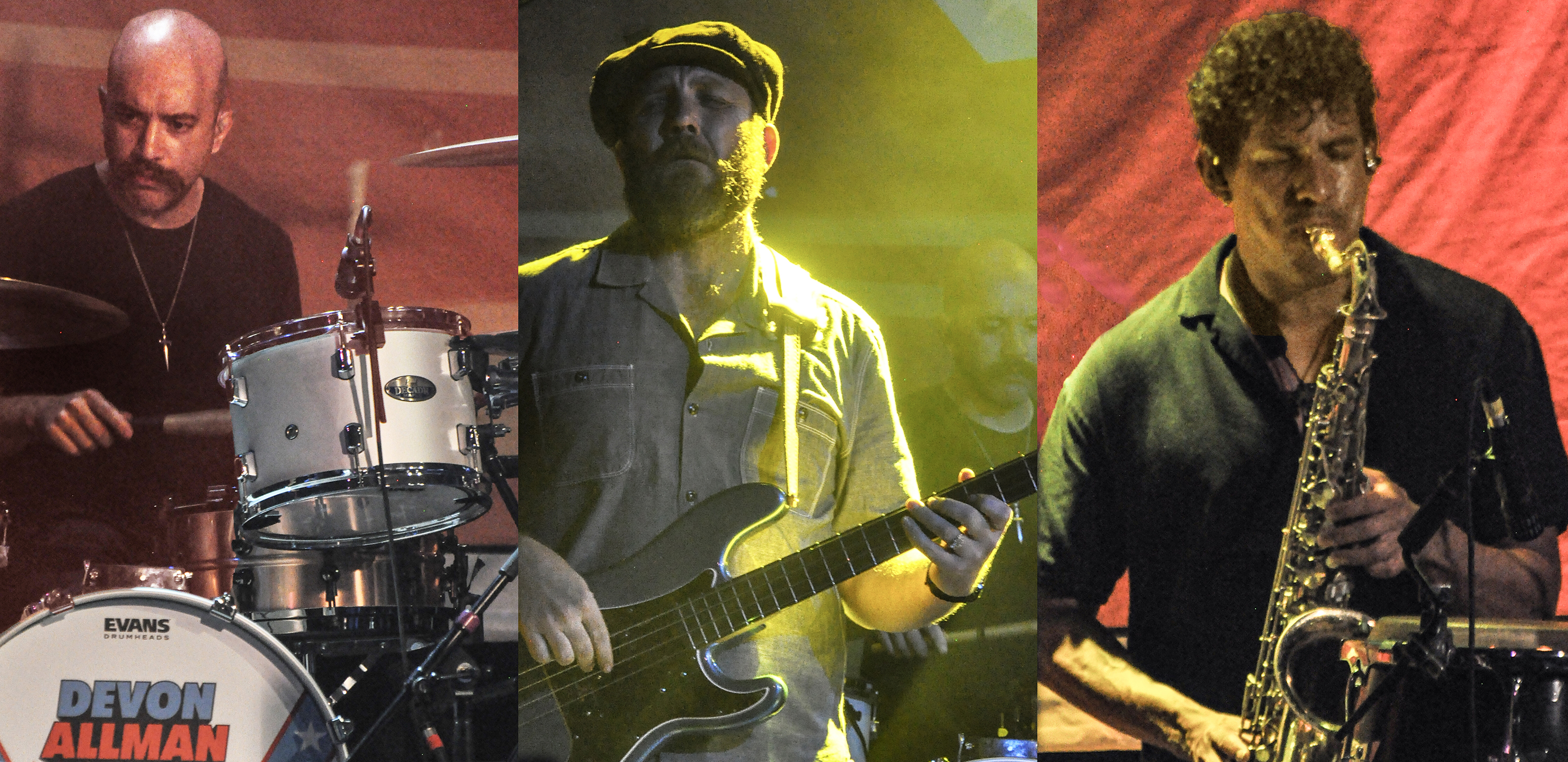 A big part of the band's magnetically absorbing sound was the alternating of lead vocals from song to song between the two frontmen and the soulful harmonic blending of their voices with backing vocalists. And this use of highly layered vocal arrangements was essential to the dynamics of the band's sound all night long.
For example, after the two hot-pocket openers and an extended Spaghetti-Western-type guitar instrumental called "Acapulco Gold", the band slipped into the earthier ballad, "Calling All You Riders", which is the opening track on the Rollers EP. ("Gold" also comes from that Luther Dickinson-produced recording, serving as the closing track.)
Those with overactive imaginations might see this title and reflexively think that it might just be a thinly-veiled lyrical call-back to a certain Allman Brothers' song. Maybe so, maybe not. But judging from the spare, Mark Knopfler-flavored acoustic-blues tone and song form, plus Frankenreiter's lower-register, Robbie Robertson-toned lead vocals, it seems more like a shoutout to that old Western ballad "Ghost Riders in the Sky". The band's stage backdrop of a coral-pink desert, mesas and blue sky plus this haunting melody blended like dream logic to lock in that latter impression.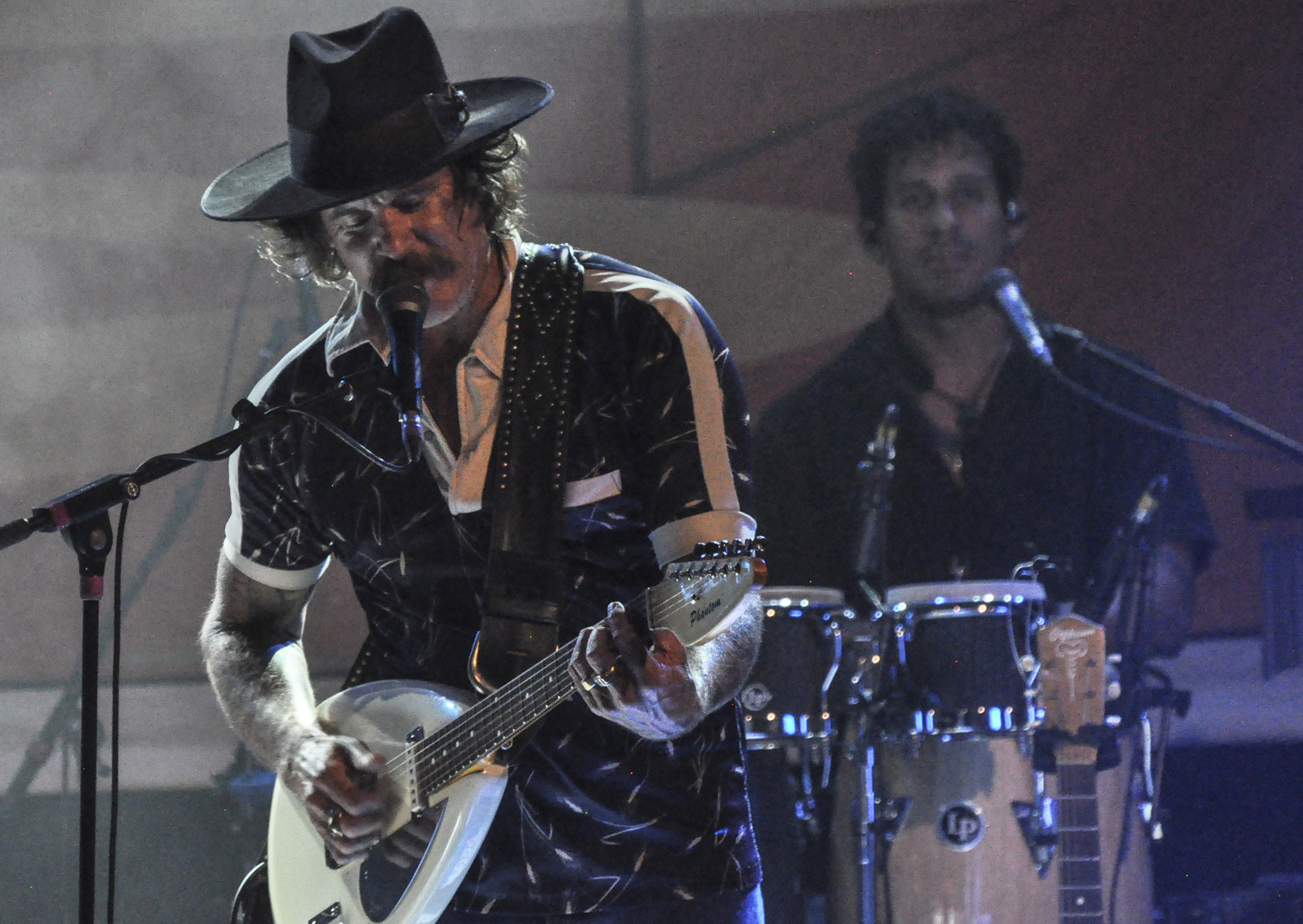 With so few songs over 90 minutes and a tendency to run long on the jams, this band might have been at risk of finding the audience losing interest. But, unlike some jammy bands who can get lost in their musical luvin', that's not really a problem with these guys. Having six players on the stage – including utility man Gomez on congas and sax – gave each one plenty of stage time to open up and to shine. And they each had a lot to say to each in their constantly morphing musical conversations. The dense grooves overall pulled most of the rather smallish, late-weeknight audience down to the dance pit in front of the stage about the mid-point of the show. The band then fed off that energy, and it was better than all right then. And it was better than all right to begin with!
Not every moment was a burning bush, though. One such change-up was the spooky "Riders" which conjured up those images of tumbleweeds on a lonesome desert highway and moon shadows. And there were other quieter, more slinky moments, too, as in the case of the dreamy, two-chord confection titled "Electric Lady", which so obviously breaks the old rock 'n' roll songwriting rule, "Don't bore us – Get to the chorus", because there was none.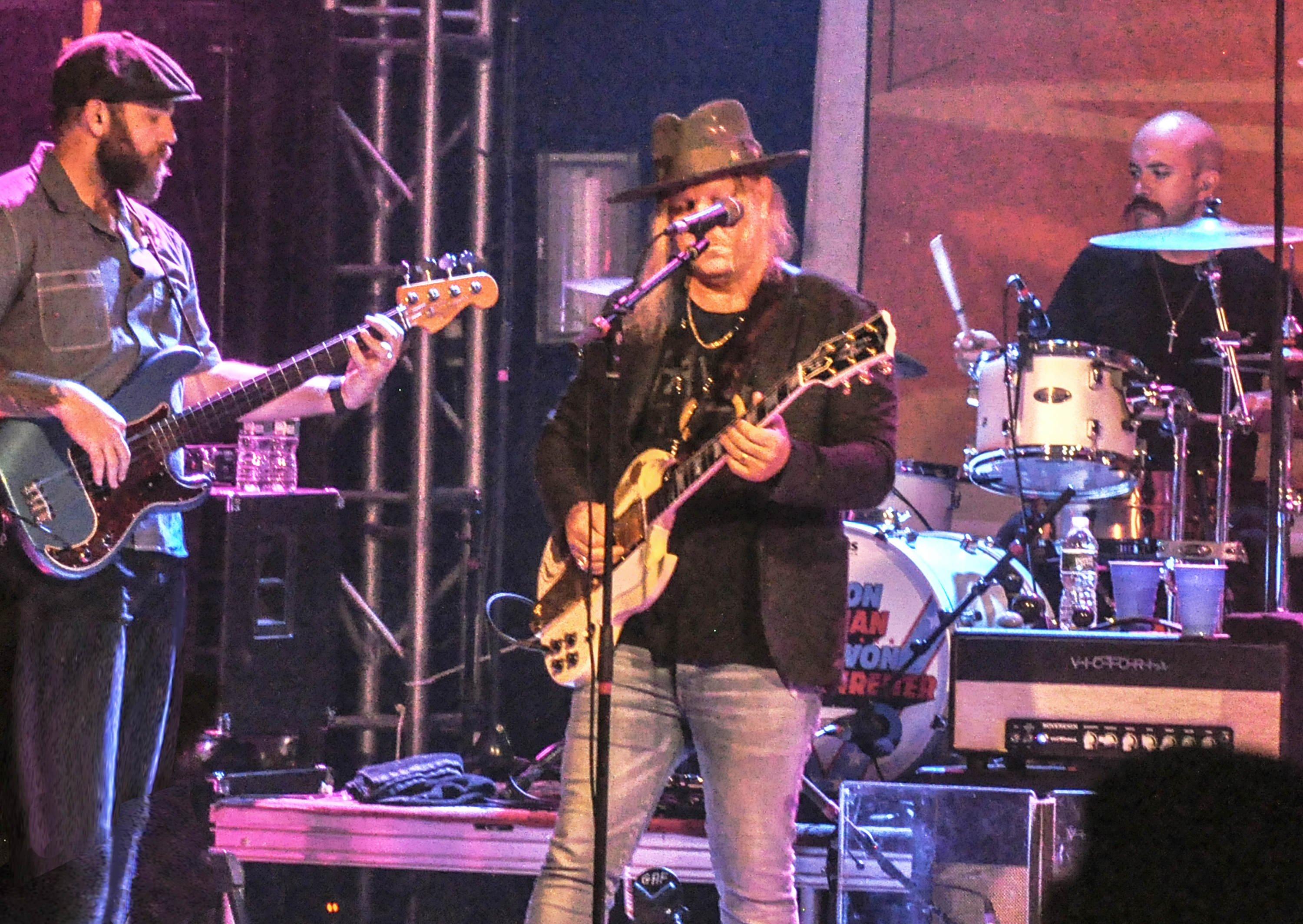 Although "Lady" never left its two-chord shuffle structure, that floating romantic ditty has such an infectious lilt and spaced harmonies that when you're in the midst of concert fever and have the benefit of a couple of your favorite liquid lubricants, you might hardly notice the shapelessness of that musical space. But for the recorded version on the Rollers EP, they wisely kept the change-of-pace song to a more concise length of 4:32. No doubt, any longer on the recording and you just might begin to squirm a bit with the repetition. Live, it all went with the flow.
For the main set, Allman and Frankenreiter brought it all home with three killer pieces – a lengthy, revved-up jam, then a solo Devon Allman blues-rock song and another Allman-Frankenreiter song from the Rollers EP. The Allman solo song "Leavin'" put the spotlight on his keening, Gospel-like lead vocals, stacking his peaks against the spiking sax lines from Gomez. And the EP track "See It All" – which nicely doubles as the theme for the tour – served as a rousing finale. On the EP, the song is the second track, but I think it works much better as a rock-out ending to the show rather than being slotted in too soon. So, already knowing the EP tracks from repeated listenings ahead of time, I was happy that they saved it until the end. It was so fitting as an ending, and it struck me at that point that a live recording of this tour – complete with that song – would be just what this band needs to help grab the collars of a wider audience.
Before we close up here, I must share some thoughts on the two short warm-up that I briefly called out before. The first of these was guitarist/singer/songwriter Jackson Stokes, and the second was soundscape guitarist Matt Costa.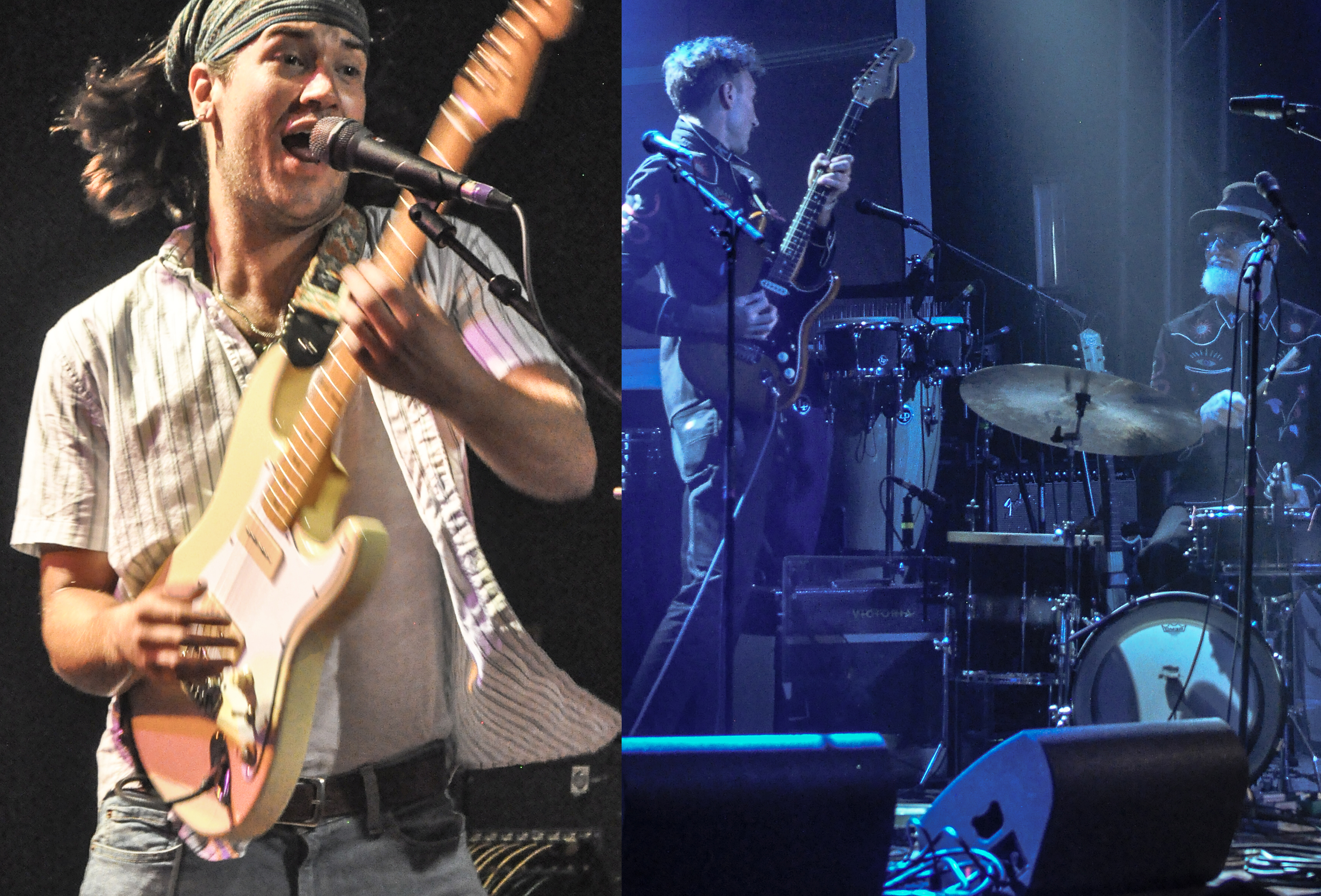 Notably, Stokes had the decided privilege of not only getting to open the three-artist line-up but also to take his place in the four-man front line with the headlining band. Stokes helped to keep the rhythm section on the task at hand, with spiky R&B chords and ample wah-wah fills, and also contributed harmonizing guitar lines and squeezed out hot fills of his own. And his vocals on his self-written, feel-good songs were beguiling and expressive.
Interestingly enough, Costa – who is a more idiosyncratic and cinematically-minded player – staked out his own more Americana-themed musical territory, which was still highly compatible with imagery of deep desert canyons and suggestive of psychoactive states of mind. Before one song, which he sang in Spanish, he even told an amusing anecdote that explained its hallucinatory origins. All of this added pleasantly to the fever-dream atmospheres of the mythical West.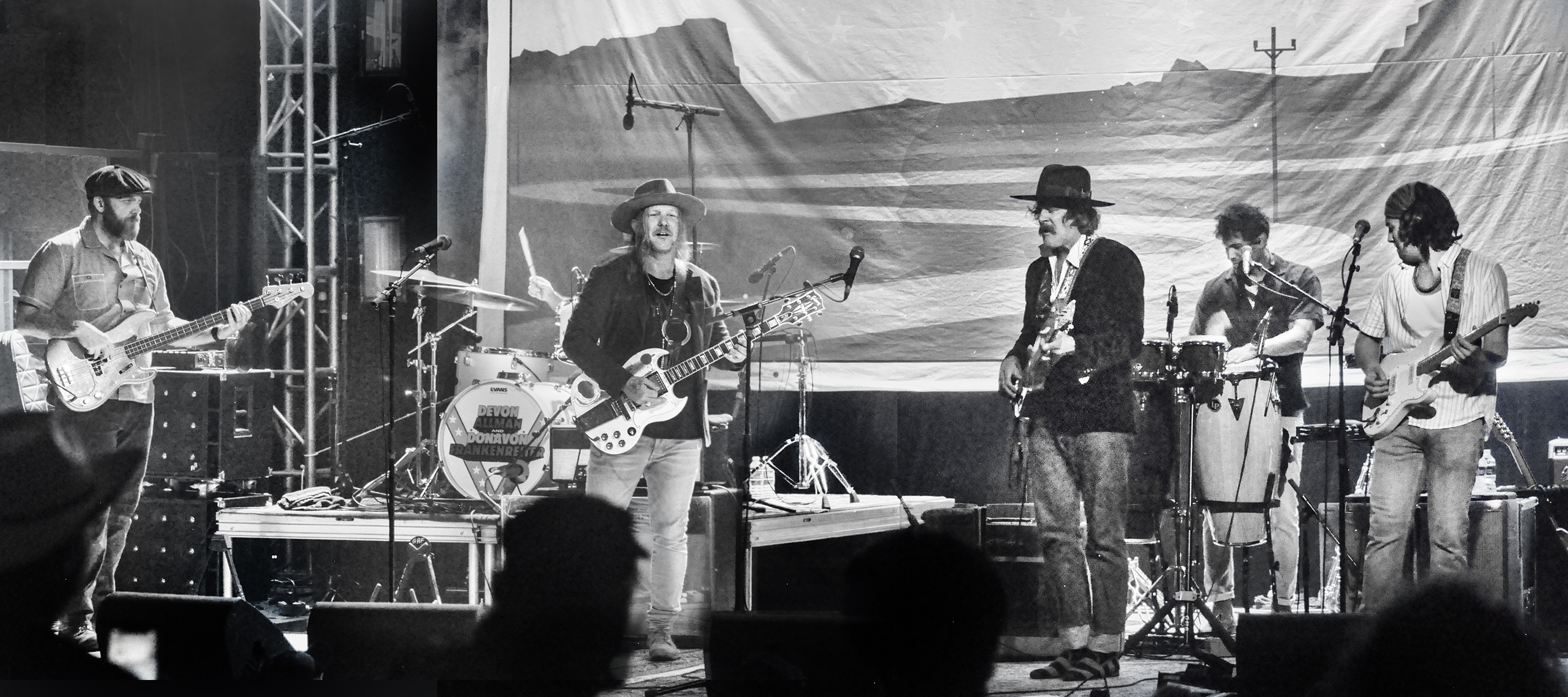 Accompanied by drummer/percussionist Corey Gash and using both his lap steel and his electric six-string with his digital looping pedals, Costa built up many layers in a more orchestral wash that felt spiritually uplifting and cleansing. At one point, Costa even joined in on the cymbal rushes with his own pair of padded mallets. This scintillating, transporting moment called to mind the sonic adventures of early Pink Floyd and made me feel as if I were driving on that desert highway at night with a full moon smiling down.
As mentioned before, the Allman-Frankenreiter part of the show barreled to a raucous ending in the second half. And then there was a very enthusiastic two-song encore, leading off with the careening Jimi/Lenny hard-blues rock number "Where Ya Gonna Run To?" The traditional encore stage exit and return just before this song was somewhat more extended than in most concerts, leaving some to wonder whether they really would come back out. But when they did, they tore into "Run" with a ferocious gallop. And then, to send everyone out the door in a buoyant mood, they ended up with a nicely chilled and bouncy "Hey Nineteen" R&B groove, written by Frankenreiter and called "It Don't Matter to Me".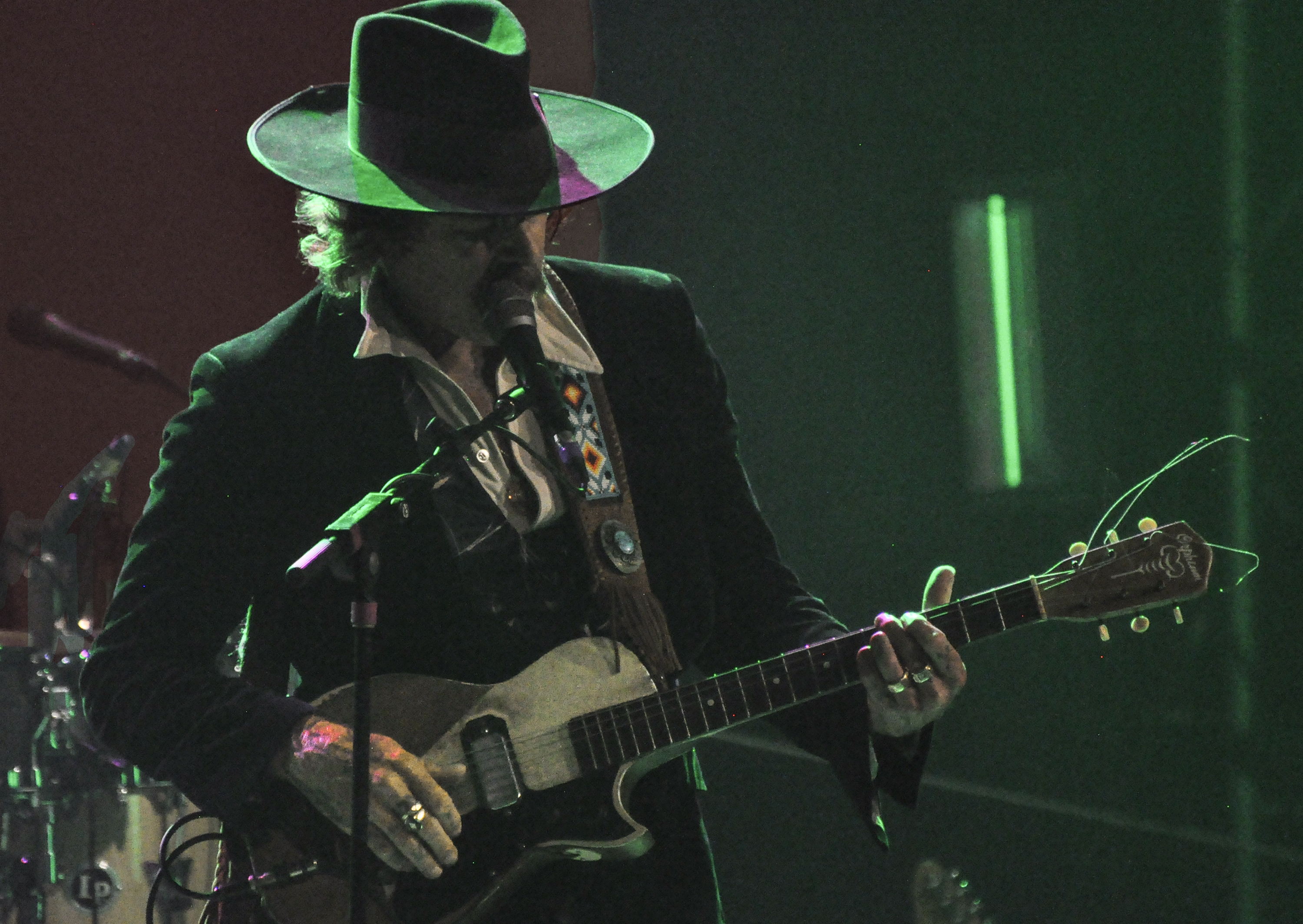 California native and avid surfer Frankenreiter supplied much of that sunny, West Coast vibe throughout the night. With plenty of opportunities for call-and-response interaction between the singer and the audience during drop-breaks, that final song acted as a long, slow soul kiss to bring the night of music to a celebratory end. "If it don't matter to you. . . ," Frankenreiter sang, smiling and raising his right hand in a salute as the audience cheered every time the band came to a dead stop. "It don't matter to me!" But to the fully-elevated audience who stayed until the last note was played, Allman and Frankenreiter proved it all night long that, indeed, they play music that matters.
Devon Allman & Donavon Frankenreiter's 2023 "See It All" Tour
August 30, 2023 – The District – Sioux Falls, SD**
August 31, 2023 – Fargo Theatre – Fargo ND**
September 1, 2023 – Dakota Jazz Club – Minneapolis, MN**
September 2, 2023 – Big Top Chautauqua – Bayfield, WI**
September 3, 2023 – The Arcada Theater – St. Charles, IL++
September 4, 2023 – Old Rock House – St. Louis, MO++
September 5, 2023 – Walton Arts Center – Fayetteville, AR++
September 6, 2023 – House of Blues – New Orleans, LA ++
September 7, 2023 – Haute Spot – Cedar Park, TX++
September 8, 2023 – Tower Theater – Oklahoma City, OK++
September 9, 2023 – Wave – Wichita, KS ++
September 10, 2023 – Center for the Arts – Crested Butte, CO ##
September 11, 2023 – Center for the Arts Jackson Hole, WY ^^
September 12, 2023 – Top Hat – Missoula, MT^^
September 13, 2023 – Spanish Ballroom – Tacoma, WA^^
September 14, 2023 – Williwaw– Anchorage, AK
September 15, 2023 – Aladdin – Portland, OR^^
September 16, 2023 – Sun Valley Museum of Art – Ketchum, ID##
September 17, 2023 – Commonwealth – Salt Lake City, UT^^
September 18, 2023 – Tumbleroot Brewery– Santa Fe, NM^^
September 19, 2023 – Crescent Ballroom – Phoenix, AZ^^
September 20, 2023 – Brooklyn Bowl Las Vegas – Las Vegas, NV^^
September 21, 2023 – The Blue Note – Honolulu, HI
September 22, 2023 – Beachlife Ranch Festival Redondo Beach, CA
Guests for the remaining dates include:
Davy Knowles **
Mishka ++
Jackson Stokes ##
Goodnight Texas ^^
For more information about the current tour and the Allman-Frankenreiter "See It All" EP, please visit their website at: https://www.devonanddonavon.com