Attendees gathered gracefully for the 7th Annual ARISE Music Festival at Sunrise Ranch in Loveland, Colorado to set intentions, relish in world-renowned teaching, and dance their hearts away to some of the best national musical acts and pioneers in our beloved music scene. With over 450 programmed acts, Arise Festival covered a lot of ground in bringing top-notch entertainment and education to their guests. This gathering was full of abundance for attendees, as well as the staff and land residents at Sunrise Ranch, who play a vital role in throwing the sacred event that is, Arise Music Festival.
Paul Bassis, Arise Founder & Producer, talked about the ethos of the festival really coming down to the guiding principle, "Always do what's best for the fest." He elaborated that when producing this festival throughout the years, this principle has been crucial in providing for a successful Arise Music Festival every year.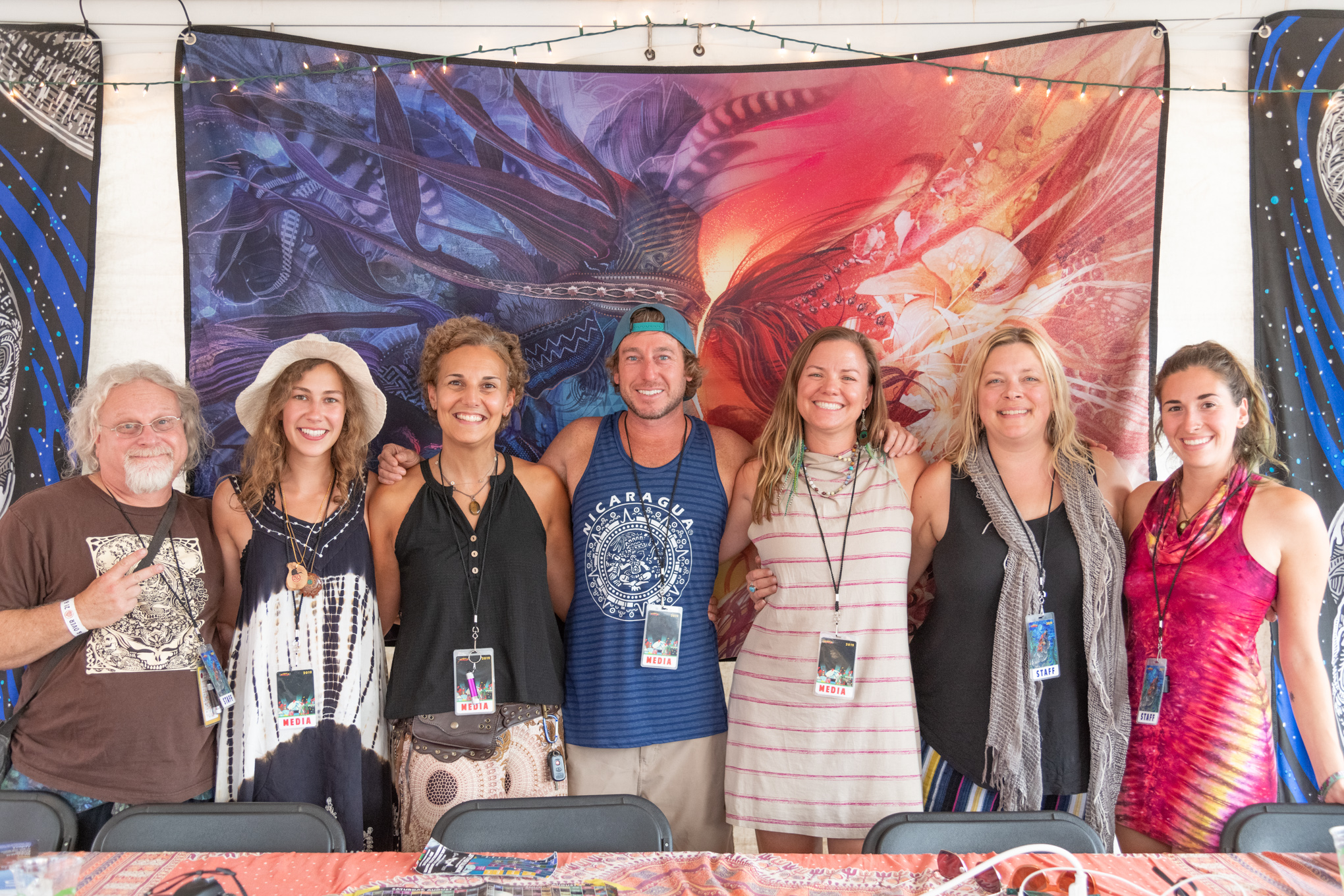 Bassis continued, "Arise is this place. You can do a lot of things, a lot of different places. But you can't do this, anywhere else but here. Because This Valley is profoundly special. There are a lot of beautiful places in other places. But only this place is this place. And there is a vibe that is intact here and I knew it since I first stepped in this valley. And everyone else can feel it as well. This vibe that is intact has a huge part to do with the loving and respectful community that has been here for over 80 years. That vibe is elevated by all of the people that come here."
He explained further thoughts behind the original intention behind the idea of Arise, "It is an honor to live up to the intention that we brought to this when we first began this endeavor. This intention got elevated as we collaborated with the Sunrise Community Ranch here."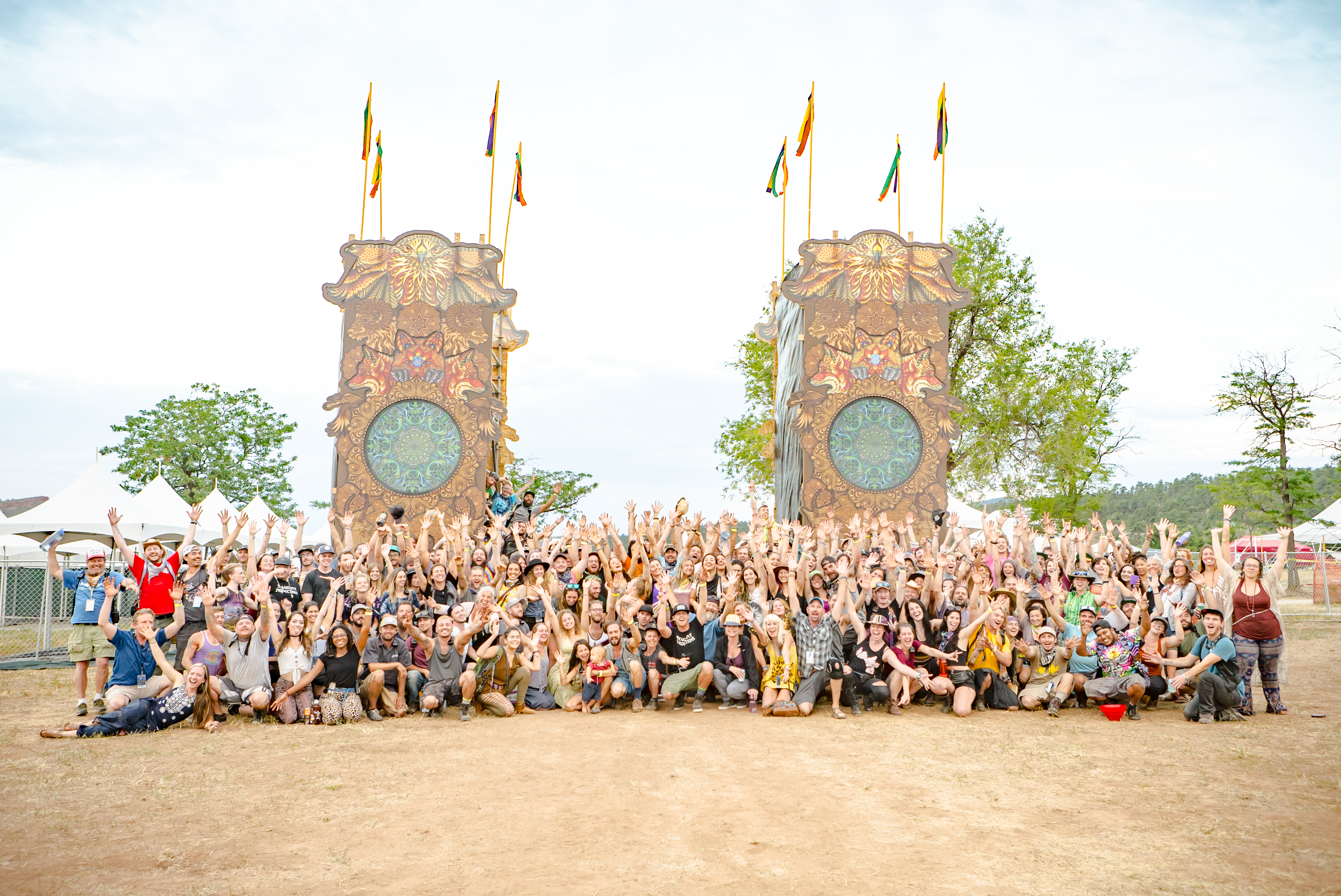 David Karchere is a resident and prominent community member at Sunrise Ranch. He talked about the day that Bassis brought the Arise idea to the spiritual community at Sunrise Ranch. "We were looking for a way to share what we were experiencing in this valley, and as a community, with the world. It was a crazy idea that was actually good enough to do. Now it has come to this beautiful gathering."
He continued, "This Valley didn't question you when you arrived. The Valley just welcomed you here, that's how This Valley is. It holds us, just like The Whole Earth holds us. My community here is the same. We are just here to hold you and love and to keep you safe. Give a vibe that you can connect with. Creating space for people to come here to shine their lights."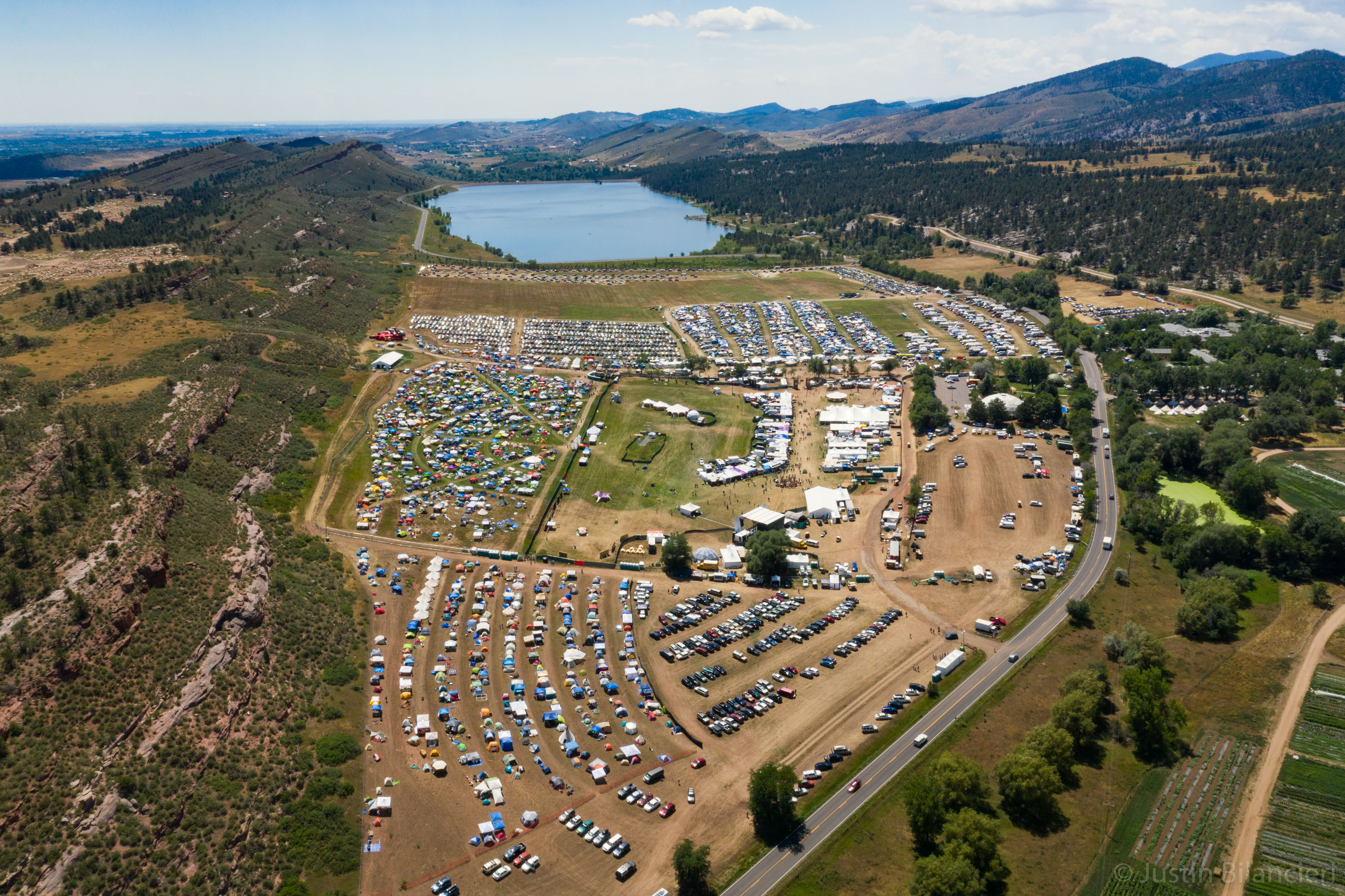 The opening ceremony was held in the main concert bowl in front of The Eagle Stage early on Friday afternoon. The performers were prepared with a synchronized dance routine that symbolized calling in the divine masculinity and femininity to hold a space for healing and offering as we kicked off Arise together as a collective. The leader of the ceremony announced to attendees that being stewards of kindness to each other and helping to take care of each other, and the land, is what truly makes this gathering so special. The performance constituted as medicine and radiated unity and harmony, through the blessing of balance, on the sunshine-filled first day of Arise.
There was only a couple hours of the day that you couldn't find a musical performance or a workshop taking place on Sunrise Ranch. Even as attendees were still entering the grounds on Friday morning, the full festivities had kicked off throughout the grounds. At the Yoga Sanctuary, located right on the top of a beautifully-settled hill overlooking all of Sunrise Ranch, Talaya Thomas led "Breathe. Move. Pray." with soft and settling music by Akoa.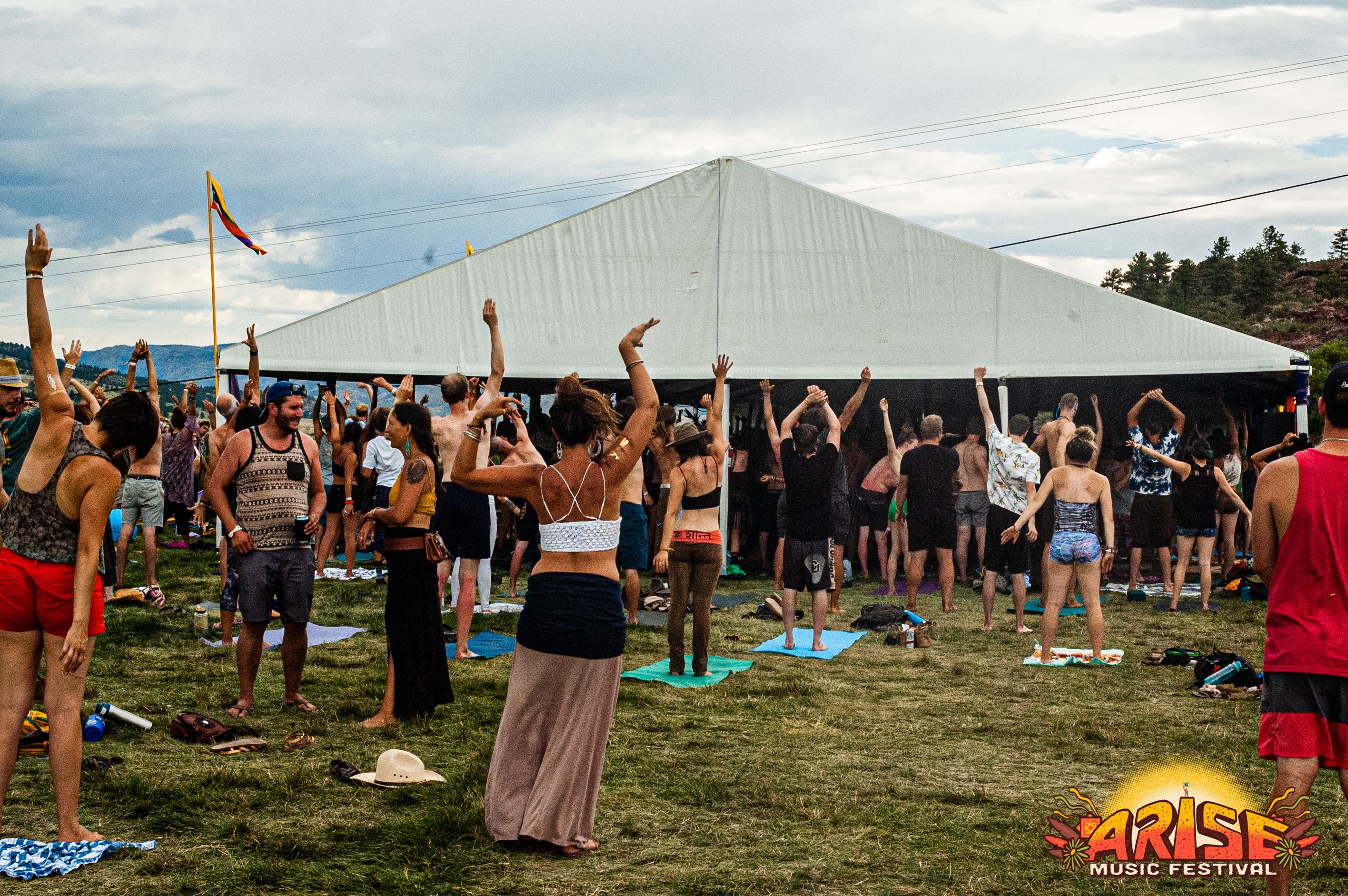 One of the more unique aspects of programming for Arise Festival at the Yoga Sanctuary was that each practice was accompanied by live music performed at the stage under the tent. Different practices throughout the day also included," Soar Like An Eagle Bhakti Flow," led by Steph Schwartz with music by Miraja, "Presence and Belonging" by Marti Nikko with music by DJ Drez, and "Sew Self Love," led by Elle Beau accompanied by Hidden Groove DJ set. DJ Drez also performed a headlining set at the StarWater Stage at the sun began to set on Sunrise Ranch.
Simultaneously, numerous opening ceremonies were held throughout different stages including the StarWater Opening Ceremony at The Pirate Stage and the Opening Fire Ceremony at the Wisdom Village, led by a native to the land, Grandfather Little Thunder, Aumrak, and Ahva.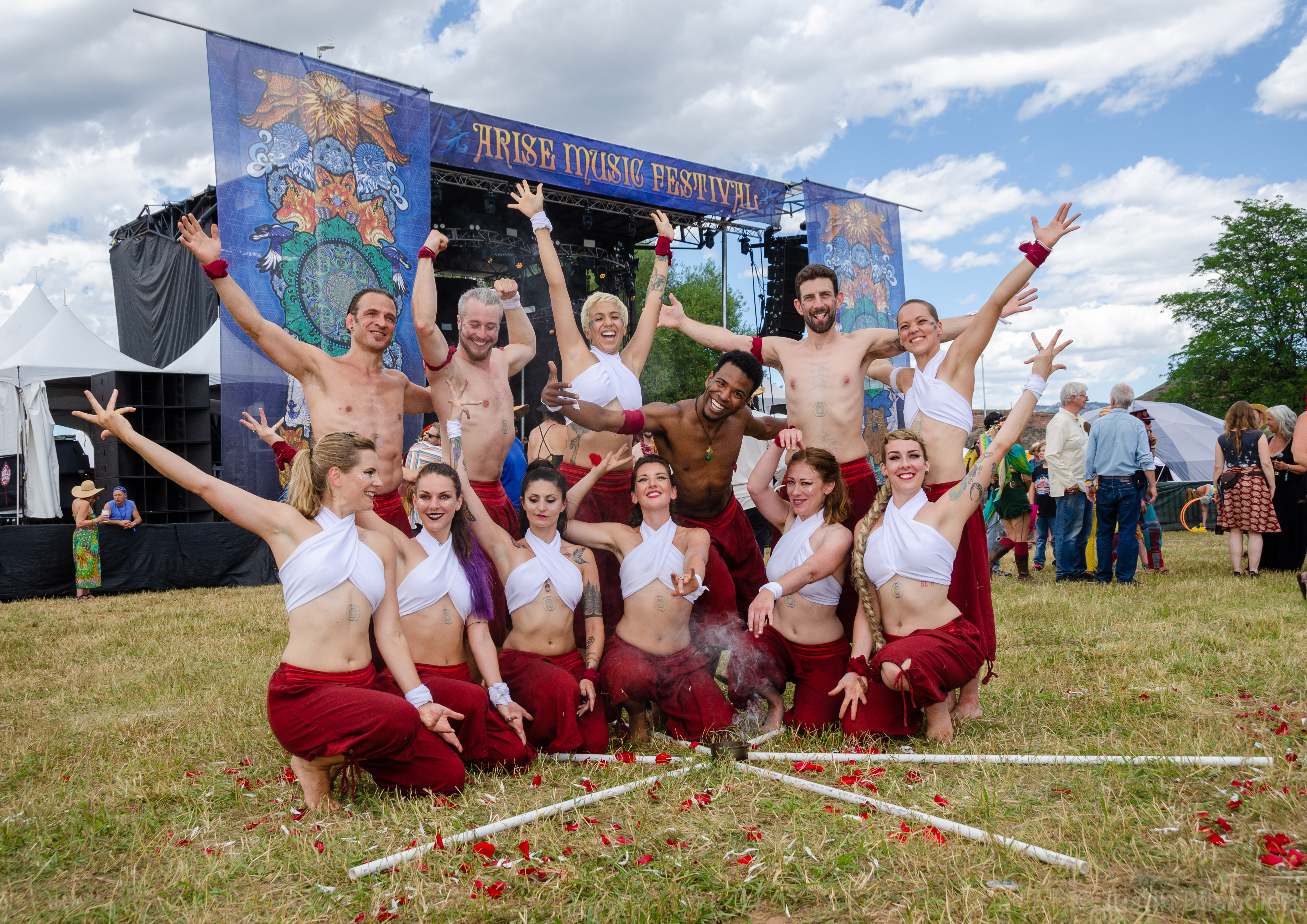 Meanwhile in the Big Sunrise Dome, a new amenity for hosting workshops this year at Arise, the first Global Harmony Playshop began with Leah and Chloe from Rising Appalachia. They warmed up the attendees with vocal and relaxation practices to get people loosened up for further instruction. Leah and Chloe were present throughout the whole weekend at Arise; they are activists in the music scene, as well as world-travelers that translate their experiences into folk-song.
The Workshop Tent, which was filled to the brim with attendees all weekend, was hosting speakers all throughout the day on Friday, including "Quantum Flower Power," by Sara Jane Taylor, "Permaculture in Principle and Practice," by Stone Hunter, Avery Ellis and Patrick Padden, and "Behind the Artist and Painting Techniques," by the legendary MPEK.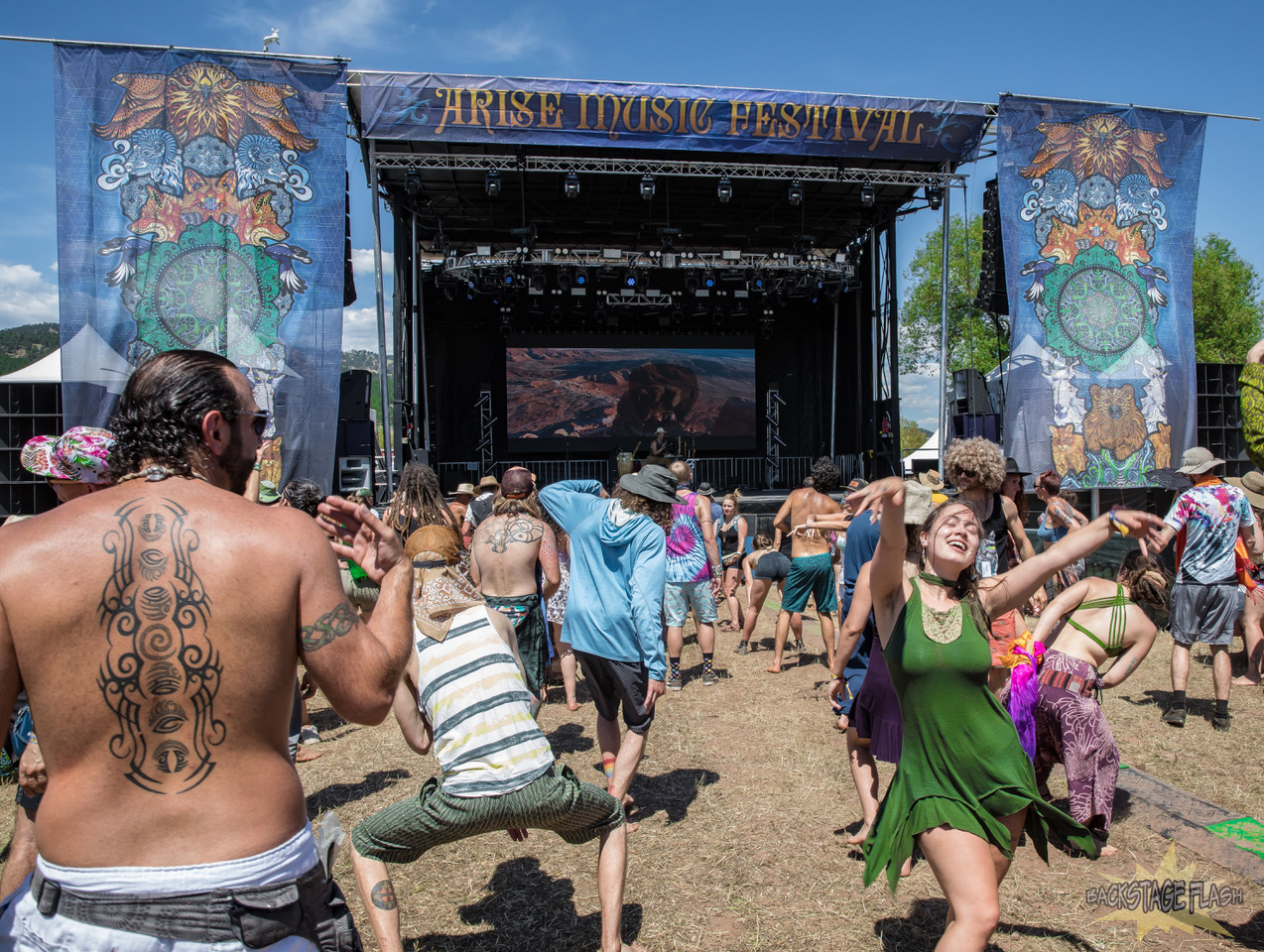 The Healing Village was home for many attendees over the weekend as they sat and took in all the wisdom that resonated throughout the space. Friday's workshops at The Healing Village consisted of "Herbs for Creative Expression," by Sarah Truitt, "Techniques of Ecstasy," by Joy Vita Verde, and "Embodied Warrior," by John Michael Wasmer. Numerous sound journeys, ecstatic dance practices, and improvisational jams happened throughout the day as well.
Music began at the Main Stage with Bella Duro, followed by Tenth Mountain Division who rang their lyrical and melodic tunes throughout the festival grounds, as well as featuring covers from The Doors "Break On Through  and Eric Clapton's' classic "Way Home." At one point, members of Leftover Salmon came on the stage as well. Tenth Mountain Division commented about their time at Arise, "We really enjoyed our time at Arise this year. It's an awesome festival that features a wide variety of music really bringing together many fans of various genres and scenes here in Colorado."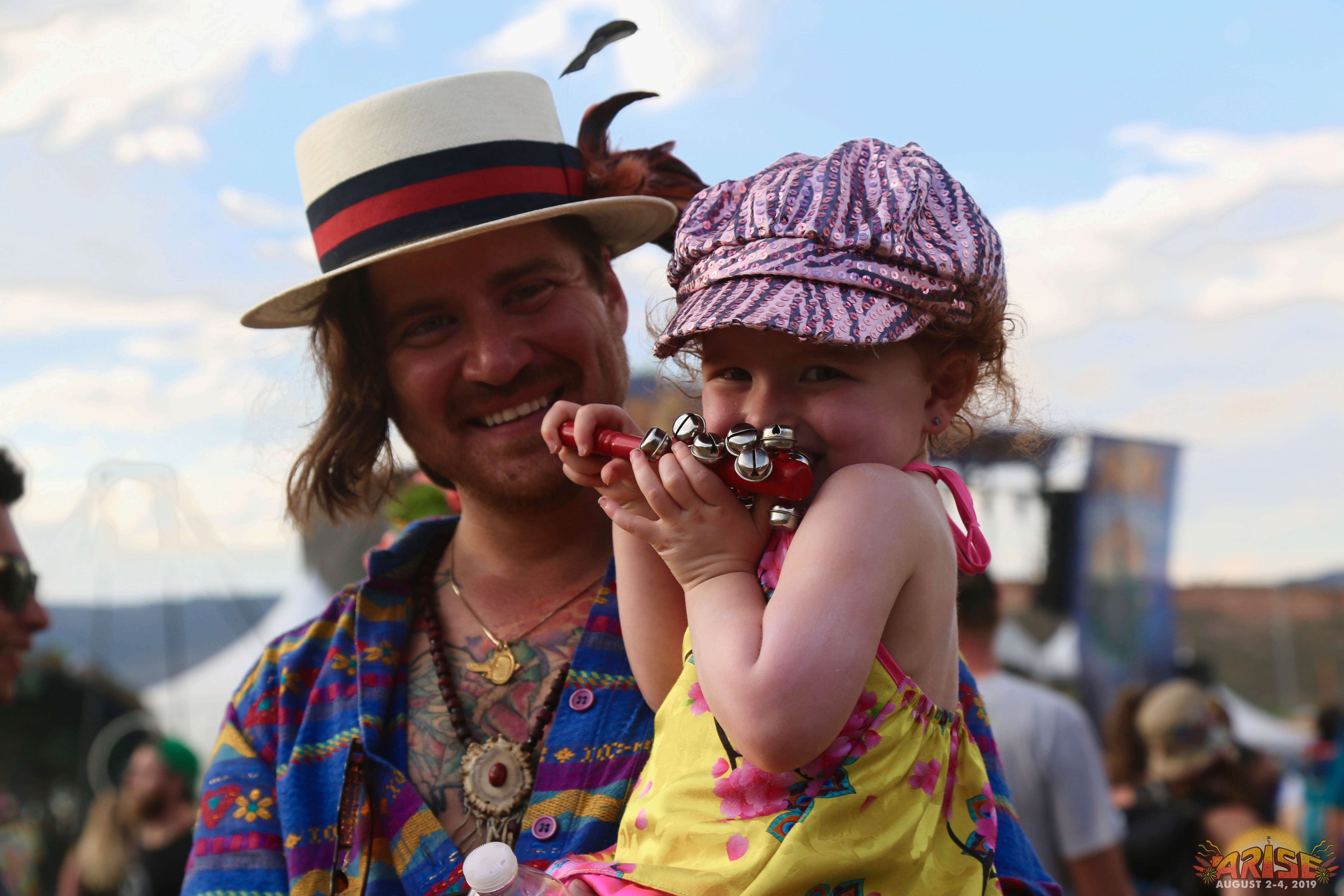 John Craigie followed as attendees prepared for Beats Antiques to take the stage.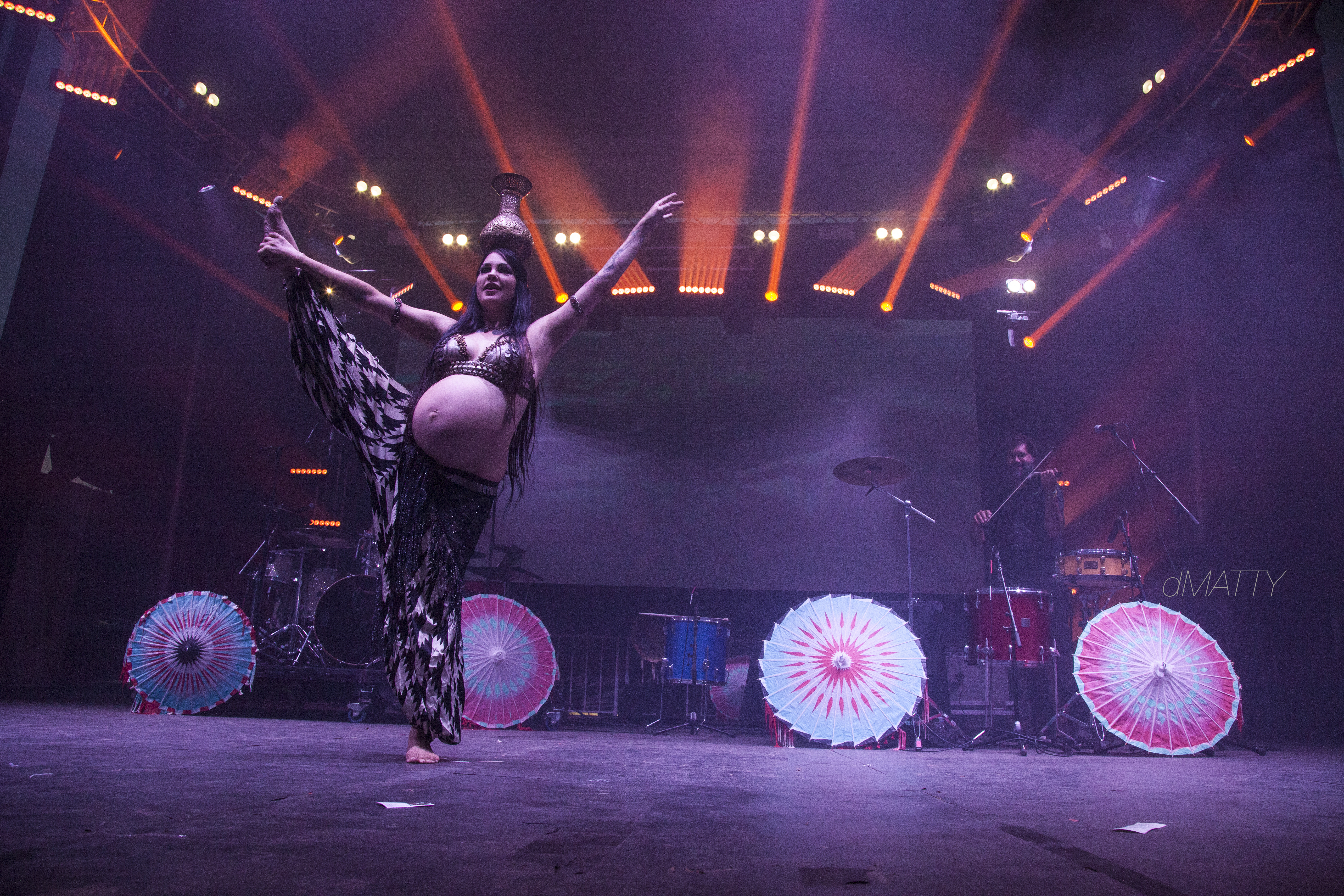 Beats Antique graced the stage with their elegant performers, completely captivating the crowd's attention, with an opening dance piece titled "Grand Bizarre." Beats Antique played numerous unreleased tracks throughout their set including "Flying Machines," "Aerial," "Lullaby," and "Grace Kelly." Most pieces were accompanied by ecstatic dance routines that make up the heart and soul of Beats Antique. The collective encored with "Beauty Beats" into "Killer Bee."
Tipper, fan-favorite of the weekend, came out strong and heavy for his first set on The Eagle Stage at Arise Music Festival. With stimulating visuals and his unique and raw live scratching, the whole crowd was cohesively bobbing to the sounds in unison.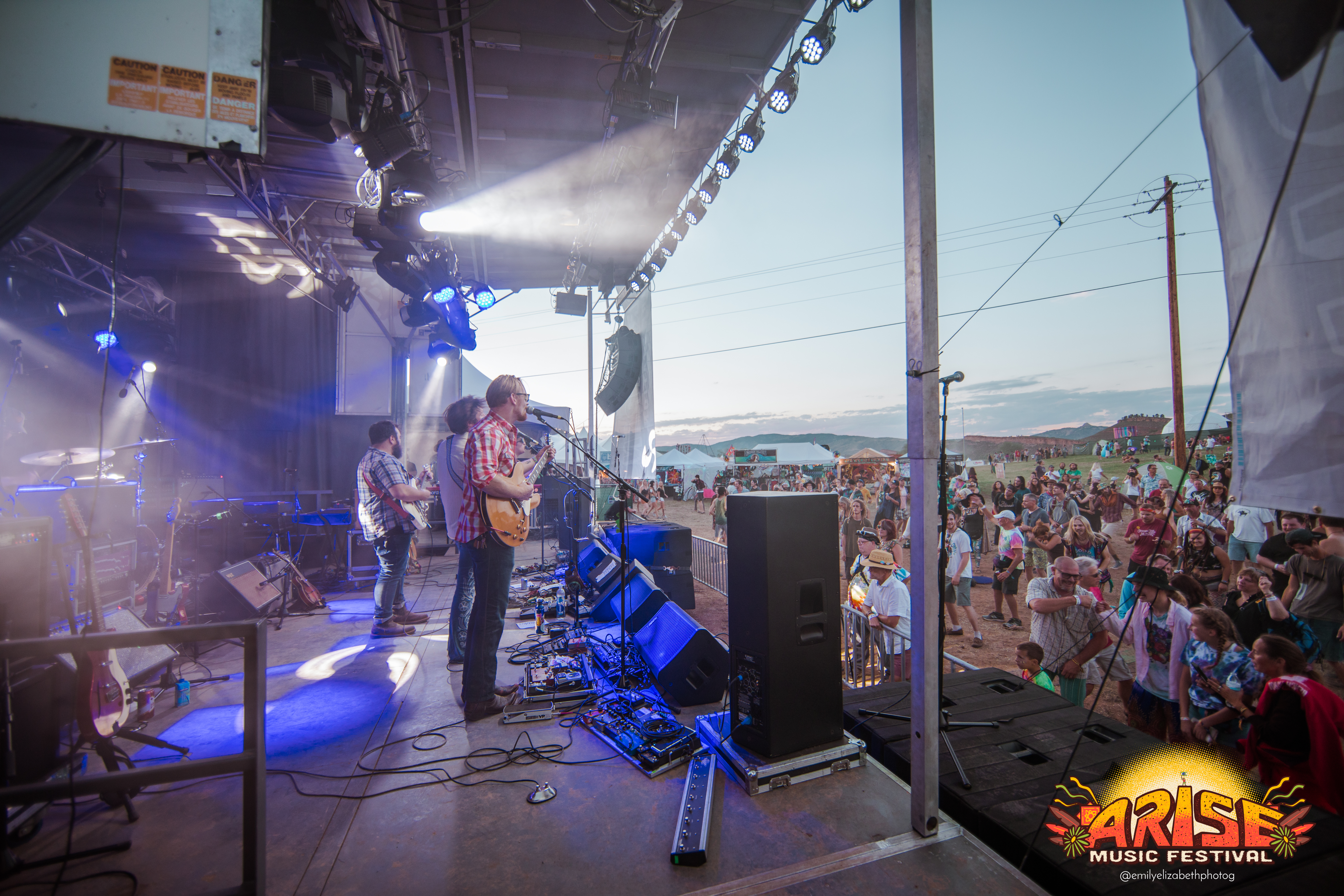 Meanwhile at the Terrapin Care Stage, a legendary Tom Petty Tribute feat. Jay Cobb Anderson and John Craigie began.
Following, Leftover Salmon began their first acoustic set playing classics, "Steam Powered," "Analog," and "Bossa Nova." Their second electric set that followed featured hits "House of Cards," "Southern Belle," ending with a jammed out "Boogie." Bridget Law also came on stage to sit in with the collective.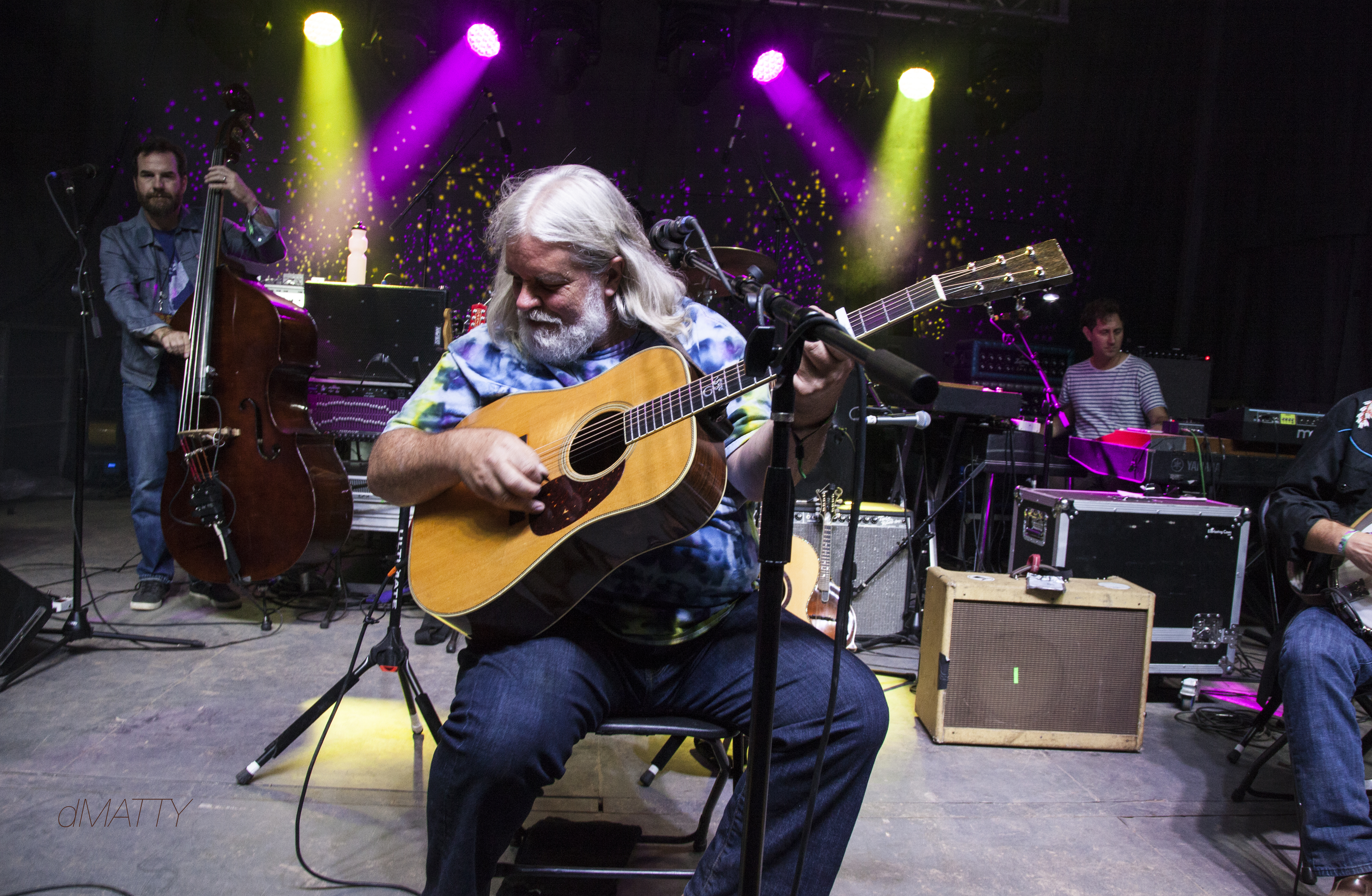 DeadPhish Orchestra took over the StarWater stage for a singalong session that included the Grateful Dead's' "Casey Jones," "Terrapin Station," and "I Know You Rider," featuring Andy Thorn on the banjo. They also covered Phish's "Possum," with Arthur Lee on guitar.
The Salt Stage hosted more electronic acts leading into the night, including Sortof Vague, Marvel Years and Defunk. Defunk hosted a party for all in attendance and played his newly released song, "Waiting." Defunk commented on his newly released tunes, "Waiting was a chance for me to test out new territory by touching on a more melodic, more operatic approach. I really wanted to create something that would evoke strong emotions through the synths and melodies."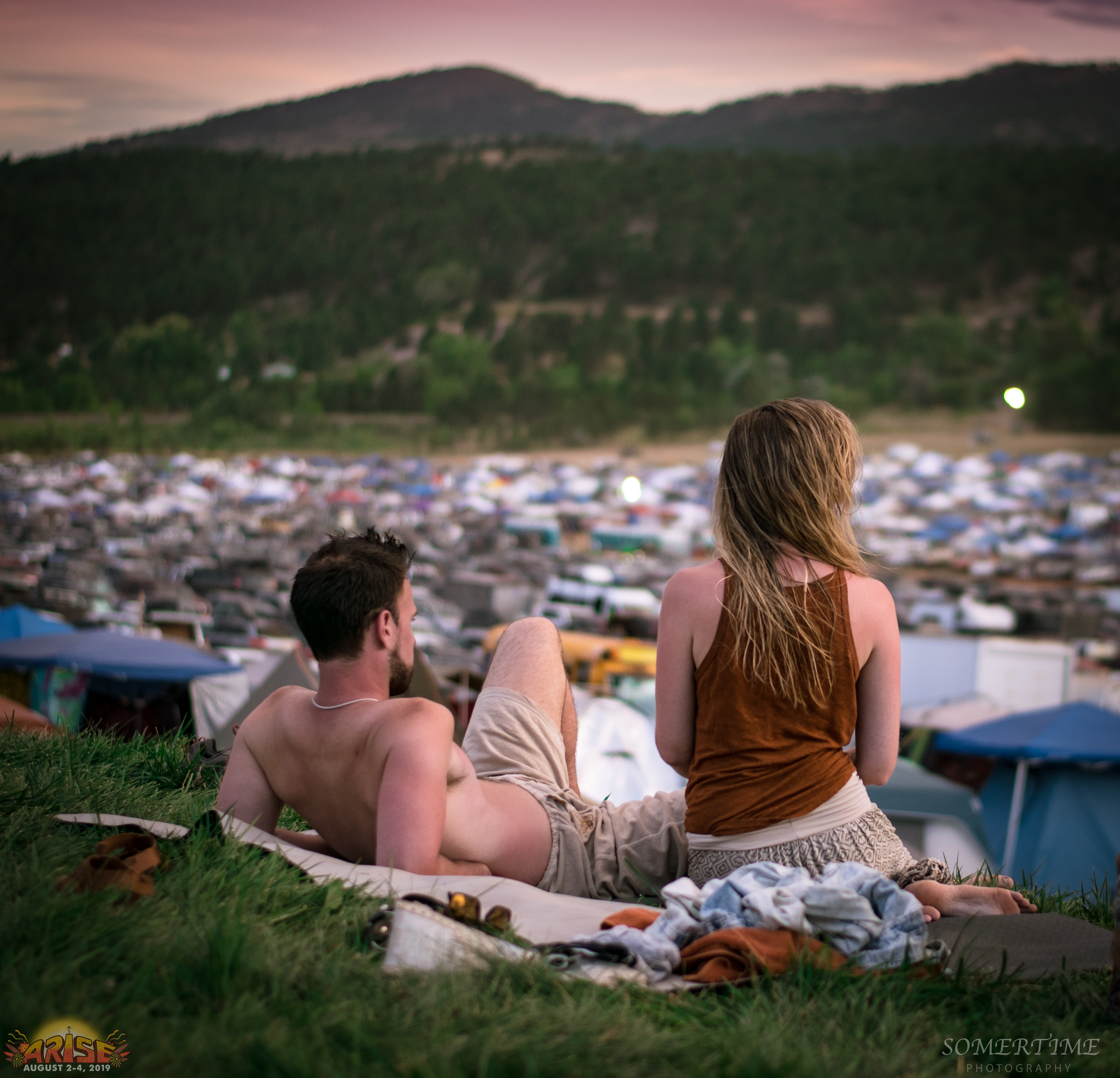 Saturday morning was led by a "Guided Sunrise Painting" and "Singing Up The Sun," at the Wisdom Village. Yoga initiated for the day shortly after, with a "Music and Yoga Sharam" in the early hours of the morning. Workshops began to ignite throughout the grounds, and attendees began making their way to the food vendors for some healthy and local food to start their day.
An ideal Saturday at Sunrise Ranch for Arise would begin with renewing your energy and heading to the vast amount of workshops that are offered throughout the day, whether it be "Breathe Yourself Awake," by Rainbeau Mars, "Get Off Your Grass and Create Edible Lawn," by Brigitte Mars and Bethy Lovelight, or "Conscious Music, Conscious Lives," by Bethy Lovelight at the Workshop Tent.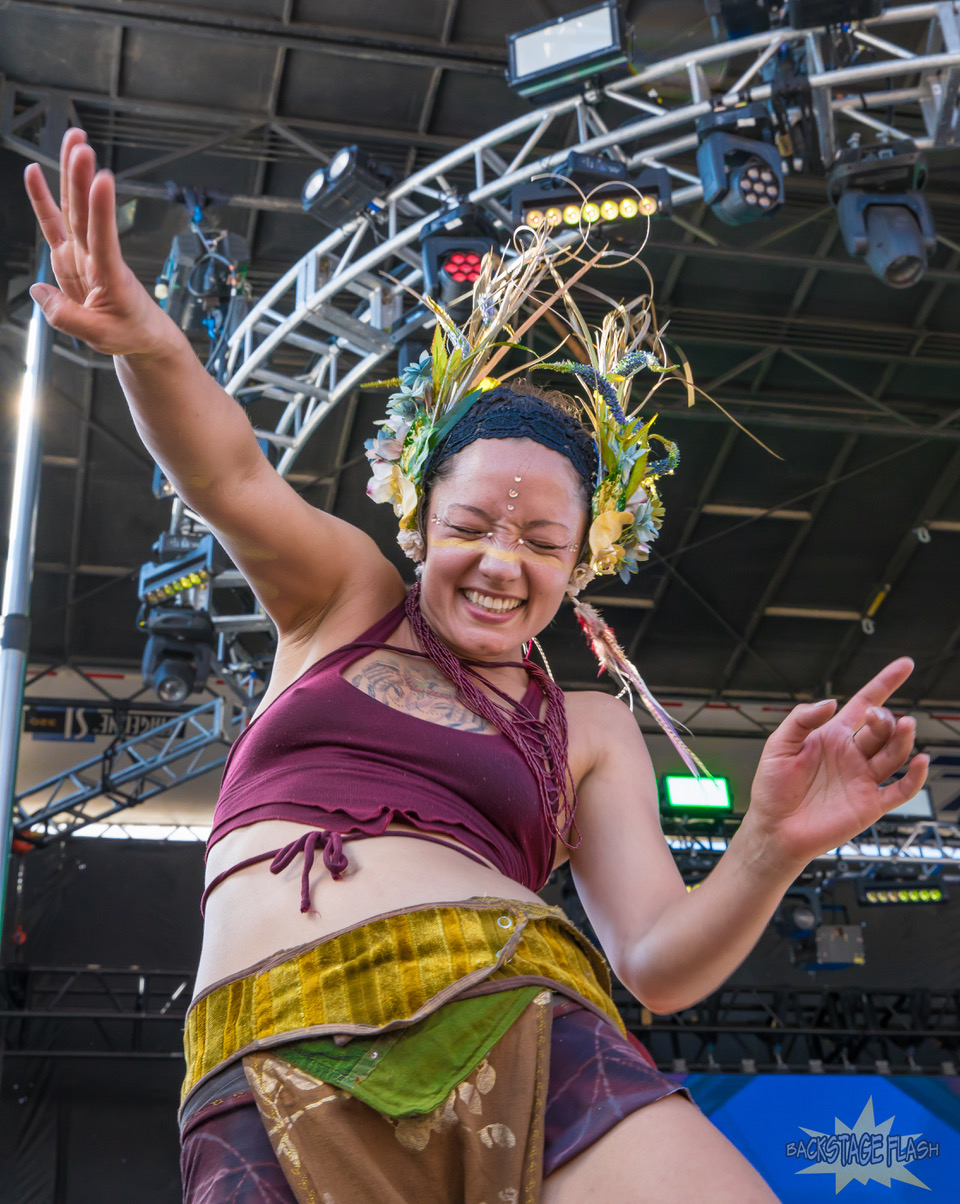 A whole other level of education was being presented every minute of the day at the Wisdom Village. This space hosted people from all over the world and really connected attendees to those indigenous, conscious roots that make up who we are. These different workshops included everything from sound attunement, creating sacred energy, activating land projects, and spiritual healing, to different traditional medicine dances.
At yet another sacred space on the grounds of Arise, there was also continual workshops being conducted. The Healing Village hosted different workshops to educate on different forms of reiki, ritual movement, sound healing, and intimacy all throughout the day. These spaces that were created help to transcend all the Arise attendees to their fullest potential, as well as creating a safe space for community gatherings to be held.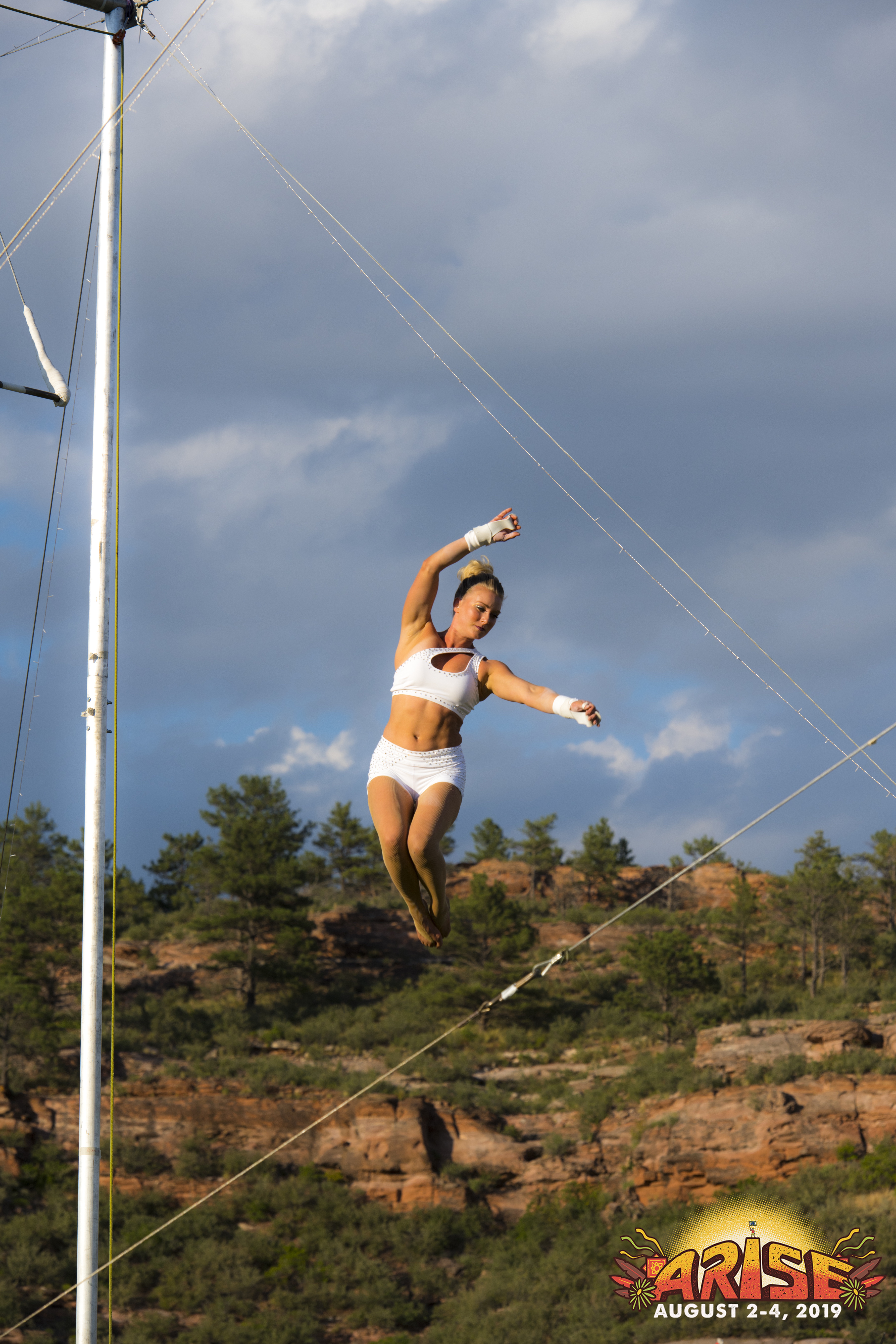 Music on Saturday began with More Than Physics on the Starwater Stage. The Main Stage ignited for the day with a Rhythm Sanctuary featuring Porangui, into Mikey Pauker. Tubby Love & Amber Lilly reached their heartfelt lyrics and amazing energy into the crowd, making for a memorable Saturday evening.
Tipper graced us again for a Saturday night "Journey Set," that turned into the hard and heavy Tipper that attendees had seen live the previous night. The crowd completely consumed all of the energy that Dave Tipper was giving off and it turned into the ultimate throw down, forever blessing fans with his unique, raw and live scratching powers.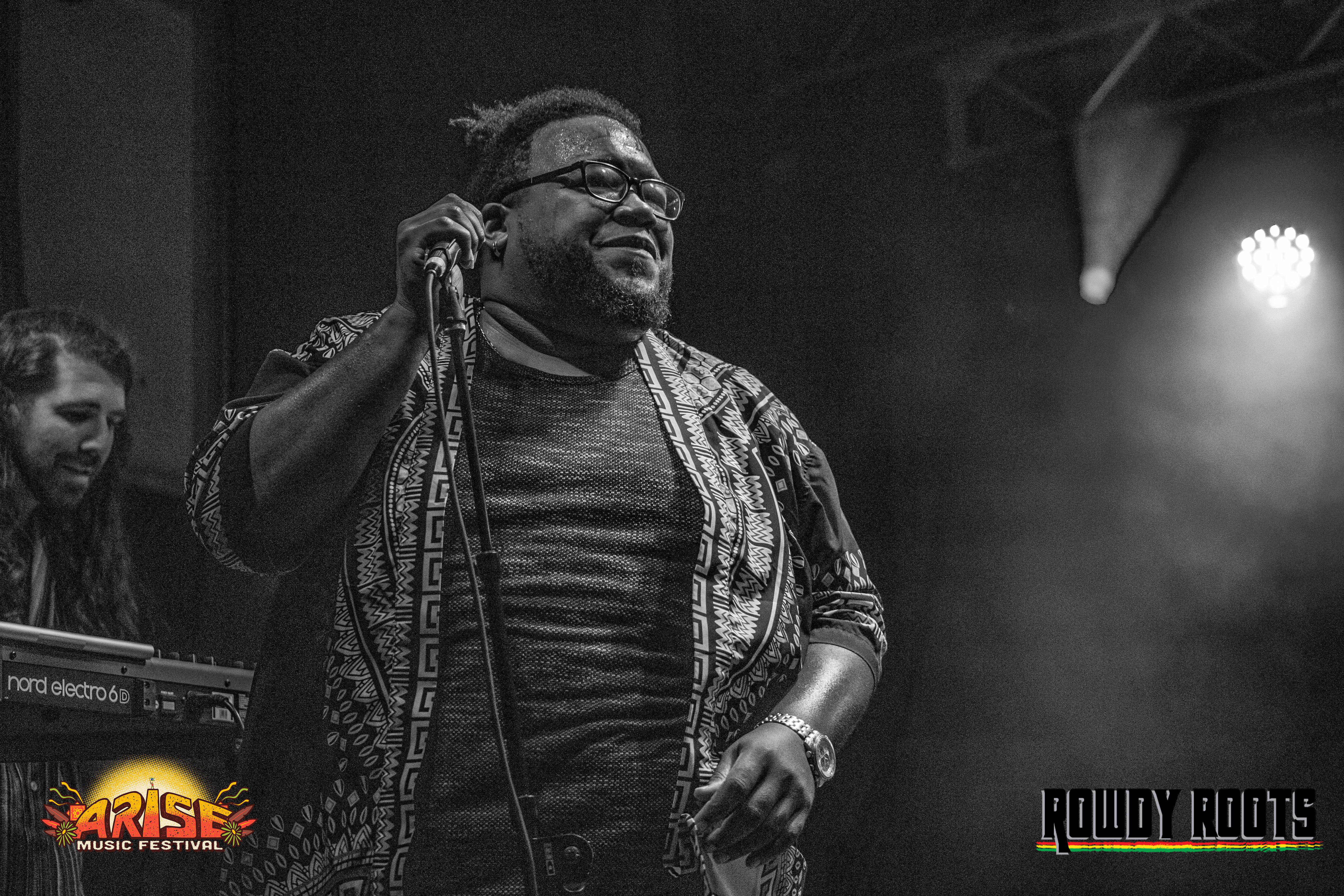 The Main Squeeze brought the funk to attendees and kept the crowd's energy at a maximum high from Tipper's set beforehand. The Main Squeeze brought their powerful vocals as well as the immense instrumental talent to the Terrapin Care Stage playing, "Dr. Funk > WDWG," and "Only Time > It Ain't Me." They ended with a strong "I'll Take Another," feeding off the liveliness of the crowd.
The Main Squeeze commented on their time at Arise, "We loved the collaborative nature that Arise encourages including our improv. set with Ghost Tapes and all the other sit-ins we saw throughout the weekend. The crowd for our set was also incredible and we appreciate them reflecting energy and enthusiasm back to us for a beautiful crowd/band relationship.  We hope to be back many years to come!"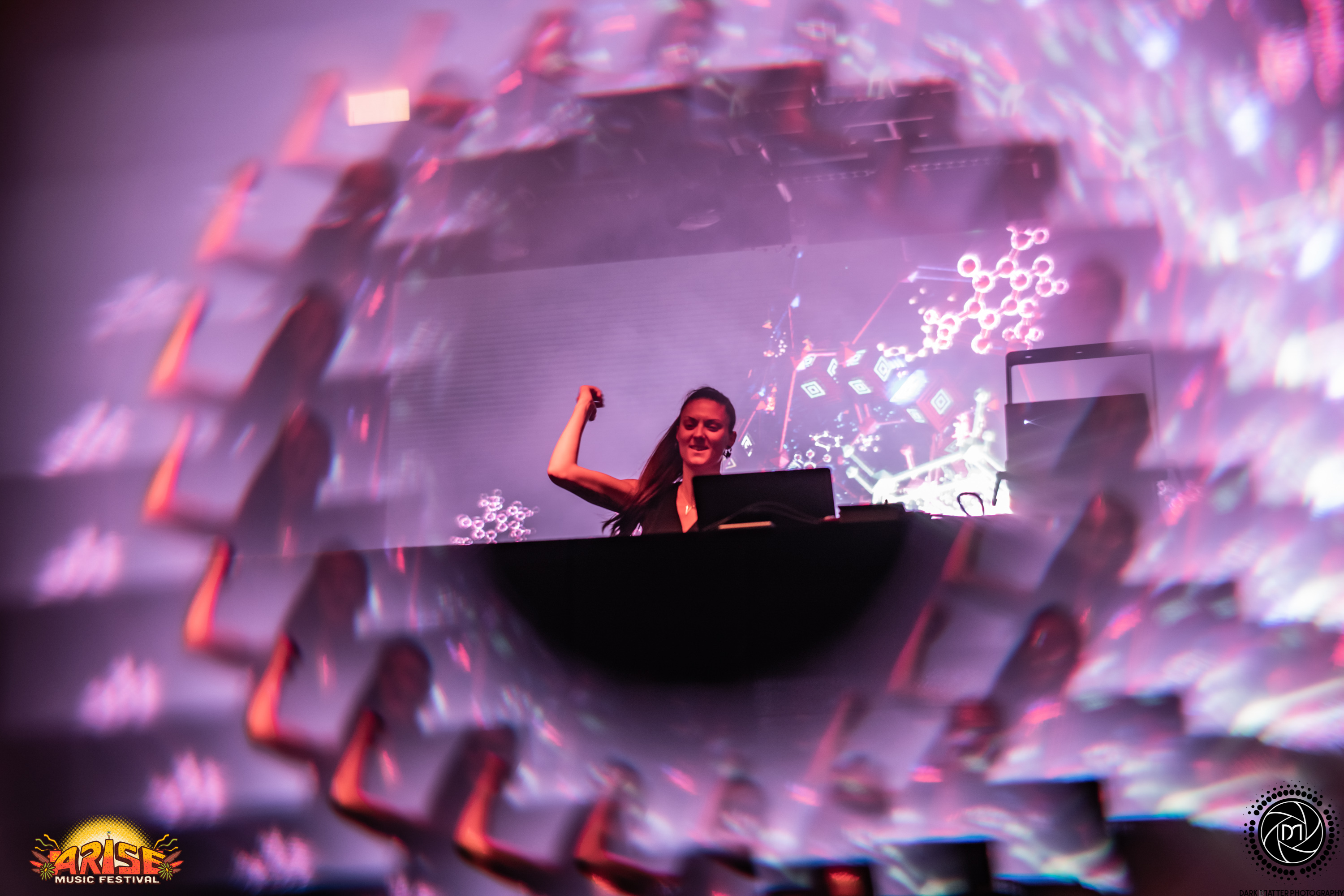 Clozee came on the Eagle Stage shortly after and delivered one of the most iconic sets of the weekend. Clozee's set was heavier than usual, and she used live editing on her tracks to mesmerize the crowd. At a later point, Clozee pronounced that Arise was one of her favorite sets of the year, and gave a shout out to Android Jones for absolutely killing the visuals at her set.
Two sets of Voodoo Dead is precisely what the crowd needed to root down and let Saturday night begin. Aqueous was sandwiched in between the two sets of Voodoo Dead and performed their heavy-jamprovational rock series that loyal fans and newcomers loved. The night also ended with a rare Frameworks Live Band set at the Salt Stage.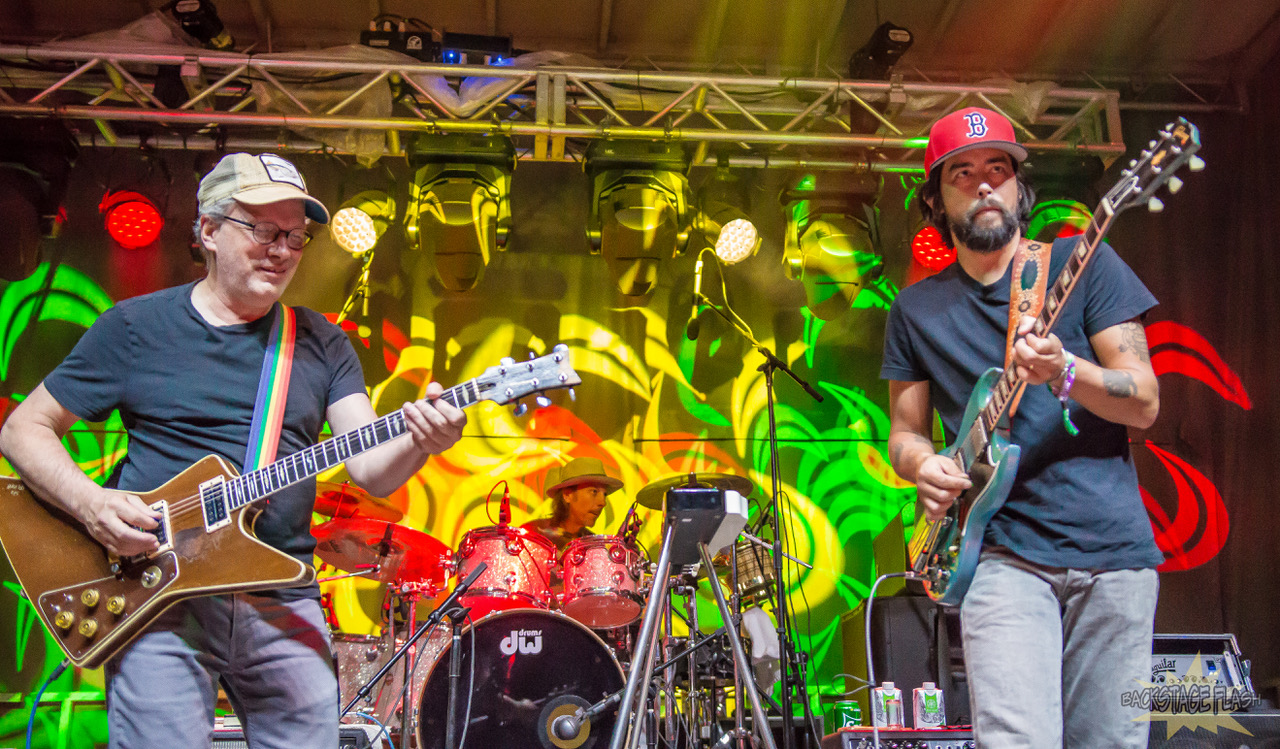 As another "Singing Up The Sun" session ignited around the sacred fire place, the last day of Arise simultaneously begun. Sunday provided for a cool day with great cloud coverage for attendees to sleep in and get the rest they needed.
When looking at the printed schedule, the Children's Village at Arise Musical Festival had the most continuous programming. Arise is a family-based event where artists, programmers, and directors have been able to share the experiences of these community-focused gatherings with generations to come. A large grassy lot behind the Big Sunrise Dome housed the Children's Village containing another smaller dome with a stage in the center, multiple play areas, and creative spaces for weaving, painting, juggling, rainbow parades and the annual Rainbow Lightning Talent Show. During the first annual ARISE RAP Sessions hosted by Blooming Footprint, many long-time Arise staff and musicians commented on how impactful it is seeing their child be on the grounds of Arise to participate in all that is happening at Sunrise Ranch.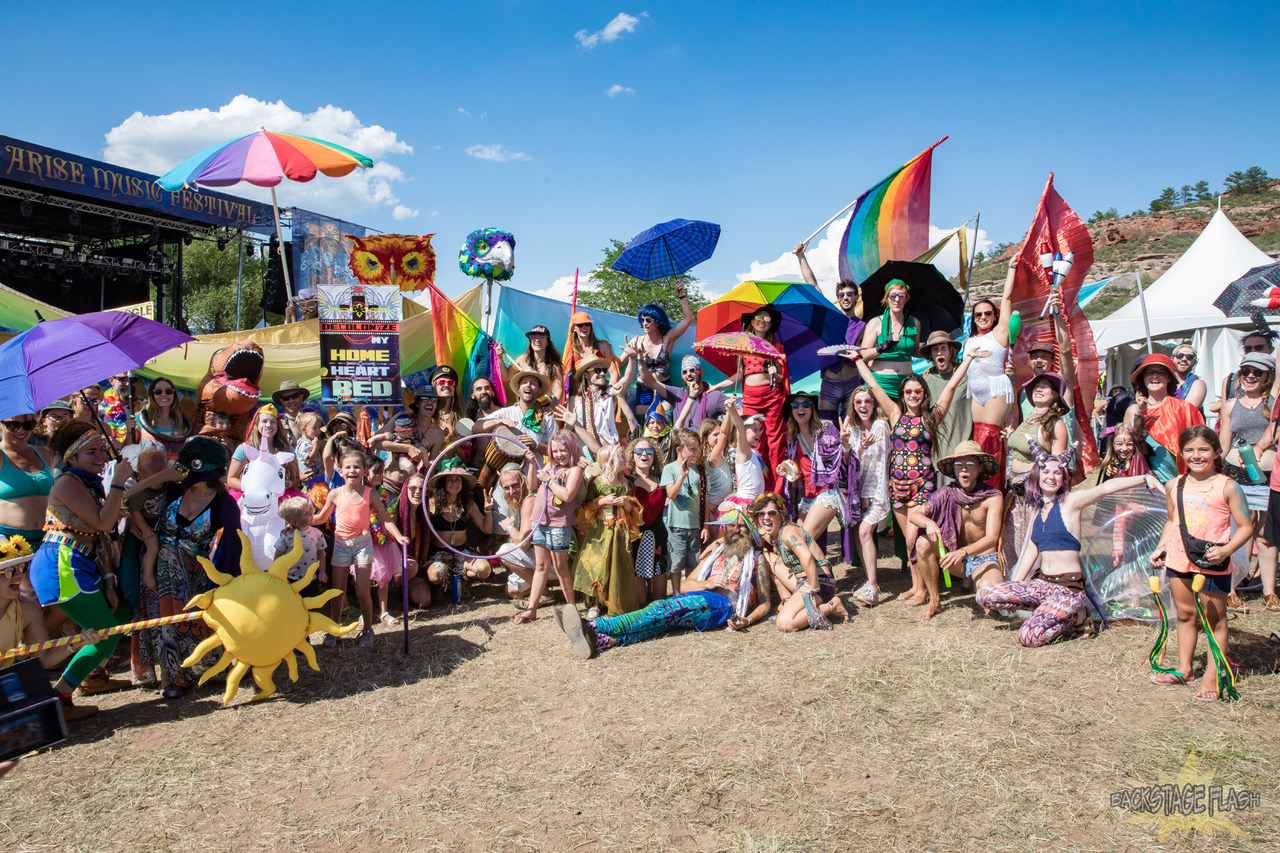 The Art Gallery on-site was also a form of showcasing that Arise excelled in this year. Annie Phillips, Art Gallery Director, has experience in creating large-scale art projects and installations and did not disappoint when curating this year's Arise gallery. Phillips selects from over 250 applications and bases acceptance throughout a range of skill levels, mediums, cultures, ethos, and geolocations.
Whitney Holburn is a local and progressive Denver-based artist that showcased her work at this year's Arise Festival. Holburn had several pieces featured at the Artist Gallery, as well as live painting all weekend directly in front of the main stage. Holburn commented on her Arise experience," This was my first year being able to participate and bring my art to Arise!  I'm so blessed to be a part of this growing and supportive art community in Denver, Colorado; it was really lovely to be there with familiar faces.  It was also my first real, local festival, and it was nothing short of amazing. Arise Festival and being able to participate means a lot to me, and what I'm doing in my career now.  I've been working so hard the last year and a half since I have moved to Colorado to get my art out there, and to be asked to be a featured artist at such a prestigious festival is surreal."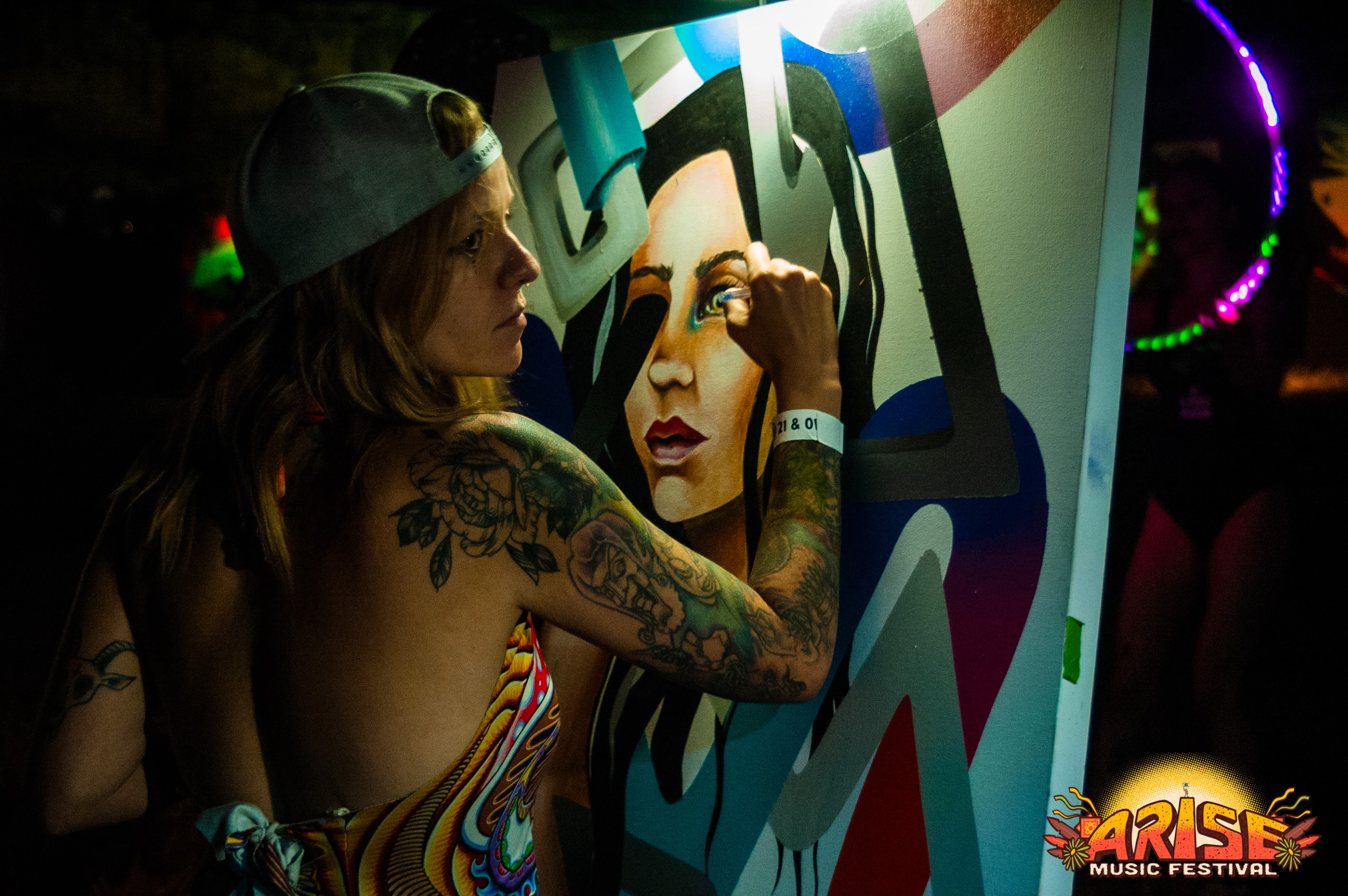 Whitney Holburn is throwing a solo show at Grassroots Colorado on September 6th at 5 p.m. She will be premiering a merch collaboration with Grassroots featuring hats and joggers with her artwork. Live music at the event will feature BreakNasty, Phlo, and Mr. Truman.
As all the Yogis came to their final day of practice at Arise Festival, they shifted throughout numerous sessions including "The Love Movement," by R.R. Shakti with music by Buddha Bomb, "Live Your Purpose," by Patrick Harrington with music by More Than Physics, and a "Closing Kirtan Jam," with Katie Wise and Bhakti Explosion, before the Yoga Sanctuary turned into a late-night stage. Meanwhile, at the Big Sunrise Dome, the ARISE Pick sessions were happening with members of Railroad Earth, Meadow Mountain, and Bridget Law.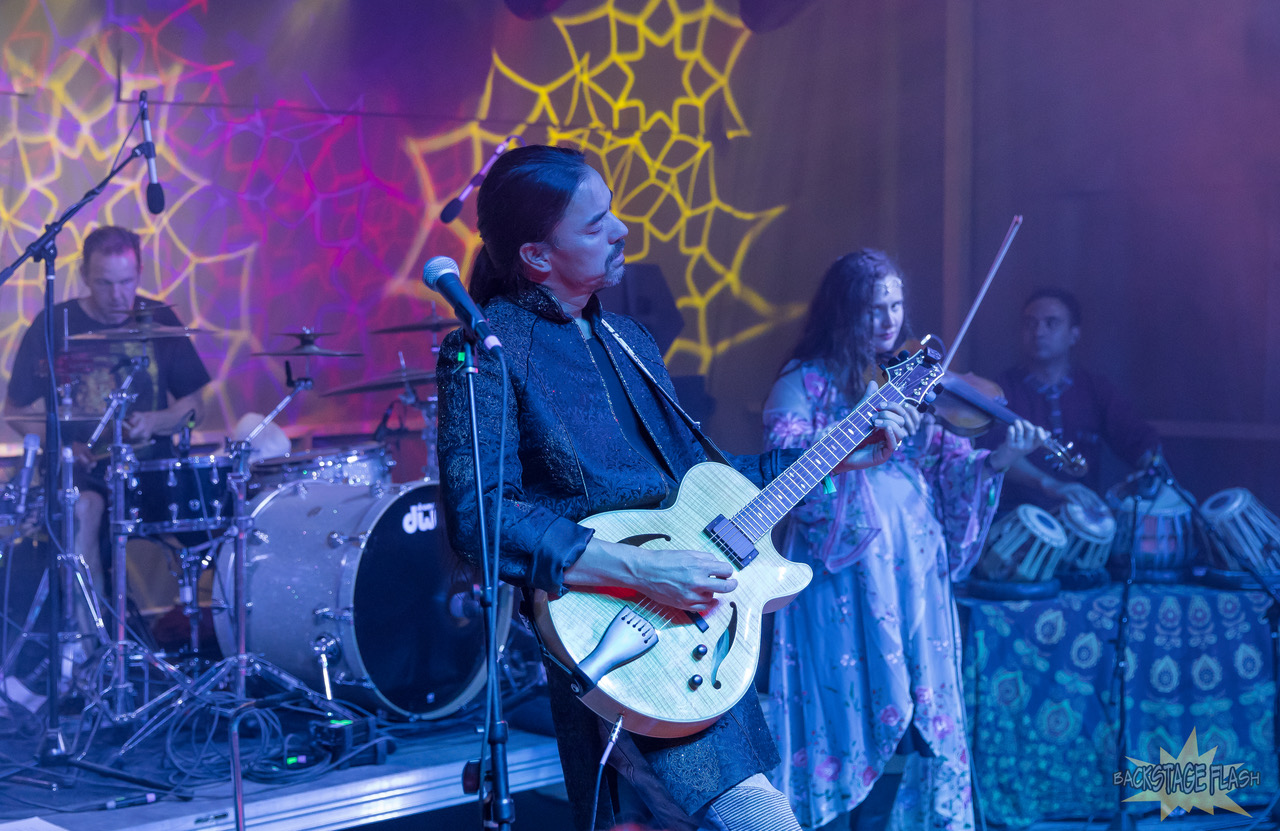 Bridget Law (formerly of Elephant Revival) was an artist at large at Arise this year and has been attending the festival since the beginning. Bridget participates in numerous workshops, songwriting panels, and musical sets during the weekend on Sunrise Ranch. Bridget Law & Friends was a special set that took place Sunday afternoon at The Salt Stage.
Bridget elaborated about what Arise means to her, "Arise is so much more than a music festival. It is almost like a summit of expression, with so many colors — one of the most colorful expressions of humanity that I've ever witnessed. And we get to witness that every year and I just love that. Especially in Colorado, the consciousness in Colorado and the people here who love the mountains. It's a wonderful place for collaboration here. I played with three of my friend's band's last night. You show up here, and you bring your brightest colors, and we will create the most beautiful rainbow we can."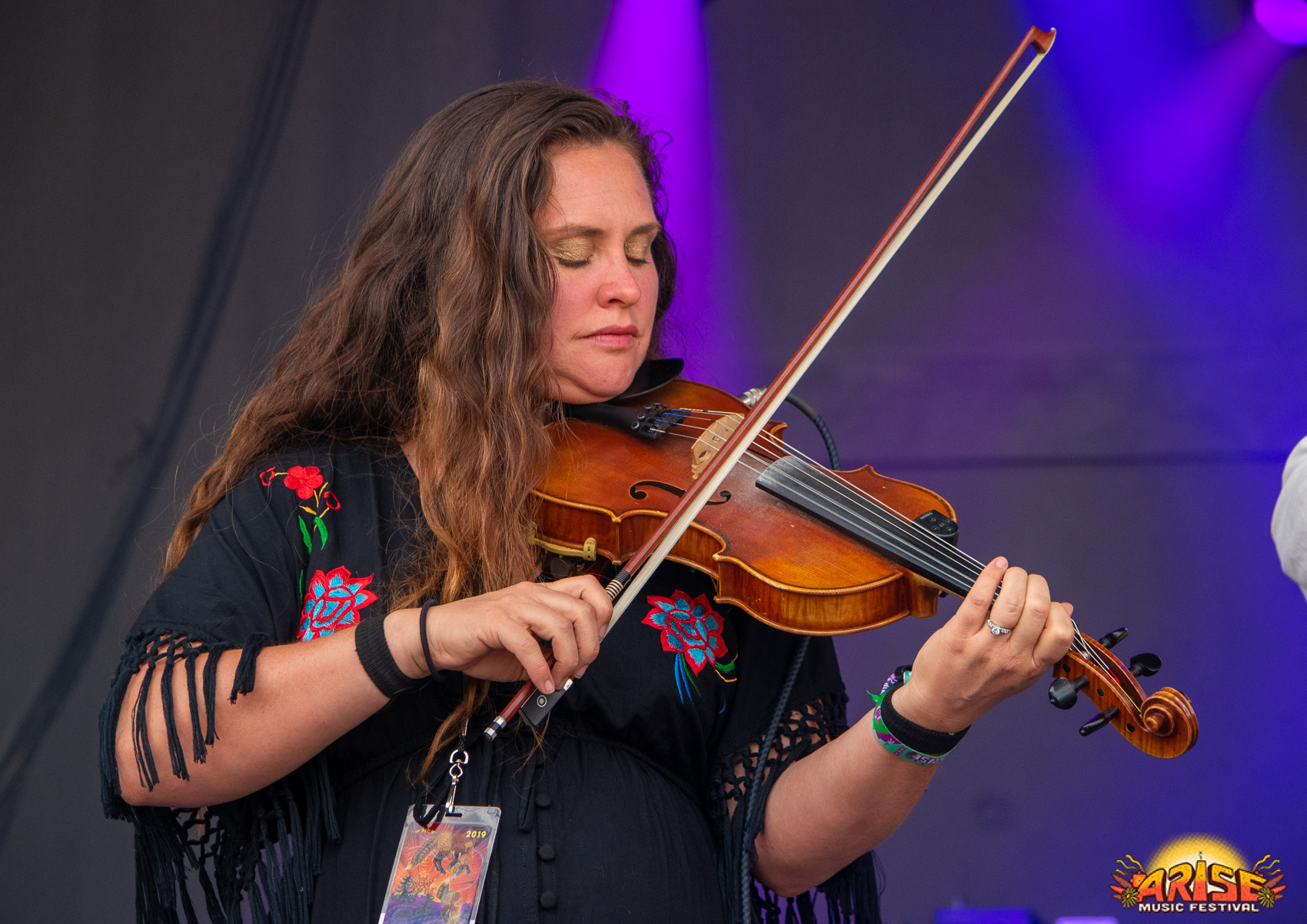 Satsang came on the main stage for a meaningful and liberal set playing his top-hits, "Grow," into a "Don't Go Chasing Waterfalls" sandwich. He also performed "Between," and welcomed Tubby Love on stage, creating a graceful lead into the last night of Arise.
Lunar Fire showed feminine pride while performing at this year's Arise. They projected their tribal and distinct musical chanting into the crowd while continuing to awe everyone with their synchronized dances and costume attire.
Railroad Earth, a highly anticipated set for the weekend, came on the Eagle Stage to provide two full sets to the Arise crowd. Matt Slocum sat in on keyboard with Mike Robinson on the pedal steel, guitar, and banjo for the entire show. Also, accompanying Railroad Earth, Bridget Law sat in for "Fisherman's Blues," all the instrumentalists on stage assisted in ultimately raising the crowd's energy as they explored their improvisational, yet traditional, form of bluegrass.
Carey Harmon, the drummer of Railroad Earth, commented on their love for Arise, "Cheers to everyone at Arise! From the team that made it happen to the community that reflects it back at them, you all made us feel a part of your family for the day, and we appreciate it. Sunrise Ranch is full of love and committed to doing it sustainably. Congratulations and keep it happening. Leave no trace!"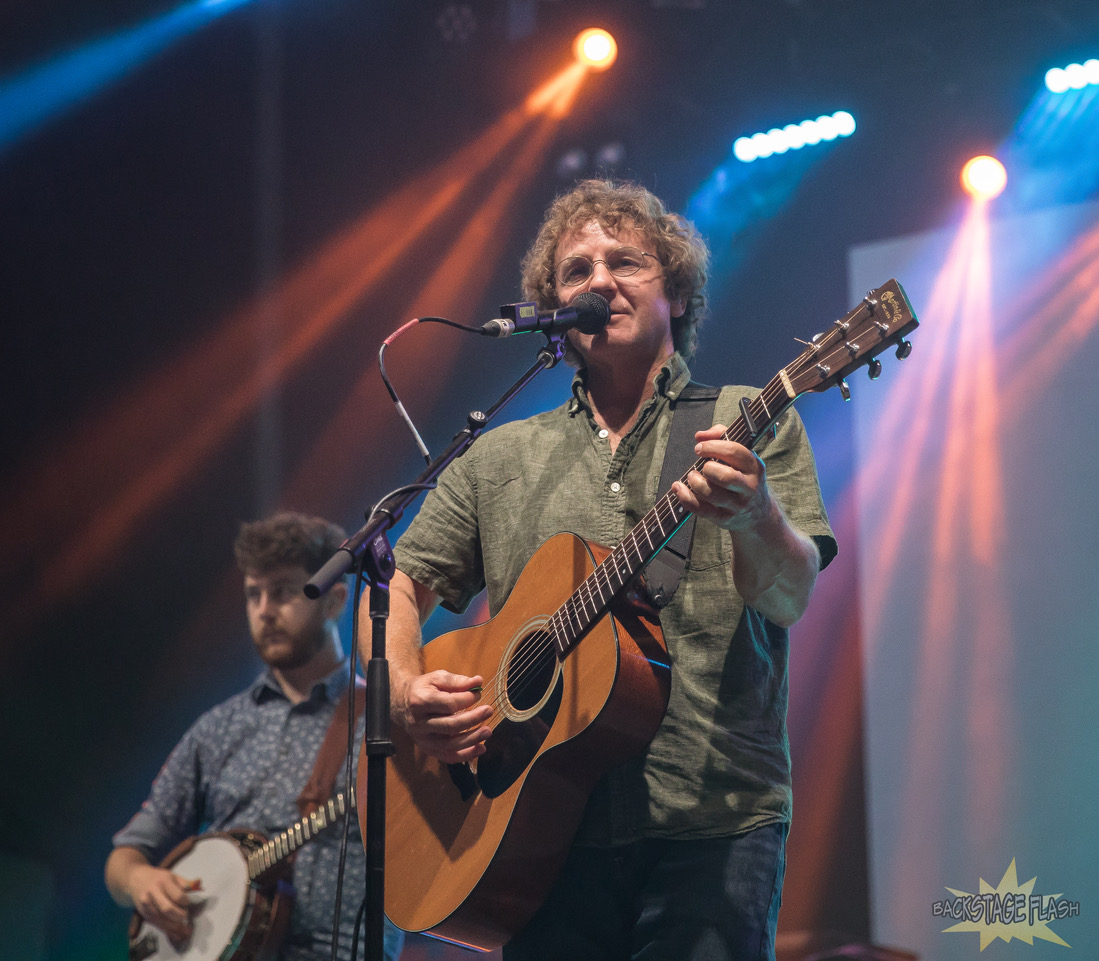 Railroad Earth's first set featured, "Stillwater Getaway > Only By The Light" as well as a long and intricate and closing "Raven's Child," into "Spring-Heeled Jack." Their set second began with "Bird in a House," and transcended into "Farewell to Isinglass > Captain Nowhere," into the classic Mighty River."
Tubby Love & Amber Lilly graced the crowd with their second performance for the weekend as the sun began to set on the Terrapin Care Stage. Goopsteppa threw down in the StarWater Stage Tent playing a new track co-made with Atyya to initiate the crowd's intimacy. He also played "Heavyweight," and "Sour," letting the crowd sink into the deep wubs of sounds.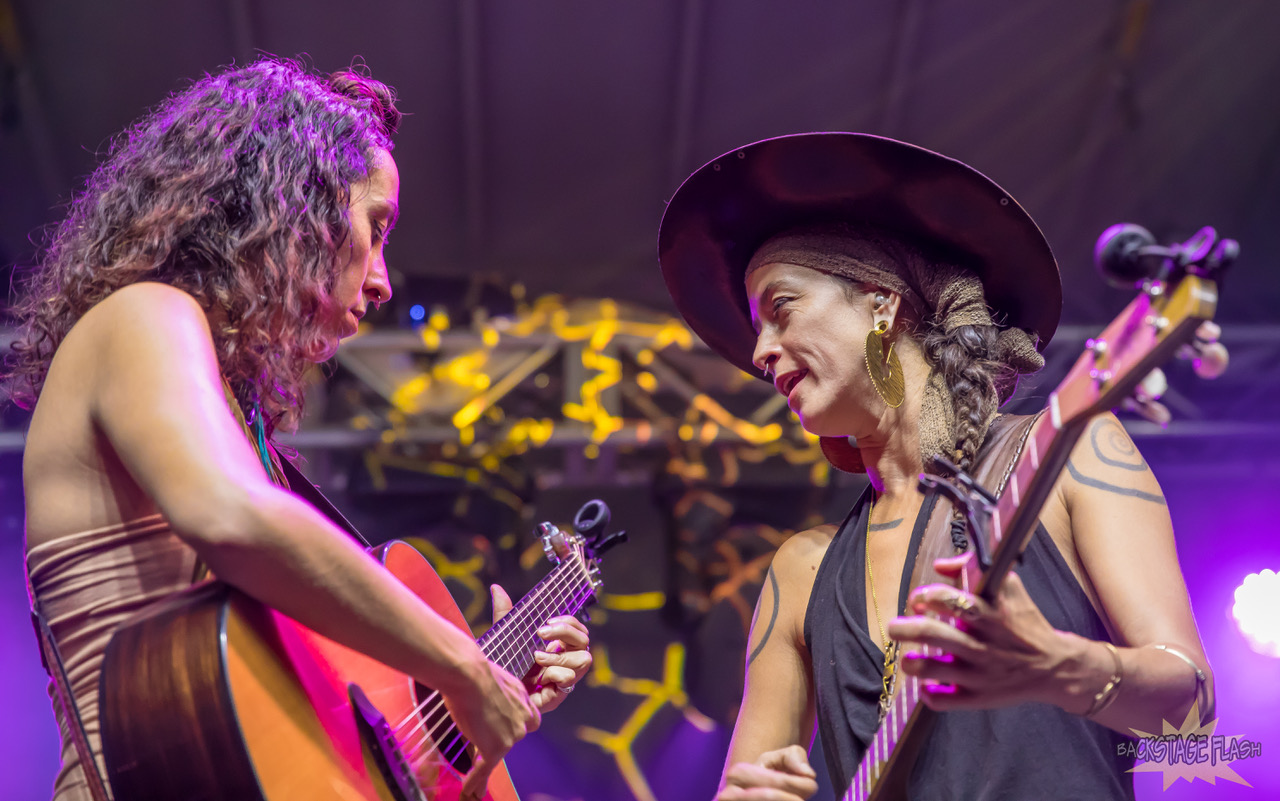 Before Rising Appalachia took the stage, the annual Moment of Unity took place on the Eagle Stage. All of the crucial Arise staff and natives on the land came on stage to bless the crowd and draw people together to practice gratitude and thankfulness as we all leave to go our separate ways and make different impacts throughout the world.
Rising Appalachia begin their North America Tour at Arise Festival, where the guests from their latest album, "Leylines," were present on stage to bring their hints of traditional folk music. This Rising Appalachia six-piece will be present throughout all of the dates of their current tour.
-----
Read A Full Inside Out Perspective Interview with Rising Appalachia Here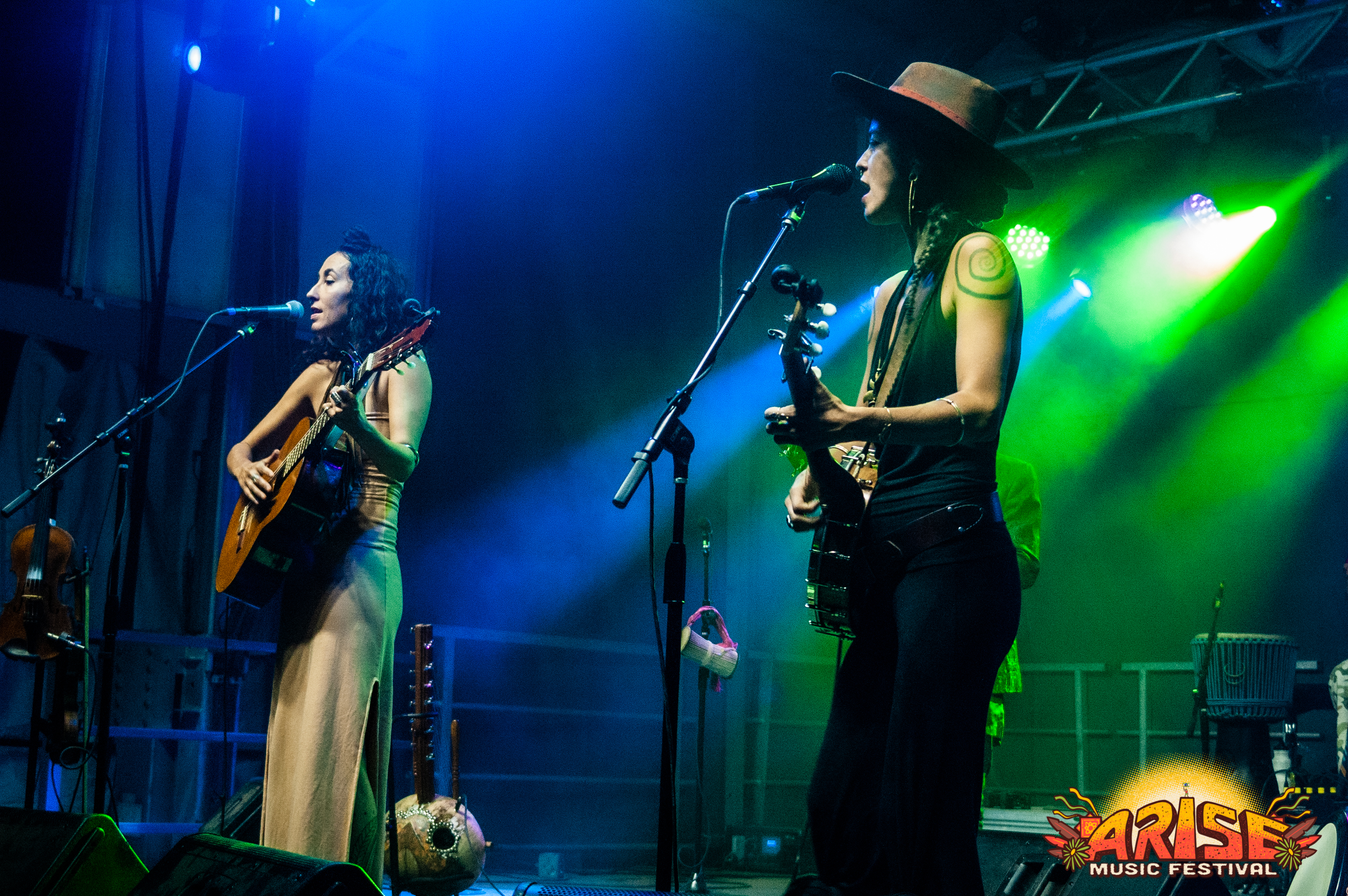 GW: Can you elaborate on the background of your latest album release, "Leylines?"
RA: "It is more of a sort of long-term study of all the different roots of southern folk music. And so the origin of a lot of southern music is both in the traditions that have crossed the Atlantic from Africa, West Africa, traditions that crossed over from Ireland and the British. Mixing different music and different folk songs is really like blending it in to make a lot of the origin of Appalachian music. So this album is the first album where we brought in a west African player, an amazing player named Aroona Diarra. Also, an amazing Irish player, Duncan Nickel, who does hold those traditions, which is something we've done with all of our albums. We always wanted to tell the story of the roots of music, which we study all kinds of different music. But this is I think the most nuanced kind of weaving of all these different styles.
GW: What other kinds of influences or specifics led to the creation of the sacred spaces you hold throughout "Leylines?"
RA: A lot of the lyrics are stories from the journey pieces of what we've learned from a different audience members. We've had an amazing, I had an amazing men come to one of our shows years ago, and he had been diagnosed with cancer and seeing one of our shows live was his last wish. And he came like days before he passed, and a whole part of the song "Novels of Acquaintance" was really for his story. And for so many of the stories of people that come to our shows sick and they're coming, you know, to find some meaning in the music. So there are so many places where the stories come out from our experience and then are put into the songs. Resilient is a session on a story. It had to do with our time at Standing Rock and had to do with the elections, and you know, our own sense of deep anxiety and disappointment in our country and the hope that that actually we can as a people be resilient and continue to stand strong. You know that for sure. And all the songs have their own storytelling component, but that one means a lot to us.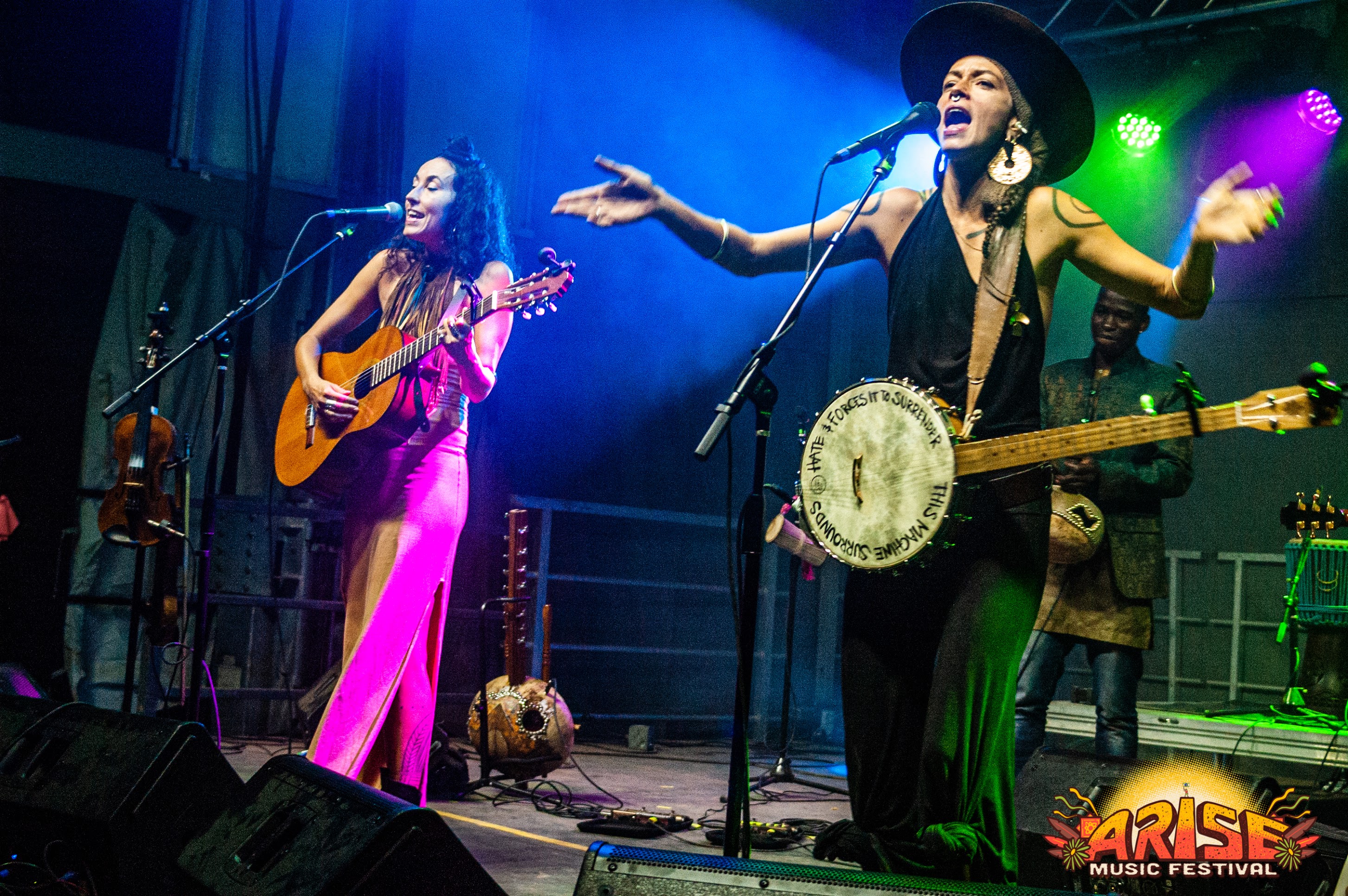 GW: What is it like being a woman activist in the music industry?
RA: My existence as women in the music industry is already sort of a statement. And I don't think that that's enough. Or even by design at all. It's just we're, we run our own business, and we're two women, and we're sisters, and we are the songwriters, and we are at the top of all the production decisions, and where you do all a direction for the videos, and we just have our hands in everything, and it's a wonderful way to run a business and run a career. And there's no reason that that would be shocking. You know, it's just so often we'll walk into a venue, and the stagehands will be like, okay, you're the singers, where's the manager or whatever. And we're like, well actually we're also the managers. So there's, I think there's still a wave of stereotypes about who's doing what in the world. And it's, it's also a choice. We choose to run things really gracefully and diplomatically. We don't want to sort of force our system into the dominant square system of the music industry or really of our lives. You know, we try and also really have a feminine touch in how we lead. I love it.
GW: How have you seen that translate to more modern times?
RA: Yeah, I think that's really important. I think if folk music is all about holding onto old traditions, then it gets brittle and that's very much not what we want to do. We want to make music that that tells some of the stories of its foundation and its roots and also feels very alive and relevant for us. That's a lot in our lyrics. You know, and also in our, what we study, the music we listened to, and we are as deeply influenced by the era of political hip hop as we are by any era of folk music because that's also a contemporary story storytelling, you know, and it's all, everyone considers all these genres really separate. But there are storytelling genres. So I think it's really important that the music moves and bends and flexes. And I also hold a lot of appreciation for people that are just students of traditional music.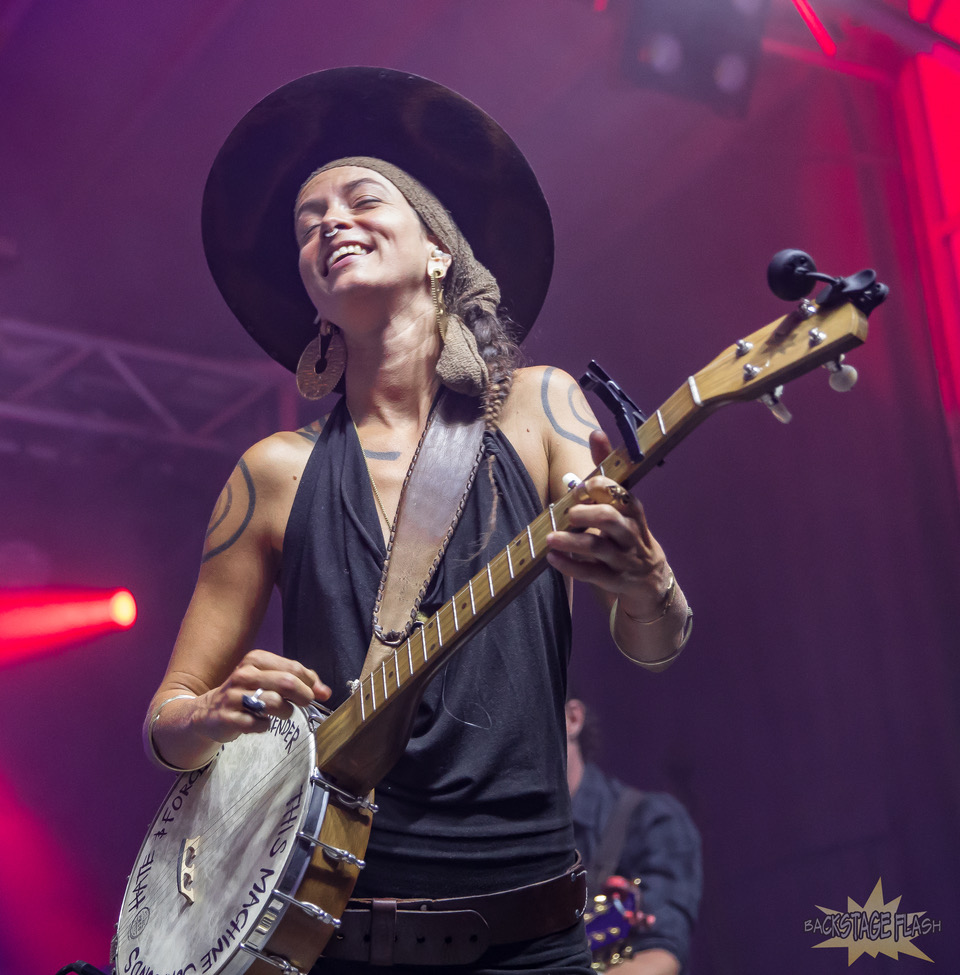 GW: How would you say that your story writing process has changed or even the recording process or recording process has changed a lot?
RA: We brought in a producer, which we'd never done before, his name is Joe Henry. He was a really amazing wizard, and we were very nervous about it at first. We've never let anybody in the studio with us before. I mean we don't do our own engineering, but we lead the engineering process, and this was the first time we brought in an outside. It was really stressful at first. You know, we really questioned if we were selling out honestly, and if we hadn't made the right move, it's good to keep that question in mind. Keeps you real. We were nervous until the last second. And then as soon as you walked in the studio, you know, he's this wonderful character. He holds a lot of the old school kind of New Orleans vibe. They're dapper, very poetic and he just, he made it so that we could get out of our own way. We had sort of an outside ear that could make the final calls, and we could really just focus on the creative moment. And it was an amazing, awesome. Yeah.
GW: Traveling is such a crucial part of your guy's storytelling. How do you adjust to different environments and playing all throughout the word?
RA: You know, we are kind of chameleons in our style of music. So, we are hired from everything from a giant electronic music festival to a tiny like herbal medicine gathering. And bluegrass festival one day and the next day, you know, we're at the burning man, and it's a really kind of fun part of our job. Although it is also a little disorienting and we don't have a genre, we don't have a scene.
Transitions are hard for all of us in all of our lives, and we are in transition daily between different climates and different energetics. And we have to adjust based on what is expected of us off the stage. So the transitions can be tricky, but at the same time, we've spent a lot of energy trying to be good at reading an audience and definitely steer it. It's crucial and a fun.
-----
As the night drew later, Maddy O'Neal brought the heat and the house vibes to the Salt Stage. For one of the first times, she invited a turntablist, drummer, violinist, and guitar on stage with her for a "Maddy O'Neal Live Band" preview.  She commented on her time at Arise, "I think this is one of my favorite festivals that I've played. It's always a good audience to be able to test out new tracks too; they are very receptive and open. So that is exactly what I am going to do here."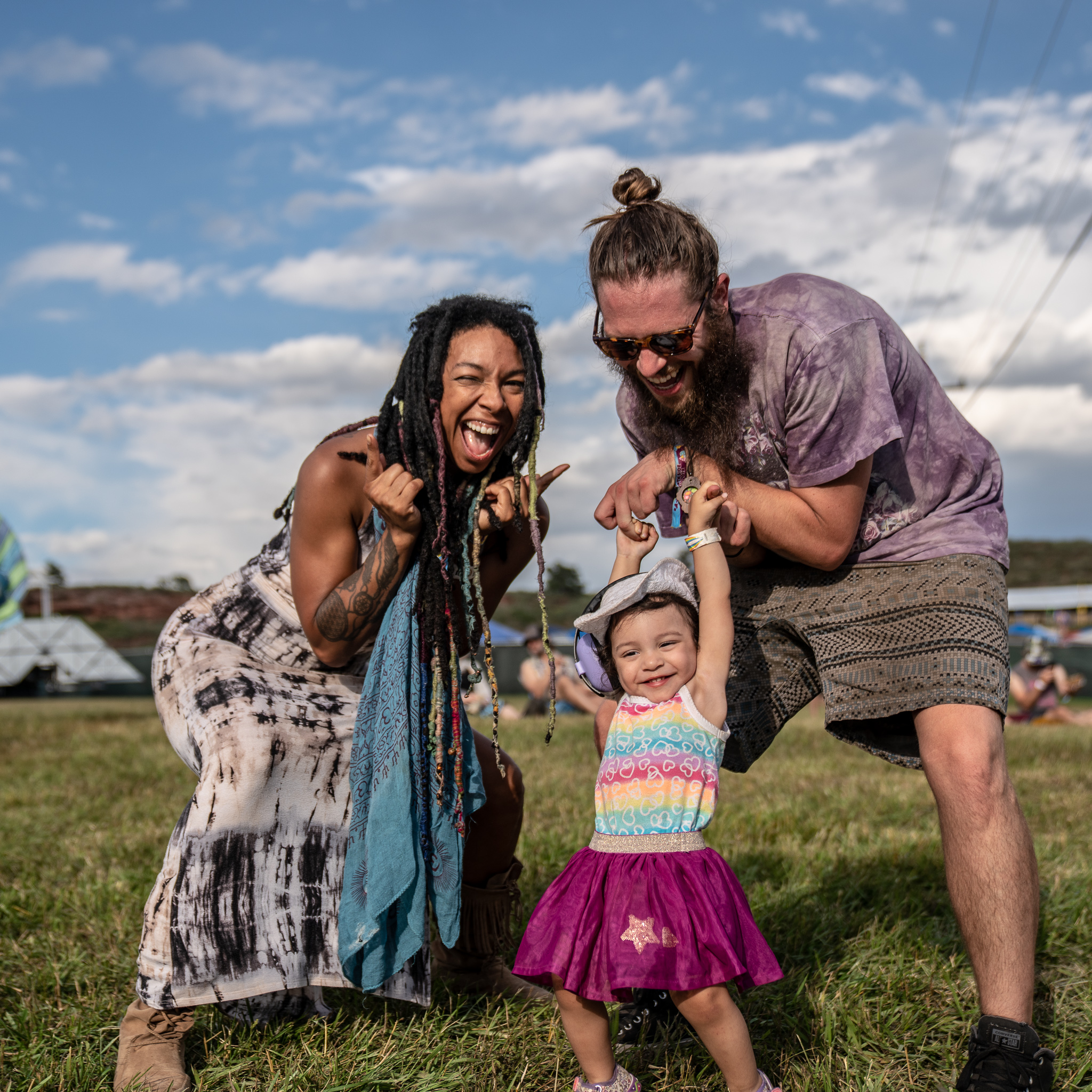 Cycles closed out the Saltwater Stage with their strong instrumental tone, beginning their set with Madonna' cover, "Ray Of Light," into their original, "Hang It Up On The Wall." They played numerous Disclosure covers and ended the set with a Lil Nas X cover, "Old Town Road."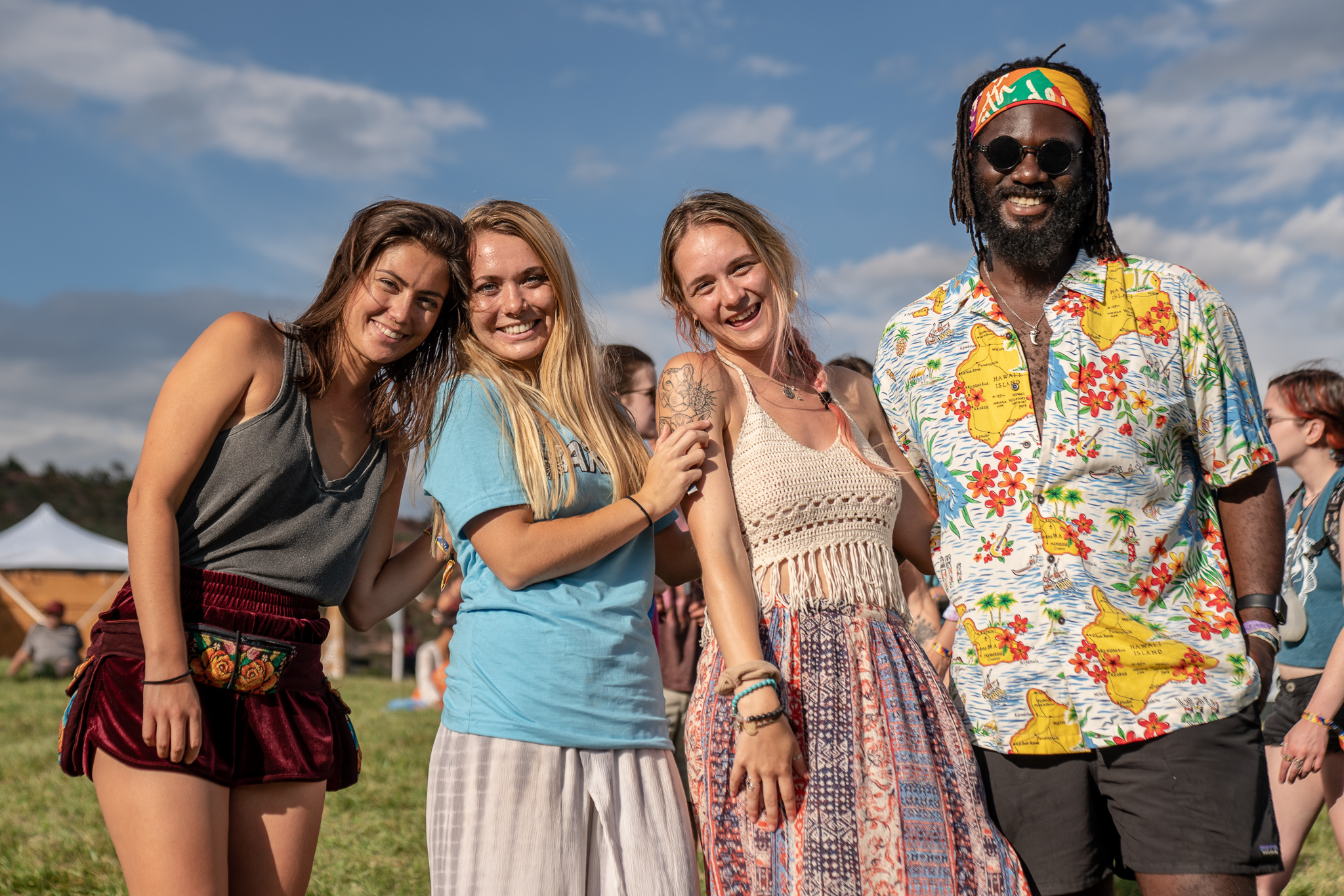 Tucker McClung, bass and vocalist of Cycles, commented on their Arise experience, "Our set at Arise was a culmination of our Summer Tour and the perfect way to end it. It was the last Cycles show of the tour, the last set at Arise and couldn't have been more serendipitous and awesome for us!"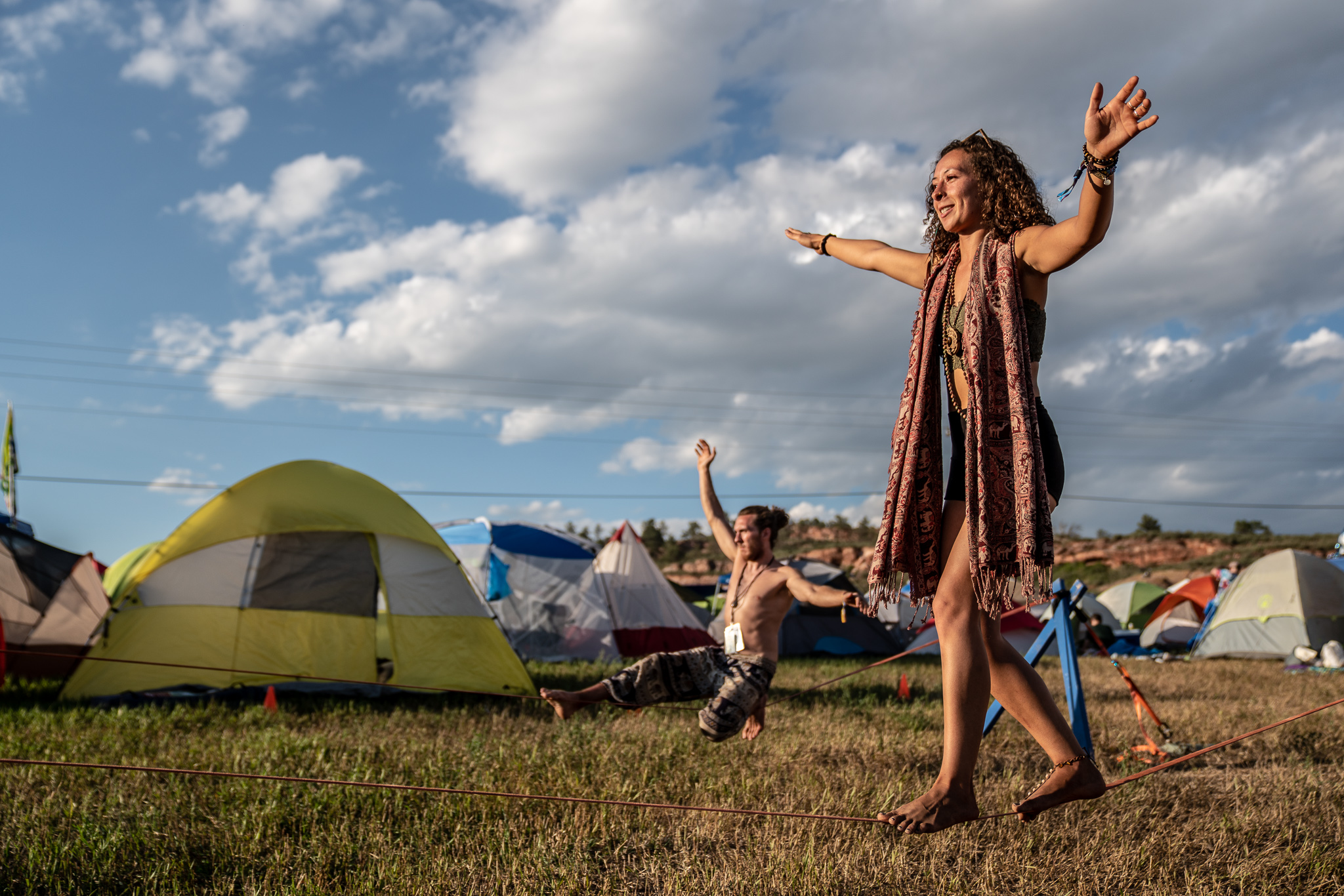 As the night of music began to end, Evanoff, Denver-based trio, finished off the Salt Stage successfully. They began their set with an unnamed and unreleased tune, coming fully into "Dahlia" and "Hot Like Sauce," featuring Hook St. Horns. They covered Tipper's "Dreamsters" and ended with "Whomp Rat."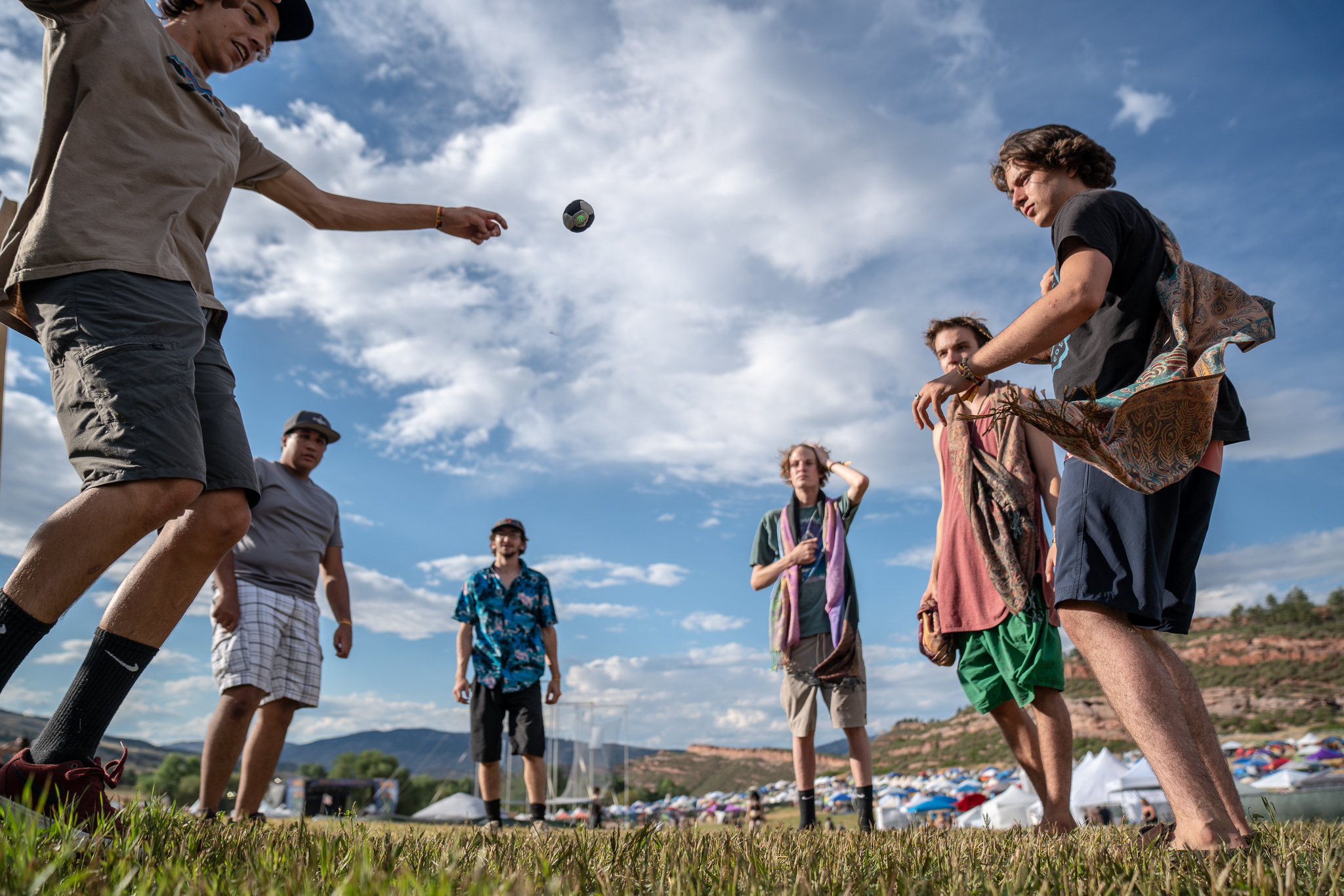 Evanoff commented on playing Arise, "We were so excited to return to Arise. Just two years ago, our set was cut short fifteen minutes in due to lightning, so this was our redemption set. It was an honor to join so many of our favorite artists and muses on that lineup. Honestly, outside of all of the great people that we met and awesome music we saw, our favorite part of the festival, was the sense of community and how the lack of cell phone service allowed everyone to be more present. We overheard a lot of excellent types of conversations this weekend, with people who were just meeting at the moment and enjoying each other. It was a blast closing out this awesome festival, and we are happy to have made some new friends and fans. The energy of the crowd during our set it was unreal. It was truly amazing to have the hooker street horns on with us. We love those guys so much as people and have them on stage with us was really a blessing they made the night super fun. All of the staff at Arise was incredible. It's a slice of musical heaven."