The Grand Artique Stage at Lightning in a Bottle 2022 defined an aptitude for an inventive teleportation station.
The experiential stage mutated reality, and took you directly to an Old West town titled Frontierville. The town's westerly presence contained a General Store Trading Post, a Saloon, and—adjacent to the stage—a two-story viewing house,which allowed attendees to travel back in time through the two-story homestead, and also led to a viewing dec, equipped with a record player, books, and all the tchotchkes. Costumed characters fully conceptualized the set design,allowing for an unforgettable experience.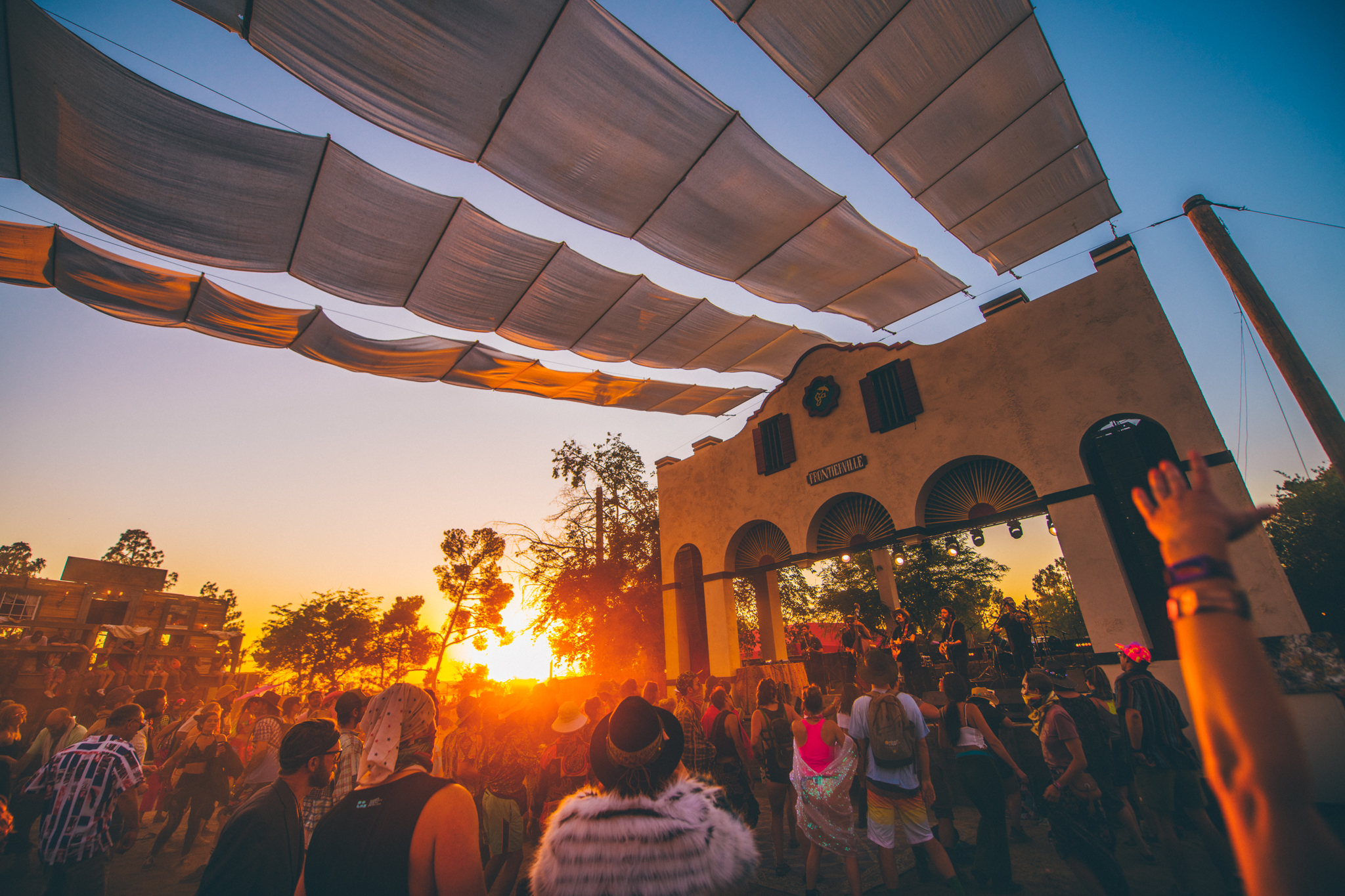 With over a decade of experience, Grand Artique has assembled an exceptional roster of diverse talent.  From creators and builders, to producers, performers and collaborators, Grand Artique serves to enhance the imagination by curating fully immersive performance theatrics. Take those efforts—teamed with diverse musical acts and circus talent—and you get the perfect LIB experiential stage.
*In chronological order.
1) Gone Gone Beyond
Gone Gone Beyond is the synergy of David Block, Danny Musengo, Kat Factor, and Mel Semé, which delivers a potent message of hope, and the desire to return to humanity. The collaboration captures the story of beautiful uncertainty in an ever-changing world. Their music pays homage to the traditions of American folk songwriting, whilst combining  a myriad of influences, from electronica and jazz, to soul and world music. Gone Gone Beyond paints a new kind of sonic landscape, situated  between the roots of the California redwoods and the vastness of the Pleiades constellation. They have been described as "mesmerizing future folk" (Consequence of Sound), blending organic and electronic music.
At LIB, Gone Gone Beyond's powerful vocals and melodies rang throughout the Grand Artique Stage. The crowd was mesmerized and tuned into the collective exploration of their unique sound. Opening with"Gravity," they continued with crowd favorites, "Riptide" and "Little Moon."
2) Dirtwire's Psychedelic Hoedown
Dirtwire sits on the back porch of Americana's future, conjuring up a gris-gris of sound with an amalgamation of traditional instrumentation, world-beat percussion, and electronic soundscapes. Comprised of multi-instrumentalists David Satori (Beats Antique) and Evan Fraser (Hamsa Lila; Stellamara), the result is a rebirth of Americana, and a beacon for a post-millennial return to downhome goodness.
At this LIB, Dirtwire's Psychedelic Hoedown was pertinent to the vibe of the Grand Artique—a true testament to the  Dirtwire community. Inspired by Grand Artique's curation and overall vibe, Dirtwire invited some of their favorite artists on stage, including the rhythm and horns sections from the intergalactic San Diego-based dub band, Boostive. The stage was packed, and the vibes were high. For days to come, attendees mentioned the Hoedown as being one of the top performances and collaborations throughout the weekend.  This full improvisational set was led by a white board as a conductor - inspired by their work with the Everyone Orchestra to conduct the jam.
See Full All-Star Lineup:
 
Evan Fraser - keys, Kalimba, Jaw Harp
Mark Reveley - Guitar, Synth
David Satori - Guitar
Briana Di Mara - Violin
Wesley Etienne - Trombone
Nathan Kocivar - Sax
Chris Hoog - Sax
Anthony Meade - Trombone
Seiji Komo - BASS
Malachi Johnson - DRUMS
Tahib - Ngoni
Cassandra Lewis - Vox
Turqouise - Vox
Shiloh - Vox
Heather Christi - Vox
Vir Mccoy - Guitar, Saz, Conducting
Anthony Ward Flowers - Performance art
Larry Yazzie - Traditional Native American Dance
3) Global Brunch with Danni G, Spekti, Andreasone & Beatalks
Samuli Huhtala, professionally known as Spekti (and previously as Aspekti and Uncle Damn), is a Finnish rapper; Andreas Smith is a DJ providing AfroBeats, World House and Hip-Hop; and Beatalks is a Venezuelan-born drummer and percussionist!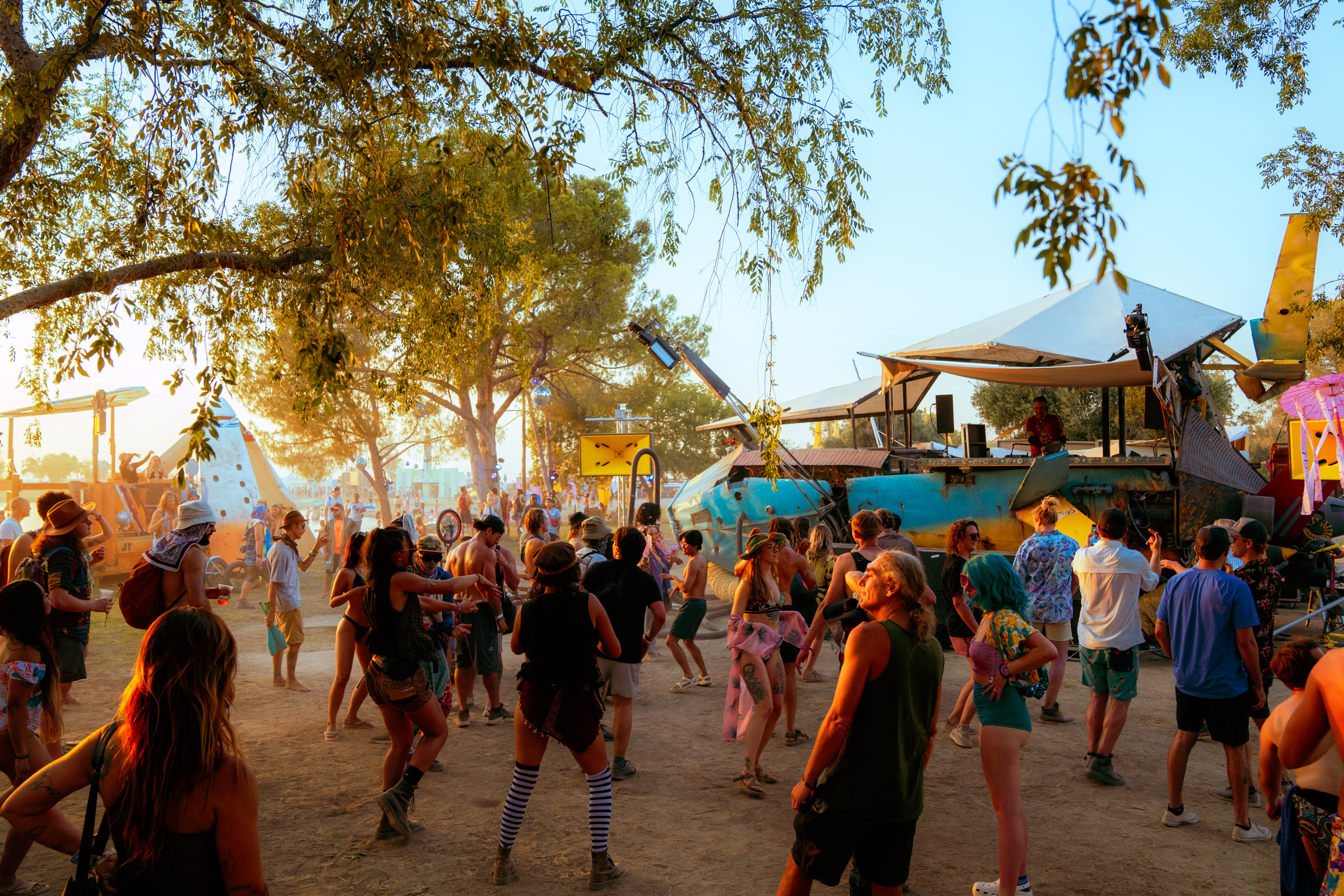 The Global Brunch consisted of eclectic performances dominated with Venezuelan culture. With the Venezuelan flag majestically flying through the air, the essence was felt throughout the crowd, via the combination of the live DJ, drums, and overlaid vocals. Specialized dancers took turns on stage showing off their footwork, then making their way into the crowd for partner dancing. The best part, though, was the complimentary Venezuelan food station situated behind the audience, which was shared with attendees, and passed throughout the crowd for a true taste of culture.
4) The Brothers Comatose
Whether traveling to gigs on horseback or by tour bus, Americana mavens The Brothers Comatose forge their own path with raucous West Coast renderings of traditional bluegrass, country and rock 'n' roll music. The five-piece string band is anything but a traditional acoustic outfit with their fierce musicianship and rowdy, rock concert-like shows. The Brothers Comatose is composed of brothers Ben Morrison (guitar, vocals) and Alex Morrison (banjo, vocals), Scott Padden (bass, vocals), Philip Brezina (violin), and Greg Fleischut (mandolin).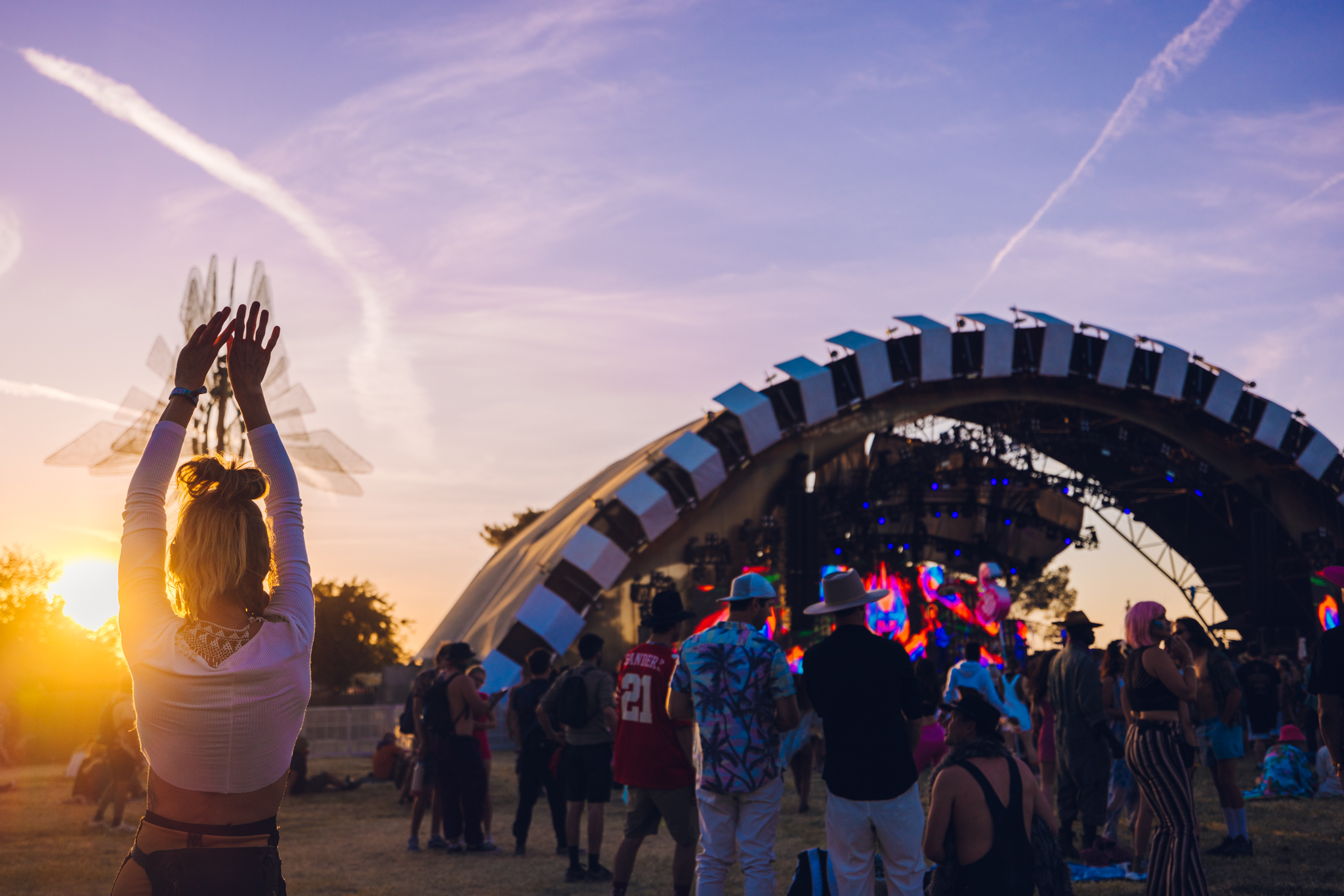 At one of the only pure bluegrass setsat this year's LIB, fans were ecstatic to see them on the lineup and perform on Sunday afternoon. The combination of raw, authentic string music, after a predominantly full weekend of electronic music, provided for a refreshing vibe throughout the Grand Artique. Fans were (literally) stompin' their boots, dancin' to swing, and getting called  out from the stage for kicking up dirt throughout the scene. It was a dusty,ragin' good ole time. The Brother's Comatose opened their set with "Angeline," and played fan-favorites, "Tops of the Trees," and "Valerie."
5) El Papachango
Argentinian DJ sensation, El Papachango, has been at the forefront of the West Coast bass music scene, blending South American music with West Coast underground beats, and creating unique and infectious grooves wherever he goes. His sound is characterized by sexy, soulful banging Global Bass fusion, with a Latin sazón that is quintessential to his name.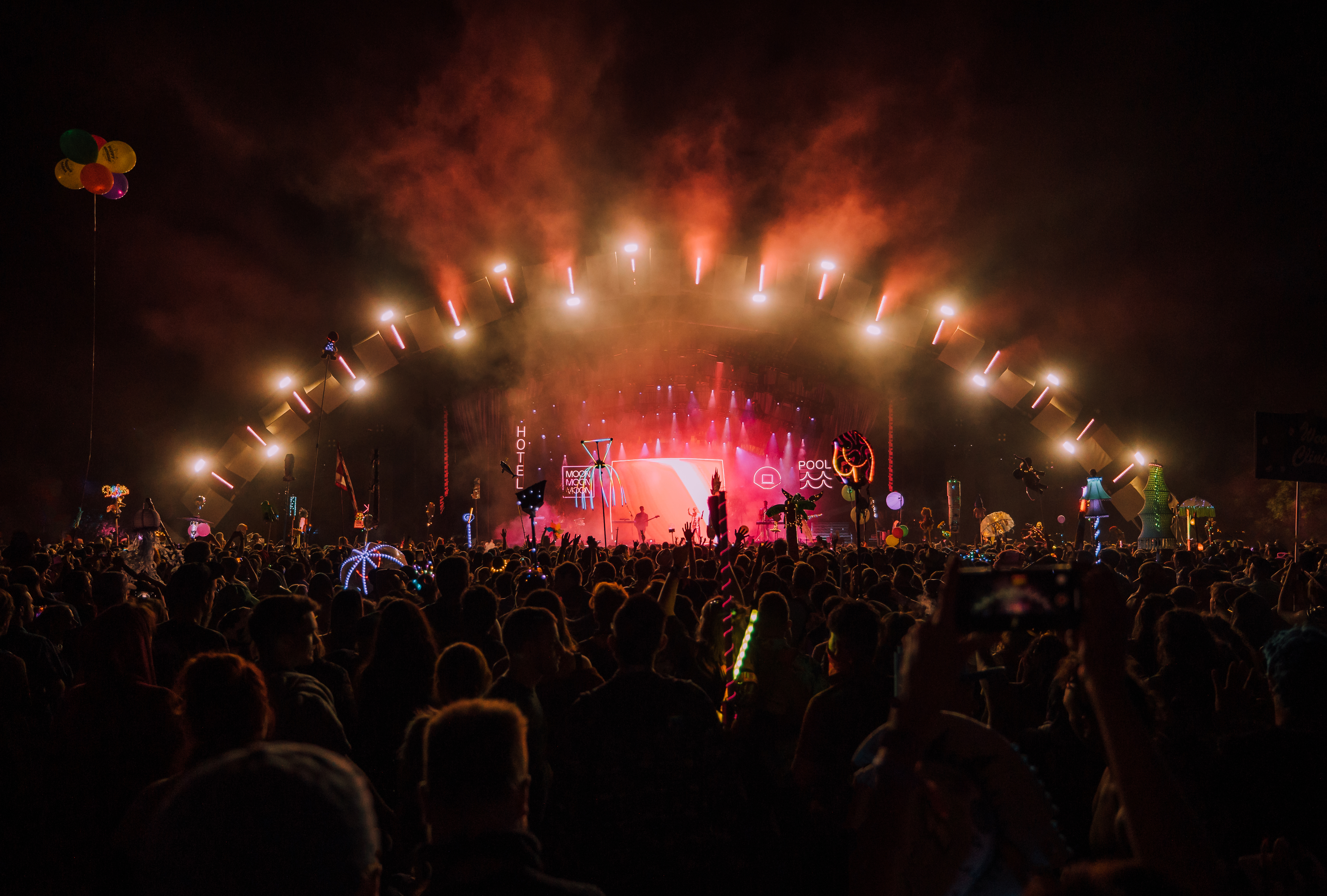 The stage was packed full and hips were moving. El Papachango provided a cultural deep-dive to attendees at LIB. The purity and love, coupled with the electronic cultural music, provided for a truly unforgettable Sunday set at the Grand Artique Stage. The combination of the latino lyrics with a high-paced energy allowed for a deep stimulation throughout attendees that pulsed through their veins.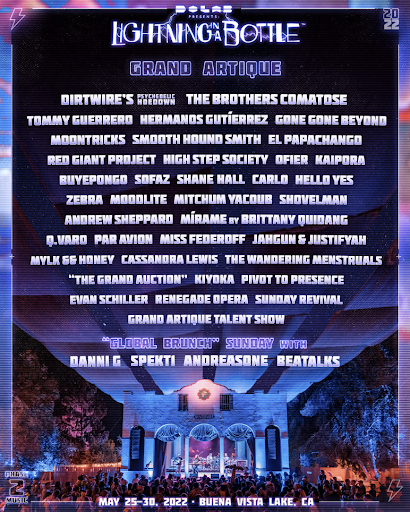 GRAND ARTIQUE
Dirtwire's Psychedelic Hoedown The Brothers Comatose
Tommy Guerrero Hermanos Gutiérrez Gone Gone Beyond
Moontricks Smooth Hound Smith El Papachango
Red Giant Project High Step Society Ofier Kaipora
Buyepongo Sofaz Shane Hall Carlo Hello Yes
Zebra Moodlite MitchUm Yacoub Shovelman
Andrew Sheppard Mírame by Brittany Quidang
Q.varo Par Avion Miss Federoff Jahgun & Justifyah
Mylk && Honey Cassandra Lewis The Wandering Menstruals
"The Grand Auction" Kiyoka Pivot to Presence
Evan Schiller Renegade Opera Sunday Revival
Grand Artique Talent Show