Besides a plethora of giant fiddle contests, I really have no festival experience to speak of. (Don't get me wrong, fiddle participants can booze, substance-abuse, and play the shit out of acoustic instruments till the sun rises) But that's a different story.  Let's get back to Desert Rocks, and how I am so fulfilled with my first festival journey! It was a weekend of love and acceptance, filled with the young, the transient, the locals, and the Coloradoans (not all of them, but a lot). Your standard transient hippie attire (beautiful, dirty women in bikinis, wraps, jingly belly dancing stuff, feathers, and scarves, and just plain dirty men) made for great desert clothing. It kept us cooler under the desert sun and gave the illusion we might be at a desert Bazaar, which was enhanced for many by the copious amounts of psychedelics circulating.
The only thing that was missing, my festival-going companions observed, was the occasional naked person. Next year I suggest we bring a little Boulder flavor to Moab: some sort of naked running event. Preferably in the evening, because the sun is scorching hot. I will organize. For those on board, come seek me out next year!
Camp ground jams popped up here and there, and I had the pleasure to sit in and listen to some bluegrass, Grateful Dead sing-alongs, and an India raga.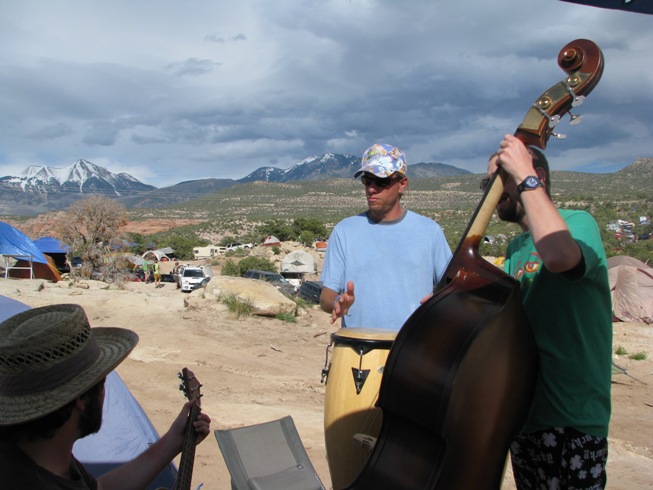 The festival is small, perhaps 2,000 people, enough to cover a desert hillside. From one end of the campground you could see a stretch of tents as the terrain descended into the actual festival ground, and then back up towards the other side of the campgrounds. There were 30 to 40 foot cliffs that set the campground boundaries in some places. No one fell during the nights of festivities, as far as I know. In the distance you could see the snow capped La Salle mountain, where gazed towards and dreamed of the cool, refreshing snow melt while nursing self inflicted extreme dehydration on Saturday morning.
Festivalians were up early, the desert heat made it difficult to sleep after sunrise.  All the better; my crew hit the trail instead of wallowing in hangover pain. We walked along dried up creek beds, taking in the sand, red rocks, lizards, cacti, and desert flowers while making foot prints on the land Butch Cassidy once made his hide away home. On day three we hiked through Arches National Park.  My most memorable experience of the whole weekend was not in the festival grounds, but on top of a huge sandstone cliff being blown around by the wind.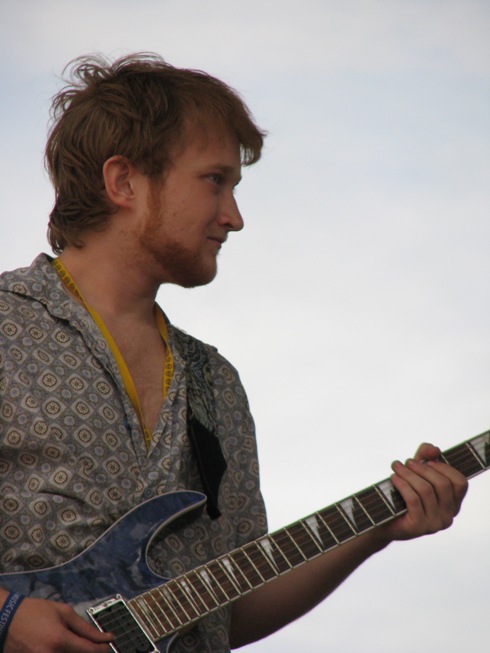 Just discovering what Nederland folk have know for years, my car full of folk enthusiasts raced through the Rocky Mountains and Western slope in hopes of catching a little bit of the Elephant Revival set on Friday evening. Bonnie Paine's voice traveled through the car window, welcoming us to the desert with the lyrics "Once I was a big prop of water, I was in the Desert..."
Thank you Elephant Revival, for reminding us to hydrate on our way into the camp grounds. (If you go next year, definitely bring a camel back or big water bottle!) Friday was a night of Colorado talent.  White Water Ramble followed Elephant Revival and basically laid hot fiddle down on a bed of bluegrass instruments while I, myself was laying down my temporary bed on hot sand and rocks. The campground was small enough that you could hear the music from the edge of it, so even when I was bogged down with packing, eating, and sleeping, the music experience was never lost. White Water Ramble played from their new CD, All Night Drive, and had me wishing I knew how to set up a tent in the dark after drinking a bottle of wine. Unfortunately, I know my limitations, but made it down to the festival in time to catch Great American Taxi. Vince Herman brought the ladies of Elephant Revival back up on stage, in part because they are outstanding musicians, and in part because he probably has a big giant crush on them. Just speculation. Great American Taxi kept things rolling with their signature jam-band, southern, rock 'n' roll, boogie sounds.
Around 11pm, People Under the Stairs played on an adjacent stage, and had to compete with The Motet's sound check while performing. Still, these dudes brought the Hip-hop to a so-far folk/bluegrass/jam band scene like a flash flood brings water to the desert. They killed it as the festival grounds started to grow into a huge crowed.
The Motet, sound checked and ready to go, started playing around 1 am. They played about two hours of solid, no-stop funk. Transitions were seamless, so the audience could dance strait through song to song. I hollered for the bass solos. The mighty, mighty bass solos.
Juno What?! came on a 3am. These all out disco dance party guys were not about to leave the dusty ground dancer-less, and they played almost to sun rise. At this point I was in my sleeping bag, but could hear the show from my cliff side camping site.
There are two other stages at Desert Rocks, the all electronic SoLLun, and the Dead Horse stage. The SoLLun was best after three in the morning, and was packed with dancers, light show, and interactive art. The Dead Horse was only open in the afternoon, and was on top of a slightly daunting hill.
Saturday I returned to camp to catch old friends Zobo Maze, a funk/dance/electronic/jazz sextet who are hugely influenced by The Motet. The sun was hot but Zobo still attracted the crazy dancers and looked good doing it.
Chali 2na came on as the sun was sinking low, broadcasting live and giving us it all. What can I say except that he, and his band, lay it down cool and heavy.  Fire dancers made a circle in the dirt and started twirling as Hot Buttered Rum set up.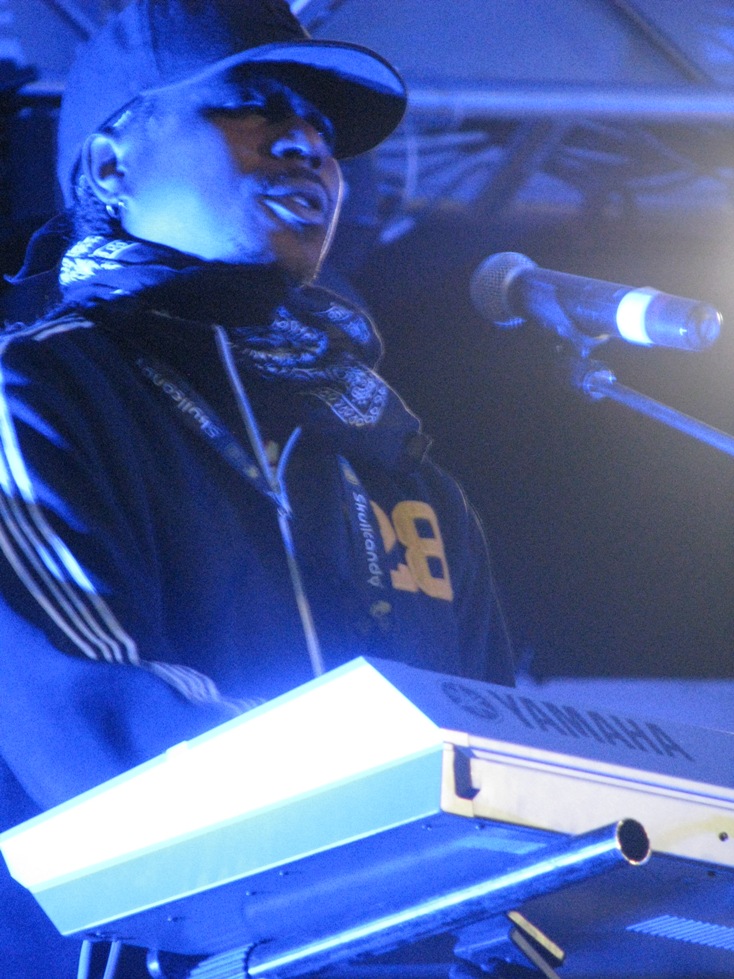 These jam-grass boys started with songs off their new CD, Limbs Akimbo, but returned to the old and familiar as the crowed stomped like wild. They kept adding instrument to the set up, bring on a flute at one point, and then a washboard.  They buttered up the audience for Ulysses, who can on after with their laid back Indie-rock.
Then Yamn showed up with the late night dance party, who played under the magnificent, totally unpolluted starry sky.
The highlight of Sunday was the March Fourth Marching Band, who rocked the afternoon and revitalized festival-goers for the final evening of Desert Rocks.
To recap: bring water, coffee, and a well-rested body (music goes till sunrise). Go out and see beautiful Moab, enjoy the stars, and love one another.  Thank you to the Desert Rocks people for putting on such an amazing weekend of music, and to Helen and Conner for putting up with my snoring all three nights.