PRAANG walked on stage around eleven o'clock and gave the audience a solid three hours of improvisatory jamming. I was difficult for me to distinguish one song from the next over the hours of endless dance music, but at some point around every ten to twenty minutes I would notice the main musical theme would change.  This is PRAANG'S unique style, and because they are based so heavily on improvisation you will never see the same PRAANG show twice. The band is a collection of old and new, the ancient sounding hammer dulcimer playing along side hand drums, guitar, piano and  computerized beets.
Percussionist Jason Hann appears to be the ringleader this specific evening. With his drum set and hand drums right in center stage he ties visual and musical aesthetic of the group together. His beats are intoxicating and posses a quality I cannot describe, but recognize from West African drumming the on-top-of-it sound that makes people want to dance. And we are not just talking about swaying from side to side, the whole front row of the intimate Quixote's True Blue dance floor was getting down with wild energy. I never though in my life would I see so many people dance madly to a hammer dulcimer solo, but my recent adventures into the jam-band scene have amazed me once again.
During the show it was sometimes difficult to notice the more familiar sounds of guitar and keys next to the very bright tribal sounding hammer dulcimer and hand drums.  Yet every sing musician in PRAANG is remarkable and if there is only one piece of criticism I have it is to find a way to make their guitar player pop out of the groove and shine a little longer.
The audience at Quixote's that evening reminded me of being at a carnival. Everyone was festive, and many were dressed brightly and decorated with glitter, jewels, and beads. Mostly just the women actually, but a lot of dudes proved their festivity out on the dance floor.
A very different venue indeed, Quixote's had the opening band, Zobomaze, play in an entirely separate room from PRAANG.  Continuing with the non-traditional concert set up, the openers played a second set to entertain the audience during PRAANG's break, allowing for some circulation in the small and intimate venue.
A growing jam/funk fusion band out of Boulder, the guys of Zobomaze seemed exited to be playing alongside world class musicians as they broke down into some heavy drum solos, saxophone solos, old school funk songs and a lot of experimental music.
PRAANG came back onstage for a second blow-out set of dance music with some remarkable moments.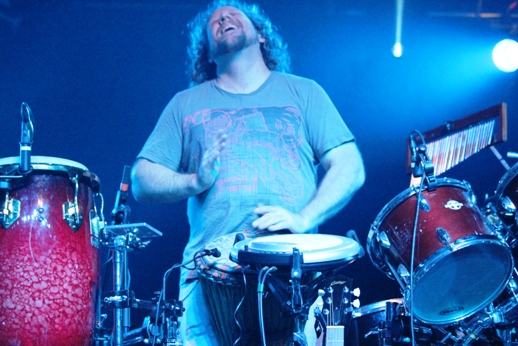 The night ended shortly after two as the tropically dressed audience filed out into the freezing Denver air and the guys of PRAANG wrapped up the first night of a lively three night series.
Check out Abrina's interview with Jason Hann.  (We'll have a better mic next time...)