eTown presented another amazing show at the Boulder Theater on Valentine's day, saving me from the alternative, a romantic home cooked meal (aka cabbage and salmon quiche- my boyfriends favorite) Relieved and excited, I rolled into the theater around 7 and could hear Martin Sexton warming the crowed up already. Call me an old boring lady, but I love how organized and tame eTown shows can be. I love sitting down, I love how the volume is loud but not ear blowing, and I love getting my tickets from smiling happy people (yes, that comment is directed at you grouchy bouncer at the Fox.) And then there is the fact that they have so many shows at the Boulder Theater, beautiful, tasteful, and conveniently located.
Martin Sexton started the night with his single "Sugarcoating" of his new album by the same name. After performing the song, Sexton sat down with eTown's Nick Forster to discuss the politically charged ideas brought up in "Sugarcoating". Lyrics like "It was a clear blue day in September, In the year two thousand and one, Everyone seems to remember, Very few knew how it was done" combined with the discussion between Sexton and Forster about a "government within a government" strongly suggested that Sexton subscribes to the highly controversial belief in conspiracy theories surround the 9/11 attacks. Sexton calls out in the song for "somebody to tell it like it is", though it seems that Sexton feels he is that person.
Sexton set up a challenging task by trying to convey these complex ideas in the very simple pop/folk song structure. He succeeds in some places, creating sharp, concise, yet still poetic lyrics like "if we follow where we lead and we're eatin' what we're fed, Then we might as well be sleeping in our graves".  Though Sexton is a clever lyricist, the song is simply undermined by the crack-pot stigma society places upon conspiracy theories.
Also performed at the beginning of the set was "Livin' the Life" and "Friends Again", two more songs of Sexton's new CD.  An honest and authentic plea for reconciliation, "Friends Again" is a reflection on Sexton's troubled relationship with his son. Whether Sexton was singing solo, or being back up by the house band, the eTones, all of the music performed was centered around Sexton's amazing voice and unique, Sexton-flavored lyrics.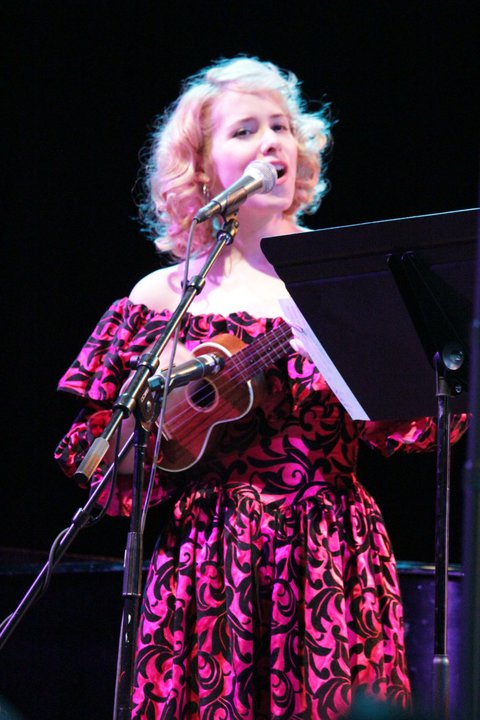 Once the following act, Nellie McKay, walked on stage, that all changed. Some one should have told Sexton that, along with children and cute animals, talented knock-out blondes dressed in stylish retro costumes tend to steel the show. I can not even explain all the things McKay wrapped into a 45 minute musical performance/interview. Her performance persona falls somewhere in the mixture of a confident young feminist, a retro fashionista, a multi-instrumentalist, a singer and composer, an activist, comedian, a flirt, and a woman with an amazingly unique voice.
This Valentine's evening McKay was performing songs off her most recent CD, "Home Sweet Mobile Home", including "Beneath the Underdog" and "Bruise on the Sky".
McKay also sat down for an interview with Nick Forster. "I am a vegan, but I don't really like the vegetables" McKay stated in earnest as the audience chucked. Later, she left Forster speechless for a moment as she casually mentioned  an experience where her mother and she had taken a drug cocktail and had a less than satisfactory experience on a plane.
At the end of the night McKay, Sexton, the Forsters, and the rest of the eTones all crowded on stage for a finale of Marvin Gay's "What's Going On?", complimenting the political undertones of the evening rather than the Valentines' day celebration.