The annual Fingerlakes Grassroots Festival held in Trumansburg, NY just north of Ithaca was an all-you-can-eat buffet of sounds, sights, and activities.  True to the nature of a buffet, if a concert goer tried to take in everything; including over 60 bands (and several collaborations between them), the various activities, dance troupes, and food they would surely make themselves sick and very very exhausted.
Held over four days, I originally went with the intention of returning to Ithaca every night after the music ended, however I realized the festival doesn't stop when the music does.  As a result I didn't go home until after it was over.
Late Thursday afternoon the festival got underway.  With the hot sun blazing down and the fact that it was still a weekday, crowds were much lighter, but the energy between the performers and the band was certainly not diminished.  Kicking off the festival at 1pm was the Bubba George String Band a locally based band with a rotating cast of members which has included members of Donna the Buffalo.   At about 5pm things started to really heat up when Your Momma's Big Fat Booty Band, a funk band from Boone, NC started at the infield stage.   At 9pm John Brown's Body took the stage, and everybody seemed to get up and dance, and they did not want to stop dancing. MP3 Following John Brown's Body is a tough task for any band, Donna the Buffalo had that tough task and unfortunately due to the nature of their performance, a slower more subdued one, many people started to drift towards other stages and disperse.
Friday festival goers were treated to milder weather, though only by a small degree.  For those awake enough at 8 am, the Dance tent hosted a Yoga workshop for anyone interested.  The result was an extremely diverse crowd, characteristic of the festival.  The day had many outstanding acts throughout but the band who in my opinion got the day going was the Winnipeg, Manitoba based band The Duhks who call themselves "Progressive Soul-Grass."  Composed of five members, the enthusiastic Leonard Polodak on banjo, Jessee Havey on vocals, Jordan McConnell on guitar, Tania Elizabeth on fiddle, and Scott Senior on percussion, this group put on an act that drew people to the grandstand stage and ensured they had a following for their next day's performance, as well as for future appearances.  Recently signed to Sugar Hill Records, this band has a promising future and has a wonderful shot at being the next bluegrass/hybrid band to make it big.   If there is one band that impressed me the most at this festival it was The Duhks, and one would be in remiss if you skipped on seeing them the next time they come to your town.
Following the Duhks were two festival favorites, Crow Greenspun on the infield stage and Jim Lauderdale on the grandstand stage.   Since I had seen both these acts before, I decided to experience a group I had never seen, and I was glad I did.  I made my way up the hill towards the dance tent I was welcomed by the gospel sounds of the old south.   Knowing nothing of this group before I was a bit surprised at this offering at grassroots, but nonetheless I was transfixed.   Initially I was curious as to why they would be situated in the dance tent usually filled with Zydeco rhythms and dancing feet, however in short time I understood why.  The Flying Clouds who I later learned has been together for the better part of four decades had a heartfelt and genuine belief in what they were doing.  They were so filled with joy and pride in their message that it passed immediately to everyone in the tent, and soon one might have thought that they were in a congregation in a southern Baptist church.  Since I am not a particularly spiritual person and I had preconceived notions about gospel, I probably would have never gone over to that tent if I knew what genre the Flying Clouds were.  However I did and I gained an appreciation for something new and completely foreign to me, and to me this seems to be one of the goals of Grassroots.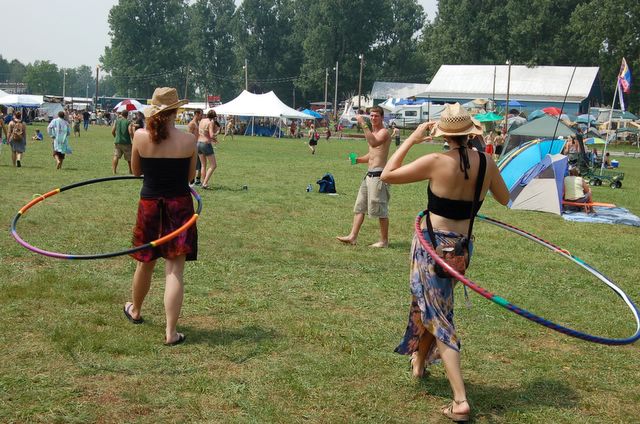 At about 9:45 pm everyone seemed to be migrating over to the infield stage, and I too went.  This was because Michael Franti & Spearhead were set to go on at 10.   One of the headliners this year, his recently released album Yell Fire! has been receiving critical acclaim for both its musicianship and its blunt and direct lyrics on centering on the controversial war in Iraq.  When Franti took the stage everyone in the crowd immediately seemed to be at awe with his stage presence.  Seeming to tower over his band and the crowd, Franti and his band launched into "Time to Go Home," the first track from his new album.   By the time he launched into his energy charged bridge of the song with the including lyrics:
"How many people were they running from?
How many people never heard the crying?
How many people never saw the doves fly?
How many people never said goodbye?
How many people never saw the wrong?
How many people till we end it all?
How many people never saw it all?
How many people did we drop the bomb on?"
People were up and dancing and the energy could not be stopped. MP3 After his second song, the title track Yell Fire, Franti had his audience where he wanted them, soldiers of his reggae themed message.  I highly recommend you check out Michael Franti and Spearhead on their upcoming tour with State Radio, another politically themed reggae rock group fronted by the former guitarist from Dispatch.
Unquestionably things toned down after Spearhead got off stage, but nonetheless the festival-goer had several great choices to check out after.  I chose to go up to the grandstand to take a rest in the seats and enjoy a great performance from the Sim Redmond Band, a local Ithaca favorite who always puts on a quality show.   Afterwards on the way back to my tent, I happened to wander into the Cabaret Hall and check out J-San and the Analogue Sons and enjoyed their performance immensely.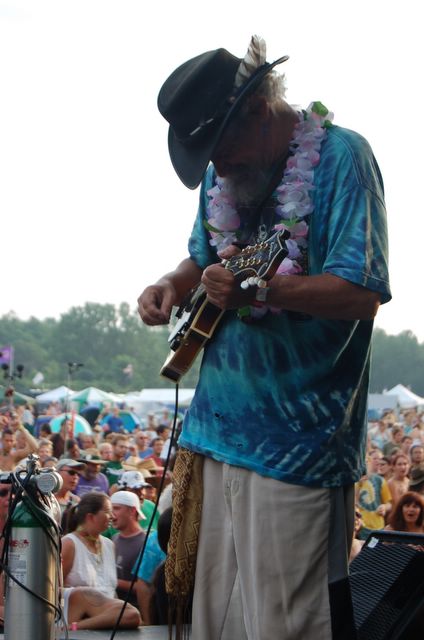 Friday night most people just wanted to sleep after an exhausting day; however Mother Nature had other ideas as she often does with festivals; and delivered a massive rainstorm.  Many people's tents were flooded out and the water by later that morning became so deep that it would not be uncommon to be wading through water up to your knees to get to a stage or the bathroom.   While this caused many people to pack up and go home and things to start later than usual, in the tradition of Grassroots the show did go on.
The Flying Clouds returned much to my delight to play the Infield Stage after the Dance of Peace.  It was unfortunate this time however due to the weather the crowd numbered only a handful.  After the Flying Clouds I took an opportunity to go move my car from the mud to higher ground and exchange my wet clothes for new ones.  I made a point however to return to the Infield Stage for the Duhks return at 4pm, but because they were running late, I was yet again surprised and introduced to another great artist at Grassroots.  Corrine West was her name and she is a singer/songwriter with a voice that draws you in and doesn't ask, but tells you to sit down and listen.   Immediately following her was the Duhks in their first appearance at the infield stage.  The crowd swelled when they came on and they played a mix from new material on their upcoming album as well as old favorites.
After a quick listen in the dance tent to the Red Stick Ramblers, I headed over to the grandstand to hear Mamadou Diabate and his Ensemble.  This was a performer whom I had heard great things about, but living where I do I never really had the chance to see him.  Described as a master of the Kora, a West African 21 stringed harp made out of a Gourd, Diabate and his band lit a fire underneath everyone watching and I have never been witness to such a great performance featuring traditional w orld instruments infused with Jazz.  It's no wonder he was nominated for a Grammy for best traditional world album of the year in 2005.  His performance was unquestionably one of the best at the festival.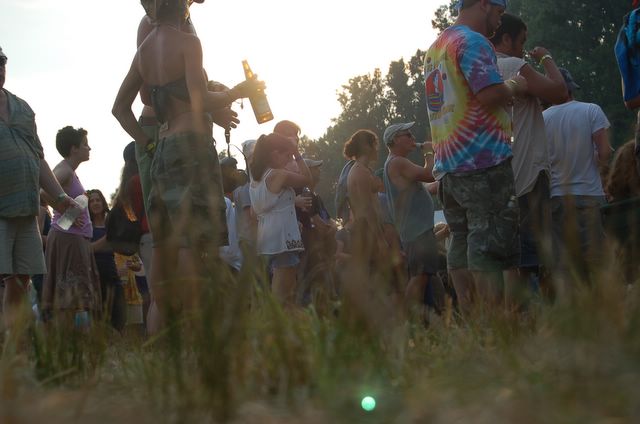 Thankfully the infield stage was running behind schedule due to the rain (and the 40 minutes it took to sound check Tara from DTB's monitors) I was able to catch the entire Donna the Buffalo set.  On Thursday I was not very impressed with them, it seemed like they weren't quite connecting with the audience.  Saturday was a very different story, and the band had warmed up and played two very memorable sets closing the second set with a great version of Hot Tamale Baby that kept people dancing. MP3
Afterwards most of the veteran Grassroots crowd found their way to the Dance tent to hear Keith Frank and the Soileau Zydeco Band play into the early hours of the morning.   Those in attendance were treated to a lengthy guest appearance from Jeb Puryear from Donna the Buffalo.
It was a relief to find on Sunday much of the water had dried up and now there were only patches of deep mud instead of standing lakes.  Despite heading back to my tent at 4am the night before, I made a point to be up early to catch the Grassroots Chamber Orchestra, the only truly classical offering at the festival.  To my surprise there was quite an audience and they played a great set of music which was both energetic and recognizable to the casual classical fan.  Afterwards I caught a bit of the Bubba George Stringband and The Believers.  Unfortunately my time at the festival had come to an end, due to a meeting the next day in Washington I had to leave early and miss out on what reportedly were two of the highlights of the festival, the Turtle Duhks and Donna the Buffalo and Friends.  The Turtle Duhks are a combination of The Duhks, the Canadian bluegrass band which had played several times throughout the weekend and Trumansburg based Turtle Island Dream.  This rare combination only plays together every so often due to their geographic distances, and fans at Grassroots were privileged enough to witness one of these occasions.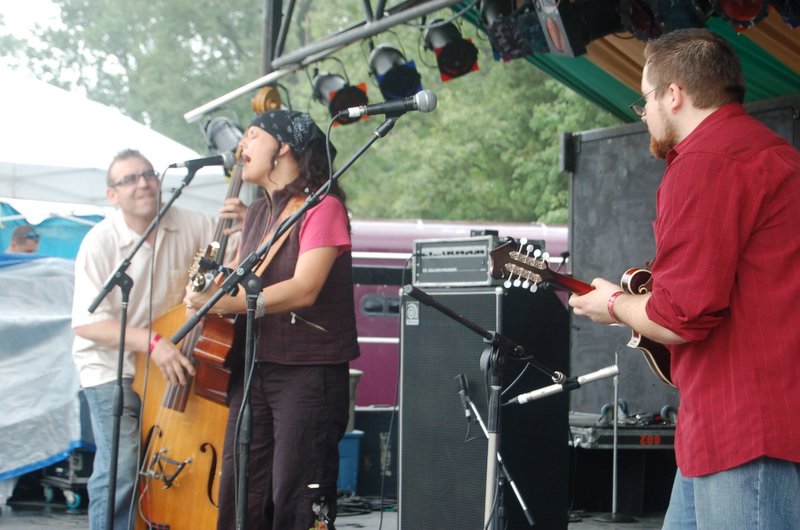 Donna the Buffalo's set on Sunday is usually the big blowout close of the festival and from reports and listening to the recording this year was no exception.  The set saw guest appearances on nearly every song as well as a marriage proposal to a fan from another on stage.   Special guests included Keith Frank, Preston Frank, Keith Secola, and members of Musafir.  It's hard to pick out a highlight from this show so I'd have to recommend you listen to it all, it's free for download here, courtesy of Christos Georgacopoulos.
The Fingerlakes Grassroots festival is one of those festivals that is still about the music; you'll never find Radiohead showing up or fancy corporate sponsors.  What you will find however is; the most welcoming, diverse, and fun-loving crowd in the northeast.  I'd highly recommend you make the trip up to Trumansburg next year and take in a little of what the Finger Lakes has to offer, you will not be disappointed. I'd be willing to bet you'll keep coming back year after year.