In December of 2004 I saw Béla Fleck & the Flecktones at the Water Street Music Hall in Rochester.  At that show Béla made a mention of his plans which at that time included traveling to Africa to research the roots of the banjo.  This intrigued me as I had just been to Morocco and seen banjos being played out in the square, a sight I was not expecting, and as I also have a large amount of family in Africa.  After the show while signing autographs I let him on to what I felt was a little-known secret.  "Visit the island of Zanzibar," I said, "you'll be amazed at the musical, natural, and cultural beauty."  I might have been a bit biased as that is where my family is from; but I felt if anyone could appreciate the music there, he would.
Five years have come to pass since that show, and since then Béla Fleck has ventured to Africa and returned with something marvelous.  A collection of music performed and recorded on location with musicians from across Africa.  Additionally, his travels and experiences were filmed for a documentary which is currently screening across America. The final part of his work was assembling some of the finest musicians that Africa has to offer for a short musical tour of the United States.  This was the event which left this writer, and I suspect most in the audience, in amazement from the opening salvo of Béla's banjo to the final group collaboration.
I'll never know if he remembered my advice about visiting Zanzibar, but I was pleasantly surprised last Thursday when he introduced Anania Ngoglia, an amazing blind thumb piano player and vocalist who happens to be from Zanzibar.   Accompanied by guitarist John Kitime (who also happens to be president of the Tanzanian Musician's Union) we were treated to a wonderful sampling of music in the Wagogo style.  Ngoglia and Kitime were then joined by Fleck for some playful numbers in which the banjo and ilimba (thumb piano) danced back and forth while Ngoglia scatted over the melody or in unison with it. The final song was a number which praised Tanzania, the country both of them had come from.
After this, Fleck produced a cello banjo from the road case behind him and began to do a song on his own.  The cello banjo, an instrument which was "re-discovered" recently, is a deep low-sounding variation on the banjo and is tuned the same as a cello in the CGDA range.  It is very reminiscent of the banjos which can be heard in parts of Africa.
Once he had done a few solo songs he introduced the artist D'Gary from Madagascar.  A musician in a musician's family, D'Gary had only rediscovered his interest in the cultural music of the Bara people at his father's funeral.  Since then he has become one of the most prominent African musicians, partially as a result of being recorded by David Lindley.  He was accompanied by the percussionist Xavier-Martial Francois who played what appeared to be a half soup can filled with beans on the end of a stick.  While the instrument seems simple and was undoubtedly handcrafted, Francois did more with that can than 90% of the percussionists I have ever witnessed are able to do with all the instruments they desire at their disposal.  This percussion as well as D'Gary's warm vocals and finger style guitar playing was a nice match for Béla's banjo when it came to the group portion of the segment.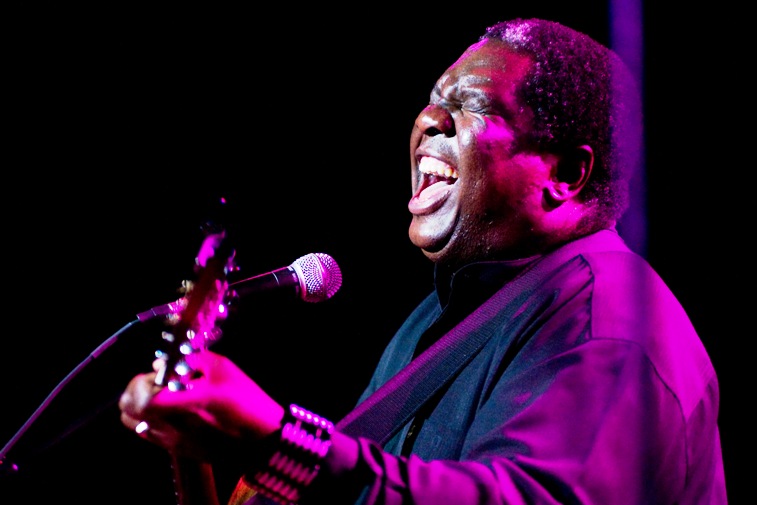 After they had done a few tunes together we were treated to a true musical legend.  The great Vusi Mahlasela was welcomed on stage to sing and play guitar.  From the Mamelodi Township in South Africa, his name literally means, "The Voice," and he truly has taken on that role for the people of South Africa.  Even if you do not recognize his name, you surely will recognize his voice.  He has contributed vocals on the Dave Matthews Band song "Everyday" and appeared on stage at Bonnaroo with Warren Haynes singing Soulshine.  Additionally, he has accompanied performers such as Xavier Rudd, Jem, and Ladysmith Black Mambazo and appeared during Live 8.  He not only has the most incredible depth of vocal range and ability I have ever seen; his voice can go from a growl to a high pitched serenade, but his songs are poignant and sung with a purpose.  Mahlasela mesmerized the crowd with his songs as well as his stories of life during apartheid and his message of forgiveness.  He played several songs solo and then was joined by Fleck for a few songs while they each took turns soloing off of each other.
The last performer of the show was Grammy award winning Kora master Toumani Diabaté.  From Mali, Diabaté is the undisputed master of his craft, the tradition of which has been passed down for 71 generations in his family.  As Fleck put it, "He carries it well."  The Kora is an amazing instrument because you can play all parts of music with it, devoting one finger to each.  It is possible to play the bass line, the melody, and the harmony all at once.  Diabaté held court and mesmerized the audience through several songs before being joined on stage by Fleck for a few songs together.  The banjo and the Kora, especially when played by two masters share such a close connection it seems almost criminal that they are not more often played together.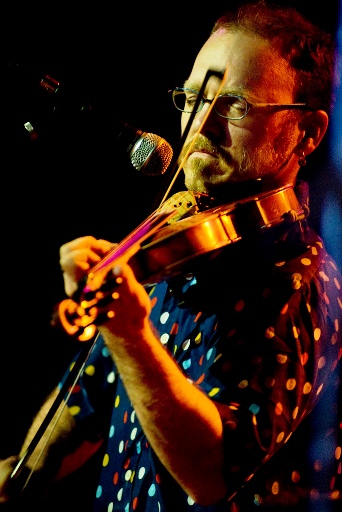 Finally, the entire ensemble regrouped (with special guest Casey Driessen from The Sparrow Quartet) and performed a song by Mahlasela and then one by D'Gary and closed out the night to thunderous applause.
This concert was much more than just a simple concert.  It was a history lesson, a music ethnography lesson, a first-time experience for most in the audience hearing this music, and finally it was an example of some of the finest musicianship anywhere in the world.  I can say without reservation that it was one of the best, if not the best performance I have ever seen.  If you are within range of one of the remaining shows it would behoove you to get tickets and go.  If not check out Fleck's website for the project to find dates and locations for the documentary screening.  Word is that he will be planning more Africa concerts in the future, if you don't catch them now.