There is a new trend in the music industry today, bands which have been broken up for decades reforming suddenly in order to cash in on the pocketbooks and prosperity of their baby-boomer generation fans. Groups like The Police, Cream, and Pink Floyd have all appeared on stage together recently after years of absence, often times charging outrageous ticket prices for one-off concerts which have been disappointing performance wise.
While the New Riders of the Purple Sage had never quite enjoyed the success of the above bands, they are no strangers to the rock spectacle, having played to large audiences (including a 1974 Central Park concert for over 50,000 people) as well as having a long and successful career.   It would have been easy for them to come back and cash in on all the successful Dead Heads and baby boomers for just a few concerts; however they have done something much more impressive.  David Nelson and Buddy Cage have managed to reform the band with an outstanding lineup, continually giving excellent performances, and maintaining a touring schedule which would make many younger bands' heads spin. Their lineup of original members David Nelson and Buddy Cage, joined by Michael Falzarano on guitar, Ronnie Penque on bass guitar, and Johnny Markowski on drums are some of the finest veteran musicians.  As a result of this their skill and comfort levels with each other and the music is clearly nothing short of superb.  On this particular evening they were joined by keyboardist Mookie Siegel, a veteran of the David Nelson Band, Phil and Friends, as well as a top notch performer in his own right.
In between sets of their recent stop at the State Theater in Falls Church, VA, a suburb of Washington D.C. I had the chance to sit down with the band and talk candidly about the past, the present, the future, politics, and of course Panama Red.
Grateful Web: What inspired you to release a new live album and live DVD after not being together and not releasing anything for three decades?
David Nelson:  Well it's because we weren't together for 30 years. <laughing> That's the basic answer, but this most recent thing is really great because Bob Matthews and Betty Cantor offered to come out and brought the remote and bus and set the whole thing up and recorded the whole thing, and it was just great!  The whole three nights…. Two nights?   How many nights did we play?
Michael Falzarano:  But if you count the 4 sets we played until 4:30 in the morning
Buddy Cage: You played about 3, but 6 sets in two nights.
David Nelson:  Yeah, it was great, by that 4th set only a select few stayed there and we were like, yeah this is great, there's only a few people.  Then tried to translate that but I don't know if it made it…  This is what we want.  This is for YOU, we don't normally do this.  This is why we played Reggae Ripple.
Grateful Web: So I've got to ask, is there any hope of a new studio record now that you've got both a live CD and DVD under your belts?
David Nelson: Oh, now you're talking some real dough.  Oh we'd love to do that, if anyone has some benevolent benefactors that would like to sponsor us.
Michael Falzarano:  All I can say is that it won't happen this year, because we're booked out until the end of this year. 
Buddy Cage:  I do a show called Jam-On on Sirius, and let me tell you man, they don't want to hear a whole bunch of studio stuff.  They want to hear mostly live stuff, so who the hell wants to make a studio album these days.
David Nelson:  I think I'd love to make a studio record, but then sometimes when you get back into the studio you think.  Ah now I remember…. and forget it, forget it.  It's a labor of love and a lot of work.  There's a lot of pressure on you when you're in the studio.   And you always end up staying there all night to fix what you did.  It just goes on and on…It's crazy.
Mookie Seigel:  Now you ask him a question!
David Nelson:  Okay, How tall is Mount Fuji <laughter.>
Grateful Web:  Tall, real tall.
David Nelson:  That's the right answer, REAL TALL.  Bingo!
Grateful Web:  Do you guys ever get copies of audience recordings from tapers, and if so do you listen to them?
David Nelson:  We try to make our own live tapes.  But once in awhile something gets back to us, but if its months and months later.  Or a long time later, it sounds pretty good!  But if it's the next night it sounds gahhhhh because all you can hear is the struggle you're involved in trying to accomplish something and it only half made it.  All you can hear is that, just bleeding bias because its still loud in your mind.  But if you go for a long time then you hear it with a fair position and viewpoint and it sounds ok.
Mookie Seigel:  But then I remind you what you did wrong!
David Nelson: Yes, then there's Mookie to remind you what you did wrong, he just sits there making my life a living hell. 
Grateful Web:  If you guys could put a band together with any living musician besides yourselves, who would you choose to play with?
Mookie Seigel:  Pick me! Pick me!
Michael Falzarano: Somebody different every night, take your pick.
David Nelson: We did jam with Pinetop Perkins in Texas.
Michael Falzarano: That's right 93 years old, two years after being hit by a train.
David Nelson: It was just great.  It was cool though.
Michael Falzarano: Yeah he'd be in the band
David Nelson: Say something for the audience Pinetop? "Wanna buy a cd?"
NRPS: <laughter>
Grateful Web:  How about the obligatory political question?  Being that we are in the Nation's capital, if you had a moment with President Bush what would you say to him?
David Nelson: I'd say, get out! OUT!
Buddy Cage:  He doesn't want to get that close to me to hear what I have to say to him…
David Nelson:  You know that's funny, because that reminds me of in the 60's in the backroom with the Dead we thought about that exact same topic.  We said what if we could actually talk to the President, what would we say?  And Phil I think it was said: "Now listen here asshole…." And that was when Presidents were good! 
Grateful Web: Johnny, so I hear you're writing a Children's book, what can you tell us about this?
Johnny Markowski: its name is Stan the Can, it teaches kids about recycling.  He goes out on all these adventures, each time he goes out to the recycling plant he'll come out as something new like a rim of a NASCAR, or an aluminum baseball bat that wins the little league world series.  So it teaches kids that it's not garbage, that this guy's got another job to do and to send him to the right place.
Michael Falzarano:  He could be the rims on Mookie's glasses on stage!
Mookie Seigel:  That's a happy ending right?
Johnny Markowski:  He could be the neck on your steel Buddy.
David Nelson:  I could be playing Stan the Can.
Grateful Web:  We could go on and on with that one.
Grateful Web:  Now I have to ask due to popular demand, have you guys seen Panama Red lately?
Michael Falzarano: A lot of people as that question and we see him regularly...
David Nelson:  About 10 seconds ago.
Toast: I don't run into Red that often but I see his friend Henry all the time.
Grateful Web:  That's all guys; it's been an honor and a privilege, thank you so much.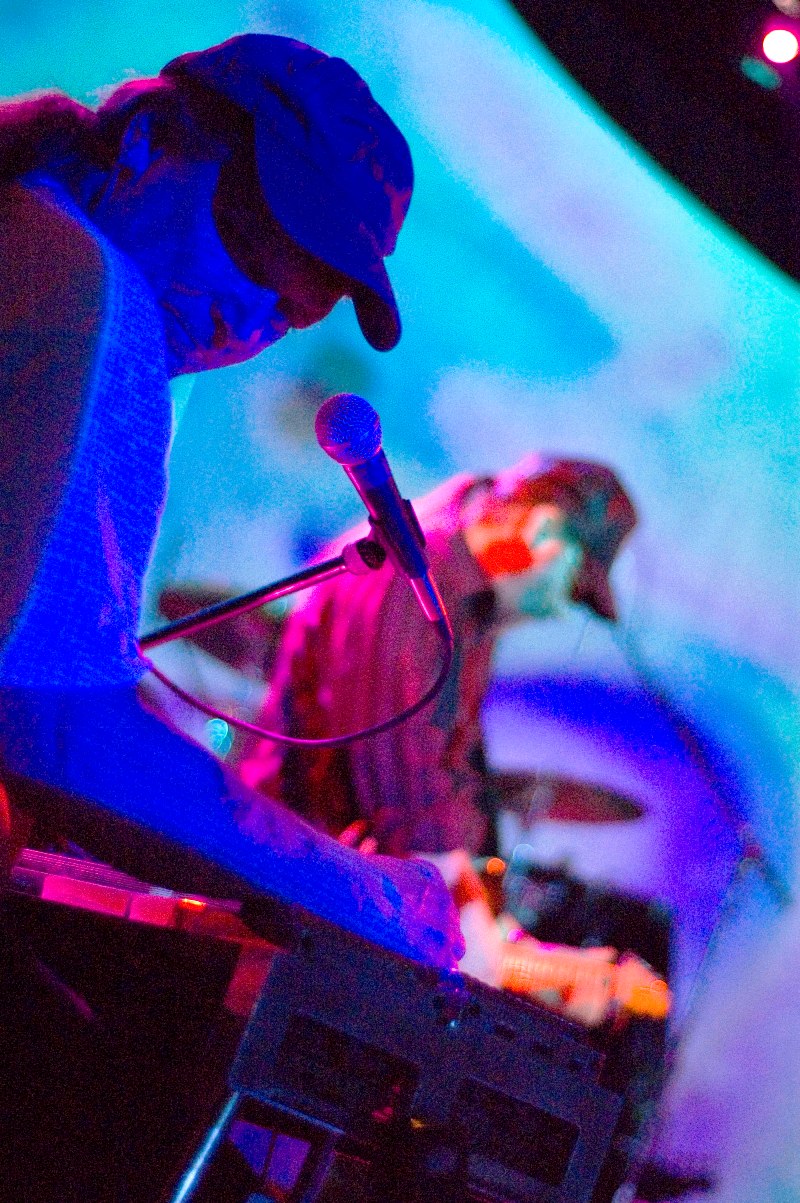 The Show:
As the show began, the band took a few minutes to get into the groove, and the crowd was not far behind them.  The opened with one of my personal favorites Sliding Delta Blues.  The crowd took a bit to warm to the music, perhaps because they were finishing up their dinner still.  This all changed though as soon as the New Riders busted into "I Don't Know You" the crowd was up on its feet and fully enjoying the evening.  The New Riders were rolling ahead full speed.  With Mookie on the keyboards it added and interesting and wonderful dynamic to the New Riders that served their playing style very well.  The highlights of the rest of the set was "What you Gonna Do,"  "Truck Trivin Man," and "15 Days under the Hood." 
After a most enjoyable set break, the band re-emerged and plunged right into a great rendition of Last Lonely Eagle with Mookie trading his keyboard for an accordion.  Keeping the crowds attention throughout, they showed that they weren't at all rusty despite this being the first show in five weeks.  Later they rounded out the set with a nice Garden of Eden into The Last time and back into Garden of Eden.  They finished out the second set with everyone's favorite Panama Red.  For the encore, NRPS came out and did a fantastic cover of the Rolling Stone's Let it Bleed that left the crowd asking for more.  Unfortunately it was now past 1 am and the New Riders bid us goodnight.
Anyone who might be questioning whether the New Riders are a still a relevant band should put that question far in the back of their minds and go see them for themselves.  They put on a fantastic show and with their non-stop touring schedule chances are that they are coming to a town near you.  I'm sure that you'll leave smiling and wanting more, the crowd that night in Falls Church did.
Be sure to check out their upcoming tourdates at TheNewRiders.com and listen to Buddy's show on Sirius, "Jam On."  This Friday he will be discussing the origins and meanings of 4-20 beyond that of what popular culture tells us.  He's assured us that it will be very interesting, and we have no doubt that it will be.  Also, you can find the New Riders new CD at:  www.nrpslive.com
--
The Setlist:
Set 1: Sliding Delta Blues, Instant Armadillo Blues, Contract, I Don't Know You, What You Gonna Do, Dirty Business, Sutter's Mill, 15 Days Under The Hood, Truck Drivin' Man,
Set 2: Last Lonely Eagle*, Henry*, Absolutely Sweet Marie, Garden of Eden >The Last Time >Garden Of Eden, Sing Me a Rainbow, Higher, Any Naked Eye, Take a Letter Maria, Panama Red, E:Let it Bleed,
Comment: Whole Show w/Mookie Siegel on Keyboards & Accordion on Last Lonely Eagle & Henry