The word conventional will never apply to a band like Toubab Krewe, that is unless you consider a strange mix of traditional African instruments, electric guitars, two drummers, dancing, and touches of Southern Rock, Jazz, Reggae, and Latin sounds to be normal.  This highly experimental but infectious sound is what has propelled Toubab Krewe into the realm of fan favorites at festivals across America.  Once again I had the privilege to see them perform at a recent show in Falls Church, Virginia.
With a band like Toubab Krewe, you couldn't expect that the opener could possibly be more unusual, but they managed to find something few in the audience considered to be a normal opener.  Batala Washington is an all-female drumming troupe where the members, which numbered around 25, played one of only four types of instruments. Using the Snare, Repique, Dobra, and Surdo drums, members danced and drummed simultaneously creating both a visual and auditory effect which drew acclaim from the audience.  The most unique aspect of this group is that it's free and open to all women ages 18 and above.  According to their website 90% of members had no previous musical experience.  It was a unique and talented group that provided the perfect complement to the main act. 
Shortly after the opener, Toubab Krewe took the stage.  Starting out their act with a few songs from their debut album, the crowd took no time in cramming down to the open floor and starting to dance.  Soon however the band was eager to show off some of their newer offerings and they were well received by the audience.  Their sophomore album, scheduled to be released this year, is comprised of half originals and half reworked traditional songs.  One of the songs scheduled to appear on the new album is the traditional Keme Burema, which they have actually played in the past.  According to a recent interview in Relix Magazine, Toubab Krewe has reworked and transformed many older traditionals which have been a part of their set for years.  Judging by the few new songs we heard at the show, we can expect their new album to be every bit as fantastic as the first one. 
After a handful of new arrangements, Justin Perkins traded his Kora for an electric guitar and Toubab got down with a more electric set.  These songs allowed guitarist Drew Heller to really shine and really exhibit the skills he holds as a multi-faceted guitarist.  On several of the songs his guitar playing could have matched up in Lynyrd Skynyrd, on others we saw hints of Led Zeppelin or Pink Floyd.  His ability to have a mastery of many styles is a huge asset to the band, especially on these songs when your attention is no longer focused on the Kora or kamelengoni.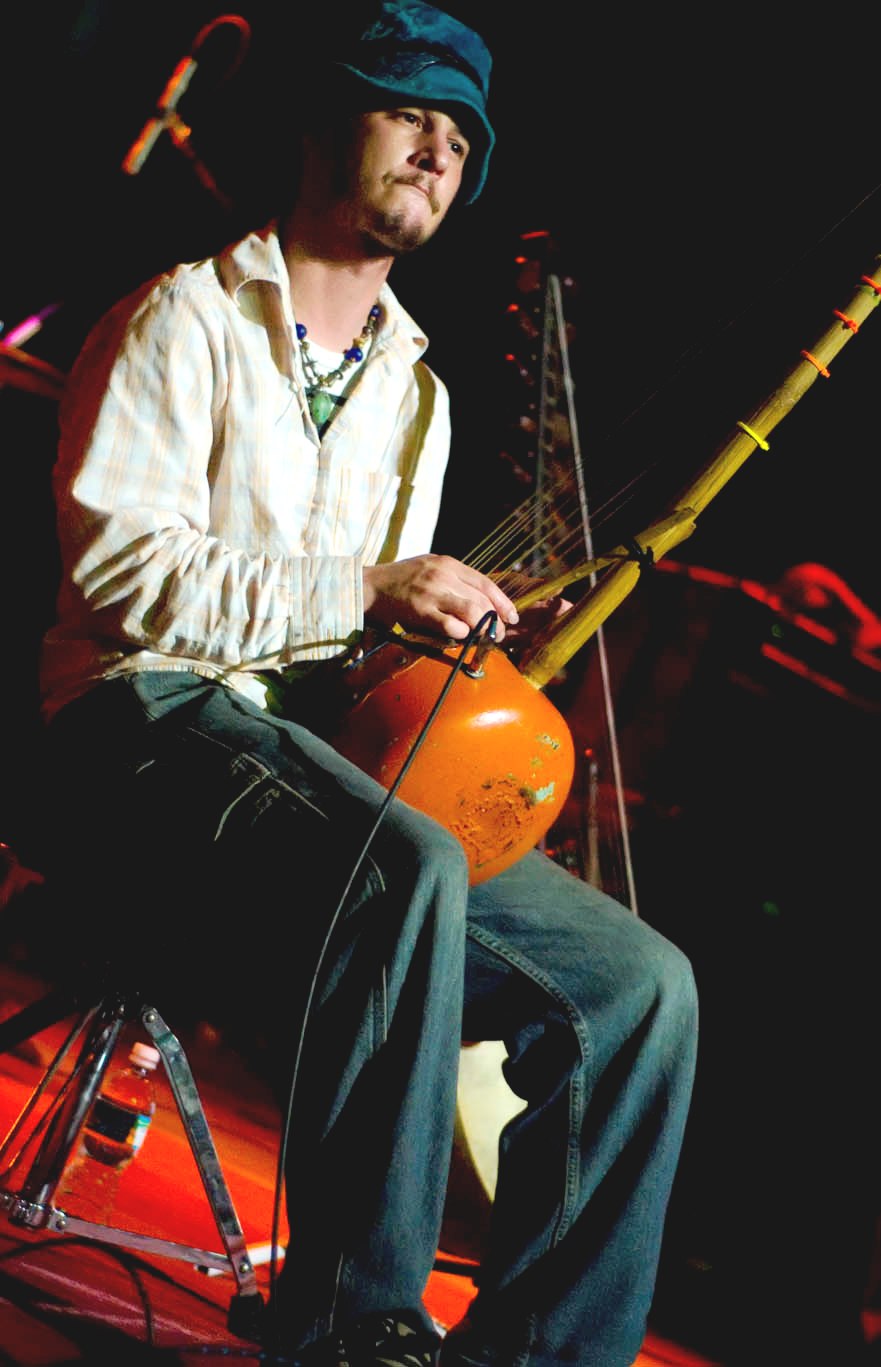 On a similar note, during these songs the interplay between Teal Brown on drums and Luke Quaranta on percussion was fantastic.  To be able to hold independent and often different beats together like they did is just one part of what makes Toubab such an interesting and engaging band to listen to.
After a good half hour, Justin returned to his seat at center stage and picked up the kamelengoni, which is similar to the kora, however instead of being made out of a gourd its body is that of a gas can.  Also there are no tuning pegs that I could see; instead the strings are simply wound at different heights on the neck.  With its sharp sound, Justin's playing quickly regained center focus of the show.  Eventually Luke took position behind some large drums in the rear center of the stage and a long jam ensued and at this point most of the crowd was so focused on dancing and lost in the moment, a fire could have started in the building and few might notice it. 
Toubab Krewe closed the night as it always does, with a healthy round of applause and genuine energy between the musicians and the crowd.  This was my forth time seeing them and I have yet to find one moment of their show to be the least bit pedestrian and I am already looking forward to the next time they come through town.
If you are on the West Coast you will be very lucky since Toubab is playing a long string of dates out there through the remainder of the spring.  Chances are they are coming to your town, and missing it would be denying yourself a great show.